For many people, sports and recreation go hand in hand. Consider things like gyms, fun runs and social team sports, activities that combine fitness, pleasure and a release from the norm, and to me, that feeling is encapsulated in the new Audi SQ5 Sportback. For (as we found out in our NZ review), not only is it fast and athletic but it really is fun to drive.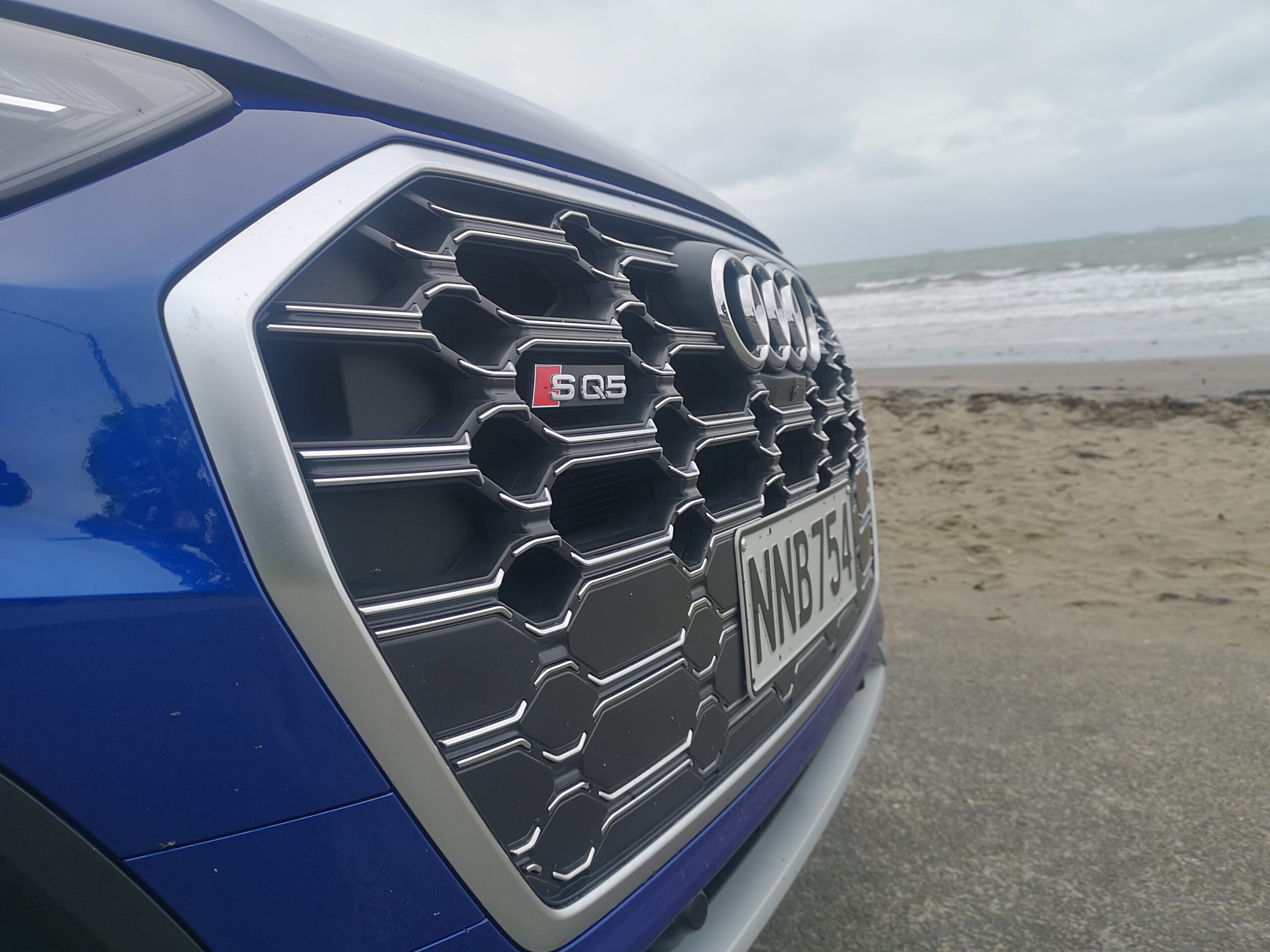 The SQ5 story began in 2013, when in conjunction with the 24 Hours of Le Mans, Audi launched Gen 1 SQ5 TDI. Boosted by two turbochargers, the 3L produced 230kW of power and 650Nm of torque. It was the first S model in the history of Audi to have a diesel heart, but didn't disappoint in any way, shape or form.
In 2017, Gen 2 hit the road (I actually attended the NZ launch and review). It boasted a more aggressive exterior design. Its 3L turbocharged V6 engine produced 260kW/500Nm and the SUV came with adaptive dampers and a standard all-wheel-drive system – so not only sporty, but as I found out on an NZ South Island farm, very accomplished off the tarmac too.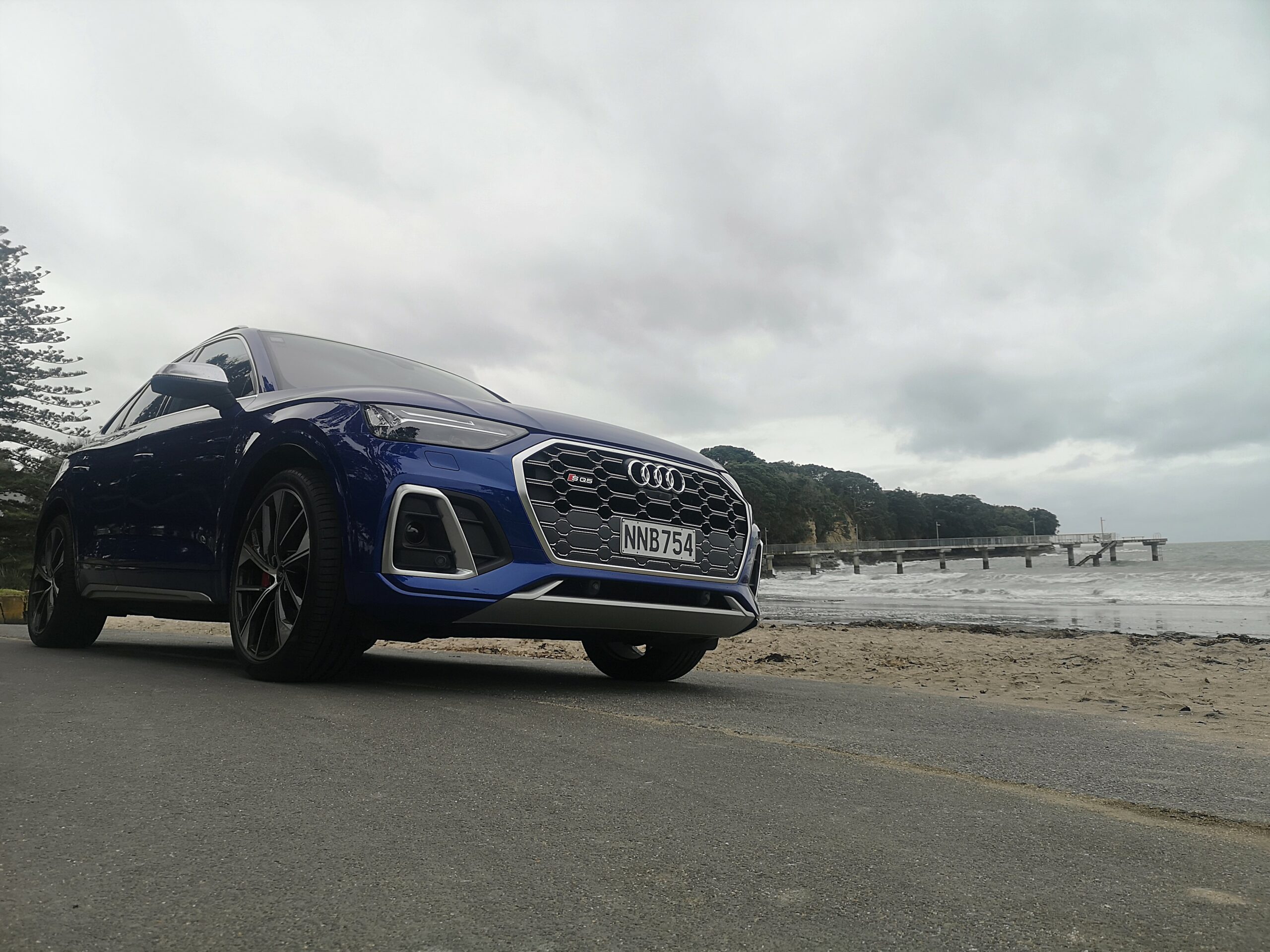 Now it's 2021 and Audi has Introduced the Gen 3, Sportback. It would appear that the Kiwi's love the Sportback design (why wouldn't they) with '40% of Q3 sales, and over one quarter of e-tron sales in NZ attributed to the sportier designs'. The sloping tail offers up a more coupe style and really emphasises the SQ5's sporty DNA.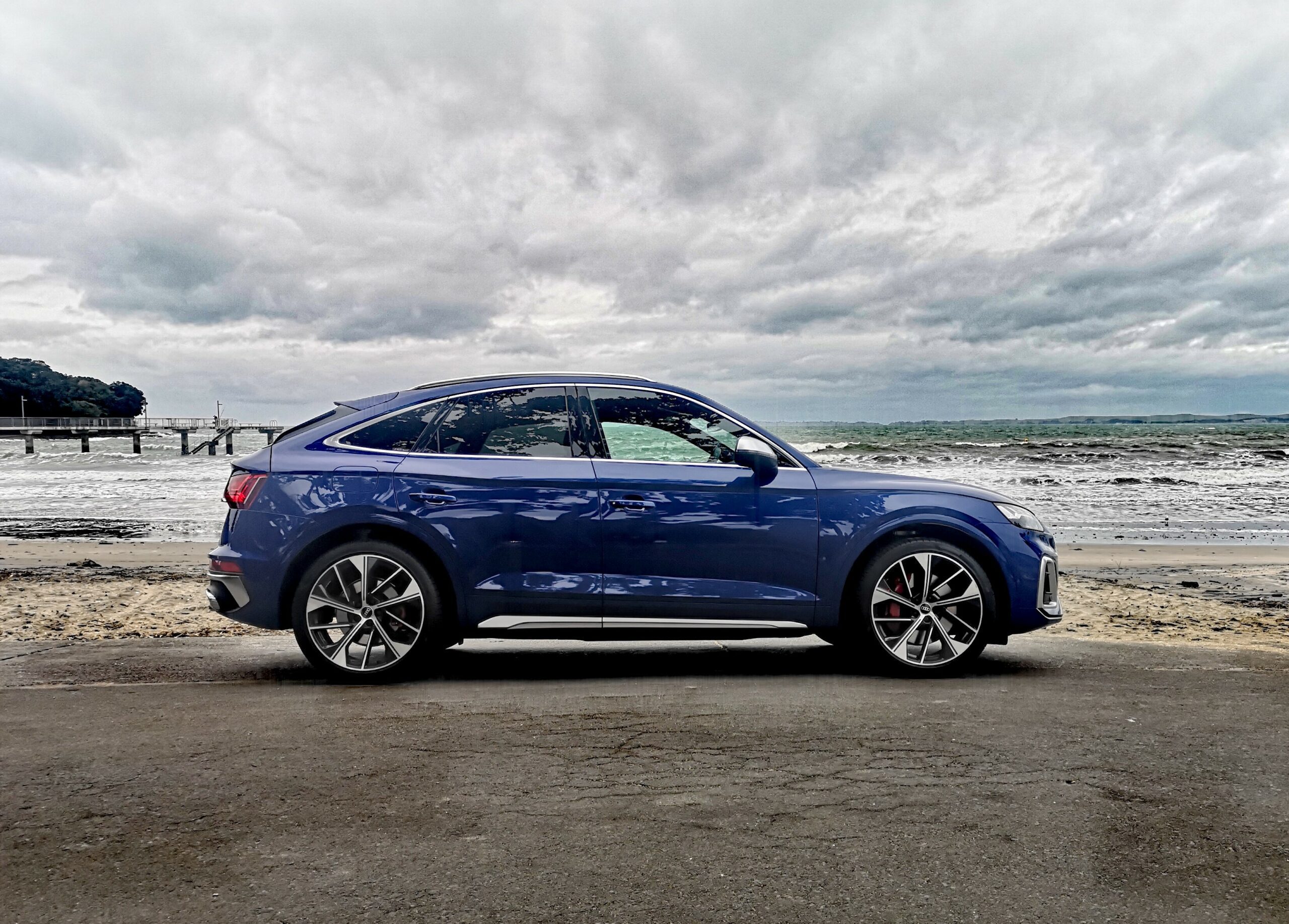 The SQ5 Sportback's design itself is both athletic and masculine. Large air inlets bookend the 'family' octagonal Singleframe grille and the Matrix LED headlights come with a distinctive Audi DRL signature feature. The sporty premium-SUV's profile gives nods to its quattro past with flared arches and a sweeping shoulder line and it rides on 21-inch alloys – with Audi's legendary quattro all-wheel drive system beyond.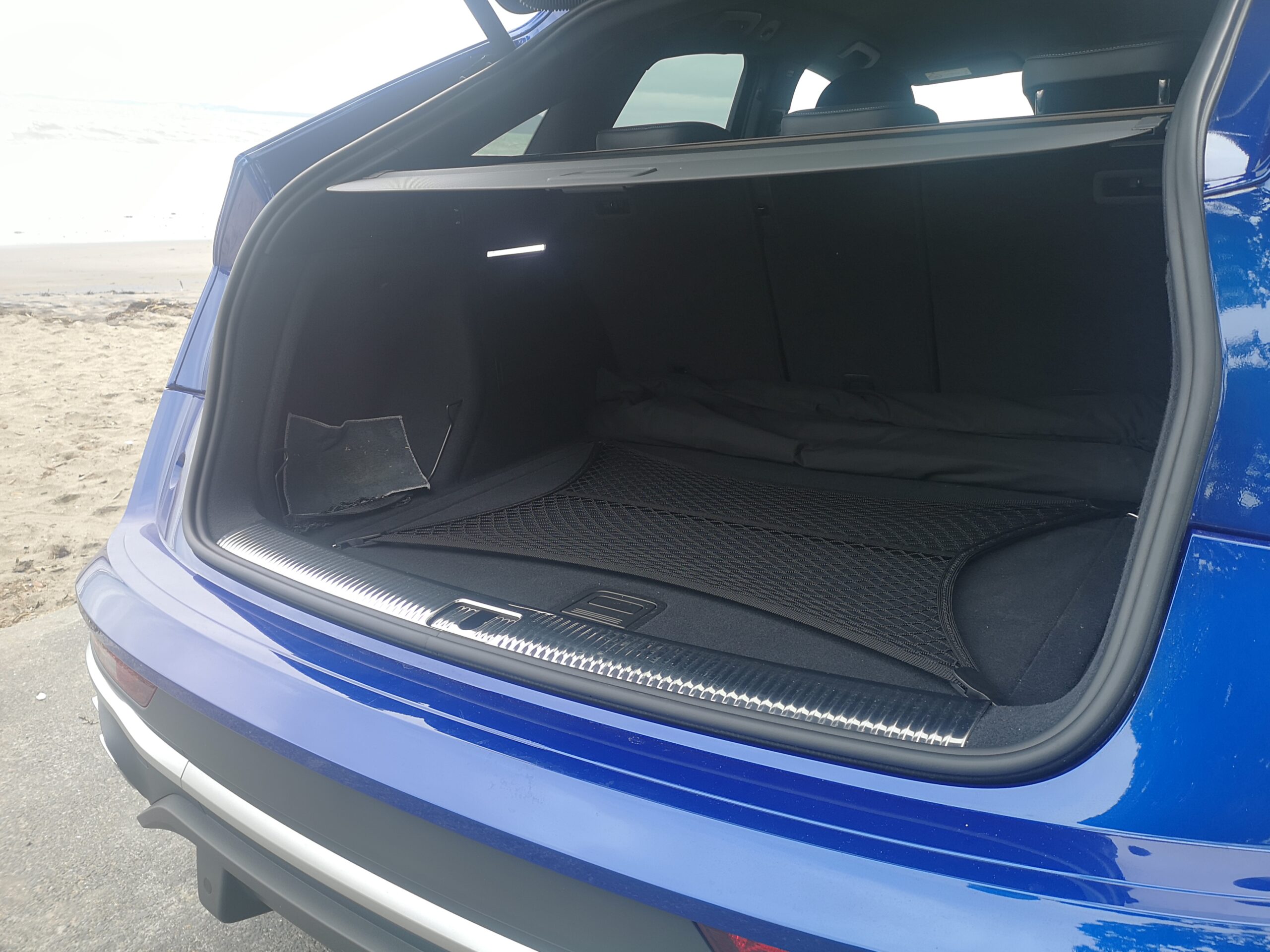 The sportback's rear showcases an acutely sloped rear window and what looks like two spoilers (one roofline and the other across the shoulder), digital OLED lighting technology is there for the rear lights and of course, quad exhaust tips. (it is an Audi Sports model after all). The tailgate is hands free and opens up to 500L of 'seat up' luggage space.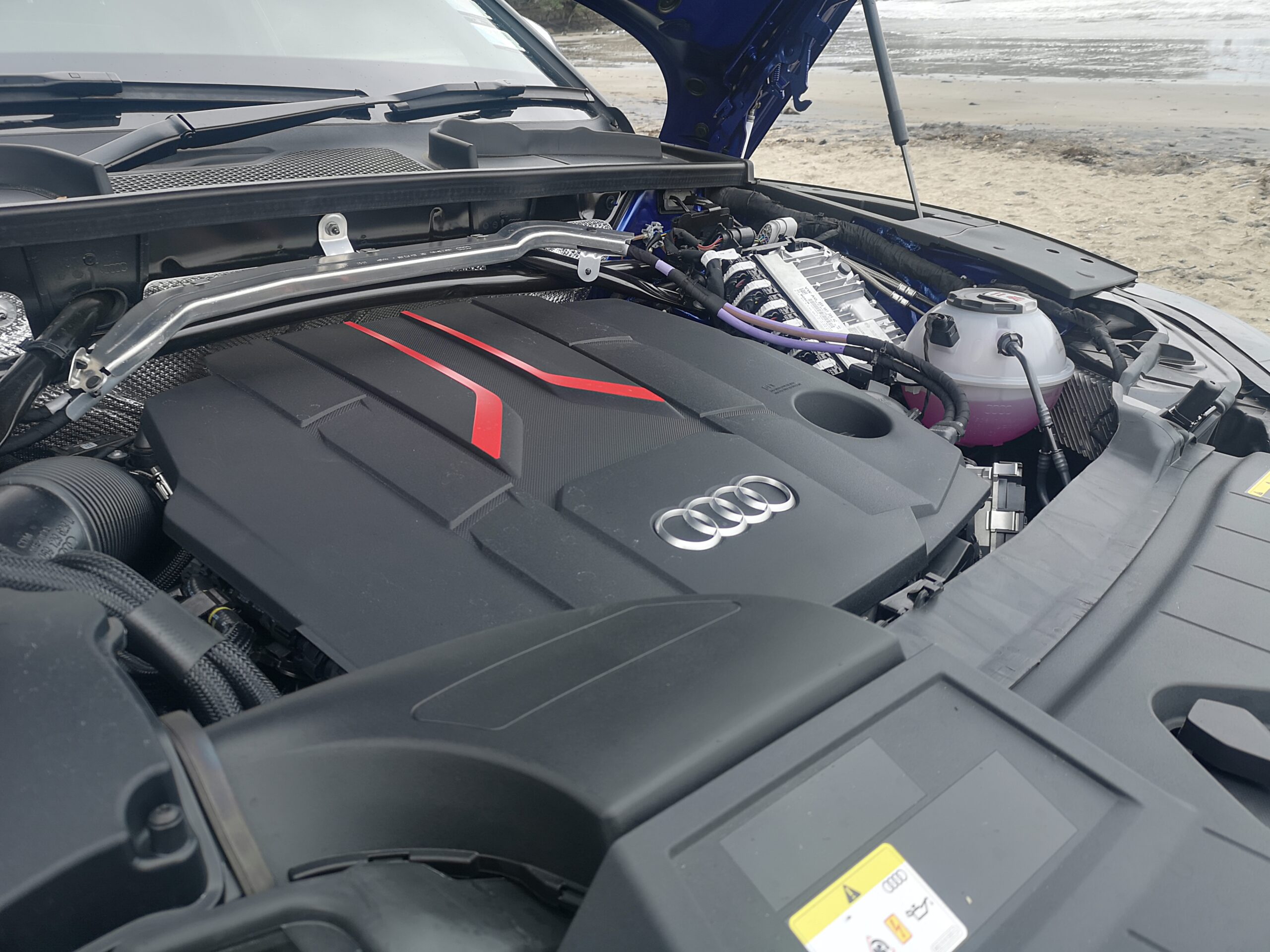 The big surprise to me during the NZ review was the powertrain, the way it performed and even more so, its sound. The Audi SQ5 Sportback comes with an improved 3L turbo-diesel engine that produces 251kW of power and 700Nm of torque and is married to an 8-speed tiptronic transmission. Zero to 100 km/h time is just 5.1 seconds and it boasts an average fuel consumption of just 7.1l/100km. But it also comes with a powerful V6/8 soundtrack that although is essentially manufactured, is Epic. It's so authentic sounding that I had to double take the RUC (Road User Charge) tag on the windscreen several times to confirm it was a diesel!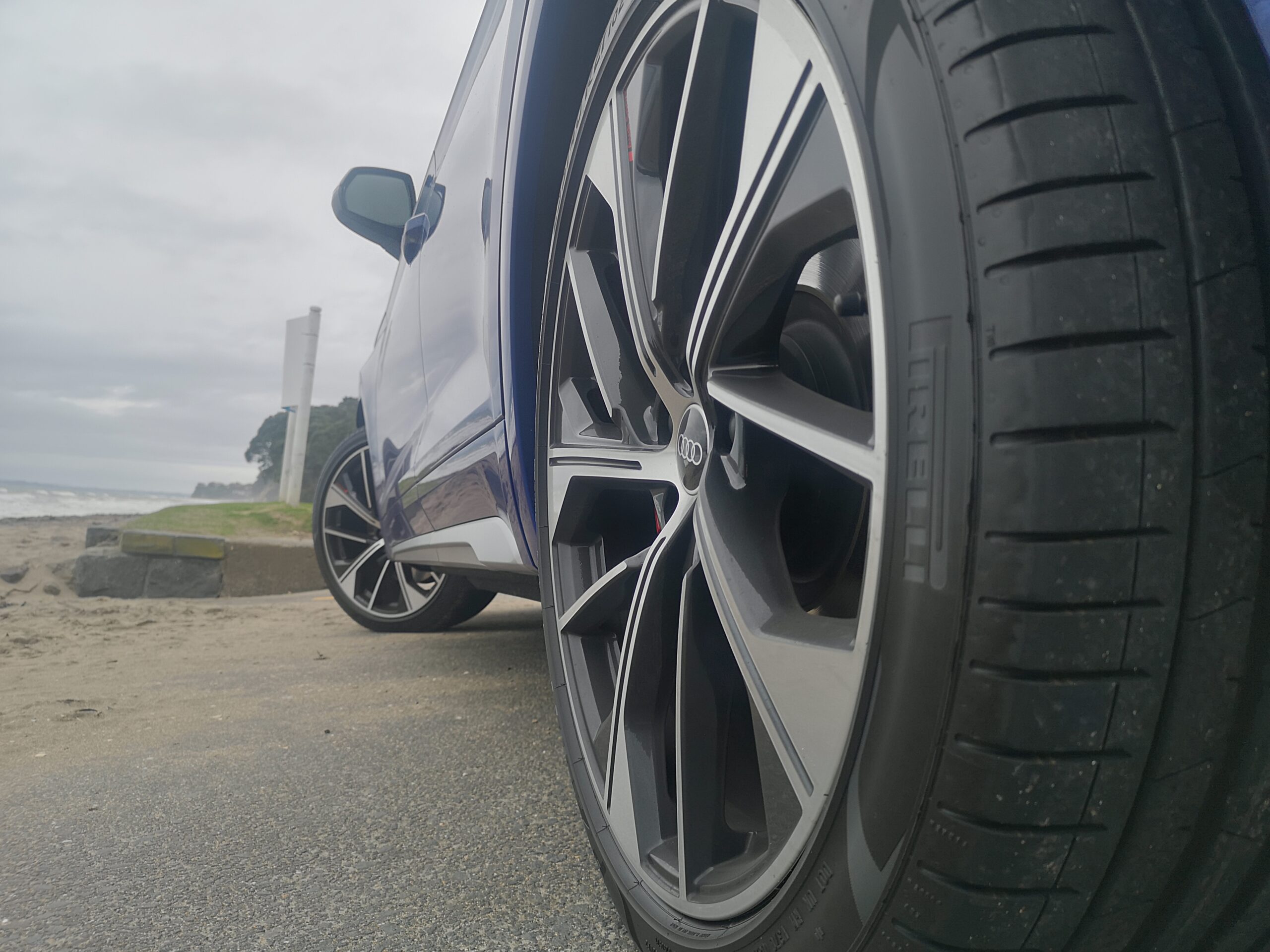 The new SQ5 Sportback also features a 48V mild hybrid system (MHEV) and an electric powered compressor (EPC). The MHEV system recovers up to 8 kW of power when decelerating and stores energy in a lithium-ion battery that allows the SQ5 Sportback TDI to coast for up to 40 seconds with the engine off, after which the belt-driven starter-alternator restarts the engine. What's more, when moving off and accelerating, the EPC accelerates the build-up of the boost pressure and ensures that the engine responds instantaneously and hence impressive 0-100km/h time.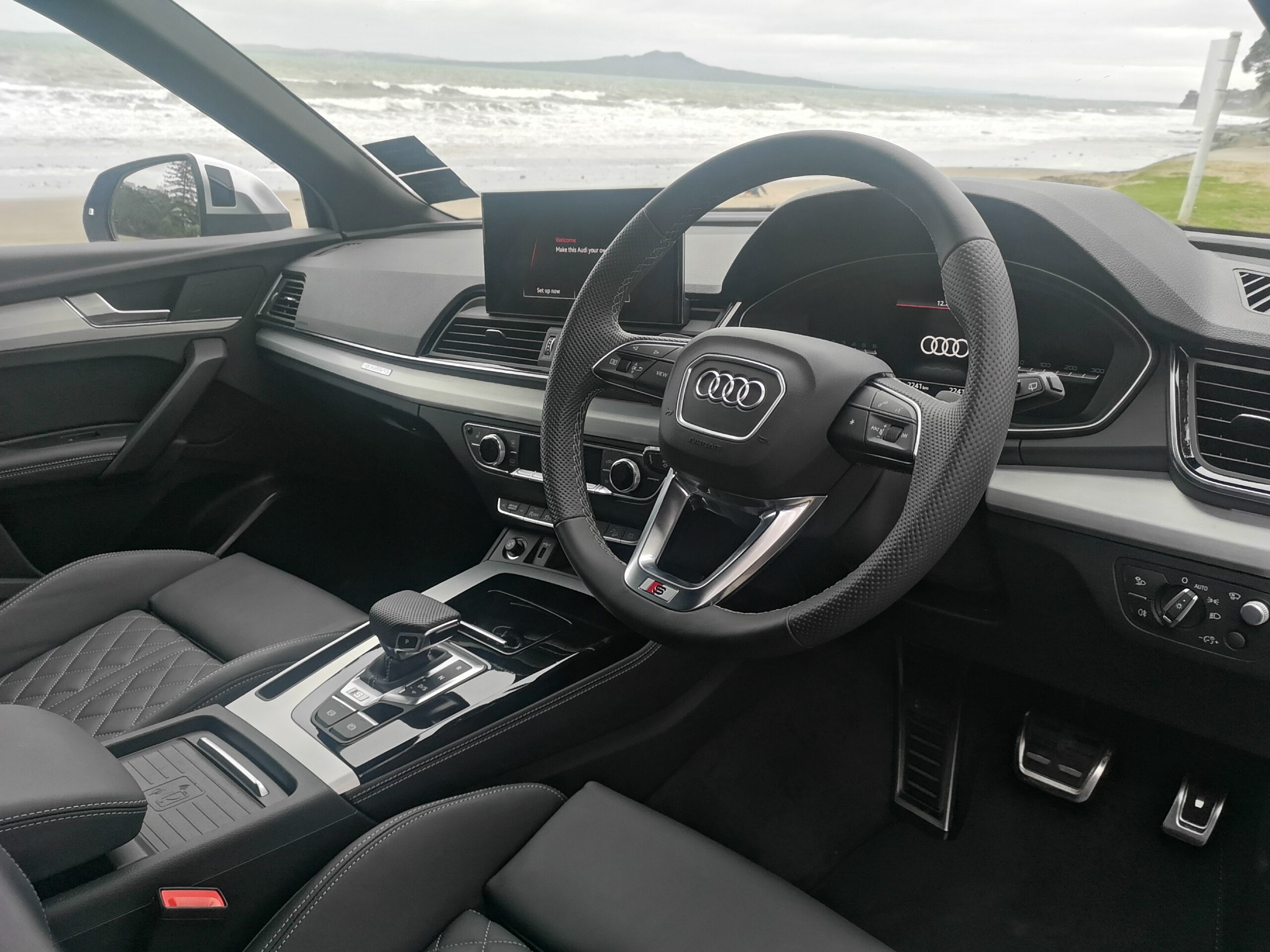 As luck would have it, my NZ review time with the new Audi SQ5 Sportback included a junior football tournament on the east coast which meant road trip, plus we had to take an extra player along for the weekend away too. At the rate my wife packs for any time out of the house, I knew that the 500L would be a squeeze and indeed it was. However, with clever packing, all the gear 'necessary' for four people did actually fit, I just had to rely on the SUV's radar/Lidar eyes to ensure a safe trip there and back.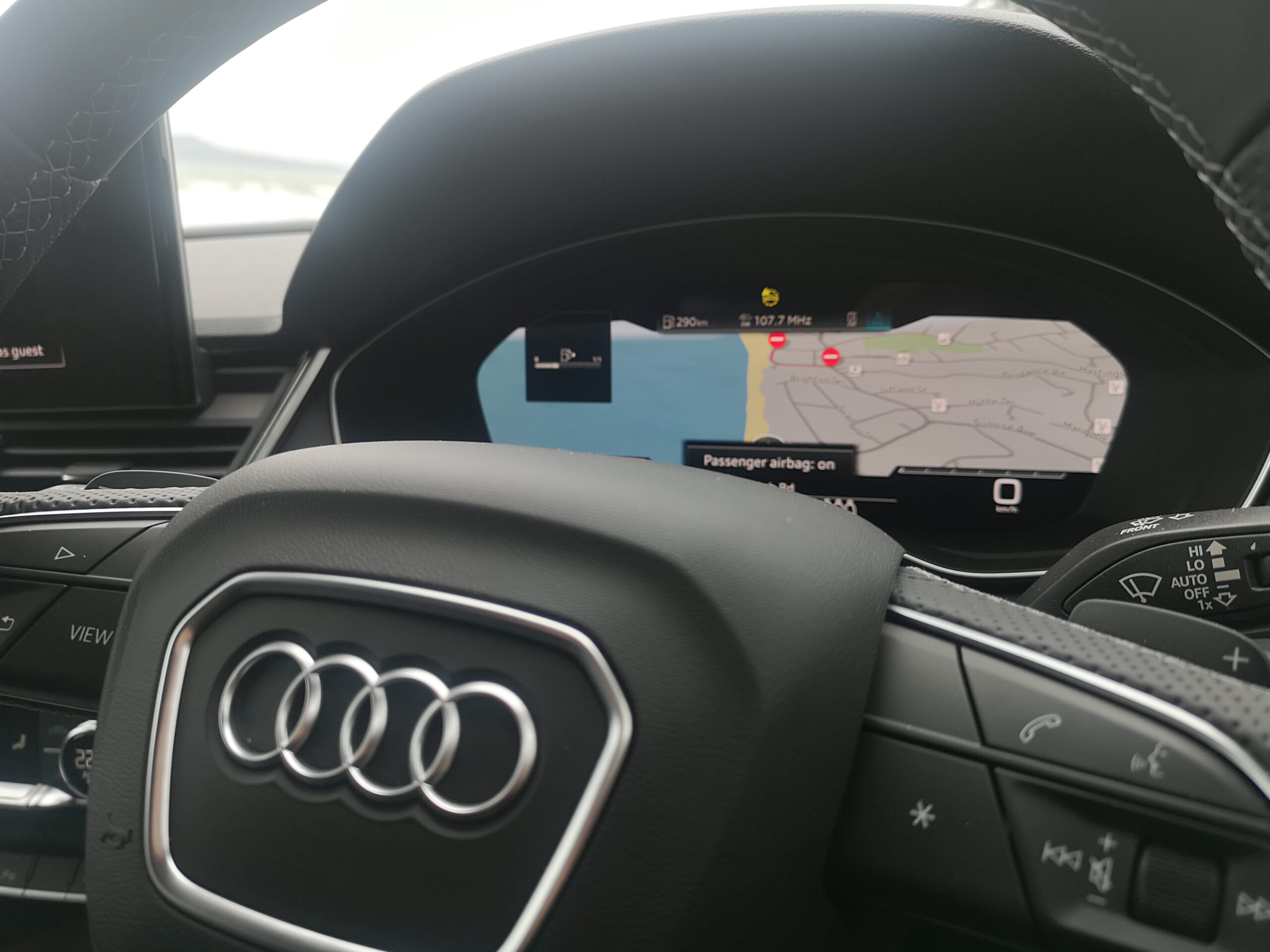 Despite being built for sportiness, the SQ5 does come loaded with all manner of driver and safety aids, which for a 3 odd hour, potentially-tiring drive, luxuries such as adaptive cruise control and blind-spot alert are invaluable.
At 100km/h, the digital rev needle sits at around 1,500rpm and comes with a comforting, bassy V-soundtrack. Also, the SUV's Air suspension with electronic shock absorption control proved its worth in the twisty corners, stoically holding the chassis firm as I 'played' a little and without a hint of complaint by our self-confessed normally travel sick extra passenger.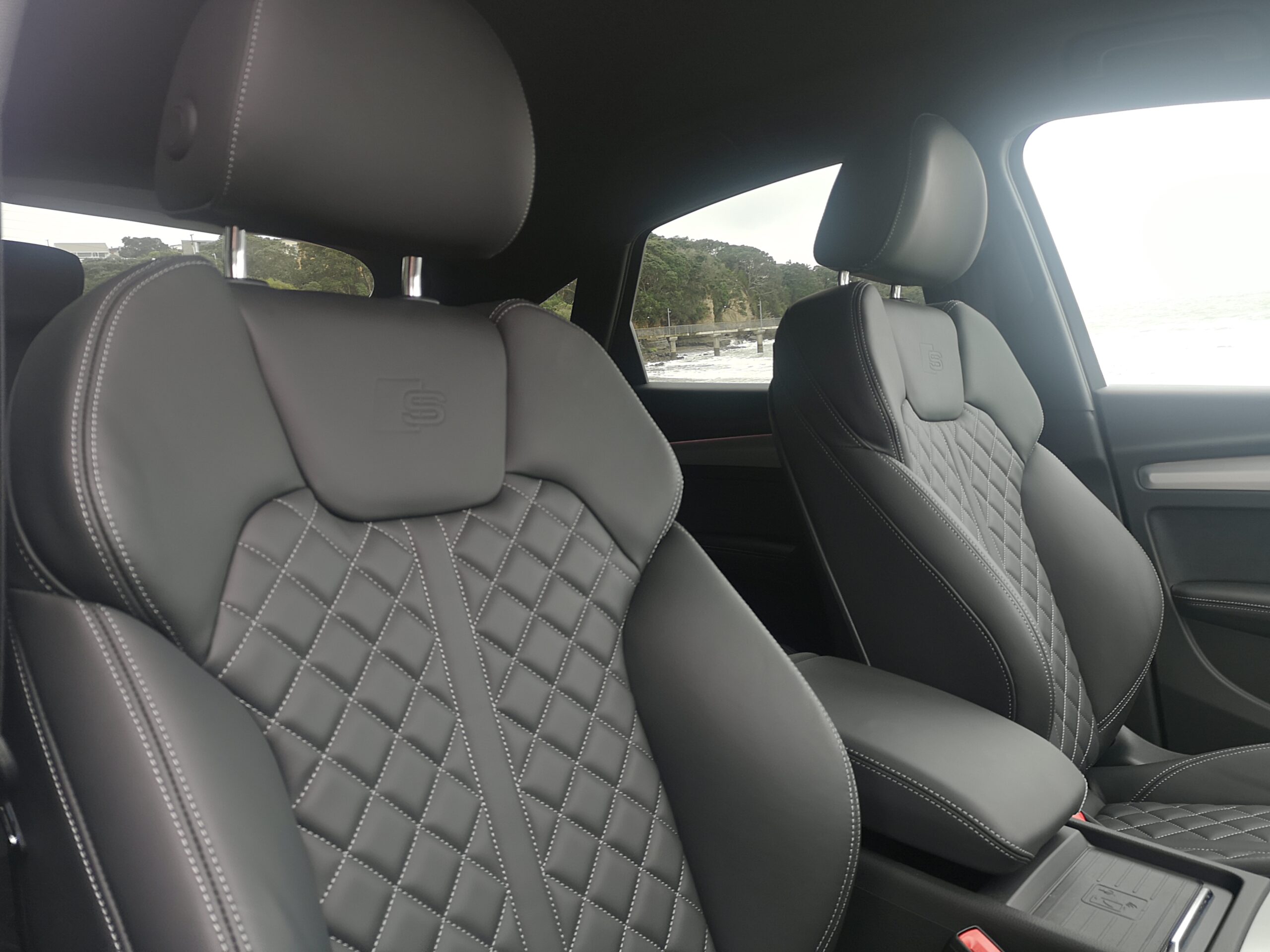 The SQ5 Sportback's leather heated seats, refined cabin materials, a 10.1-inch touchscreen display with third-generation MIB 3 infotainment system and Audi's 12.3-nch virtual cockpit all added to the driver's (aka me) pleasure and wireless charging and numerous charging ports ensured that no device was left behind.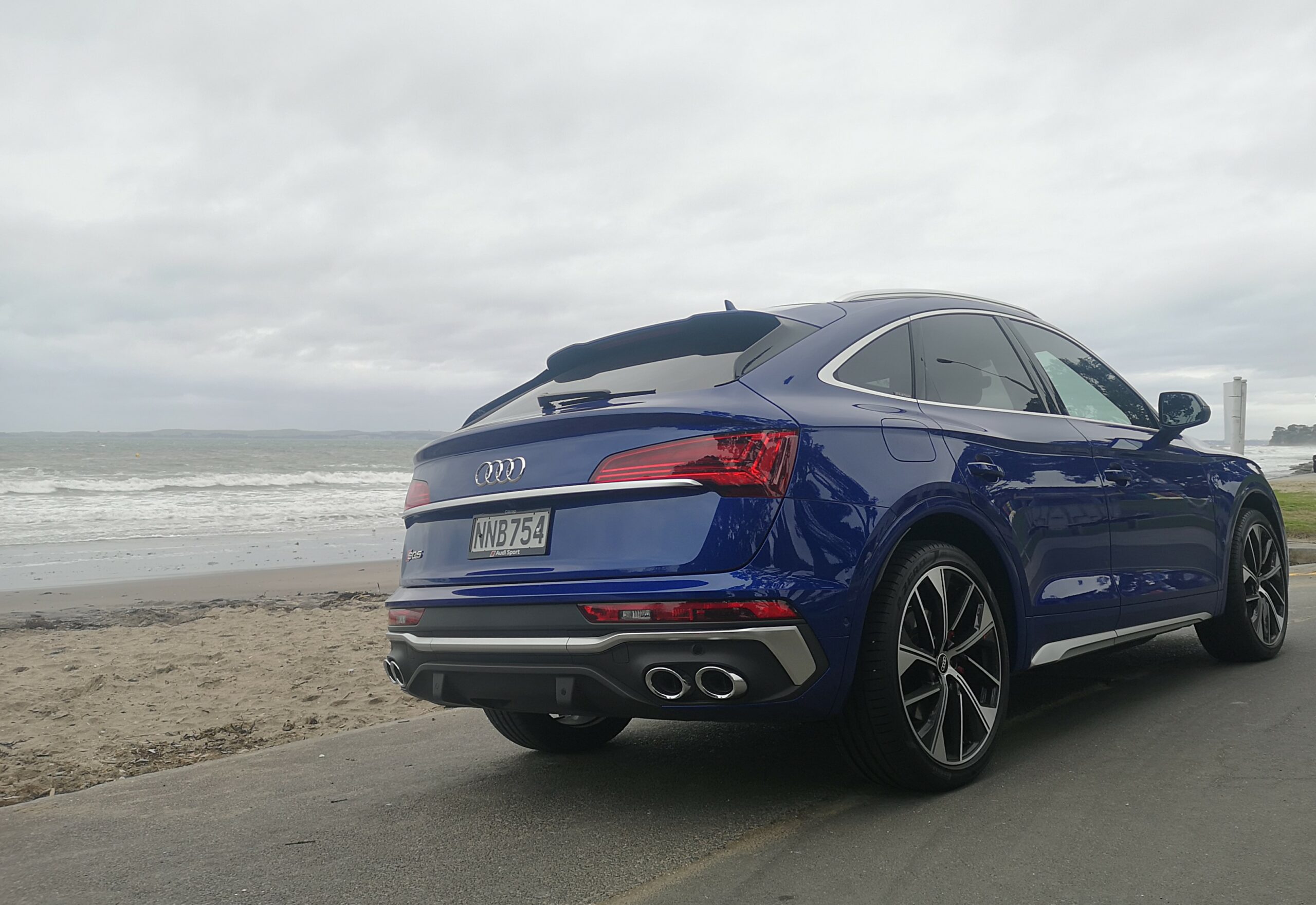 Beating the top team meant that our boys claimed victory but the winner of the weekend away was the SQ5 Sportback. It's practical and sporty, premium and technologically advanced. It's fast, agile and yet frugal too, so ideal for sports AND recreation.