'Vorsprung Durch Technik' has been car maker Audi's tagline for, well forever (okay 1971). It was first released to emphasise how advanced the NSU Ro 80 was, but as we take our first NZ look (and drive) of the all new Audi e-tron RS GT. Its 'Progress through Technology' meaning has arguably never been truer.   
The launch began with a briefing at the Audi parts facility out by Auckland Airport, where we were brought up to speed on the development of electric Audis and of course, introduced to the RS e-tron GT – albeit the left hand drive model.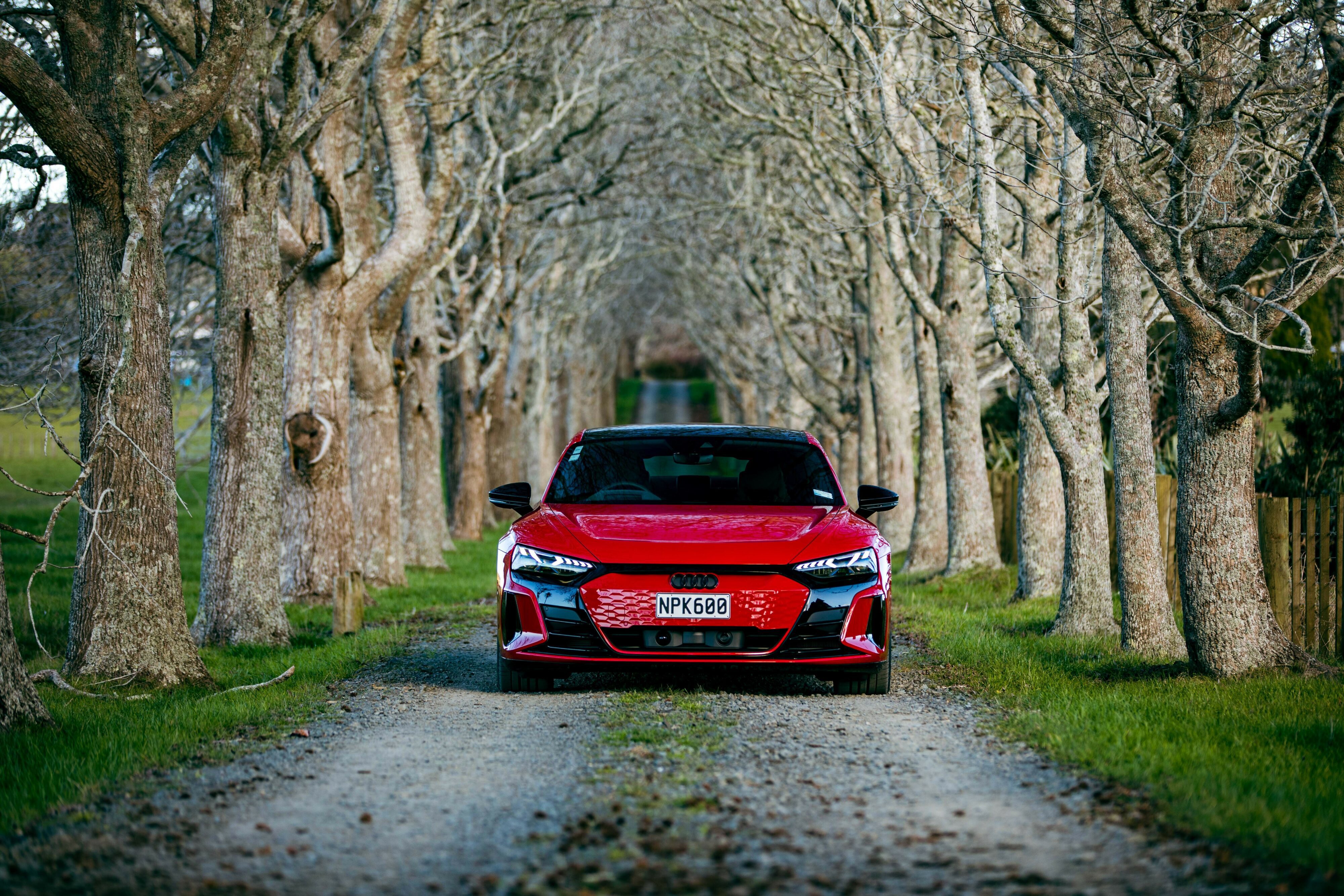 Audi has been no stranger to electric mobility in New Zealand and launched its first A3 plug-in trial back in 2014. Sure it was only five to begin with but still, a revolutionary statement by anyone's standards. Since then, the brand and management fevered away in the background before, drum roll please, the e-tron SUV was released in 2019.
The Audi e-tron was (and still is) a go anywhere, do anything type of vehicle and all 100% electric powered. We took it on a large tour of the Queenstown area and even took it snow drifting! The Audi e-tron has been given a Sportback style option and also a reduced range (still in the hundreds of kms though) option, but now the e-tron has gone GT.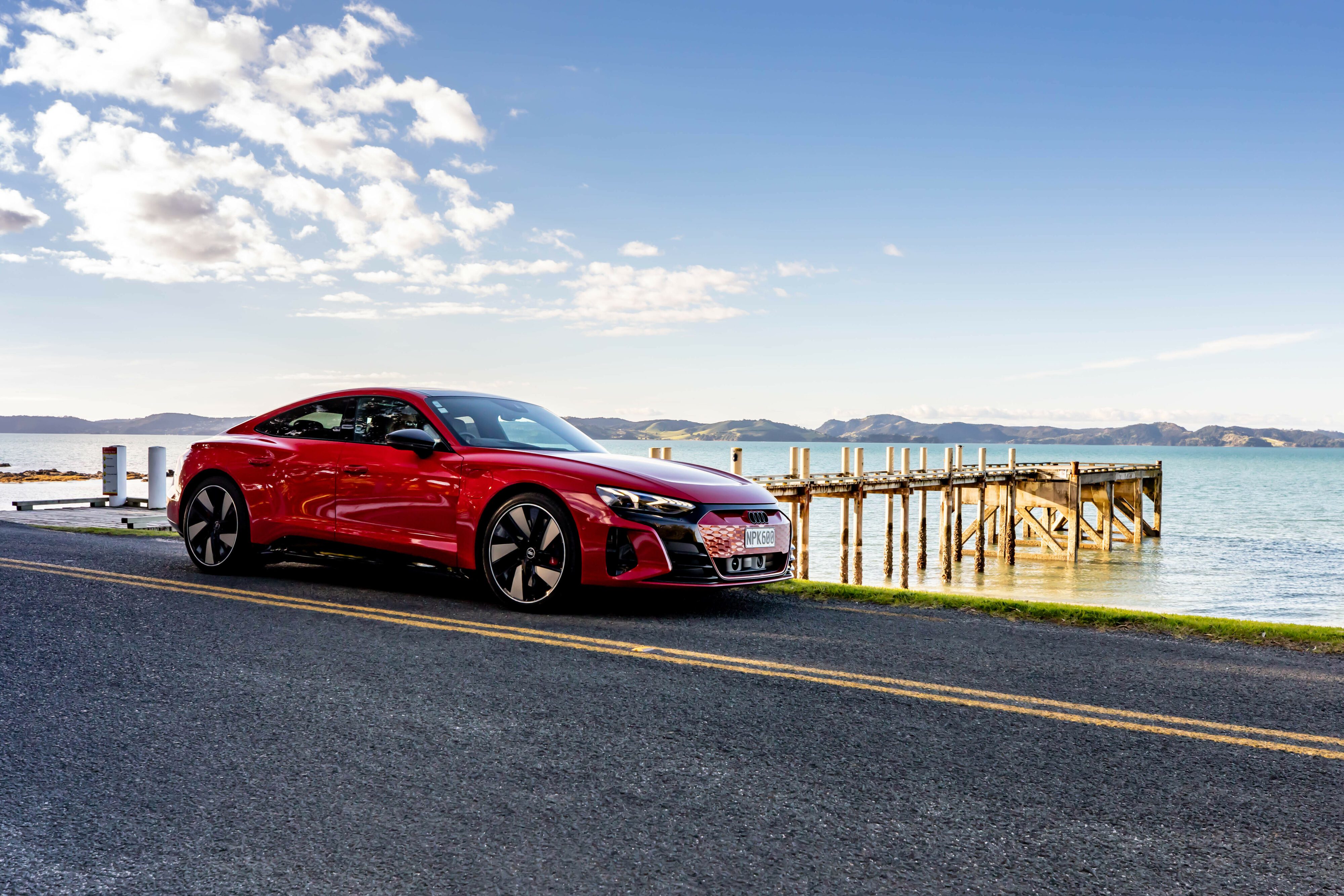 Based on their sportier J1 platform (as seen under another EV sportscar in the VW group network), the GT (or Gran Turismo) is 'The Most Beautiful Car I Have Ever Drawn' says Audi Design Head Marc Lichte and he's right.
In GT terms it's proportionally perfect with a 4.99m length x 1.96m width and 1.41m height, it sits low to the ground, is aerodynamically efficient (with a 0.24Cd) and an oh so wide stance. It's wide and flat with a sloping roofline and it oozes desire.
The Audi e-tron GT comes in two models, the e-tron GT quattro and the RS e-tron GT, there are plenty of differences between the two, although they are both outstanding. I will try and concentrate on the RS model though.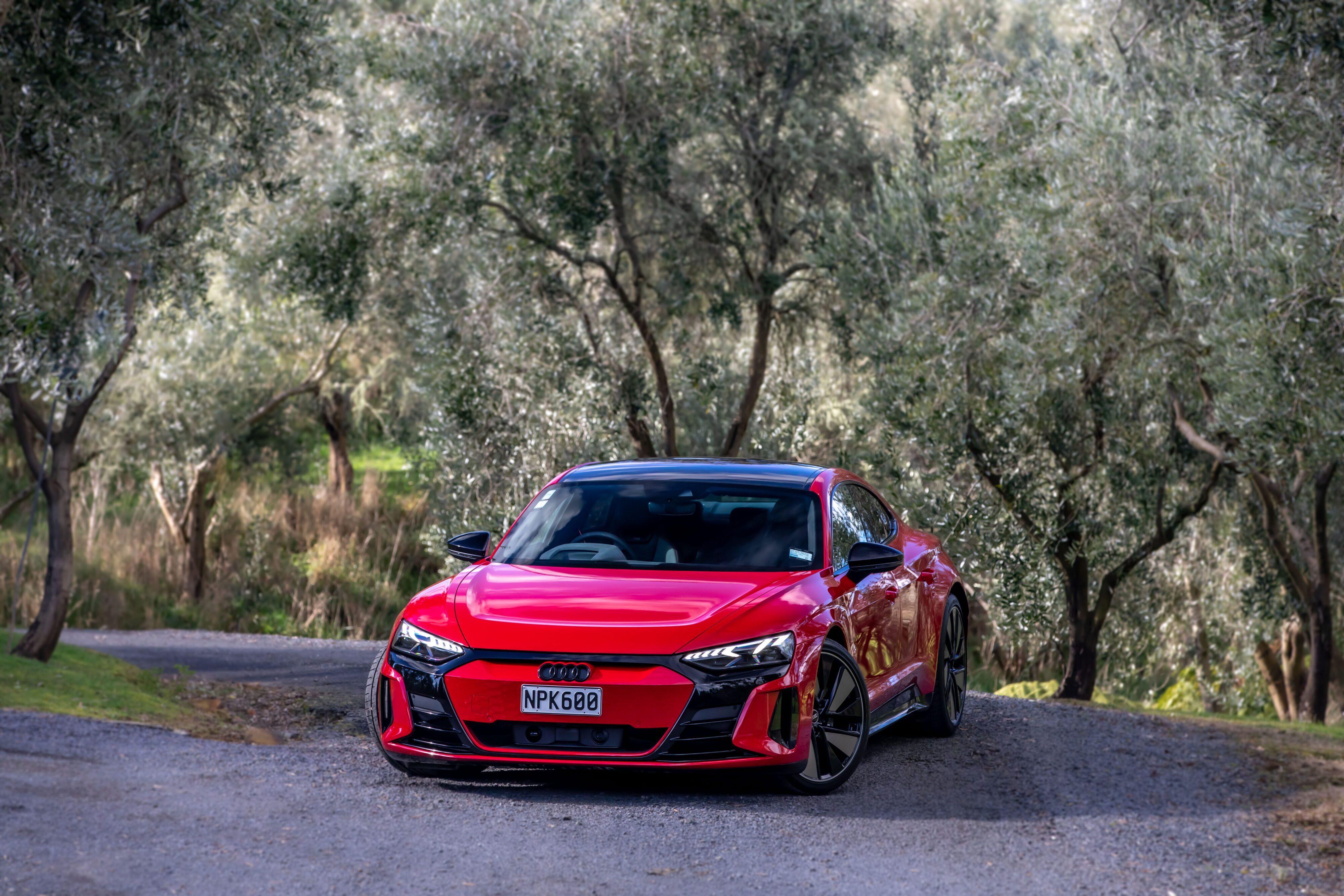 Up front it sports the e-tron evolution of the Audi singleframe grille. It's more aerodynamic ant still comes with the 'Sports' honeycomb design. It also comes with a choice of three colours, gloss black, grey or body colour. The lights are matrix LED and laser if you go for the RS model, while the rear offers an LED light bar. On the matter of the lights, Audi have added a getting home light display inspired by a sound wave, there to entice you back to drive I assume.
Its quattro inspired blisters (wider wheel arches) are a strong talking point and add to the GT's stance and there are also vents in the front guards to aid air flow. The roof is panoramic (although there is a carbon option)and the wheels are 20 or 21-inch's with a variety of braking compounds (up to a ceramic) plus multiple brake calliper colour options. While the rear itself is a feature all by itself, with a pop up spoiler (Automatically or manually) and rear diffuser.
From any angle it's a looker and shouts muscle car despite being a wimpy EV, I am actually lying about the wimpy bit, this new GT is simply full of electric horses.
In the floor well sits a 630kg 93kWh lithium-ion battery that not only adds to the e-trons low centre of gravity, will when fully charged, give you up to 472km (RS) of EV range. It provides power to two electric motors (one each on the front and rear axles) where they turn this into (in the RS's) case 475kW in over boost and 830Nm of instant torque. This may not mean that much to you but in real usage terms, it will accelerate from 0-100km/h in 3.3 seconds!
It also comes with a two-speed transmission, so there's none (or very little of the gear changing nonsense and being quattro, 100% the power goes to the wheel or wheels that need it – smashing.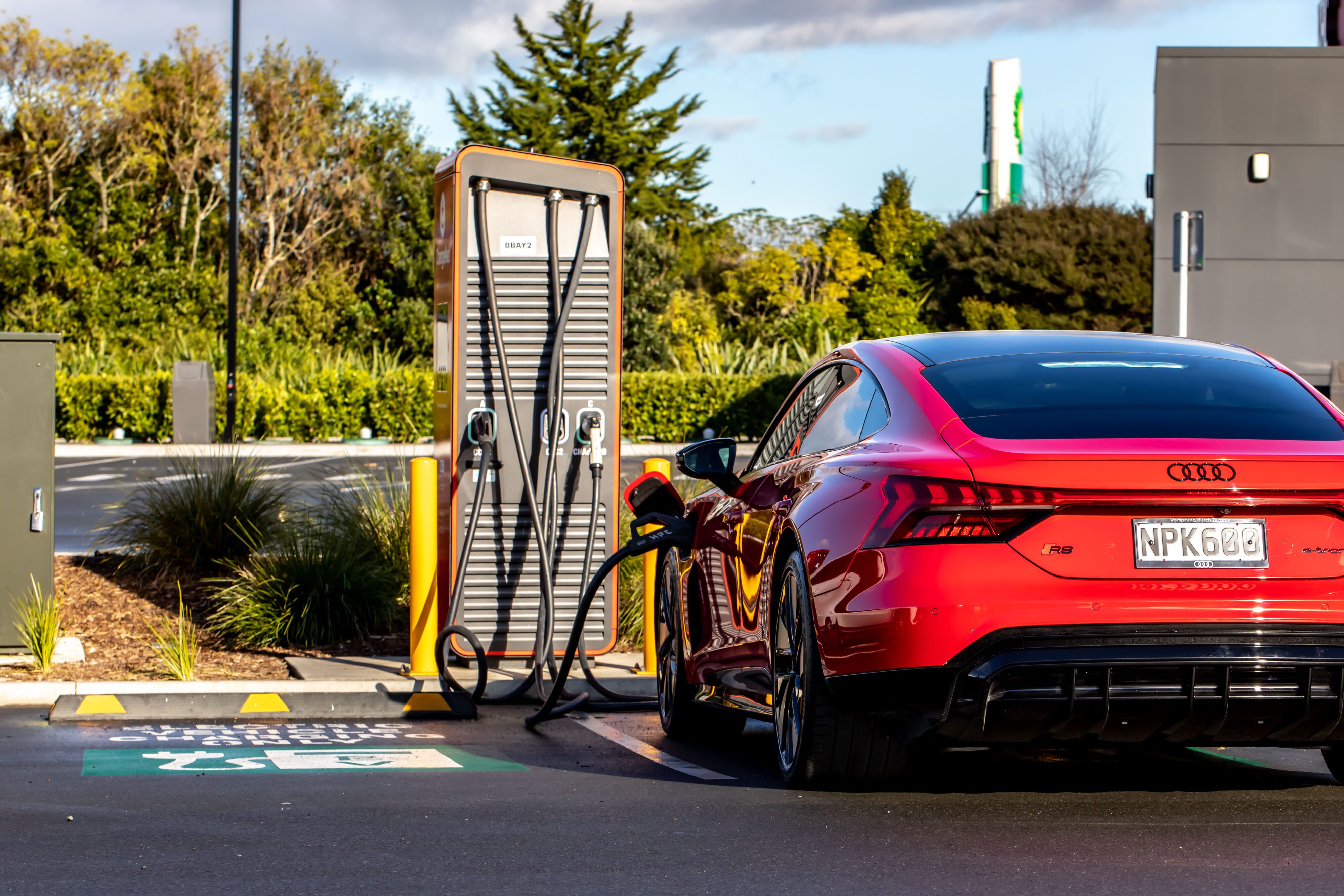 AC charging can be done either side and DC on the Passenger side, with the latter able to take up to 270kW meaning that you can get around 400km range in just 15 mins at a hypercharger.
There's more information to be had from the briefing but I'll tell all as we hop on the plane and head North to Kerikeri.
The Audi RS e-tron GT launch was booked for two days, which in turn meant lots of driving and a good chance to get to know the EV. It would begin at the airport and conclude there in epic fashion, but I'll get to that soon.
Both the quattro and RS models were available upon landing and we immediately nabbed the RS. Thanks to Downforce, Audi had planned a drive route loop around Northland that would take us around 197km (2hrs 50min) and include some testing tarmac and nice open roads, in essence, perfect GT landscape.
The interior itself is very upmarket Audi, awash with fine materials and leather. From a driver's point of view, it's very encompassing and all the information you need is well within arm's reach – and digital too.
The start button is in the centre of the console and drive selection is just push button, D for drive, R for reverse etc but no P for park, that is done via the push button handbrake or just switching off.
Of course it's silent on start up and ready to go, and go it does. Even in efficiency you can tell it's an Audi sportscar. Just to point out, we didn't stay in efficiency for long. The rolling hills were virtually car free, and that meant Dynamic.
The drive mode selector is low down on the dashboard, and simple to flick through (especially if you're an Audi driver). With the RS, Dynamic offers up a progressive engine note that adds to the driving excitement. Also the RS comes with electric quattro (5 x faster than mechanical) and all-wheel-steer so even in the soggy conditions, not once was traction an issue. The drive modes will also raise and lower the chassis +22mm/-22mm to suit speed and terrain, this is one smart GT.
Overtaking is a breeze and cornering is fun, the steering is positive and the drive is involving, even the regen braking has been paired back to increase the natural driving feeling.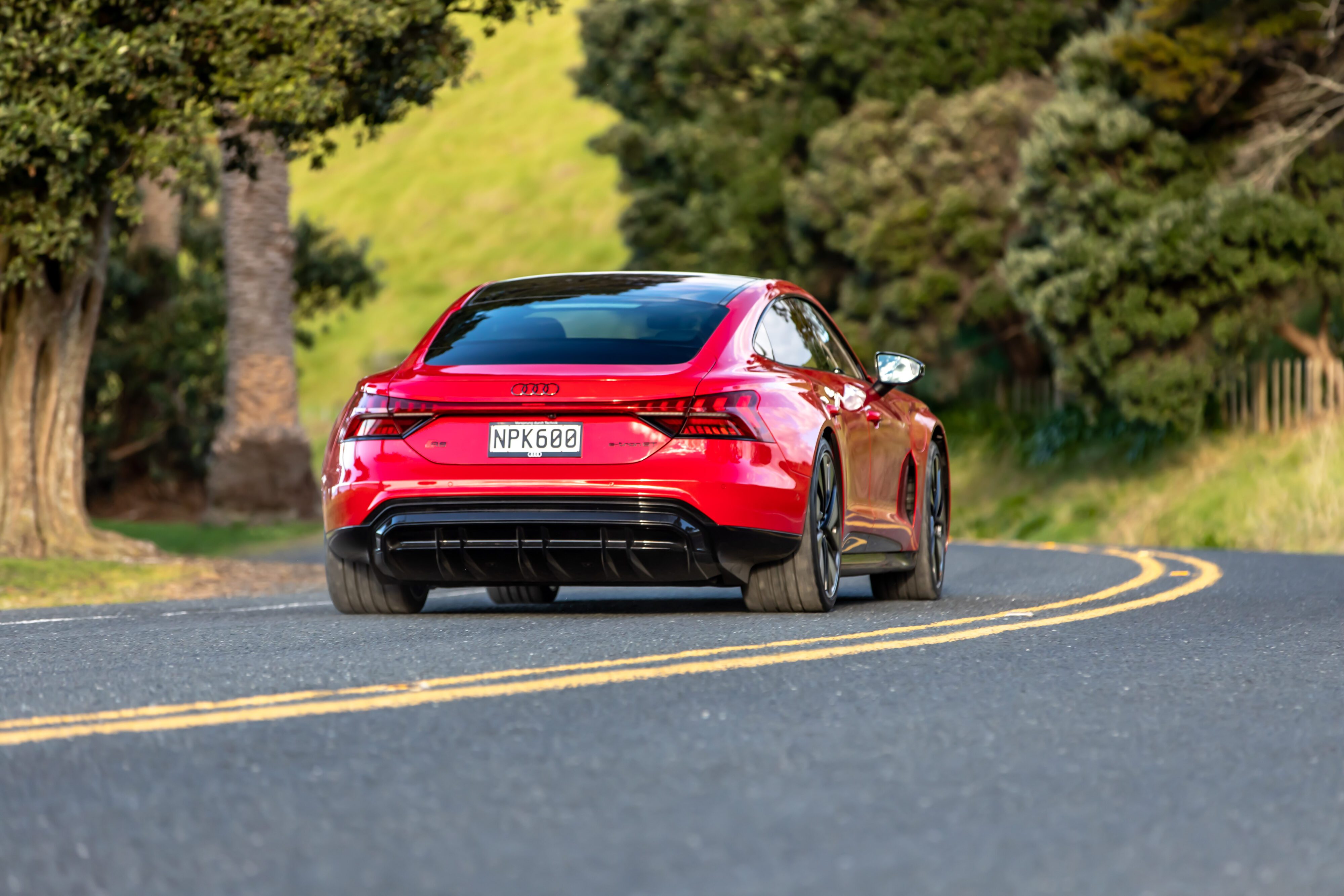 The Audi RS e-tron GT is practical too, with 85L of luggage space available in the 'Frunk' and 405L in the rear (actually 350L if you go for the B&O stereo woofer system). I'm pointing this out because as part of the launch we had to stay the night at The Landing (the place where Obama stayed), it's magnificent.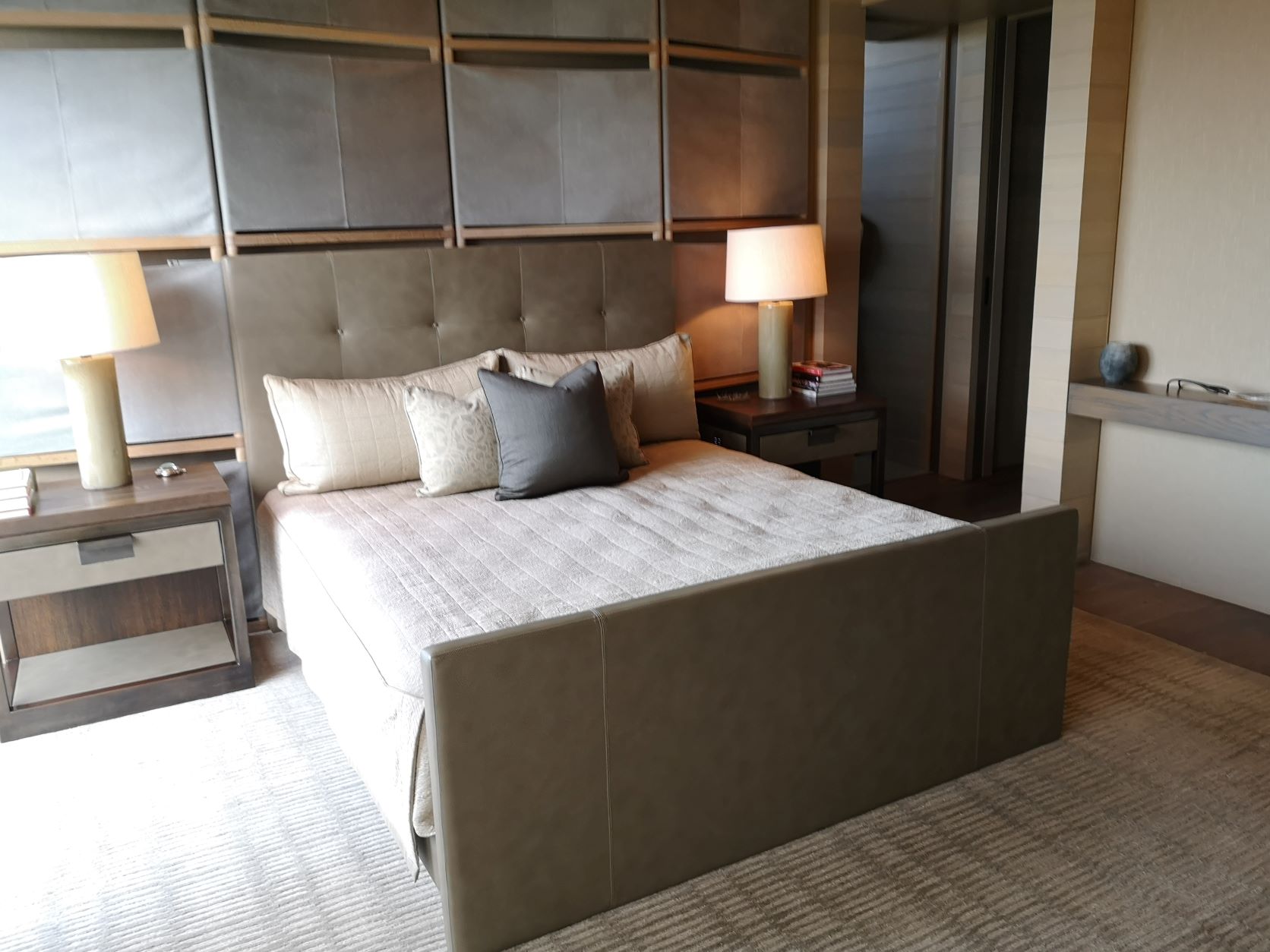 With the night's Dinner, dreamless sleep on an opulent bed, lavish breakfast and an early lunch at the Marsden estate out of the way, we headed back to the Kerikeri airport for a spot of exercise Audi Sport style.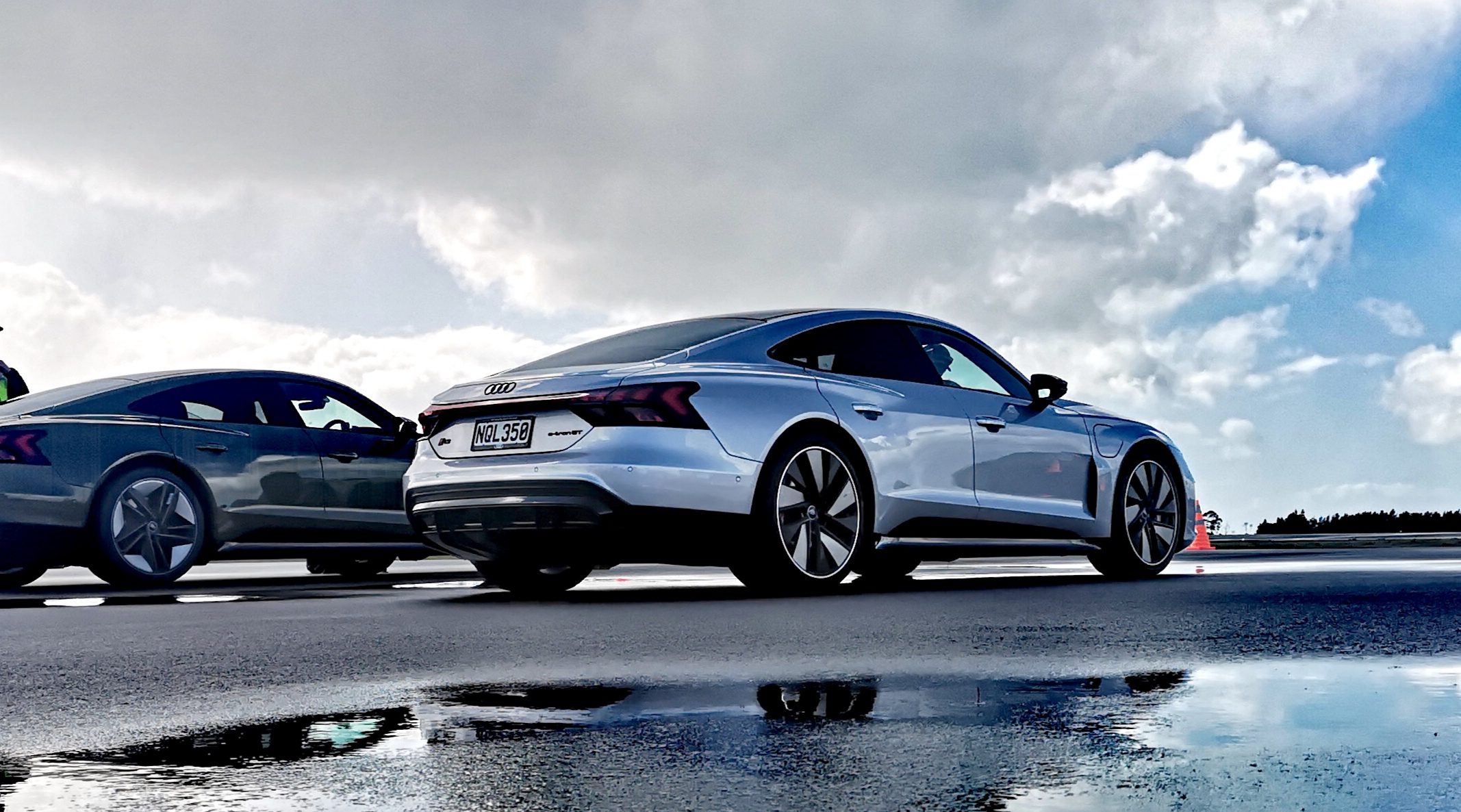 Audi NZ had organised for us to have the airport runway to ourselves for an hour and that meant 0-200km/h tests. 1.2km of tarmac and an RS e-tron GT, oh yeah. Launch control engaged and we were off. In all honesty, 100km/h is almost too quick to count and 200km/h is not far behind it. We were told to stick to 200km/h so let's just say we did that (ahem). We even got to slalom on the way back – I'm telling you it was a thrill.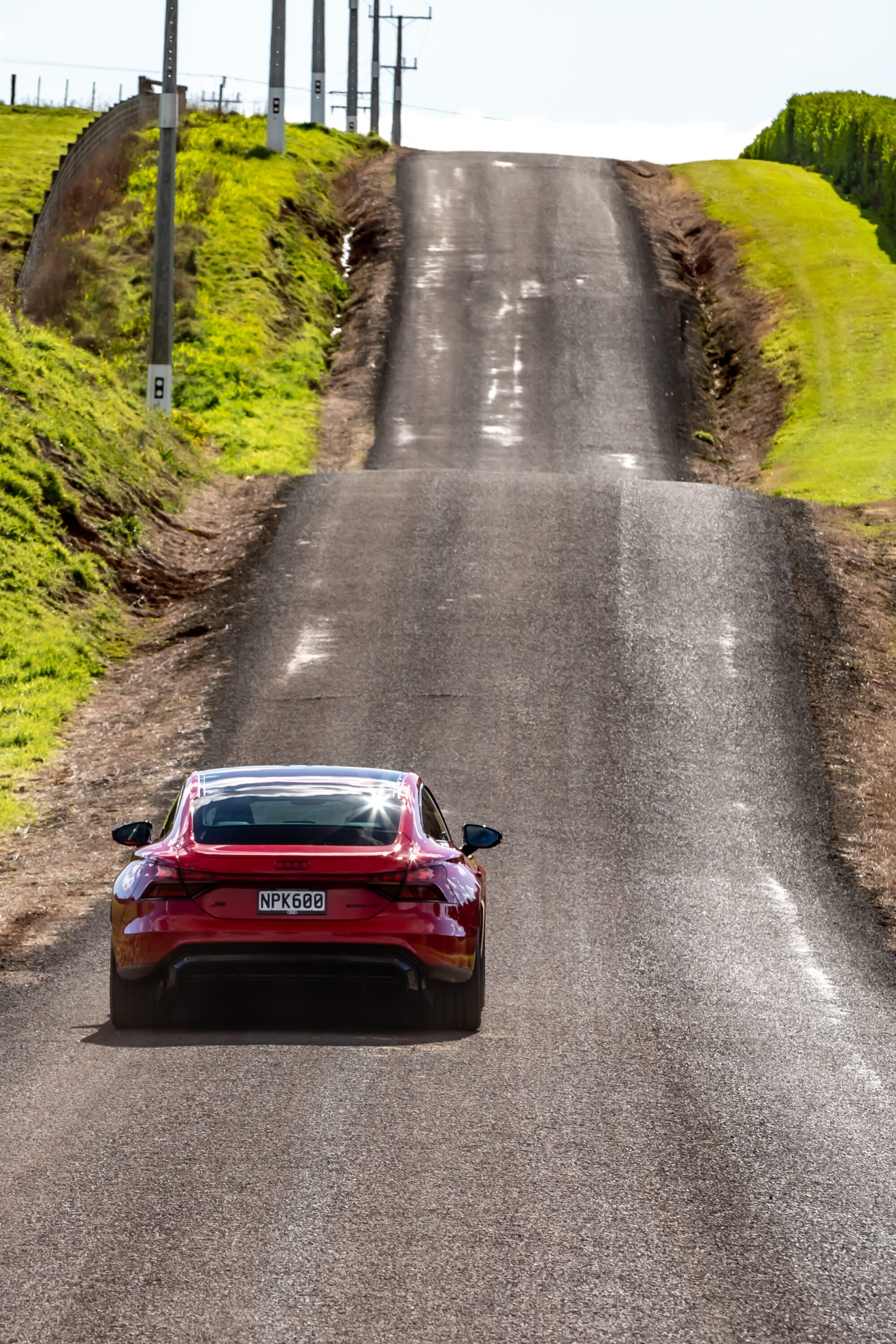 GT's are supposed to be powerful, Stable, Effortless, Comfortable and have the Latest Tech and the Audi RS e-tron GT has all of that and then some. Desirable looks and uncompromising fun – Vorsprung indeed!