Situated high up in the Italian Alps between Lombardy and Trentino lies the Tonale Pass. Popular as a route for avid skiers, the pass is steeped in history while still offering plenty for the modern tourist who uses it. Alfa Romeo know this for they have chosen to name their new mid-sized SUV after it.
Meet the all-new Alfa Romeo Tonale, pronounced "Ton-Ali" not "Toe Nail." Situated underneath the Stelvio in the range, itself named after another famous piece of Italian bendy bitumen, the Tonale is unique amongst the Milanese family as it's the first production Alfa to featured an electric hybrid powertrain.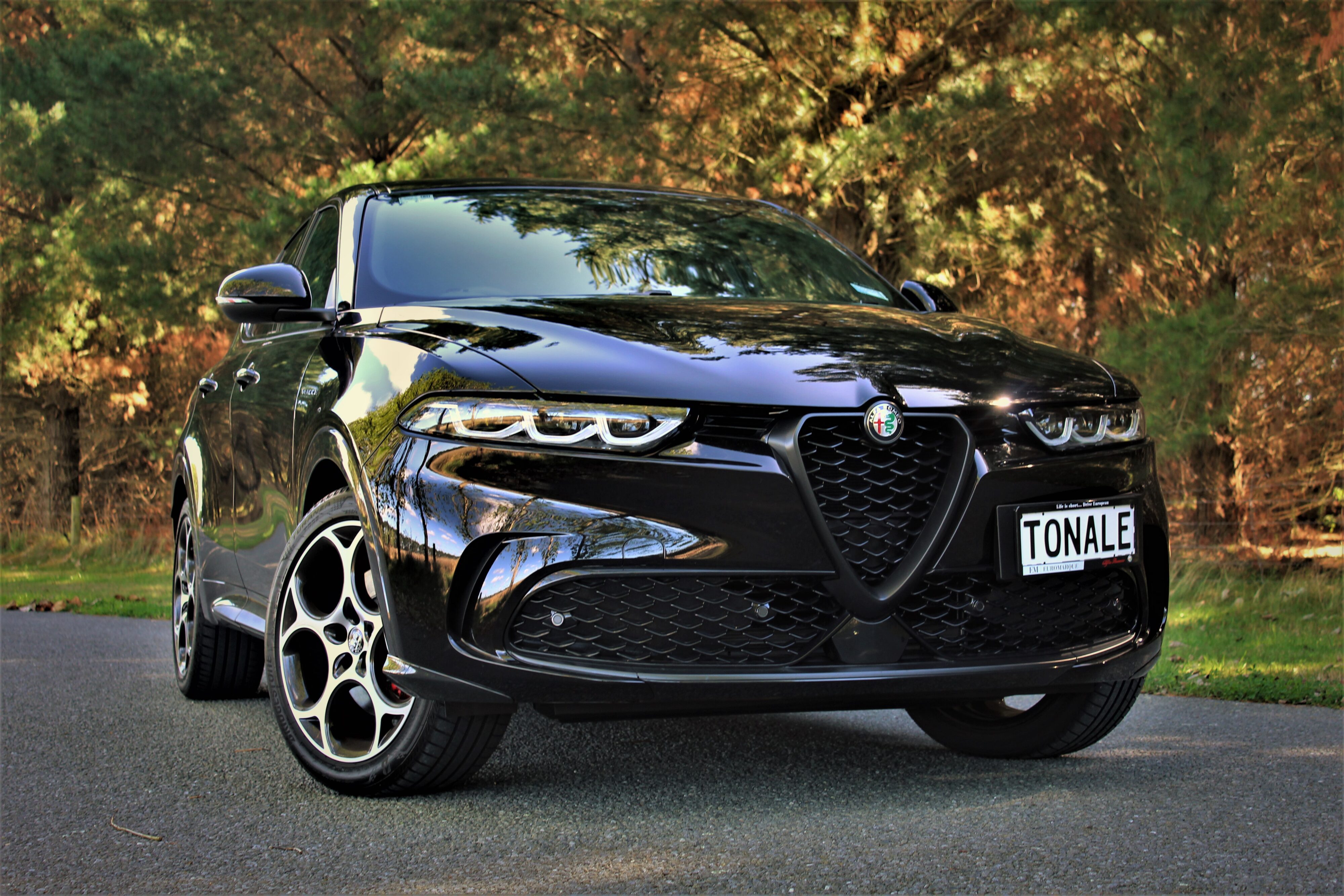 Two models are on offer, the entry level Ti and the flagship Veloce. The former retails at $59,990 plus ORC and the latter at $66,990. Whether you throw in the Government Clean Car Rebate of $2129 for new hybrid electric vehicles or not, the Tonale is rather well priced compared to its German contemporaries.
While a plug-in PHEV AWD variant is coming here later in the year, there is no confirmation on whether not there will be a fire-spitting Quadrifoglio performance version. Anyway, for now the Veloce is as prestigious as it gets in the Tonale line up.
Talking of prestige, the Tonale has tones of it, especially when one considers those handsome chops. In terms of making an SUV look good, Alfa seem to nail it every single time. From the side it looks ok, its 19-inch diamond cut alloys being the most visually striking aspect. However, it's the front and rear in which the salivating can begin.
The LED Matrix headlights and daytime running likes coupled with the Scudetto, that's Alfa's grill to you and me, and the various scoops and intakes make the Tonale quite the looker with a somewhat sinister edge, especially this particular car in that shade of premium Alfa black paint. The rear shows more LED lights and a full width light bar across the boot meeting up with a centre mounted Alfa logo. It does look good this thing, though I would rather have it in that beautiful Montreal Green.
As we have established, the big news regarding the Tonale is its step in the direction of electrification. The Tonale is MHEV, or Mild Hybrid Electric Vehicle. In conjunction with a 1.5L four cylinder petrol engine, you have a 48 volt battery pack and a 15kW electric motor which when thrown together, provides 118kW and 240Nm of torque.
Mated to this is Alfa's seven-speed dual clutch transmission which channels said power to the front wheels and will in return produce a claimed 5.6L/100km in combined fuel consumption and 143g/km of CO2 (WTLP). Underneath the Tonale shares its platform with the Jeep Compass but Alfa's newest SUV also features some first for the brand, including Frequency Selected Dampers which have been settled by Koni shocks and the Veloce gets Alfa Active Dual Stage Valve Suspension.
Inside will be immediately familiar to any modern Alfisti. The cockpit is very much able to cocoon you snuggly in place and those Alfa embossed leather chairs provide ample comfort and support. The sports steering wheel does feel good to hold.
Ahead of you sits a very swish looking 12.3-inch digital instrument cluster. It's a great set up and allows you to view a plethora of driving info. The dials can be altered too by press a button on the wiper stalk. You can choose from a set of classic Alfa dials which resemble something straight out of a classic GTV Junior, or a modern and contemporary set up. The latter dials of which only displays whatever speed you happen to be doing and nothing else. Very much like a torch shining light on the darkness to remind you that you are speeding.
The Tonale's 10.25 touchscreen infotainment system is pretty much identical to the system found in the Maserati MC20 supercar. Then again, they are both Stellantis aren't they? It is a very clear and sharp looking set up, but you have to be quite assertive with your index finger to get every touchscreen function to work.
The tech which you can operate from within the screen is pretty decent. Standard kit for the Ti includes adaptive cruise control, wireless charging, Apple CarPlay/Android Auto connectivity, lane departure warning and lane keep assist, power tailgate and adaptive driving beam headlights and dynamic turn indicator.
The Veloce gets all this an plenty of sporting and rather menacing looking exterior motifs, Brembo brakes, those aforementioned 19-inch alloys (the Ti has 18s), and lots of red stitching on the inside.
The Tonale also gives buyers the choice of two optional packages, the Lusso and the Technology pack. Being the Italian word for luxury, the $6,000 Lusso pack fitted to my test car gives the Tonale a few more luxo creature comforts.
These include heated and ventilated leather front seats which are also 8-way electrically adjustable and a thumping 14-speaker Harman/Kardon sound system. As far as in car "beats" go, its definitely one of the better ones out there and certainly gives the full concert experience from the likes of Hans Zimmer.
The Technology Pack gives additional safety features like a 360-degree reversing camera, side parking sensors, blind spot detection, lane centre assist and rear cross traffic alert. Boot space is rated at 500L which for this market is pretty good.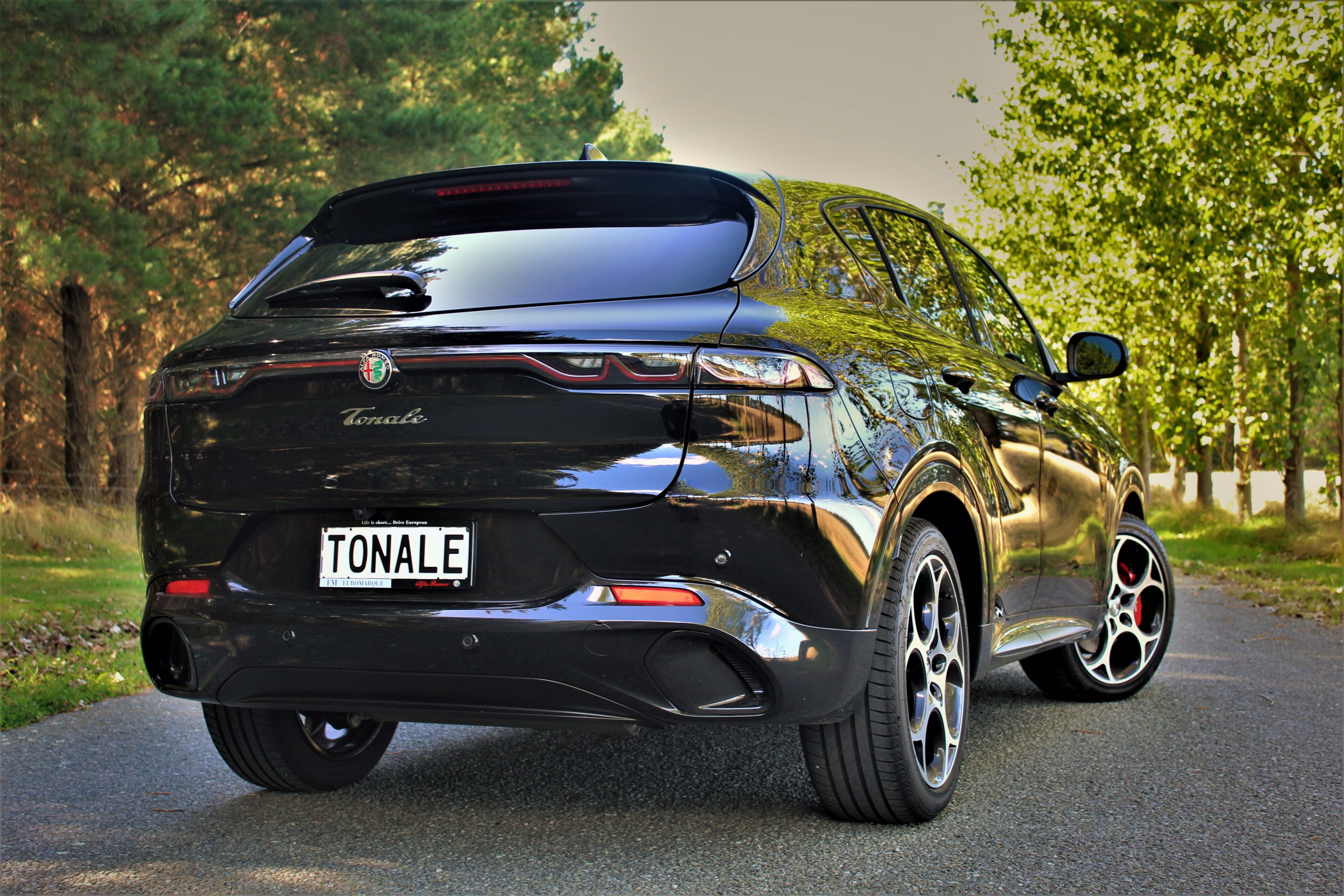 The Tonale Veloce feels solid and tight when you open it up a bit. The combo of electric and petrol power serves a good meaty dose of low-down torque which manages to stay with you once you rack up a good pace, though with a zero to 100km/h time of 8.8 seconds, the Tonale Veloce is not what you would call rapid.
Being a Mild Hybrid, you have no say in when you would like the Tonale to run on EV power alone. On start up it defaults to electric but after awhile the 1.5L petrol engine wakes up when you have yet to move forward.
The battery is quite small compared to other Mild Hybrids but there is still enough ability for the Tonale to silently motor along and bring those fuel averages down. Plus, the transition between the two, electric and petrol, is very seamless. If you didn't look at the rev counter, most of the time you wouldn't know while on the move.
The Tonale still manages to offer up an entertaining drive too. It doesn't have the most exciting engine note compared to its bigger and more expensive Quadrifoglio siblings, but the combo of those damper and suspension upgrades mean it can eat up twistiness relatively well. The seven-speed box is also a good unit, though upshifts are still slightly delayed with each flick of the right paddle.
That said, the Tonale's forte is the cruise. Set the radar cruise just so and the Tonale is a great devourer of distances. Ride comfort is decent too and apart from a smattering of tyre roar, it's a good un.
Some may spit the dummy at the fact that Alfa Romeo has, much like just about everyone else, started to transition their range into a more, as John Travolta would put it, "electrifying" future. Don't get me wrong, I love the passion, flair and glorious noise of a petrol-powered Alfa as much as the next die hard Alfisti, but for a car like the Tonale, encompassing hybrid technology has been a smart move.
It has its niggles, but the Tonale shows us that we ought not to be wary of where one aspect of one of the oldest names in motoring is headed.
RATING: 8/10