Having recently attended the New Zealand launch of the new 2021 VW Tiguan, I was (needless to say) very keen to get some additional alone time with it – as luck would have it Volkswagen NZ was happy to oblige.
The statistic that kept bouncing around my head from the launch was that a VW Tiguan is produced every thirty-five seconds. That means, (depending on how quick you read) around ten new Tiguans will be made by the time you finish this review. What's more, Tiguan owners are a loyal bunch so will probably be very happy to stretch that number out to twelve.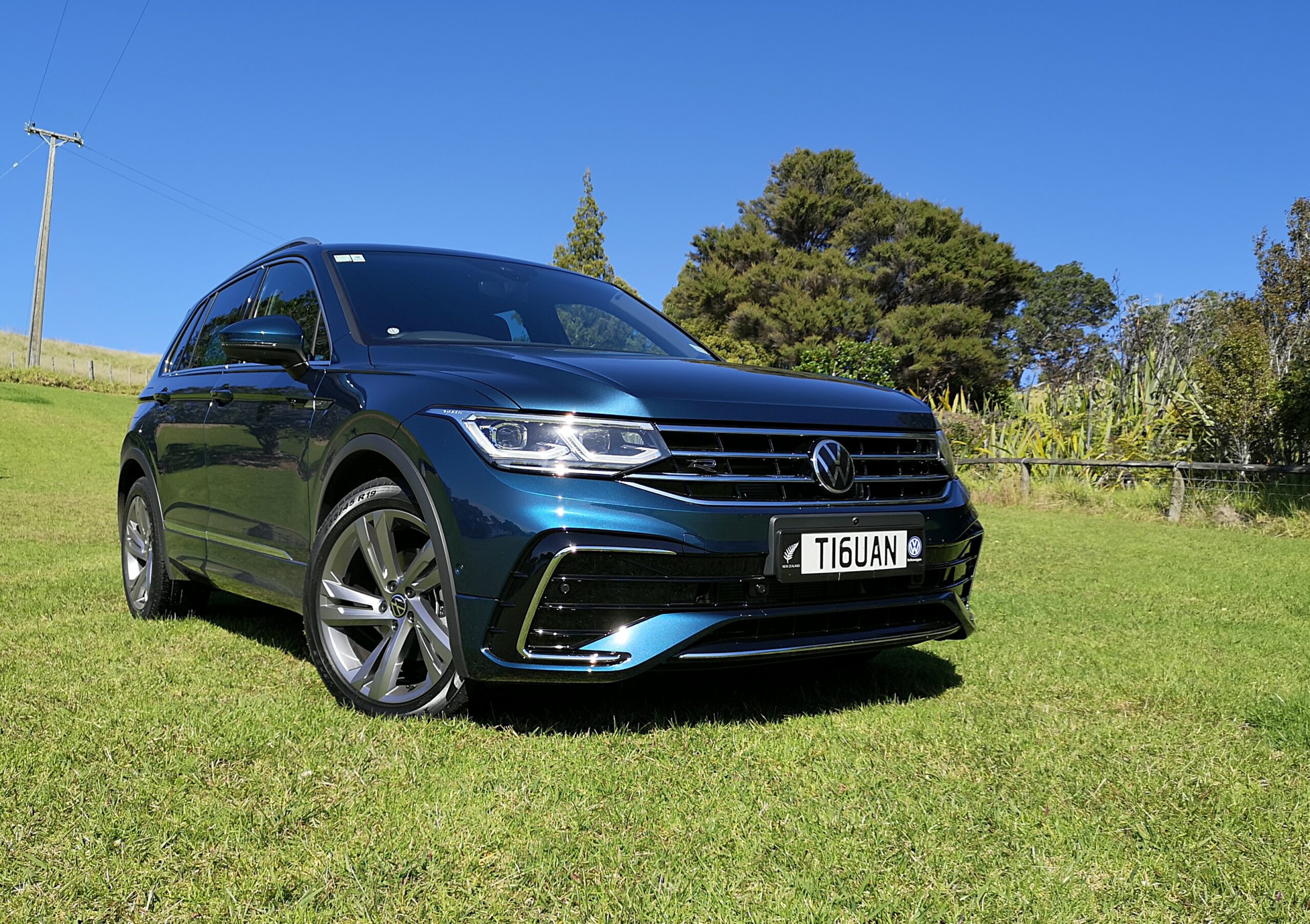 Yes the new 2021 VW Tiguan is in essence a facelift but both visually and technologically VW has gone to town with it – which coincidentally is where the Tiguan likes to hang out.
Proportionally its dimensions remain similar (4.51m Long x 1.84m wide and 1.66m high) and the overall shape is still unmistakably a mid-sized SUV, however the entire VW design team have obviously been hanging out together and enjoying themselves.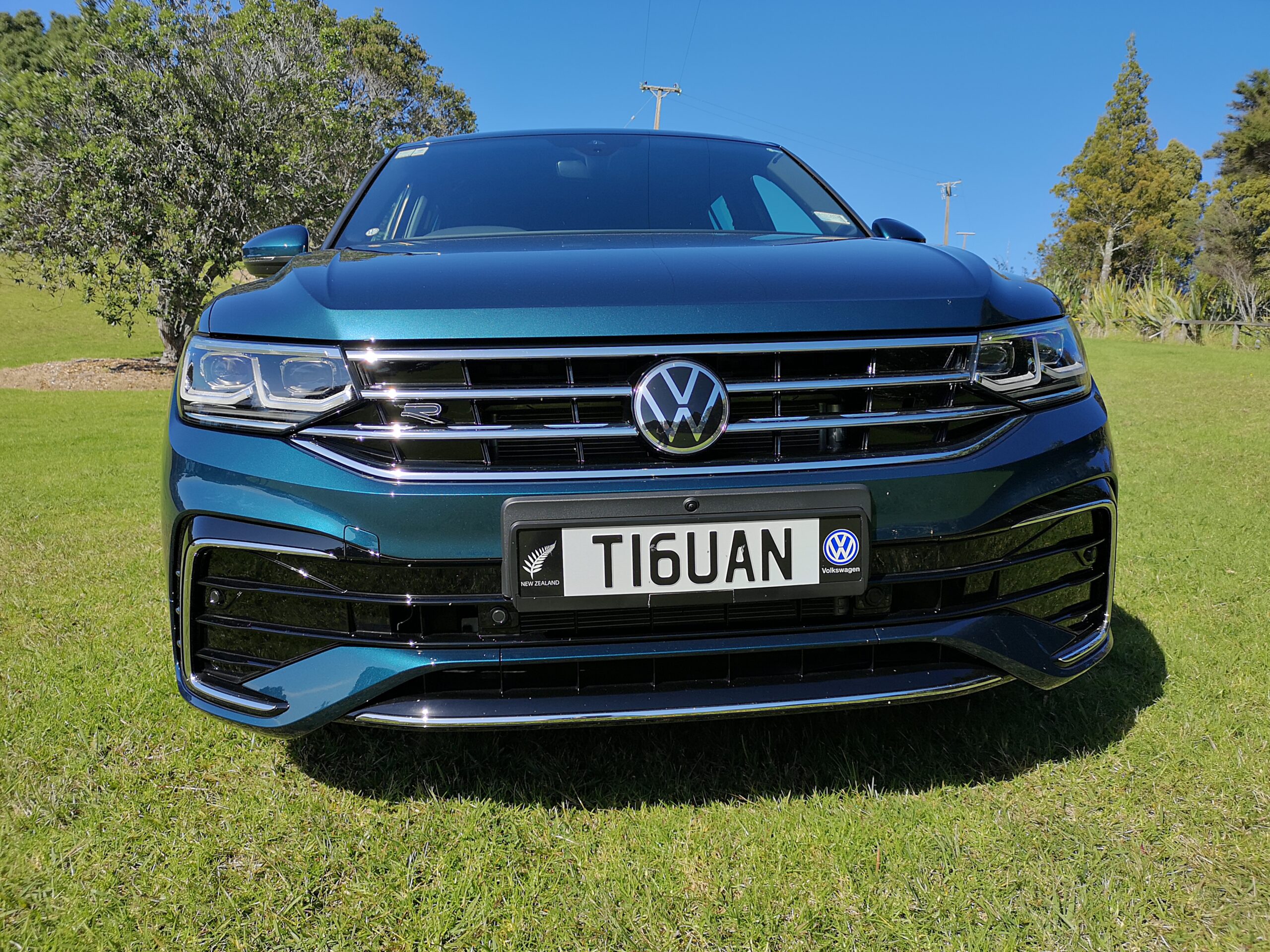 The grille is now part of the VW SUV family, the front and rear lights have been re-styled, the front and rear bumpers have been given a good seeing to and the 'R' logo is new and 'flowing. The result is a more confident exterior that is sure to please its fans.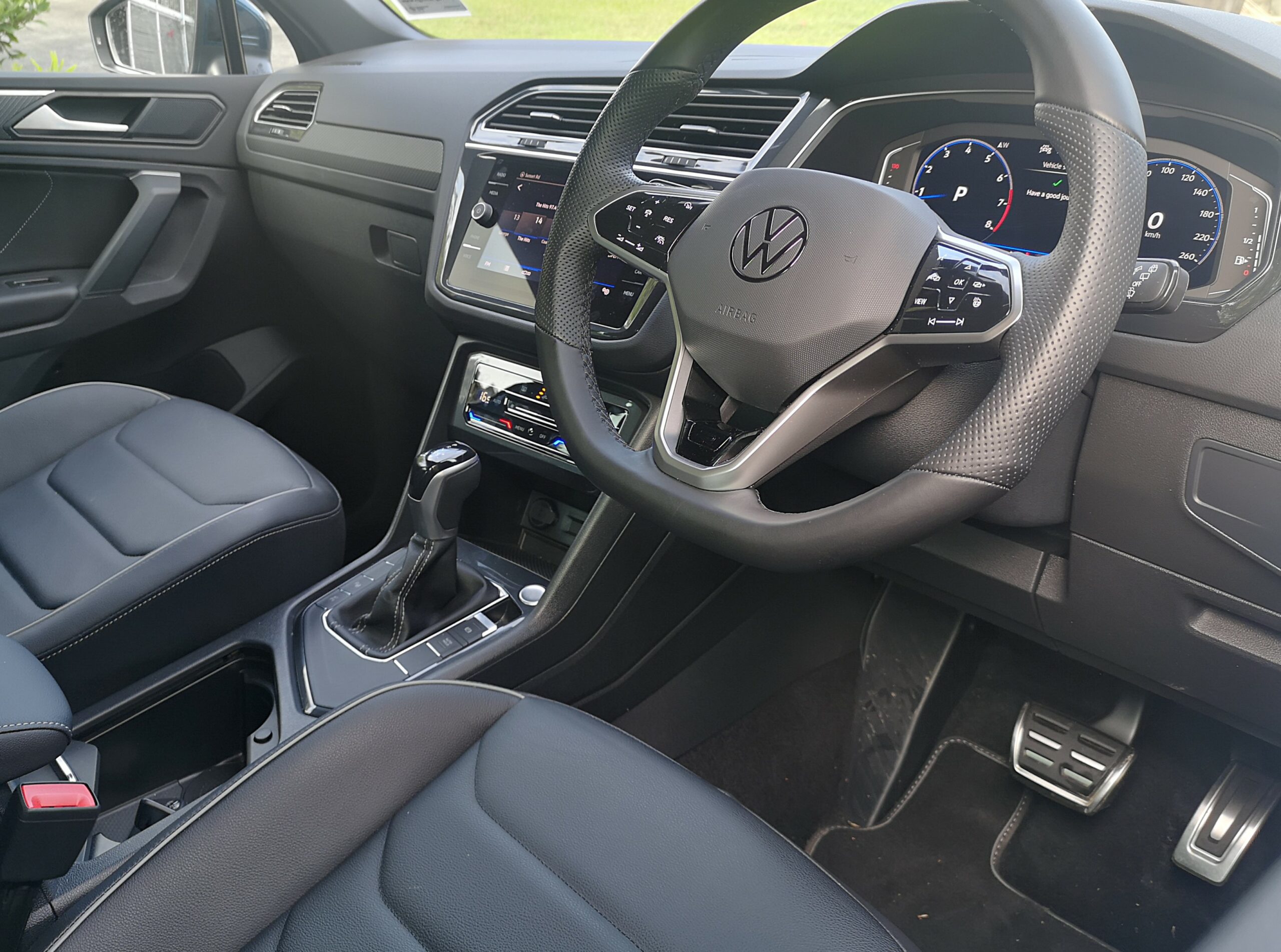 Step inside and you're greeted with a large 8-inch infotainment screen (but up to 9.2-inches – model dependent) and comes with VW's MIB3 system – it's quick to respond and rather intuitive. There are way too many aids and functions to list (seriously, go check them out) but you can feel free to choose 30 different ambient light colours, wireless app connect (Apple and Android) listen to your fave tunes through 8-speakers, let the Tiguan do the parking for you and push one button on the steering wheel for simple adaptive cruise control (with Travel Assist). It could do with a few more USB ports though.
On the subject of steering wheel, the Tiguan has gone haptic for 2021. Clicky buttons and dials have been replaced by touch-sensitive receivers (I guess to embrace a more sensitive world). The climate control below the infotainment screen is touch sensitive too giving you the ability to slide between hot and cold or just tap away to the perfect temp if you should so desire.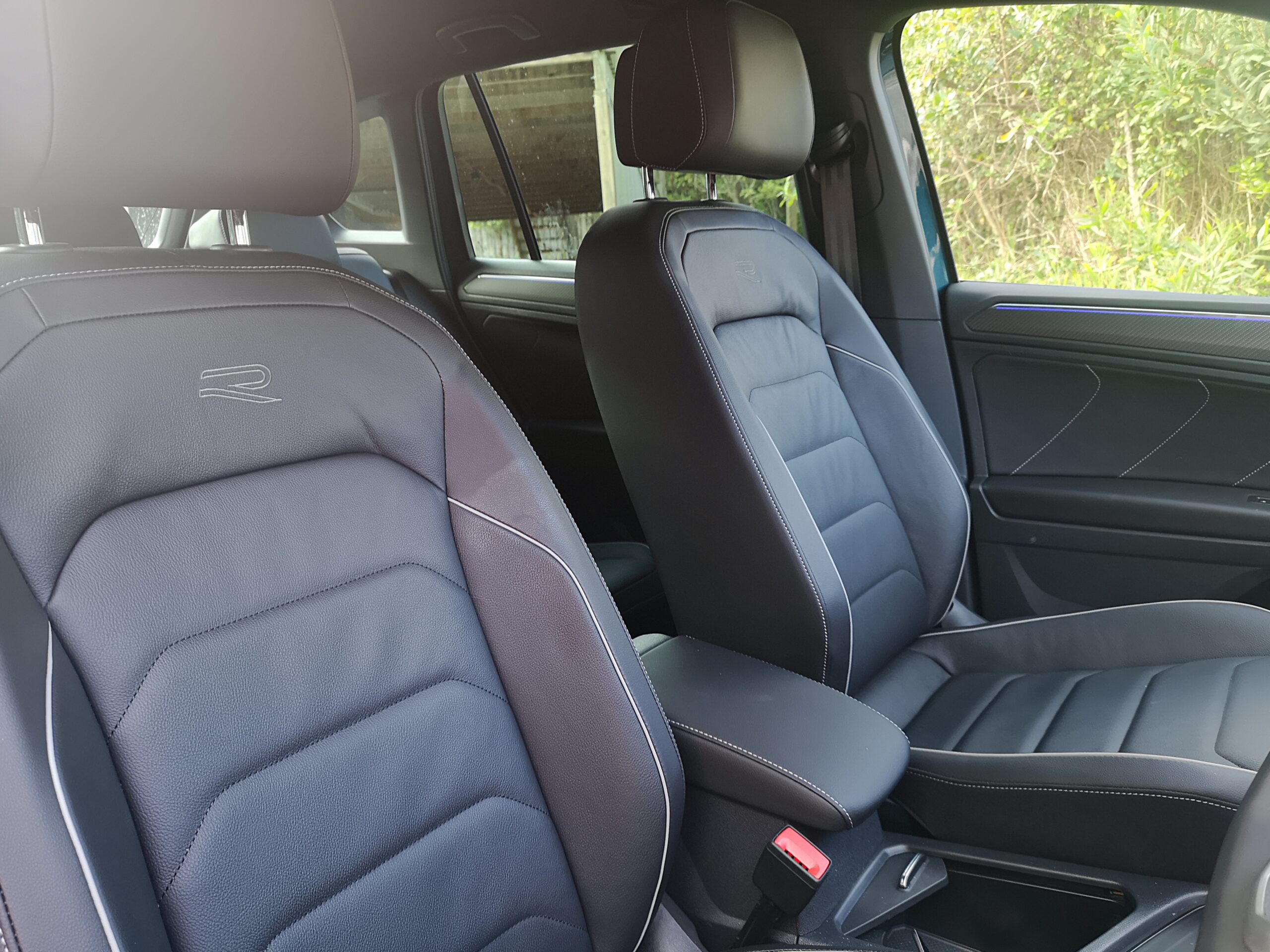 The furniture is R-Line 'Vienna' leather appointed and is heated for the front seats, the steering wheel is leather too and comes (in my review model) with paddles for sporty gear changing. The 'regular' gear stick is new, with its DSG 6-speed numbers illuminated on top, it's also tiptronic with a sport mode, however, 'sporty' my TSI R-Line 2WD wasn't.
It's not that the 1.4L TSI isn't good, as in fact it's great, offering up 110kW of power and 250Nm of torque, it's just that the turbo offers a fair amount of lag so I suggest avoiding 'race-confrontations' at SH1 on-ramp lights.
Aside from the usual regular-life demands, we [the family and I] took a trip out to Sullivans Bay. It's a nice drive with an even nicer beach destination, the bonus being that the roads there are twisty and tight and I have to tell you that the Tiguan loved it. The 2WD model feels as grippy as a 4 and the strong chassis/Electromechanical Power steering combo is fun to drive, the cabin is quiet too – definitely a highlight.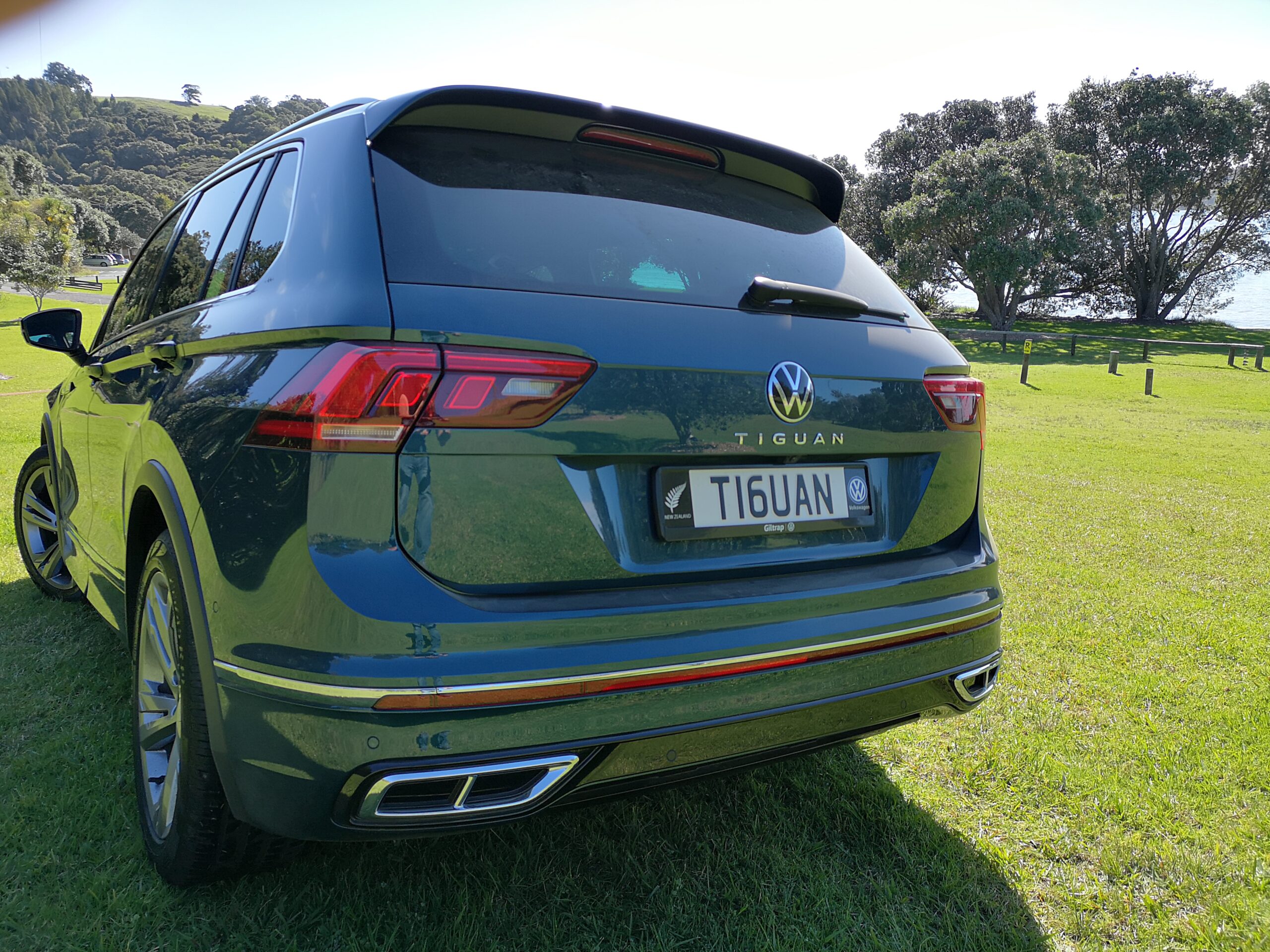 VW's advert would suggest that you never want to leave the cabin but I have to say that my model's Nightshade Blue Metallic 'hero' paintwork made outside admiration a must.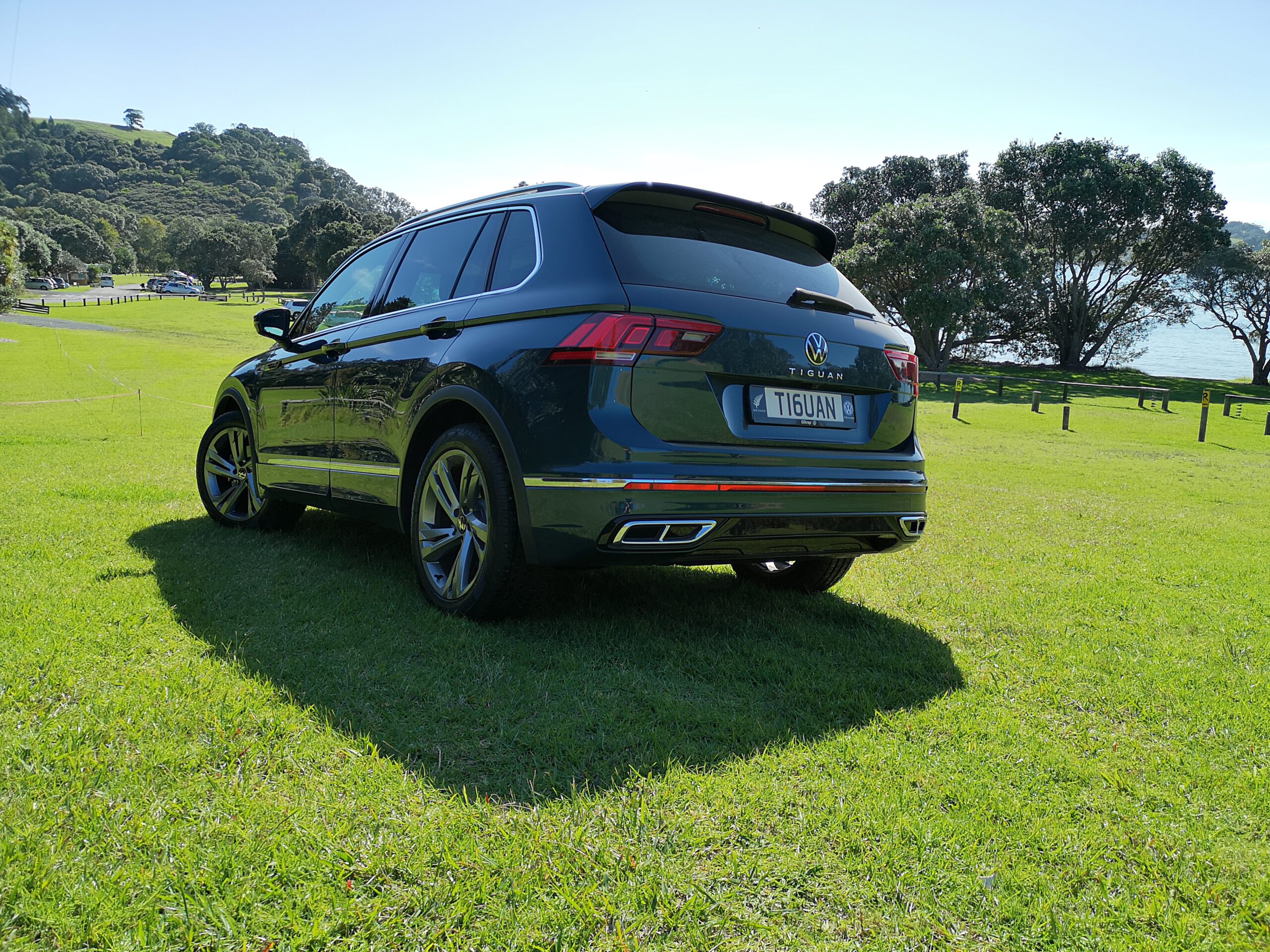 Globally, over 6 Million VW Tiguan's have been produced since its inception in 2007 and with this new model I can't see volume slowing down soon. It's a well-made, well-proportioned, stylish SUV that's easy on the eye and simply excels in technology – I'm looking forward to testing the 2L model.