The Volkswagen Passat Alltrack is billed as 'an adventurous all-rounder' and with its 173mm ground clearance, 4Motion AWD system and 2L turbocharged 4-cylinder engine it's easy to see why. However, unfortunately the day after I took possession of the valiant Vdub, Auckland was thrown into level 4 lockdown (seriously not my fault).
If I'm honest, at first glance the new Passat Alltrack wagon doesn't exactly shout about its capabilities but then again nor does Clark Kent. My review model came dressed in black with chrome and silver accents around the grille, lower valance, tail pipes and badging and looked far more comfortable on my driveway in suburbia than up a mountain or on a trail. But in many ways, that's the point. Let me explain.
With over 30 million units sold over eight generations, the Passat ranks 3rd on the VW all-time popularity list and has arguably been a hit for families and Execs ever since it first came off the production line in 1973.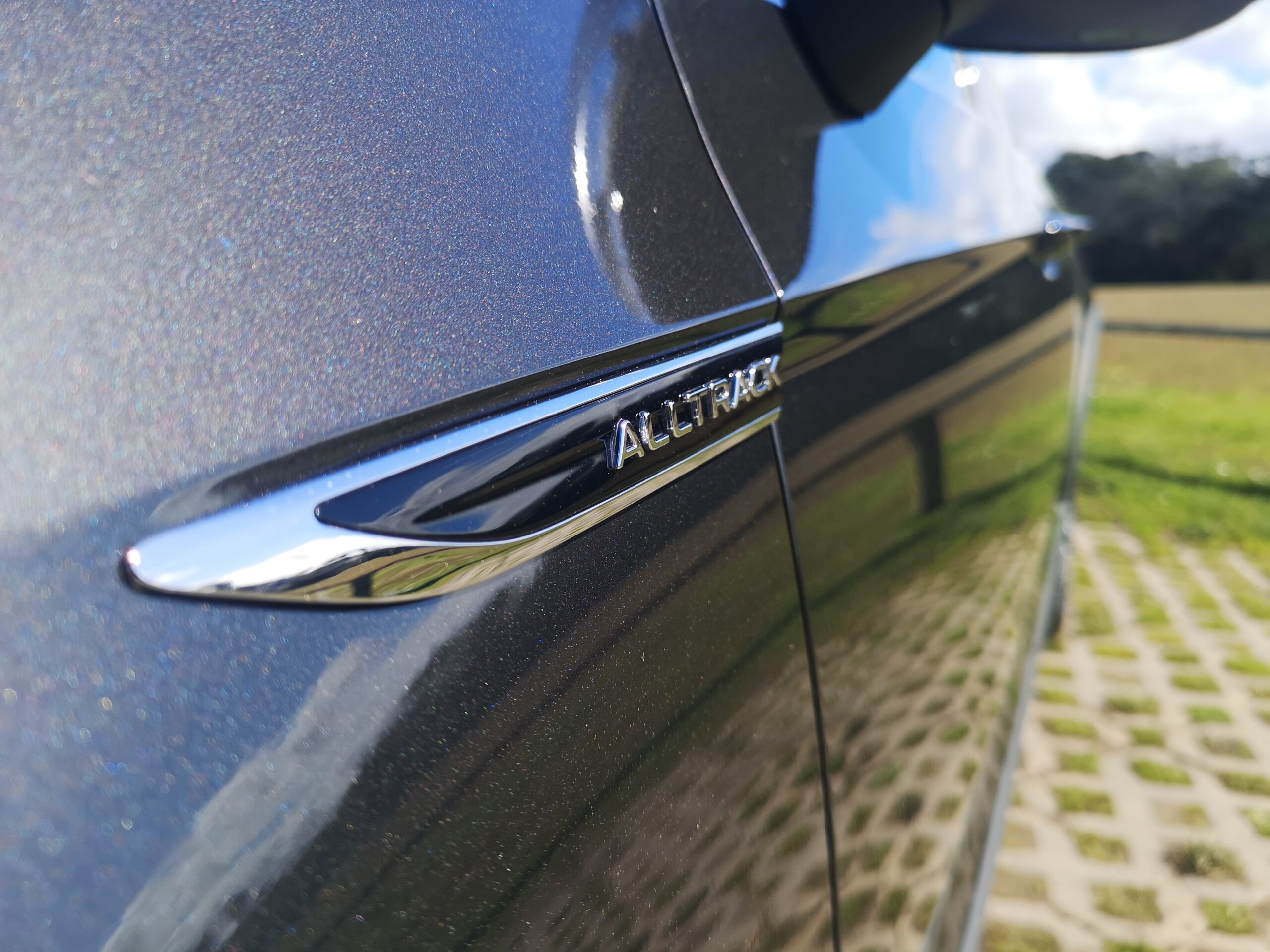 Somewhere along the line SUVs and Crossovers became a thing and VW more than embraced that ongoing wave but with the desire of satisfying a wider range of customers, the Volkswagen Alltrack came to life in 2012. Offered in a single 'wagon' or estate body style, the Alltrack was a combination between the regular Passat and yet had the capabilities of a Tiguan. Now in its facelifted third generation, the VW Passat Alltrack continues with its popular blueprint but has also increased the tech.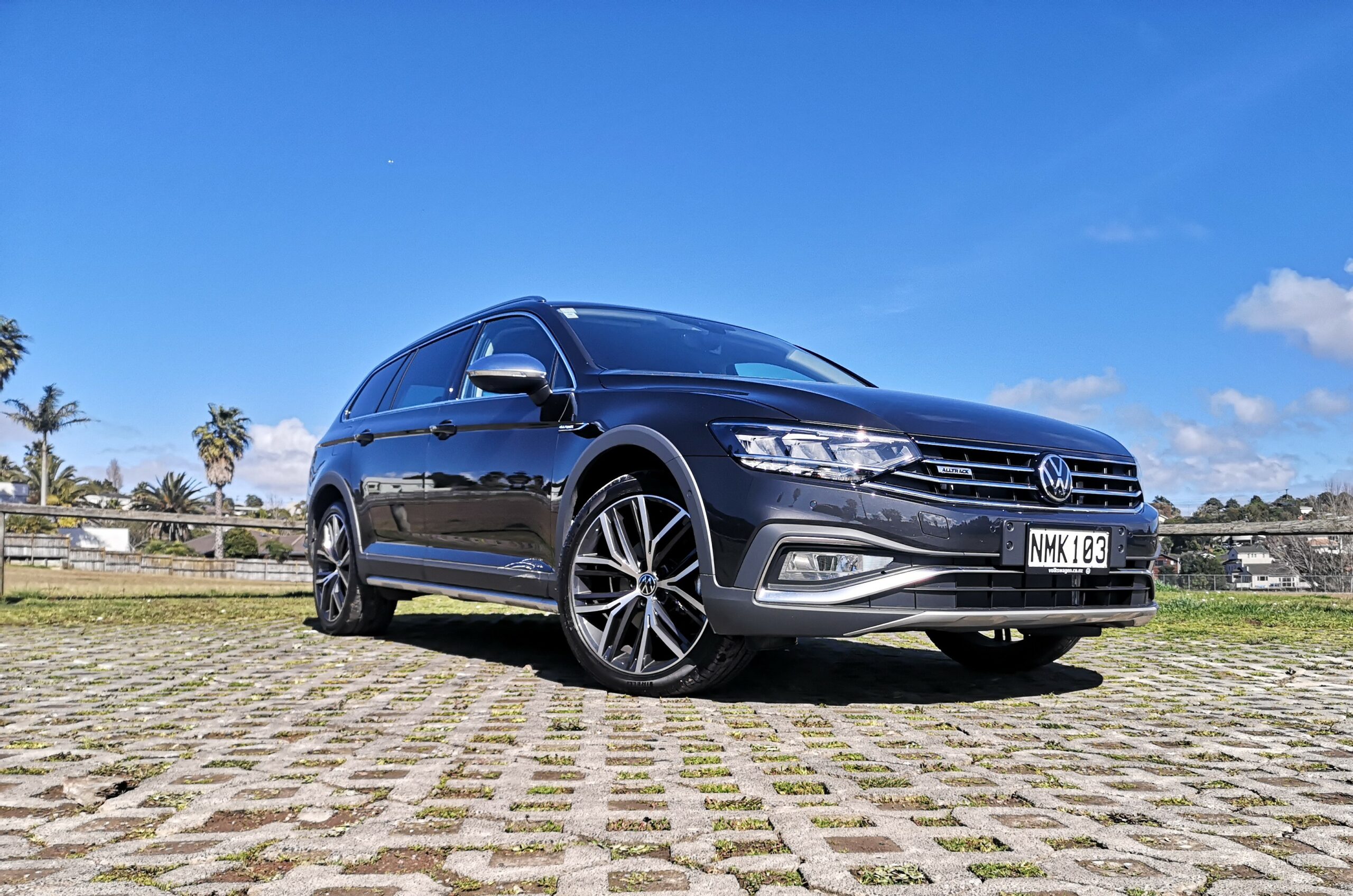 In terms of its 'off tarmac' prowess, the Passat Alltrack comes with a protective surround that covers the wheel arches and sills, has a skid plate up front to keep its nose safe, it sits higher than a regular Passat, has the most excellent 4Motion AWD system (both as mentioned before), LED lights, 19-inch Albertville alloy wheels and even has a dedicated off-road mode that tempers your throttle and associated inputs. What's more it will happily tow a boat or whatever with a tensile load of 2,200 kg.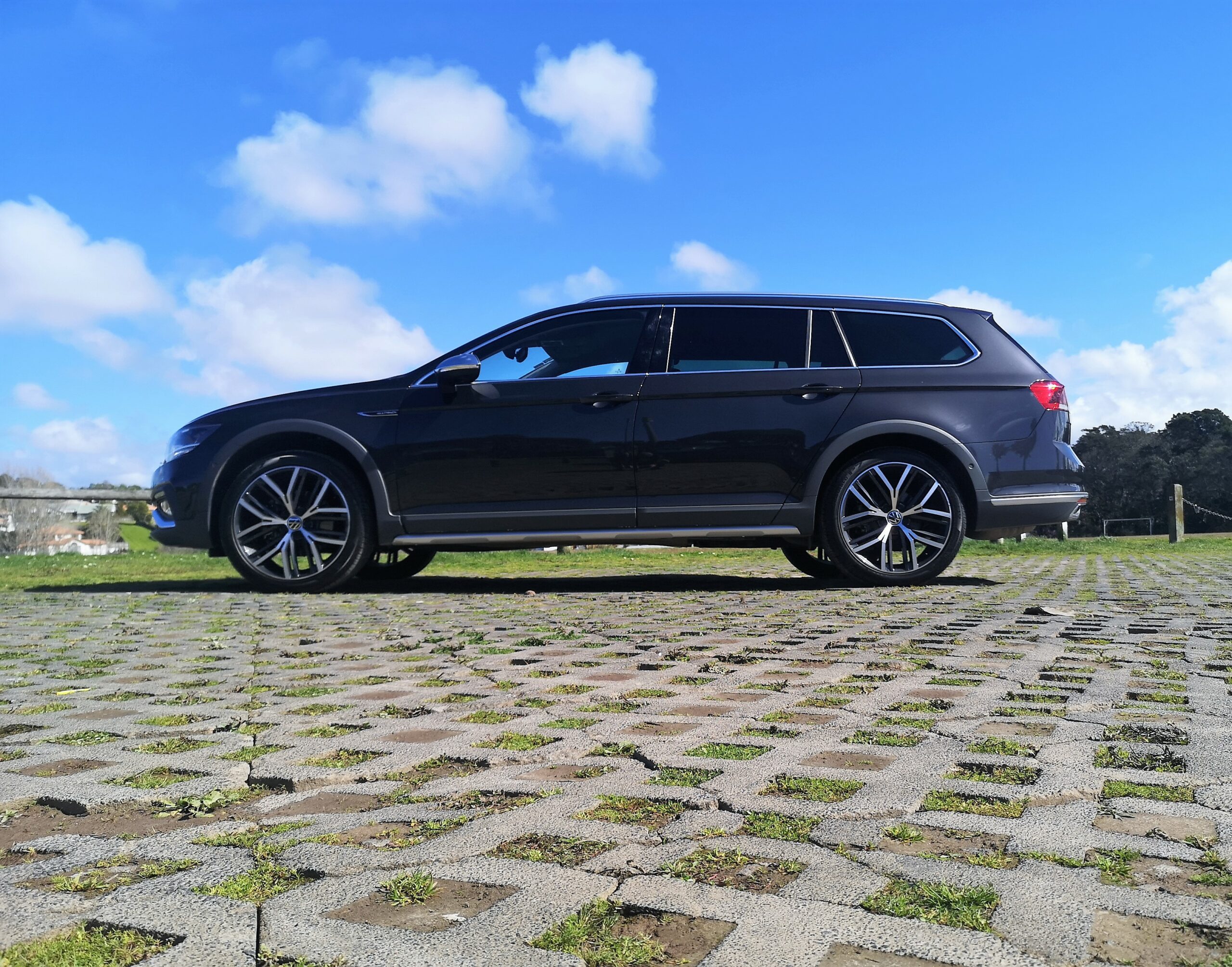 But of course, I got to play or experience none of this during my review time (thankfully I have been up on the snow with the previous iteration). What I did get a chance to do however, was play with its more mild mannered side, and it's simply excellent.
Under the Passat Alltrack's bonnet is a 2.0L turbocharged TSI four-cylinder petrol engine that produces 162kW/350Nm and when linked to its 7-speed dual clutch automatic transmission gives a combined economy of 7.9L/100km and CO2 emissions of 181g/km. So it's plenty powerful for the highways and byways and in my case, an essential trip to the supermarket.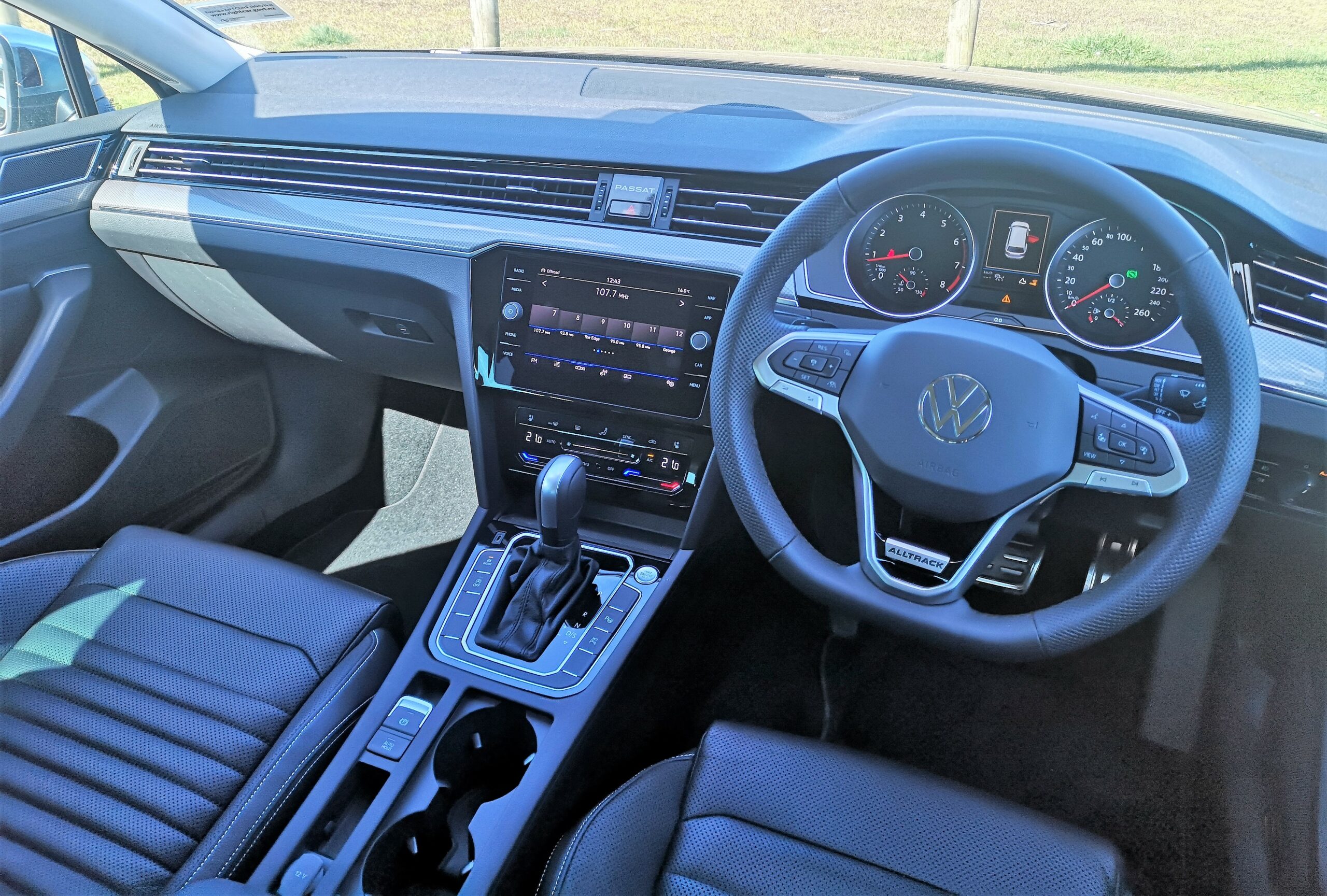 The exterior itself I could say is a little subdued by that may be more down to the black paintwork rather than the wagon but as far as a mid cycle facelift goes, the designers evidently felt comfortable enough to take a backseat. It's still bold enough to catch your eye without the need for garish unnecessary shapes or lines but also doesn't look out of place at a 5-star hotel or on the driveway of an Auckland northern suburb.
With government limitations on where I could venture with my VW adventurer my outings in the Passat Alltrack consisted of the park with my son to kick a ball and Pac n Save, both of which I took the long route to.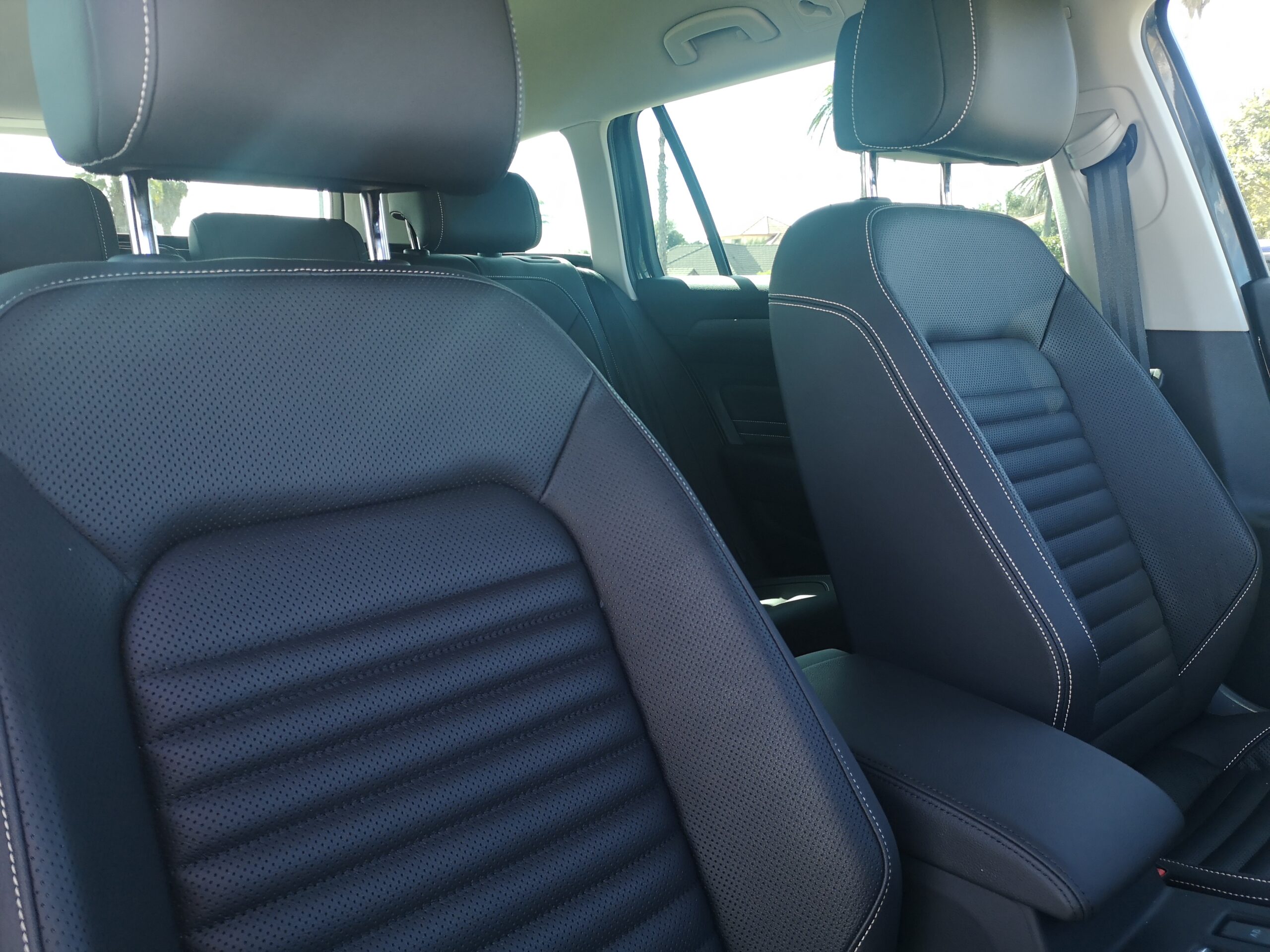 The Passat Alltrack's cabin is both spacious and (albeit rather regimental) modern with a finishing that we've all come to expect from VW. Black Nappa leather furniture (and a massage seat for the driver) with white contrast stitching, piano black gloss and a kind of snake skin effect trim across the dash that sits just below the expansive 3-bar air vents, NZ has gone for a traditional instrument cluster set up although I believe there is a digital cockpit available overseas – I assume this was to keep costs down a little, but from there on it it's tech all the way.
Just like the new Golf and Tiguan, the A/C system in the Passat Alltrack is now haptic with finger touch sensitivity (some may not like this), however the controls on the steering wheel remain buttons. The 8-inch Infotainment screen comes with the third generation of the Modular Infotainment Matrix (MIB3) and App Connect that interfaces with smartphone apps and wireless integration of iPhone apps via Apple CarPlay for the first time at Volkswagen. It has improved navigation-related services with real-time traffic and 3D camera views for when you need to park.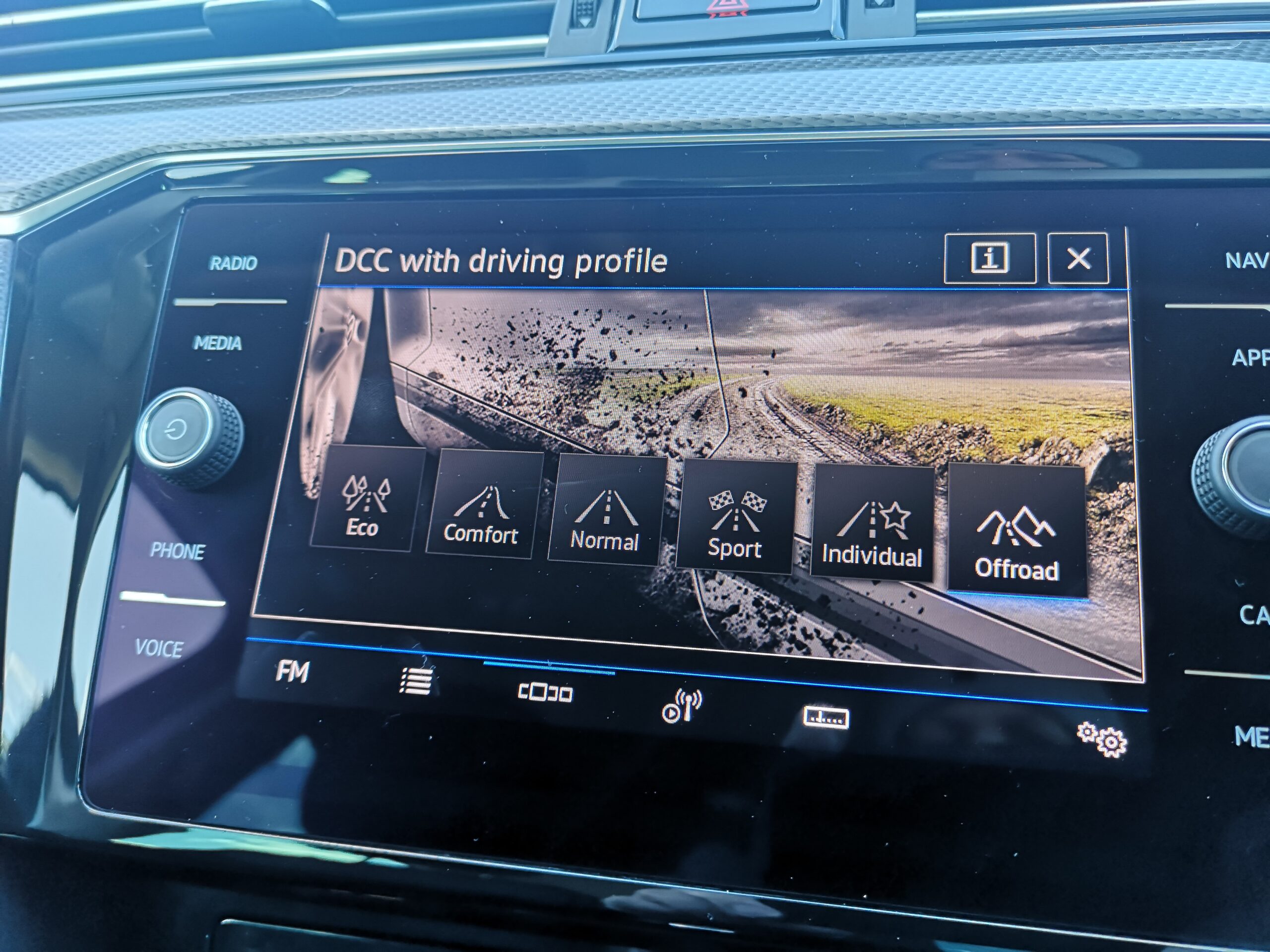 Little known fact that VW's "Travel Assist" actually celebrated its world premiere in the Passat Alltrack making it capable of partially automated driving at any speed (0 to 210 km/h) with this new IQ.DRIVE system plus the new Passat was also the first brand model worldwide with a capacitive steering wheel, however, as I said, the NZ model still comes with buttons.
Admittedly, my trips to the store were hardly mammoth for the Passat Alltrack but it did alternate between SH1 and back road routes. The former allowing me to use 'comfort' mode and its adaptive cruise functions and the latter going for a firmer, more enthusiastic ride with 'Sport'. You can certainly tell the difference as the VW's dynamic chassis control (DCC) system adapts seamlessly to each role, comfort is more bump absorbing while sport offers little body roll in corners but neither require an 'essential' trip to the chiropractor.
I have to come clean and say I have a soft spot for estates or wagons. I like the lower seating position yet there's no compromise in terms of luggage space (up to 1,769L in this wagon). The 2021 VW Passat Alltrack may not be a revelation in terms or design tweaks but it is improved and does reestablish itself as a great alternative to the SUV. I just want the restrictions to ease so I can venture further than my front gate!