In 1951, the first direct-dial coast to coast telephone call was made, the first commercial computer, UNIVAC, was put into use in the U.S. Census Bureau, popular television show "I Love Lucy" premiered on CBS and the First Colour Television Pictures broadcast from Empire State Building. Meanwhile, over in Japan, a mobility vehicle for Japan's National Police Reserve, called the Land Cruiser was born. With over 70 years of continuous production, 14 model lines and thousands of variations, the Land Cruiser is the longest produced vehicle in Toyota's history and Toyota NZ gave us the latest iteration, the 300 VX Limited to play with – I mean review.
Before we begin here is a quick history lesson, believe me I didn't know either.
The Toyota Land Cruiser actually started off life as a parts bin project, with the prototype using the chassis of Toyota's one-ton Type SB truck, a 3.4-litre Type B six-cylinder petrol engine from a four-ton truck, suspension from the Toyopet passenger car, and an open body akin to the Jeep. It wasn't viewed positively.
Images of Frankenstein aside, a redeveloped version (called the Toyota Jeep BJ – B-series engine and Jeep) managed to conquer feats of automotive superiority that were previously only capable on horseback. The improved BJ was a success and welcomed by all with open arms, including being named the official vehicle supplier to Japan's National Police Reserve.
Fast forward seven decades and you get a Land Cruiser that can still climb mountains and go where a horse can, but is as far away from the parts bin as can be.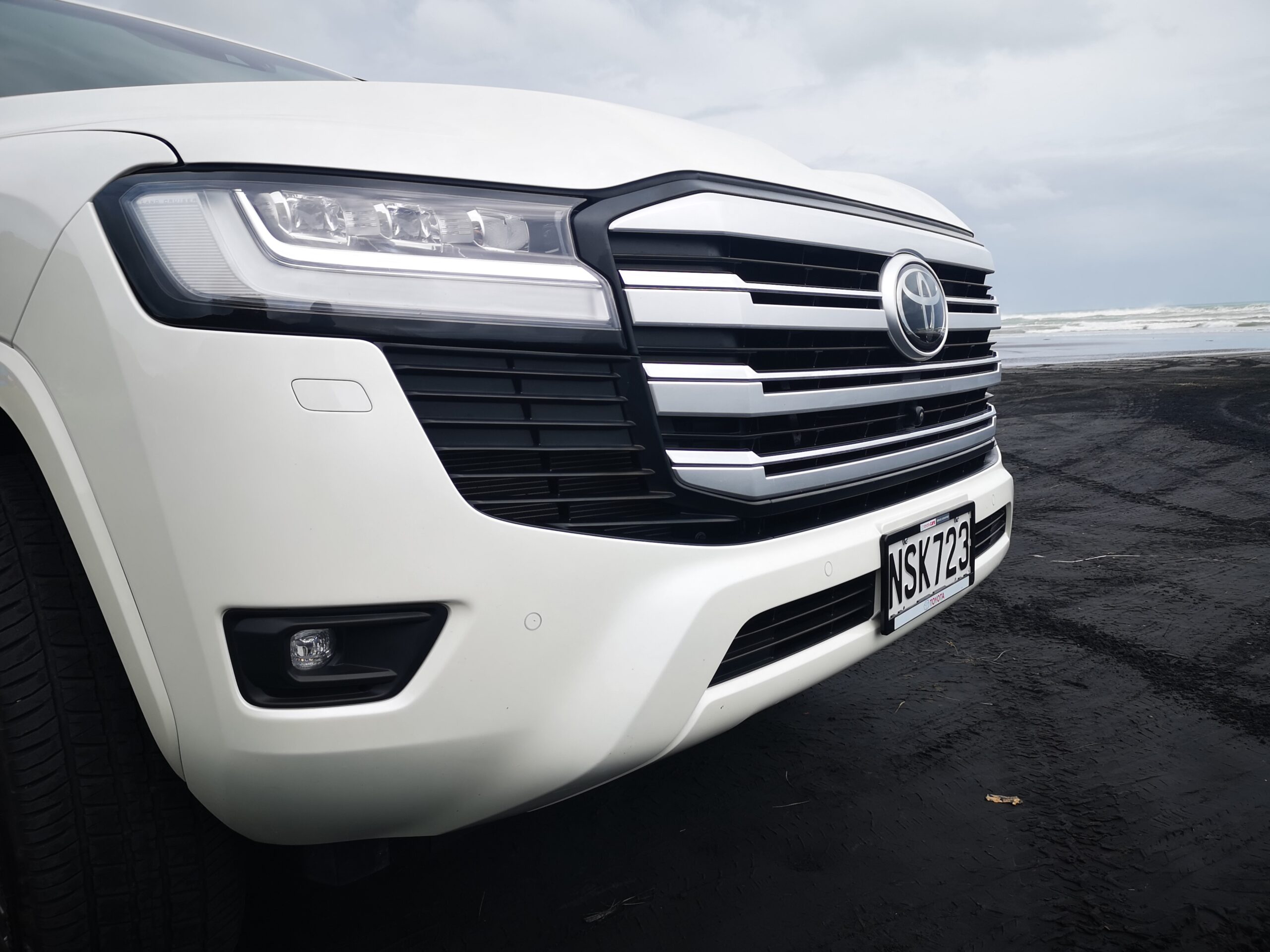 Firstly there's it's size, it's big, huge in fact, and casts a large shadow on much of the motoring landscape. But this 7-seater somehow manages to look stylish too. There is a big, sculpted depression in the bonnet which serves two purposes, one is to make it easier to see more of the road ahead of you. And secondly, to offer a little bit more rigidity and safety to the nose.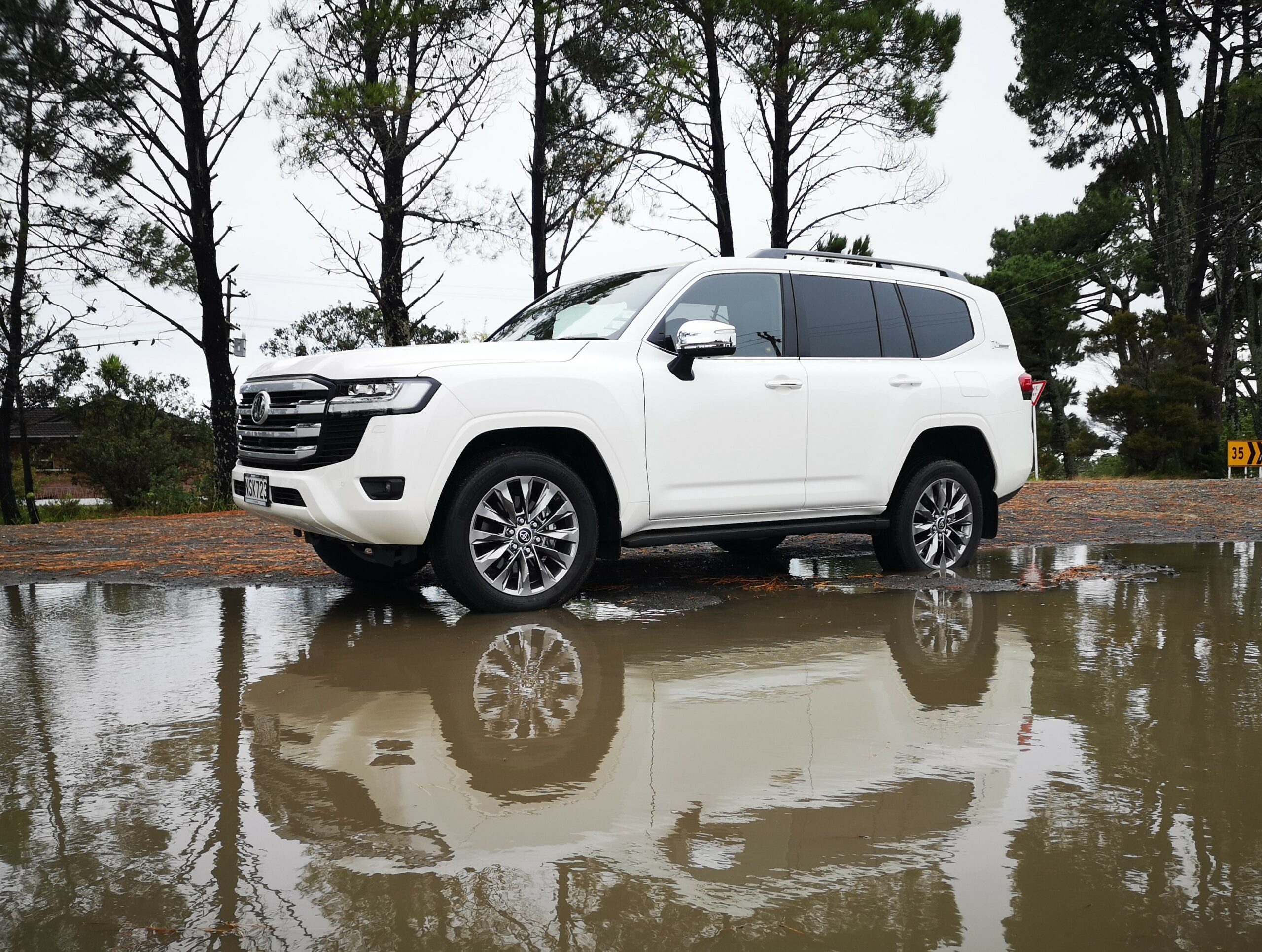 The grille sits higher up as do the headlights, and things like the lower valance and lower bumper have all been chiselled away to make them less prone to hitting anything should you decide to ventura off road. I'll get to more of the off-road stuff soon.
The new 300 VX sits on the GA-F platform which is 200 kg lighter and 20% more rigid than its predecessor. It's profile offers up short overhangs both front and rear and in my review model's case, sits on 20 inch alloys and are visually connected by very handy running boards that hug the sills. On top of the D-pillar is a lovely 70th anniversary badge, which obviously signifies 7 decades of the Land Cruiser.
The tailgate has slightly more shape to it, And the kicker tailgate gives you access to 175L With all the seats up or should you electronically drop the third row you have over 1000L for whatever you choose to put there.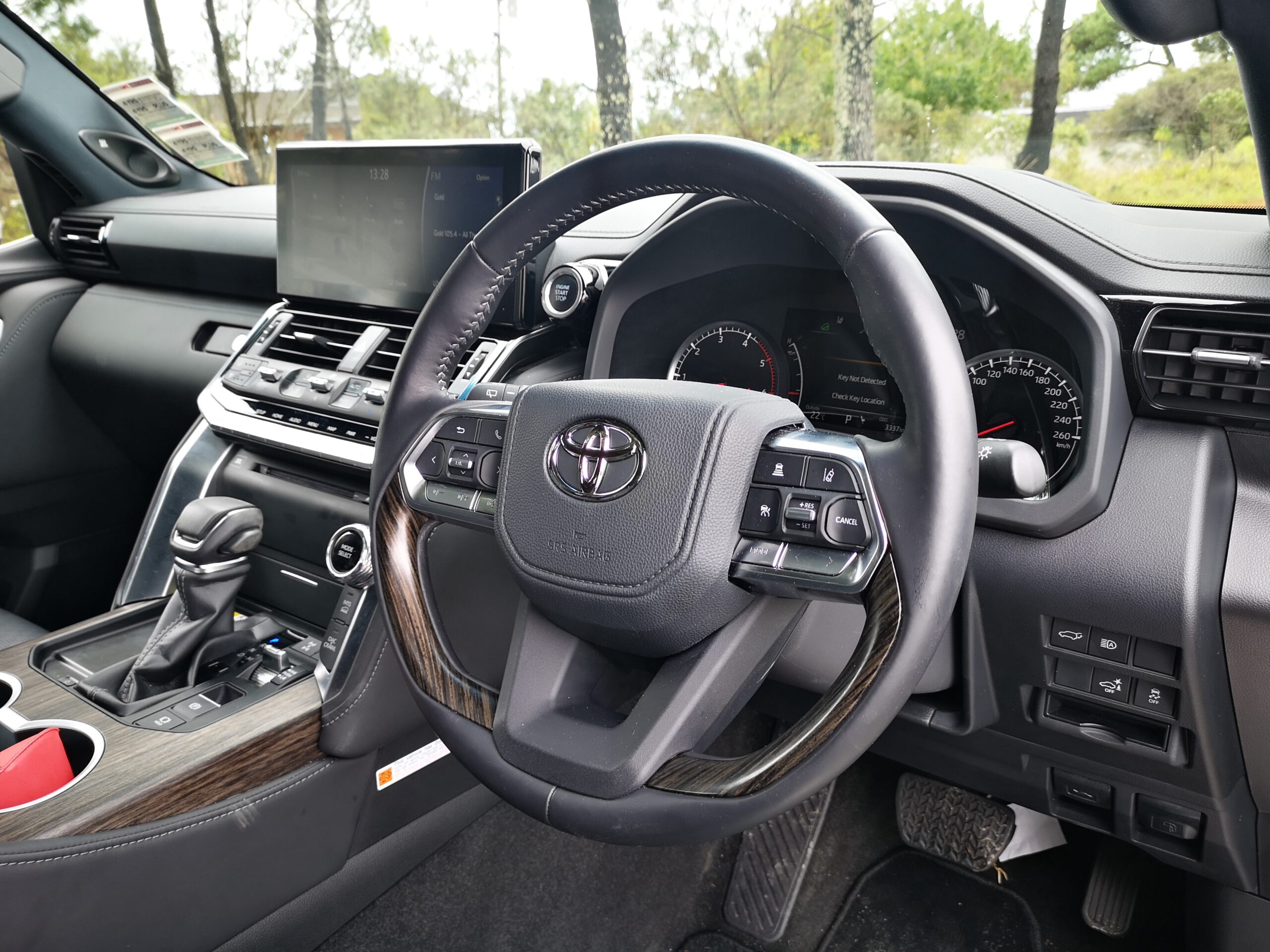 The 300 VX is powered by a 3.3L Twin turbo V6, It offers up 227kW of power and a whopping 700Nm of torque and it's all married to a 10 Speed Automatic box and permanent AWD. Combined fuel economy is 8.9 L/100km and combined CO2 emissions are 235 g/km. What's more, for those with big boats or other stuff that they like to lug behind, the 300VX comes with a maximum braked towing capacity of 3500kg.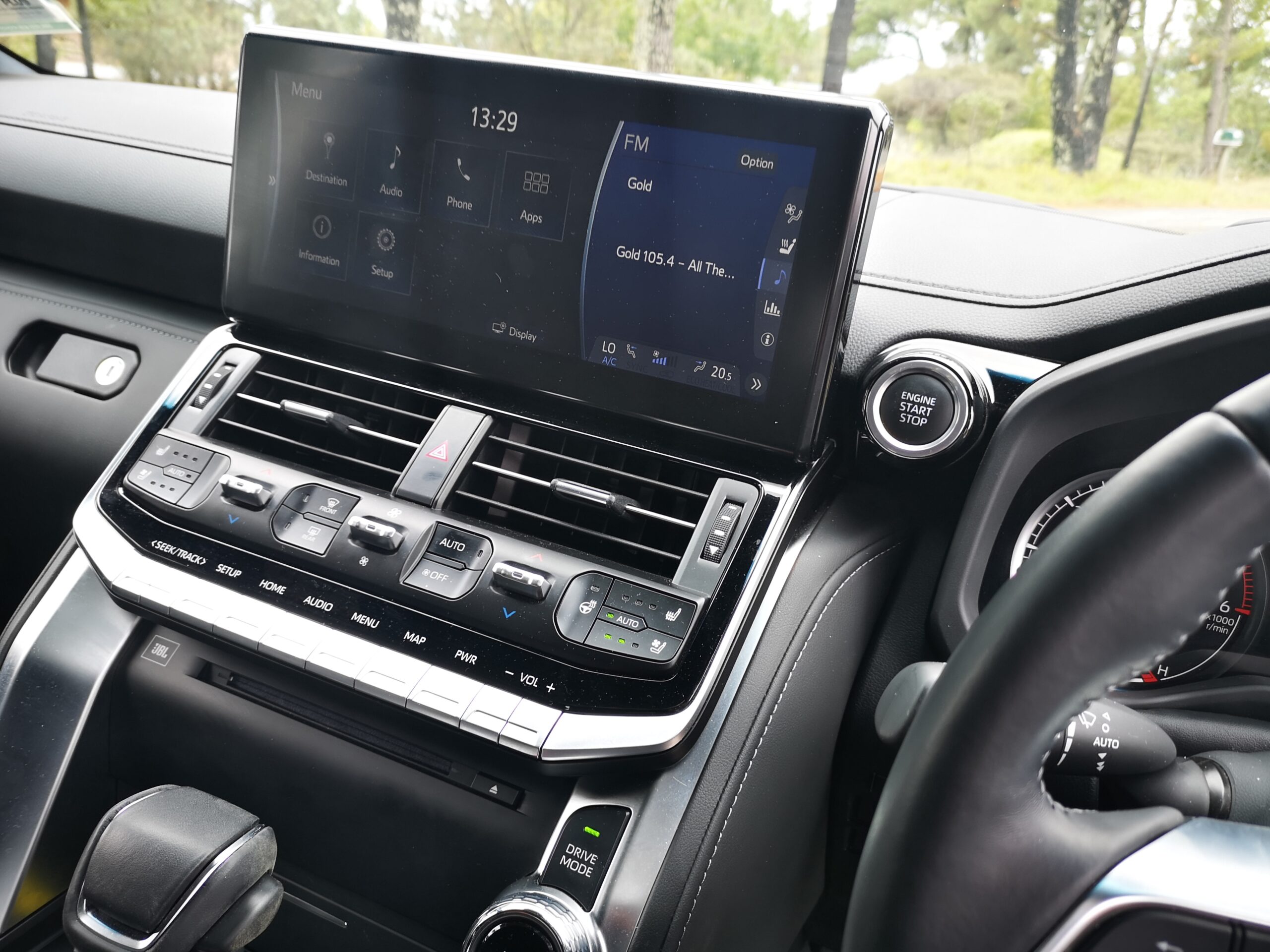 Climbing up inside and you get a feel for just how far this SUV has progressed. The interior is more befitting a luxury Euro than what is arguably deemed more of an all purpose off-roader. The seats are all synthetic Leather and the drivers gets to electrically move theirs
10-ways (8 for the passenger), plus heated and cooled to boot. The trim is black with Imitation woodgrain surround and there's even a woodgrain style insert in the steering wheel.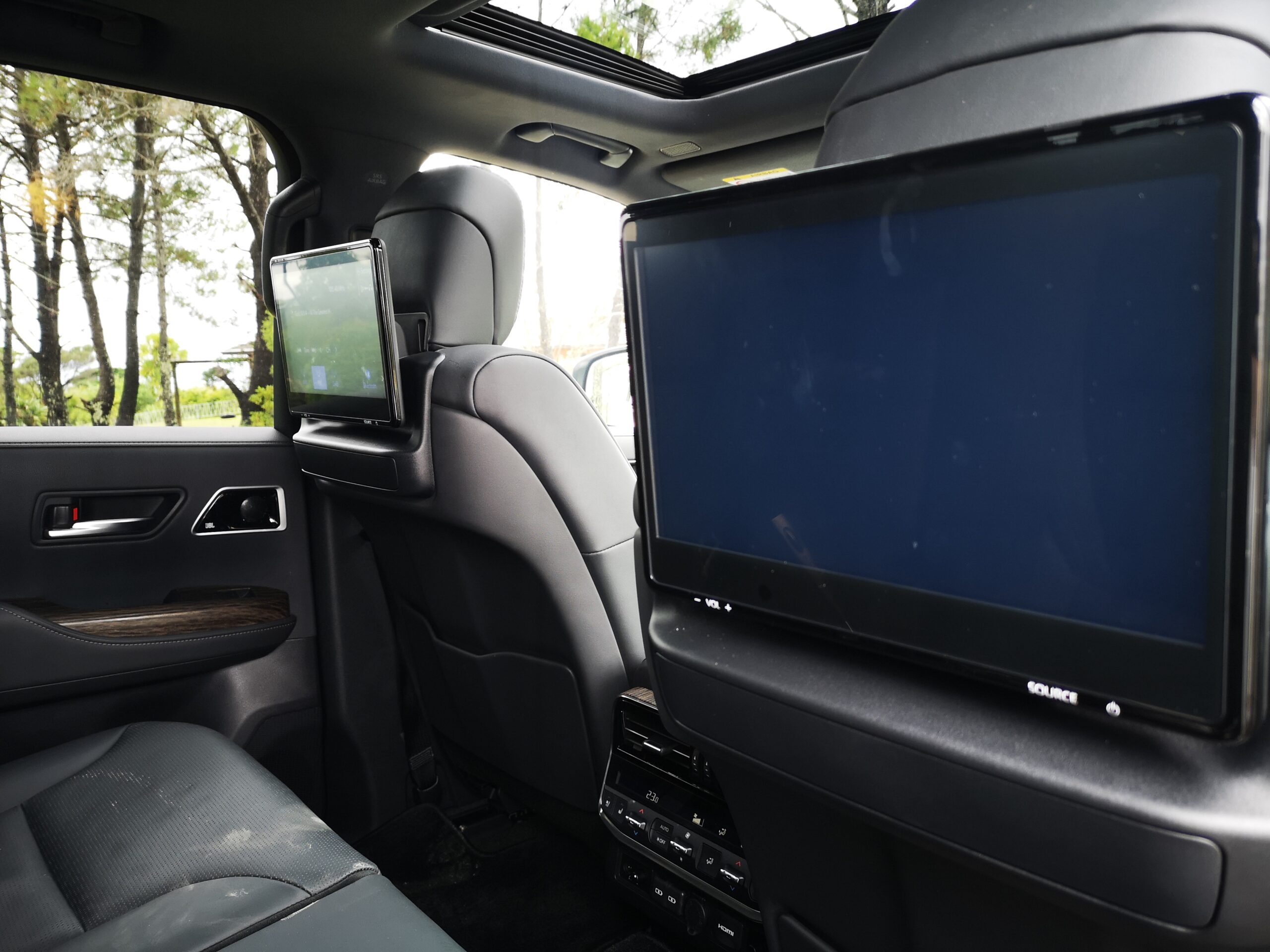 There are storage bins all over the place and the big one in the centre doubles as a cooler, so you can keep your fizzy's ice cold. The tech has been revised and revamped with a 12.3-inch infotainment base (with Apple, Android) SATNAV and SUNA, and all manner of Toyota Safety Sense stuff, including All-speed Dynamic Radar Cruise Control with Indicator-Linked Control and Road Sign Assist and Lane Tracing Assist with Lane Departure Alert and Yaw Assist (Brake Control). And to top off the family fun, my review model came with video screens on the back of the headrests so my son happily watched his favourite movie and remained schtum.
On the tarmac the big beast of an SUV seems to float along sweetly, gorging on all our roading impurities like they were smorgousboard of ippin ryori (essentially Tapas). The front and rear suspension combo of Double Wishbone with Stabiliser Bar and 4-link Rigid with Lateral Control Arm & Stabiliser Bar, is a bit rolly in corners but not so much that you have to hang on or close your eyes.
The steering has been improved and the VX comes with numerous on road driving modes, although I set it in Comfort and enjoyed the ride, with a view across the indented bonnet and big HUD data to keep me informed of the speed.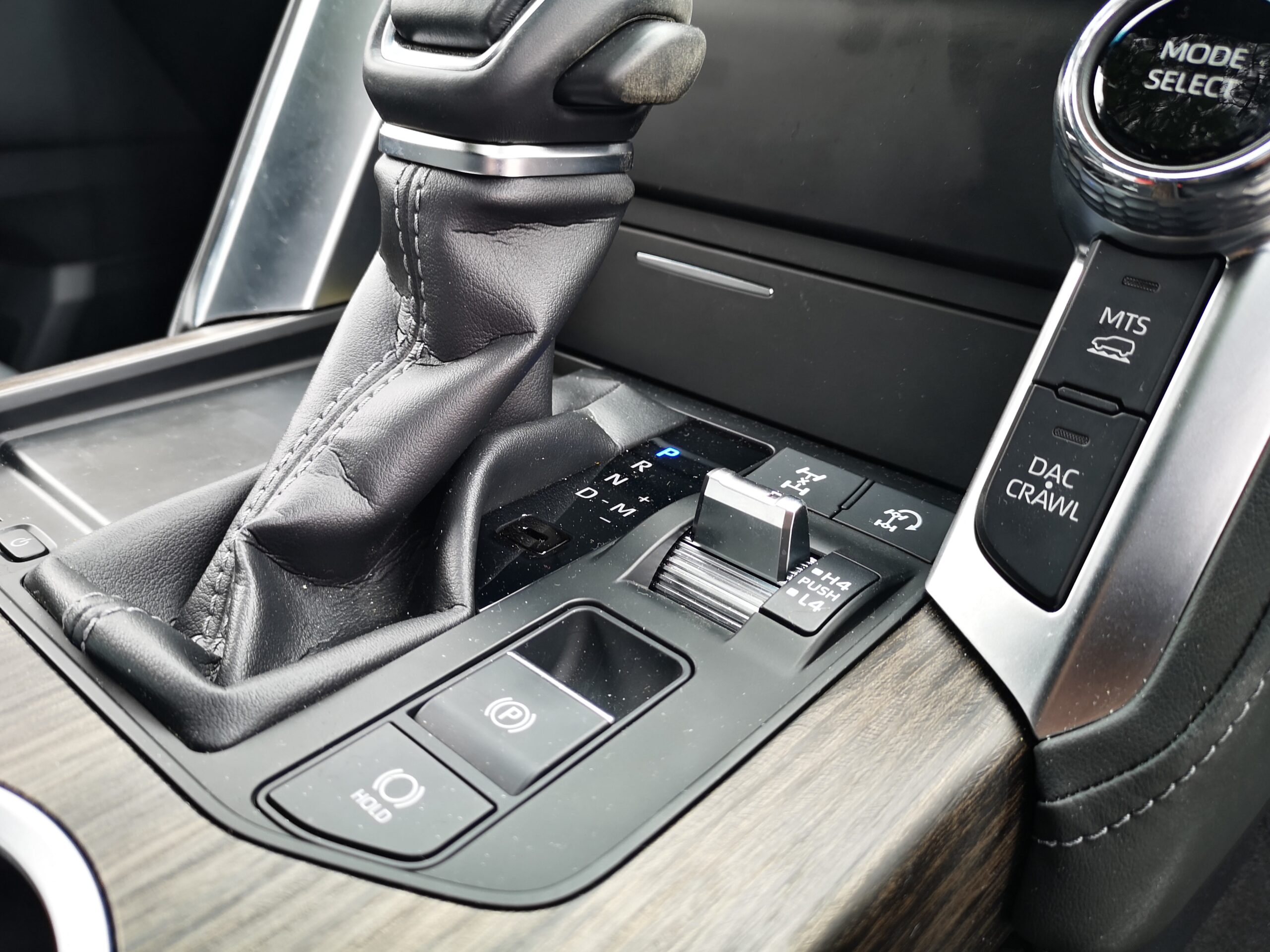 It's actually quite formidable in size, but when you are behind the wheel and driving albeit around town or in the suburbs, or of course out on the open roads, you actually feel quite at home. Of course visibility is amazing after all you are sitting in the grandstands but just like the vehicle itself everything seems to be big, big wing mirrors, big windscreen, in fact just big glass all the way around.
The seats are incredibly comfortable although I must say if I was going off-road it could do with a little bit more lateral support.
Now about it's off-road prowess, the 300 VX seems to have a button for everything. And I'm sure if I really needed to I could work them all out.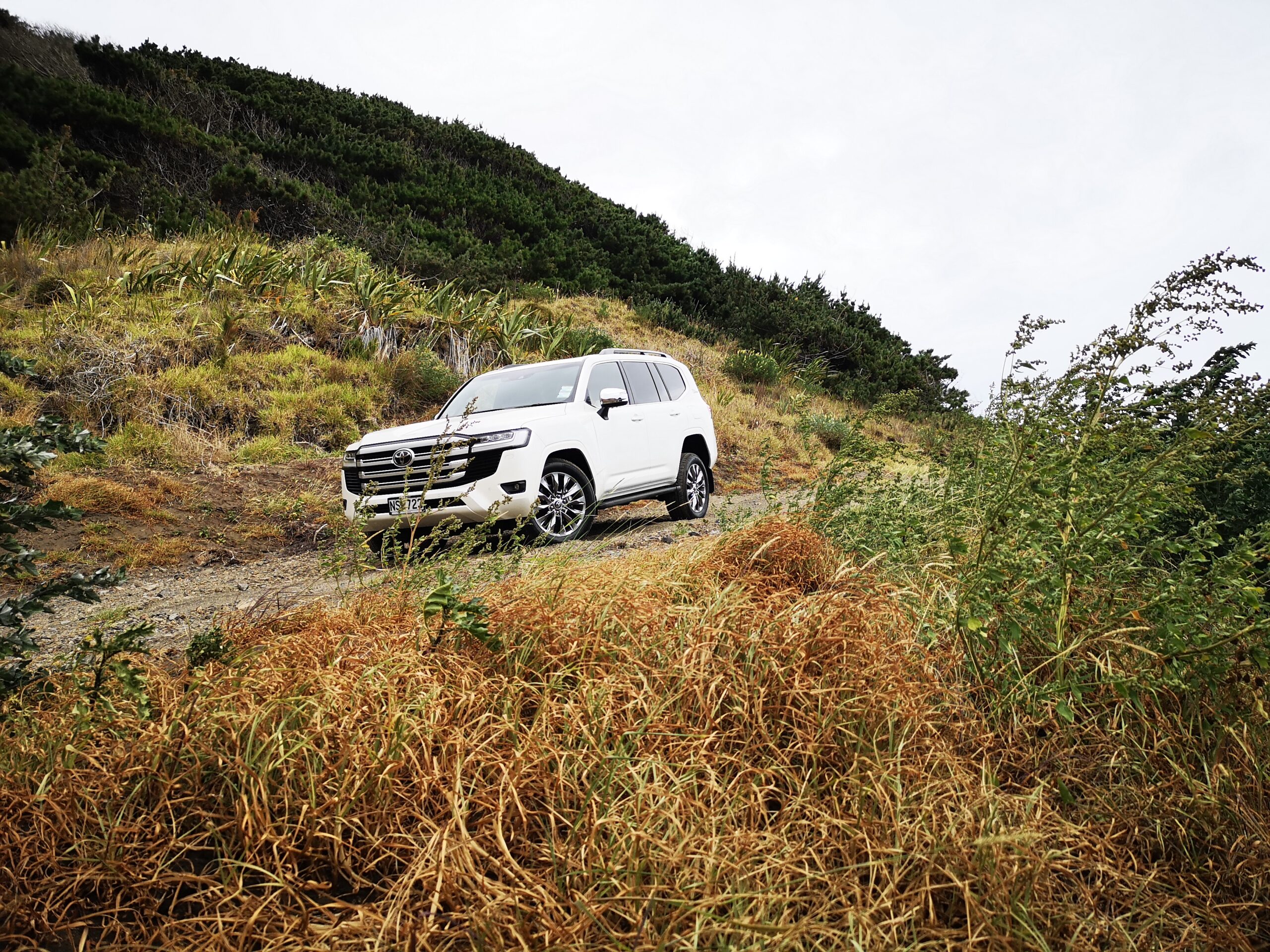 But with its Multi-Terrain Select, the Land Cruiser automatically adjusts the engine output and the brakes to provide maximum traction for the driver-selected off-road condition. By simply selecting the appropriate terrain (Deep snow, Sand, Mud etc) using the dial, you can handle it all like a boss. Plus there's a Multi-Terrain Monitor that shows you what's going on underneath and projects it to the infotainment screen.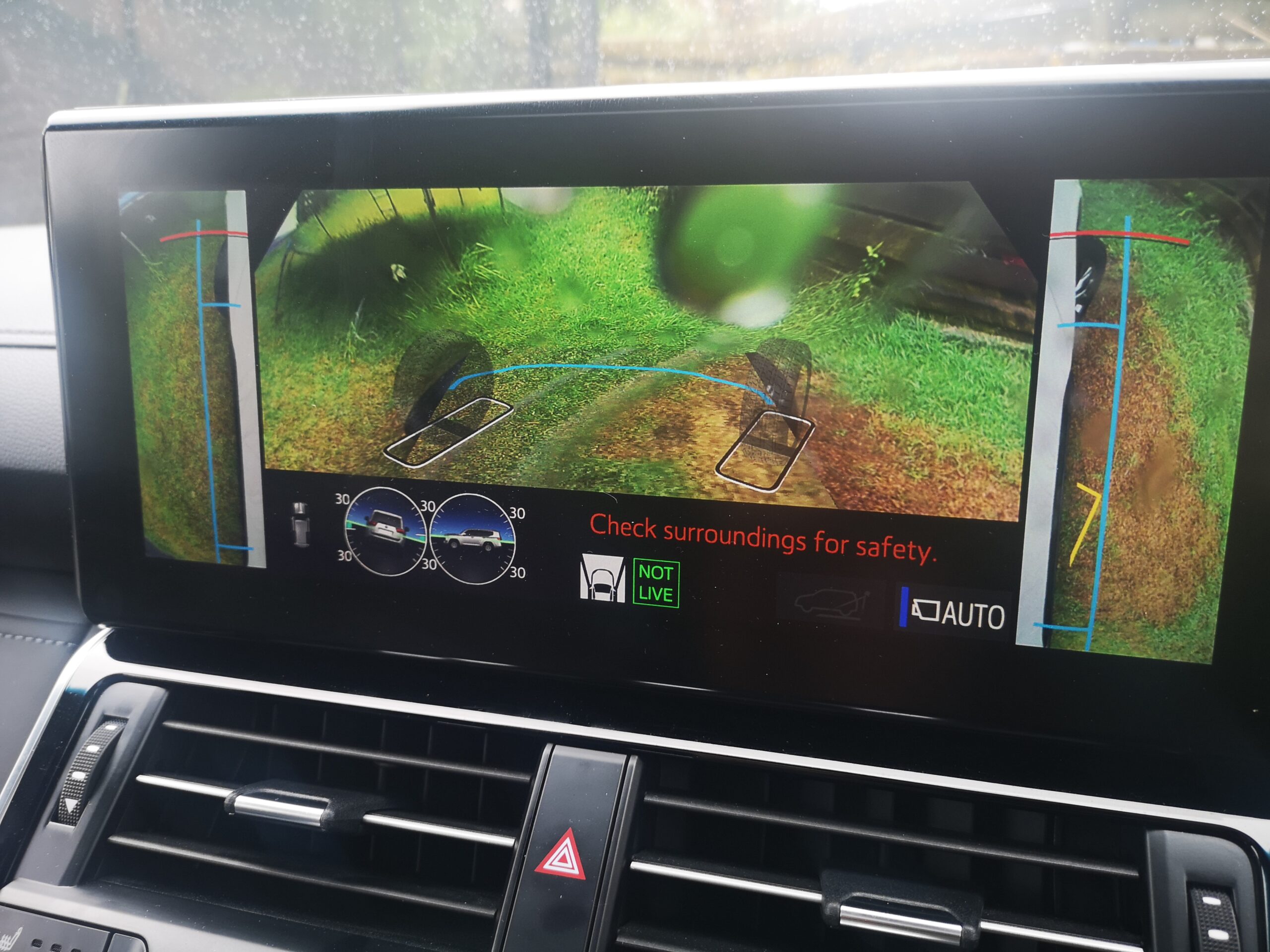 I actually covered the length and breadth of Auckland during my time with the Land Cruiser.  I loaded the family and headed south to the beaches at Waiuku and while no one was watching, I got the big SUV's toes wet (or is that sandy) in the black sand. And then headed north (not in the same day) to the white sands around the Whangaparaoa peninsula, only this time we only ventured onto the beach in our jandals.
As luck would have it, we had some of the hottest summer days while I had the keys to the Land Cruiser and found that the chilly bin in the centre console was ideal for keeping my Coke ice cold.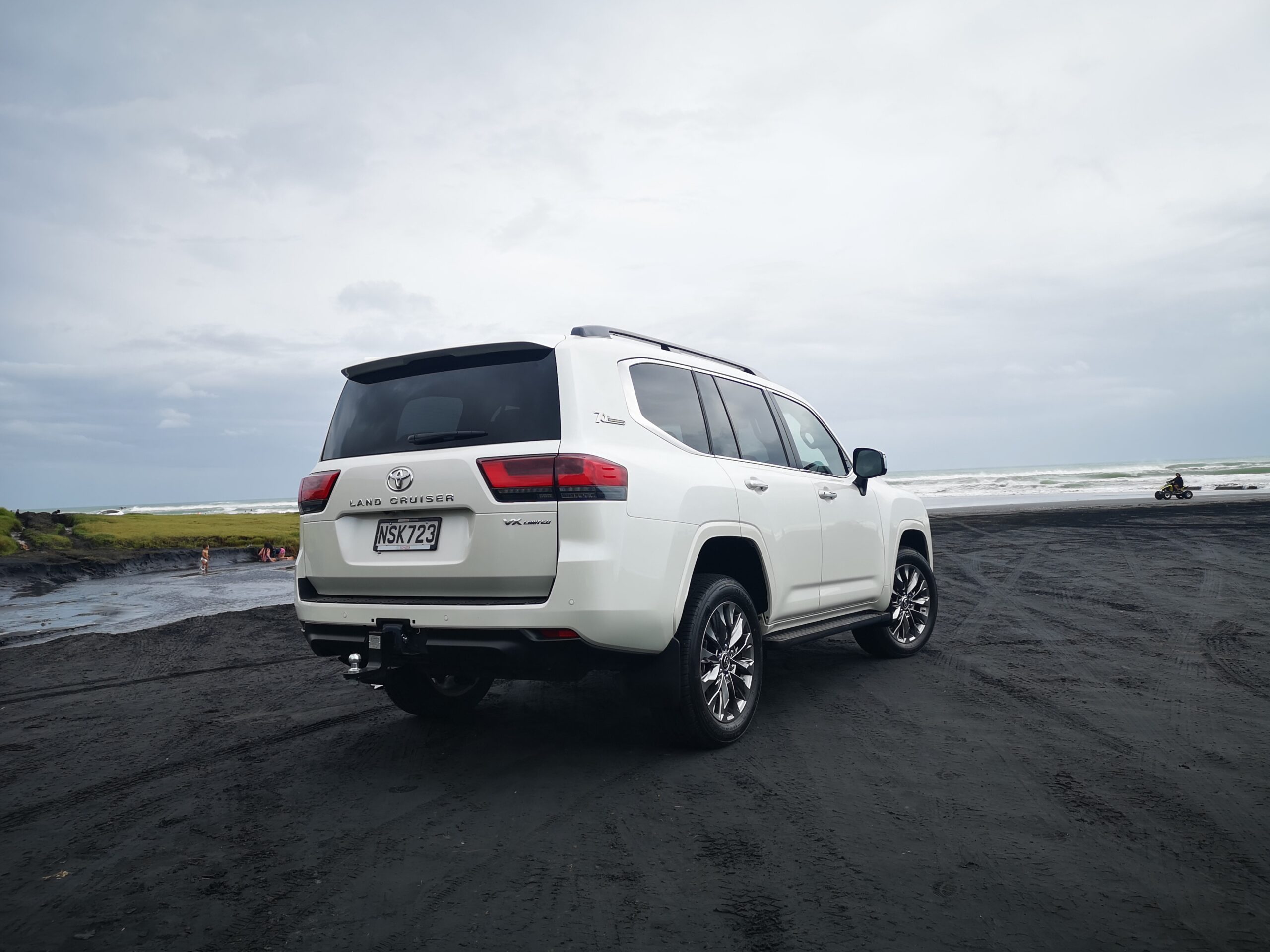 Seriously, there is sooo much more that I could talk about with this new Land Cruiser and I can see why it has become more of a cult vehicle than just another SUV. It's full of surprises and has an all conquering attitude about it. Top marks all round.