Call me old-fashioned, but it wasn't that long ago that a 2L engine produced 70 kW of power and 148 Nm of torque, well not only does the latest 2L C43 AMG boast over four times that power, but with 310 kW and 500 Nm, the output rivals its very own twin-turbo V6 – oh and don't get me started about its handling.
We have already tested (and been highly impressed) the new Mercedes-Benz C-Class. It's a stunning sedan that comes loaded with mind-bending technology. But as I discovered, this is a mere tip of the iceberg as to what can be achieved before AMG get involved.
Let's chat about what lies under the bonnet first. To me, putting a 2L engine into a performance vehicle (that doesn't weigh less than me) seems rather pointless. Big power requires big ccs and that should be all she wrote, however, AMG would disagree. Thanks to someone leaving the F1 workshop door open, the AMG team have snaffled up the electric exhaust gas turbocharger blueprints and the results are outstanding.
Let me add a bit of context to that statement, the previous 3L V6 AMG C46 produced 287kW, 520Nm and a 0-100km/h in 4.7 seconds, numbers good enough to have the V8 stalwarts stand up and take notice. Well the new 2L (1000cc's less) generates 300kW (actually 310kW at times), 500 Nm and a 1-100km/h time of 4.6 seconds.
For those keen to know a little more about the electric exhaust gas turbocharger (for those that don't skip forward a couple of paragraphs). Powered by the 48-volt on-board electrical system, an electric motor around four centimetres thin is integrated directly on the turbocharger shaft between the turbine wheel on the exhaust side and the compressor wheel on the intake side. Electronically controlled, this drives the shaft of the turbocharger and accelerates the compressor wheel – before the exhaust gas flow takes over the drive in the conventional way.
This significantly improves the response directly from idle speed and across the entire rev range. The combustion engine responds even more spontaneously to accelerator pedal input, while the entire driving feel is significantly more dynamic. In addition, the electrification of the turbocharger enables higher torque at low revs. This also increases agility and optimises acceleration from a standstill. Even when you take your foot off the accelerator or brakes, the technology is able to maintain boost pressure at all times.
So now you know.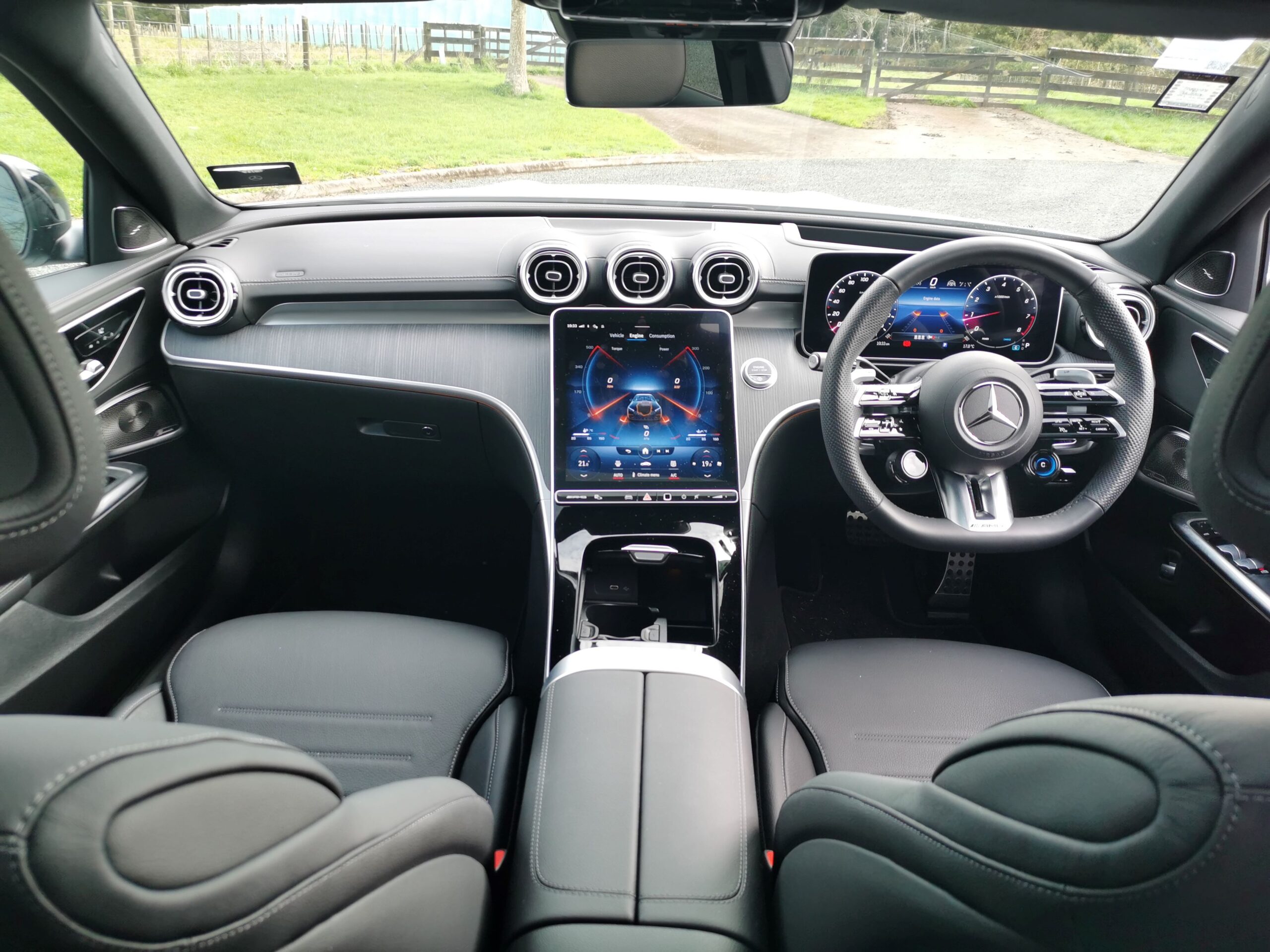 But that's not all, completing this advanced 'one man-one engine' powertrain is an AMG SPEEDSHIFT MCT 9G transmission with wet start-off clutch, AMG RIDE CONTROL suspension with Adaptive Damping System, AMG Performance 4MATIC permanent all-wheel drive with rear-biassed torque distribution and rear-axle steering as standard – told you it was something special.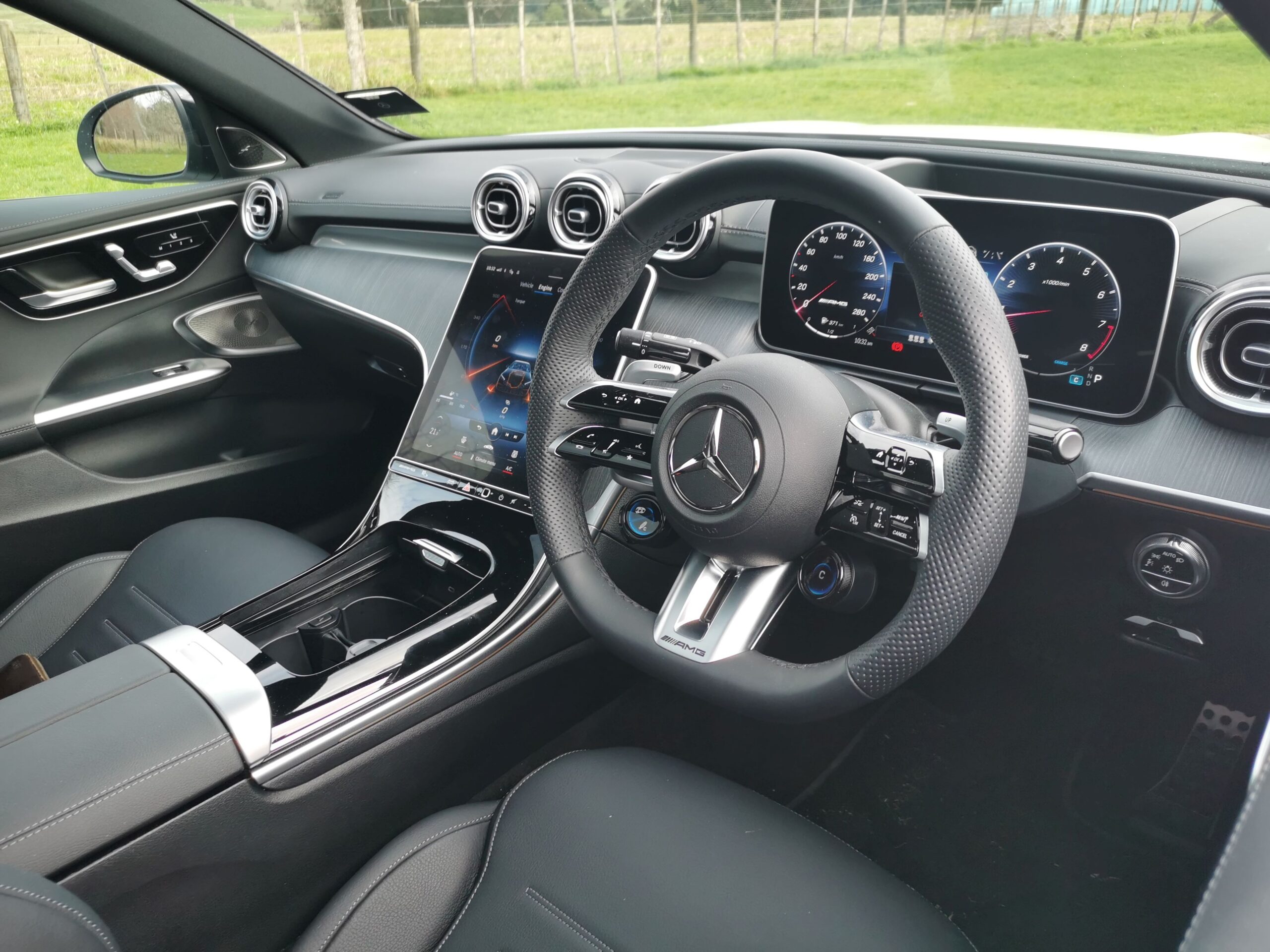 The styling has this AMG C43 standing out from the norm too. The nose comes with the panamericana AMG grille with chrome vertical struts, there's an AMG specific front apron with flics, AMG badging, a diffuser-look rear apron, two round twin-tailpipe trim elements and in my case 20-inch wheels.
The interior hasn't gone untouched either, with AMG sports seats, an AMG flat-bottom performance steering wheel in nappa leather, and two round AMG steering wheel buttons that shortcut to the driving modes (Comfort to Sports+) and exhaust and suspension adaptation.
And topping it off, the already advanced MBUX infotainment system now comes with a hefty Burmester stereo, plus AMG-specific displays and functions that will have you monitoring all your powertrain outputs and lap data – the software records more than 80 vehicle-specific data such as speed, acceleration, steering angle and brake pedal actuation ten times per second while the car is being driving around a race track.
Unfortunately, my time with the AMG C43 was NOT spent on the track, which was of course a disappointment, but I did use my week behind the flat-bottomed wheel to the utmost, racing people off the line at the onramps and switching the driving mode to Sport+ to hear the racy exhaust note (I don't know or care if it's manufactured).
On rainy day commutes into the city the sporty sedan is not in its happy place (nor was I to be fair), it does handle the stop/go stuff with a slight stutter as it tries to conserve as much fuel as it can, and I felt that the seats and suspension would have preferred less congestion, and there is a fair bit of road noise/feedback on our glorious open pore tarmac (I assume you can feel my sarcasm), but chores aside and open road ahead, this sporty C is an absolute joy fest.
My personal happy time with the AMG C43 was spent early on a Sunday morning, on some twisty roads north of Auckland, with the sunroof open (with just a simple haptic slide) and with my own tunes blaring through the sedan's stereo. The chassis is a peach and the rear-axle steering ensures that the rubber stays firmly connected to the tarmac below. In fact the only thing that didn't move around was my bum in the AMG seats. The steering is precise and the throttle ultra-responsive, allowing cornering to be taken at speed and the exits even moreso – and did I mention that this is but a mere 2000cc?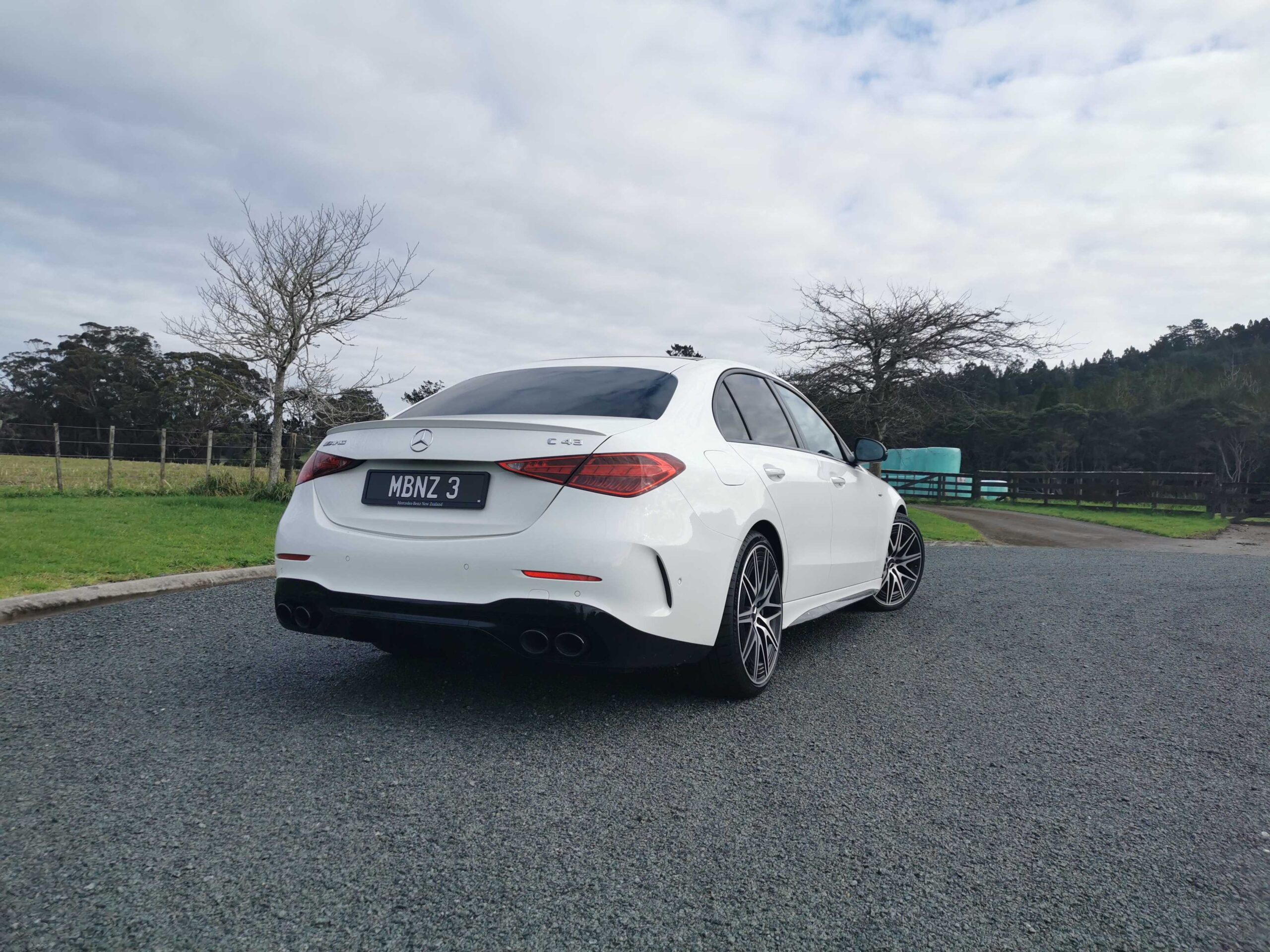 Spending time with any AMG is always going to put a smile on my face, but there is something extra naughty about the C43. On paper (and without knowing the true performance figures), you could be mistaken as thinking it's 'just another 2L Merc', but boy you'd be wrong, this is one serious bit of kit that will have you grinning from ear to ear.