Originally launched in 2016, the Mercedes-Benz GLC rapidly became the German luxury brand's biggest selling SUV. Boasting over 2.6 million happy customers and topping category charts, are certainly milestones that are tough acts to follow, so in short, the second generation has to be good – thankfully, it is.
Let me get one thing straight from the start, the new GLC options, or lack thereof. To me, having an extensive range (both in model nameplates and powertrain variants) has been a trademark of the three-pointed star brand for many a year, it's rarely ever a 'one size fits all'. However, despite there being multiple powertrains/model variants available overseas, for the NZ launch, Mercedes has gone with just one – but don't worry, it's a good one.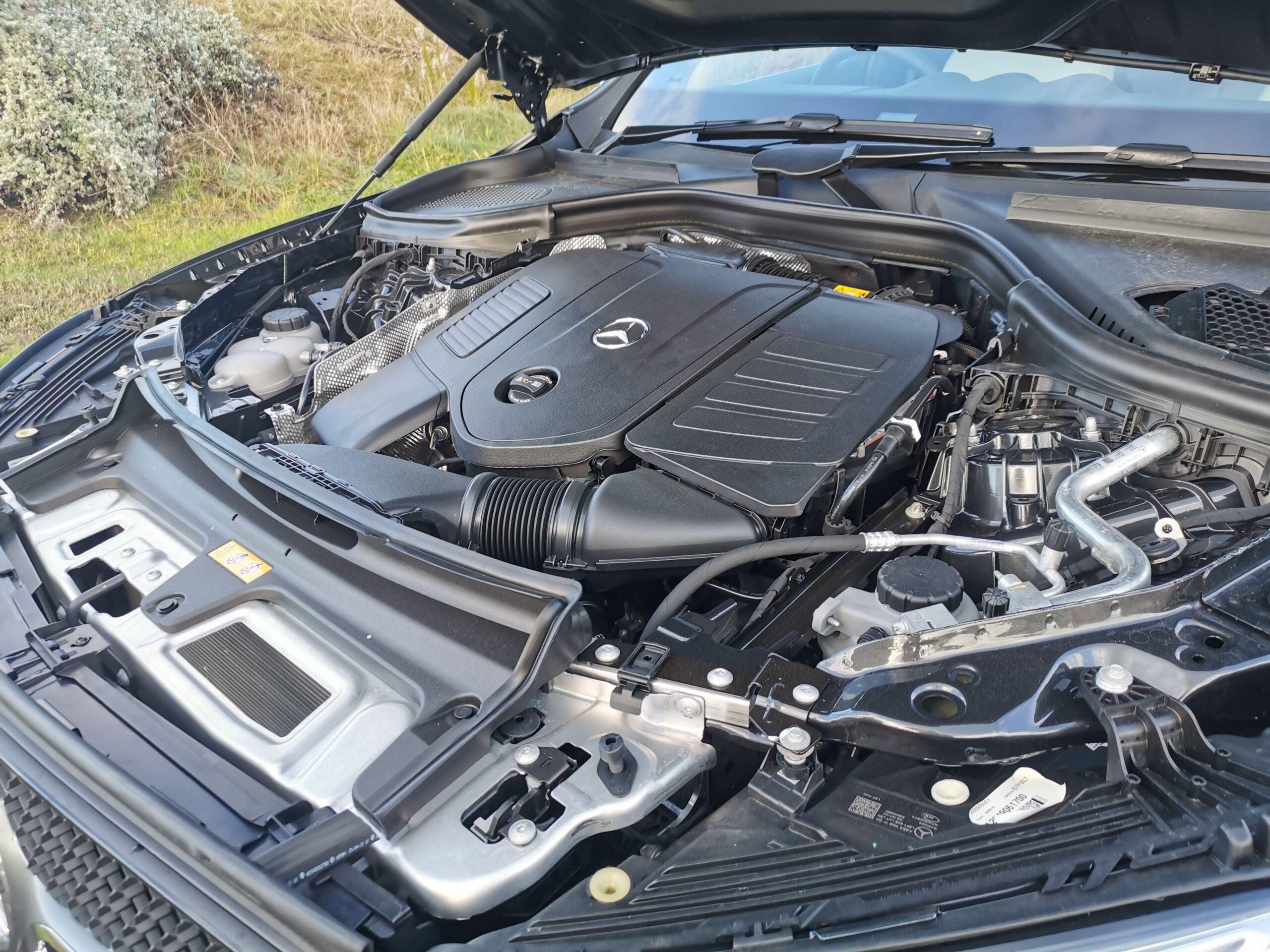 The new GLC 300 4MATIC comes with a 2L 4-cylinder turbocharged engine (190kW/400Nm) mated to a 9G-TRONIC automatic transmission and 4MATIC all-wheel-drive. This should be sufficient, however, this is all cleverly combined with Mercedes' 48-volt system and an ISG (Integrated Starter Generator) that not only adds an additional 17kW and 200Nm when kicked (and available), but will enable the GLC to glide and recoup energy to save fuel. So a 0-100km/h sprint can be done in 6.2 seconds, but also fuel can be sipped at around 7.7L/100km (vs 8.2L/100km previously).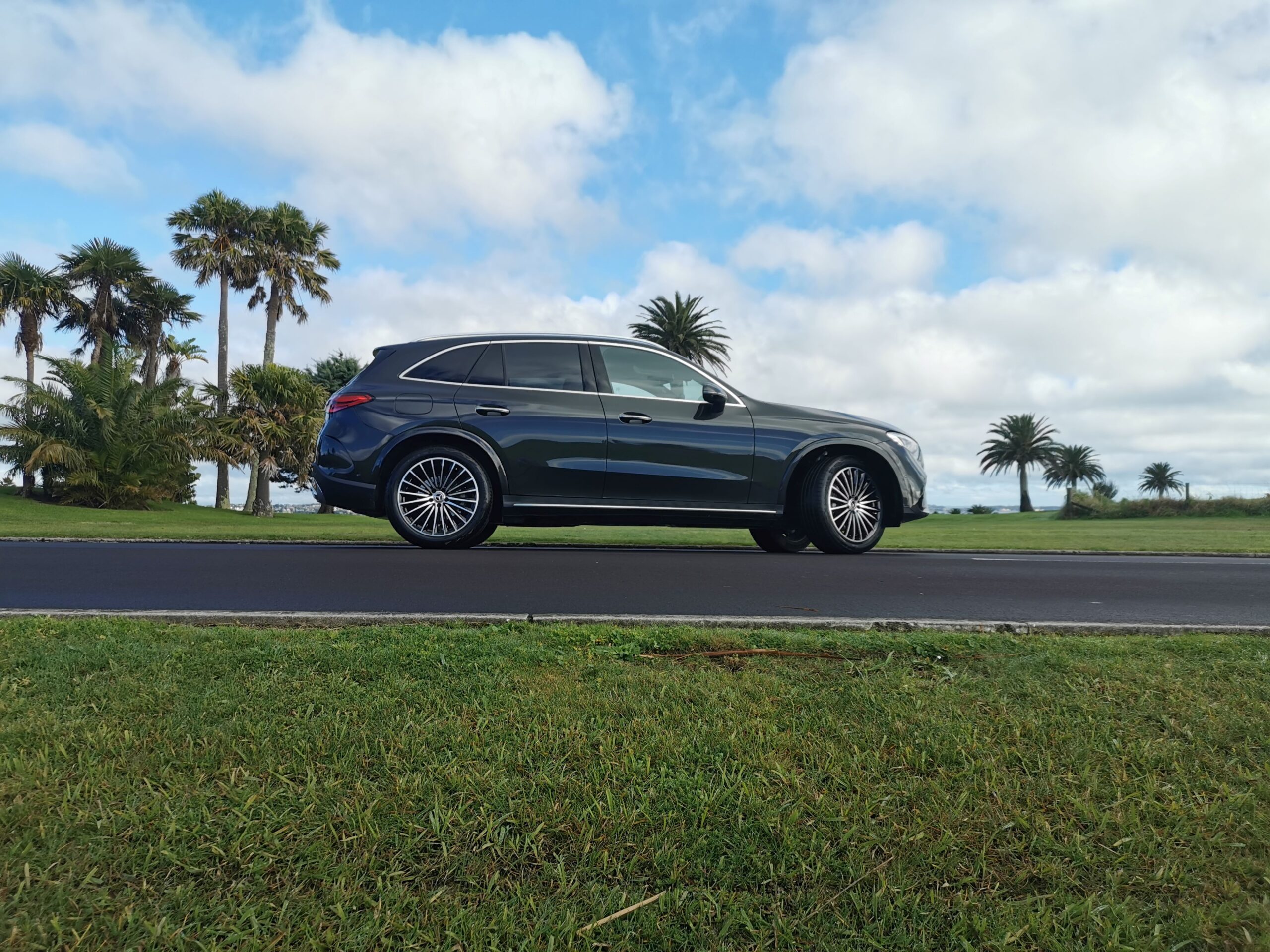 Not only has the engine been improved, but the GLC's size and specifications have grown too. Dimensionally, it's now 60mm longer and 4mm lower than before, and although the width remains the same, the front and rear tracks are bigger (6mm and 23mm respectively) making for a more stoic footprint and more confident drive.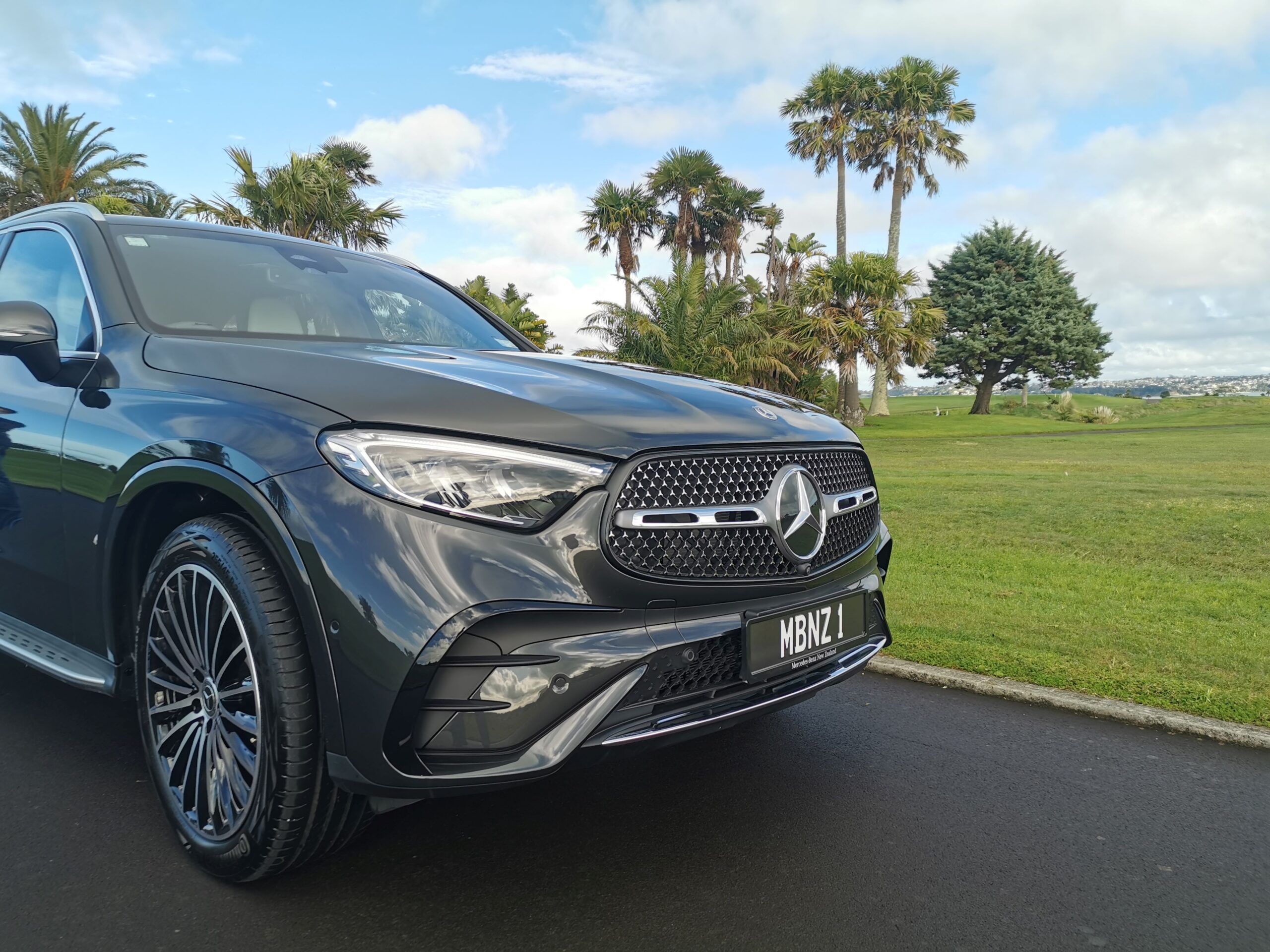 The AMG bodykit has been added as standard, with bigger wheels (20-inch) and a more athletic look, while the nose features the same grille as last seen on the new C-Class, with all those tiny and shiny three pointed stars surrounding the giant one. The headlights are high performance LED's with high beam assist.
The running boards have been tapered, so those in the rear have something to stand on when getting in and out, the wheel arches are body-coloured and AMG brakes. The rear comes with a high gloss black bar between the two rear lights and a diffuser-look finish down low. In fact the whole SUV has been made more aerodynamic, and the GLC now has a 0.29.
The interior feels more spacious and made moreso, thanks to the large panoramic sunroof (again standard). In fairness, stepping inside is like stepping into the latest C-Class (or even S-Class for that matter), with a 12.3-inch driver instrument display and an 11.9-inch infotainment display. Both are highly configurable and feature seemingly endless amounts of apps and aids, but virtually all the main ones you need are 'one click' away, not hidden in screeds of menus – it's all quite natural.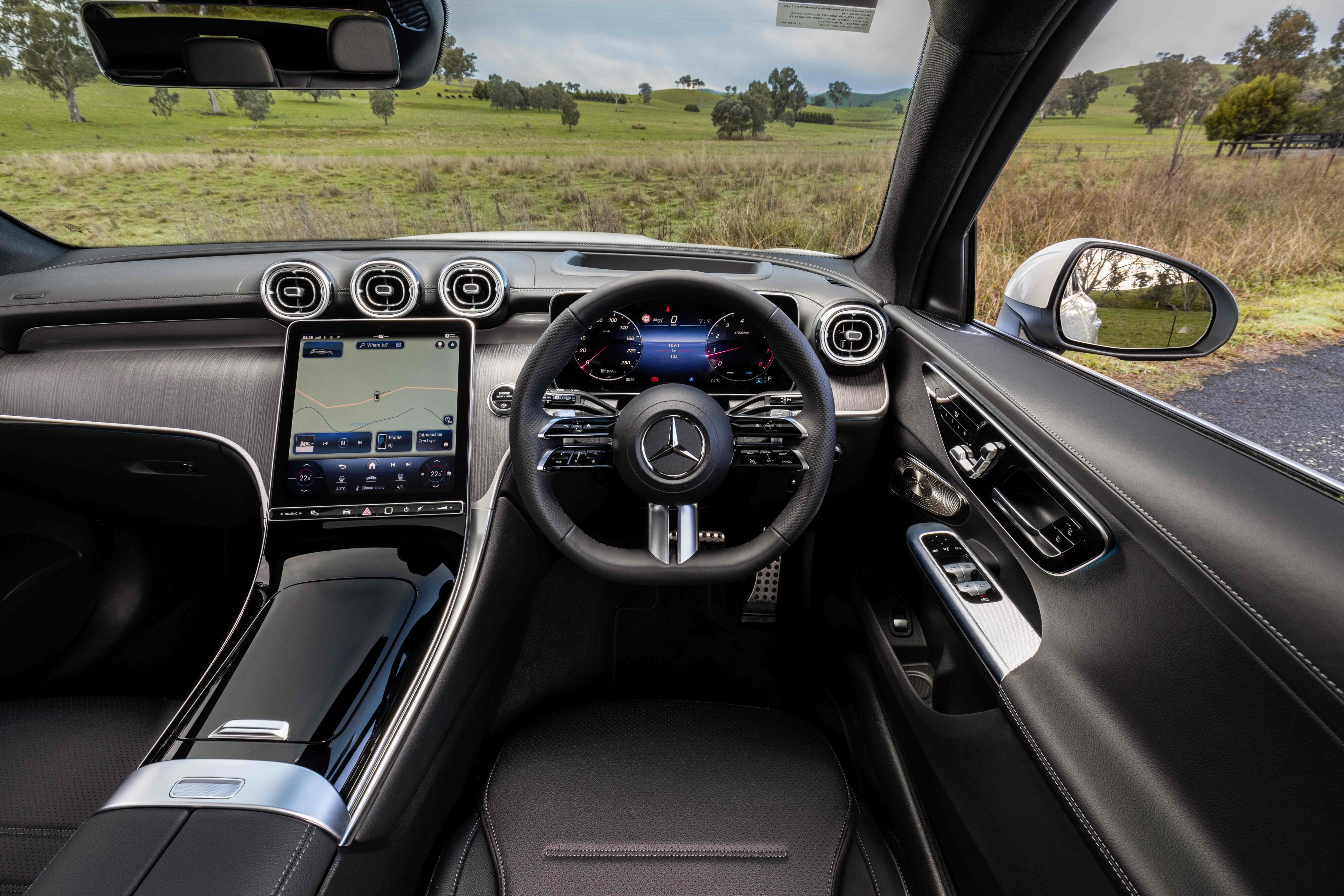 The other big screen is the head up display, and it too comes all you'll need in GIANT fashion, even my poor eyesight didn't struggle.
Following on from the AMG line exterior, the interior offers up AMG line sports seats, a multifunction sports steering wheel, 64 colour ambient lighting and AMG sports pedals, it's a great mix of sporty and luxury.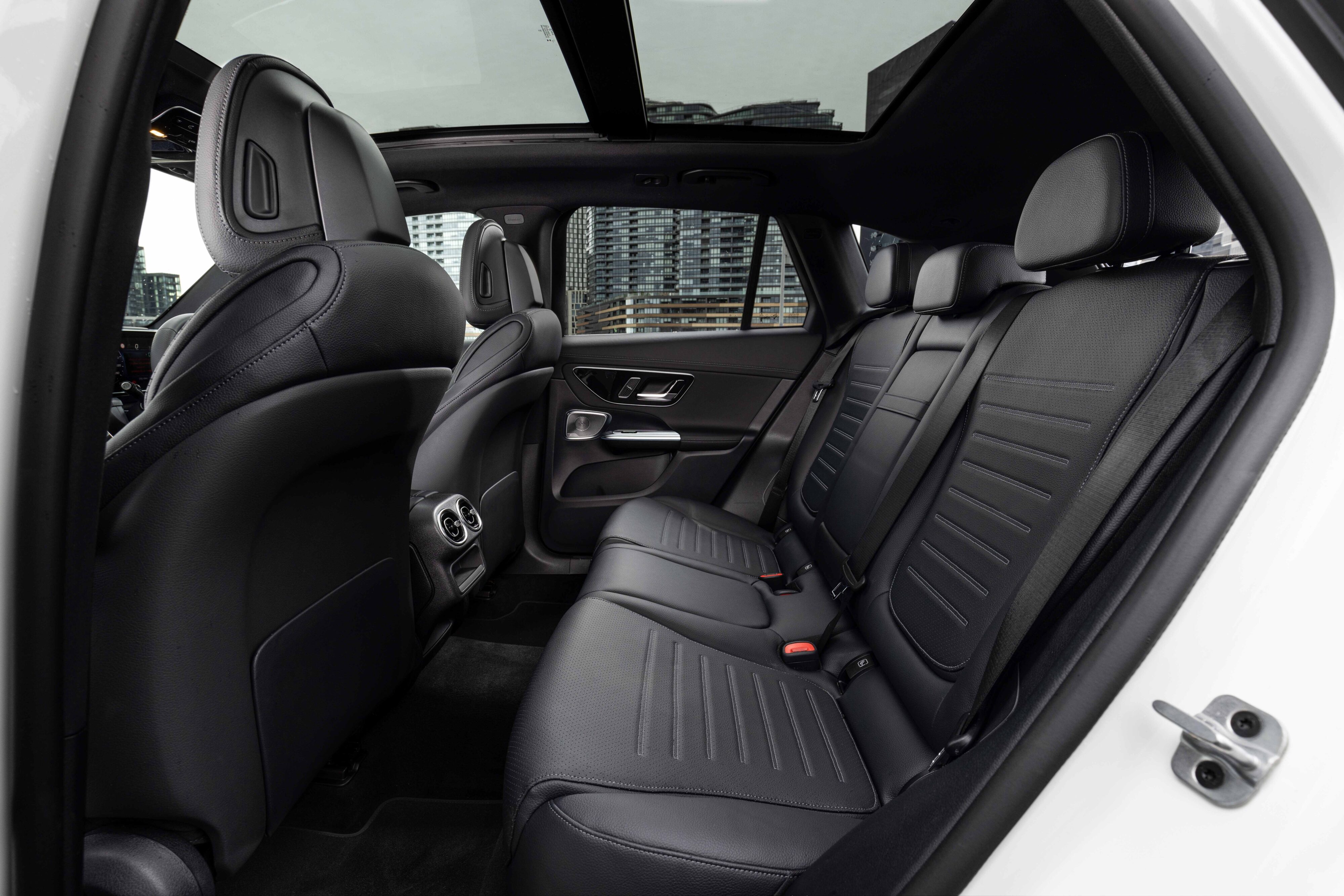 The rear seats will comfortably seat 4.5, and since the wheelbase is larger, so too is the luggage space in the rear, by 50L in fact, so for those that need more space, the new GLC has you covered.
Our drive route began at the Rydges Formosa Golf Resort. Nestled against the Pohutukawa Coast on 170 sprawling hectares just 40 minutes southeast of Auckland, it's a great looking place, however, we didn't stay there (or play golf) so I was happy to see it in my GLC's rear view mirror.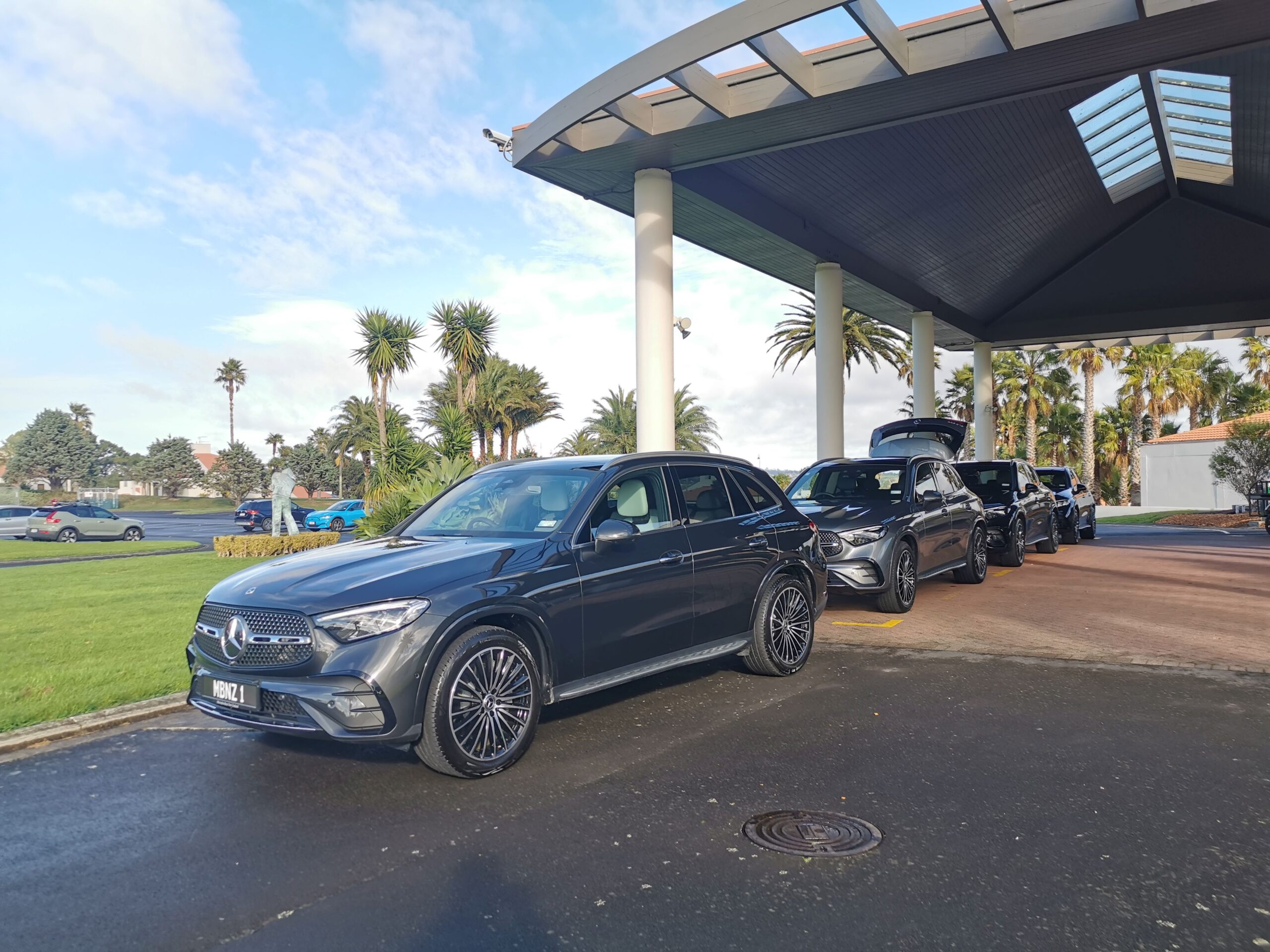 Our route took us along the coastline past Maraitai, and Kawakawa bay. Through the twists and turns of the Hunua ranges, inland to Mangatāwhiri and looped us up to Howick for a late lunch at Daisy Changs. The drive took a couple of hours and had us really experience (almost all of) what the new GLC has to offer.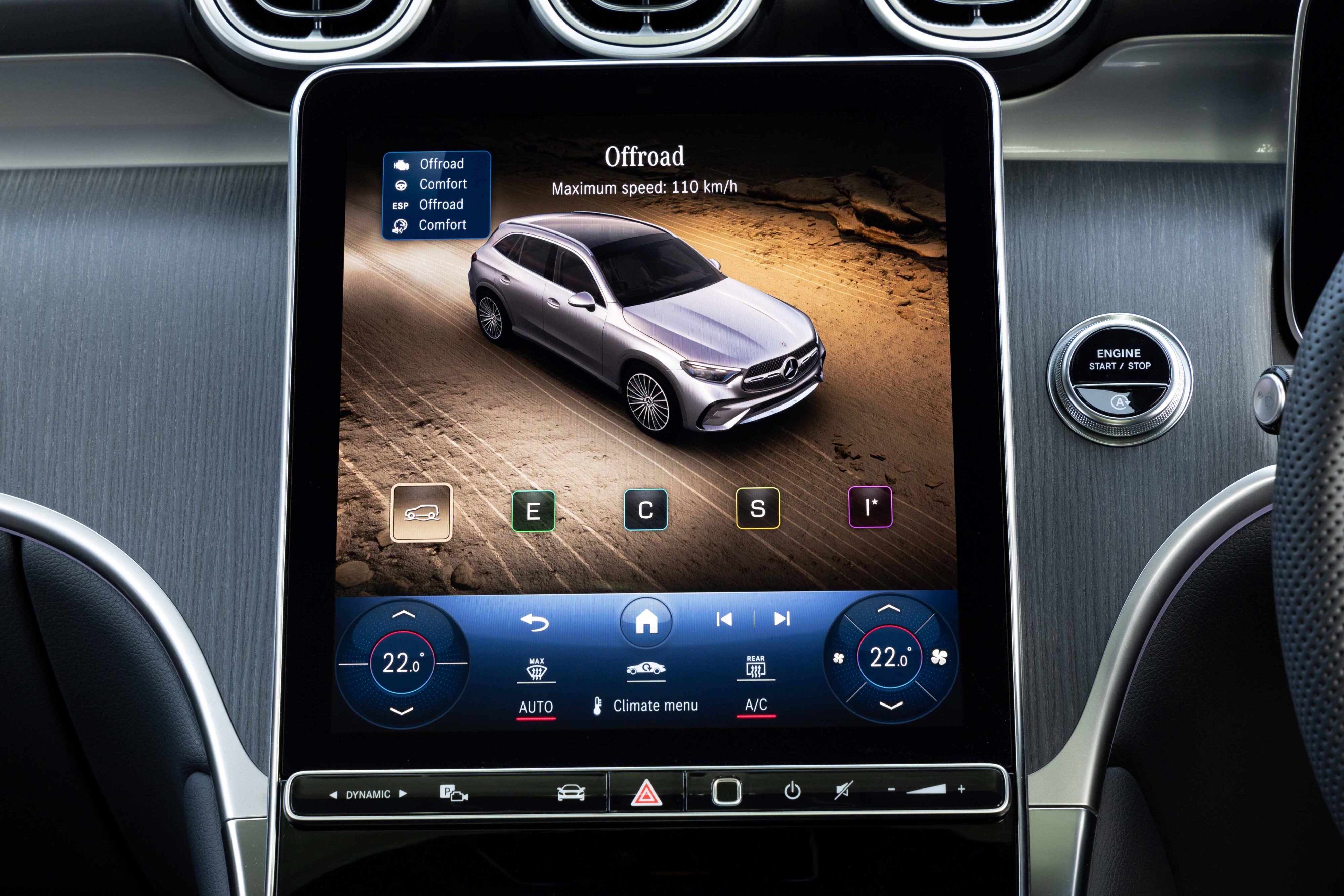 I say 'almost all' as the new GLC also comes with a new drive mode 'off-road'. Not only does off-road ensure you can take the new GLC to those off the grid places you've heard about, making best use of the 4MATIC AWD, but it also offers up all the technical data you need (such as incline, gradient, altitude and compass) on its big screens. PLUS, it also has a transparent bonnet (not literally), using its array of cameras, it pieces together a birds eye view of what's going on under the bonnet in real time – we didn't go off road so all I got was a picture of a drain.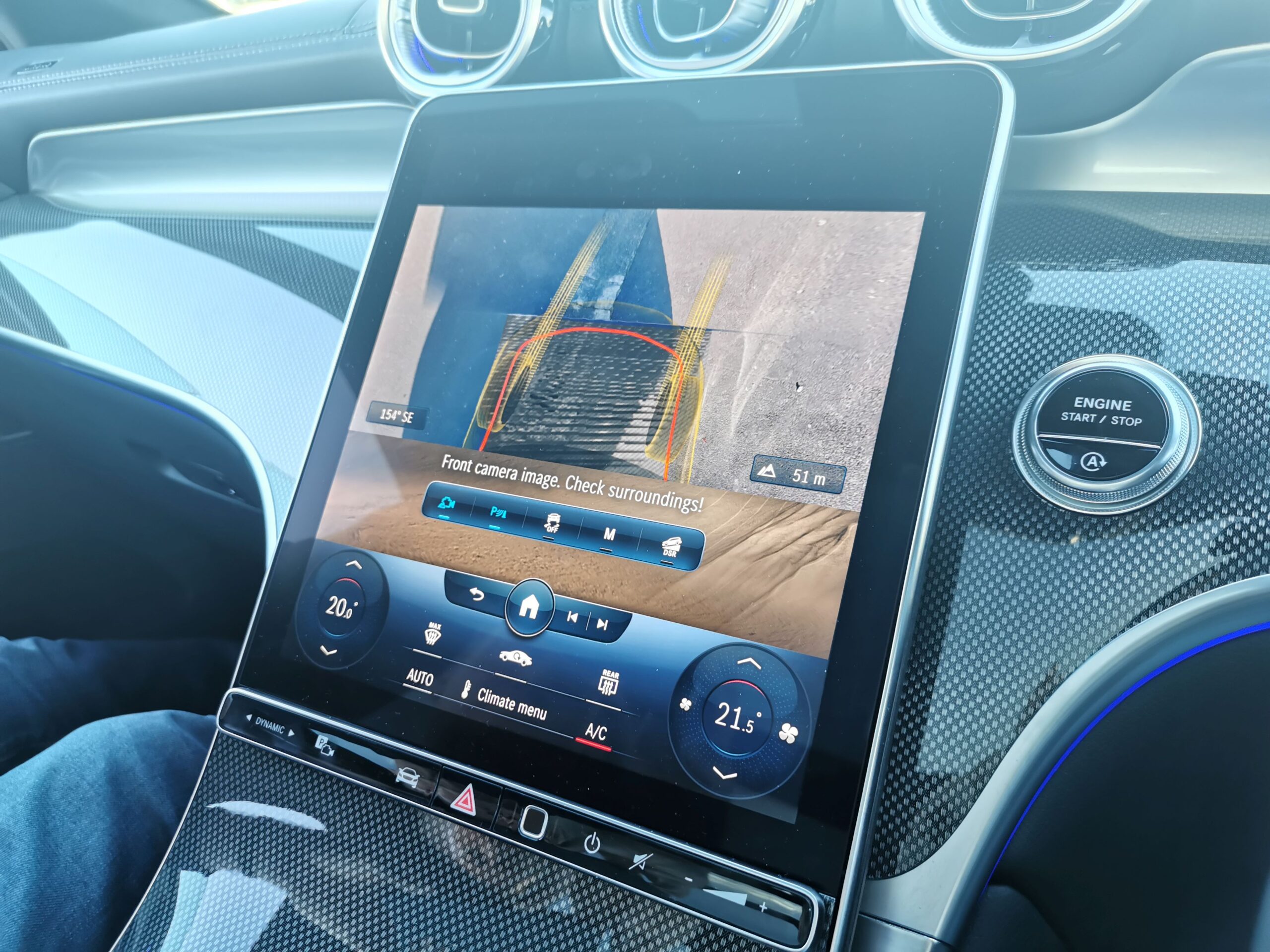 Back to what we did do. The GLC sits so well on the road and the cabin is as quiet as the proverbial. The engine can faintly be heard when stressed, but in fairness, it gets up to 100km/h with barely a mumble. The seaside hugging allowed us to push its buttons and keep the economy ball (a feature in the instrument cluster) in the green, but the twisting through the ranges, raised the pulses and enlivened the drive.
At 4.71m long, it may feel like a substantially sized SUV around the town, but its poise and positivity when being pushed around tight corners and bends had me feeling like I was behind the wheel of its C-Class sedan sibling. Yes there were the usual driving aids to keep me on the straight and narrow, but they weren't too intrusive and were easy to find when I wanted to pause them.
As I mentioned before, the head up display is large and even offers up pitch and roll gauges, and I'm reliably informed that the information can be viewed through polarised sunnies – I'm not cool enough to wear them.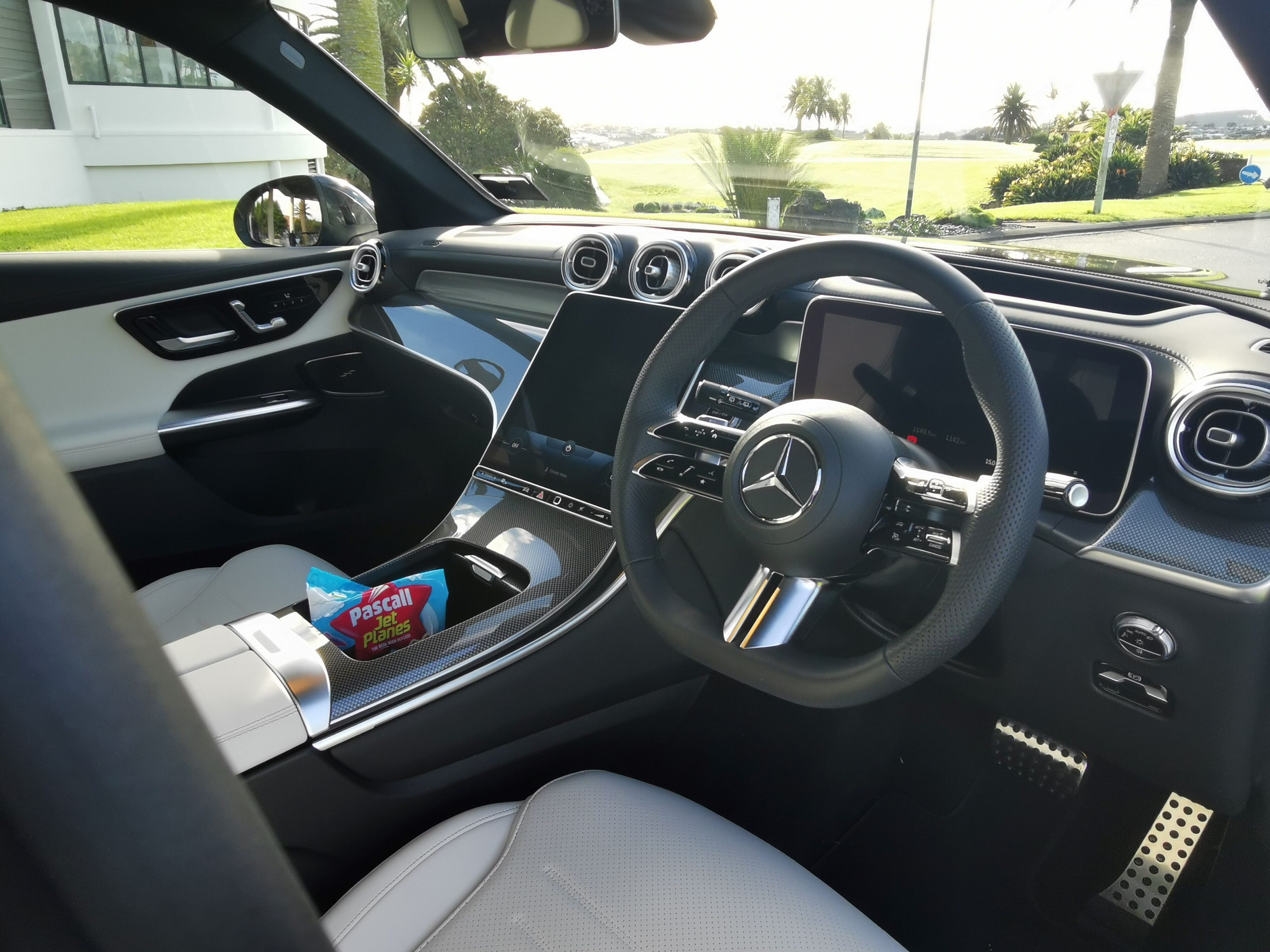 Lunch was a feast, meaning that the drive back to Formosa was a little more sedate, but it did have us testing out the adaptive cruise control and semi-autonomous treats, which I have to say are Mercedes good, aka work really well.
Going with just one model at launch is a bold move in my opinion, but I'm sure Mercedes have done their due diligence, and there are more models to come later, including some AMG and PHEV power.
To me, the GLC 300 has everything you need and more, essentially Mercedes has ticked the options boxes for you, but for those looking to spend some more Other than two MANUFAKTUR colour options and an alternative wheel option, there is one option pack you can add – The Plus Package consists of MBUX Augmented Reality for Navigation, GUARD 360 Vehicle Protection Plus, Burmester 3D surround sound system, additional driving assistance systems, DIGITAL LIGHT, Adaptive Highbeam Assist Plus, and heat and noise-insulating acoustic glass for $6,900.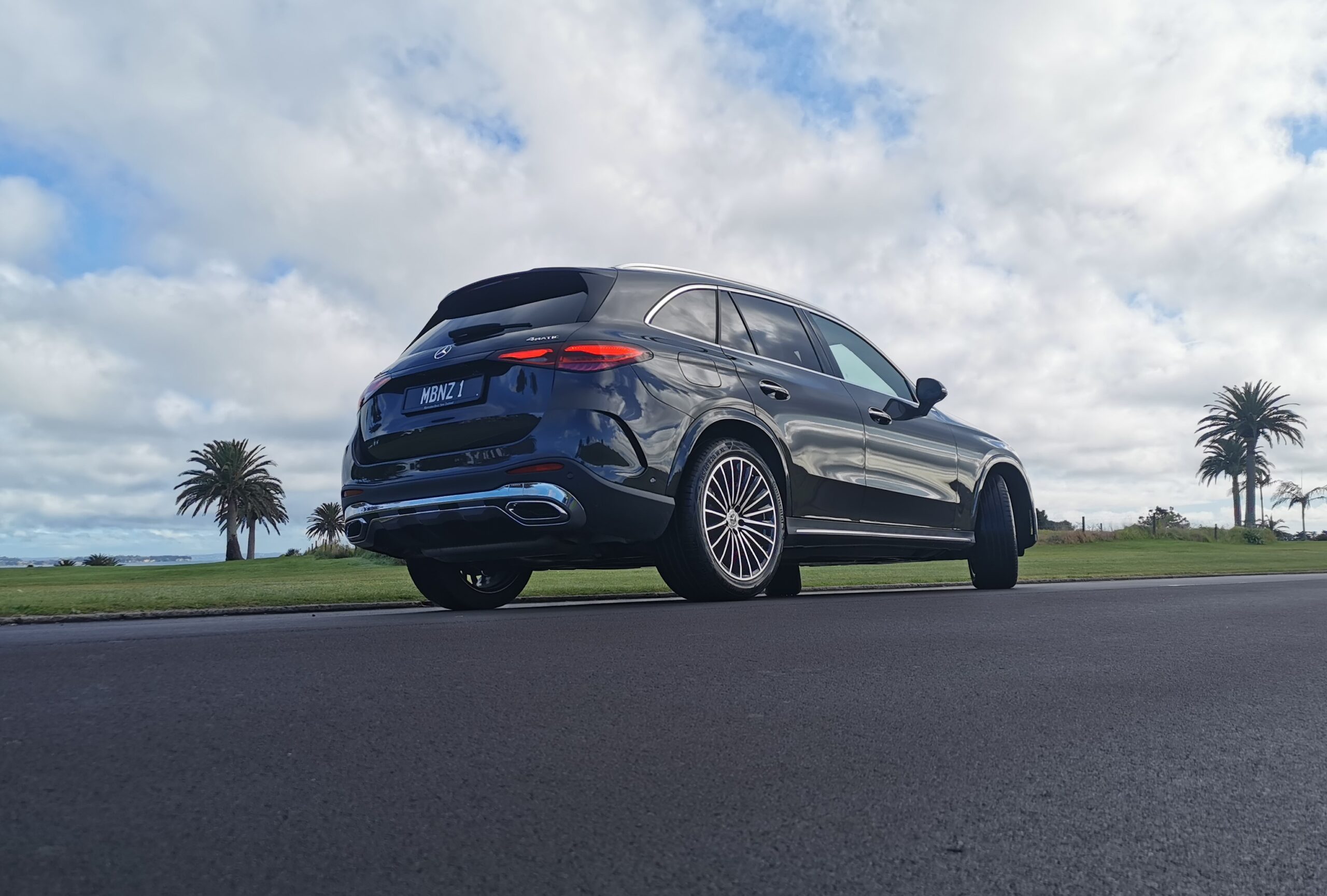 Oh and one final note, I must have enjoyed the ride as I went away with the car key in my pocket – old brain or subliminal desire to own, I'll leave you to decide.