For those of us that remember, the 80s was a time of great music, long lunches, dubious fashion and big shoulder pads (for women and men). But It was also a time of big performance engined sedans and Mercedes-AMG released one of the biggest – The 'Hammer'. Well, now Mercedes-AMG NZ has launched the latest Hammer descendant, the AMG E 63 S, and we got to review it.
With a thunderous 5.6-litre AMG-tuned V8 offering 360 horses, the legendary Hammer of 1986 essentially took the title of the world's fastest passenger sedan and it would appear that AMG has kept this in mind throughout the E-class' five generations and onto its current facelift.
The revamped 2021 E 63 S now sports the Panamericana grille symbolising (in part) that it's well and truly part of the AMG kin, while the rest of its new face comes with a twin power dome bonnet, flatter LED headlights, redesigned bumper with lower 'jet-wing' splitter, plenty of vents and from my count, four radiators to keep its beast of an engine cool.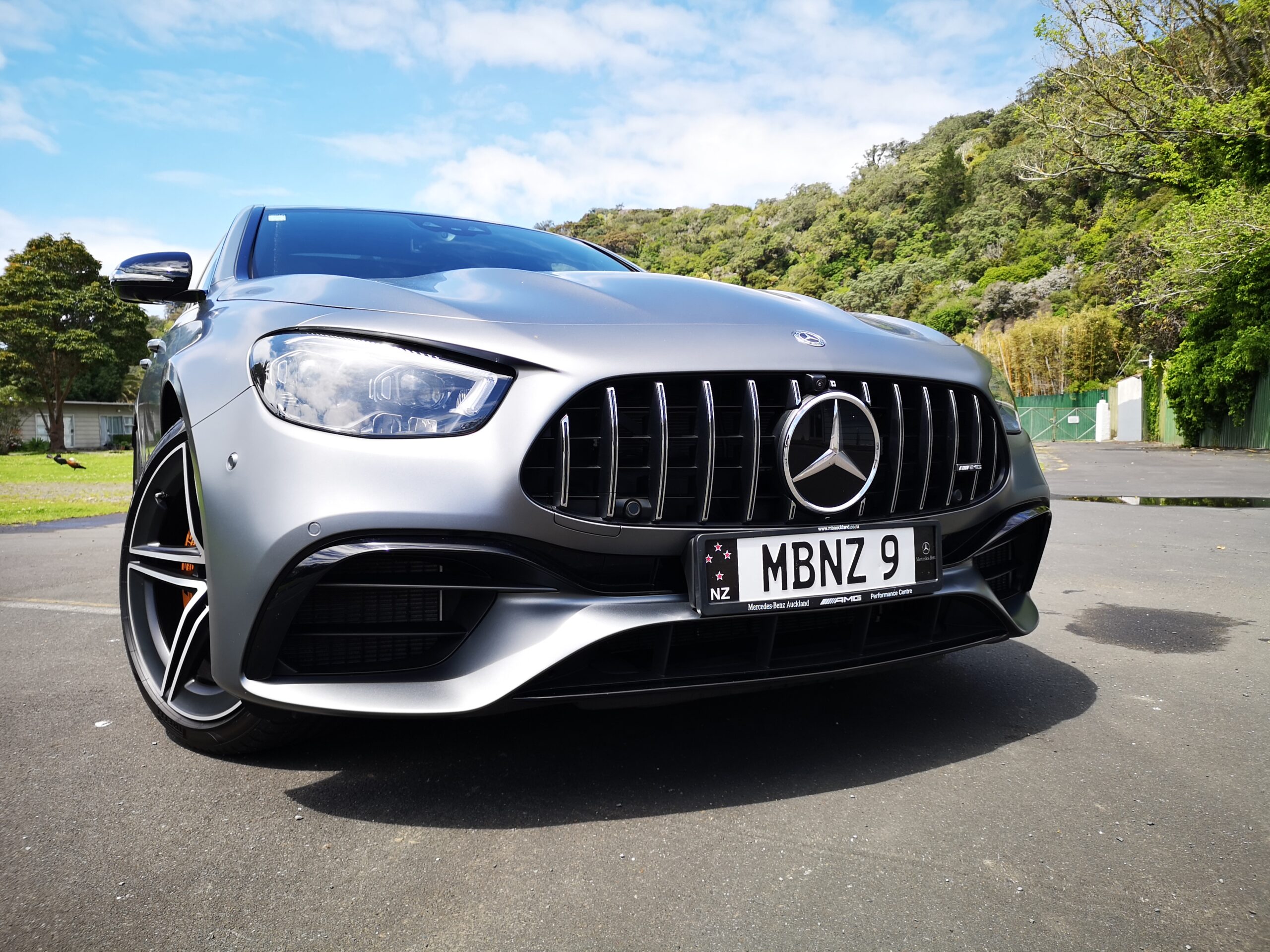 The AMG E 63 S is around an inch (1.1) wider than a regular E and that's thanks in part to its flared arches that cover its greater track width and wide 20-inch feet (with in my case the optional AMG high-performance ceramic braking system fitted). My review model came in the hard to maintain but incredibly striking Selenite Grey Magno matte paint which accentuates the Sedan's strong shoulder-line and subtle curves, it's very aerodynamically friendly. While at the rear, it has flatter tail lights which extend into the trunk lid and are visually linked with a chrome trim strip, has a body colourerd spoiler lip on the kicker operated boot, has a reshaped bumper and 3.5-inch trapezoidal twin tailpipes with a titanium matte finish. Make no mistake, this is one good looking sports Sedan!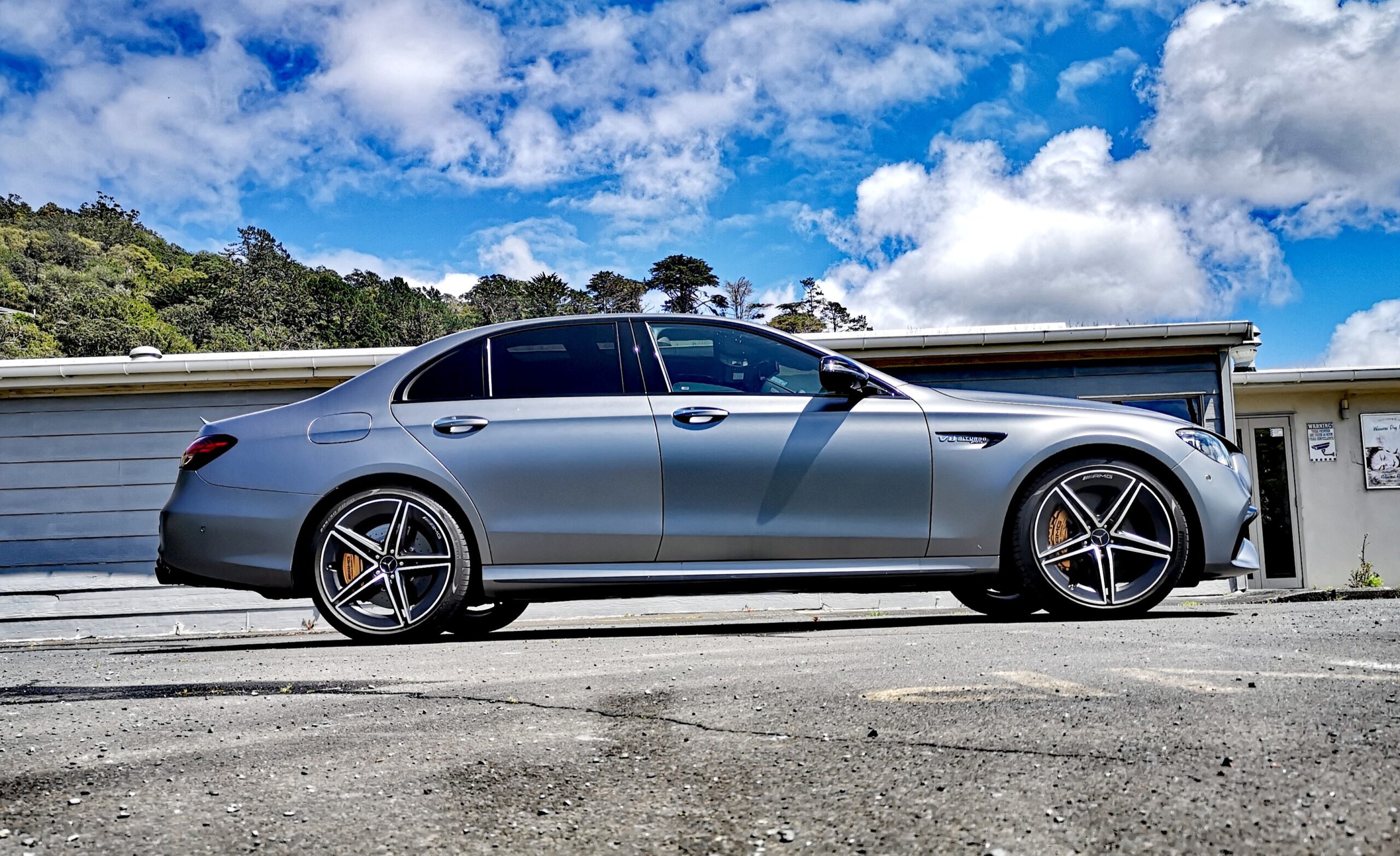 The interior has had more than its fair share of attention too. The widescreen Cockpit that takes up half the width of the dash is controlled by a new AMG Performance steering wheel (that looks like a bi-plane coming towards you) and Mercedes new MBUX infotainment system that has AMG-specific functions and augmented reality navigation.
My review model came with the ultra thin and even 'ultraer' supportive sports bucket seats, open-pore wood trim and a vast amount of Nappa leather, so it's a perfect blend of Exec posh and 'ready to race' attitudes.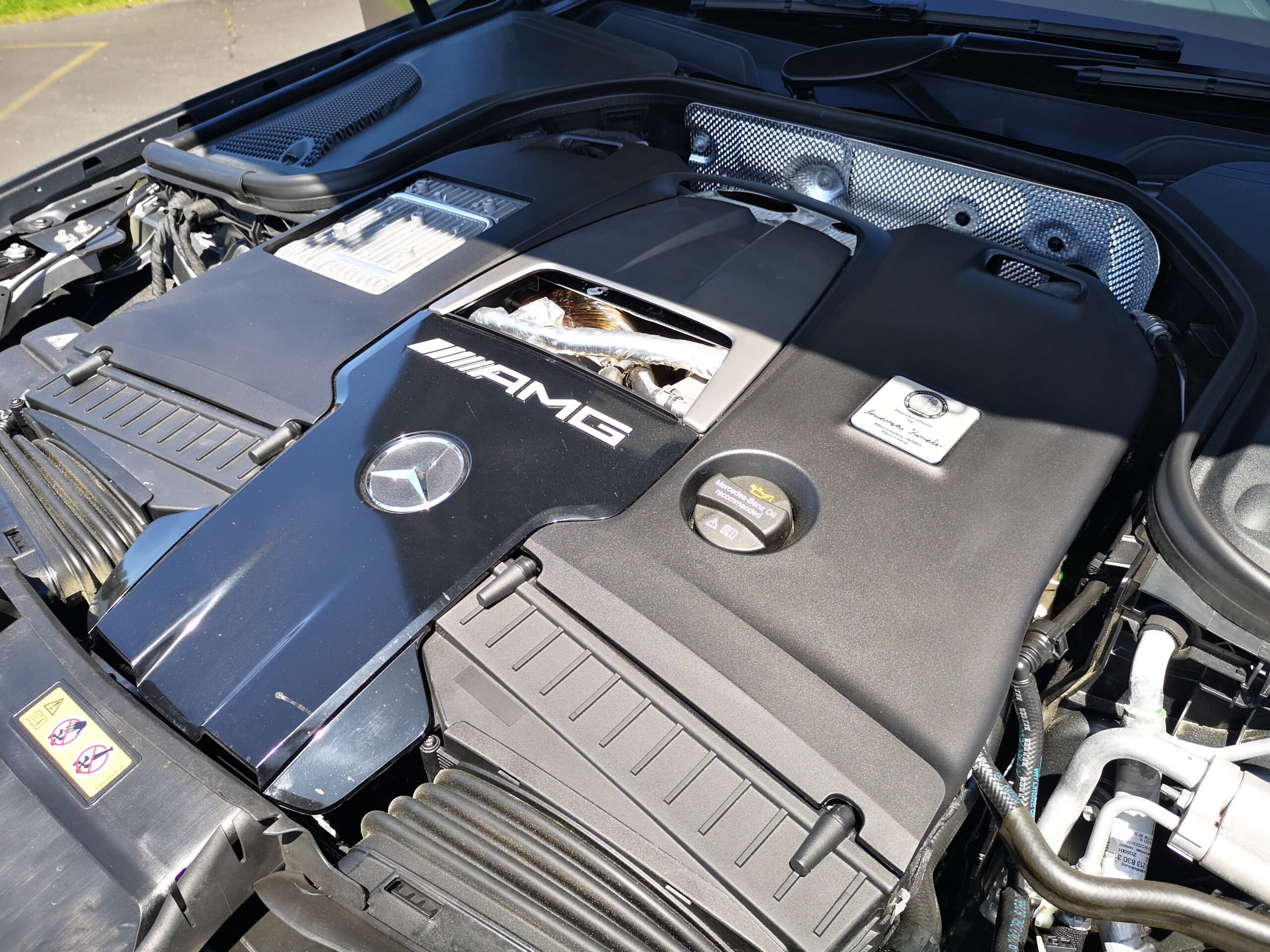 On the subject of ready to race, what lies under its power-domed bonnet would put the original Hammer to shame, and that's saying something. It's a handcrafted AMG twin-turbo 4L that produces 450kW (603HP) and 850Nm of torque and all available across a rev range of 2,500 to 4,500. This V8 brute is attached to a 9-speed MCT AMG SPEEDSHIFT box and then onto 4Matic+ all-wheel drive OR should you have 'die hodens', there's a drift mode that puts all that power to just the two back wheels! 0-100km/h comes in at 3.4 seconds and top speed… Well I would assume it would have to be limited here in NZ – why can't we have an Autobahn?
I spent a week with this bad boy and absolutely adored it. From a family point of view it offered comfort and space with heated seats, multi-zone AC, a comfortable (but firm) ride and 371L of 'shopping-sized' boot space. The MBUX system seems to understand normal language without the need to shout and happily goes about handling the mundane tasks of changing radio stations, AC temperatures for finding places of interest (we're just not allowed to enter them). The massive sunroof ensures that all occupants get sun on their faces (with the front two getting fresh air too) and at night, the cabin's ambient lights can be changed to match your every mood.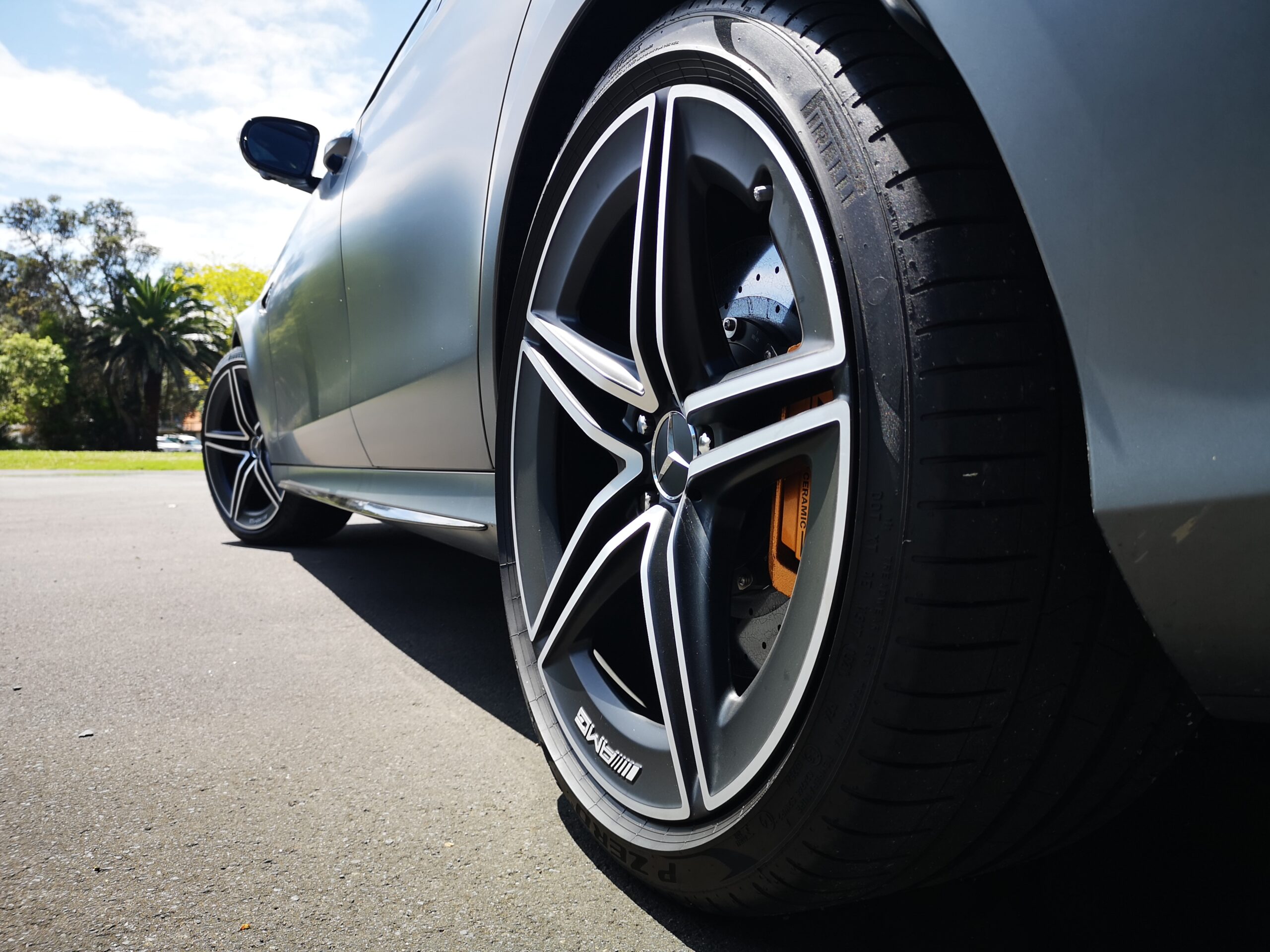 But then comes the AMG E63S's dark side. Once you find yourself alone in the Sedan and with some open tarmac ahead of you, the turn of the freshly designed drivemode dials on the AMG wheel, lets you head up to Sports+ and Race, places where all hell can break loose.
The exhaust note changes to gruff, the steering and accelerator become featherlight in their response and the Executive Sedan gets angry – it's delicious. The AMG specific screens can be changed to report on your driving intentions, so 'G', Power and Torque can be monitored, but better still, there are the likes of Drag strip modes where you can test your reaction times and 0-100's (I managed 3.49s), and a race track mode too with many famous global tracks loaded so you can test your skills should you find yourself on them (I didn't find Hampton Downs). And of course, the aforementioned Drift mode whereby going through a few steps (engage Race mode, manual box, traction off, pull back on both paddles then pull the up paddle) you can drift your way around corners at will. Sorry but I didn't test this out.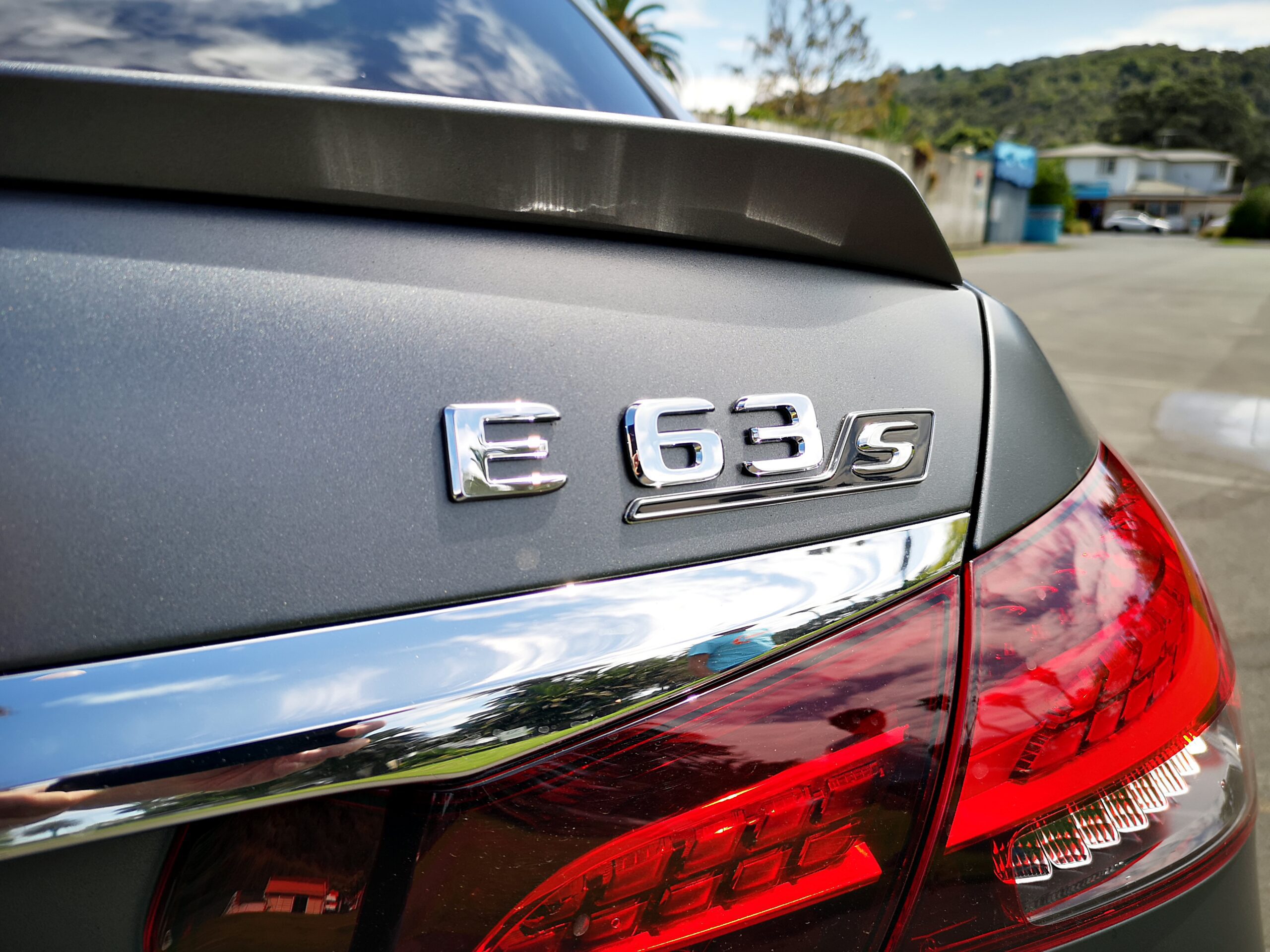 I did however put the hammer down whenever possible and this monstrously powered Sedan seems to just love going fast. It takes off at junctions without any turbo lag and then races up the gears (and speedo range) seamlessly. It's fast, very fast and yet so very controllable, and the ceramic brakes meant that even when attacking some complex twists and turns, there was assurity of zero brake fade. I did NOT want to return this car.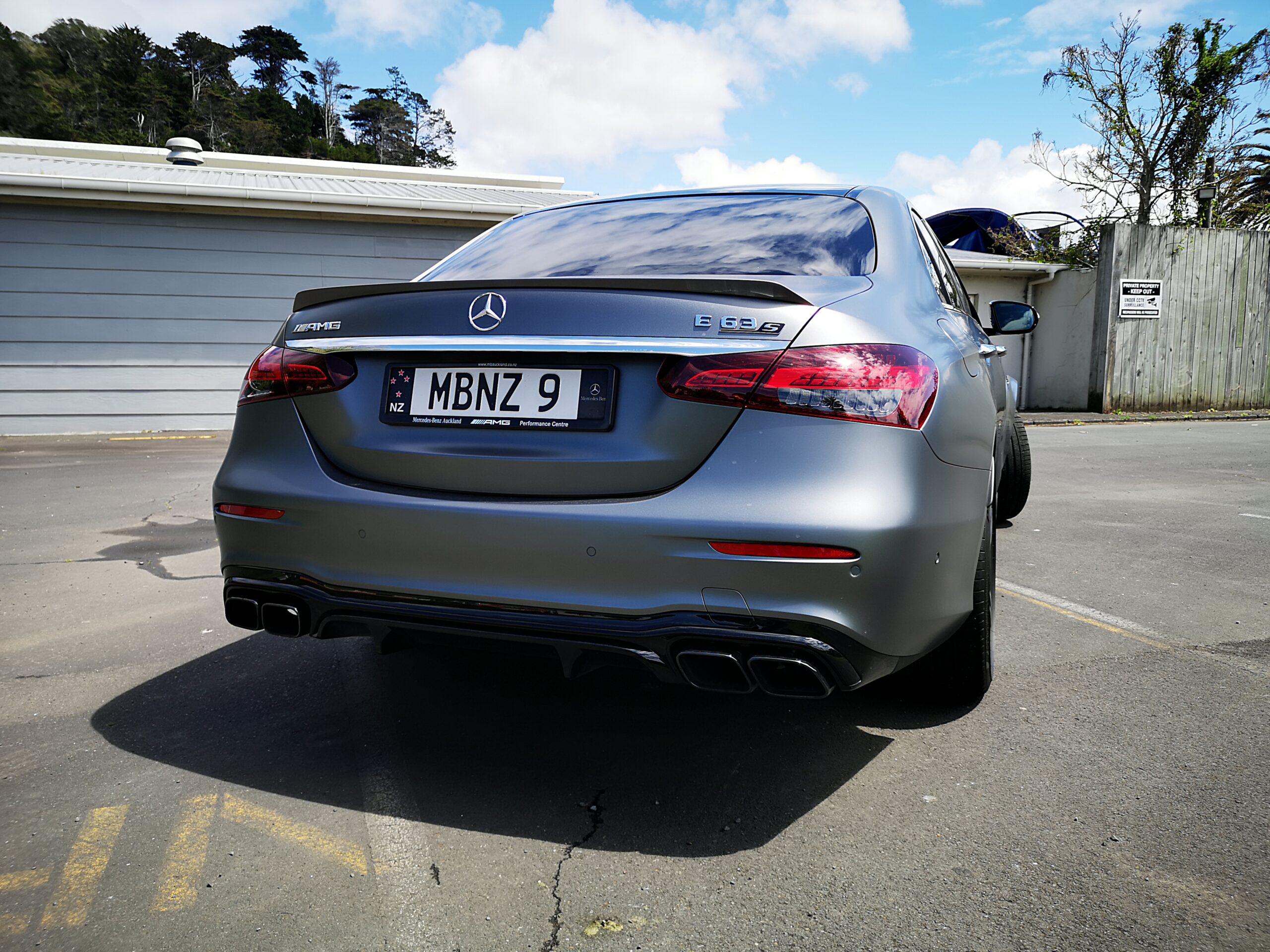 The Hammer of the 80s was (and still is) an iconic motor vehicle, but I have to say that in the immortal words of MC Hammer – even that impressive Sedan 'do do da da – can't touch this' 2021 Mercedes-AMG E 63 S – it's the new Hammer time!