With drinks, 7 Up is a refreshing lemon-lime soda that's both zesty and fizzy and best tasted ice cold. But for me, when it comes to SUVs, '7 Up' is a seven-seater Mercedes-AMG GLB 35 model that boasts elevated performance, much more zest and should be consumed when the temperature needle hits warm and 'Sport +' is engaged. Or that's what I discovered when Mercedes NZ let me drink it all in.
The fizzy pop 7 Up was created by Charles Leiper Grigg in 1929. It was originally named 'Bib-Label Lithiated Lemon-Lime Soda' (doesn't that just roll off the tongue) and until around 1948 contained lithium citrate (a mood-stabilising drug). Its name was later shortened to '7 Up Lithiated Lemon Soda' (cans were evidently bigger back then) before being further shortened to just '7 Up' by 1936.
Conversely, despite Mercedes-Benz having a history that dates back way beyond the drink was even thought of, the 7-seater GLB only arrived on the scene in July 2019 and the effervescent AMG 35 model that we were to review only arrived on our shores last year. But don't let its 'newbie' status fool you, this feisty compact SUV is Mercedes-AMG through and through.
With its unique design, 7 seats as standard, MBUX system and advanced safety features, Mercedes-Benz refers to the GLB as the most flexible compact SUV in their family, and things only seem to get better once it's been introduced to AMG.
Up front, it's hard to miss the chrome vertical slats on the AMG-specific panamericana grille which makes its debut in this 35-series model and emphasises membership of the AMG family. A position that's underscored by the giant 3-pointed Mercedes star slap bang in the middle (which also hides some of the technical wizardry too). The front splitter sits below and this is bookended by large black air vents – all of this would have been slightly more dramatic had my review model not been in a 'Cosmos' black too.
The AMG GLB 35 casts an upright shadow with a boxy rear quarter (so those in the back can bring their heads), but at around 1.66m tall, it's not exactly mammoth looking. Especially as my model came riding on 20-inch AMG 5-Twin-Spoke Matt Black Alloys with minimal rubber. While round the rear there's an AMG roof spoiler, AMG badging, and a protective rear apron with two round, single exhaust trims elements – it's not your regular looking 7-seater.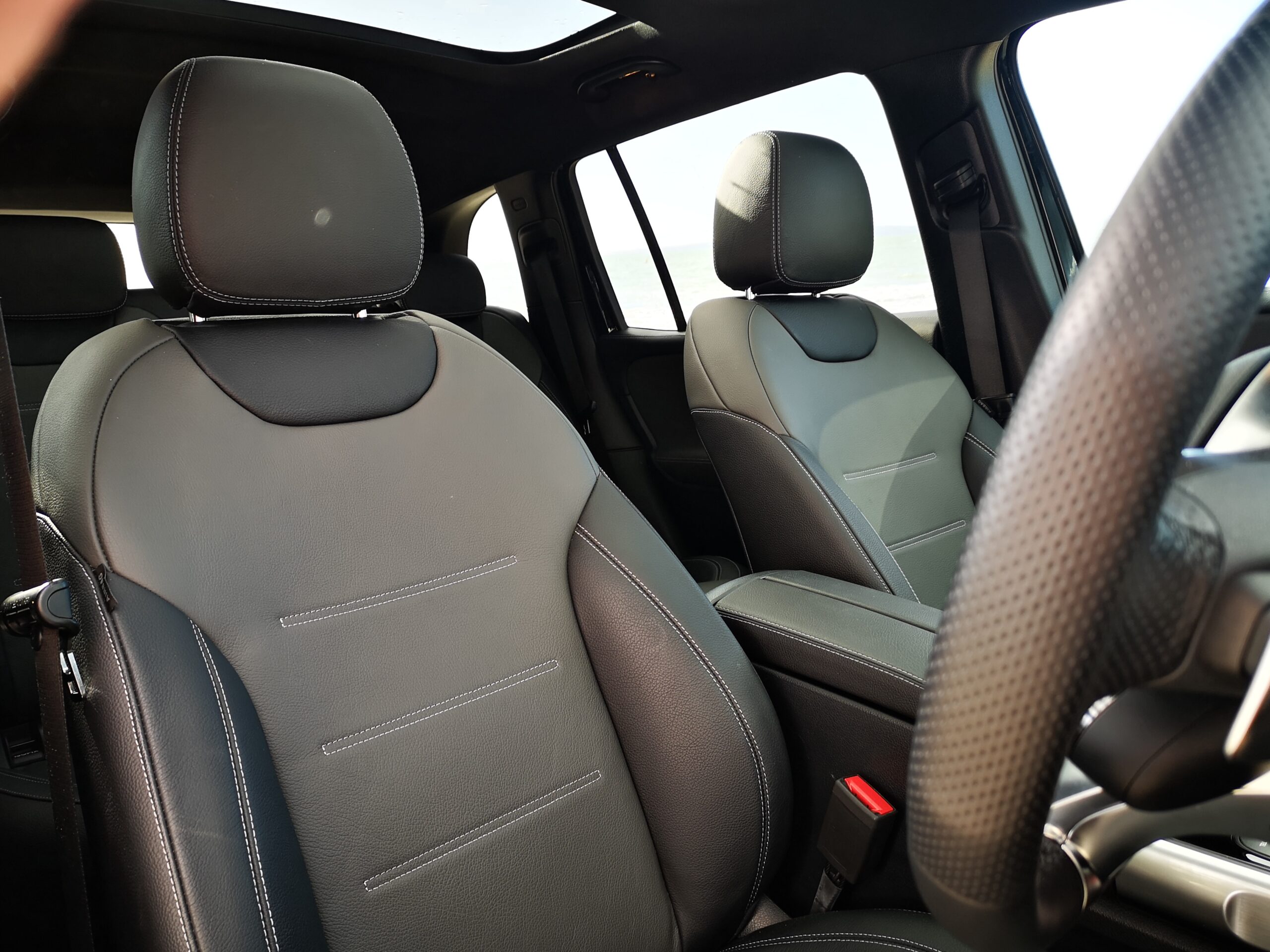 The sports theme continues on the inside with (in my case) Titan Grey Pearl/Black Lugano leather sports seats (which are very bolstered for the corners), heaps of black and polished aluminium trim and an AMG steering wheel with a driving mode dial and an individualised suspension button.
In terms of AMG drive modes, there are five to choose from, Slippery, Comfort, Sport, Sport+ and Individual, and each offer varying responses from the engine, transmission, suspension and steering. In all honesty, I stuck with Sports +, because, well just because.
According to the manual, 'Sport" and Sport+ place the focus on agility and driving fun with sporty engine and transmission tuning. I just know that it turned this mild mannered compact SUV into a vehicle that loved to play.
Usual household chores aside, I opted to take the GLB 35 on spirited rides to the north of Auckland (yes that was me) and let the 2L 4-pot engine stretch its legs. The numbers that AMG have managed to eke out of this powertrain are impressive enough 225kW/400Nm but what's more interesting is the way that it performs overall.
Being an SUV (albeit small), your seating position is elevated. Now in many other vehicles this would amplify things like body roll, certainly in the corners. Not so for the AMG GLB. Its 4MATIC all-wheel-drive system assures traction where required and the 3-stage Electronic Stability Program keeps you pointed forward. What's more, although the chassis is firm, I could still exit the vehicle without hearing any cracks – well no more than usual. Actually, its elevated height meant that the hip height was more convenient for a guy my age.
Often, with a smaller cc, larger turbo vehicles the lag at junctions is long enough to order a pizza, again, not so with this twinscroll turbocharged 7-seater, in fact it nips off the line and up to 100km/h in just 5.3 seconds with RACE START function included as standard – see it is an AMG!
When not keeping the rev needle north of 5,000rpm, the AMG GLB will take down fuel at a rate of 8.3 Litres/100km, I honestly didn't check as, well it's an AMG. And as a bonus, you can fit a kid in the third row without any complaints (or maybe I didn't hear with the stereo turned up loudly).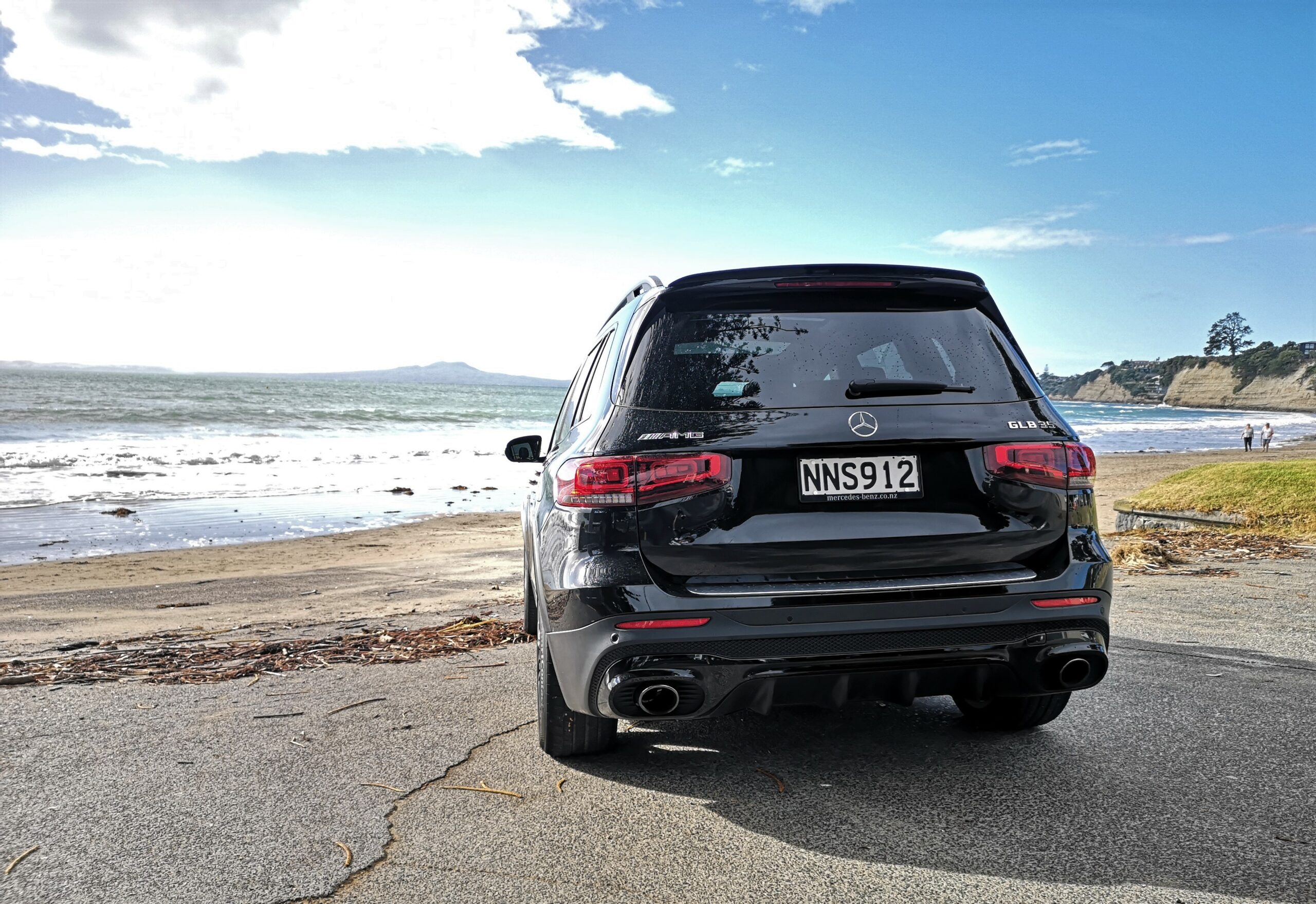 The Mercedes-AMG GLB 35 comes with all the digital screens, driver aids and safety tech that you'd expect from the brand (reams of it in fact), even in this case, head up display and a panoramic roof, but it's the joy behind the wheel that really makes this 7-seater pop. It drives like an AMG should, not quite 45 or 63 level but more than enough to make you feel like a race driver, a race driver that has room for plenty of groceries and can also carry six passengers, so you can go 7 Up and still fizz.