To celebrate the launch of the all-new 4th generation Tucson, Hyundai New Zealand had created a special 'design' themed event that began at the Govett-Brewster Art Gallery/Len Lye Centre in New Plymouth. Not only would there be a tonne of driving ahead of us but we'd also be taking in a bit of Kiwi artistry along the way.
The Hyundai Tucson first took to NZ roads in 2004, and this first generation set a new standard in small/medium sized SUVs. Gen 2 followed next (obviously) however took up the ix35 nameplate as it was more 'globally relevant' – whatever that means. I personally joined the Tucson story in 2015, when the nameplate returned to Tucson and the generation turned three, it boasted better design and more driver friendly aids. Actually, throughout each generational change Hyundai has made giant leaps in both technical and capability prowess, and for the all-new Gen 4 (NX4e), Hyundai seems to have gone all out.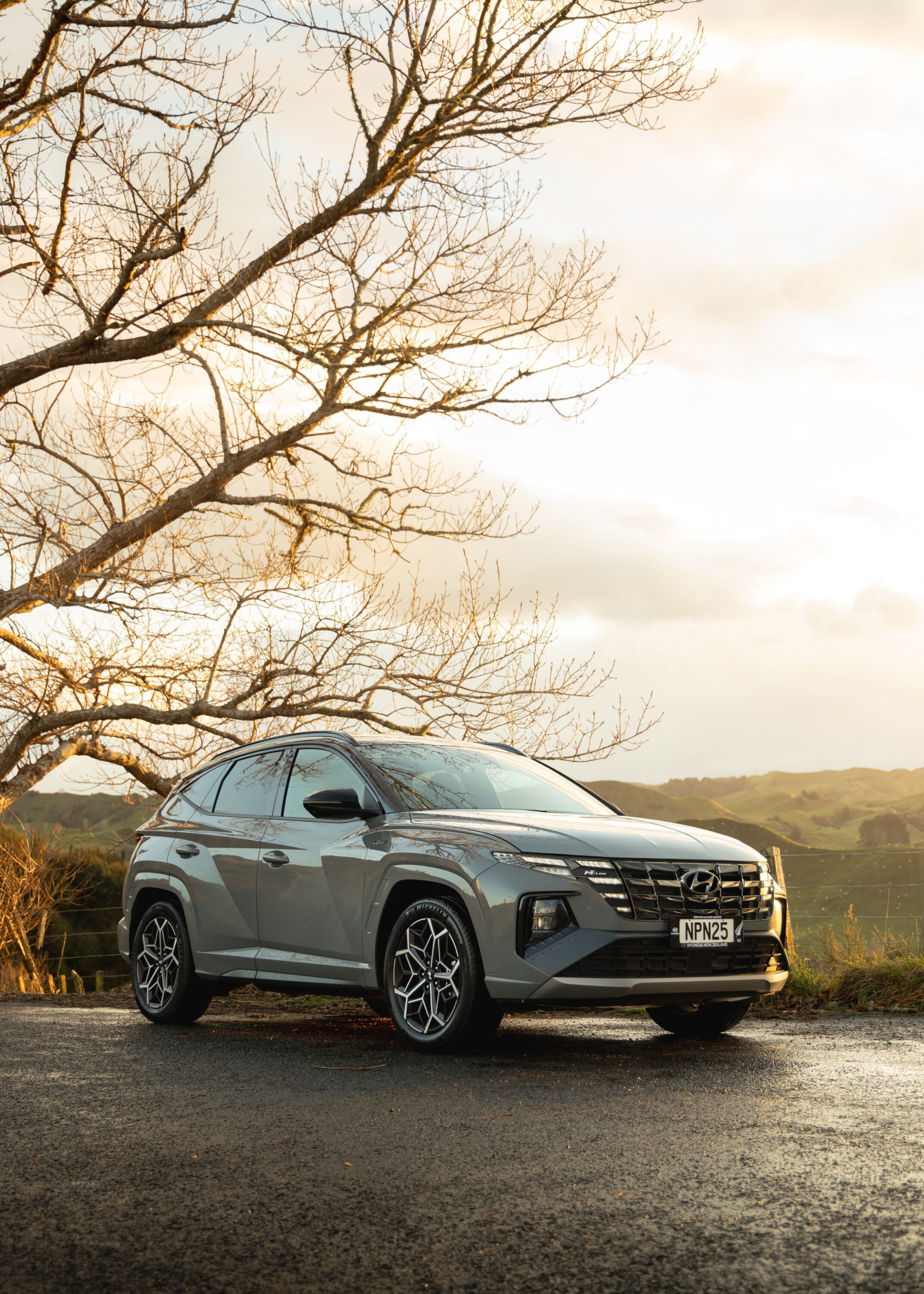 The 2021 Hyundai Tucson has an all new design, updated engines, 2nd generation transmissions, state of the art technology and a chassis system that's EV ready. YET, although the changes are aplenty, it still retains its Tucson driveability and dare I say it, style and cuteness.
Make no mistake, the Tucson is a popular and therefore VERY important model in Hyundai's line-up, in fact, over 23,000 have been sold in NZ alone. So to launch an all-new model, it had better be good – just as well it (they) was then.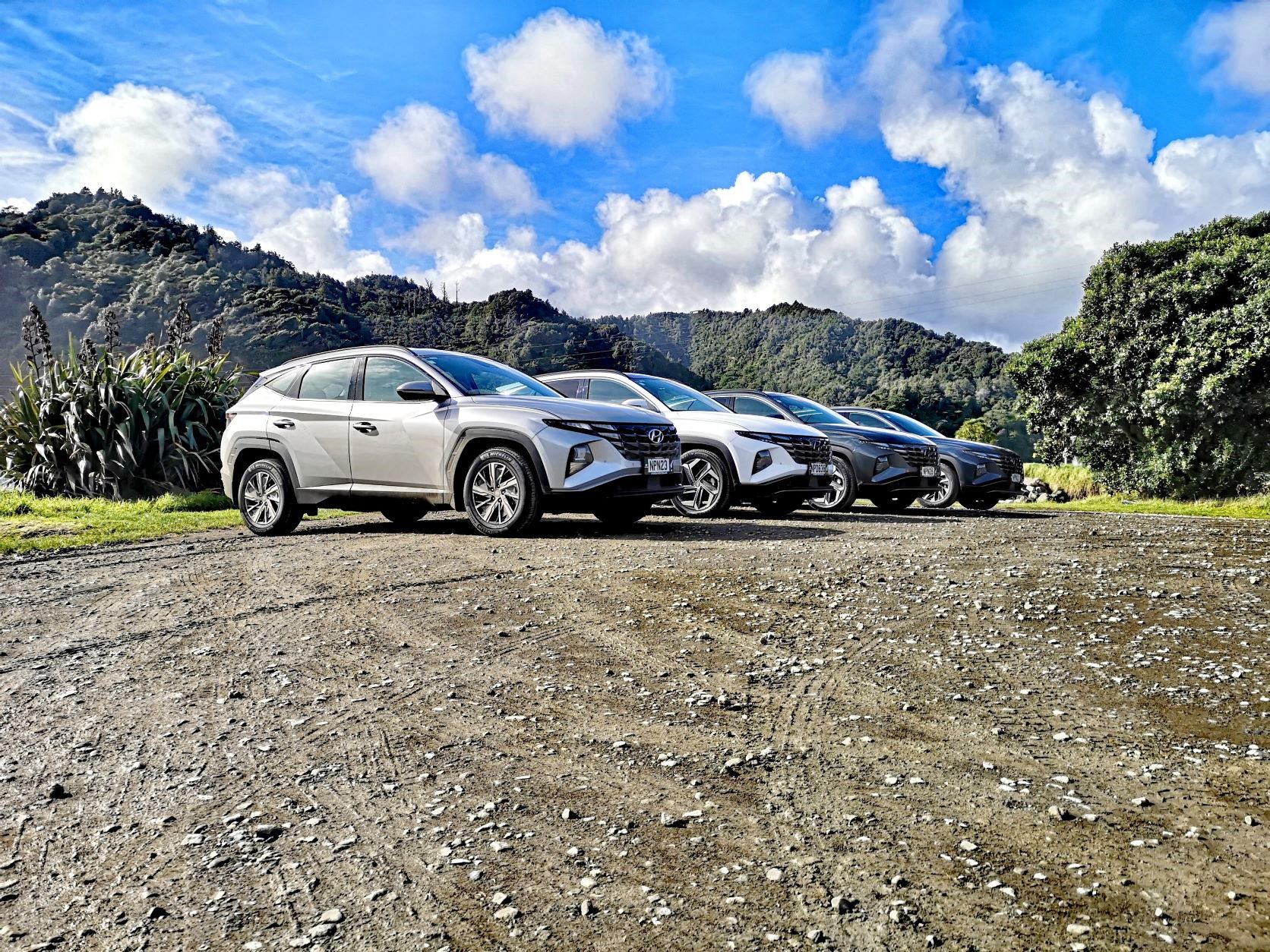 There are 11 models in the latest range (Active, Elite and Limited and N-Line plus various powertrains) but rather than go through them all, let's just stick with the top of the line, the 1.6D CRDi Limited DCT7 – on saying that, there is an N-Line that's rather special too but that has more of a sporty trim.
Sitting on the new N3 platform which is lightweight, offers passenger comfort and is ready for a diverse range of powertrains, the N3 also offers a sound foundation for the new Tucson's uprated suspension – which I'll get to soon.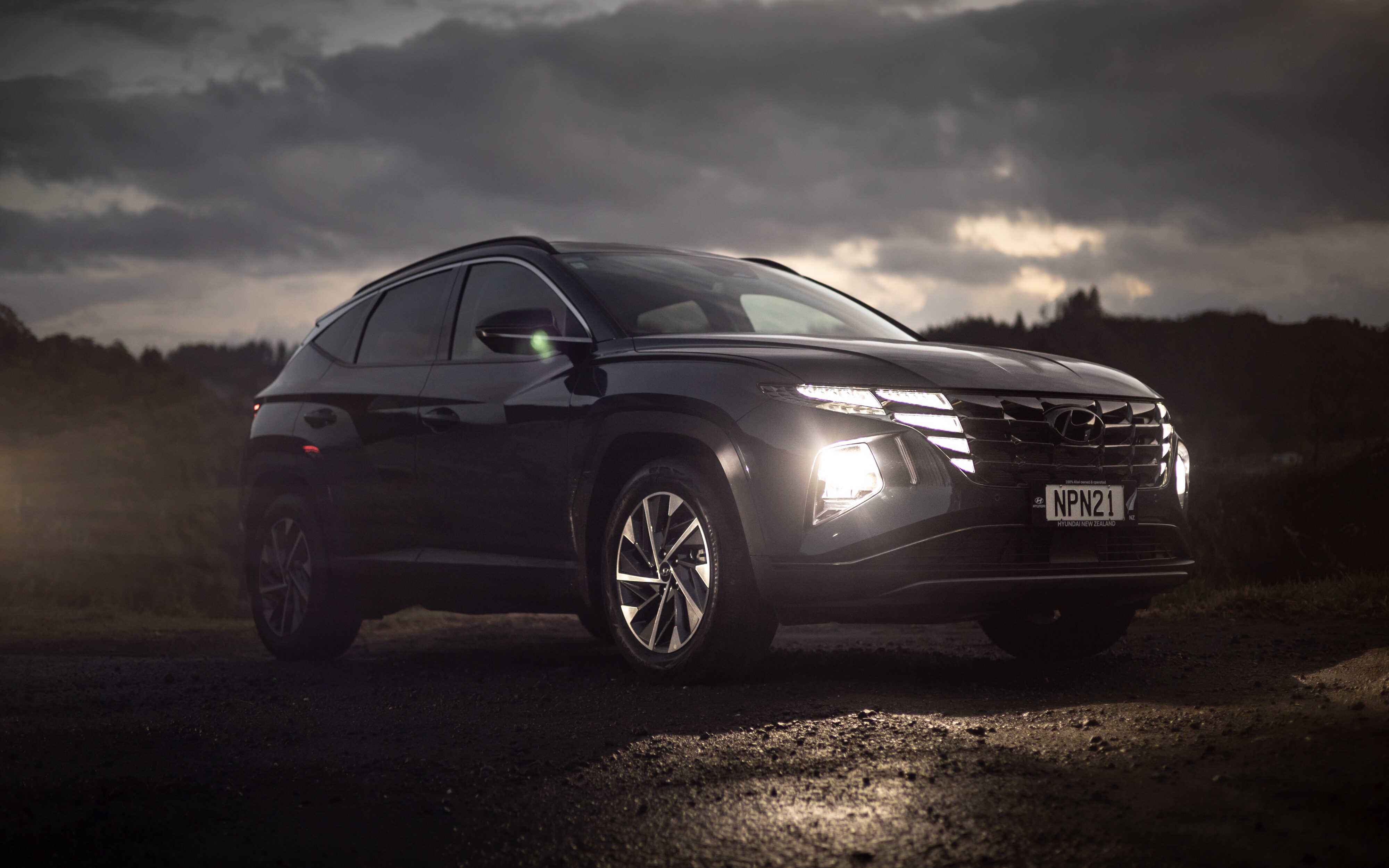 Design wise, it has an extended bonnet that takes dominance over the front and spills over to the wings, it also has a unique inverted powerscoop. Its integrated parametric DRLs are an eye-catching feature around the grille and LEDs complete the picture. The rear offers up a concealed wiper blade, an embedded Hyundai 'H' parametric LED lights and a full width light bar. Oh and twin exhaust caps.
At 4.5m long x 1.87m wide and 1.66m tall the new Tucson has gained a few mm over the previous generation and that translates into more interior space. Your luggage can lounge around in 598L (up to 1799L) and there's more legroom for all. While the interior itself is more futuristic and hi-tech with 'shift by wire' gear selection, a 10.25-inch infotainment screen and 10.25-inch instrument cluster.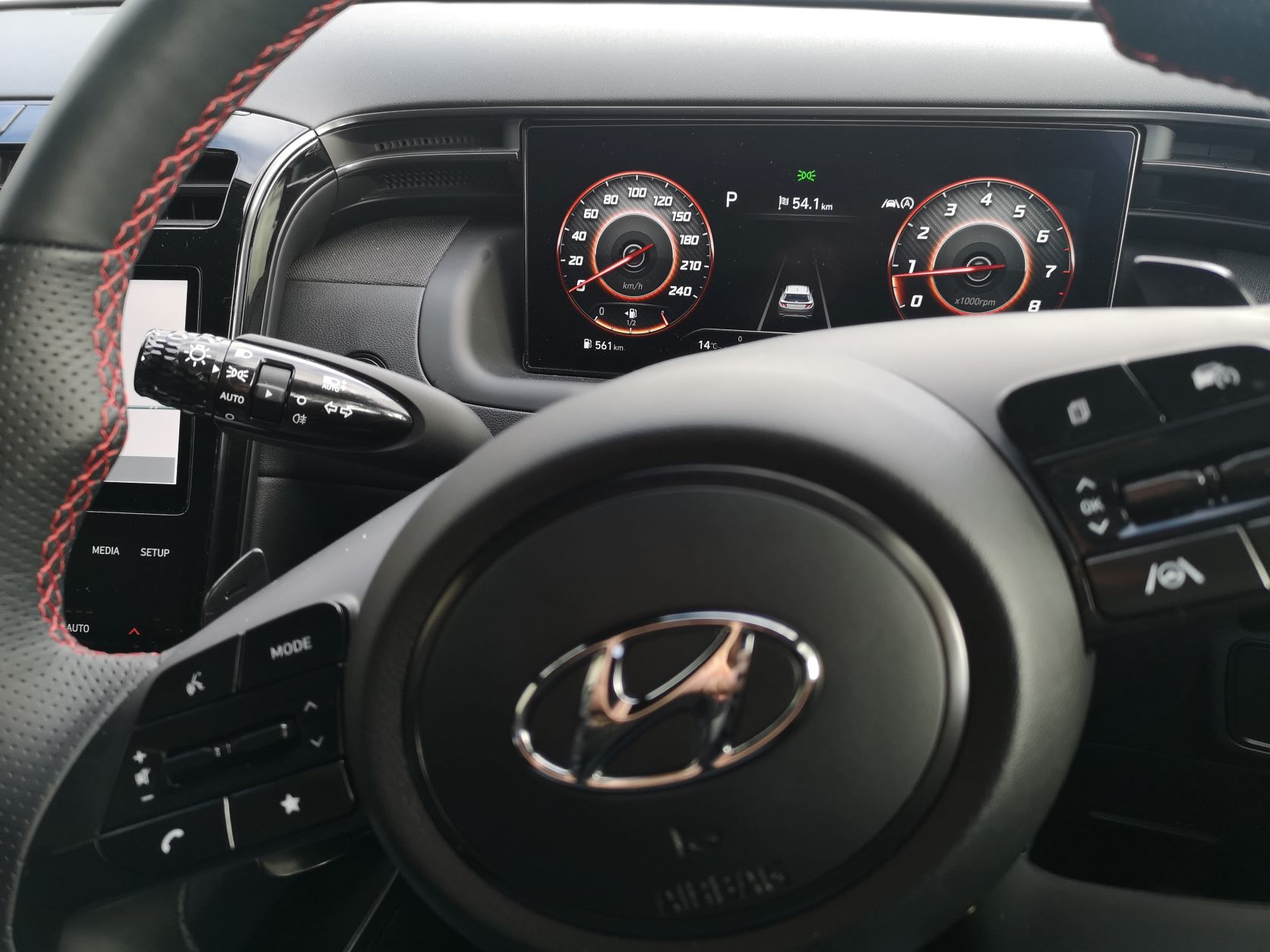 The information is clean and clear and easy to use, the radio tuning takes a bit of getting used to though. Wireless charging is high speed and the driver/safety aids are all consuming, everything from 7 airbags and Blind Spot Alert, to Smart Cruise Control and driver attention warning. So much for such a small SUV. Leather on the furniture and plenty of upmarket materials for the trim, an extra cool feature is the diffuse button so your face doesn't get blasted with 'eye-drying' air.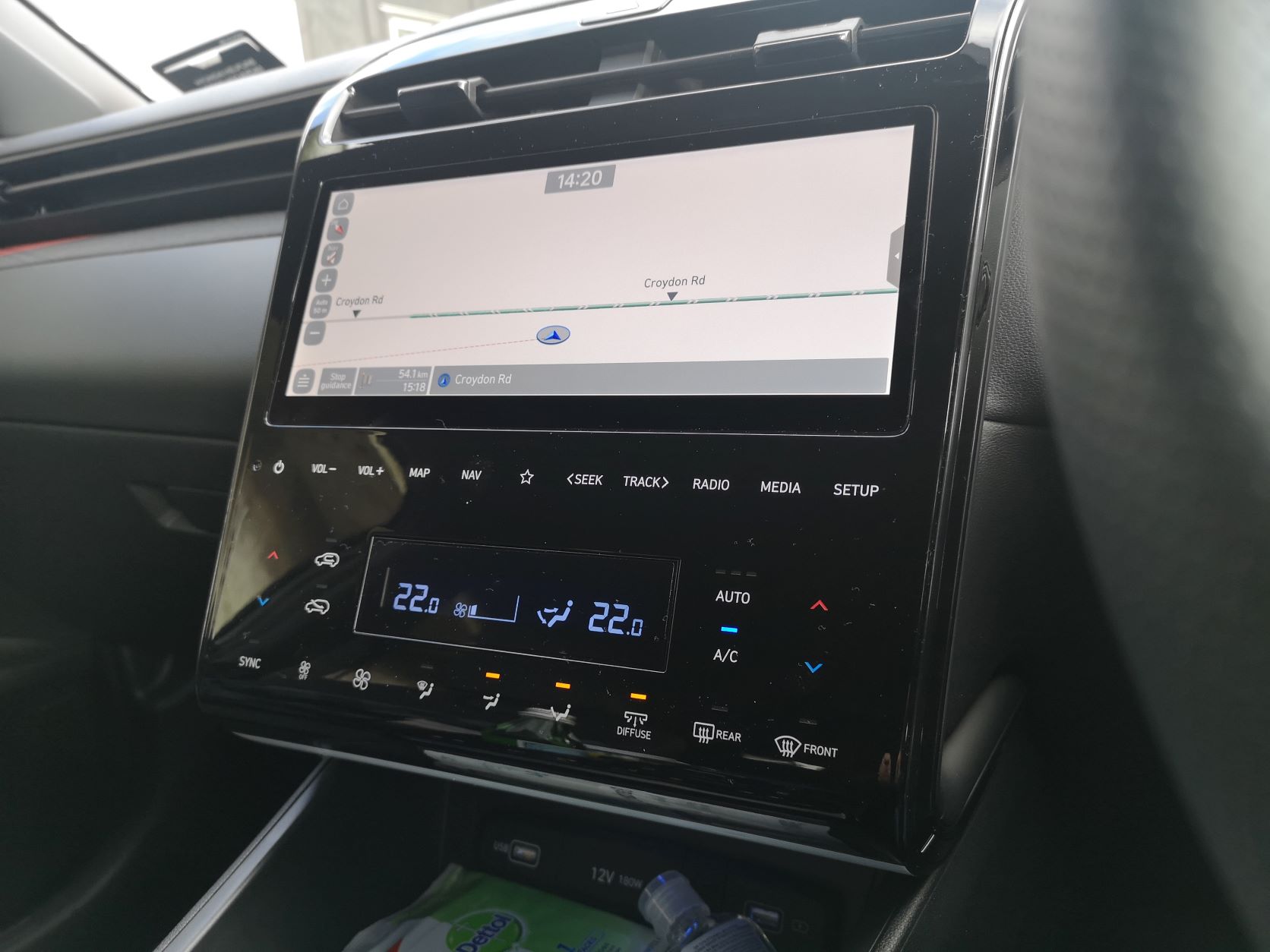 You get a choice of Powertrains that ranges from 2L Smartstream 115kW/192Nm, through 1.6L T-GDi 135kW/235Nm and a Smartstream D1.6L 100kW/320Nm. The latter is in the top of the line Tucson, it's married to a 7-Speed DCT box and active on demand AWD – it's a nice package.
As I said earlier, Hyundai had laid in quite a drive program, designed for us to really get to know the new Tucson. In total it would be a 6 hour + drive loop that included gorges and valleys, windies and twisties, sealed and unsealed roads and a chance to drive the full Tucson family.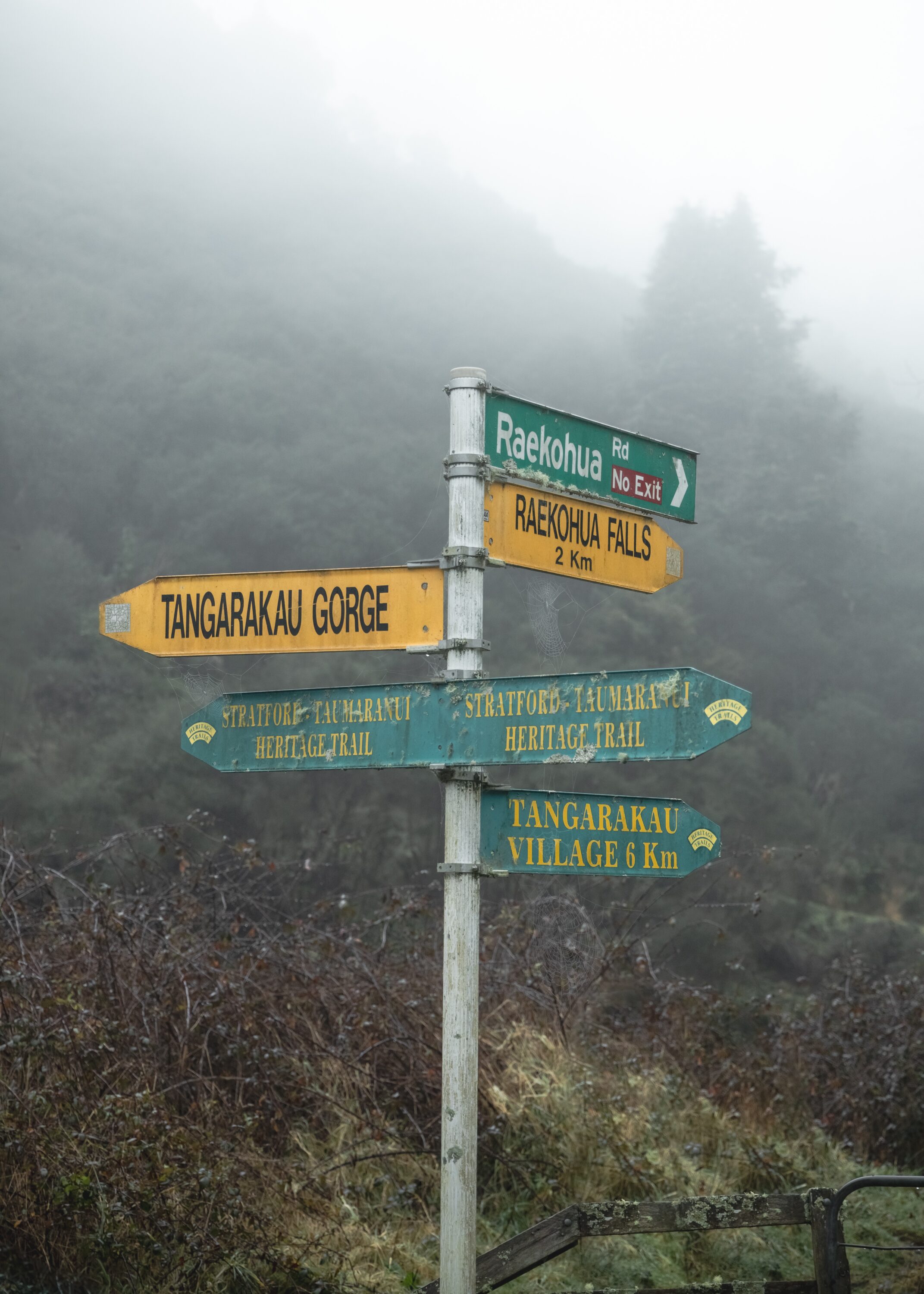 Our first stop was Richard Landers Glass studio, an amazing artist that (amongst other things) creates art from recycled glass. The route to the studio was rather mundane (city outskirts) but well worth the drive.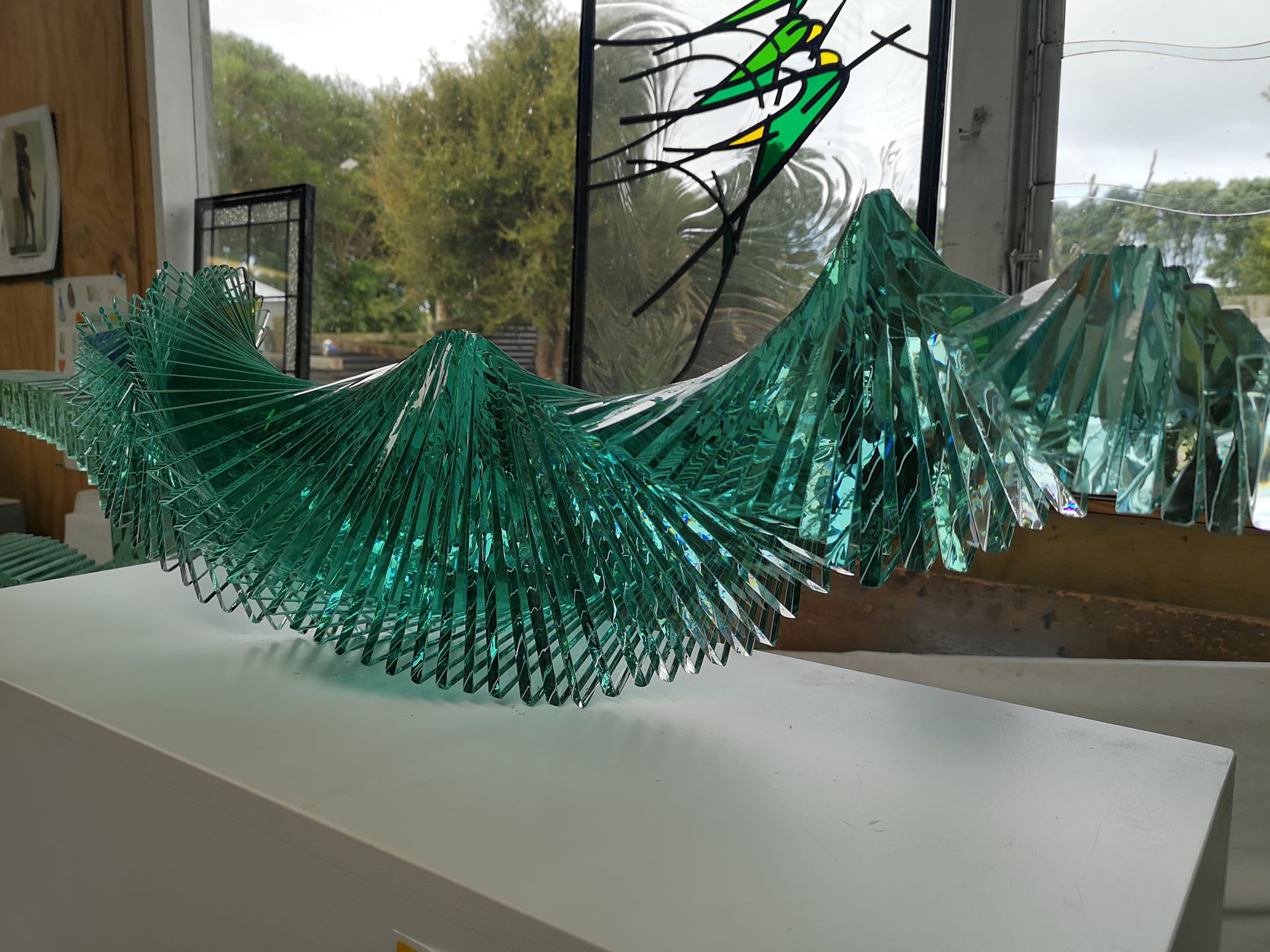 Next up, the impressive Forgotten World highway to the republic of Whangamomona and the embassy (ok the local pub). The route took us over four mountain saddles (Strathmore, Pohokura, Whangamomona and Tahora) with magnificent views and backdrops, however, in all honesty, the roads were wet and slippery and required a lot of attention. In saying that, the drive was spritely and both the FWD and AWD models didn't step out of line at all.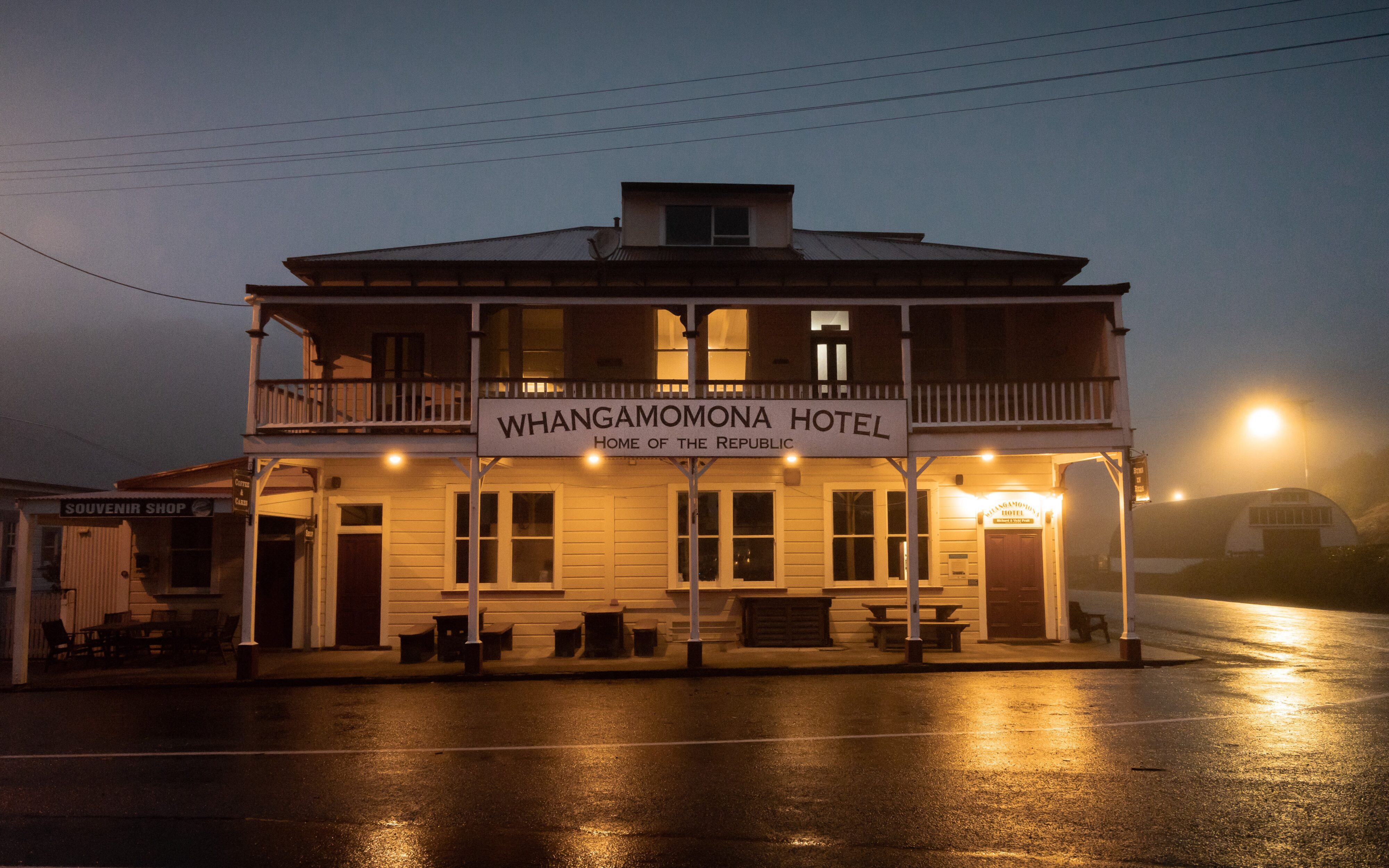 The night's stay at the Embassy was an experience in itself, it's a step back in time but oh so hospitable – seriously, I urge you to go there.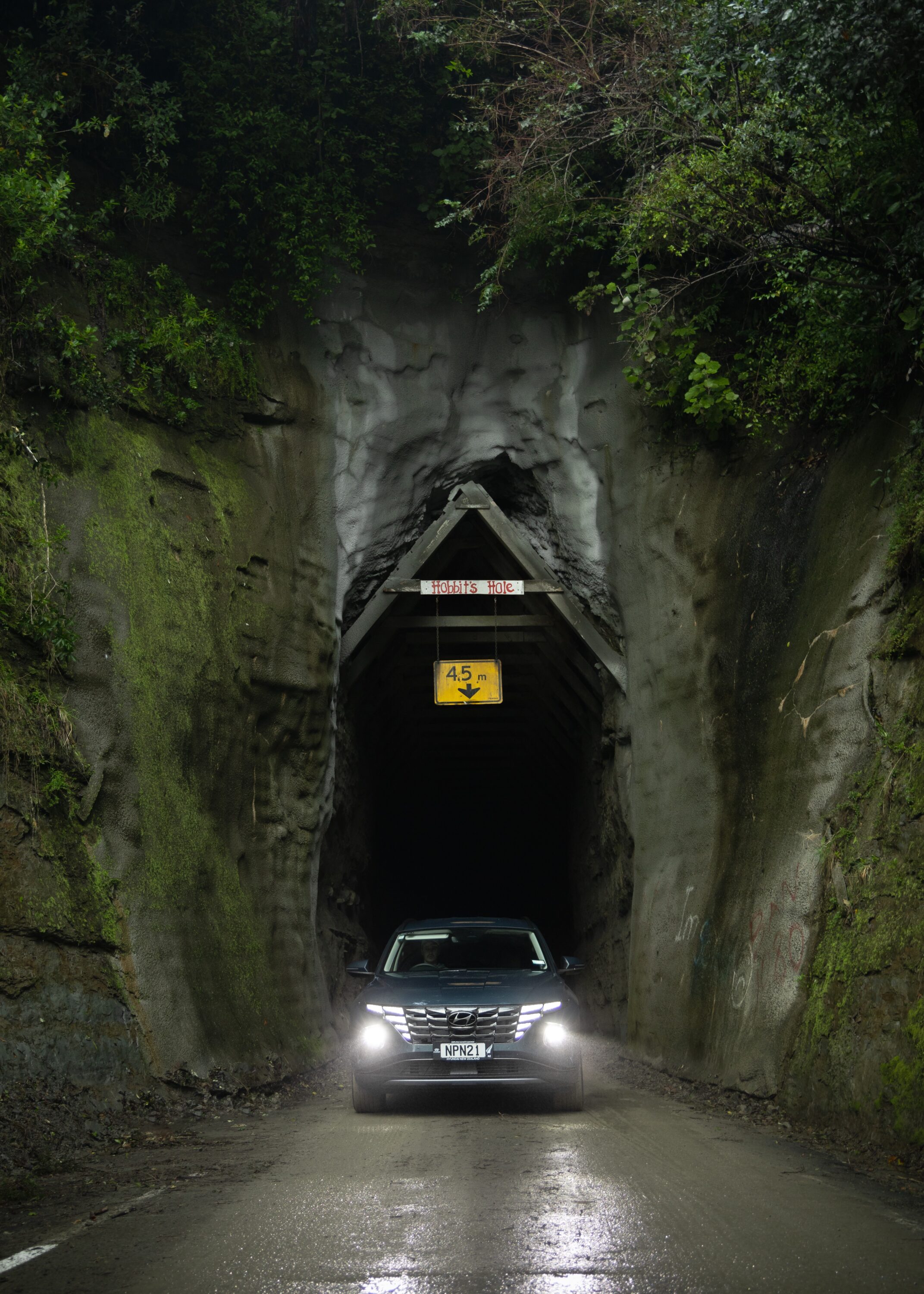 The route back included loose wet mud and shingle, the famous Moki tunnel (a great chance to see the new Tucson's light display) and more epic NZ countryside. Again, the Tucson punched well above its weight in driveability on rough surfaces – this 4th generation has improved steering and response and new damper valves for additional ride comfort, and it shows.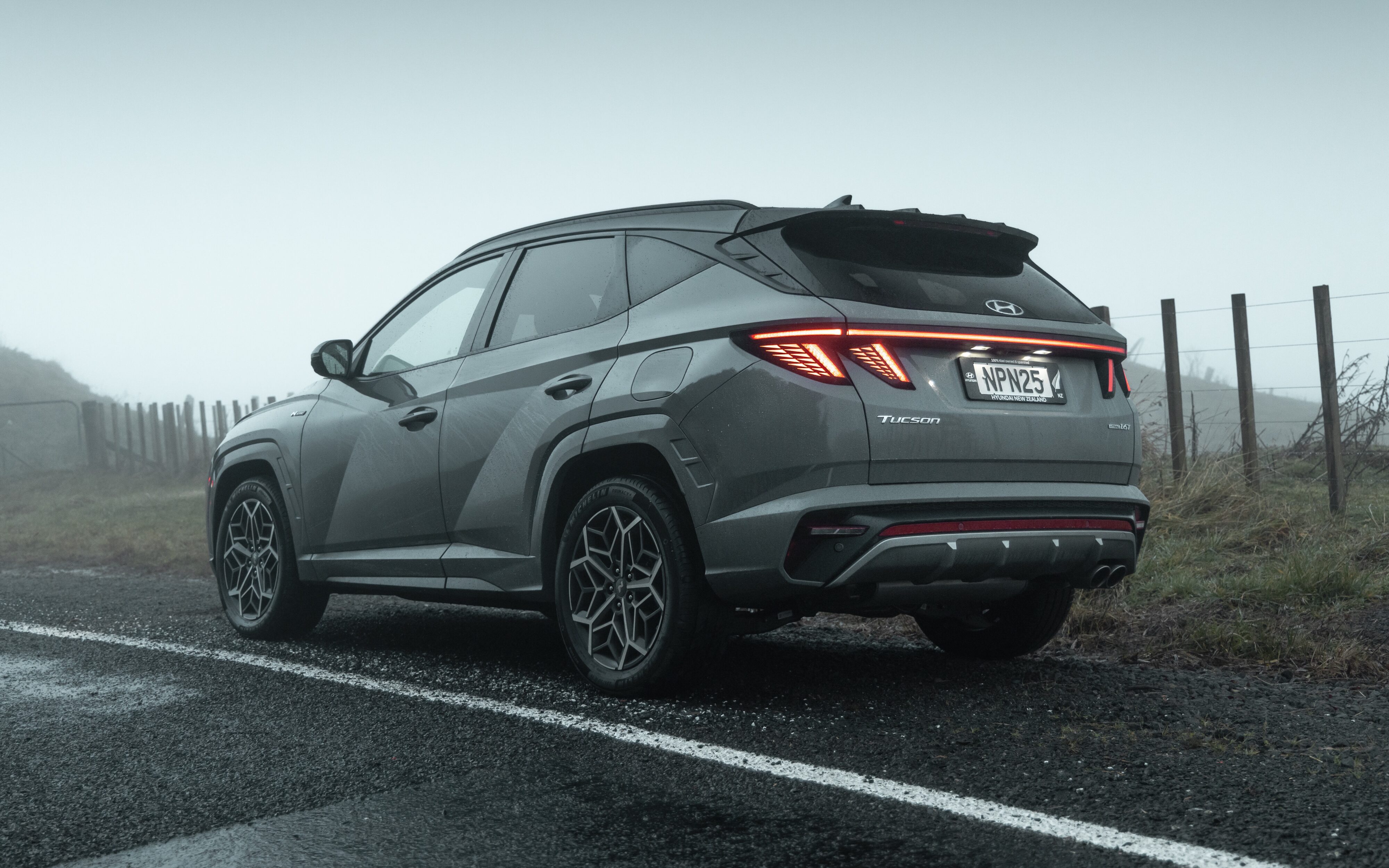 We arrived back at New Plymouth airport with two days of Tucson behind us and I have to say I felt refreshed enough to want to turn around and do it all again. It's well designed and a breeze to drive, even out of what I would consider its comfort zone. Looking forward to doing a follow up drive with this one.