The power rangers are essentially a group of teens with superhero abilities. When 'morphed' they wear brightly coloured suits and possess enhanced strength, durability and agility… A perfect segue to my review of the next gen Ranger Raptor.
When it comes to Ford, the Raptor name was first introduced in 2010 (so just about to become a teen), as the highest-performance version of the F-150, and has subsequently been added to the Bronco (2021) but for us downunder, more importantly to the Ranger in 2019. Well now there is a new, next (2nd) generation Ranger Raptor on the market that wears brightly coloured clothing and possesses enhanced strength, durability and agility – and Ford NZ let me play with it for a week.
When it comes to bright colours, my review model came in 'conquer grey' which isn't exactly the most attention-grabbing in the range, (for that you'll need the code orange or blue lightning) but if it's attention you require, then the simple push of the R button on the steering wheel will turn heads and drop jaws.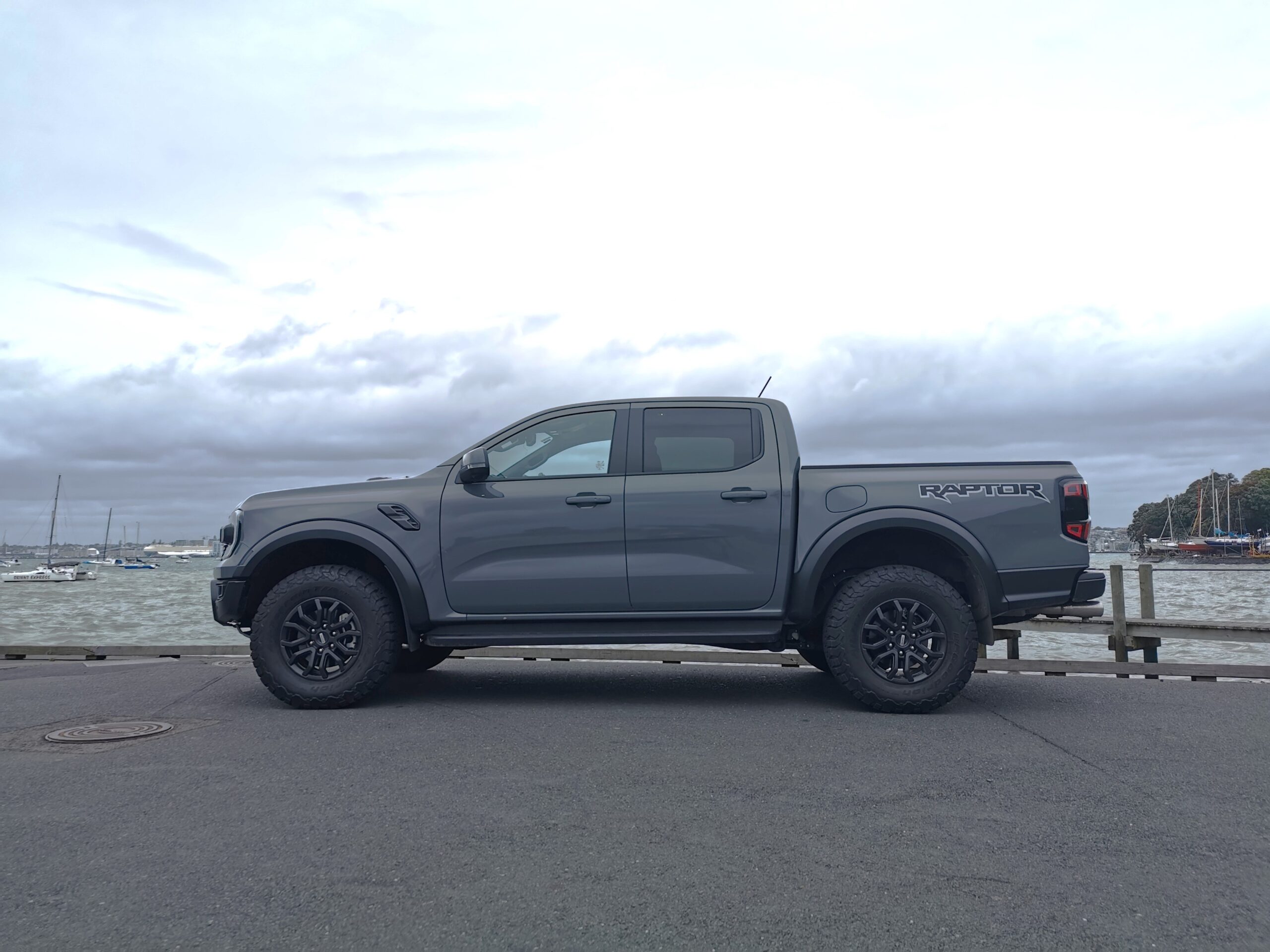 R is for Raptor and when configured correctly (and to your preference), the R button is the shortcut to releasing all the horses that lie beneath the Raptor's bonnet – and have them angrily (but melodically) snort through the sports exhaust.
The next generation Ranger Raptor introduces a new 3.0-litre V6 Twin Turbo EcoBoost engine that produces up to 292kW and 583Nm of torque. It's been tuned by the Ford Performance team, has racecar inspired anti-lag technology and is married to a 10-speed transmission – the combination making it the most powerful production Ranger ever.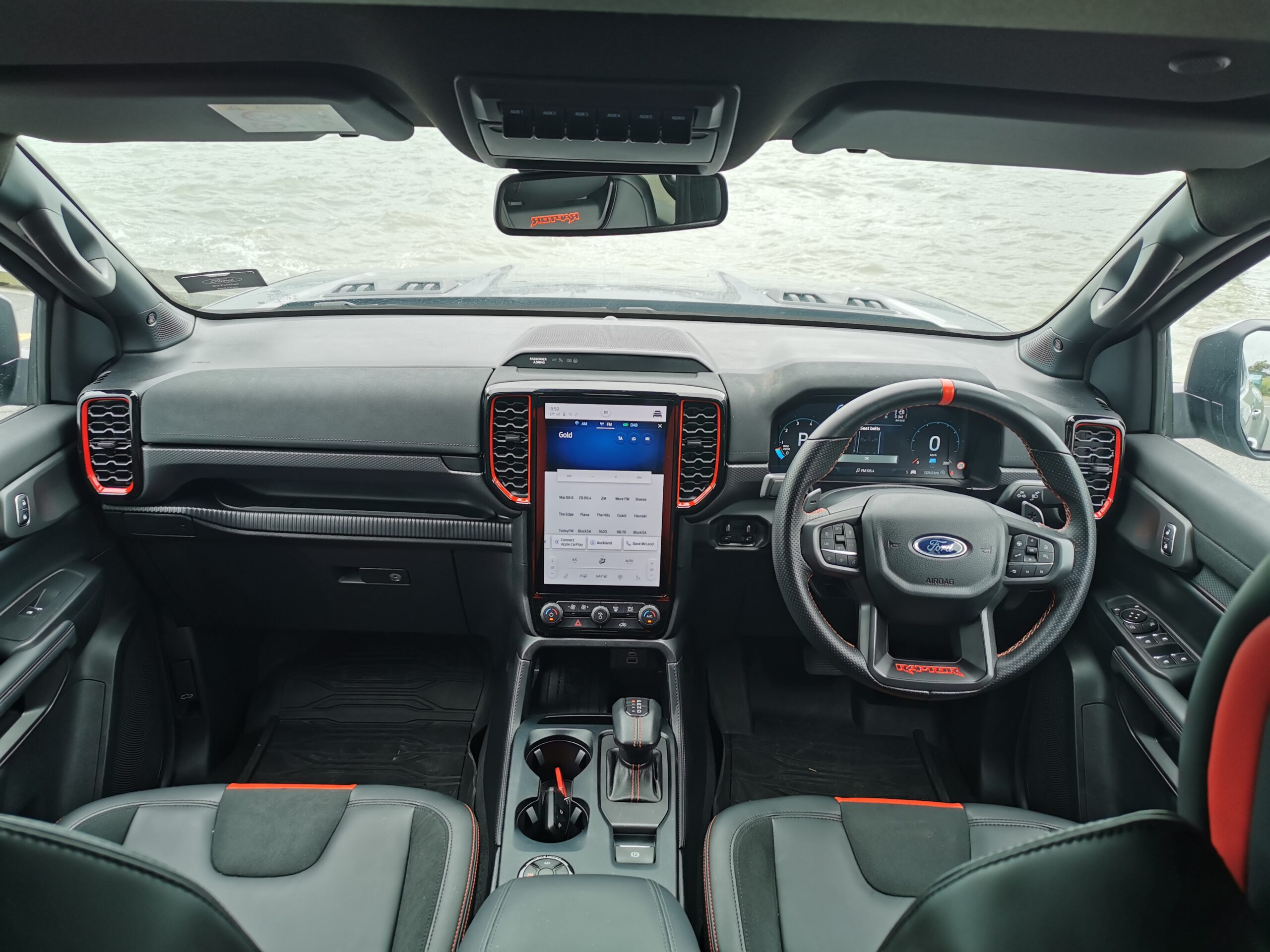 Behind the scenes, the Raptor's unique chassis has been strengthened and upgraded for those times you wish to punish it off-road, while the suspension has been completely redesigned with tough yet lightweight aluminium upper and lower control arms, long-travel front and rear suspension and refined Watt's link equipped coil-spring rear suspension. Notably it also comes with next-generation FOX 2.5-inch Live Valve Internal bypass shock absorbers with Teflon-infused oil that reduces friction by around 50 percent compared to those on the previous Raptor – impressed yet?
The interior is both sporty and sophisticated, with the likes of jet fighter inspired bucket seats and state of the art Ford SYNC infotainment system being showcased on a 12-inch centre touchscreen with a high-resolution 12.4-inch digital cluster providing instrumentation screen backup. Many of the Raptor's more popular touchpoints (such as the vents) are highlighted in code orange, while the cast magnesium paddle shifters sit nicely behind the tactile steering wheel.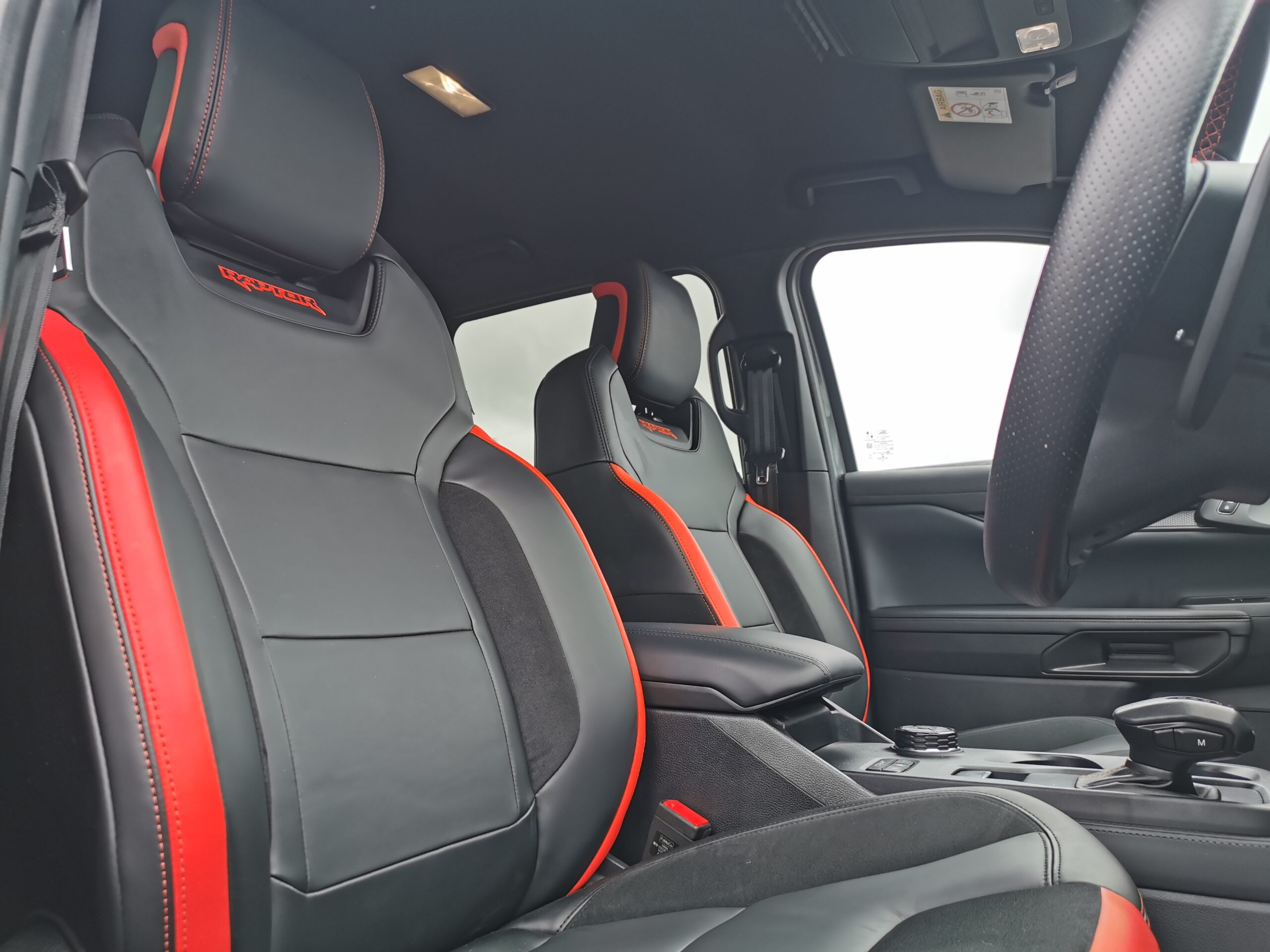 Seriously, from the large FORD lettering on the grille, to the RANGER embossed on the tailgate, this is a much-improved Raptor.
Unfortunately for me, I didn't have any high-speed off-road trails organised for my review time (I had already had a fair crack of that at the launch in Australia), but don't think that meant my time with this powerful truck was by any way dull.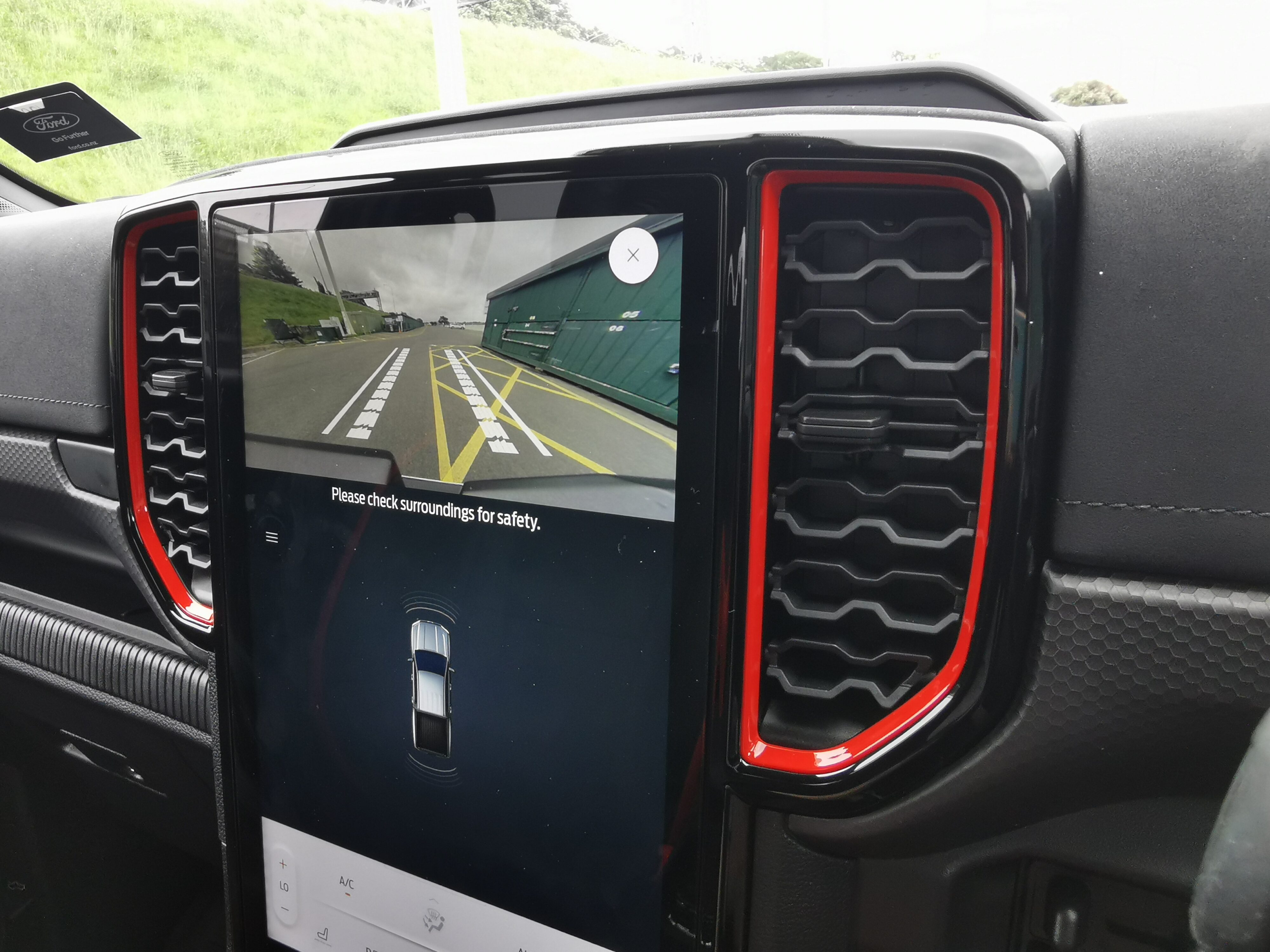 Having the new Ranger Raptor on the driveway meant that my son pestered me incessantly to take him – everywhere. From football training to school, his friend's places and, just for a drive. Just quietly, I was happy to oblige.
On the matter of quiet, the new Raptor has seven selectable drive modes that range from 'Quiet' keeping the aforementioned exhaust note at bay (which I never used), through 'Normal', Slippery, Mud/Ruts, Rock Crawl, Sport and Baja2, the latter being the most aggressive (including exhaust note) and intended for off-road use only (I may have used this mode a bit). Incidentally, each mode comes with its own colour display in the Instrument cluster, it's very cool.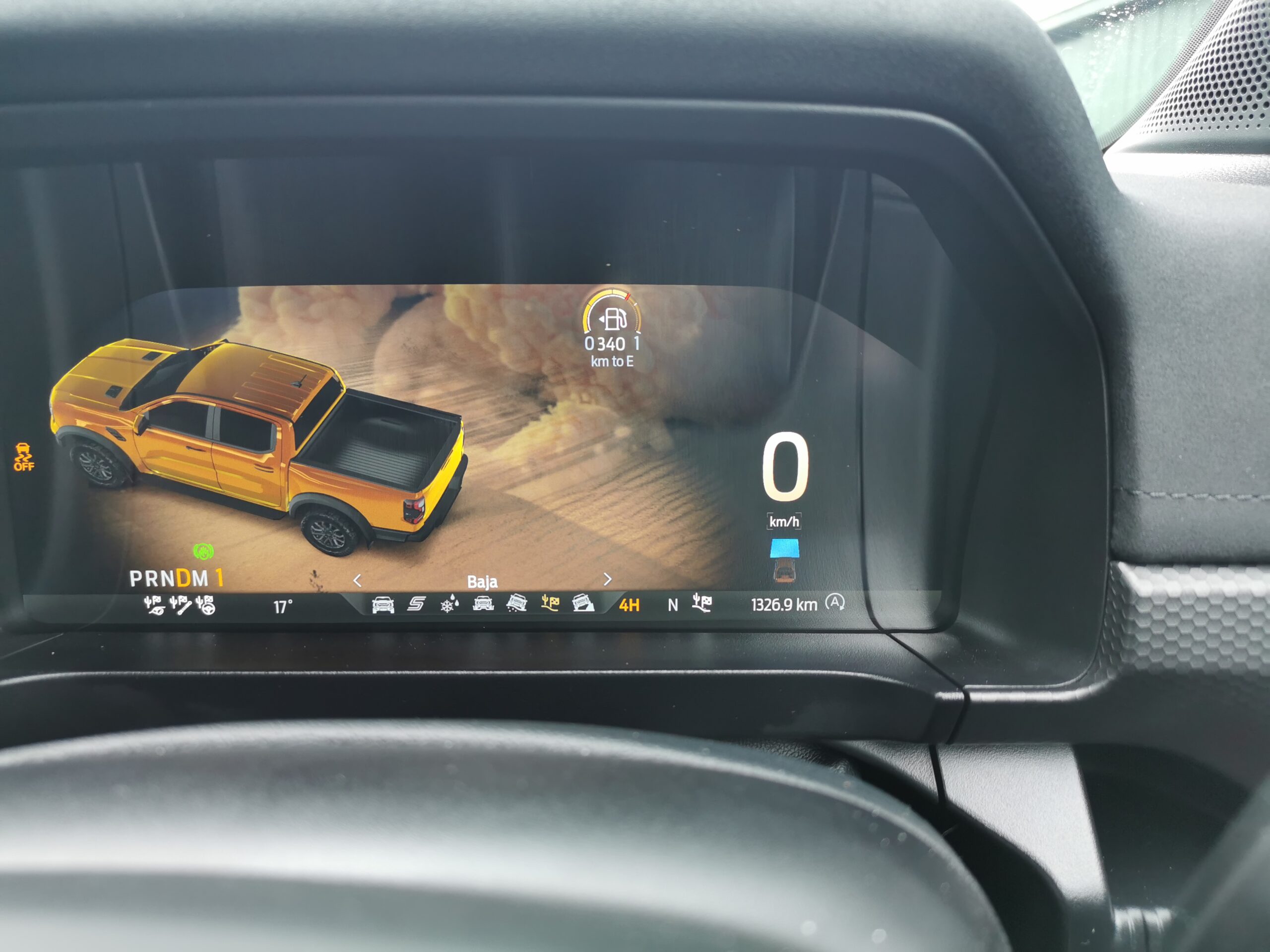 To be honest, much of my time was spent in Sport mode, which offered up a exhilarating performance sound with plenty of speed and agility to back its bark up, however, venturing out of town and onto some loose seal, did give me the opportunity to stretch the Raptor's more playful/visceral side and I can confirm that in Baja2 mode the anti-lag system does its job admirably, keeping the turbochargers spinning for up to three seconds after you let off the throttle, meaning that you can get back on the gas (ie out of corners) more quickly – it also adds a bit of crackle/pop to the ride too.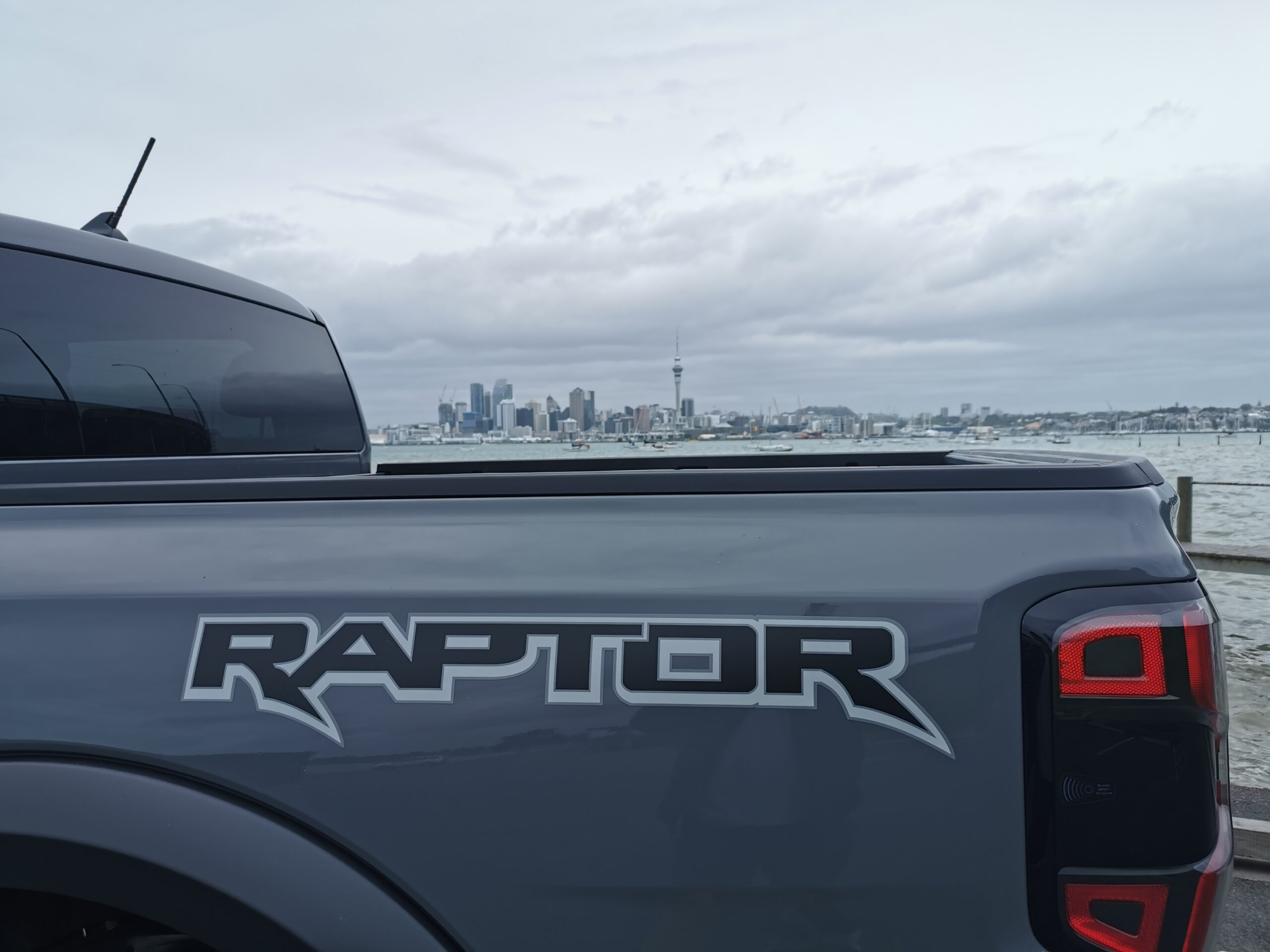 Even when getting more excitable in the corners, the bucket seats hold you firm, and the extra width in the wheeltrack means that the new Raptor holds the corners much better than before (which was already great). Overall the ride is firm both on and off road, but not back breakingly so (the shocks are monitoring the terrain 500 times a second) and should you wish to take it easy, the Bang & Olufsen sound system will happily play your favourite soft rock ballad.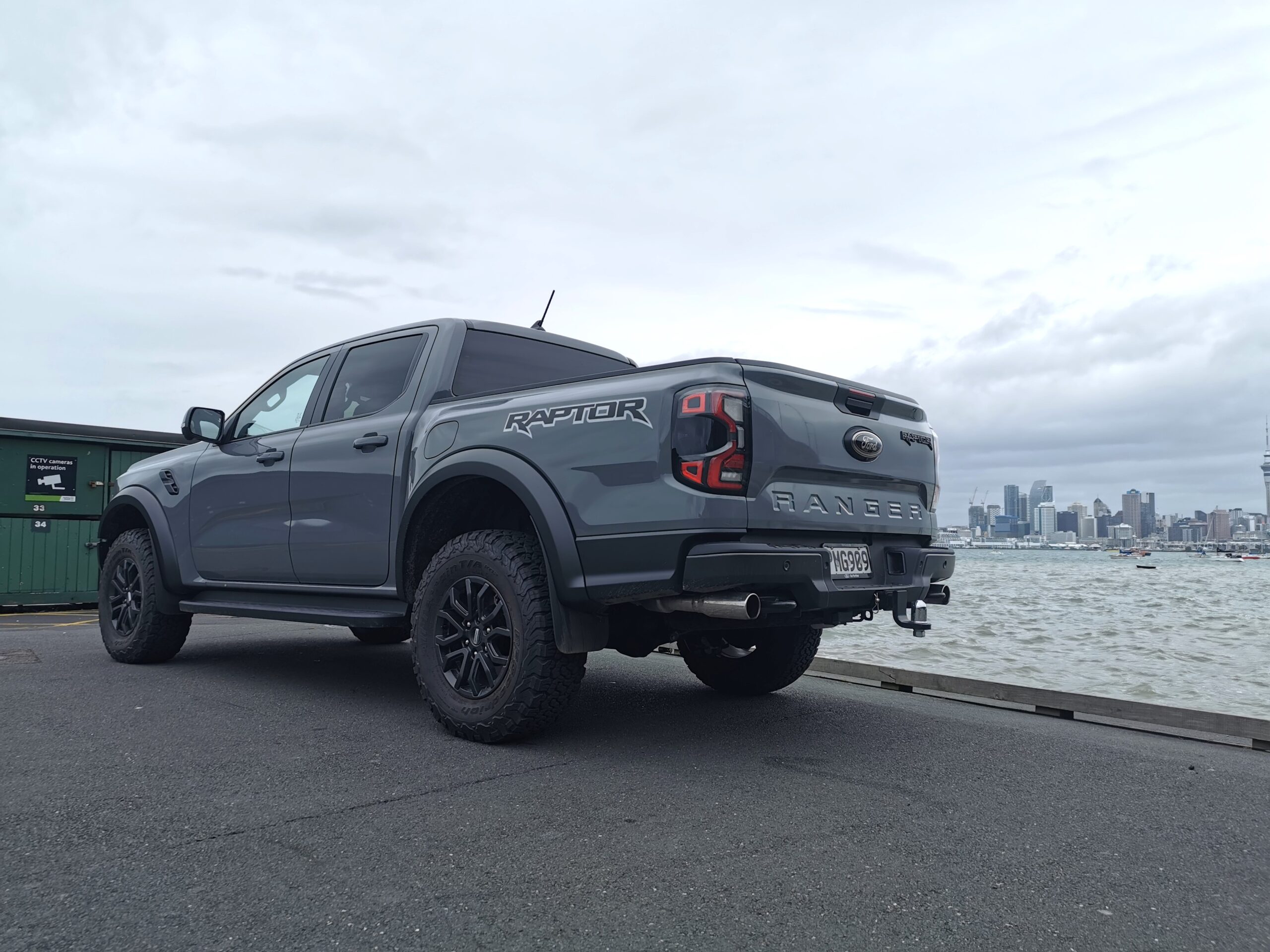 I have to say that I was a big fan of the first generation Ranger Raptor, still am in fact, but what the Ford performance team have done with this next gen Ranger Raptor is sublime. It's more planted both on and off the road (and in all weather conditions) and did I mention, much more powerful!!!