Sometimes you experience a car which greatly exceeds your expectations. The new Volkswagen Tiguan R is one such car. Having been thoroughly impressed with the new Golf R I tested only a fortnight prior to this, I couldn't imagine an R variant of the popular Tiguan SUV would be as good. In fact, I was quite wrong. It is really quite good indeed for a number of reasons which we shall now divulge.
As you may imagine, the Tiguan R now sits atop the Tiguan tree, coming in at $83,990 plus ORC. The Tiguan R is also, for now, available as a 1st Edition with this model with added tech retailing for $88,990 plus ORC. More on what you get for extra $5,000 in moment but the car featured here in Lapiz Blue Metallic is one of them.
Aside from the mahoosive R decal attached to my test car, the edgier styling tweaks adorning the Tiguan R give it greater stance over the more restrained lines of the base car. All the R tentacles are there. At the front you have a more pronounced front lip and larger air intakes on either side. At the rear you have the dual sports exhaust with a modest diffuser and a lip boot lid mounted rear spoiler.
The regular Tiguan R gets a set of 20-inch Misano Alloys whereas the 1st Edition gets a quartet of 21-inch Estoril Alloys which to me suit the R so much better. There is also a better view of those bright blue sports brake calipers hugging those meaty vented brake discs. The Tiguan R also tips the scales at 1708kg and gets privacy glass, 10-Matrix LED headlights, LED Daytime Running Lights and silver wing mirrors and roof rails.
Underneath, this Tiguan has an awful lot in common with the Golf R. Chief of these is what lies under the bonnet. Its 2.0L turbocharged four-cylinder petrol engine is pretty much identical.
It also gets the same seven-speed DSG transmission with 4MOTION all-wheel-drive. Power and torque are the same too at 235kW and 400Nm so it should be just as sprightly right? Well, with a zero to 100km/h time of 5.1 seconds, then that is a resounding yes. Volkswagen also claim a combined fuel consumption figure of 9.7L/100km and 220g/km of CO2.
Inside the R elements continue with the Tiguan R getting things like blue stitching, an R-embossed steering wheel, larger R shift paddles and R-embossed Nappa leather heated seats. The latter of these hold you well enough in place without cocooning you to the point of it being difficult to reach around the cabin. The centre console and steering wheel does get the same new touch buttons as the Golf. They are easy to use but do require a firm press now and again.
The switchgear surrounding the rather cumbersome gear lever looks a bit dated and rather out of place compared with those aforementioned touch button. Though they feel quality and are easy to operate, I just wish Volkswagen refreshed these a bit.
In charge of most tech features is the Discover Pro Satellite Navigation System with a 9.2″ colour touch-screen. This system is very intuitive, much like what you find in the Golf R. The satellite navigation is easy to use and you also get wireless Apple CarPlay/Android Auto. There are USB Ports in the front and rear, a heated sports steering wheel, power boot lid, head up display and a 10.25" LCD instrument cluster.
The 1st Edition gets a panoramic sunroof and a beefy Harman/Kardon sound system as standard whereas these are optional in the regular Tiguan R. The rear seats feel somewhat less comfortable than those in the front, but head and legroom isn't half bad.
Both the 1st Edition and regular Tiguan R get a full safety suite including Autonomous Emergency Braking and Forward Collision Warning, Pedestrian Monitoring, 360-degree Reversing Camera, Parking Sensors Front and Rear, Adaptive Cruise Control, Blind Spot Monitoring and Park Assist.
Upon opening the boot for the first time, I was surprised to find a Volkswagen banner and a collection of small traffic cones. While this was certainly surprising as just about every press car is usually free from such additives, this load was a great test of how much the Tiguan R can swallow up in the rear. At 615L, this is more than generous. The boot is also quite wide and with the second row stored away, you have 1,655L to play with.
The Tiguan R defaults in Sport mode on start up. Aside from a slightly sharper throttle response and firmer dampers, there is very little to differentiate that with regular Comfort settings. The ride is also very comfortable too in either setting, in fact I hardly ever found myself changing out of Sport when commuting about town.
Shift gears yourself via those R paddles and things are very quick on the way down, but less so on the way up. However, things change a bit when Race mode is selected. Upon selecting Race, the revs rise, the steering quickens up and incredibly, you get a V8 rumble coming through those Harman/Kardon speakers.
Very much like what you would get in a Skoda Octavia RS, the Tiguan R gives you an artificial V8 noise to add to your conquest of fast tarmac. However, I would have preferred to have an increased presence of turbo four pot instead.
In Race mode, the Tiguan R is properly fast. From 2,000rpm, it just rockets forward. Keep it between say round 2,300rpm and 5,600rpm and you can just fly. The electronically controlled dampers keep things flat and sporty without compromising too much on ride quality. It is harder yes, but its not so hard to the point of being unbearable.
These dampers also pay dividends in the corners. You can turn in tighter and harder than any Tiguan before it. Honestly, it goes, stops and handles so much like its Golf R sibling. Despite having a higher ride height and the ability to devour some gravel, the Tiguan R is an SUV I would have no qualms in taking to a track day. In hindsight, it would have been ideal to use those cones to set up my own slalom course on a deserted road somewhere!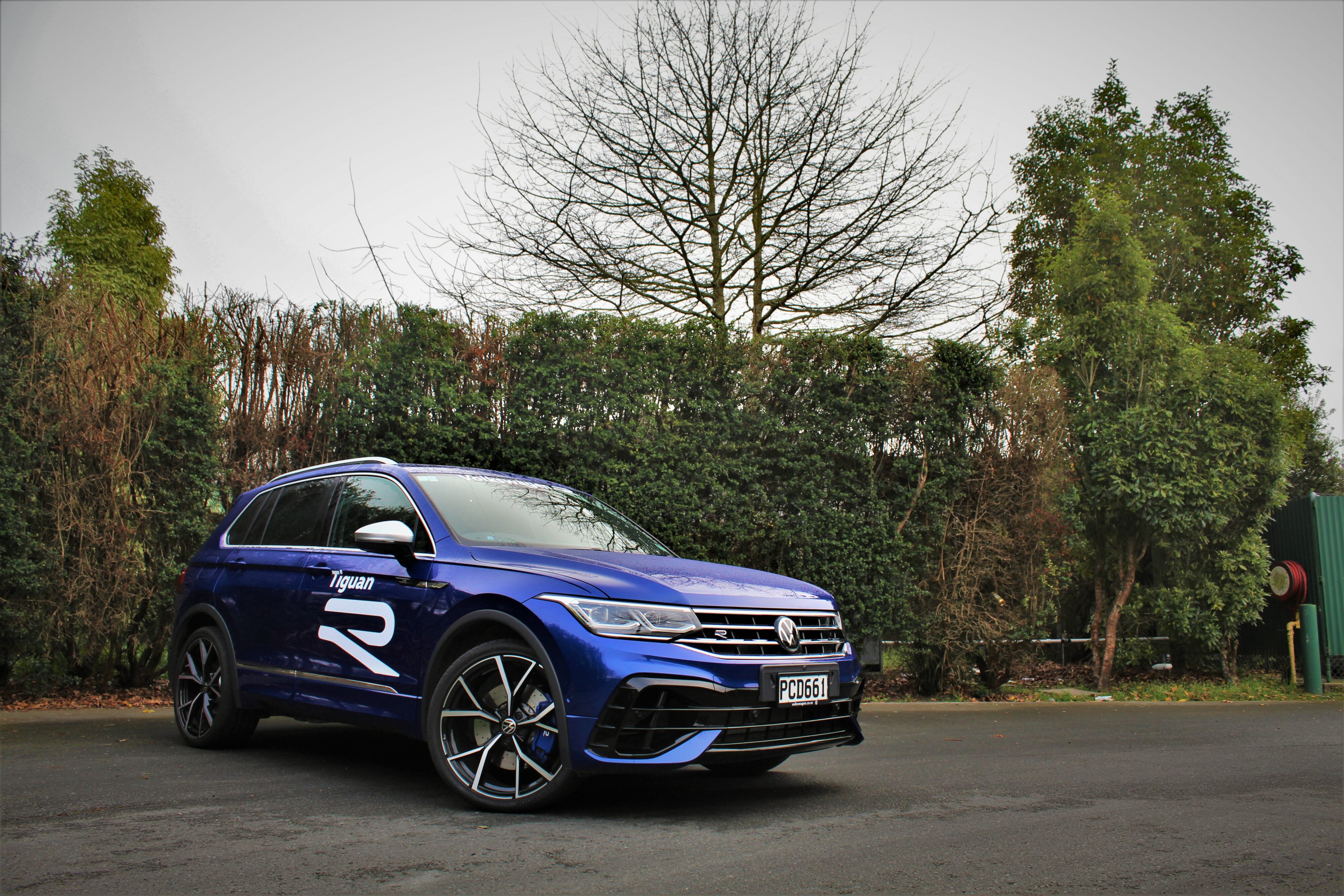 Despite not being able to have play off the road, the Tiguan R certainly left me very impressed on it. It really is nothing less than a jacked-up Golf R. In fact, part of me would seriously consider forking out the extra dough for this over the Golf. Aside from its artificial V8 noise and some outdated switchgear, the new Tiguan R is docile and refined when commuting, but on command becomes a savage ground coverer of epic proportions. This one is good, very good.
RATING: 8.5/10