Following on from the success of their iV plug-ins, Czech-originated car brand Skoda has crossed the great divide into all-electric propulsion with their all-new Enyaq, and what a way to start. Sure it sits at the head of their range in terms of premium pricing but it also 'clEVerly' showcases the brand's move to a more premium fit and finish.
It was only a couple of month's back that we attended the NZ launch of the Skoda Enyaq (source of life), a Dunedin to Queenstown drive event that was made extra special due to the fact that NZ was the first country to get this new name plate outside of Europe. However, the launch simply whet our appetite for Skoda's first all-electric SUV and a follow up drive was immediately requested.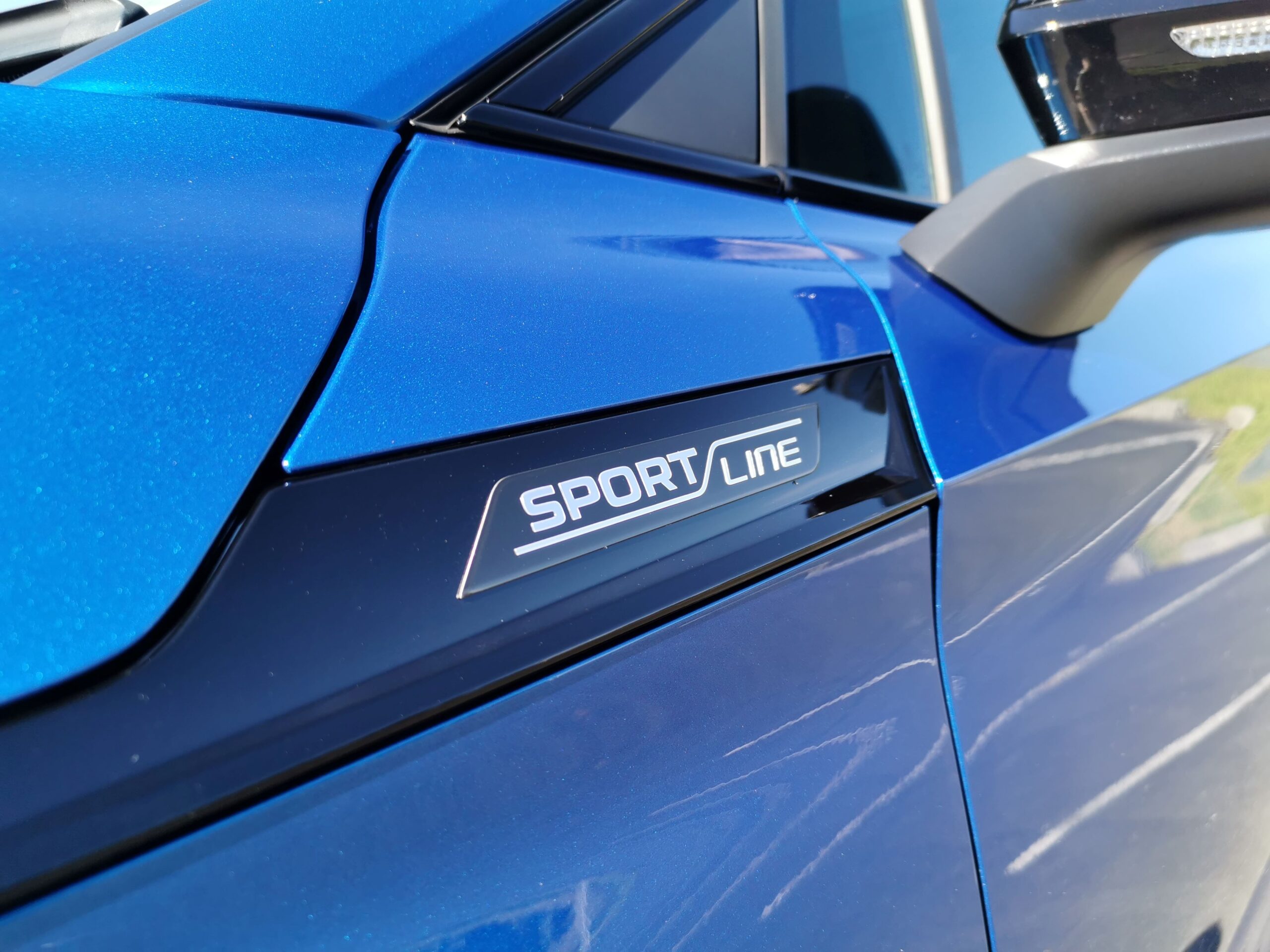 First and foremost is the new Enyaq's good looks and subsequent driveway appeal, with its 131 LED laden grille and crystalline lights making the neighbour's curtain's twitch.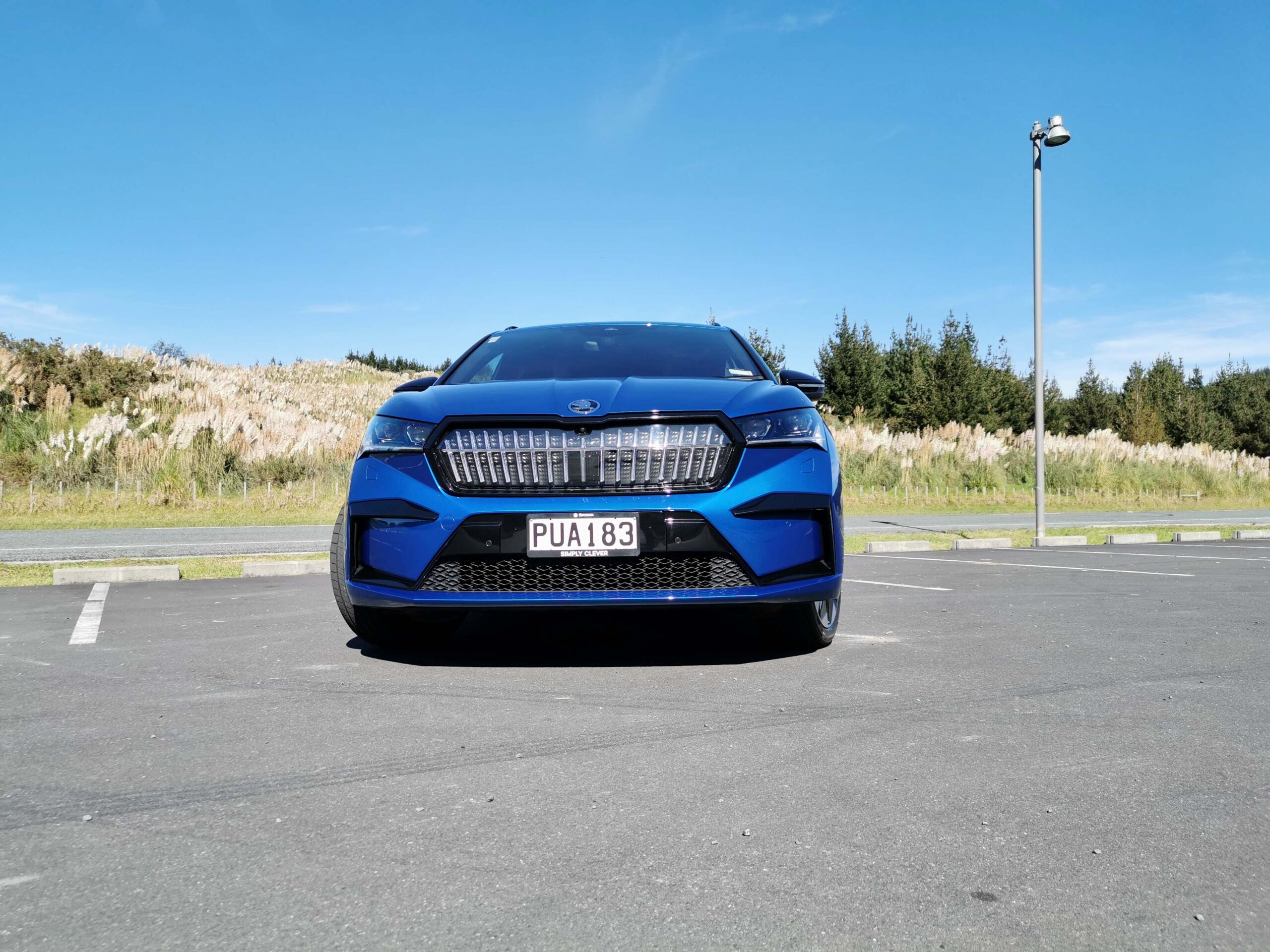 As it turns out, NZ are bringing in three Enyaq 80 models, two SUV's (Sportline and Sportline Max) and one Coupe. My review model was the SUV Max and with it, a $97,990 price tag.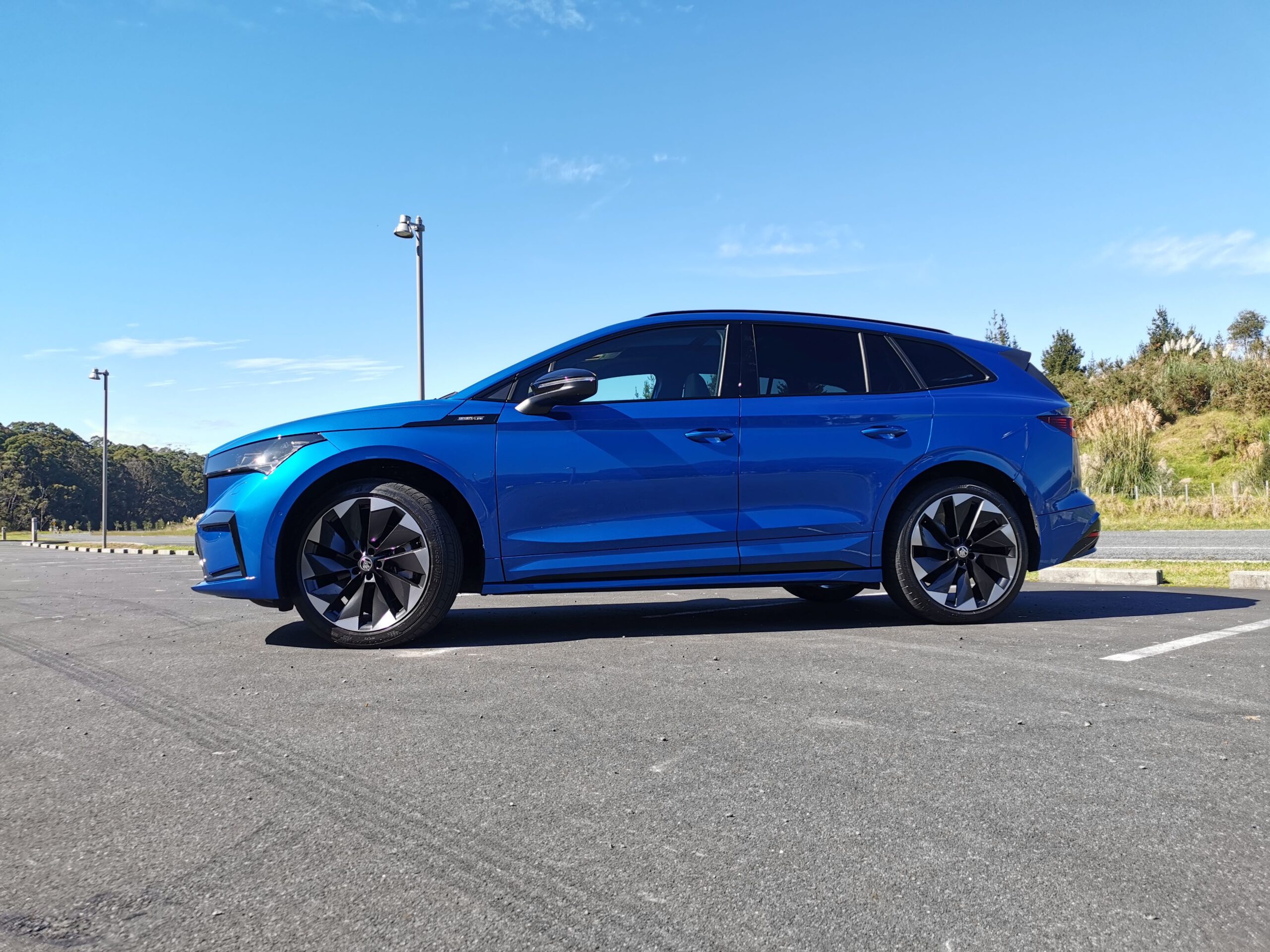 The styling itself is not exactly SUV typical, with an abrupt nose (minimal overhang), a negatively-sculpted bonnet, steeply angled A-pillar, sharp character lines and LED tail lights that have three personalisable light shows (to again impress the neighbours I assume).
Dimensionally, the Enyaq 80's 4.65m length and 2.15m (inc mirrors) width, offers a reasonable footprint, however, it's only 1.61m tall, so strikes a sleek-looking silhouette.
As I outlined earlier, the interior is an upmarket mix of classy materials, state of the art technology and sportiness. For example, the seats are nicely bolstered and sporty (it is a Sportline after all) and clad in what Skoda call 'suedia', I'll leave you to guess what that feels like. But added to this, both the front seats are heated, so too are the outside rears, and the driver's seat has a massage function.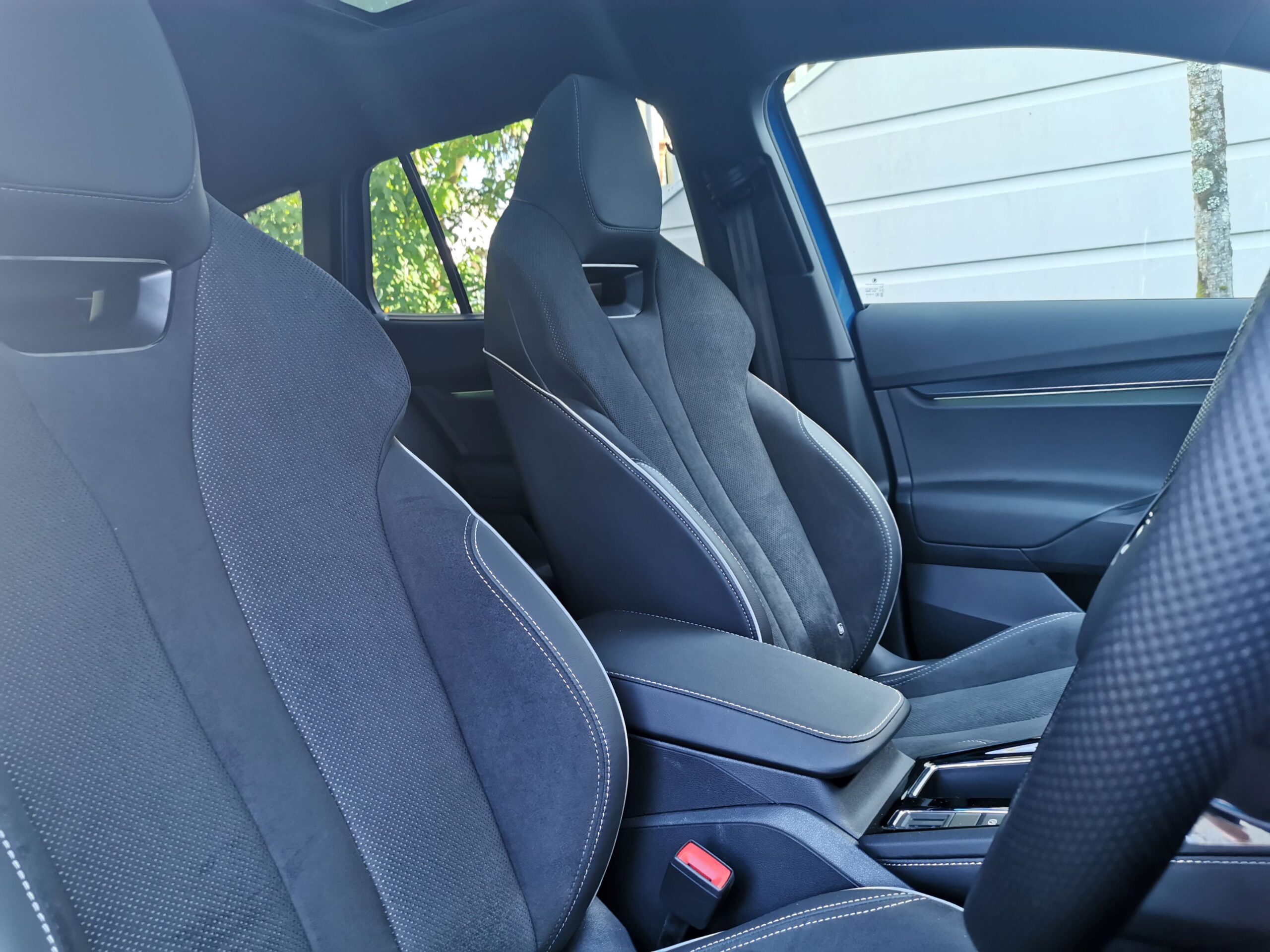 The top of the dash comes with a soft finish with faux carbon and chrome inserts, there's a panoramic sunroof that floods the interior with light and a large, motion-sensitive infotainment screen that's simply loaded with apps and data. There are a plethora of driving and safety features on offer, charge and pre-conditioning menus, Canton sound system and a raft of 'themes' that alter things like ambient lighting.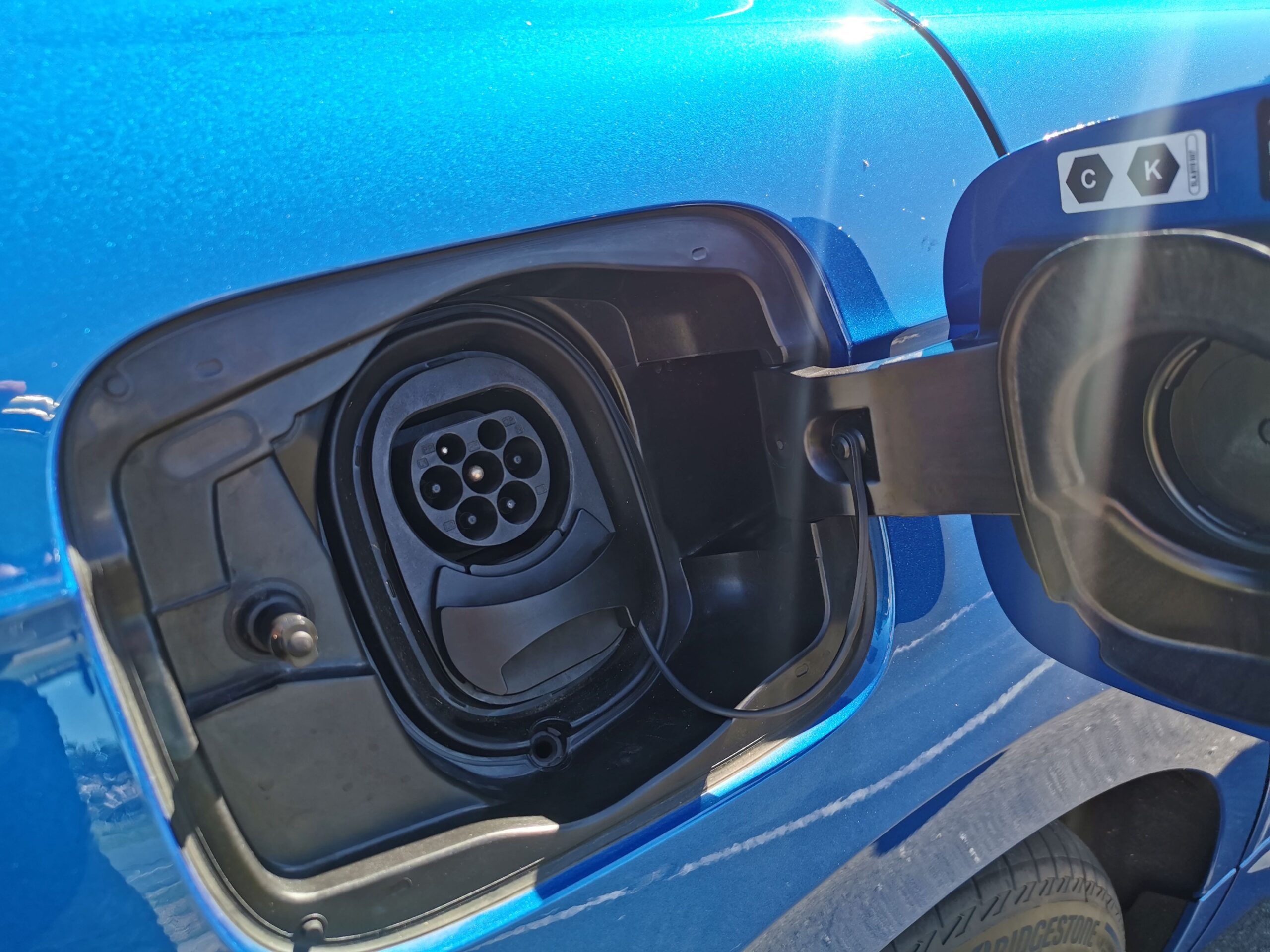 Under the bonnet (kind of) is what drives the Enyaq 80 and 80 is the operative word as it refers to the battery capacity. My Max (actually all three models) came with an 82kWh (77kWh net) lithium-ion battery giving a WLTP range of 532km in my SUV and 544km in the Coupe. This provides power to the rear-axle mounted permanent magnet synchronous motor which boasts 150kW of power, 310Nm of torque and a 0-100km/h time of 8.6 seconds.
With both AC and DC charging ability, the Enyaq can be charged from 0-80% in as little as 30 minutes (135kW DC) or up to 100% in 13 hours using a 7.2kW AC home charger, meaning average weekly commutes can effectively be done with just one charge a week.
As luck would have it, I had the Enyaq in my possession for a little under a week, but there was no way I was going to 'commute'.
Off the mark, the new Skoda EV does what EV's do best and that is instant torque, so although the +8 seconds 0-100 isn't that impressive on paper, in reality, the Enyaq does push you back in the seat – also I'm sure there's an RS in the works for those that want extra acceleration thrills.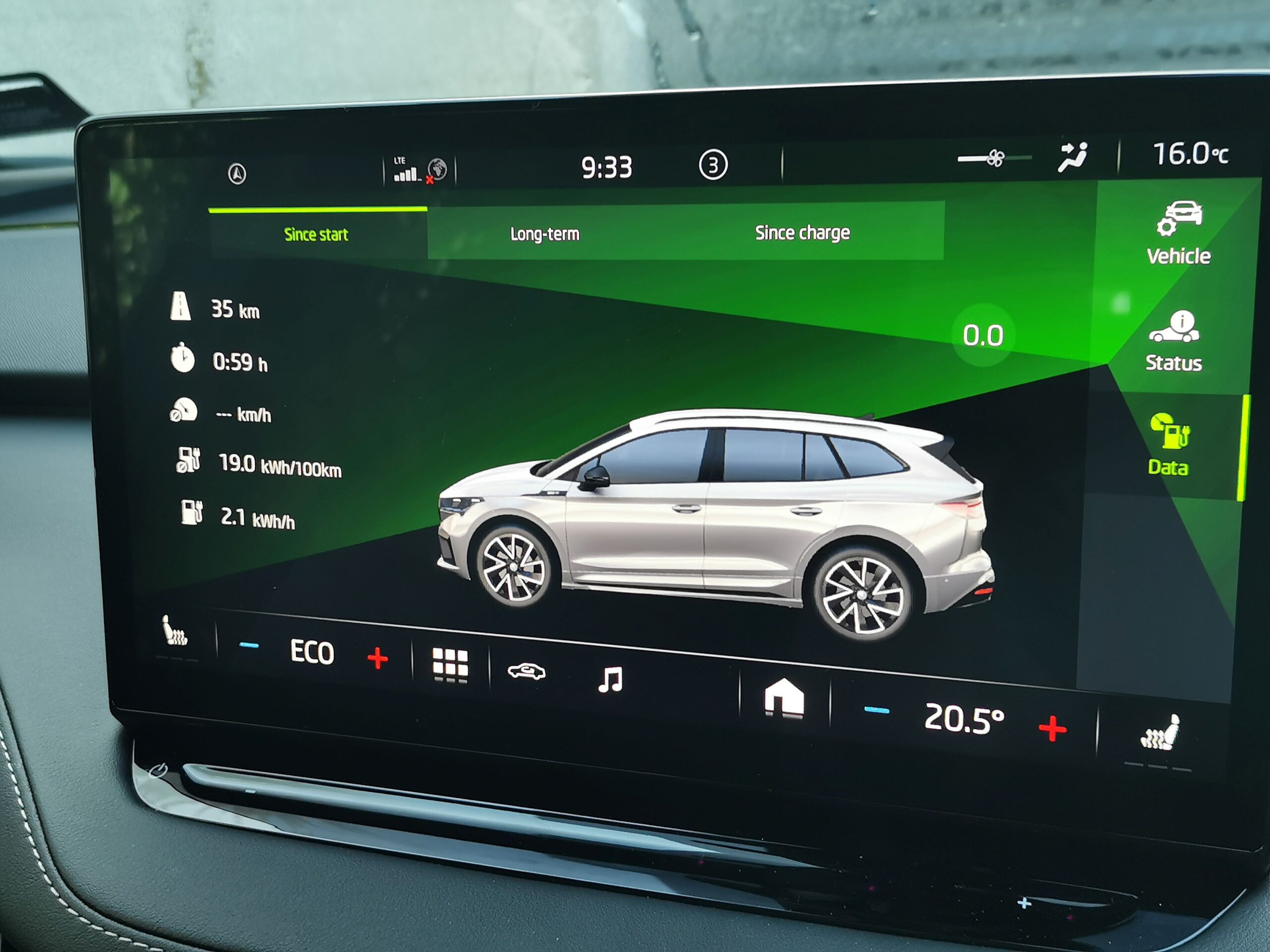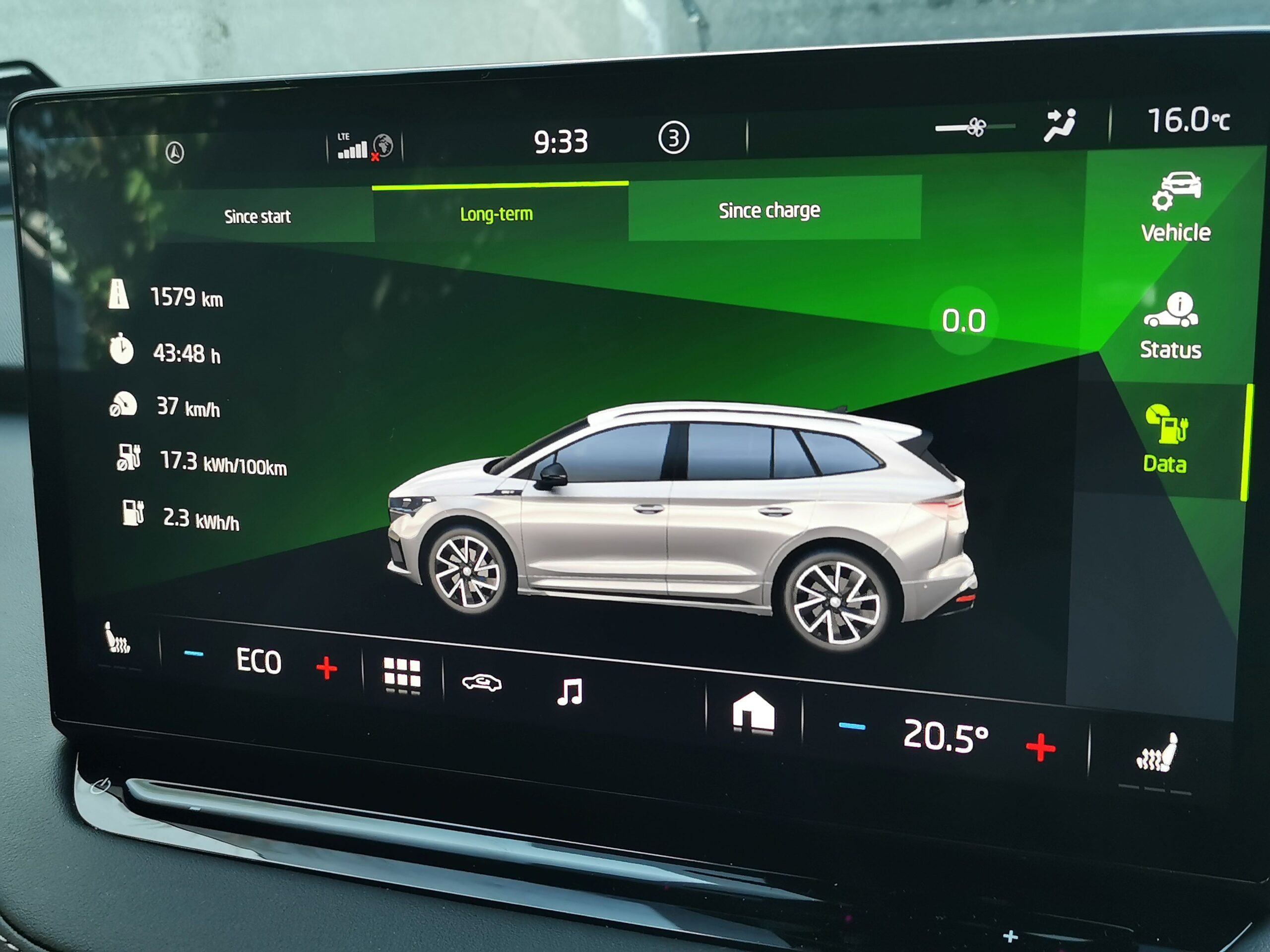 Once on the move you get to notice (or maybe you don't) just how quiet and refined the ride is. Plenty of sound deadening and very little interruption from the motor makes for a really upmarket drive – even on our rough roads.
The Enyaq 80 sits on an MEB platform that's been specifically designed for EVs, and what that means is that it has impeccable manners when it comes to cornering, especially for a RWD. Added to this is the EV's well-weighted steering, this combined with a flat-bottomed steering wheel gives the Enyaq 80 a 'dynamic driving demeanour'.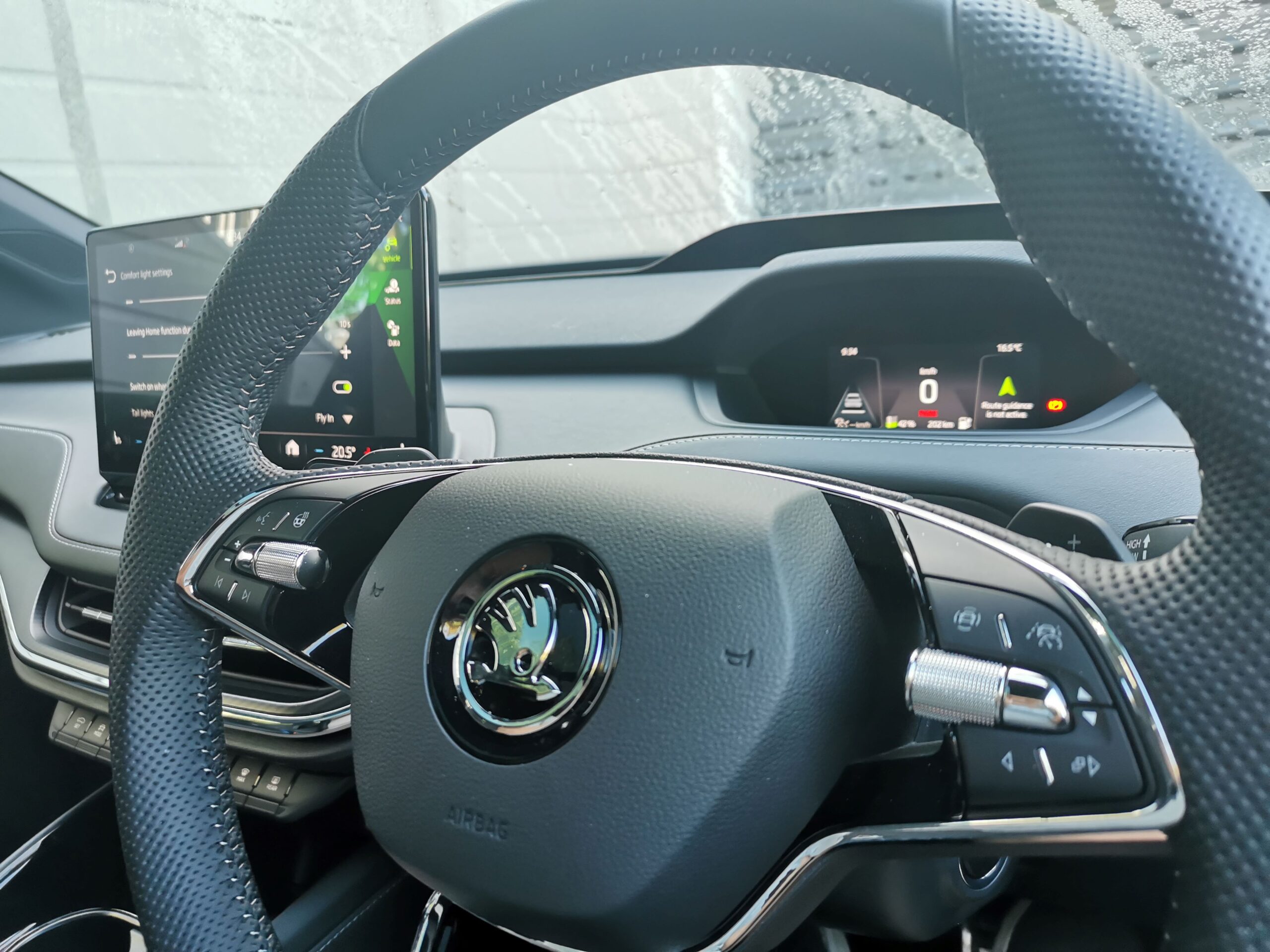 Despite the Enyaq's lower roofline, the seating position is SUV high. That doesn't mean you're scraping your head on the glass ceiling, but it does mean that visibility is very good. While on the matter of visibility, while you are watching the road, the Enyaq is watching you. There is a comprehensive driver monitoring system that ensures that you are paying attention and not drowsy.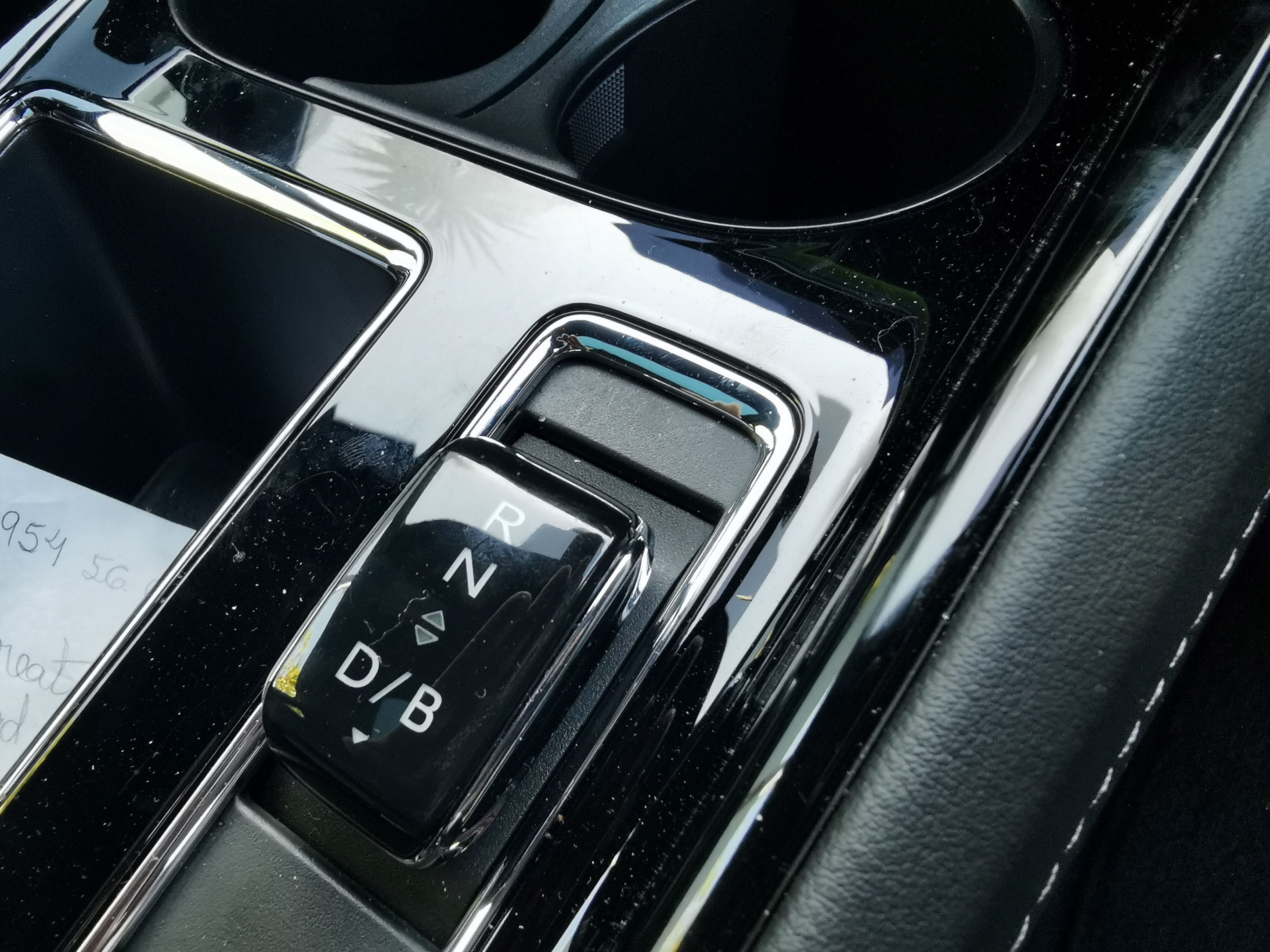 The instrument cluster may be compact but it offers up all the info a driver really needs, basically speed and range for me. As with all Skoda screens, it's clear and easy to read too, which for someone getting on in years such as myself, is very welcome.
There are three levels of regen braking that can be controlled using the paddles behind the wheel and although it doesn't quite give you one-pedal driving ability, it does slow you down well and more importantly, regen well. As it turned out, I returned the Enyaq 80 with 42% (220km) left and consumed energy at around the 20kWh/100lm mark.
Refined is one way to describe the new Skoda Enyaq 80 but 'extra-special' is probably more to the point. It elevates the brand in terms of technology and finish but also sets them up for embracing the inevitable EV next step – in other words, it's a 'simply clEVer' BEV.