The very much anticipated Kia EV6 has landed in NZ and boy was it worth the wait. With a raft of silverware and awards already stacked up in its cupboard, it's an outstanding looking medium-sized SUV that oozes clever tech and cleverer engineering.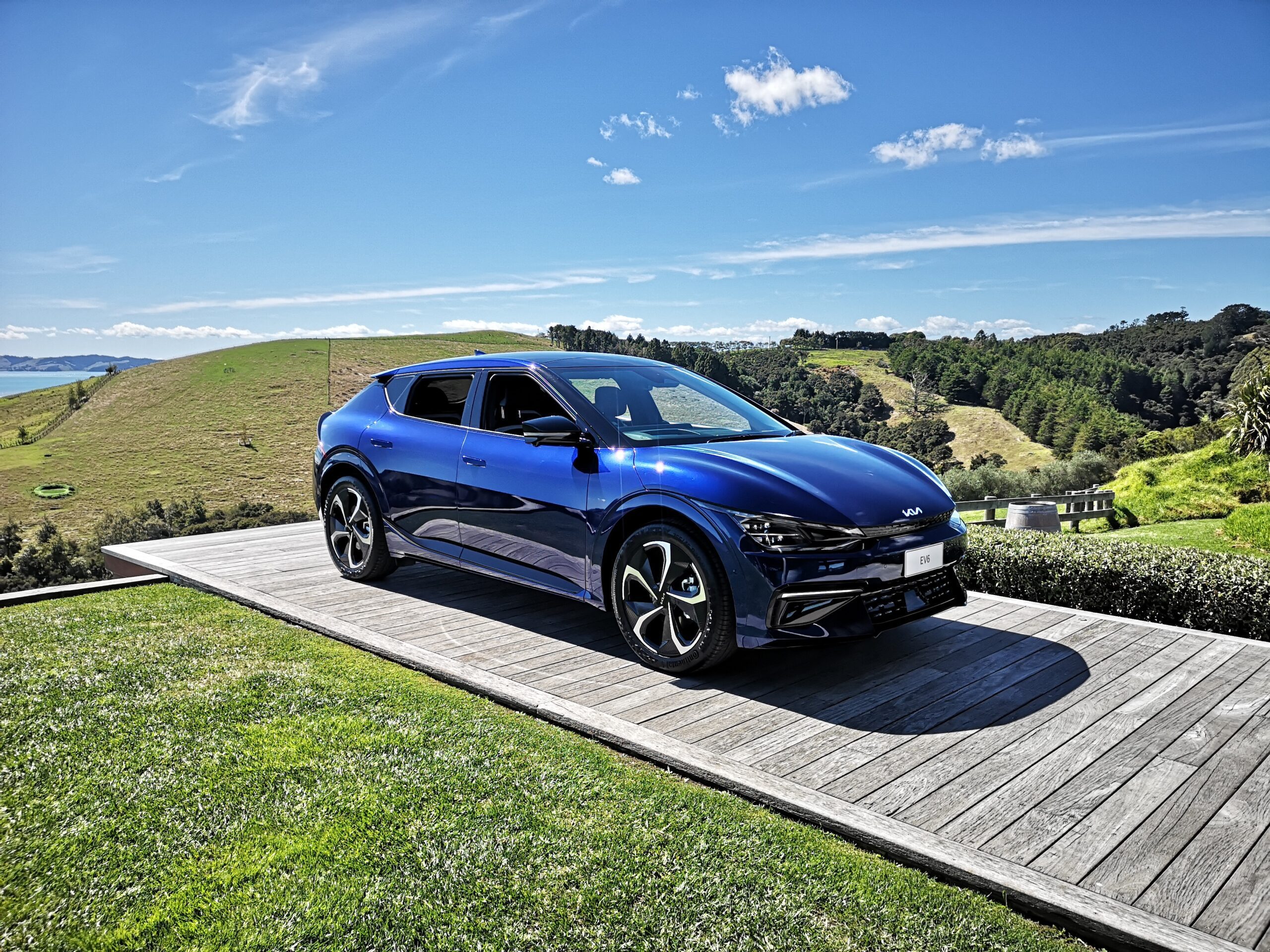 The venue for the NZ launch was Boomrock in Clevedon and the weather gods threw in some baking amounts of bright sunlight to match the exceptional views from atop of the estate's peak – but the new Kia EV6 outshadowed it all.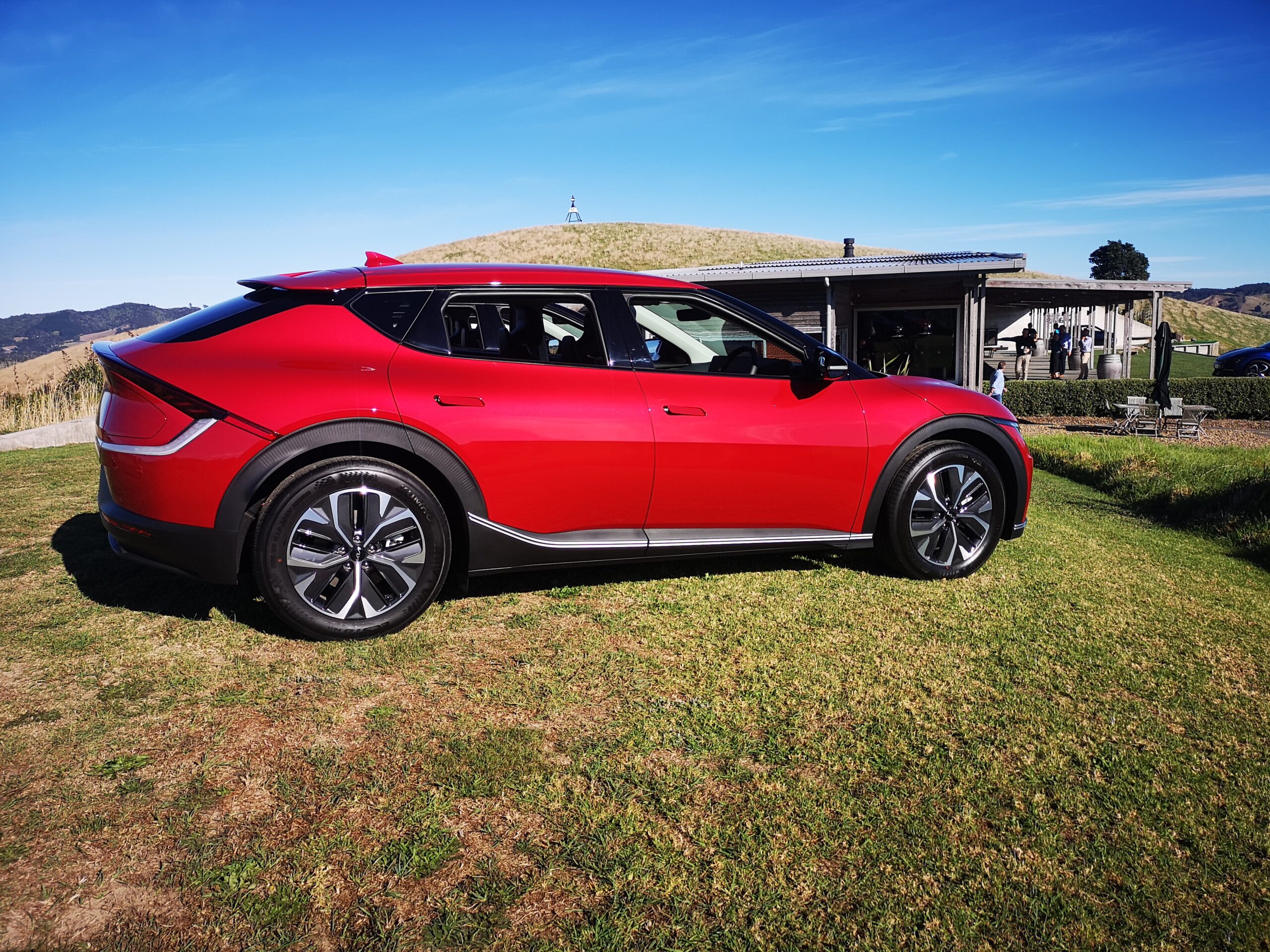 "The all-new Kia EV6 is synonymous with captivating design, an outstanding all-round experience for driver and passengers, as well as leading EV technology," said Managing Director of Kia New Zealand, Todd McDonald. "It is an attainable entry into the world of electric vehicles and sustainable motoring, one which over-delivers in terms of a dynamic drive, interior spaciousness and embracing world-class features and attributes."
And he's not wrong.
It's their first 'dedicated EV' model and comes resting on their E-GMP platform. It has an ultra high strength frame and much of the materials it's been created from are eco-friendly. As in usual with EVs, the battery weight is beneath the cabin meaning that it has a low centre of gravity and its 2.9m wheelbase means that there's plenty of room in the cabin, which I'll get to soon.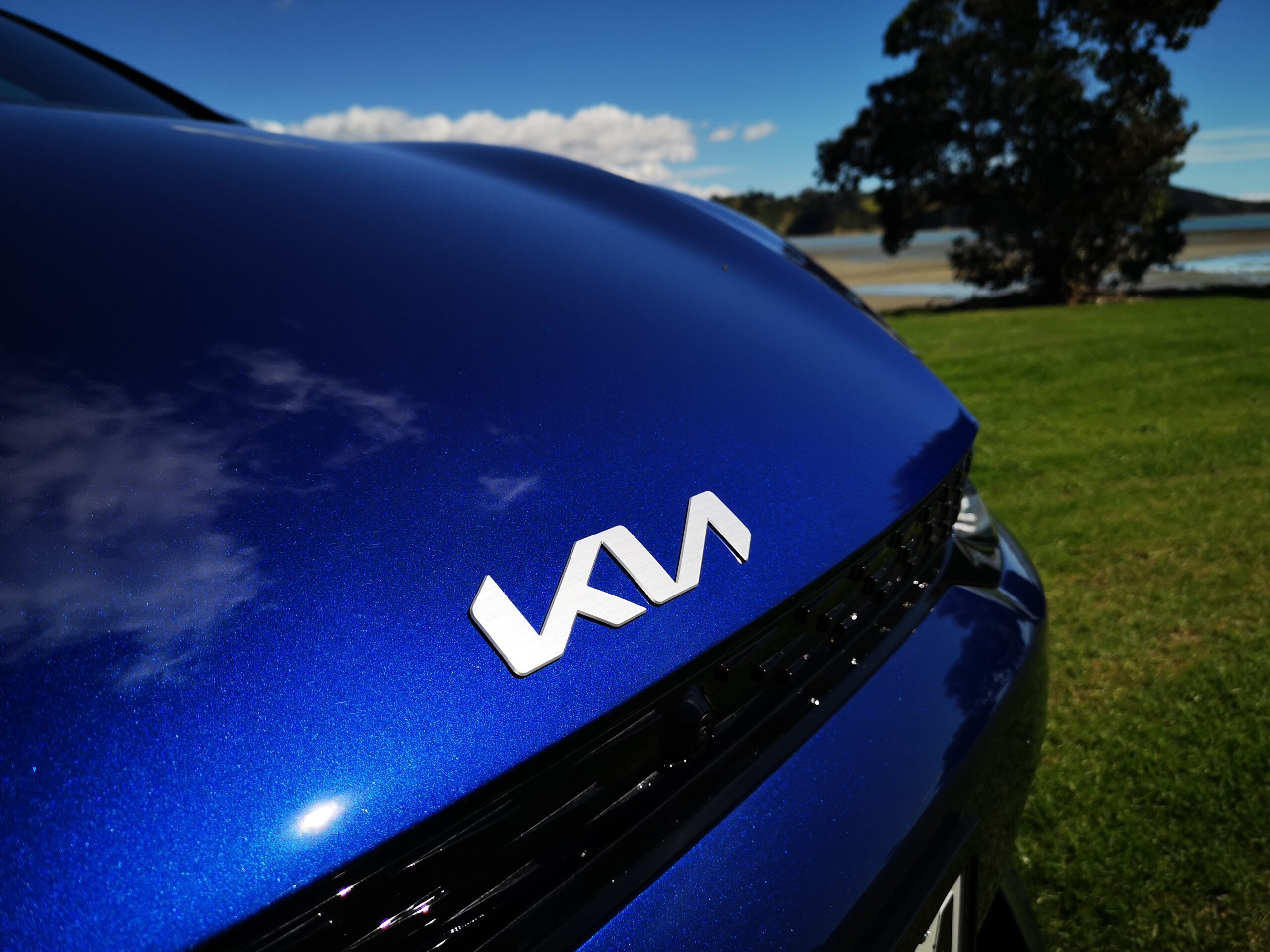 Outwardly, the new BEV boasts the brand's new 'opposites united' design language with stark contrasting lines and light play. It's overall size is deceiving (4.7m long x 1.9m wide x 1.55m tall) making it longer and lower than much of its competition, but its short overhangs, muscular front, tapering middle and strong rear hanches is hard to fathom from afar (or in pics). It's very aerodynamic too, with a drag-coefficient of just 0.28.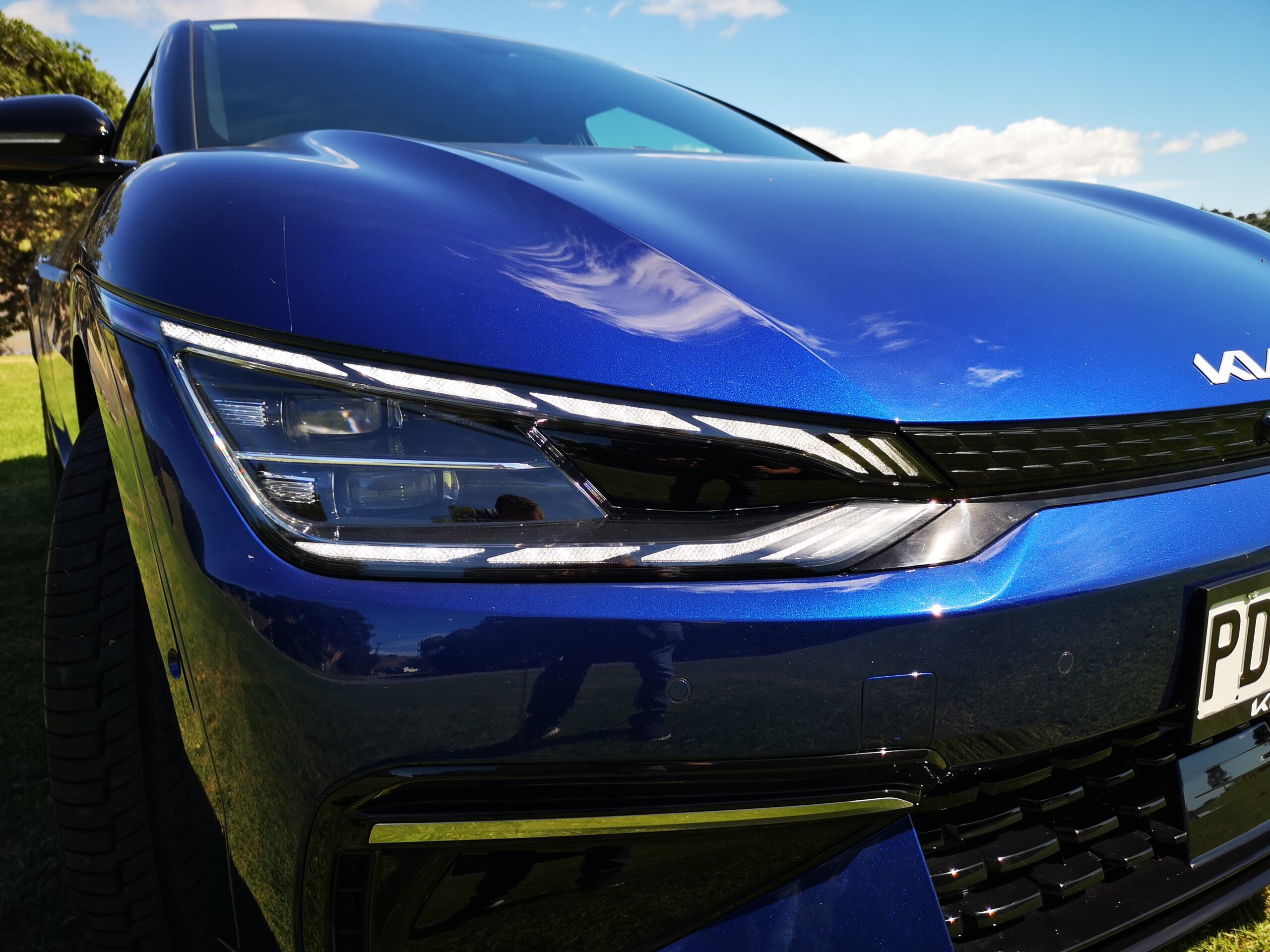 The EV6's nose comes with huge bright (matrix LED) eyes, automatically closing shutters in the lower valance and their new KIA badge on the shapely bonnet, while its profile comes with, flush door handles, a strong beltline that rises over the rear wheel arches. The rear adds a clever roofline spoiler that eliminates the need for a rear wiper, an LED 'full width' lightbar and a very hidden charging flap.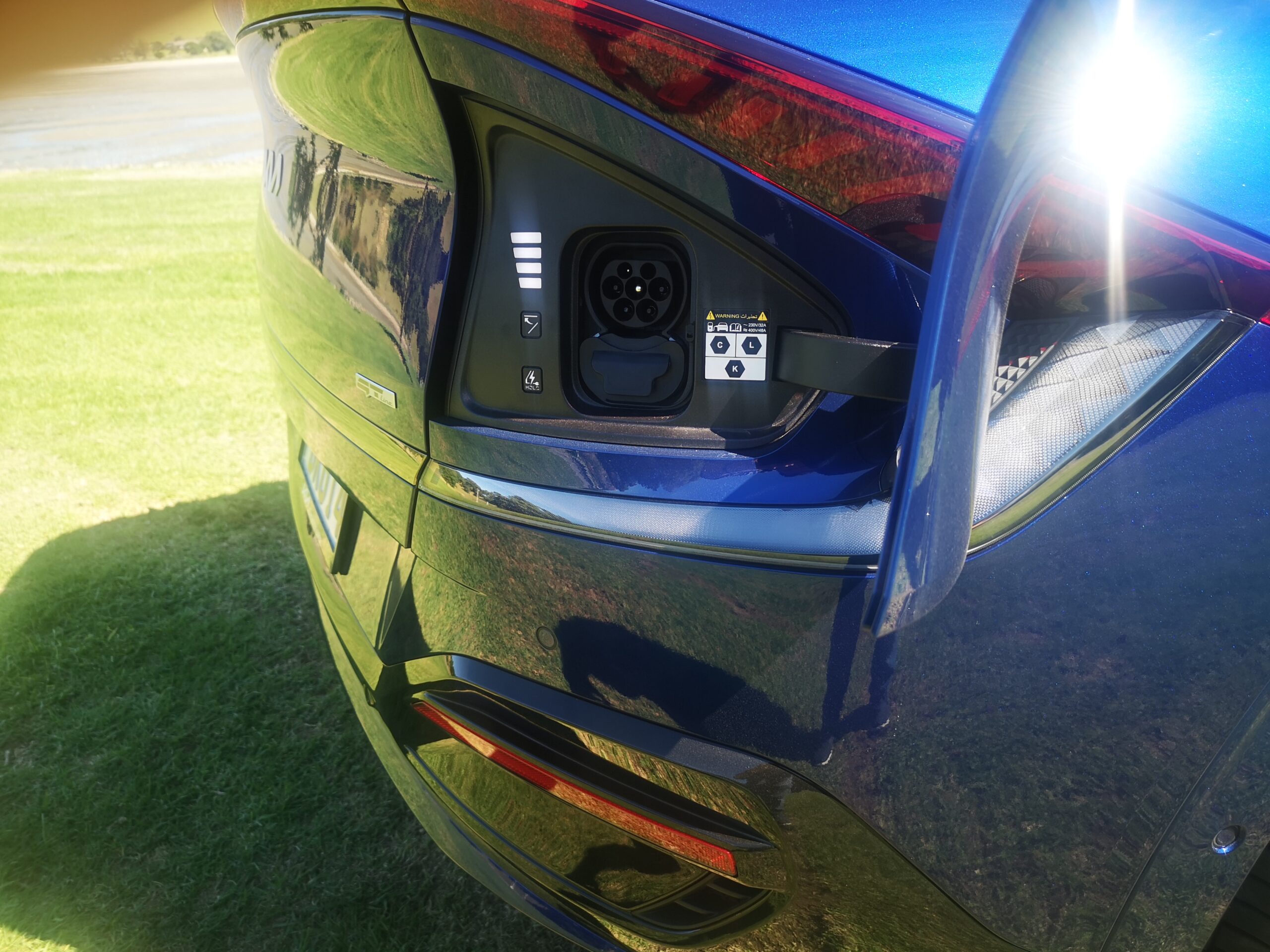 The interior is very swish and is a perfect blend of upmarket, futuristic and spaciousness. Being an EV there's no transmission tunnel so there's plenty of legroom and despite being low slung there's more than ample headroom too. Different trim levels see a variety of materials for the dash and furniture, but in all cases it's very 3D and tactile.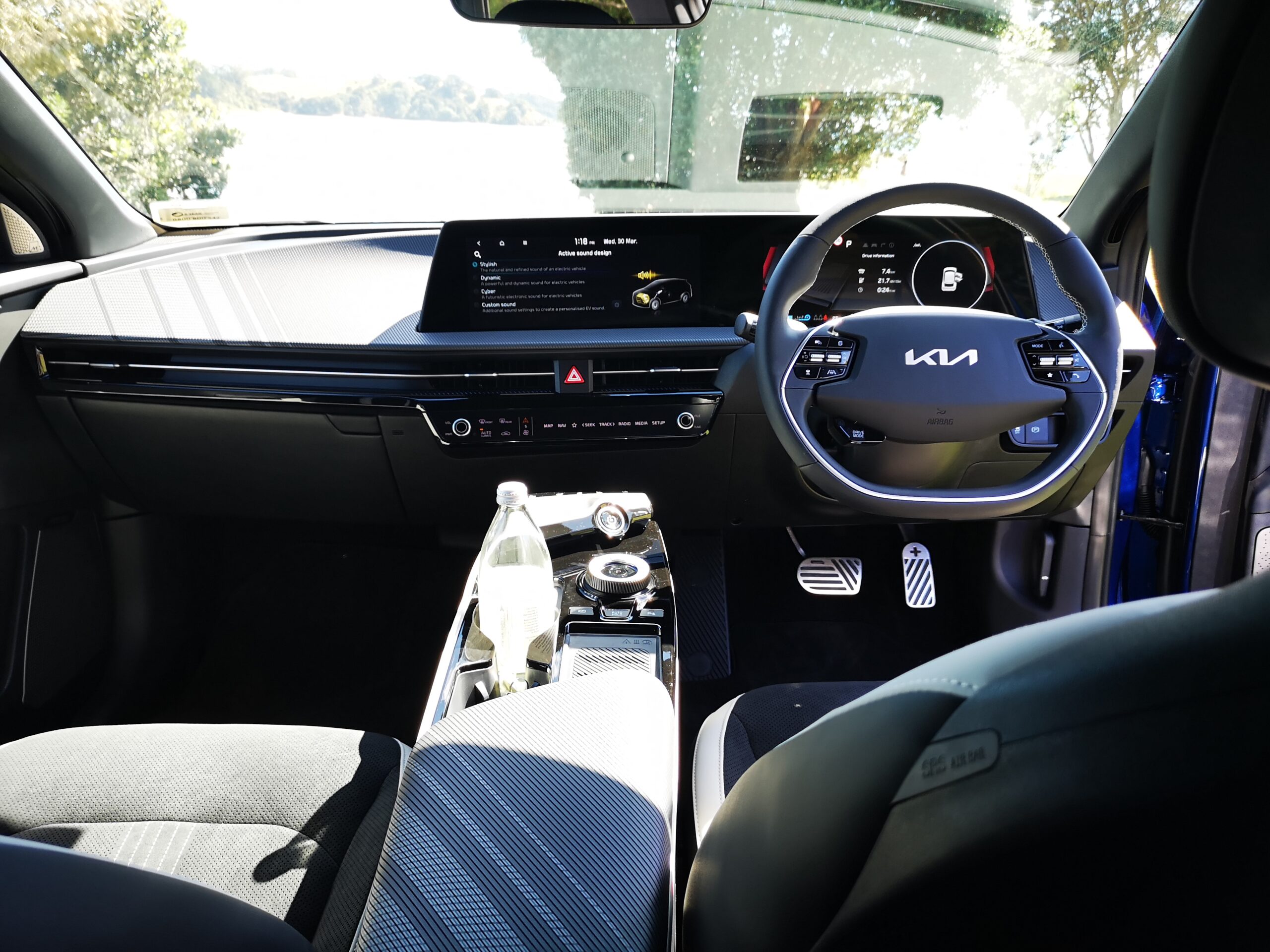 The infotainment and instrumentation screens are both 12.3-inches and are joined together as one big floating panel. The list of apps and aids is too extensive to go into now, but rest assured, every box has been ticked and then some. Although (model dependant) a few extra highlights are that the stereo is Meridian with 14 speakers strategically placed around the cabin, the adaptive cruise control automatically slows for corners and you can now stand outside the EV6 and park it (parallel & perpendicular) using your keyfob!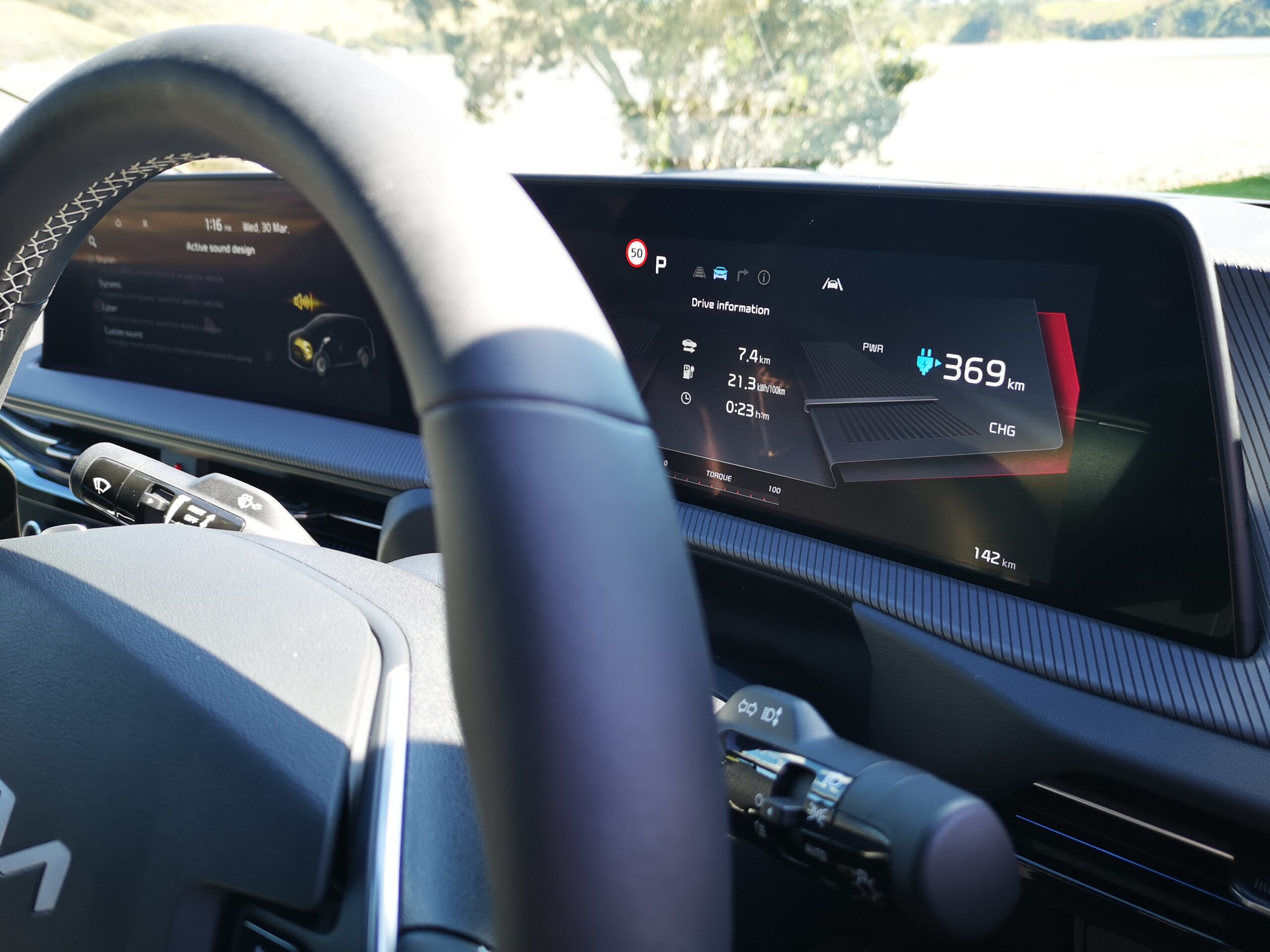 Of course there's an EV menu too, which allows you to view all manner of of the EV6's power usage, let's you charge when and where you want, finds your nearest charger station, lets you choose the seasons, and set the cabin temp and time for departure.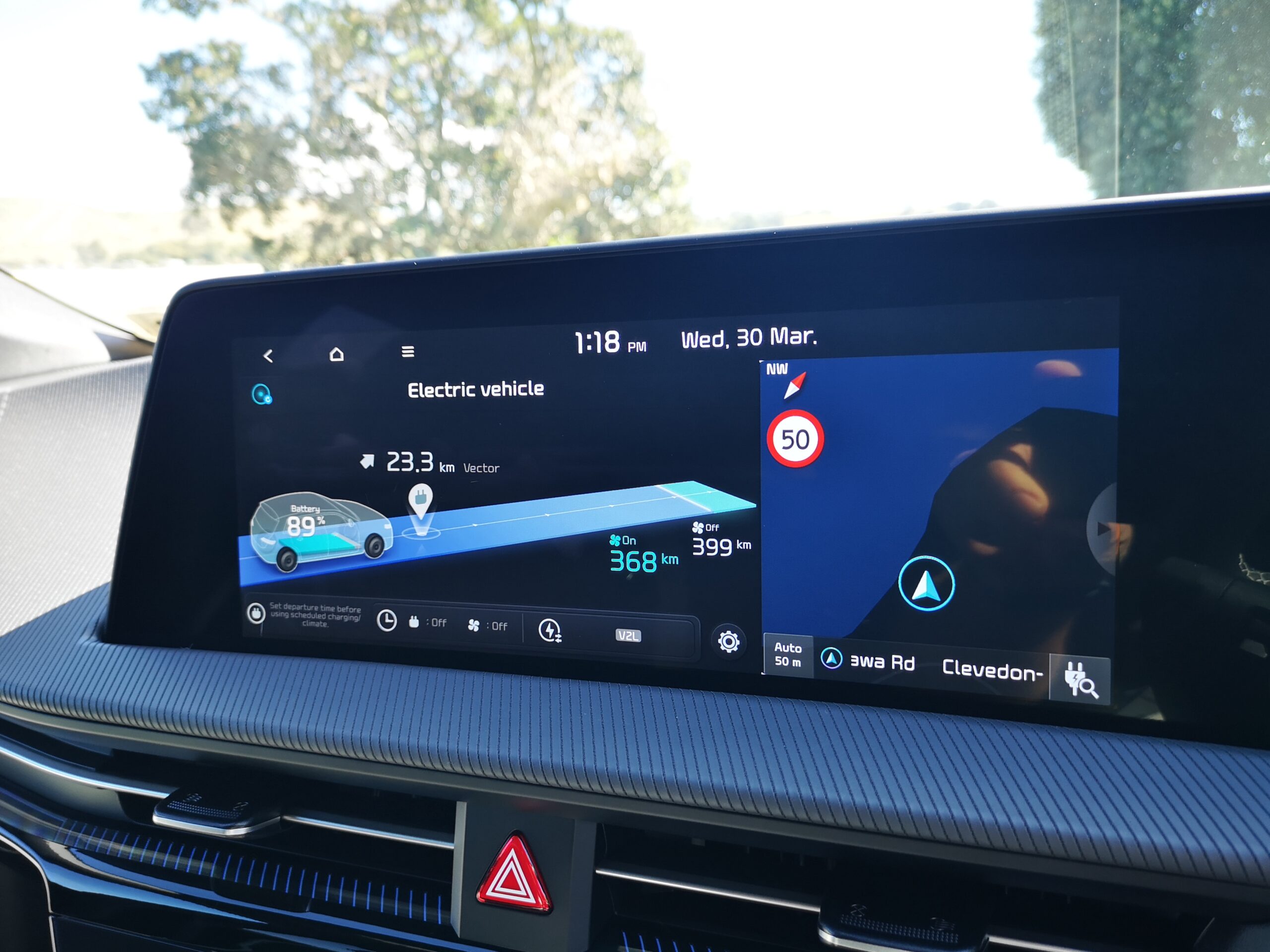 There are five models in the initial launch Air RWD Standard Range/Long Range, Earth AWD Long Range, GT-Line AWD Long Range and GT-Line AWD Long Range with Sunroof with the standard range fitted with a 58kWh battery and long range having a 77.4kWh.
"As of today, there are two Kia EV6 models which are under the Government's Clean Car rebate ceiling. These are the 'EV6 Air' Rear-Wheel-Drive Standard Range with a 58.0 kWh battery and 'EV6 Air' Rear-Wheel-Drive Long Range with the larger 77.4 kWh battery, priced from $72,990 and $78,990 respectively." says Todd.
The EV6 Air RWD Long Range can travel up to 528km on a single charge, is rated to tow up to 1600kg braked and is capable of charging from 10% to 80% in 18-minutes. And here is where the Kia engineers have been ultra smart, well doubly in fact. Firstly, by utilising the EV6's motors wiring as an inverter, it can now charge upto 800v and 'step up' any DC fast charger to suit. Secondly, when not being used the front synchronous magnetic motor (on AWD models) is uncoupled via a clever clutch – so it's very frugal in energy use.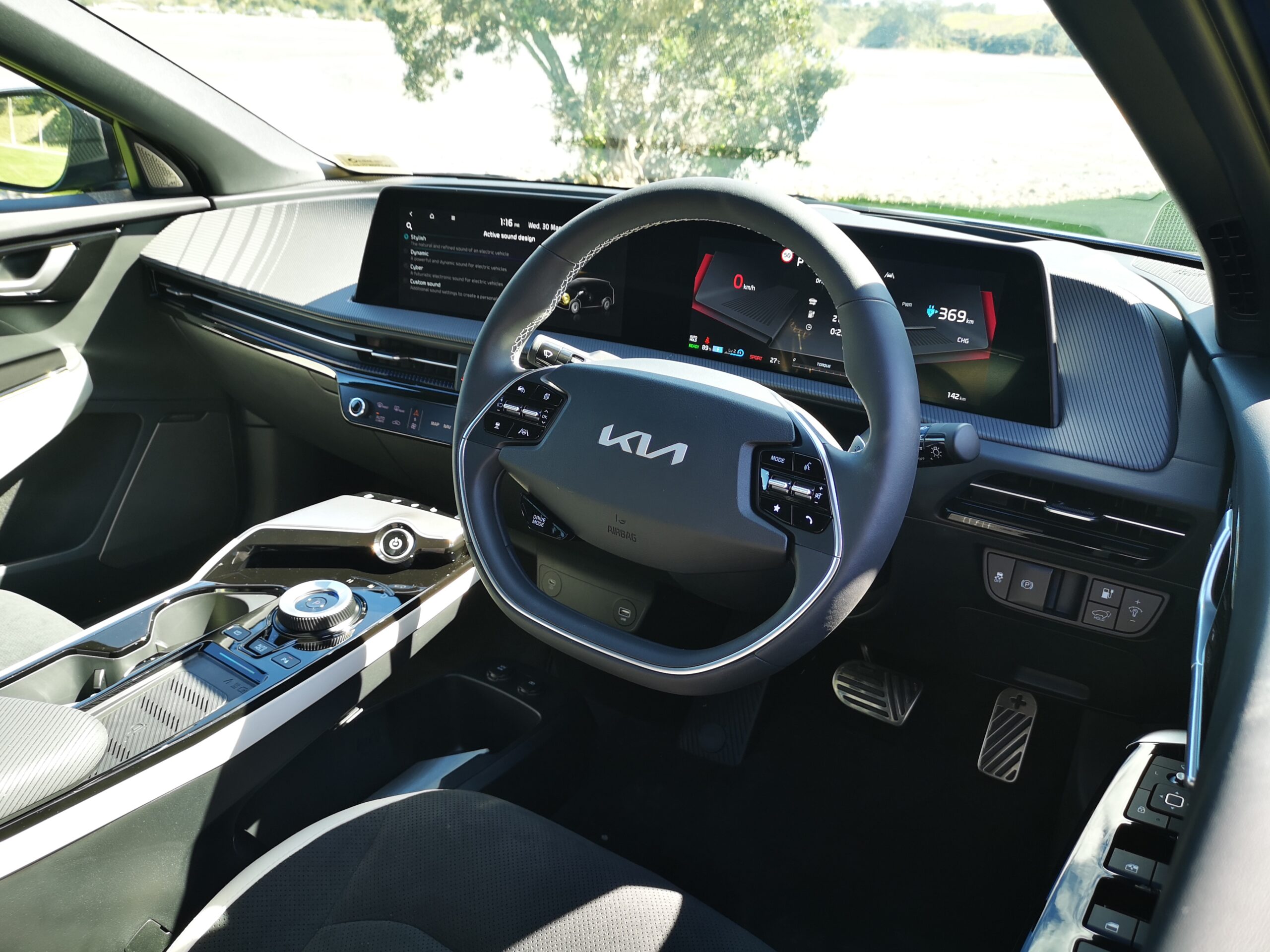 The other innovative feature in terms of changing/power is that the EV6 has 'Vehicle to Load' (V2L) and 'Vehicle to Vehicle' (V2V) options, so it can charge other EVs and appliances (even your home).
For the driving segment of the launch we had the freedom to roam anywhere for around three hours, so we nabbed the 'yacht blue' top of the line GT-Line model and headed towards Miranda.
Todd reckons that "The ride, thanks in part to a locally tuned handling package for Australasia, is best described as accomplished and polished. It's as close to perfect as can be for everyone in the vehicle" and again he's spot on.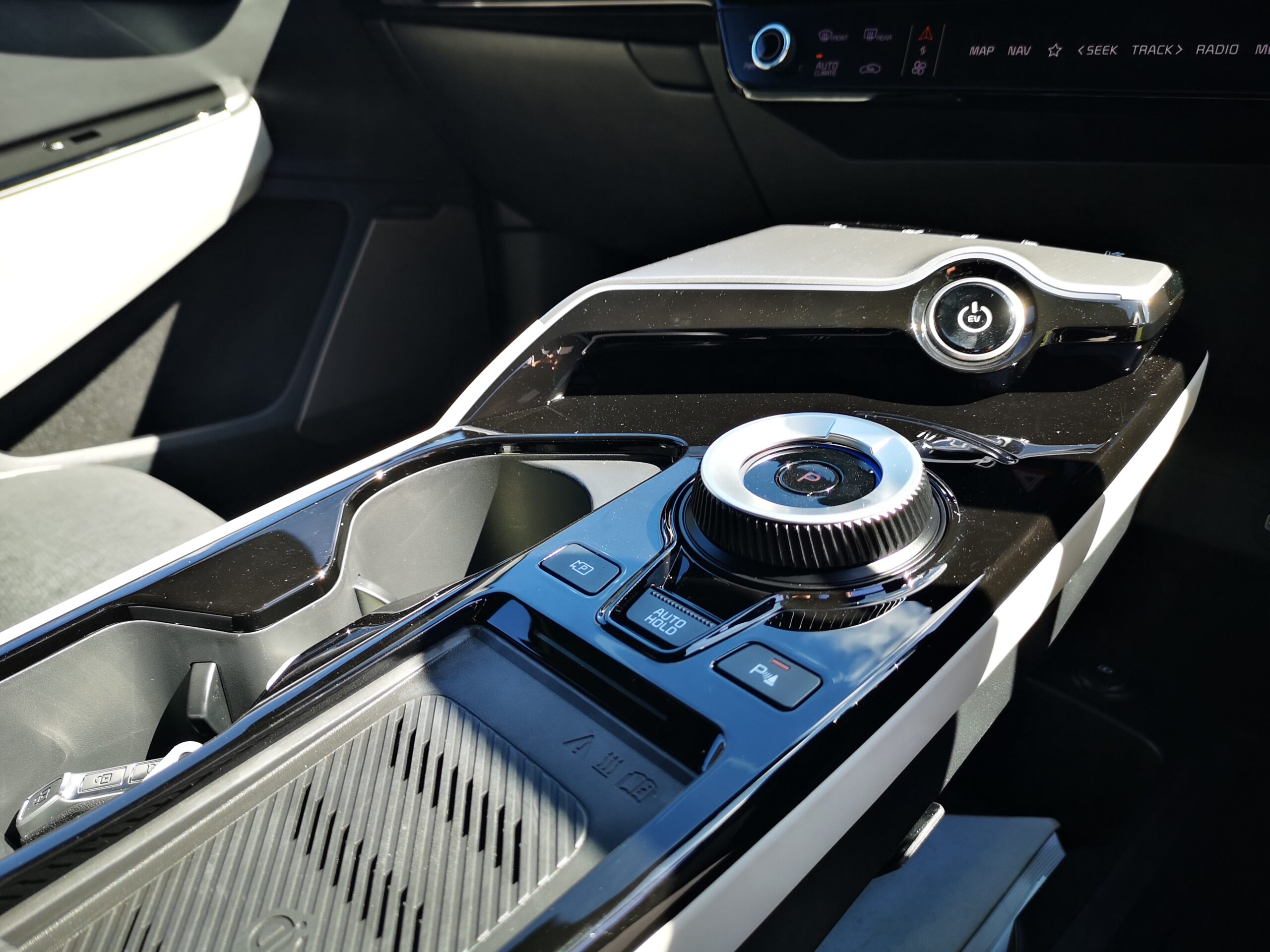 Despite being ultra modern the EV6 is remarkably 'normal' in terms of getting in and driving, it's all very natural. Yes you can be overwhelmed with the amount of data and options if you so choose but it's a simple case of getting in and driving.
It's quick off the mark (0-100km/h in 5.8 seconds) and its clever shocks ensure that it doesn't sink back on its rear upon lift off. Same in the corners, we were rather aggressive in the tight bends over the hills and the EV6 didn't bat an LED eyelid, far exceeding the seats side bolsters (I hear that the sports seats in the GT will counter this).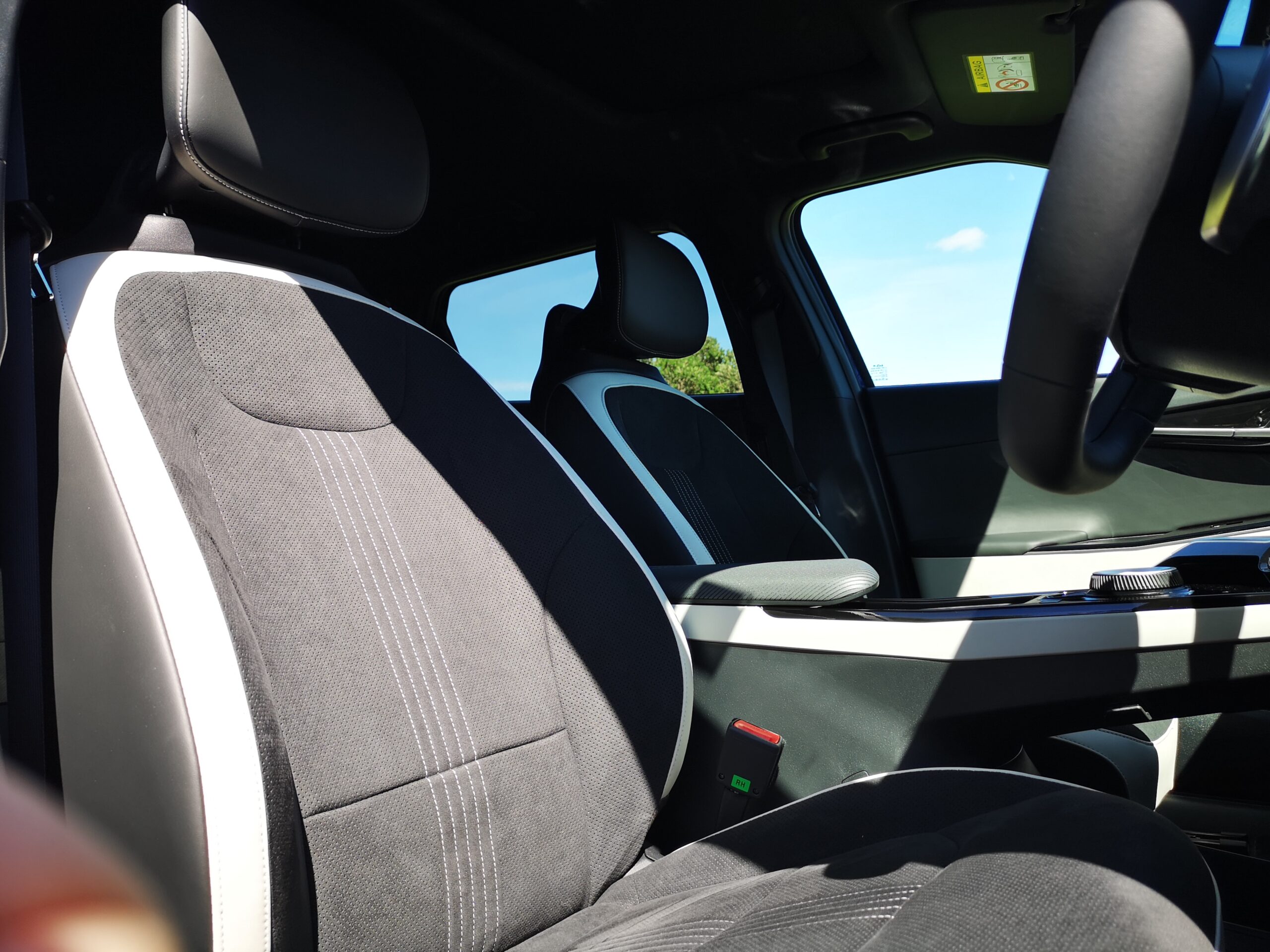 It's an incredibly confident 'hatchback' drive that's smooth and fast and playful. It whizzes up to 100km/h so effortlessly that I recommend you use the Kia created sounds to get a sense of just how fast you are going.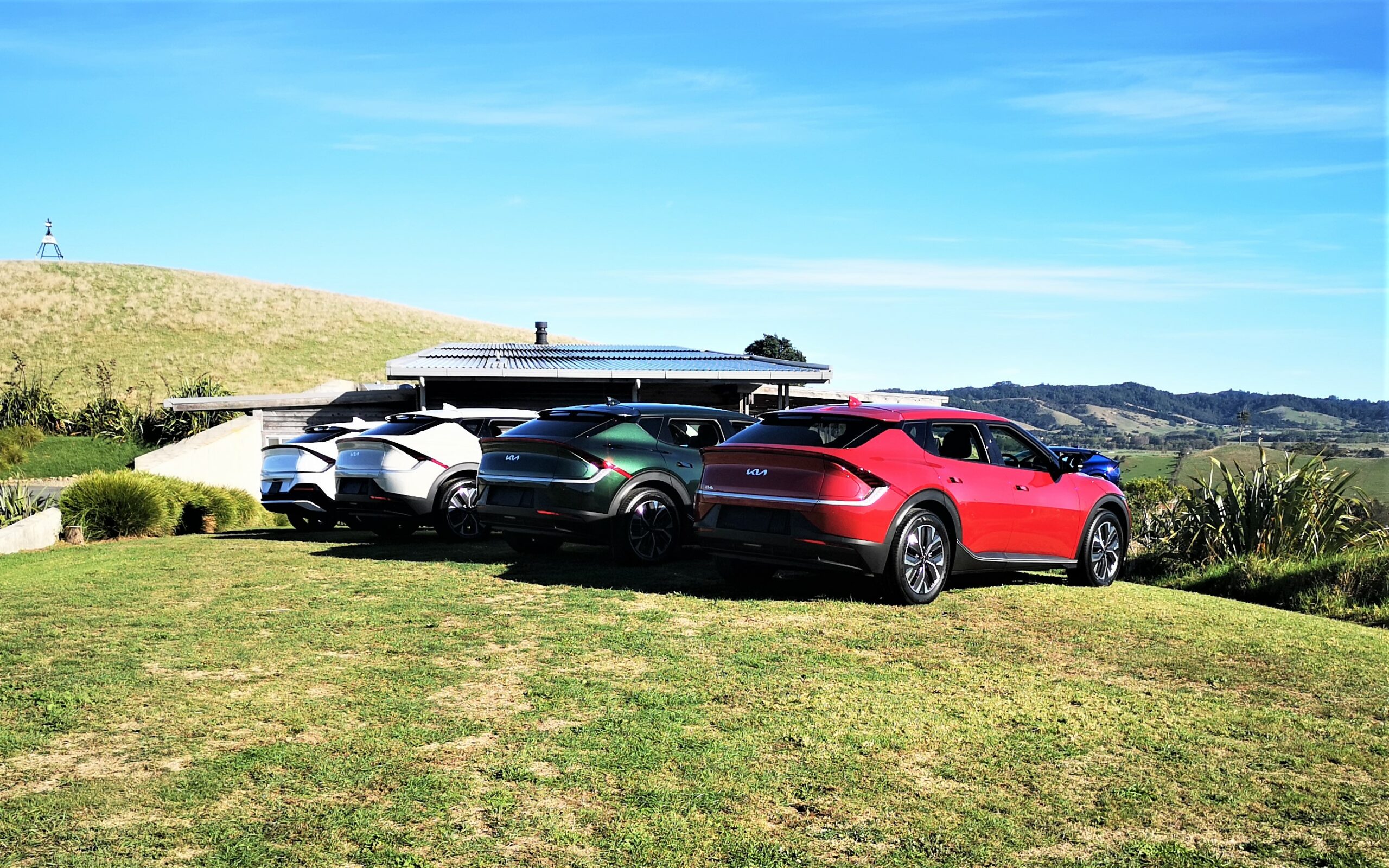 Regenerative braking force can be adjusted via the paddles behind the steering wheel, but as I said before, the need to slow in the corners is minimal. Seating position and visibility is great and overall feel from the steering is spot on.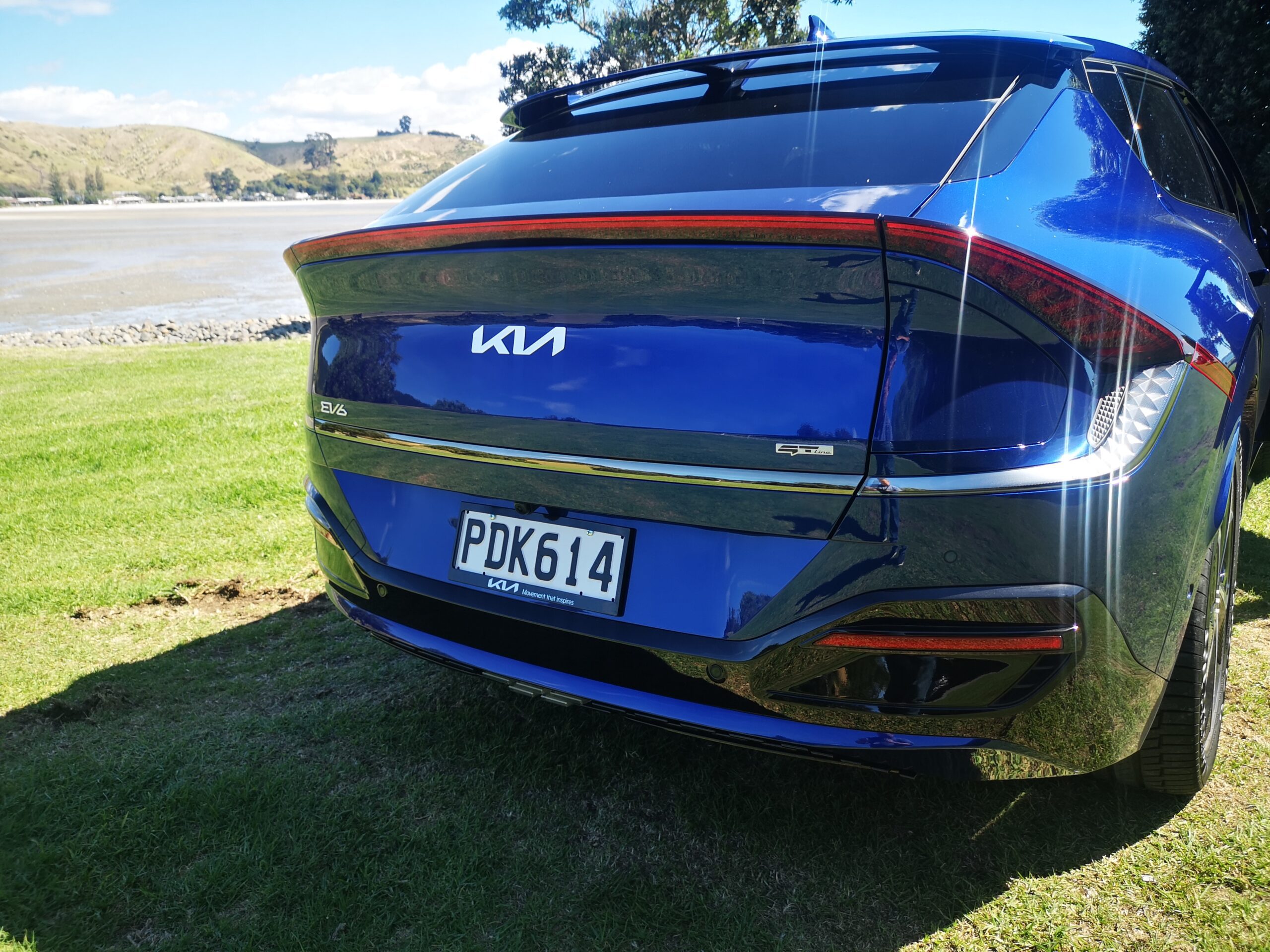 We have this for a full review in a few weeks and I for one can't wait.