If there is one brand which has made an impact within a short space of time in New Zealand, it has to be BYD. Its first flirtation with our local market was the ATTO 3, a car which gained a firm foothold the flourishing EV sector. The result was BYD couldn't get them in quick enough.
Now we have the BYD Dolphin, the second BYD model to arrive on our shores. It's smaller than the ATTO 3 but still packs the same tech as its sibling. Can it match the ATTO 3 in terms of appeal? Let's see.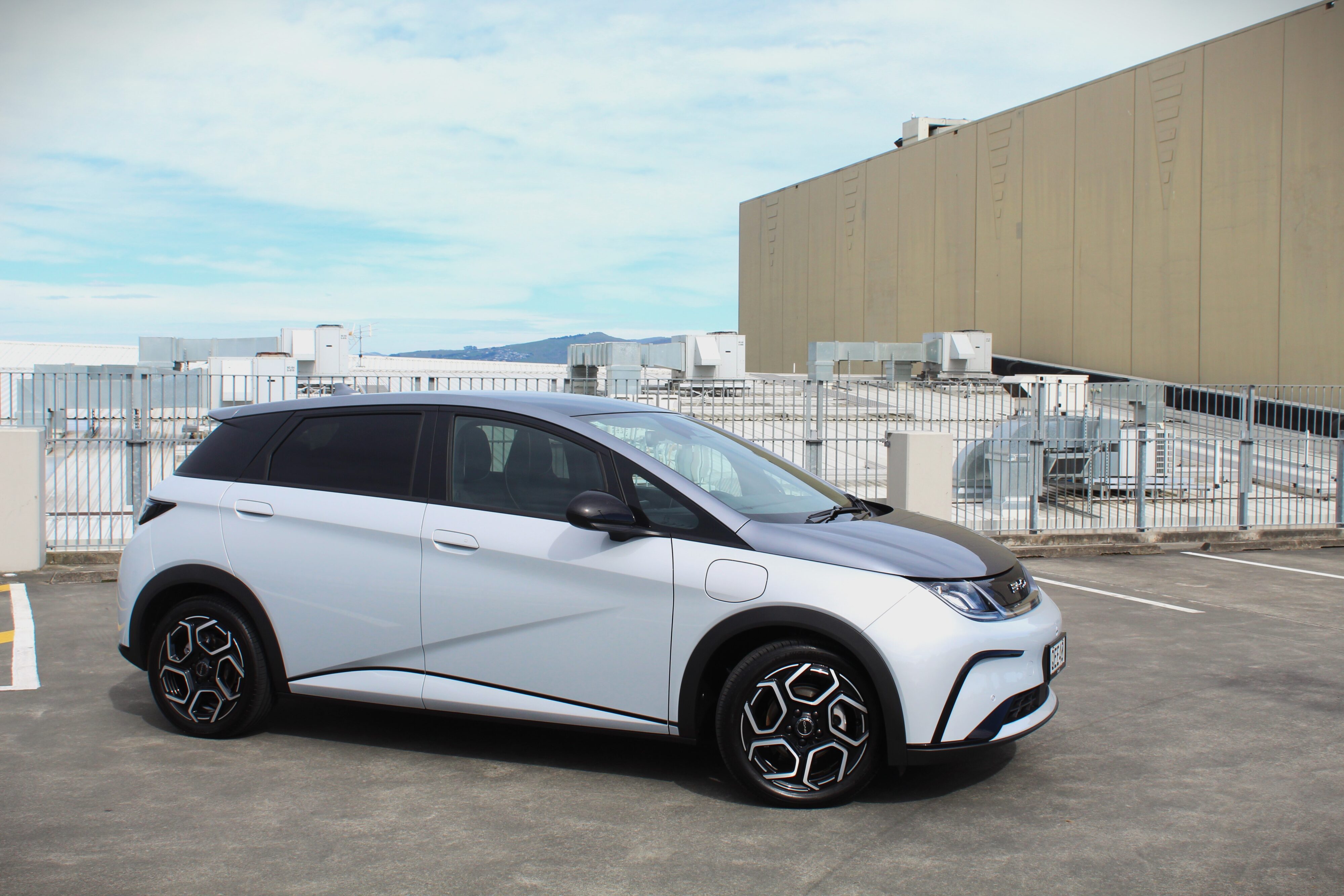 Like the ATTO 3, the range consists of two spec levels, the Standard and range topping Extended, with my test car being the flagship. The range starts at $49,990 for the former and $55,990 for the latter. This isn't a bad figure either way, especially when you factor in the current Government Clean Car Discount applying to EVs at $7015. That said this is unlikely to continue for much longer so if by the time you have finished reading this review and are tempted to "Build Your Dreams", you might have to be quick about it.
The electric meat on the Dolphin's bones is courtesy of a 60.5kWh battery pack power the front wheels via an electric motor. Being a BYD product, it is a blade battery system, one which has been the result of 25 years in the battery industry. It produces a combined 150kW of grunt and 310Nm of torque.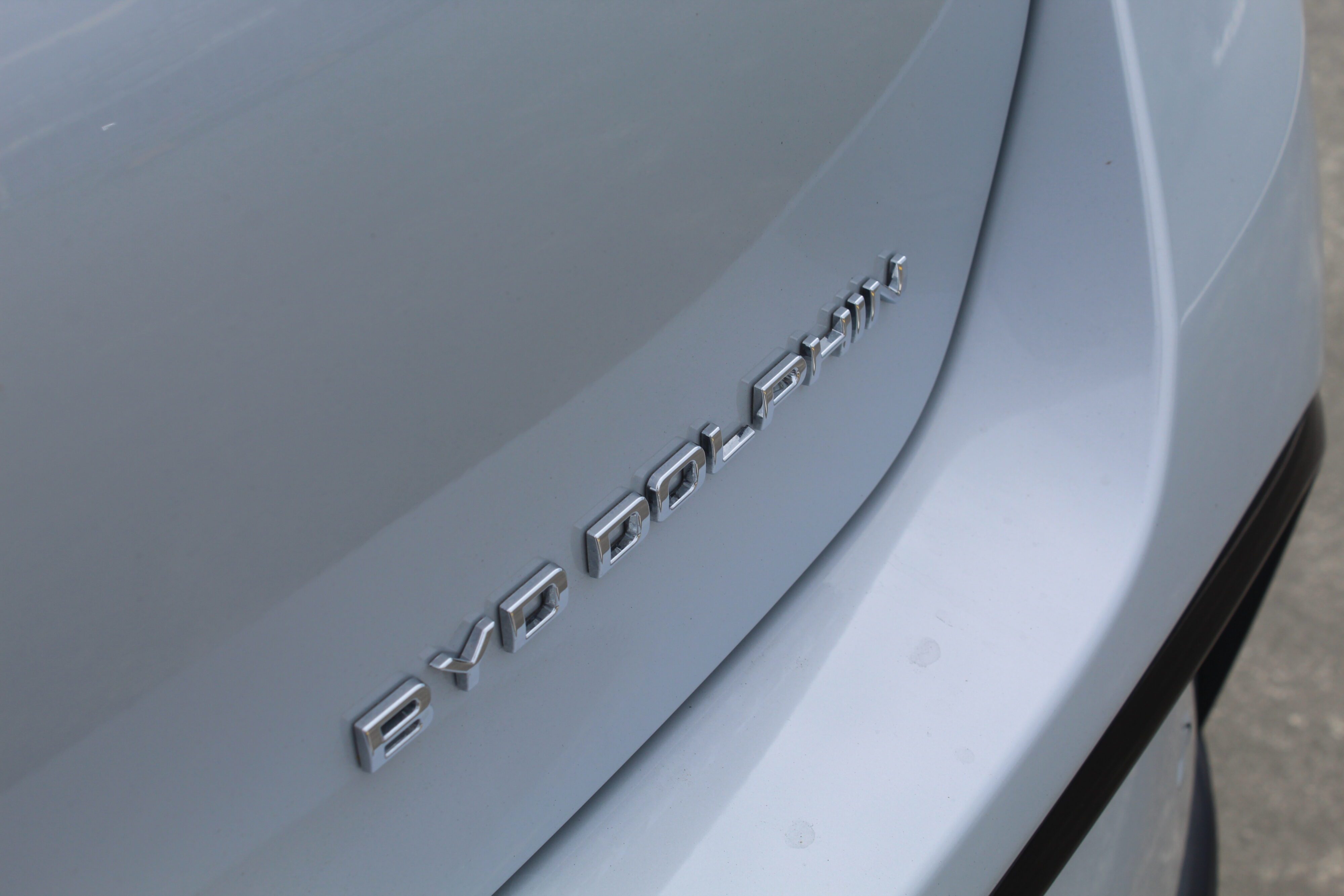 The Dolphin Extended is good for a claimed 427kms of range for the Standard and a hefty 490kms for the Extended. Both are also compatible with both AC and DC fast charging. Using an 80kW CCS 2 DC fast charger will give you back 80 per cent charge in less than half an hour too. The WTLP also claim the Extended sports an average energy consumption figure of 15.9kWh/100km. Zero to 100km/h is rated at seven seconds.
Looks wise, you can see the Dolphin incorporates many features we have now associate with as being BYD. The Dolphin is the first to make use of BYD's new 'Ocean Aesthetics' design philosophy. Those mischievous looking headlights with LED daytime running lights sit either side a front bar replacing the traditional grill with BYD embossed in large font.
The full-width rear LED light bar, cap-on-backwards rear spoiler, 17inch alloys, and numerous black panelling and accents are nice touches too. The Extended gets a two-tone paint scheme with an urban grey bonnet accompanying my test car's shade of Ski White.
Despite being quite a lot smaller than the ATTO 3, the Dolphin's wheelbase is only 20mm shorter. It also sits lower to the ground than the ATTO 3 with ground clearance of 130mm. Then again, this is a small hatch whereas the ATTO 3 is an urban SUV so you would expect that. It also tips the scales at 1658kg.
Inside there are plenty of hidey holes and places to store things. Boot space is rated at 345L which isn't the greatest, but this swells to 1310L with the rear seats folded flat. Those rear seats also sport a half decent amount of legroom, though rear passenger entry and exit is average at best.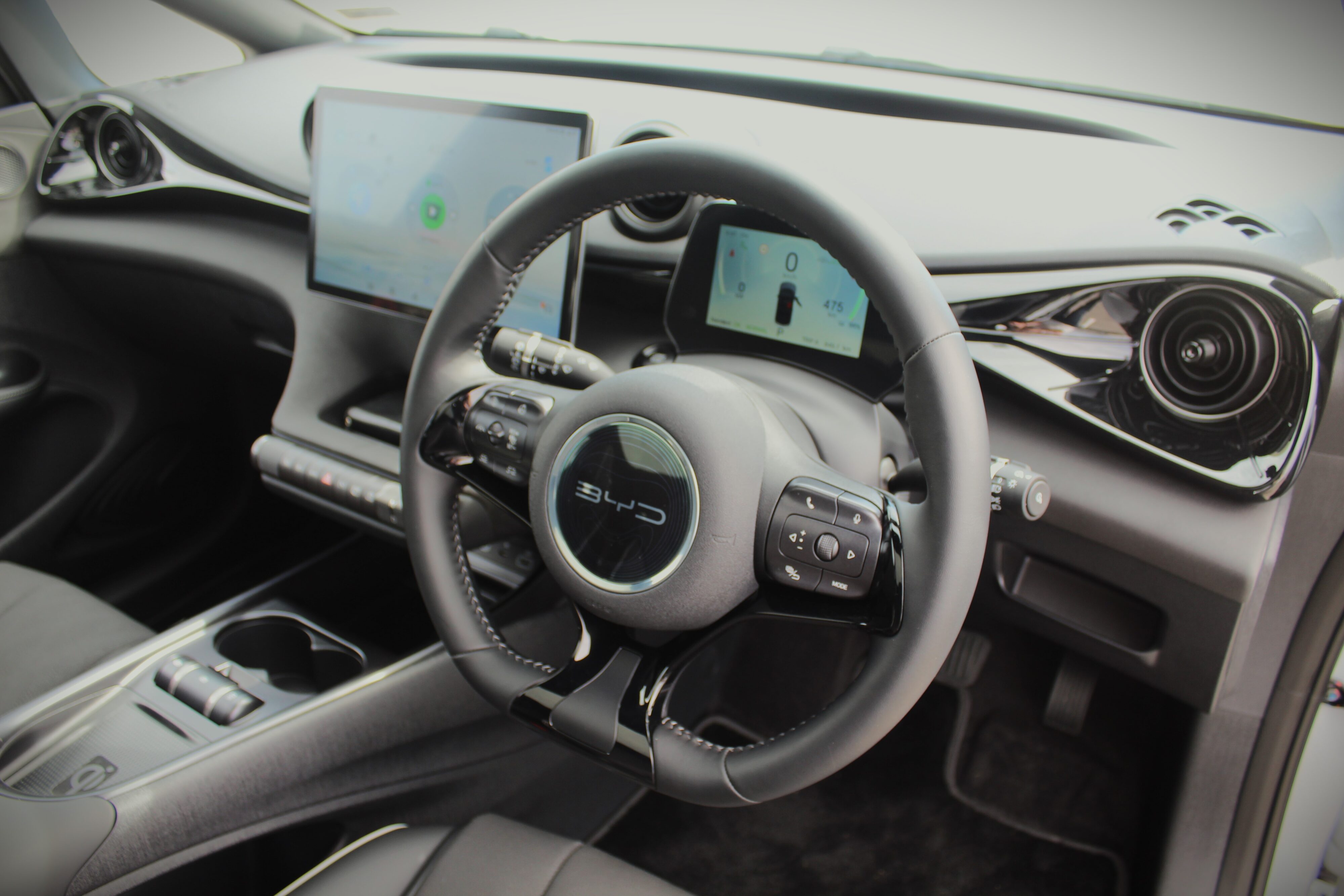 Like the ATTO 3, the Dolphin's 12.8-inch touch screen infotainment system is able to rotate to either portrait or landscape setting. While the small pad is the perfect size for one's phone, larger items will not have the luxury of remaining undisturbed if you switch the screen from landscape to portrait mid-drive.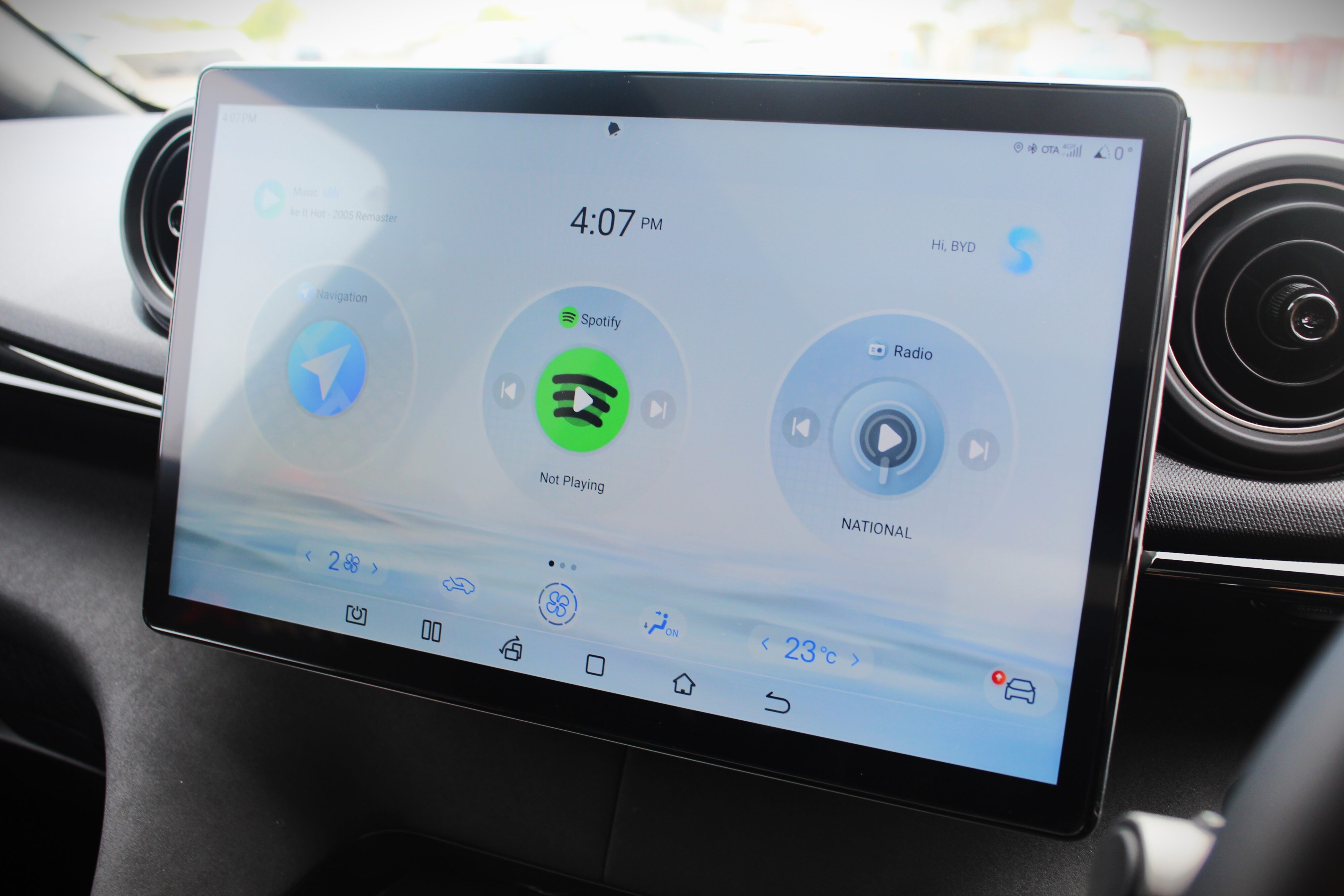 The Dolphin is just as tech-filled as the ATTO 3. Features like sat nav, a 360-degree reversing camera, Apple CarPlay/Android Auto, electric heated seats, blind spot assist, adaptive cruise control, wireless charging, a panoramic roof, DAB+ digital radio, Spotify connectivity and a one touch electric tailgate to name a few.
The leatherette clad seats are easy to get into for front passengers and offer up a good deal of lateral support, but I found them to be quite firm in places while on the move. The A-pillars are also quite large which can affect vision when turning right into a driveway or street, but the 360-degree camera system with 3-D vehicle view solves this.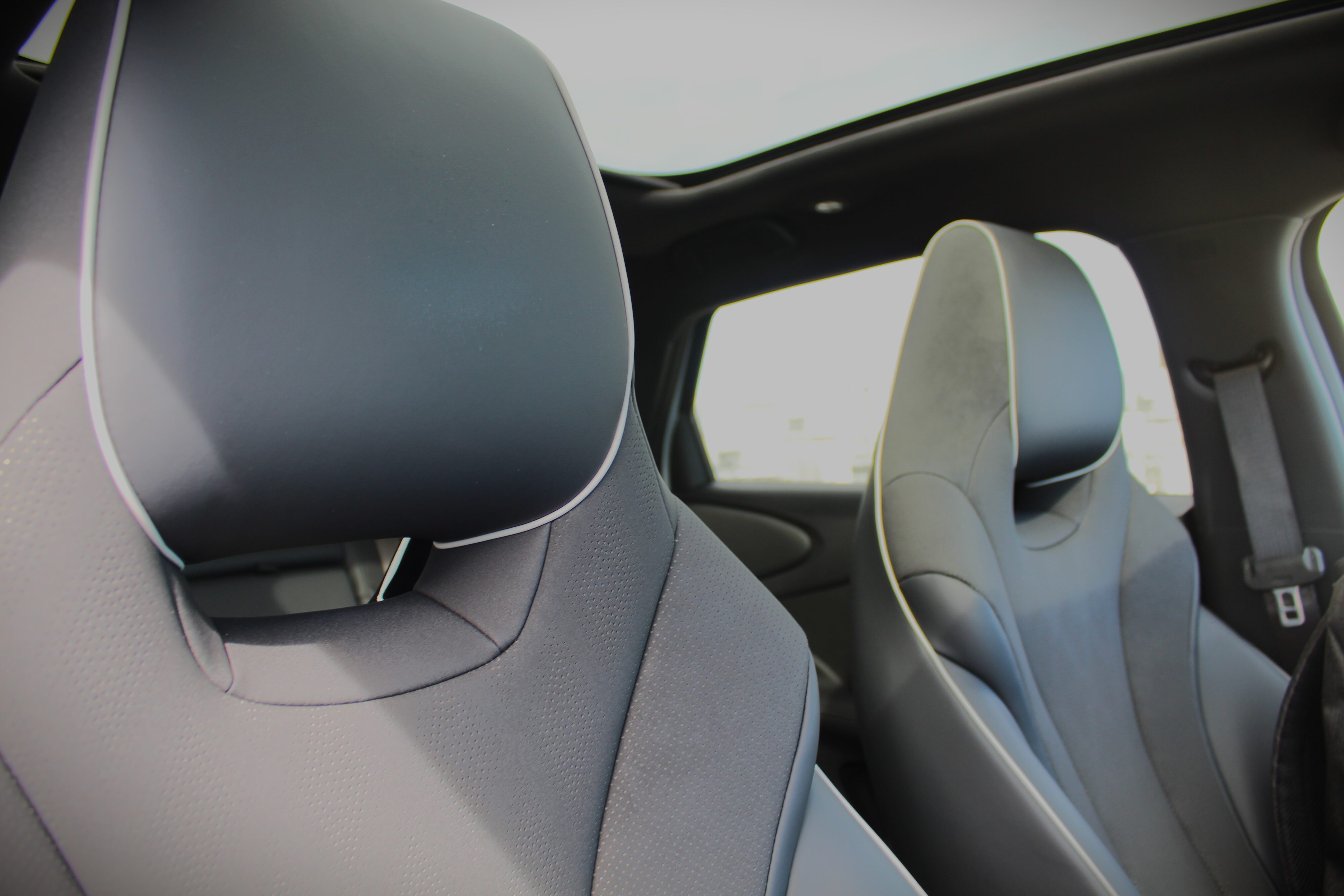 You can change between drive modes and levels of regenerative braking via toggle switches on the floating centre console. You have the choice of ECO, Normal and Sport drive modes and Standard and High levels of braking.
However, the gulf between standard an high regenerative braking isn't as vast as I was expecting, so a firm foot on the brake is still your best bet to regenerative that electric juice around town. Going downhill though? The regen works just fine.
In Sport mode, you can saunter along nicely but it's not the most rapid EV out there. The Dolphin will get you there relatively briskly, but won't rearrange any recent fillings in your teeth during the process.
However, the way the Dolphin deals with uneven and bumpy road surfaces is impressive. It serves up a comfortable ride and those Ling Long tires provide minimal tyre roar. While the only trade off is a feeling of softness in the bends and a smattering of torque steer if you decide to apply some assertive use of the go-pedal, it's still tracks well and serves up a good blend of cornering ability and a comfortable ride. It's a nice drive, whichever way you look at it.
If you are after a dynamic entertaining EV, you may want to look elsewhere, however the BYD Dolphin still has so much going for it. It features good levels of standard equipment, serves up a plush and comfortable drive and has a tonne of character to boot. This Dolphin is certainly making waves.
RATING: 7.5/10