Audi launched their first-ever RS 3 in 2010 and with it allowed its customers a new opportunity to jump aboard the ultra desirable RS club. It was, in fact still is the baby of the RS line up, but with a powerful 5-cylinder heart and 'unusual' front wheels that are wider than the rear, it happily punches well above its weight. Well now there's a 3rd generation (and maybe the last fossil-fueled one) and Audi NZ gave us the keys to have a play.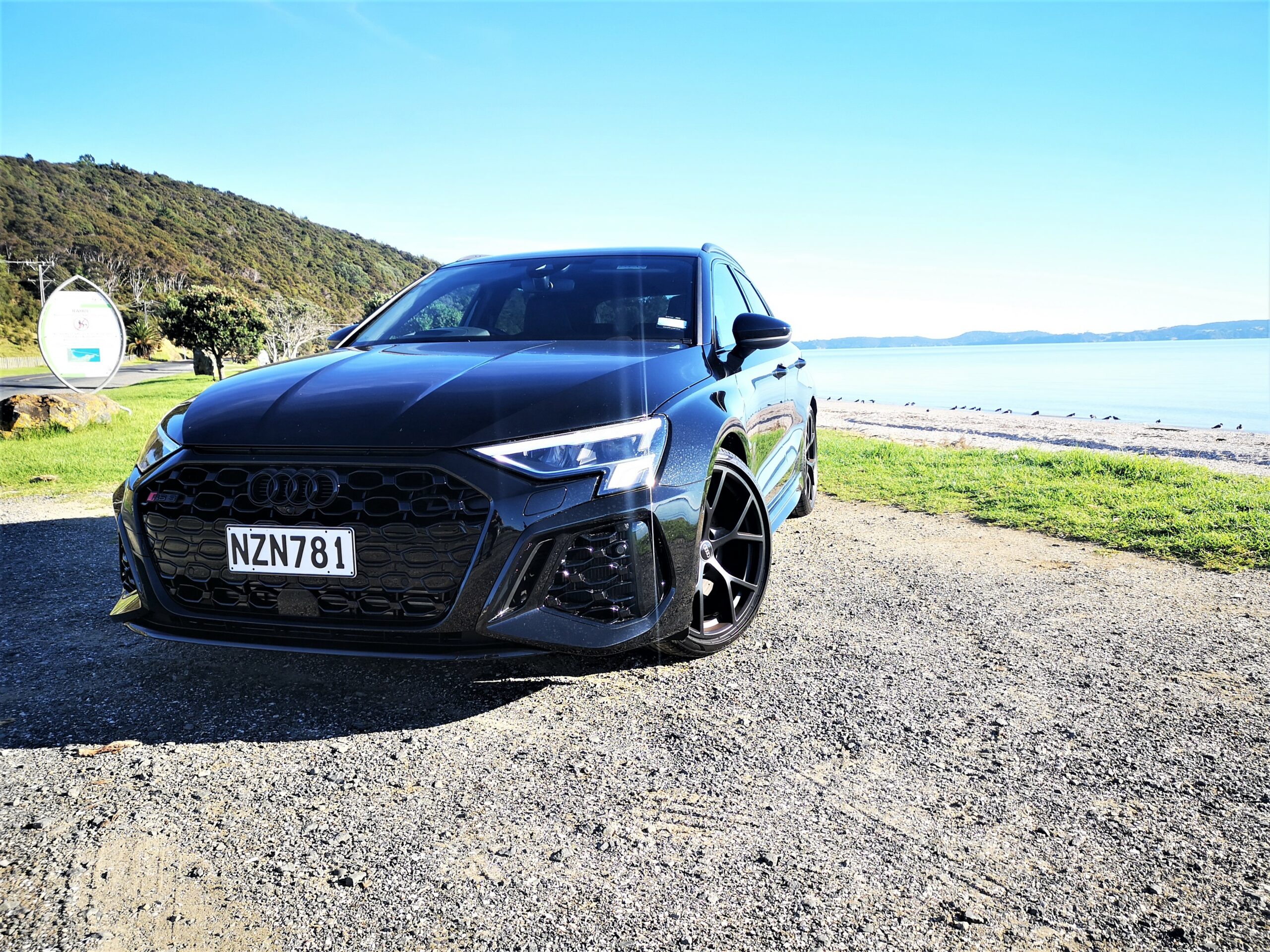 Actually this is the second time I've been behind the wheel of this all-new generation, the first time being in Mt Smart stadium's car park getting better acquainted with its new torque-splitter (ahem Drift Mode) – more on that in a moment.
With respect to the design Audi say that this is their most expressive RS 3 yet and it's easy to see why. First glance offers up a bold and athletic stance with a shape that when viewed from above is that of a top heavy hour-glass thanks to wider front track and tapered torso.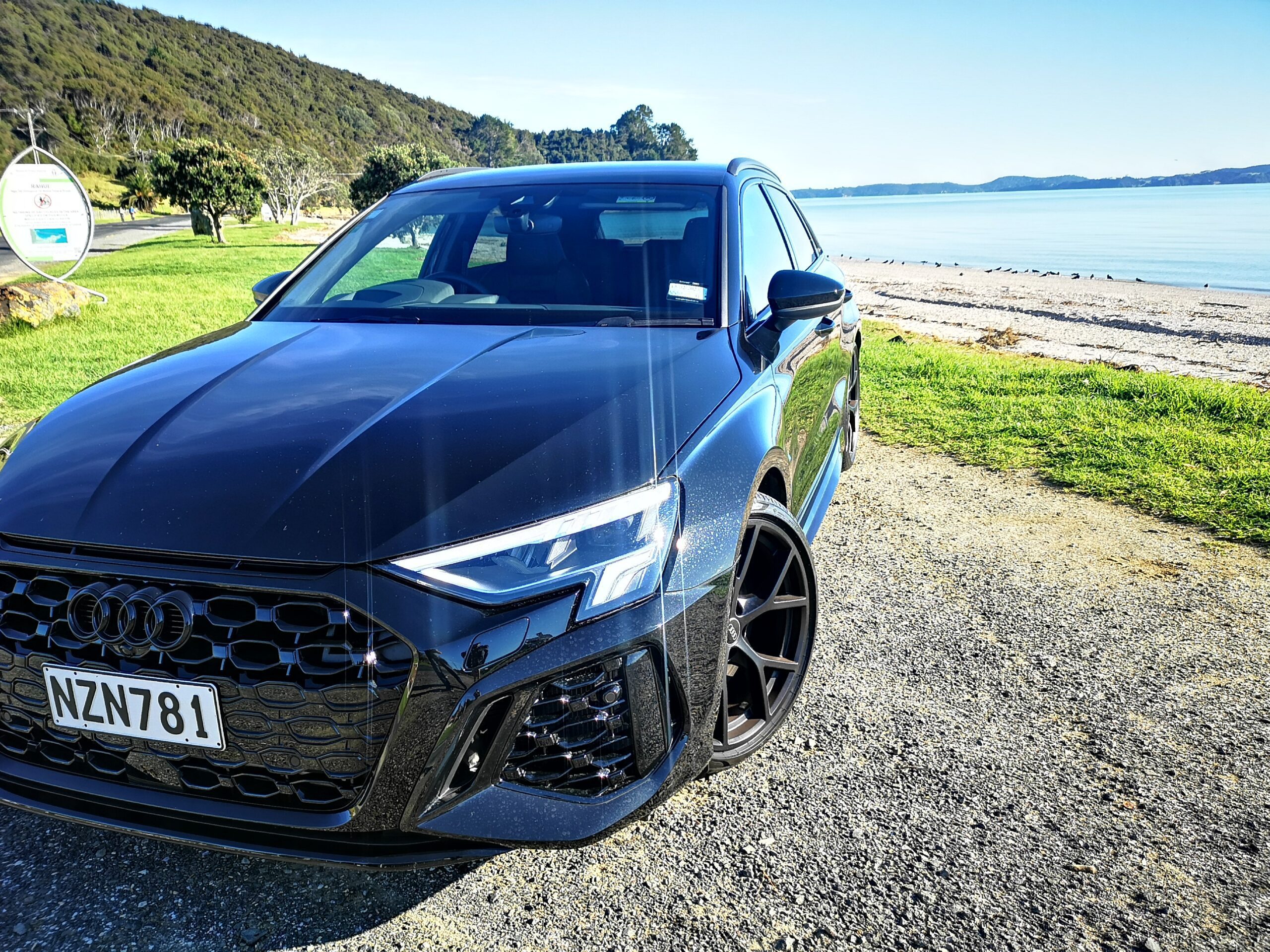 Its nose sports a wide RS bumper and a redesigned Singleframe grille with large air intakes below to gulp down life giving oxygen when on the move (and just look awesome when not). Standard-on the RS 3 are flat, wedge-shaped matrix LED headlights and DRLs with 3 x 5 LED segments that flash up RS3 and a chequered flag sequence, seriously, how cool is that!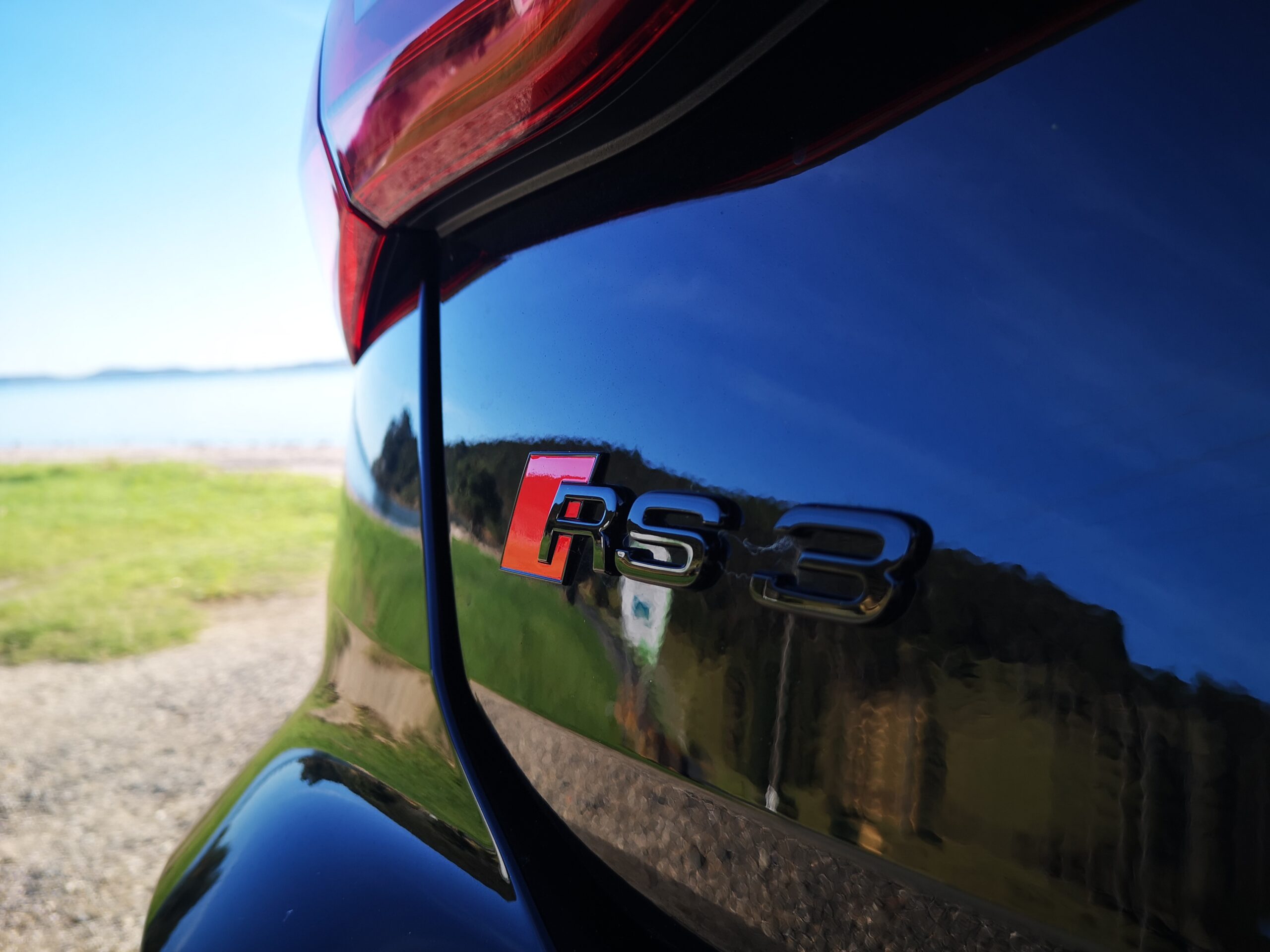 Its enhanced look continues down the profile with the new RS 3 sitting 25mm lower than the A3, additional air outlets that sit behind the flared front wheel arches and the rocker panels have been re-designed to match. While on the subject of the RS 3's front, the axle track has been widened by 33mm compared to the previous model and the rear axle track has increased by 10mm and this offers impeccable confidence when heading into corners.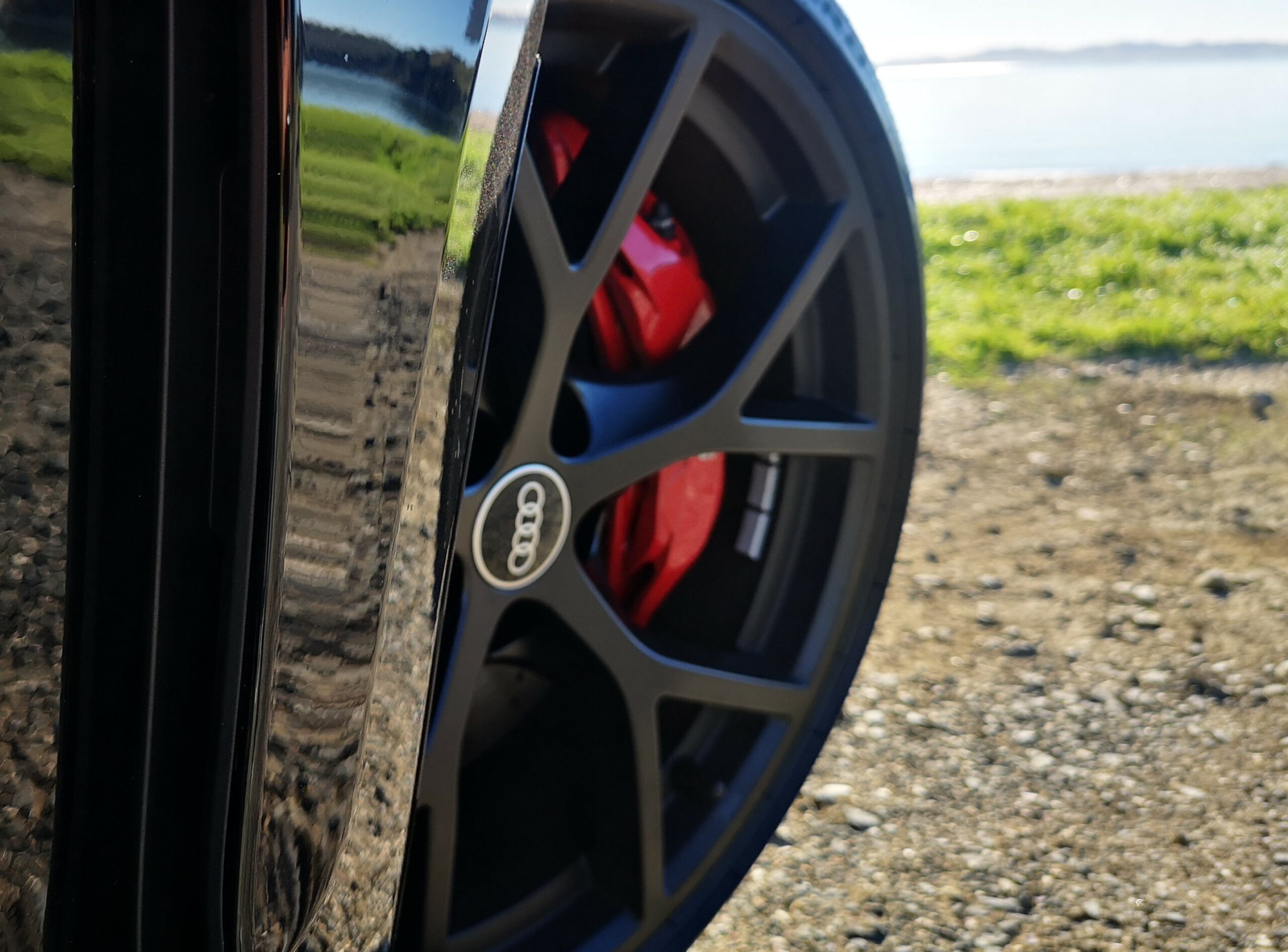 The rear hasn't gone untouched either, its motorsports-inspired finishing includes a redesigned RS-specific rear bumper with integrated diffuser and the RS exhaust system with two gapingly large oval tailpipes and LED taillights for those behind to enjoy – as that's what most other drivers will see thanks to its ferocious engine.
The 2.5 TFSI, five-cylinder, high-performance engine with a very unique 1‑2‑4‑5-3 ignition sequence is a one-of-a-kind in the segment. Sure it's won the "International Engine of the Year" award nine times in a row but more importantly it's now more powerful than ever with 294kW (400PS) and 500Nm of torque, making it race from 0-62mph in 3.8 seconds and on to a top speed that has needed to be limited (probably to save you from yourself). What's more, all that torque is available between 2,250 and 5,600rpm and max power joins in the fun from 5,600rpm.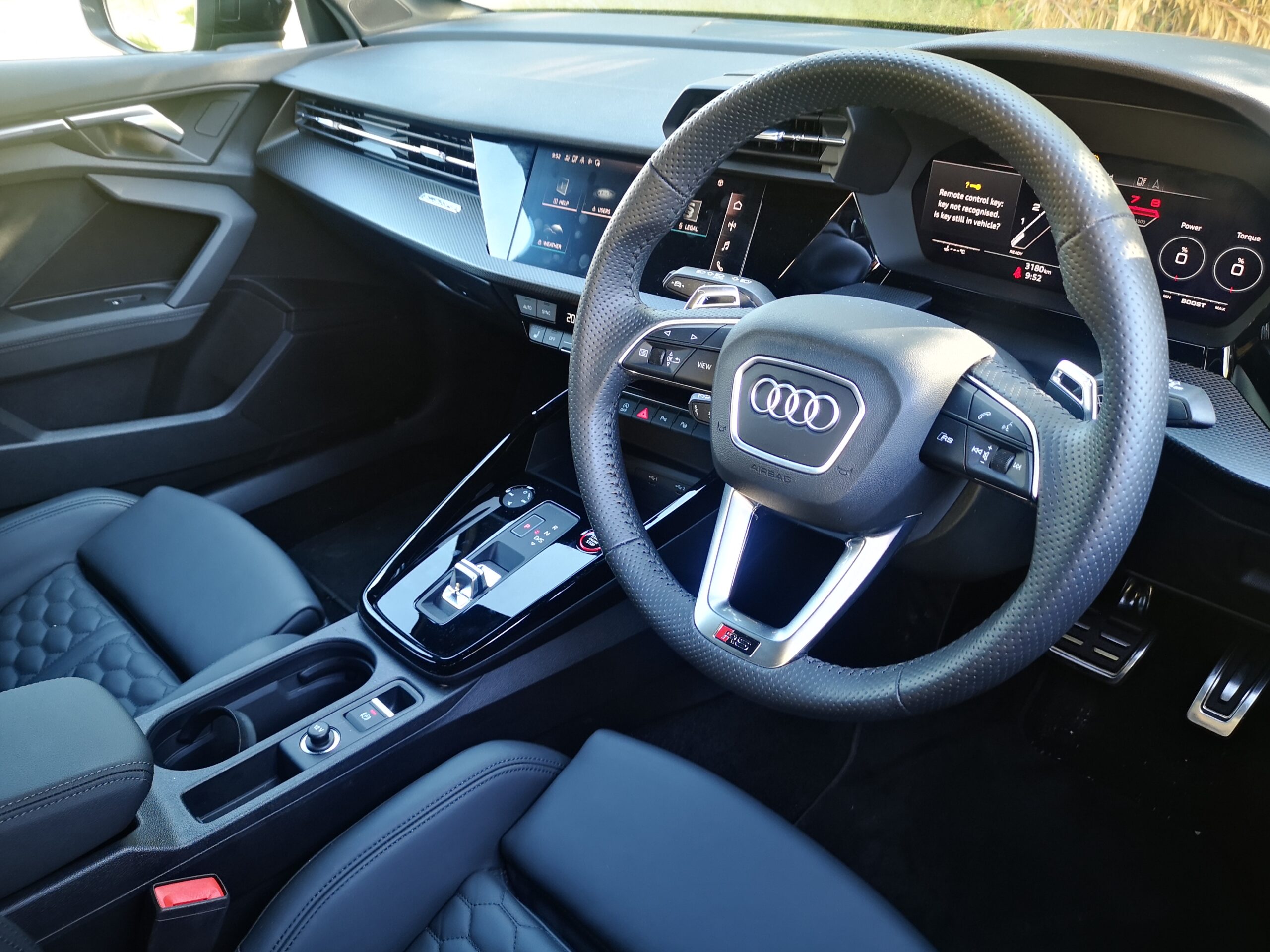 The interior is very Audi but with additional sporty flair. There's a 12.3-inch Audi virtual cockpit plus that displays the rpms in the form of a bar graph and shows power and torque as percentages or optionally, the rpm display is available in the new 'RS Runway' design where the values are shown in a way that visually resembles an airplane runway – the highest speed in the foreground and the lowest speed in the background.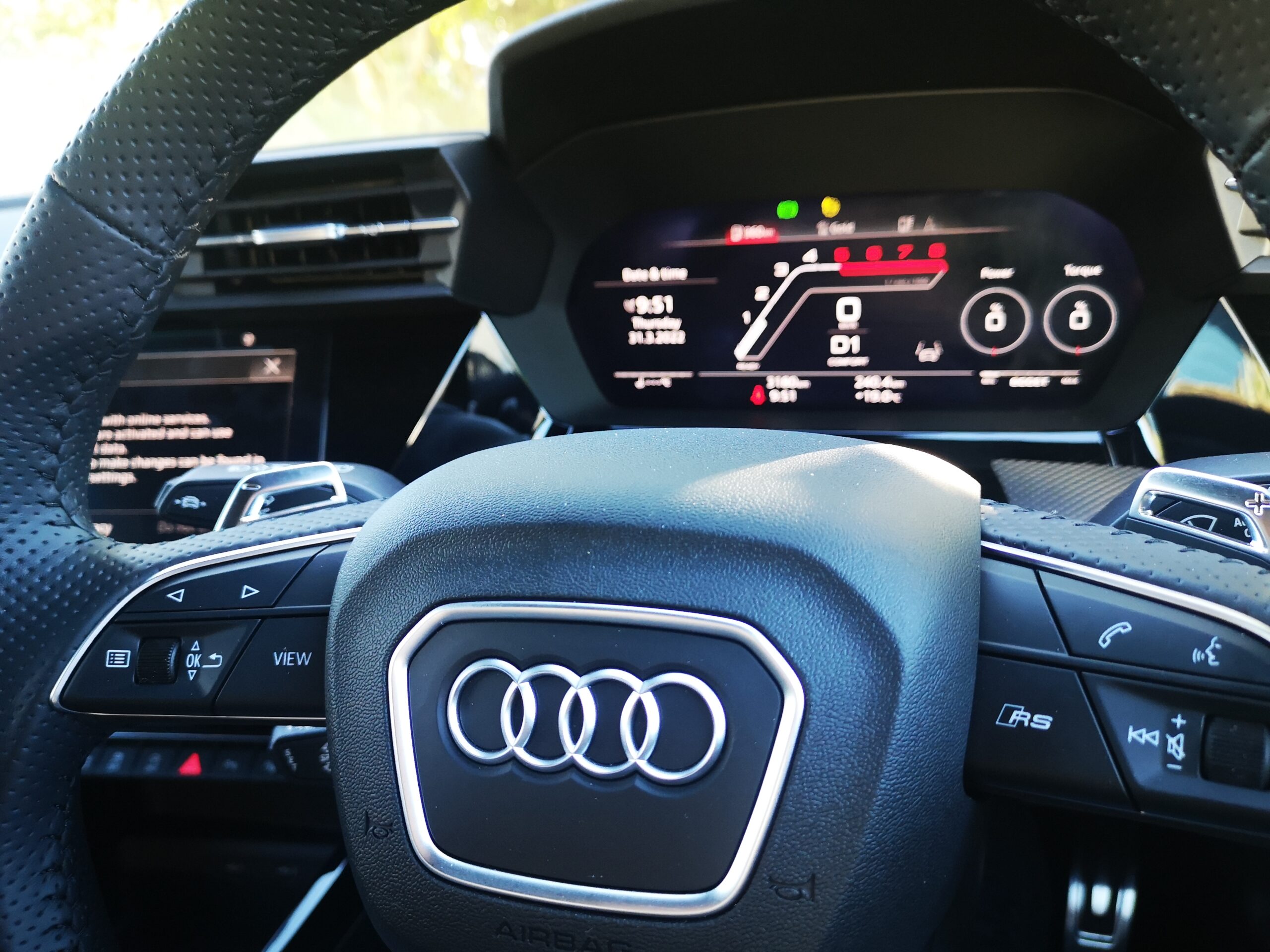 Also available for the first time for the Audi RS 3 is a head-up display that projects relevant information onto the windshield in the driver's direct line of sight in addition to the shift light indicator.
RS embossed sport seats and RS steering wheel add to the racing feel but it's the new RS driving modes in the infotainment screen that are gonna really rock your boat.
Efficiency, Comfort, Auto, and Dynamic sit to the left of the drive select screen, however on the right is RS Individual, RS Performance and RS Torque Rear, needless to say, the right side is where the feels and squeals lie.
My time with the RS was limited but as luck would have it, I had a meeting to attend in the Clevedon region, which (if you take the long way) includes some joyful roads to test a vehicle like the RS 3 on. Now I could (or should) say that many of the RS modes come with 'track or closed roads use' warnings and for good reason, as they turn this sporty sportback into the devil, but in fairness, you do actually have to be really pushing the laws of physics to make this car step out – somewhere I stayed well clear of.
In dynamic, the RS 3 gives you plenty of freedom to play, all while staying ready to take the reins when your talent runs out, which, like I said, with the RS's sports suspension, newly developed shocks, larger wheel camber, modified pivot bearings, stiffer bearings in the lower wishbones, and RS 3's new addition the modular vehicle dynamics controller (mVDC), would be way outside of my comfort zone.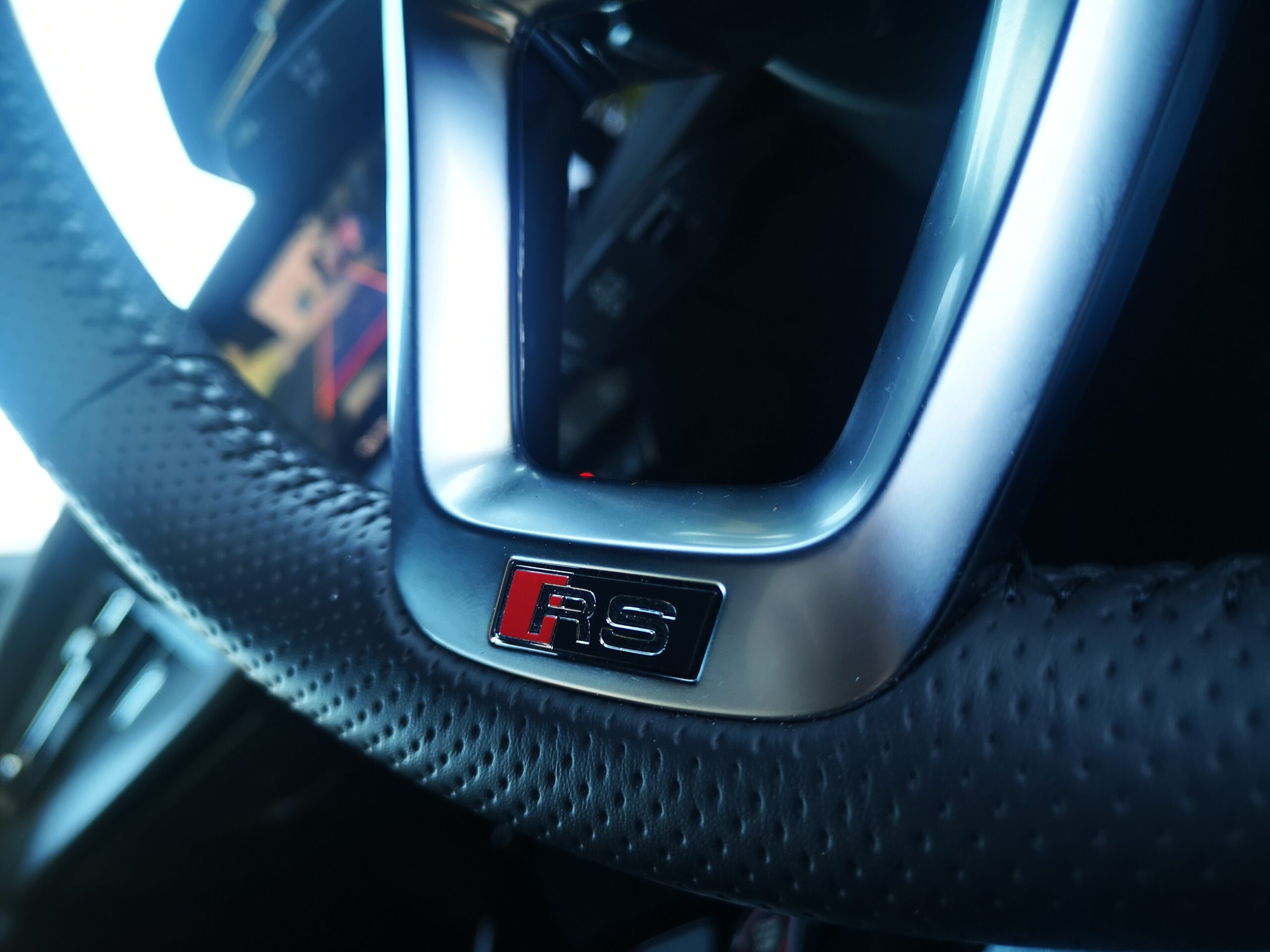 The RS modes tighten things up in terms of steering, throttle and gear shifting, while extending the boundaries for when the correction systems cut in, consider it like having a longer leash for your pitbull. Then there's 'RS Torque Rear' which is essentially like cutting the leash entirely. Through clever technology and the evolution of 'quattro' Audi engineers have allowed your RS over 1700Nm of torque to one paw and given it a rear end that can wag with more vigour and enthusiasm than a Weimaraner that hasn't seen its owner for a week.
Okay, so enough with the canine metaphors. Switching to RS mode opens the baffles in the RS 3's sports exhaust and really brings out the off-kilter sound of its 5 pots, and of course allows all of its power to run amok with plenty of pops on the downshift. The result is a vibrant, happy, joyful drive that has you feeling each and every sharp corner and being thrilled by the powerful compact RS's immediate responsiveness when kicked.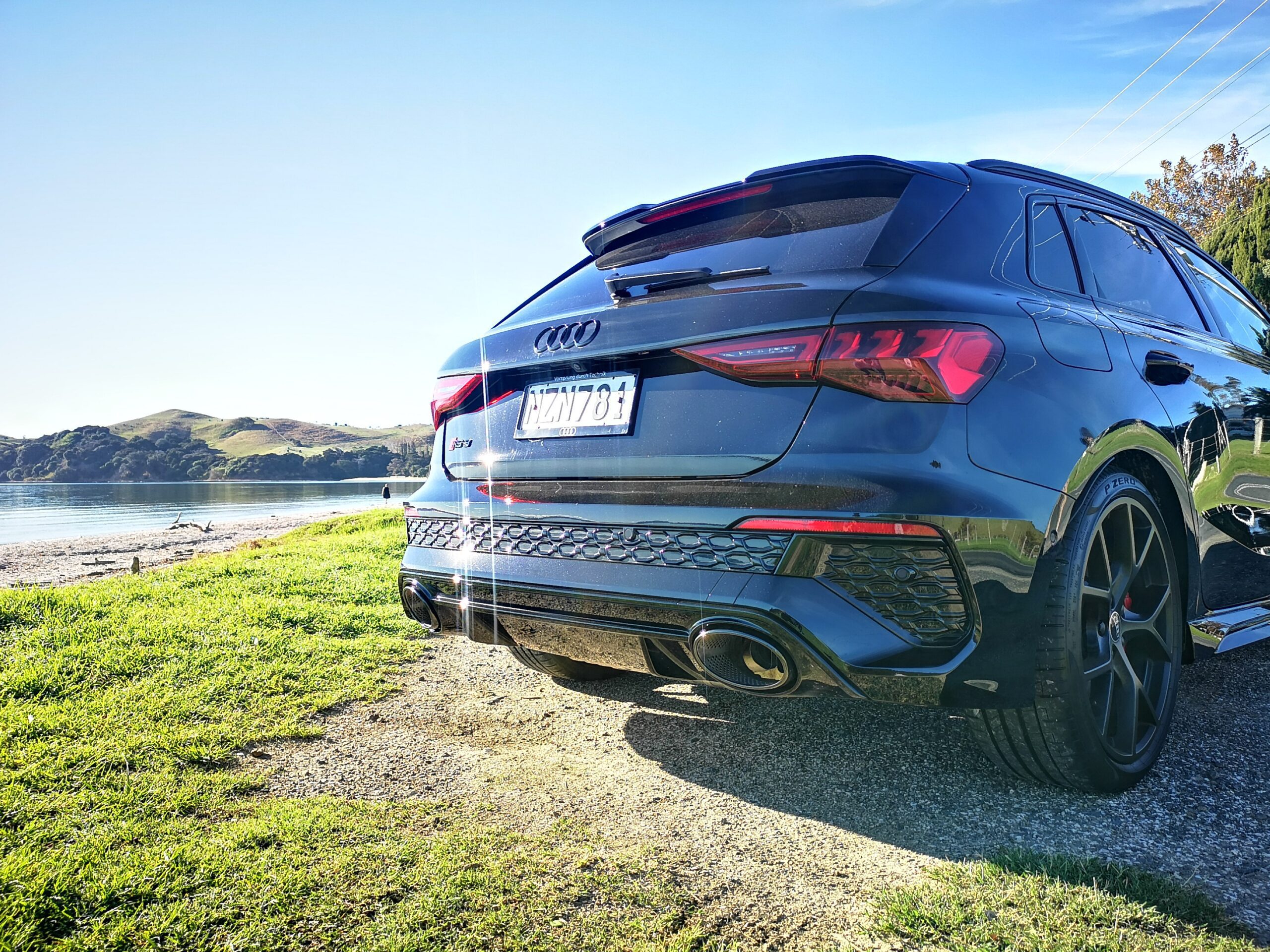 Audi may be rushing headlong into the EV world and their RS GT proves that they can be fun too, but if this is to potentially be last hoorah for the petrol fueled RS 3 (there may be one more facelift left) then believe me Audi have thrown nigh-on everything at it. In my opinion it's their best RS 3 yet and the torque-splitter tech just adds fuel to the roasting RS fire. It's got power and presence that you can feel and a special drift mode that can make its tyres squeal – what a combo and what a car.