With a new GM at the helm (actually a returning familiar face), Audi New Zealand are on a mission, and as Greg Leet says, it begins with what's different – and that's him.
"I'm back home," he declared with a look of glee on his face. I spent four years as National Sales Manager for Audi, I know the brand well and I come at a time that the brand's at a really exciting crossroads. And what's our focus? I think it's fair to say we've got a mission."
Greg says that the market has its challenges, 'but boy, oh boy, do we have some exciting product and a vision forward.'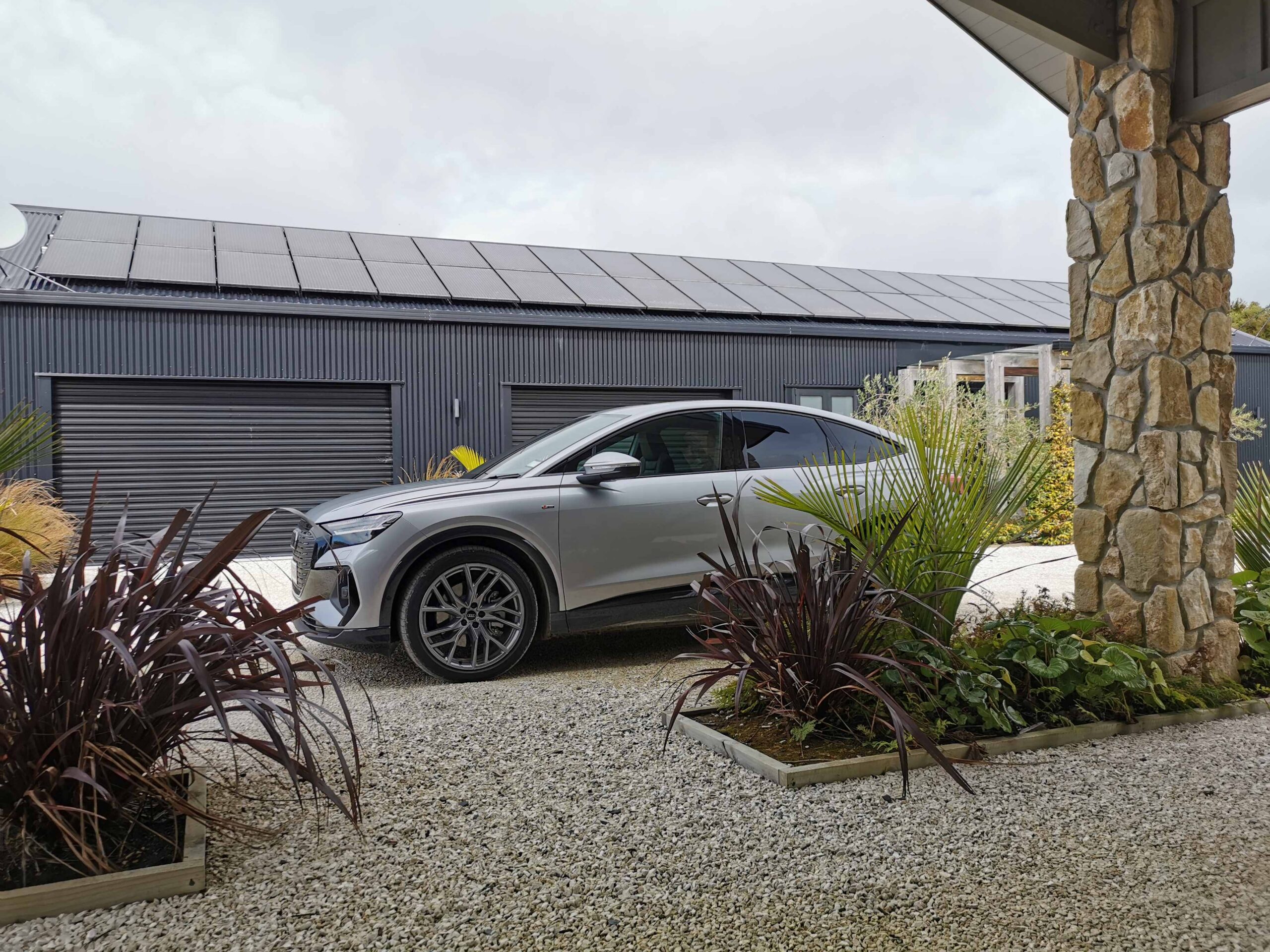 'Living Progress' is what Audi are calling this vision and they say that Progress is part of their DNA. 'It's not just in our cars, but in us too. And in you. We make progress together. With inner drive. With the aspiration to become better and better. With attitude, with courage, with confidence. Because progress comes from the head – and the heart.'
"Everything that we do, will be demonstrating the brand through a lens of living progress," Greg tells us. "And so as our brand transitions through ice vehicles to electrification, we'll be holding on to that core performance element as a really, really critical part of the way we're going forward."
Anyway, with the parameters set, the Audi team brought us up to speed with the new (ahem) Q4 e-tron.
I 'ahem' because it's been a long time coming, in fact it was initially launched overseas in 2021, but don't worry, we're only the fourth market outside of Europe to be lucky enough to get it.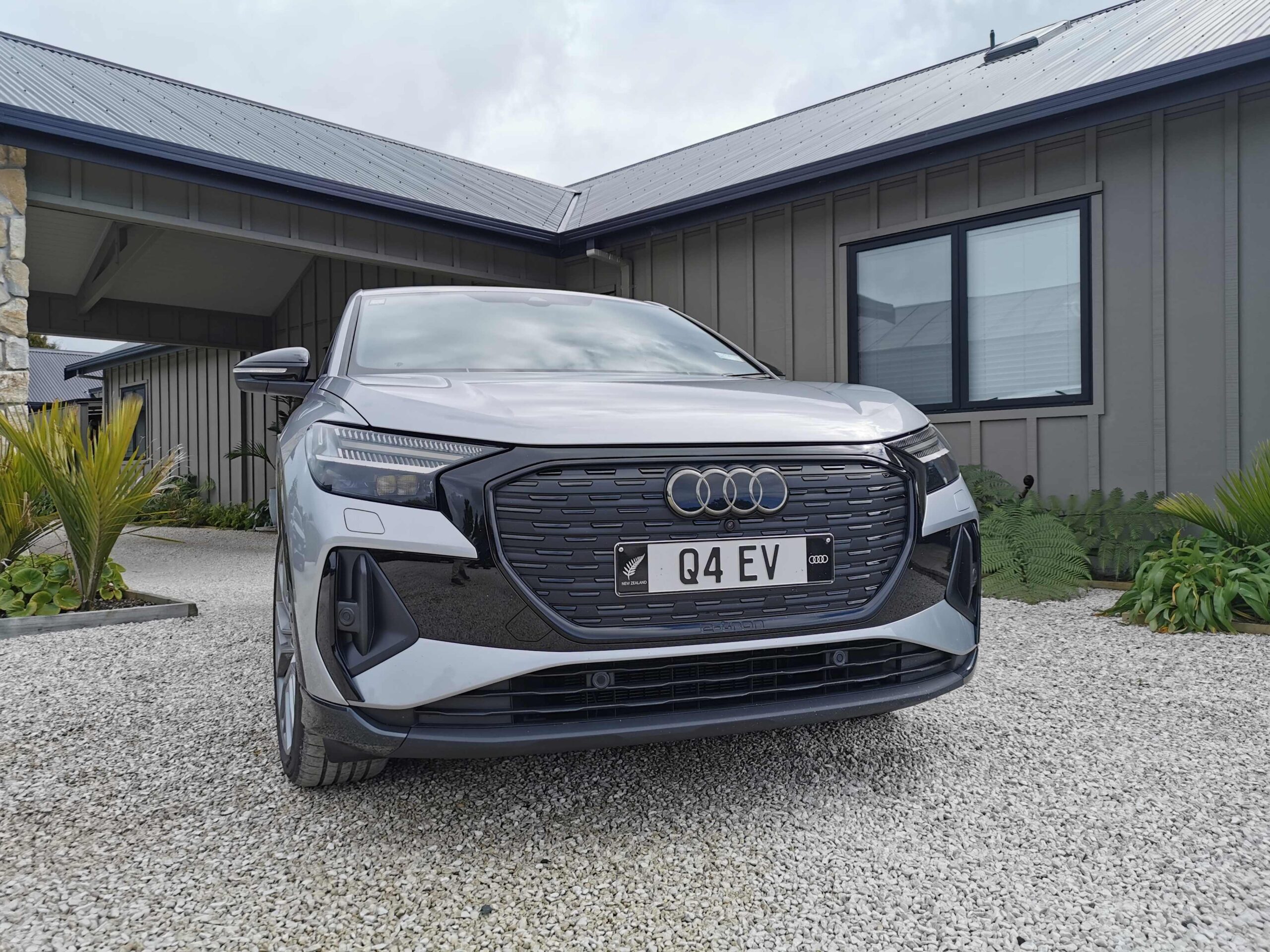 Anyway, Audi launched the 'pioneering e-tron SUV back in 2019, and then two years ago almost to the day we launched the e-tron GT which was and is a real brand shaper. Now, they are adding the Q4 e-tron compact SUV and making EV mobility more accessible. What's more, there's plenty more to come, but I digress.
The Q4 e-tron is quite a cool car in the sense that it combines different vehicle classes in one, so you have the exterior dimensions of a compact SUV, the boot size of a medium SUV (Q5), the interior space of a Q7 and more cup holders than an S8.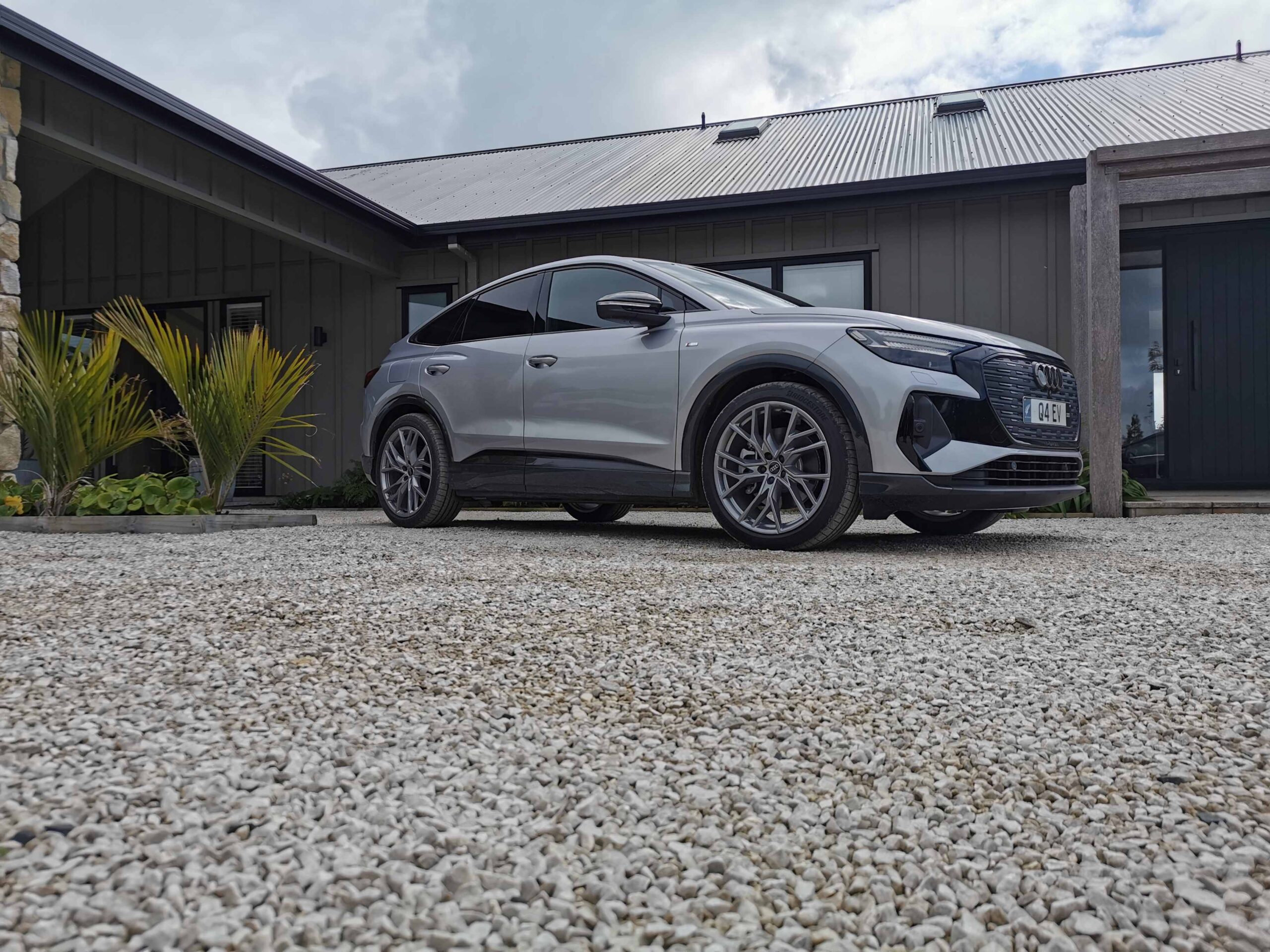 There are two body styles for the Q4, a more traditional SUV and a sportback coupe, the Coupe is slightly more aerodynamic 0.26cd (and therefore a little more range) but both sit on the same EV platform.
In terms of a New Zealand lineup, the range of four models is very simple, both the SUV and Coupe came as either a 40 e-tron advanced or 50 e-tron quattro S-line, with the 40's being single RWD motors (150kW/310Nm) and the 50s being two motors AWD (220kW/460Nm) and all feature an 82 kWh (77kWh net) lithium-ion battery. (Prices start at $99,990 and go up to $130,990).
When it comes to performance, the 50s sprint from 0-100kms in 6.2 seconds (40s in 8.5 seconds), and range spans from 50 SUV's 511km to the 40 Coupe's 542km – however this all depends on how you treat it, weather and road conditions, and those cursed hills (I think you get the point).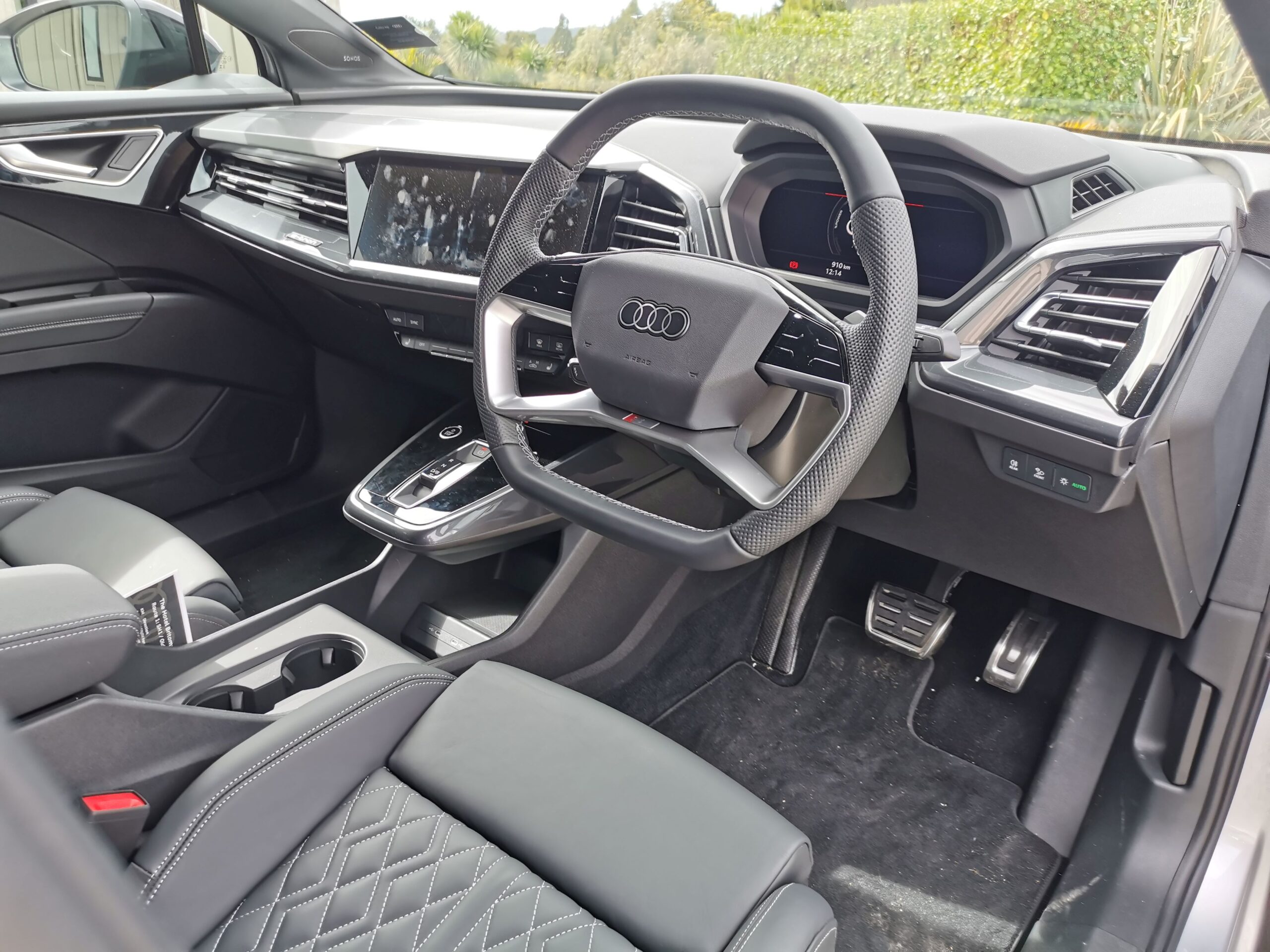 Colour choices are wide reaching with 8 to opt for, the latest two being Geyser Blue and Aurora Violet, and should you go for the S-Line there are numerous silver accents that make it differ from the Advanced.
Matrix headlights, 20-inch feet and 'personalisable' rear tail lights are also some additional gems to make your S-Line feel extra special.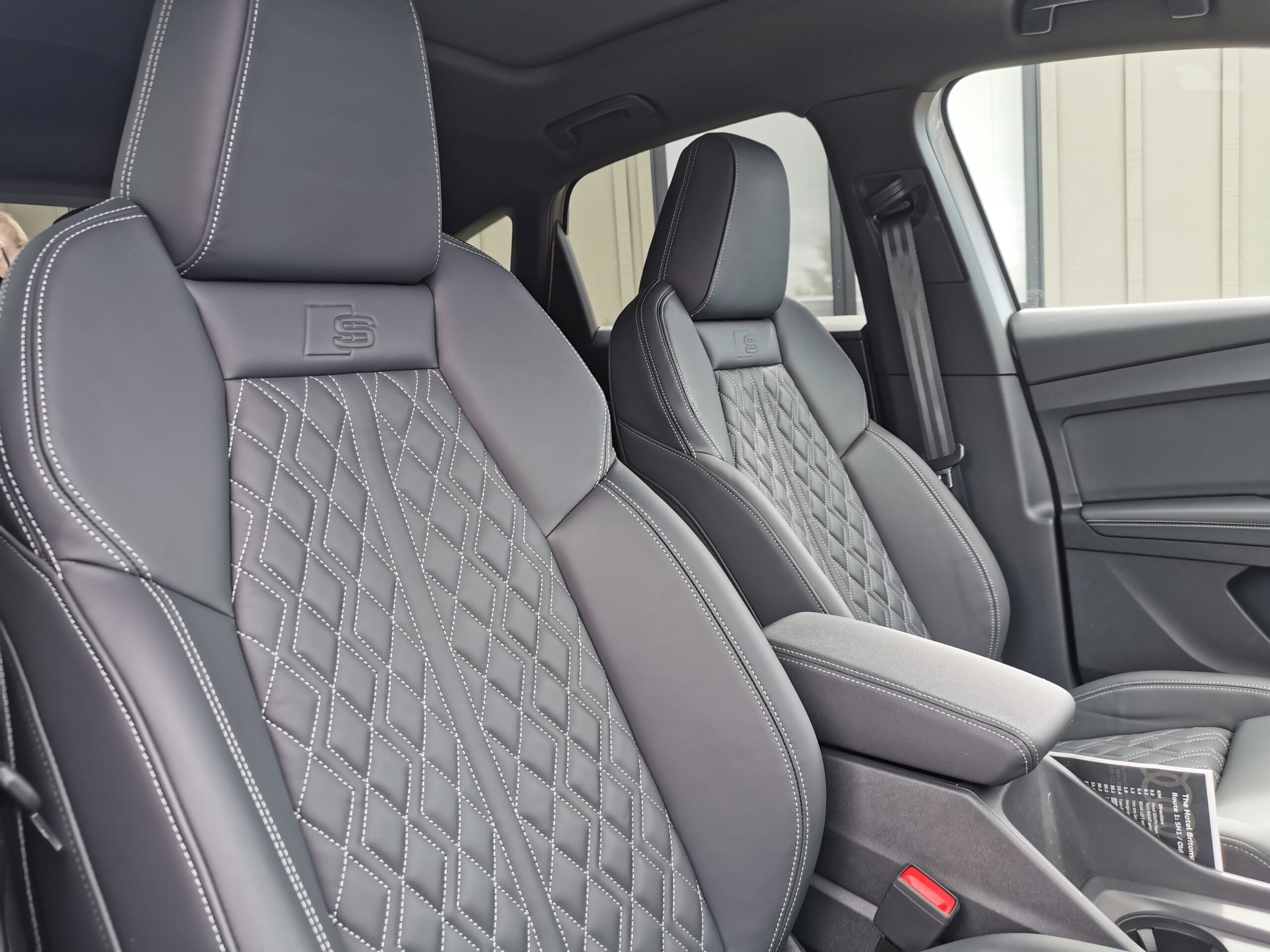 Step inside and the Audi NZ team have worked their magic in terms of specification. The seats are either a Purr550 or Nappa leather, the steering wheel is a squarish shape (that's really easy to get to grips with) and the infotainment/instrument screens are Audi cool and so configurable. On top of this, the head up display on the 50 is soo good, showing how close you are to the vehicle in front, lane keep lines in red and which direction to head in arrows.
With the briefing over (I have skipped forward an hour), it was time to grab the keys and discover our drive route (north to Te Arai Lodge).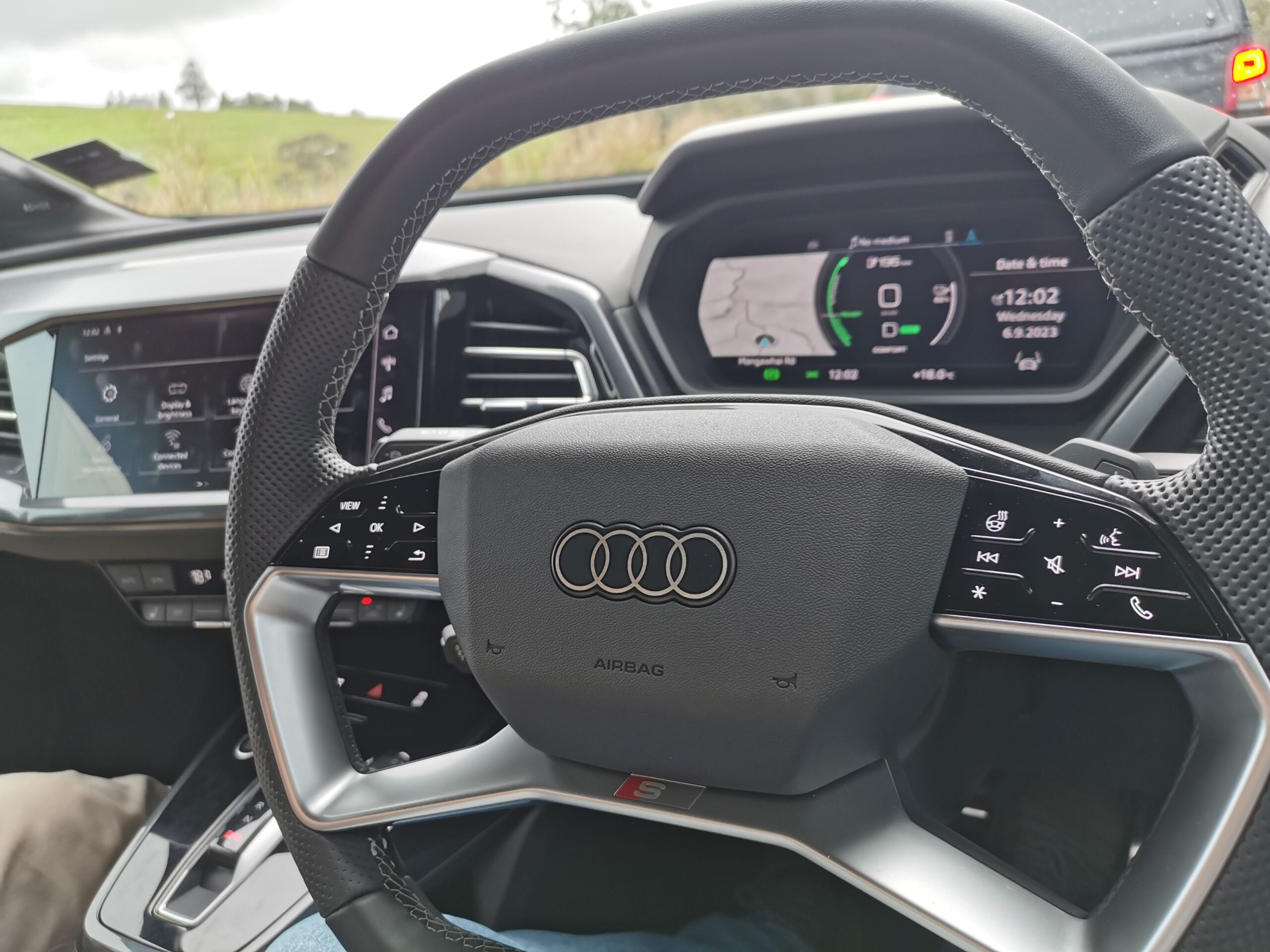 With just one Q4 40 e-tron available (out of 6), my chances of getting it were slim, so I had to make do with the 50 Coupe – ah well.
The compact EV SUV is on the moment you sit on the driver's seat and a quick flick into D and you're off. Having recently driven the other MEB platform EVs (Enyaq and ID.5), you could say I'm no stranger to the chassis, the first two drive differently but there's something even moreso with the Q4 – the extra motor for one thing.
With quattro AWD assurity and all that extra oomph, the Q4 50 gets up to the national speed limit with aplomb. Almost immediately we were heading north over the bridge and feeling very settled indeed. The cabin is both spacious and quiet (although there is some wind noise around the door mirrors) and the familiarity of an upmarket Audi is plain to see/feel.
Much of what you see above the chest is all modern, with capacitive touch slides and voice control, but for some reason Audi has retained the older-style switchgear for indication and adaptive cruise.
The all-electric Q4 feels substantial on the road and the suspension is firm (I believe that the Advanced is softer) but the stoic suspension and quattro ride came into its own when we ventured off the highway and into the twisties around Matakana later.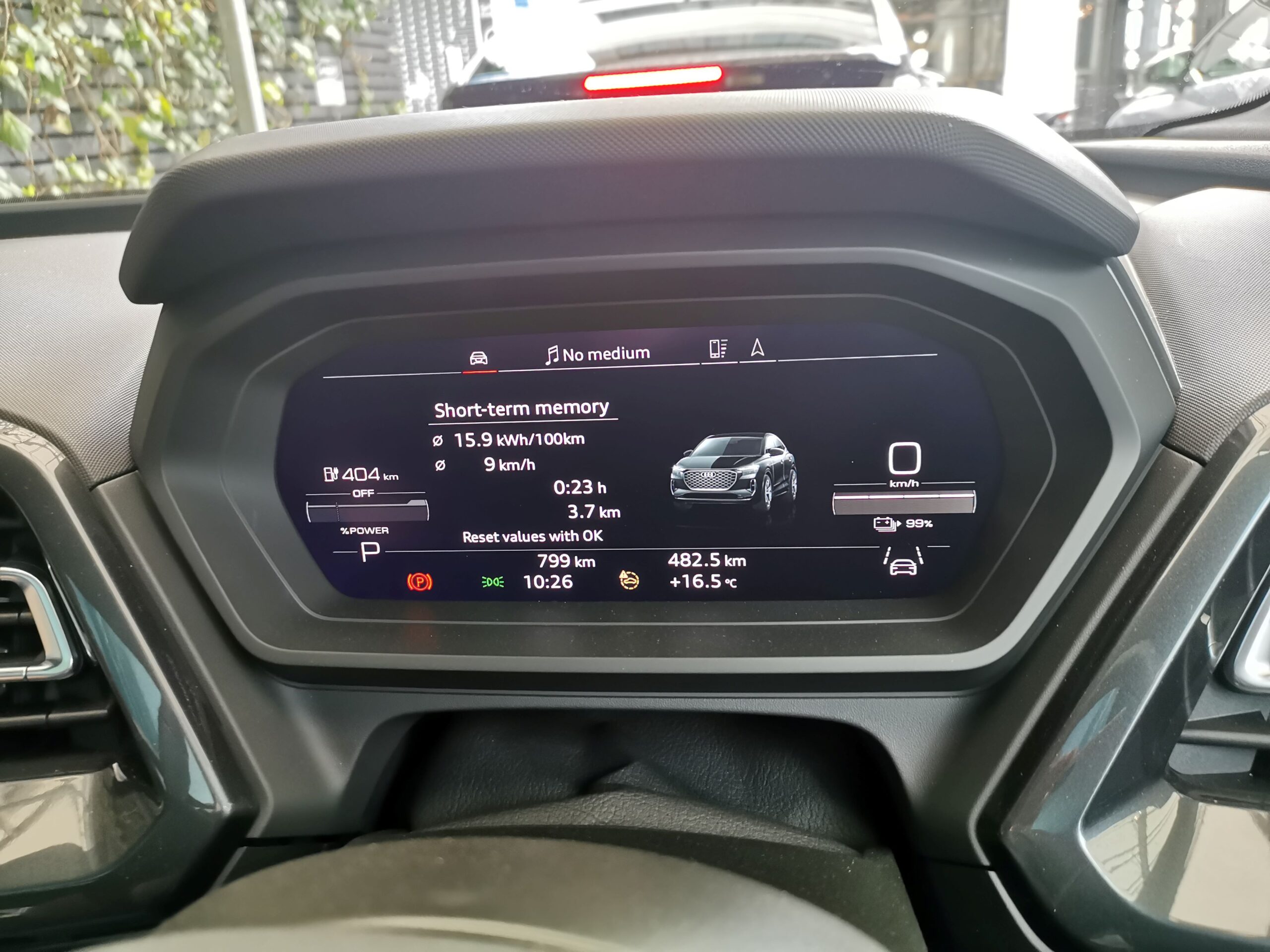 The drive modes move from comfort to dynamic and there are three different brake regen modes that can be selected using the paddles behind the steering wheel – or just pull back on the gear selector from D to B and job's a good 'un.
Information between the SUV and driver runs freely with the dreaded range display showing that I had 99% charge and 482km to play with (using the power ar 15.9kWh/100km) – as if.
Te Arai Lodge is an eco-friendly oasis offering boutique luxury and warm hospitality, only 1 hour 15 minutes (100km) north of the Auckland harbour bridge. Surrounded by over 20 acres of ancient podocarp forest and native bush, Te Arai Lodge sits on an elevated ridge with panoramic views across the rolling hills of the Brynderwyn Ranges out to the stunning beaches and surrounding islands of the Mangawhai coast – it's a stunning place with sustainability as the main ingredient (that and tranquillity).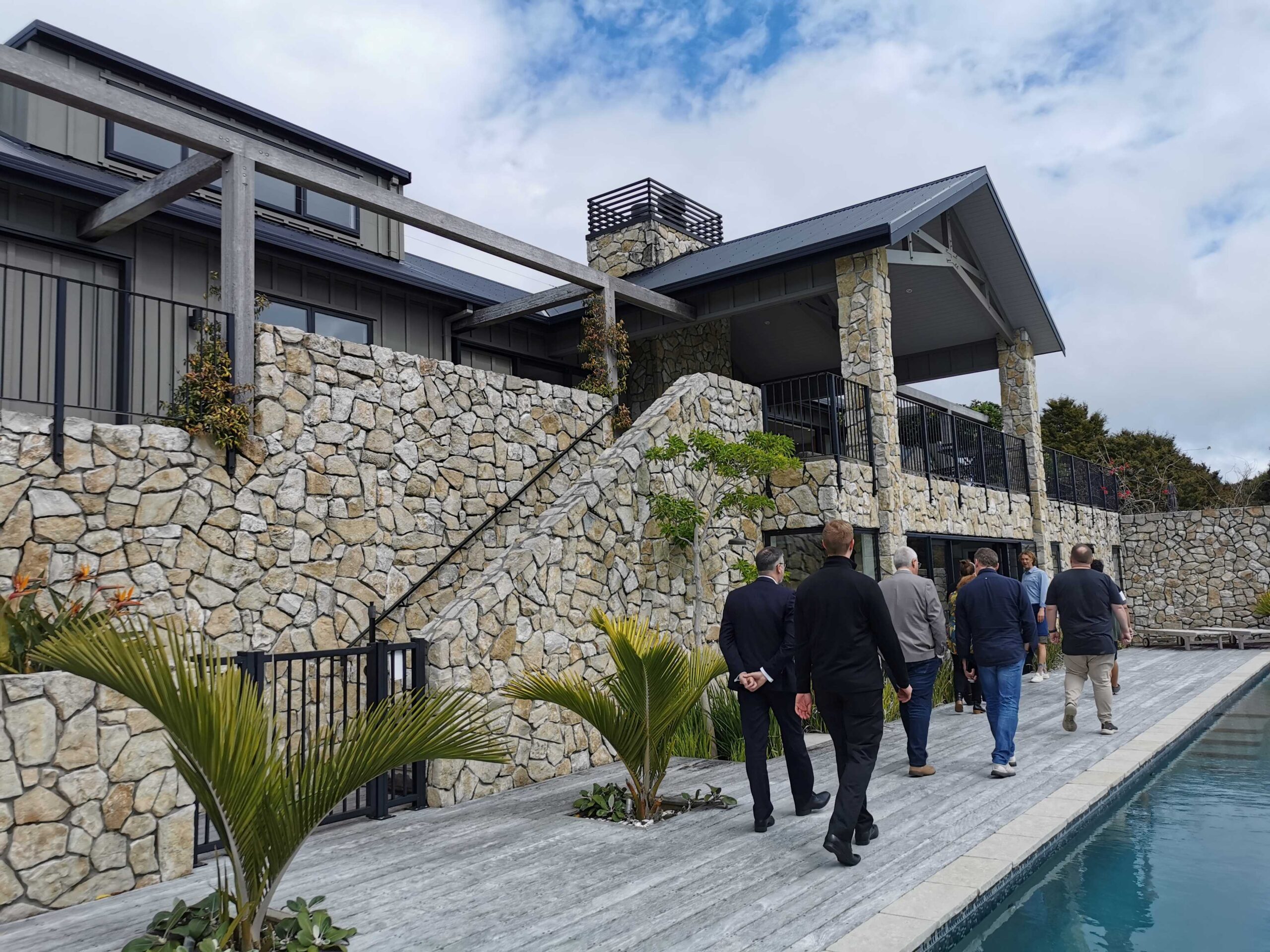 However, should you take the back roads there in a sporty, EV quattro, you arrive full of adrenaline, a little flustered but with a big smile on your face – and leave fully fed and watered and ready for a nanna nap.
The 200k ish drive was enough to get a taste of what it offers but I also feel that we only touched the surface. Whether it's the 40 or 50, SUV or Coupe, the Audi Q4 e-tron offers upmarket EV driving with Audi's unmistakable flair, it's good to you and good to the environment – I guess you'd call that living progress.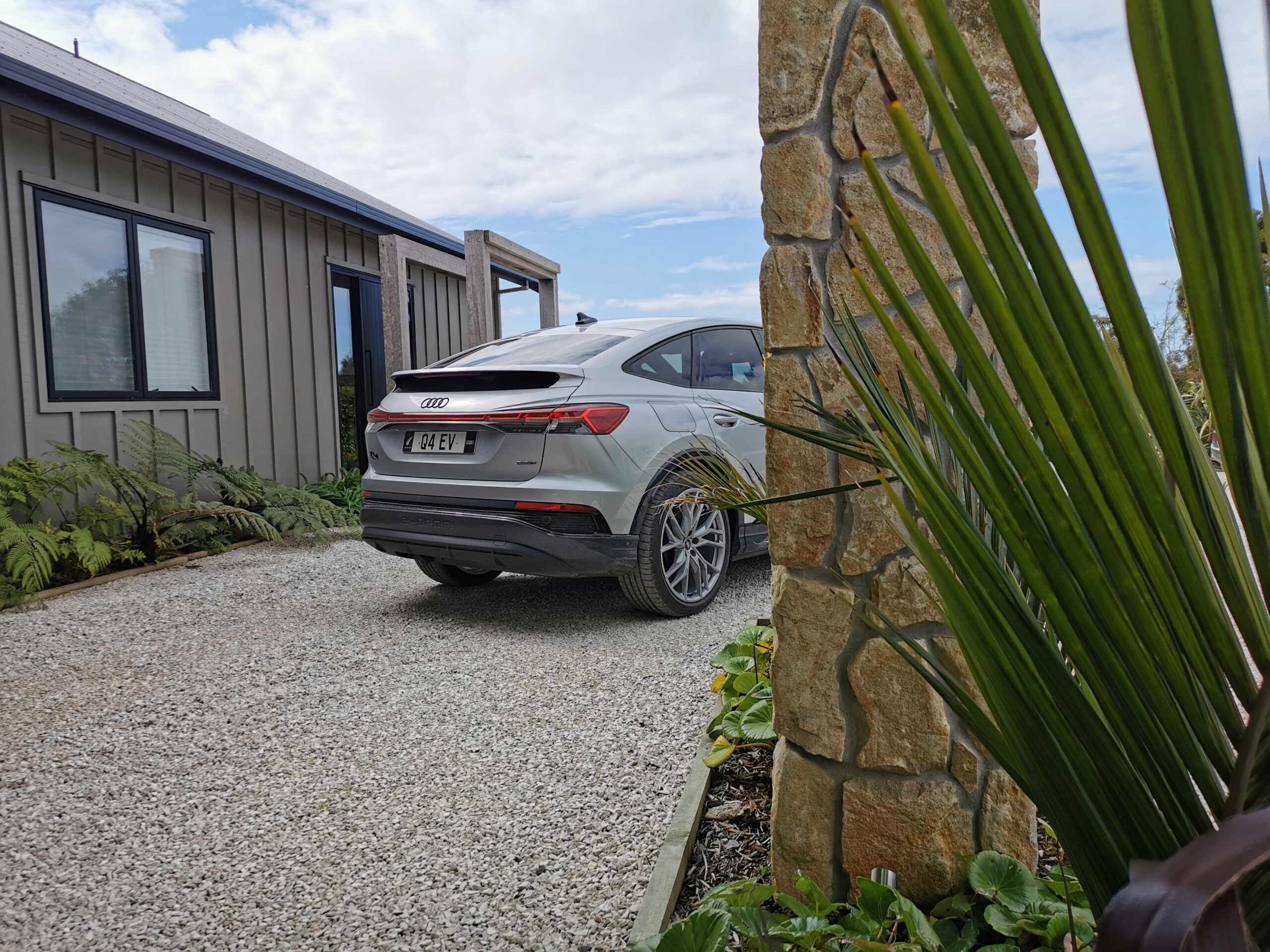 Looking forward to the follow up drive that's for sure.