Volkswagen has a racing history that spans back over half a century. Formula Vee or Formula Volkswagen is a popular low-cost, open wheel, single-seater junior motor racing formula that has seen some very well-known race drivers compete in, even NZ's own Scott Dixon. Why am I telling you this? Well VW has expanded its R (Racing) product family and evidently with just cause.
Aside from the brief inclusion of the Scirocco, prior to this year, the Golf R has had much of the R division's attention, however, with the addition of two new models, it's become the 'middle child', bookended in size by the T-Roc R below and Tiguan R SUV above. And it's the latter that VW New Zealand gave me the keys to play with.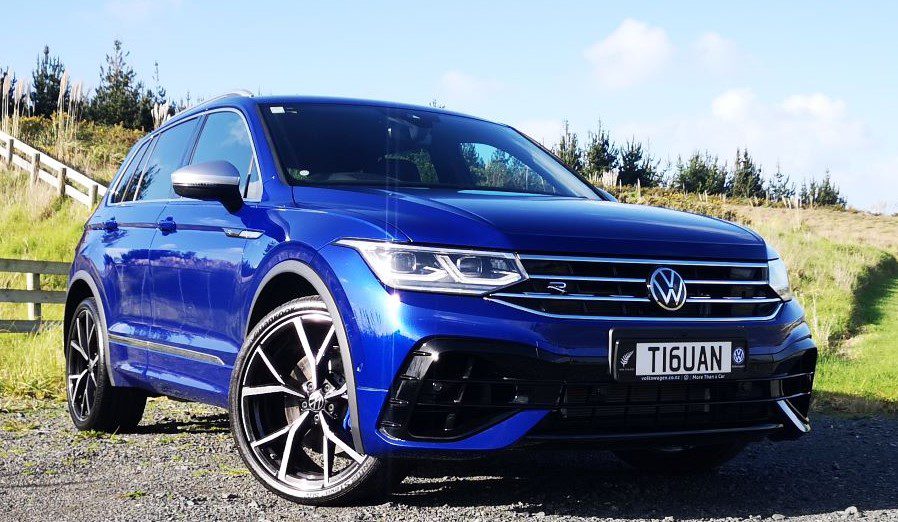 Dressed in Lapiz blue (which I understand to be named after a deep-blue semi-precious stone), the Tiguan R is a bit of a standout, especially with its contrasting black and chrome accents. Admittedly, in terms of design, a lot of its Rness (grille, badges and trim) can be found on the Tiguan R-Line, but there are more than a few differences – and that's before you switch it on.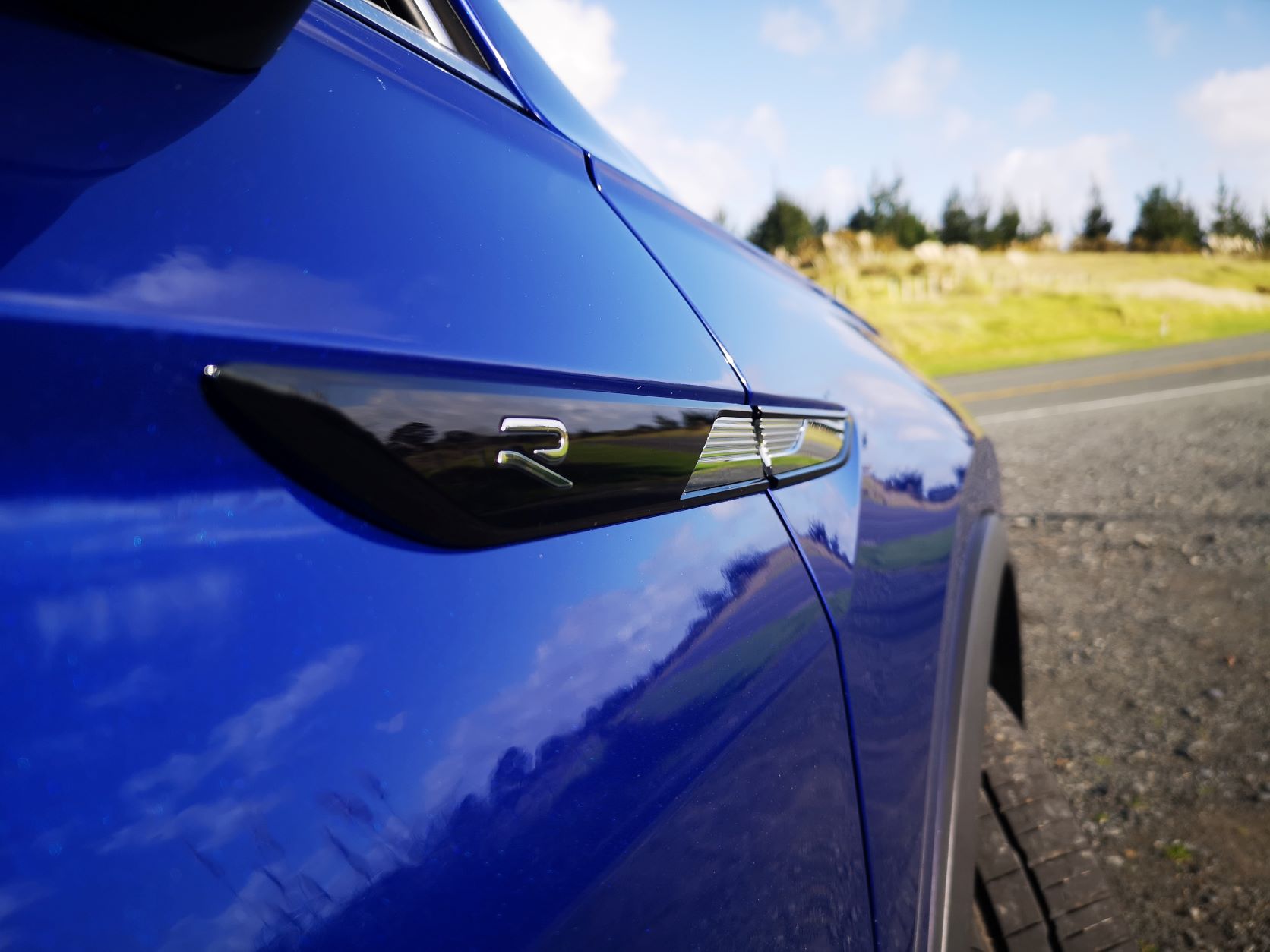 Firstly the headlights are IQ.LIGHT matrix LED headlights that flood the way ahead with light without dazzling oncoming traffic, while at the rear there are premium LED tail lights with directional indicators. The R's large lower front vents aren't just for show either, they gulp down the air and direct it to the three radiators that in turn keep the engine bay cool.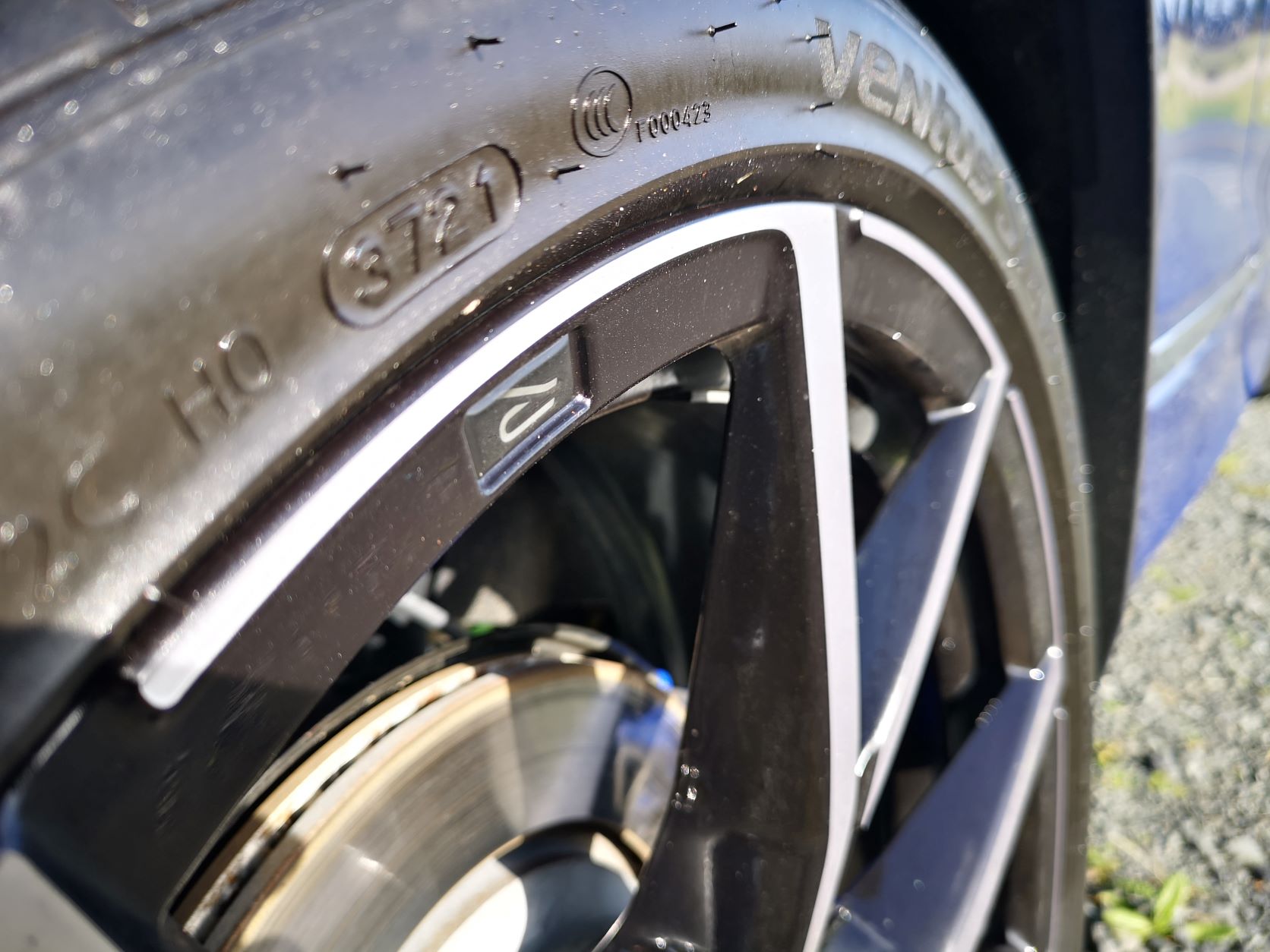 The fat feet are neatly designed 21-inch Estoril alloys clad in 255/35 AirStop tires and behind the front sit VW sports brakes with 18-inch cross drilled discs with R logo'd blue brake callipers.
As with the R-Line, the rear sports the R logo and an electric tailgate, but for the observant amongst you, the quad tailpipes will instantly help you differentiate the R from its decorative model sibling.
The interior is a well-balanced mix of premium finishes with a sporty bias. From its Nappa leather appointed upholstery with blue R logo and blue stitching on the floor matts, gear lever boot and armrest, to the R specific sports steering wheel, that's heated, has touch sensitive controls, blue decorative stitching and of course, an R logo, in blue. The steering wheel also features an enticing blue R button that shortcuts you straight to Race mode, but I'll get to that in a moment.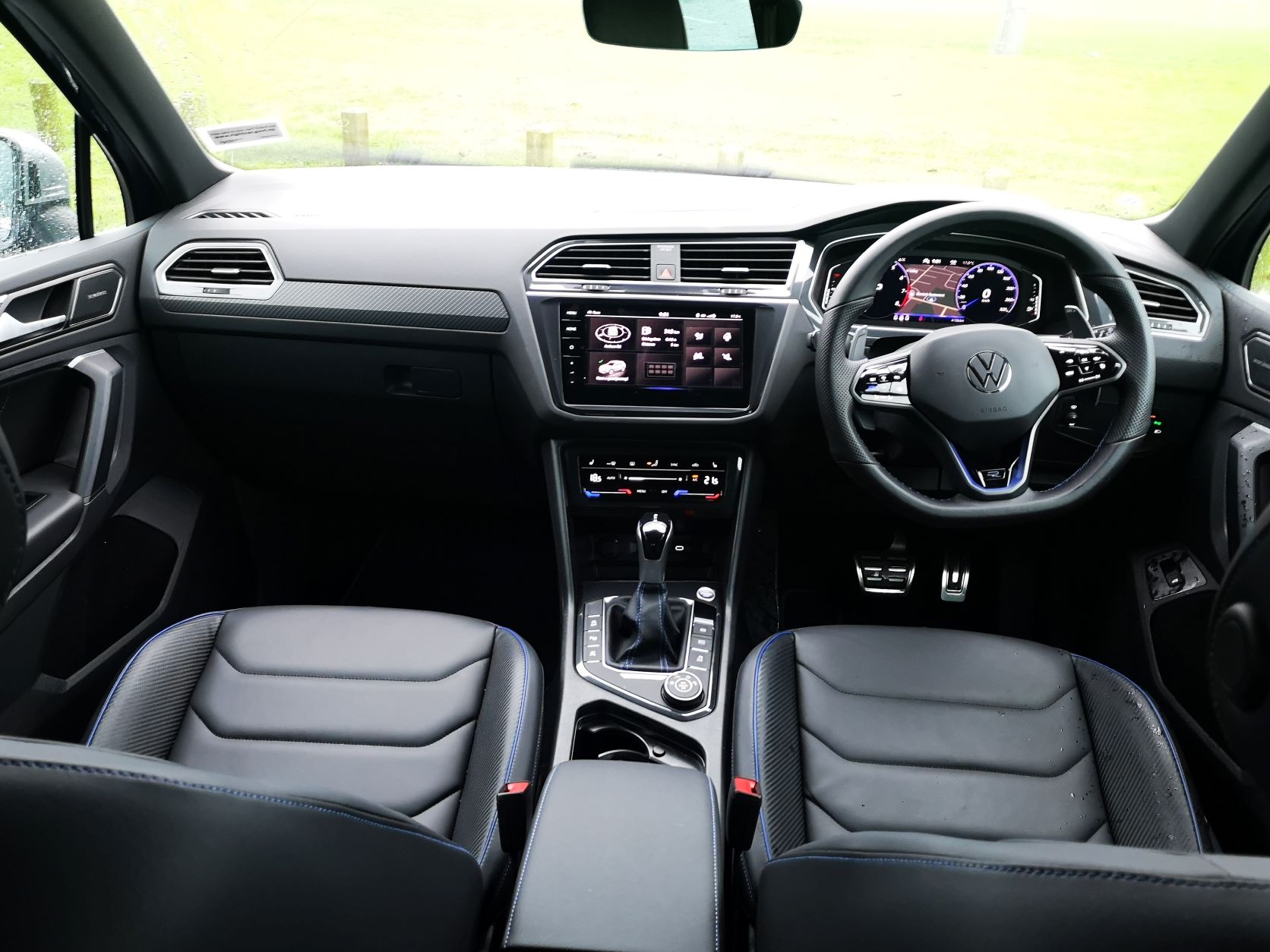 Infotainment and instrumentation come via VW's Digital Cockpit Pro, which includes two 9.2-inch screens and personalisation options that would impress the most fastidious or persnickety amongst you. Apps are aplenty, as are (thanks to IQ.DRIVE) the driver and safety aids, with Travel Assist, Pedestrian Monitoring, Lane Assist with Adaptive Lane Guidance and Adaptive Cruise Control to name but a few. 
Being a reasonable sized SUV, the Tiguan R offers ample space for the family and with its elevated ride height, off-road drive programs and clever 4Motion AWD system, should you decide to venture on to the unsealed stuff, then you'll be more than covered, BUT does it deserve an R badge? I'm glad you asked.
Under the bonnet is a turbocharged 2L TSI, that offers up 235kW of power and 400Nm of torque. If that hasn't grabbed your attention, thenI can confirm that using launch control, (R-Mode, Traction off), this 'school run' racing machine will go from 0-100km/h in 4.8 seconds – can your hatch do that?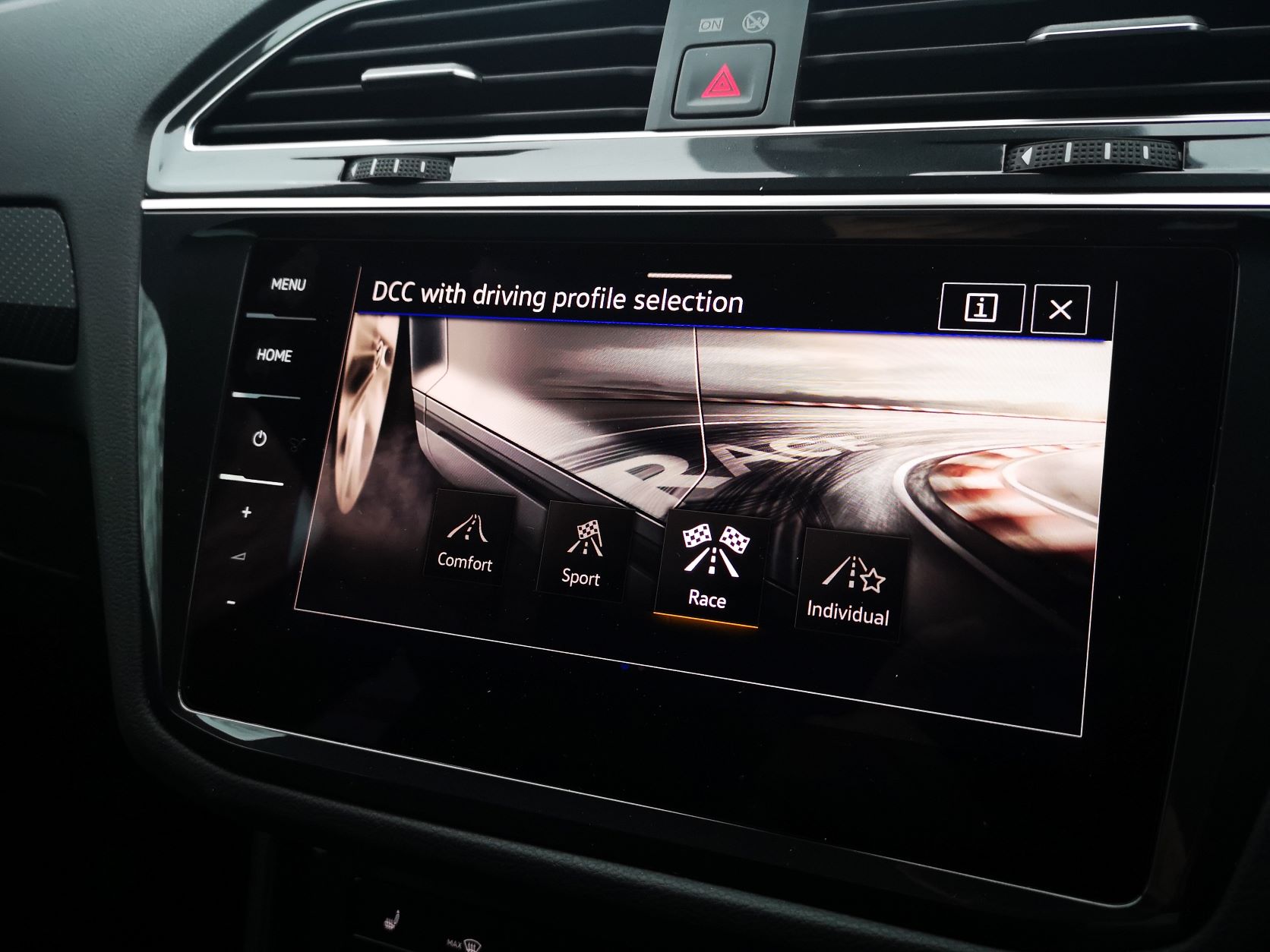 It doesn't stop there, the handling is sublime too. At the local launch we took this performance SUV around Pukekohe racetrack, driving it in controlled (ahem) anger and it lapped it up (pun intended), and although obviously the speedo was a fraction of where it was on the track, it still had me defying the laws of physics around 30-55km/h rural bends (at least that's what it felt like). Either way it was fast enough for me to exceed the side bolsters on the Tiguan R's sports seats.`
When not trying to break the sound barrier, Comfort mode is fine for general day to day driving, it's still a firm ride but not enough to annoy anyone. Turn the dial and you get Sport, things sharpen up from a driving point of view and things get more involved. But for me, Race is where I spent most of my weekend with the Tiguan R. 'Mild mannered' disappears in the rear view mirror and just quietly, so too did my family.
Admittedly the Tiguan R is not exactly frugal with its fuel or emissions and with the VW brand moving towards carbon neutrality and beyond, R will undoubtedly at some point need to embrace some form of EV propulsion, but other German car brands have proven EV and performance is possible. Until then, this new Tiguan R is one serious racecar that can wear its R badge with pride, it's also a VW R model that the whole family can enjoy.