PRESS RELEASE
There's a certain magic when cruising at 40,000ft on your way to somewhere new. Five years ago, we set ourselves the challenge to make that magic even greater. Since then, we've spent 170,000 hours researching, designing and talking to our customers to make our new cabin world-class.
Today we're extremely proud to unveil the Cabin of Possibility. Our new Dreamliners, due to arrive in 2024, will give customers more choice than any other airline, providing the best sleep in the sky. Our new Business Premier Luxe™ suite is designed for more space and privacy, and Skynest™ in Economy will offer the world's first sleep pods in the sky.  
We haven't shied away from sustainability either. Using fabric, rather than leather, has allowed us to save around 1kg in weight per Business Premier and Premium Economy seat. This, coupled with our 20% lighter serviceware and the removal of 28 million plastic dishes, is helping to reduce our overall carbon emissions and plastic waste.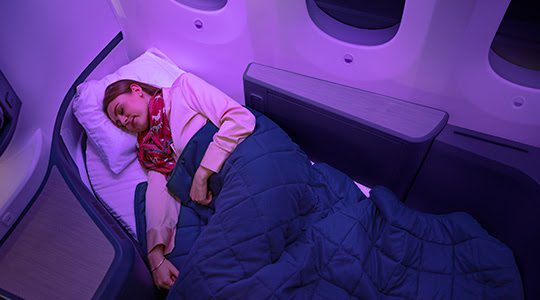 Customers told us how important sleep was when flying. They wanted a cabin that gives the option for sleep wherever they're seated and leaves them ready to hit the ground running when they arrive at their destination.
In Business Premier Luxe and Business Premier™ specifically, customers wanted a space that allows them to work, sleep and dine, complemented by the latest technology and digital innovations.  We've delivered on that.
But the most innovation is actually in our Economy cabin.Skynest* will be a game changer for the economy travel experience. Customers will be able to stretch out in one of six sleep pods for part of their journey and catch some shut eye.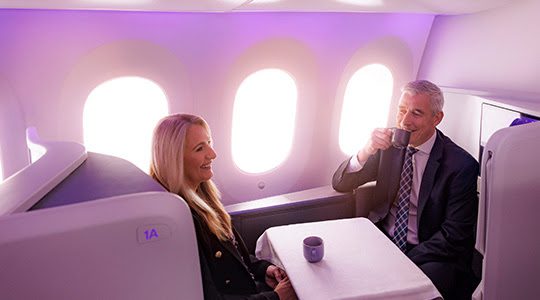 We've also created Economy Stretch™ for those wanting a little more room, and of course we have our improved Premium Economy seat and award-winning Skycouch™. 
The uniqueness of Aotearoa is woven throughout this whole redesign. Whether we're welcoming people to New Zealand or welcoming Kiwis home, we want everyone to experience Aotearoa the moment they step onboard. Our new cabin, plus our world-renowned Kiwi hospitality, is the winning formula.  
So, Air New Zealand travellers, settle in for the flight and we'll wake you when we land.