Upon approach, there was a hazy, mystical fog that covered Dubai as I looked out of the window from my Business class seat and the moment the wheels gently touched the ground the captain informed us that he'd used the plane's auto-pilot to 'bring us home'. As it turned out, this mix of luxury and high-tech was a great indication of what I was there to see.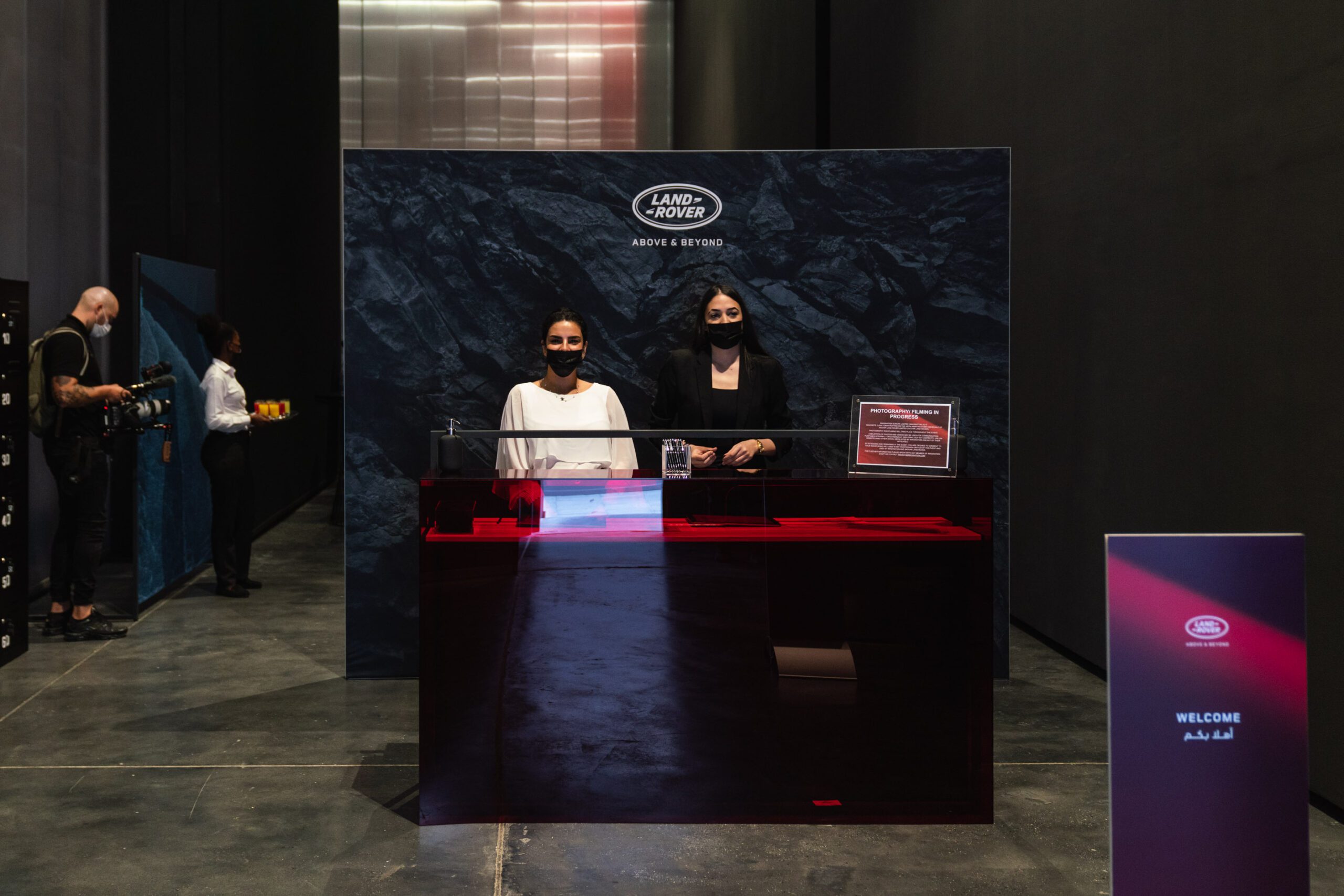 I was in Dubai for an exclusive preview of the 3rd Generation Range Rover Sport, and here's what I 'discovered'.
For over five decades the Range Rover has set the standard when it comes to SUV luxury and capability and near the end of last year the 5th generation was unveiled to the world having spent five years in the hands of their designers and engineers.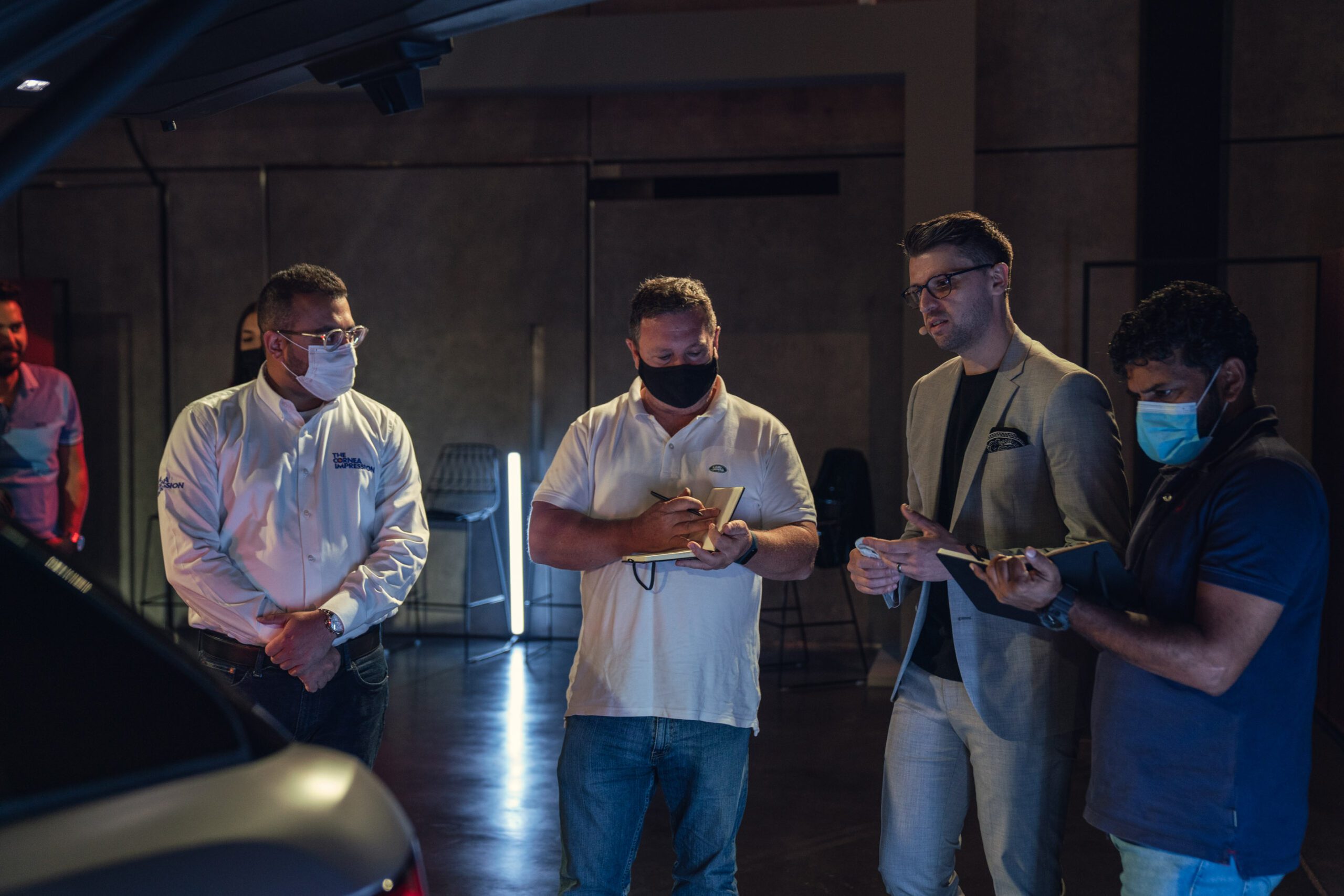 Meanwhile somewhere across the hall in Solihull England, the 3rd Generation Range Rover Sport was also being simultaneously designed and according to them what they've produced is 'the most dynamic and capable Range Rover Sport ever'.
The Range Rover Sport was initially introduced in 2005, it was the first of a brand new vehicle segment and immediately set the benchmark in terms of design and refinement with a sporty edge – Modern and dramatically proportioned design combined with power and performance to achieve ultimate desirability. And it's this successful blueprint that has been accentuated in this 3rd generation.
Behind it all sits four key principles, the Range Rover's stance must be poised and offer a feeling of power. It must be well planted, have short front and rear overhangs and of course be incredibly desirable.
When it comes to design the new Range Rover Sport is clean, modern and confident showcasing a gently accelerated roofline, an uninterrupted shoulderline and an upward shooting beltline that have been drawn to all converge way off in the distance.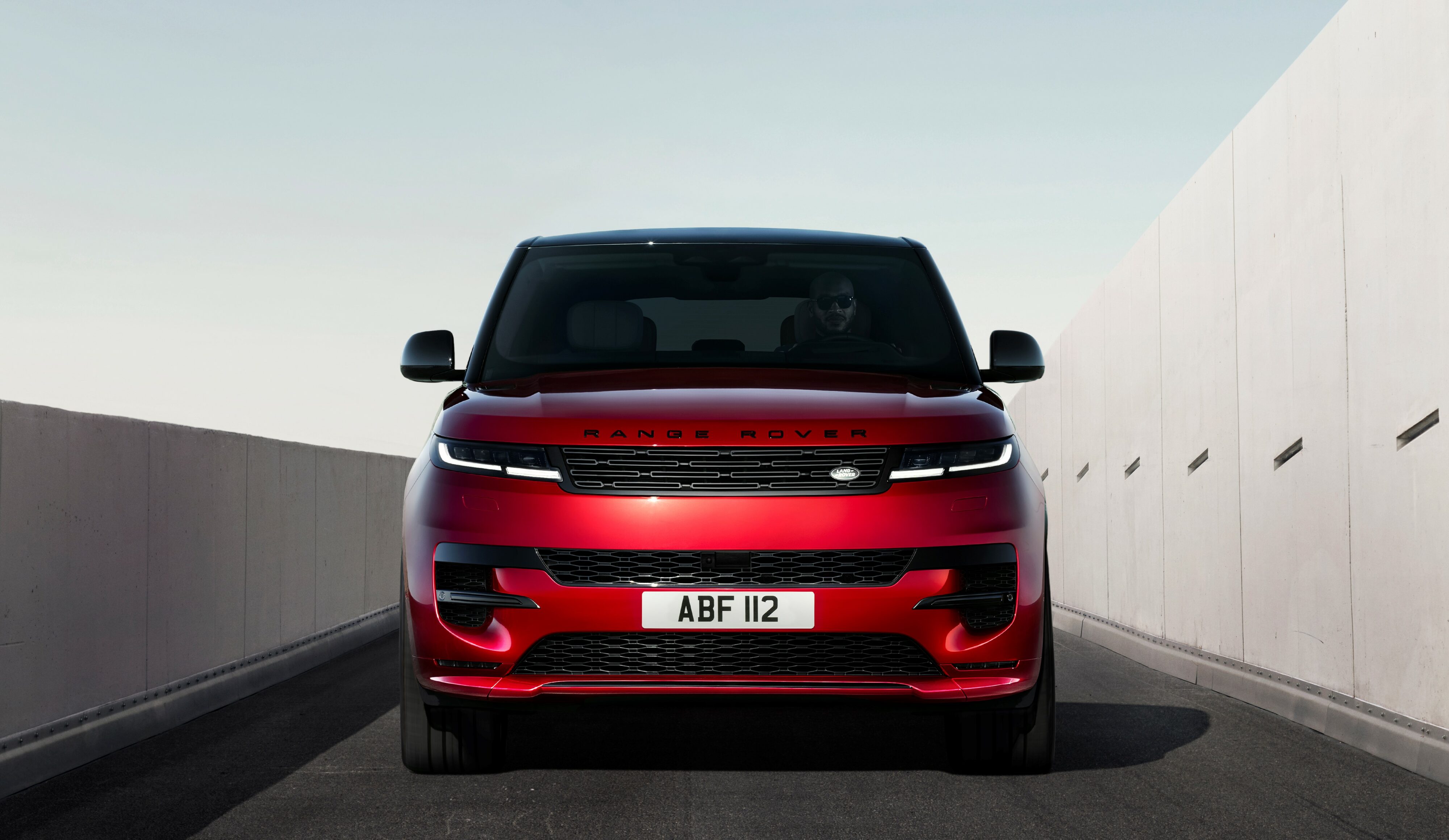 The front offers maximum width with extended surfaces such as the lower valance and air vents, Range Rover are calling this a 'body to wheel' principle. The lights are narrower and come with 1.3million micromirrors that shadow/block-out up to sixteen different objects and offer up to 500m of clear visibility. There's a new corporate grille too that sits neatly under the Range Rover Sport's clamshell bonnet.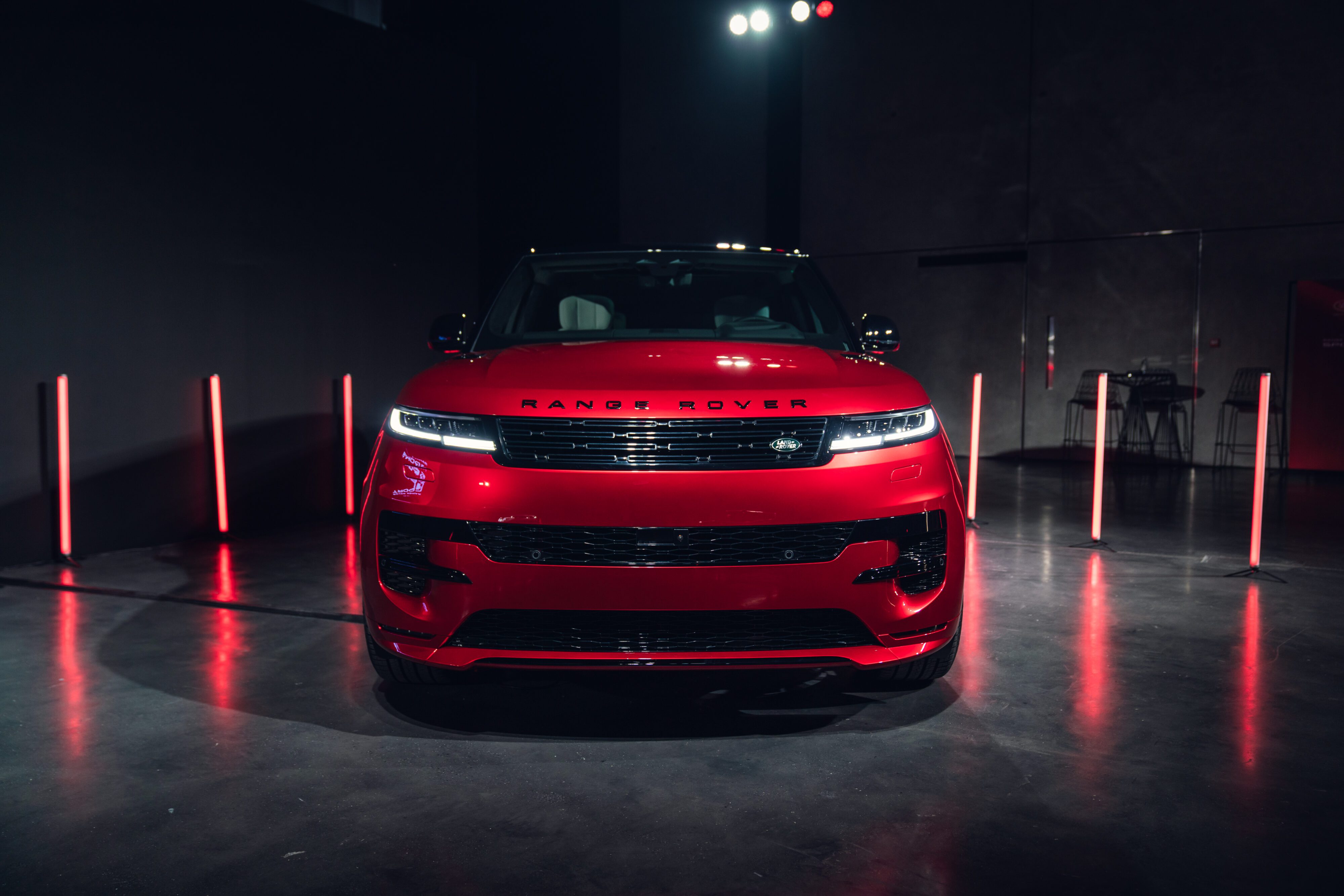 The Sport's profile is more dynamic, yet flush and reductive. With a contrast roof featuring a spoiler that elongates the look of the SUV. It has strong supportive pillars with a hidden 'D' post, smaller mirrors, flush door handles and soft closing doors. The waist line is hidden but there's a V groove feature line that the designers are very proud of. On top of that, in what Range Rover are calling 'body to glass' or 'glass to gloss', all window rubber has been reduced and the gap between window and door is just 6mm creating an optimal body to glass relationship.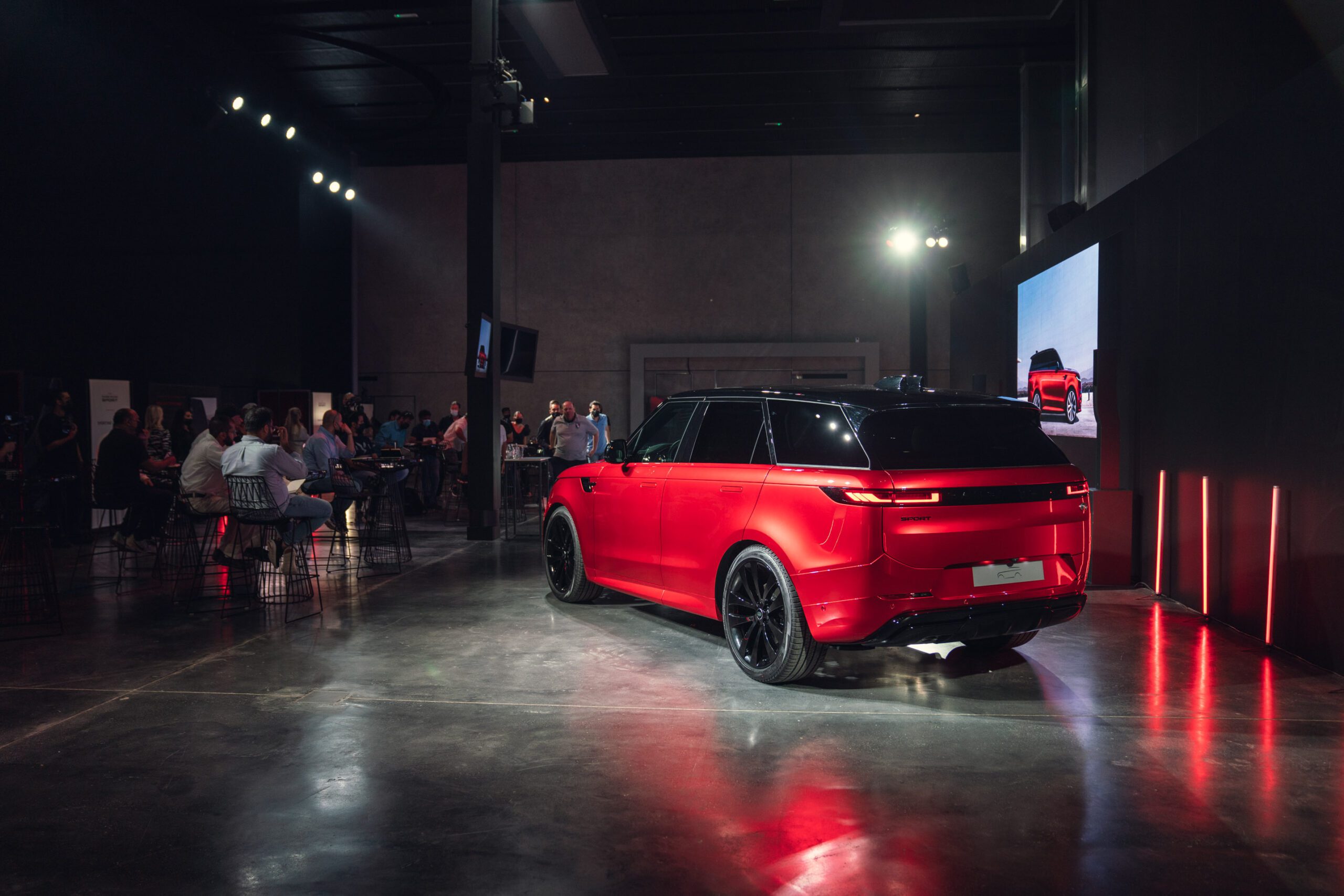 The rear is visually wider and as with the front the lower bumper ventures out to the side to increase the Sport's 'wheel to body' relationship. The tail lamps are horizontal in appearance with new technology, surface LED (like OLED TV) that shine in a super bright/super red colour. And topping off the design, there's a quad exhaust on the V8 model (none on the D6).
The Range Rover Sport's reductive design is focused on aerodynamics, with the SUV boasting a drag coefficient cd of 0.29, and this reductive design philosophy carries on inside with a modernistic and sophisticated cabin that's simply loaded with technology.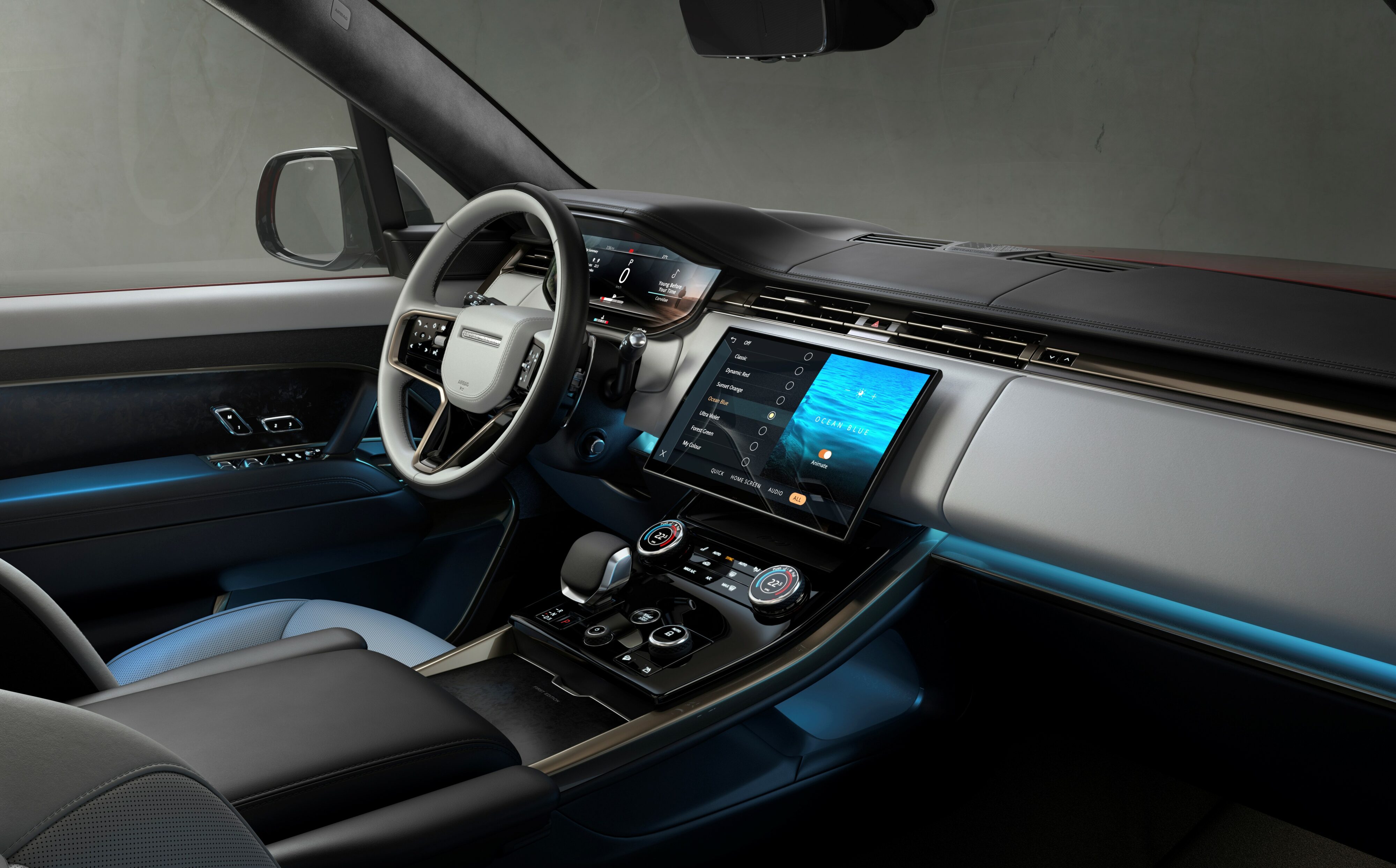 The leather seats offer up a commanding driving position with a strong rising interior shoulder for elevated momentum for an emotionally-charged driver engagement. The dash and console areas are uncluttered, underlining Range Rover's subtle and restrained approach.
They say that it's ultra quiet when on the move too, with mics in each wheel arch to counter road noise, noise reduction speakers in the headrests and the engine sound is modulated. Plus for those with allergies, the cabin's air purification is handled by Nanoe X.
There's a 13.1-inch floating infotainment haptic screen with the latest Pivi Pro system and Alexa connectivity. Within 'two clicks' you can get to the feature or app you're looking for. Meridian provides the sounds with a 1430 watts stereo played through twenty nine speakers. Mirror view offers an uninterrupted view of the rear and the 13.7 inch driver's display gives the driver all the personalised information they would ever want or need.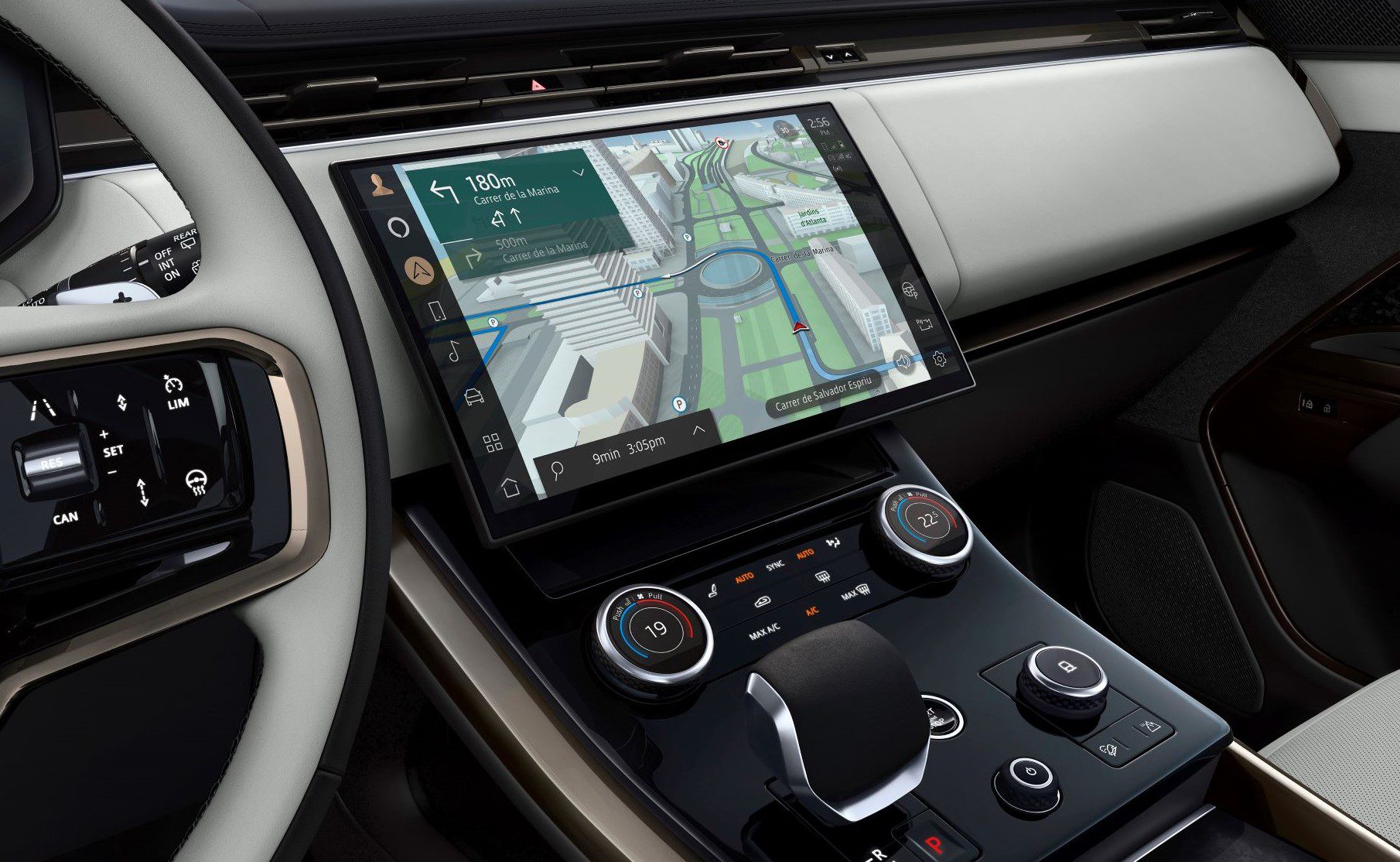 USB and C points are a given, as is wireless charging and an embedded SIM, and the new Range Rover Sport will even remote park.
On the road, this new Range Rover is sporting luxury with attitude. The Chassis is 35% stiffer and now at sportscar levels. It has dynamic air suspension, dual volume springs and twin valve dampers to reduce pitch and roll.
The active rear differential and intelligent AWD will direct all the SUV's torque to where it's required, there's Torque vectoring by braking and all wheel steering too. While the ICC Integrated Chassis control works at 500/second and sets up the ride based on terrain up to 3km ahead. And for those tight inner city streets, the new Sport has a 10.95 m turning circle thanks to all wheel steering.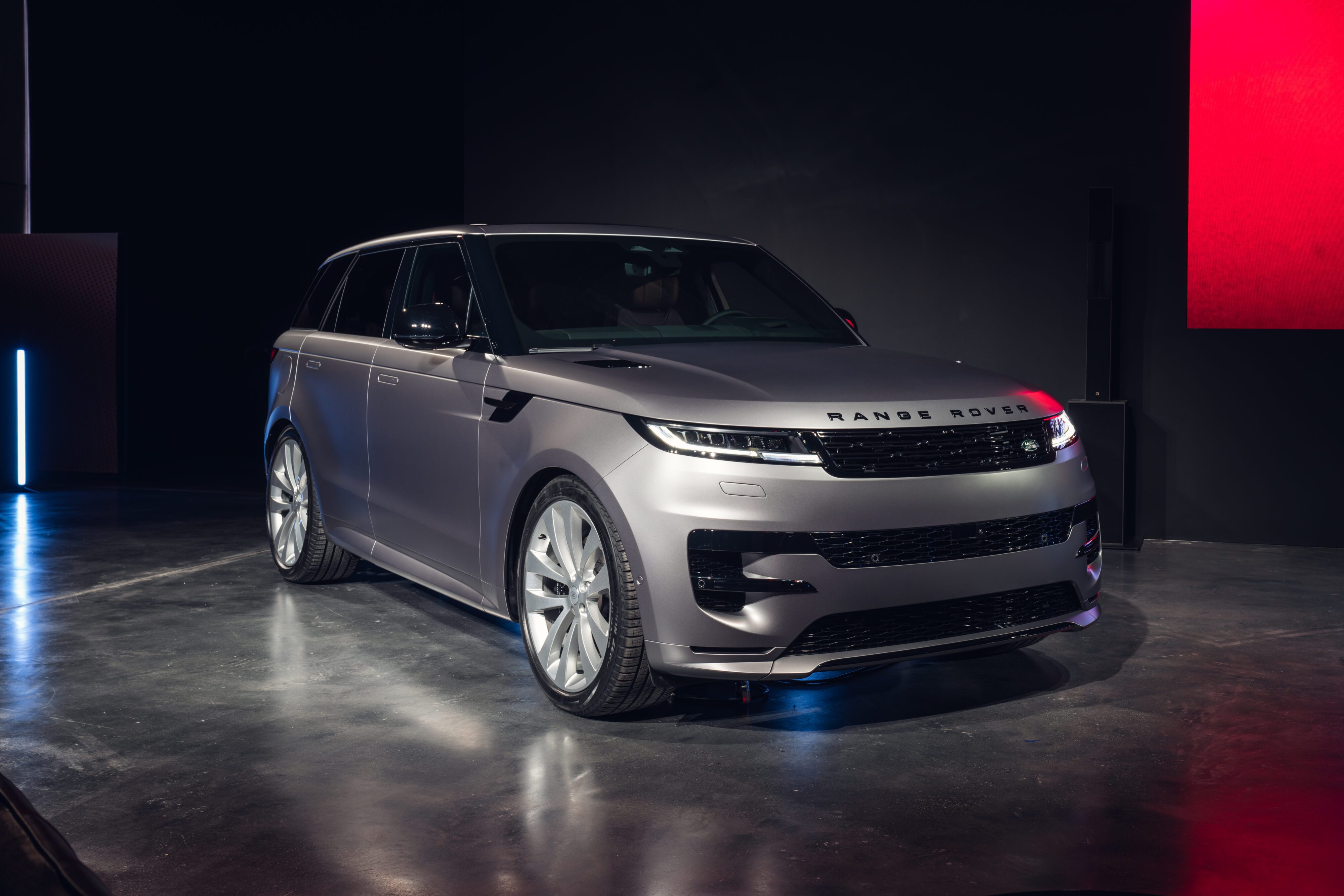 The very best of the New Range Rover Sport's chassis systems combine in the Stormer Handling Pack, which includes Dynamic Response Pro, All-Wheel Steering, the Electronic Active Differential with Torque Vectoring by Braking and Configurable Programs. The latter provides the opportunity to personalise the driving modes, tailoring the driving experience both on and off road. All elements of this pack are standard on P510e Electric Hybrid and P530 powertrains.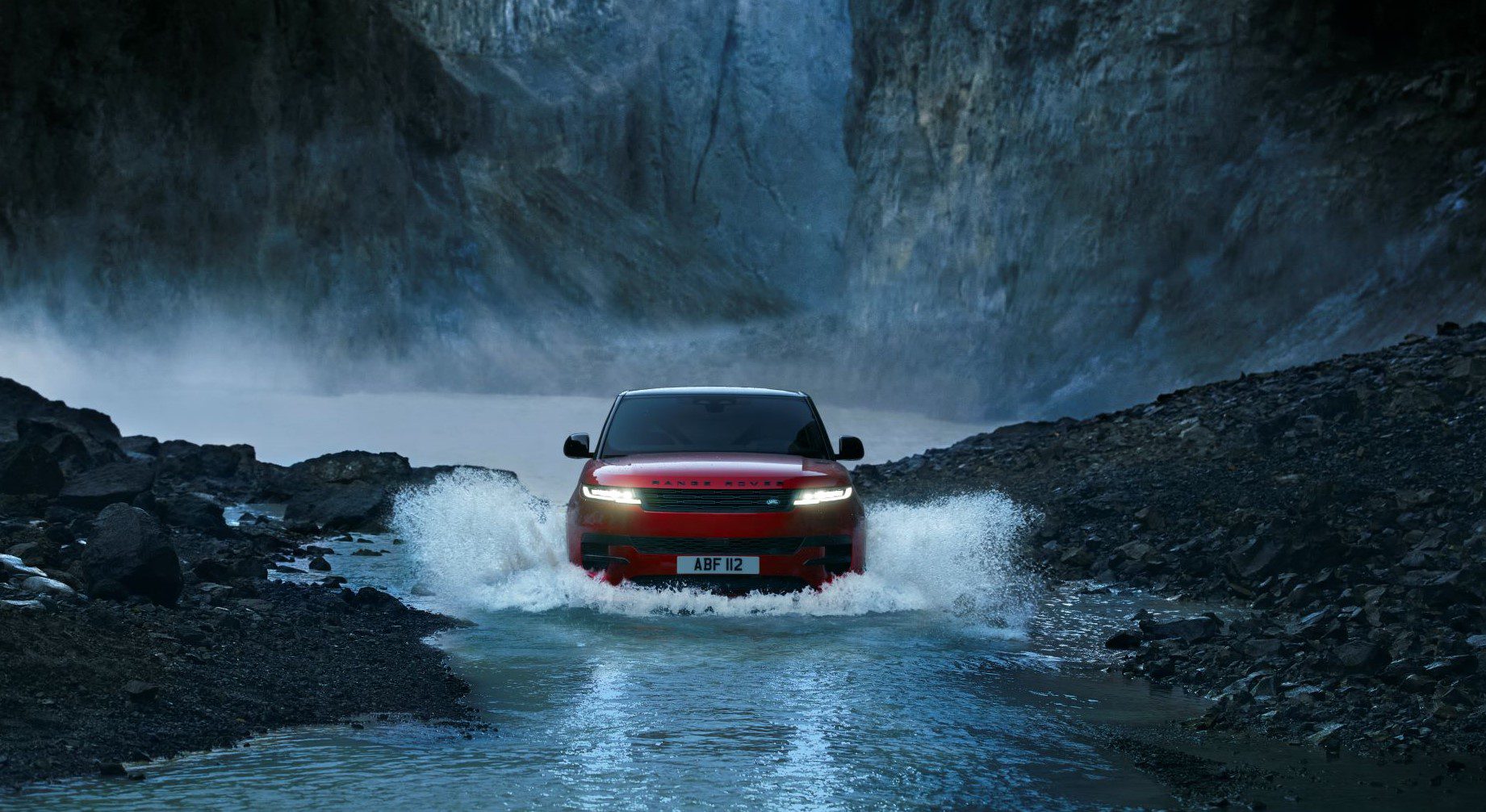 It may well be assertive on the road but it's also got a commanding all-terrain capability. Range Rover's claim that this is 'the most dynamic and capable Range Rover Sport ever', is backed up by the fact that it was dramatically tested on the 17km of punishing and impossible terrain at Iceland's Spillway with Stuntwoman Jess Hawkins behind the wheel.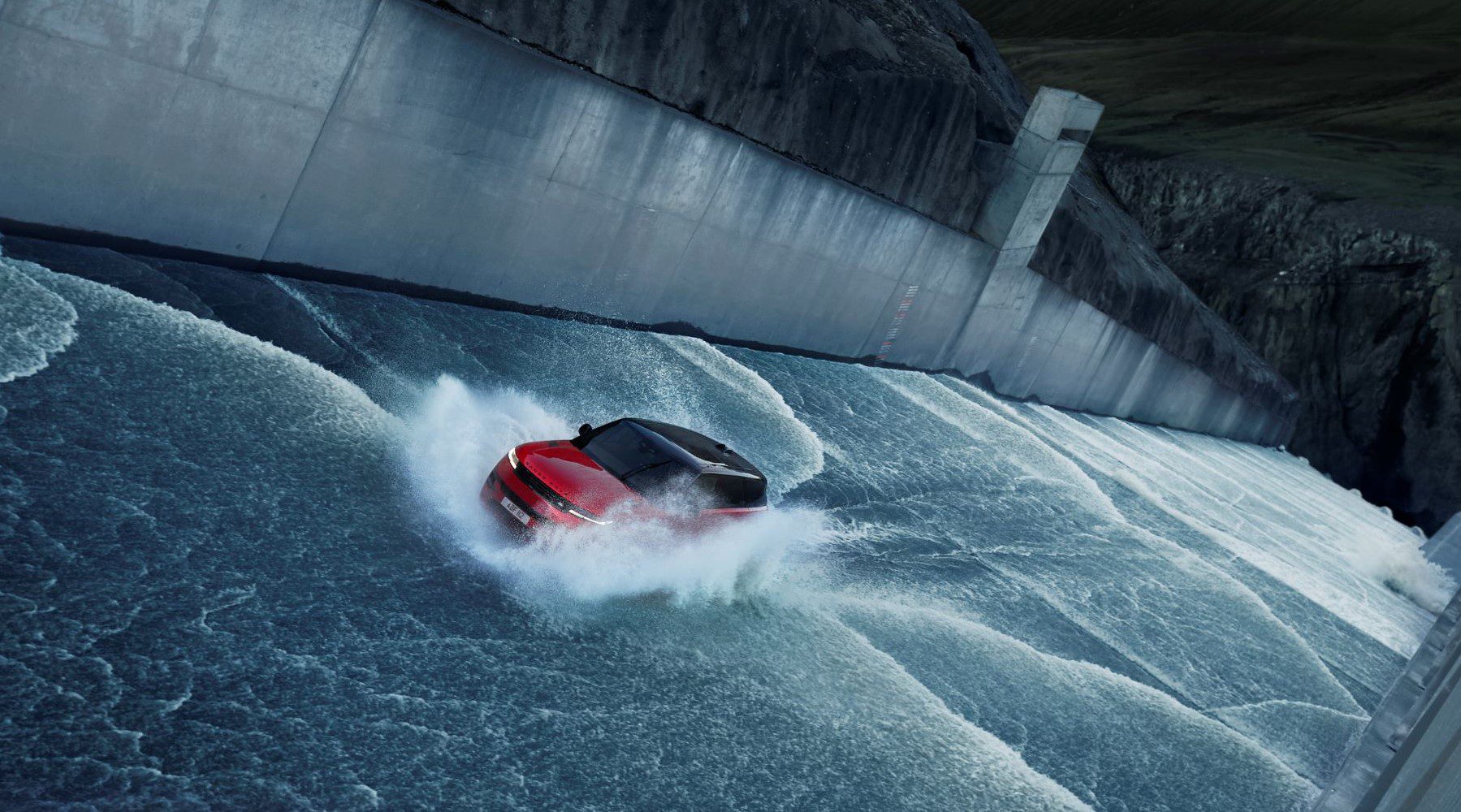 The new Sport has Terrain response 2, a new dynamic mode in terrain control and six preset off road modes, with a 45-degrees max gradient. It has a wading depth of 900mm and a Tow rating of 3500kg.
Powertrains
All New Range Rover Sport models are fitted with an eight-speed ZF automatic transmission and Intelligent All-Wheel Drive, which intuitively anticipates where traction is required, efficiently engaging to provide the most effective progress in all conditions, while optimising efficiency.
There will be two PHEVs at launch (P510e & P440e). The P510e produces 510PS/700 Nm, 0-100km/h in 5.4 second and 740km range (80km EV only) with CO2 emissions of 18g/km. Plus a 48v MHEV or V8 4.4L twin turbo (530PS and 0-100km/h in 4.5 seconds). Full local details to follow.
Steve Kenchington, Chief Executive Officer, Jaguar Land Rover New Zealand, said: "The new Range Rover Sport is dramatically dynamic and luxurious – with new-age modifications, this vehicle sits at the pinnacle of pioneering innovation and desirability. The dynamic driving capabilities are complemented by the vehicle's serene cabin, made of contemporary, minimalist materials. The new model is an evolution rather than a revolution and continues to shift Land Rover from a premium heritage brand to the creator of the most desirable vehicles, for the most discerning of customers."
"The Range Rover Sport complements the versatile lifestyle of the discerning kiwi customer – including options for the performance-focused and EV-curious customers with SVR and PHEV models launching in 2023."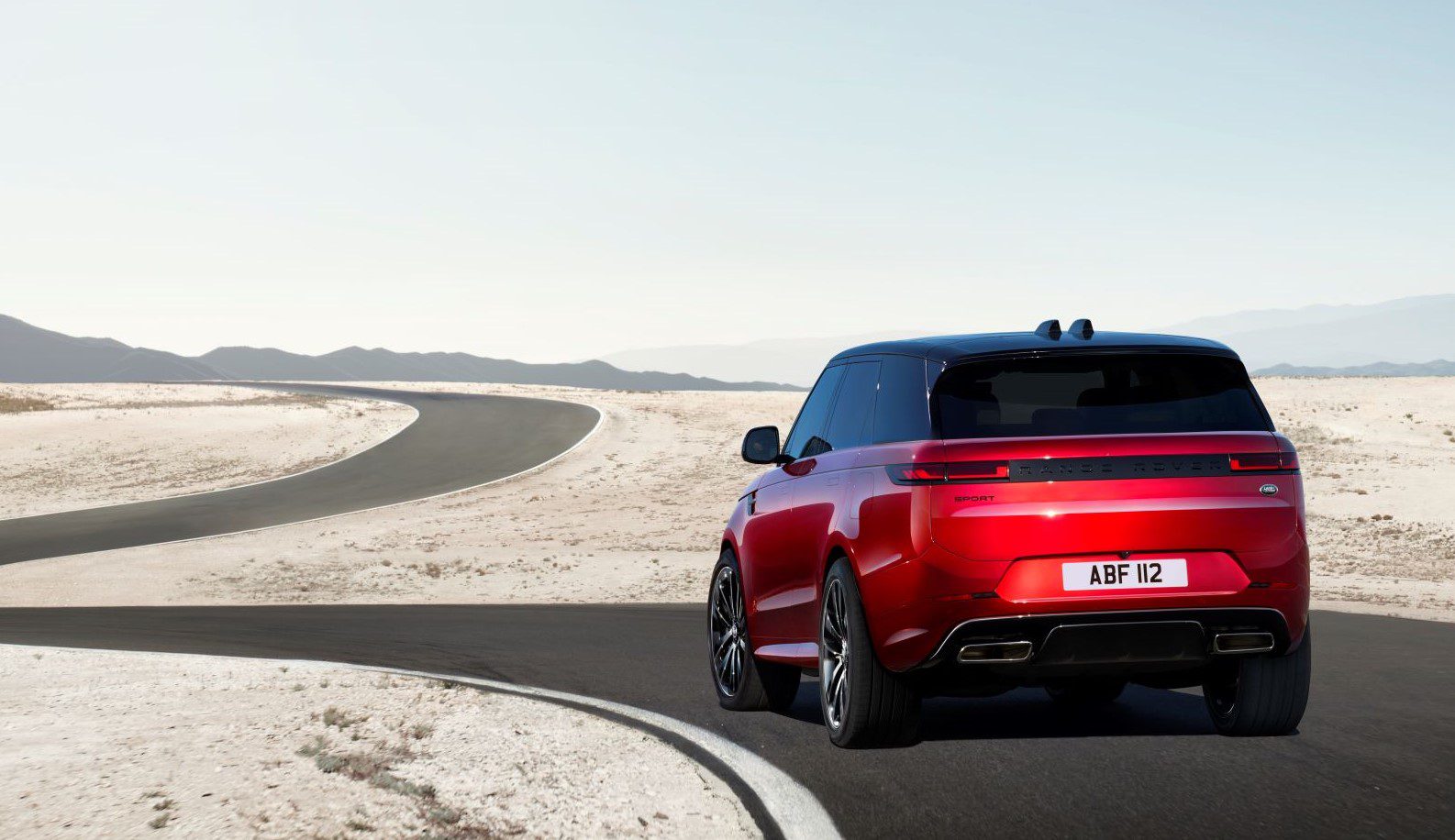 This new 3rd Generation Range Rover Sport may have been 5 years in the making, but from what we saw it's been well worth the wait. Now where are the keys?