To me, Mercedes is all about choice, a big range of vehicles and multiple options within that category – however, with the new, second generation GLC, Mercedes-Benz NZ has opted for just one model, their best-selling 300. So I guess they're living up to their 'best and nothing' slogan.
The GLC was first launched in 2016 and it rapidly became the largest seller in the Mercedes SUV line-up, having already racked up over 2.8 million in unit sales, so the new model has big shoes to fill, no pressure then.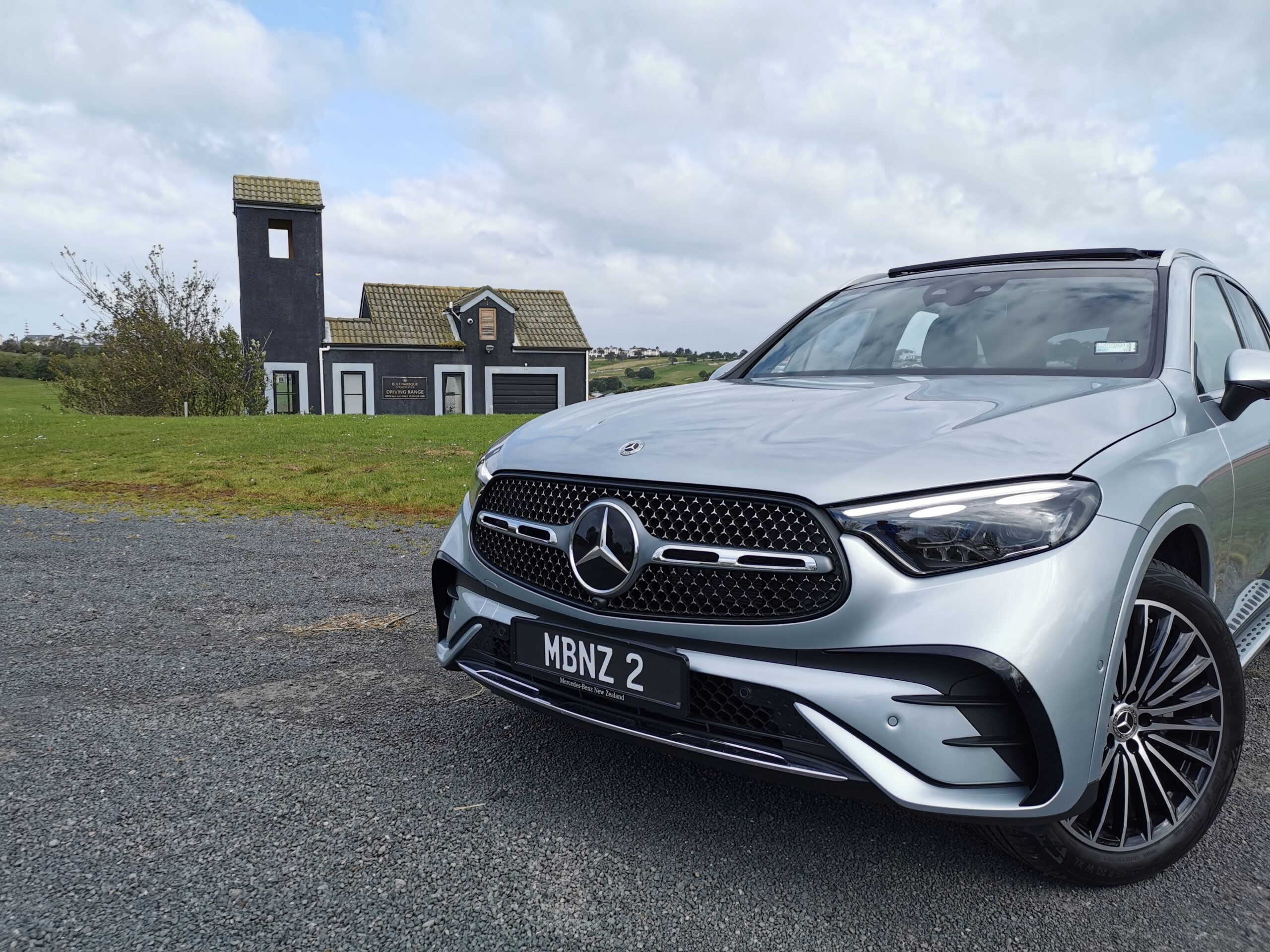 When developing the front, and in particular the grille, it would seem that they've looked no further than their all-new C-Class. It boasts a large three-pointed star in the centre (with some teckie gumph behind) that is surrounded by tiny three-pointers that are only really visible when you venture up close. The lights are digital and they do a lovely little sort of dance when you start the engine, and there are a number of vents that direct the airflow where it's required. Oh and for those that need to know, the new GLC has a 0.29cd drag coefficient, so it is quite sleek for something quite substantial.
As with most of us, the GLC has grown in size, so will it still fit in your garage? I hear you ask, well it's now 4.7 M long (+60 mm over previous model) and in terms of height 1.64 M, on top of this, both the front and rear tracks are larger (4mm front and 23mm on the back) so it's far more confident on the road – more on that soon.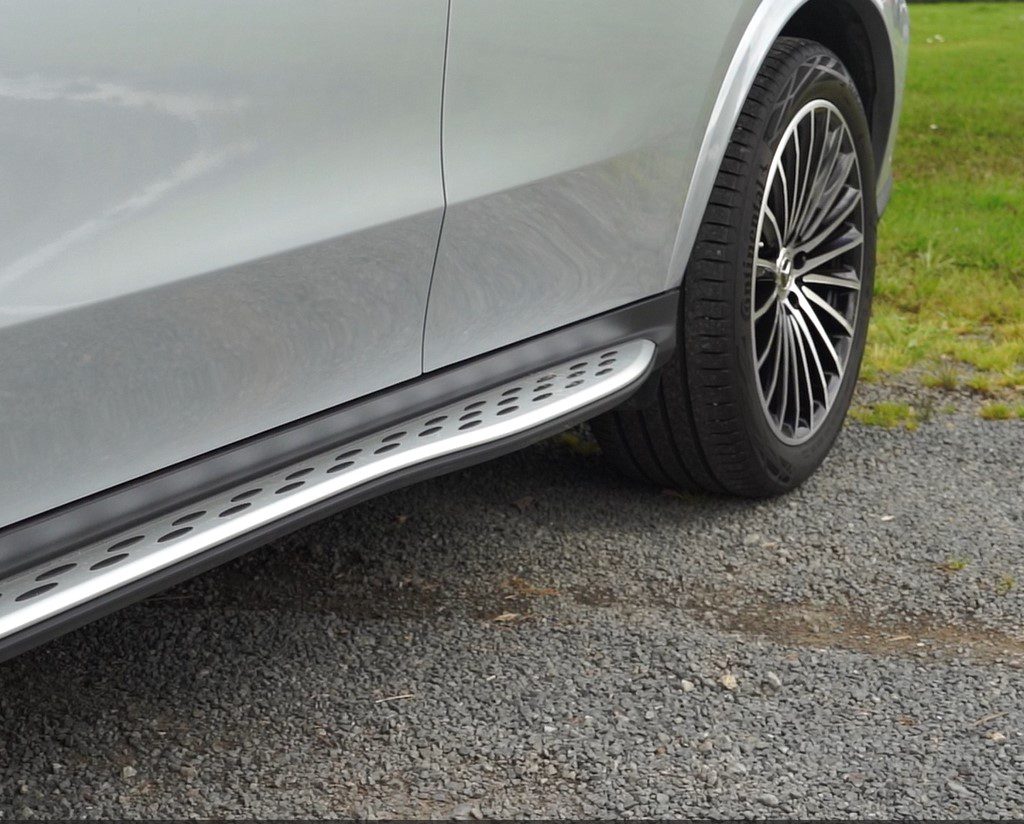 New 20-inch feet keep you connected to the tarmac and Mercedes NZ have given the new GLC an AMG body kit as standard, so it really does look the part too, and to top things off for the SUV's profile, tapered running boards to make it look more purposeful and to help the more vertically challenged around us get in.
The rear comes with a fair amount of privacy glass, GLC and 4Matic badging (yes it's AWD too), a gloss back strip to emphasise its width, a chrome diffuser and a tailgate (non kicker – shock, horror) that opens up to 620 L of trunk space which is 50 L more than the previous model.
Lift the bonnet (although I doubt you will) and you see its 2 L turboed engine married to a 9-speed box, together they give you 190kW of power and 400Nm of torque. But wait there's more, it's also a 48 volt MHEV so in the right circumstances you get an extra boost of 17kW of power and 200Nm of torque which is quite impressive actually from such a small cc'd engine. 0-100km/h is in 6.2 seconds and when it comes to efficiency roughly 7.7 L / 100 km. (I was getting 8.3 L / 100km).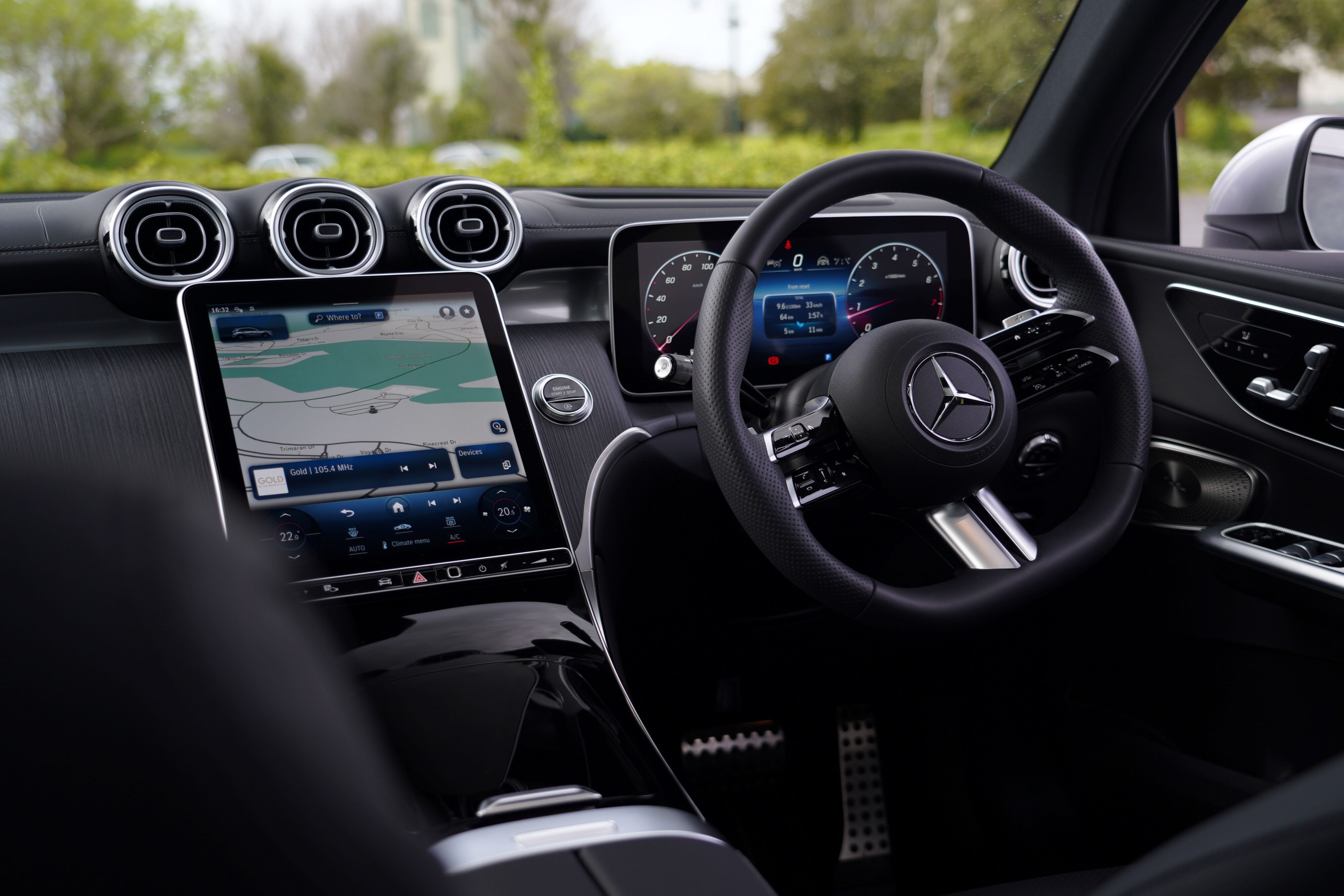 Step inside and you're greeted with a plethora of upmarket materials, from wood-style trim, leather, chrome and piano blacks, it's all very nice. And the fittings are of a quality you'd expect from Mercedes, no rattles or gaps and even the air vents make a satisfying clickety clack noise when you play around with them.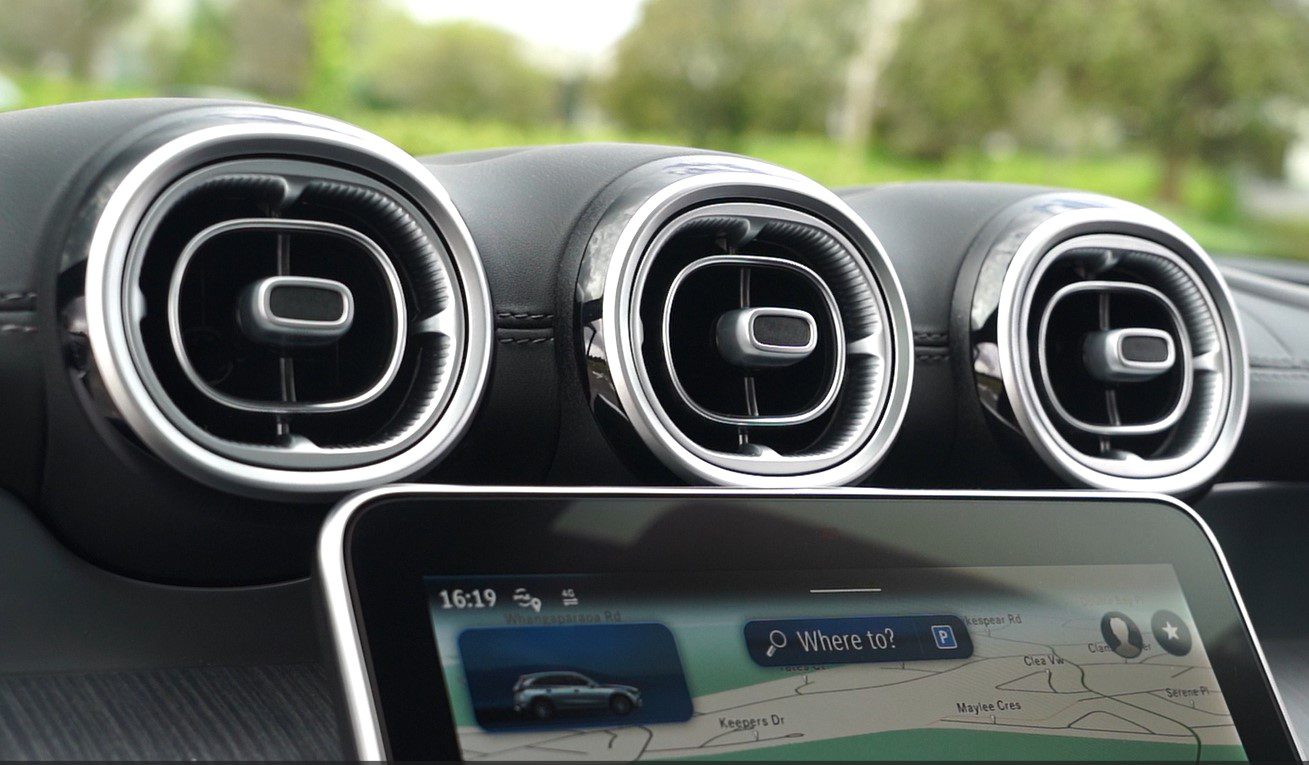 Space is of a premium too, with room for the family and all their gear, which in my house is a lot. Generous door bins, big glove and console areas and ample leg and head room for all occupants. Those in the front are well connected too, with USB and wireless outlets, however, oddly there are no charging ports in the rear.
The new infotainment screen comes straight out of the C-Class too, it's nice and large and slop sort of in a way which is easy to use and doesn't require taking your eyes off the road too much – there's also 'Hey Mercedes' for hand's free use. The menus are clean and clear, navigation is 'Google' good (although not actually Google).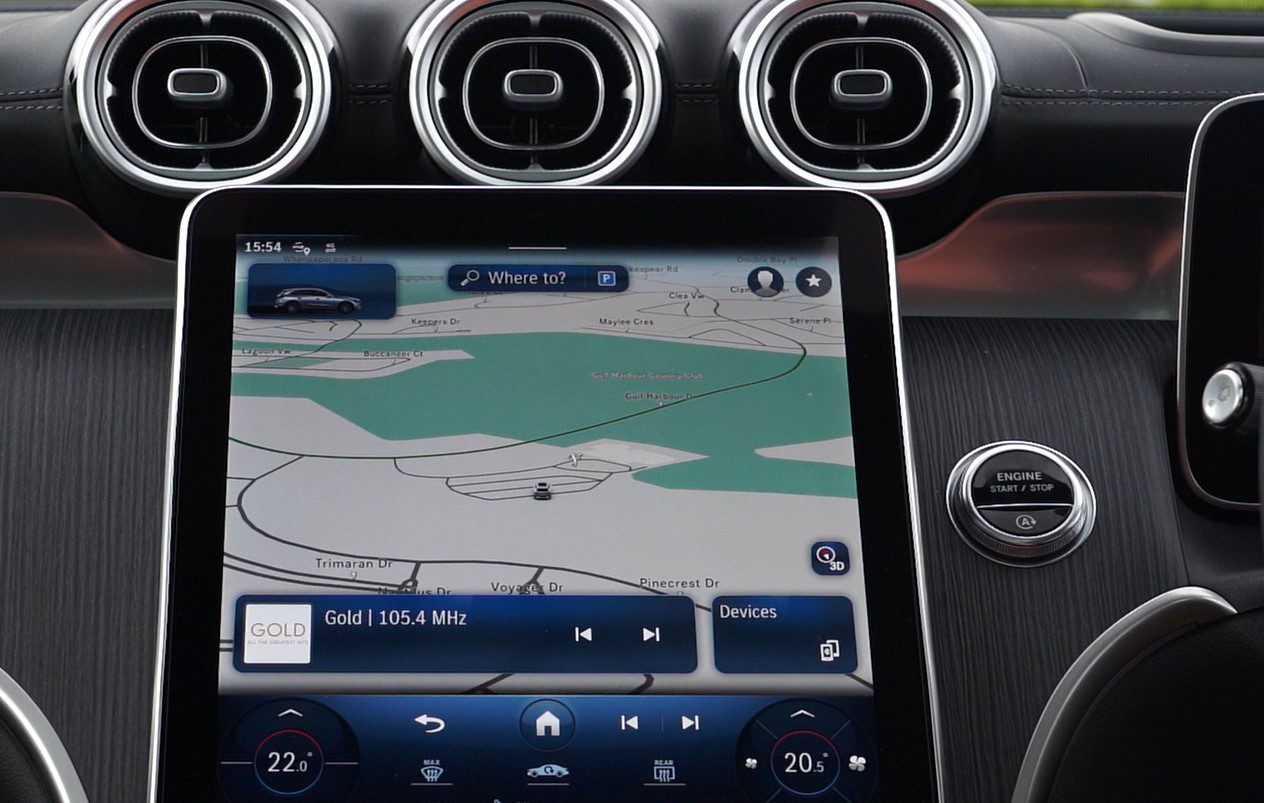 One thing of particular note is the new 'transparent bonnet' view, so should you find yourself going off-road or somewhere equally dodgy, a quick couple of screen taps will have you looking through the GLC's bonnet at what lies beneath. It's quite nifty but I'm not sure how much I'd use it personally.
The steering wheel is leather wrapped and has all the new haptic buttons to access things like the Burmeister stereo, phone, adaptive cruise control and change the view/data on the instrument cluster, as another point of note, the GLC has a rolling green ball image on the cluster that helps improve your eco driving – it's my favourite screen!
The rear is a little bit compromised for getting in and out, but once inside there is ample room for two and a half, but as mentioned before, no charging ports or tri-zone AC, which is a bit of a let down.
On the move the new GLC is most excellent. It's very, and I mean very sure-footed and that 2L MHEV offers more than enough power to play with, especially when kicked and the boost comes in, it's hot hatch territory.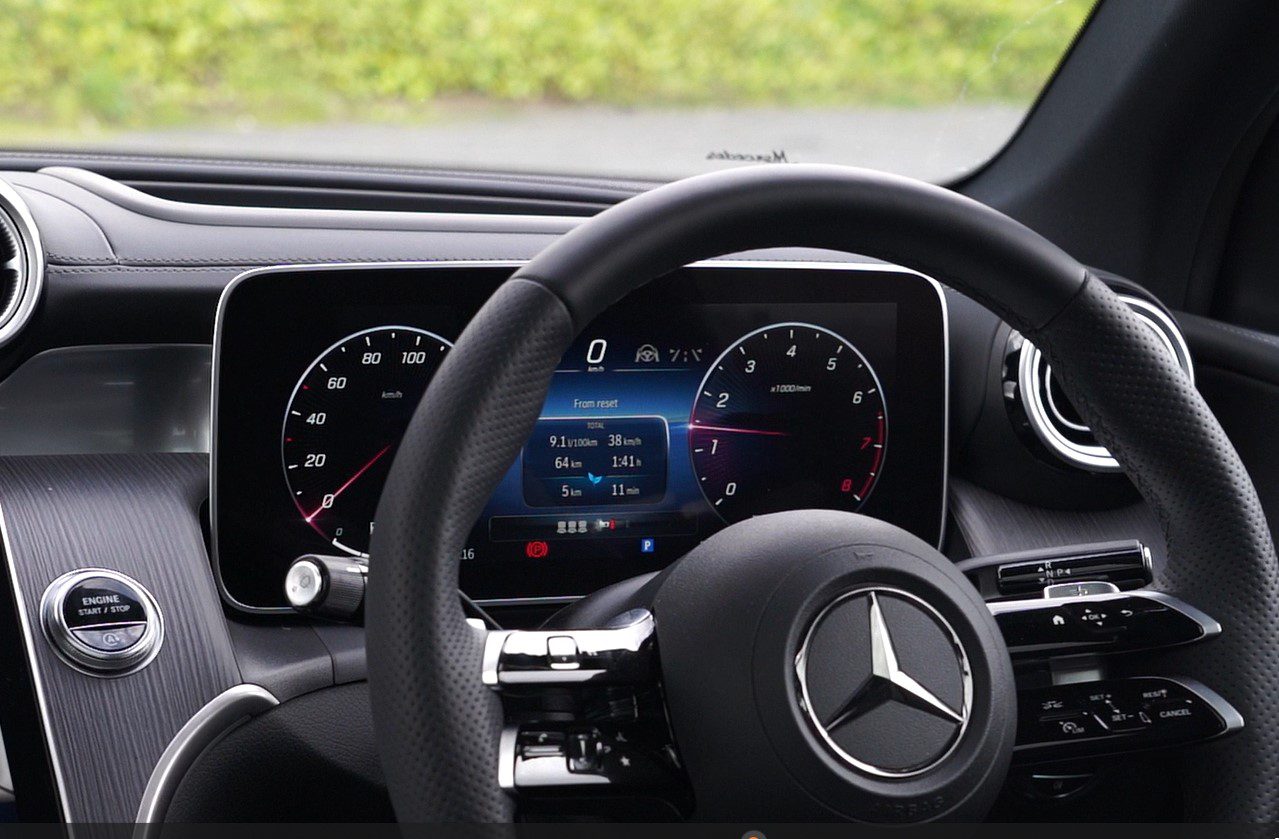 Visibility is good all round with the higher seating position being a real positive both around town and out in the rurals, and the steering is very positive, with a nice weight when you venture into Sport (there are comfort and off-road modes too). It's a well insulated cabin too, with minimal road and wind noise, I'd have expected nothing else to be fair.
Safety is always a must with Mercs and the GLC 300 is no different, it'll happily keep you on the straight and narrow, assist with your parking, brake for you in an emergency and generally ensure you arrive at your destination spick and span.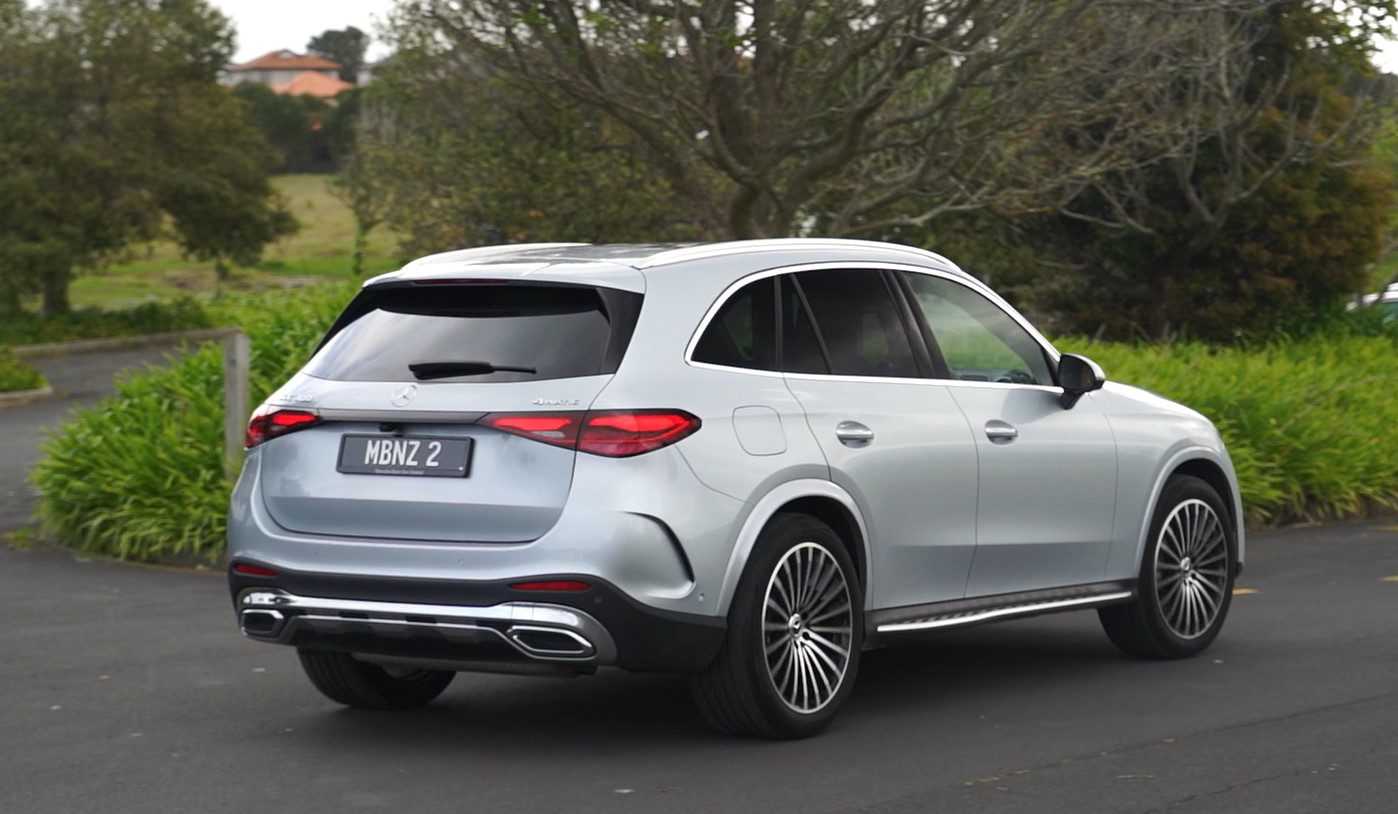 I somewhat thought that going for just one model GLC would be a bit of an issue, but it would appear that Mercedes-Benz NZ have nailed it. The powertrain delivers in spades, the trim and AMG kit is spot on and the wider track works so well with the 4Matic. It's a little bigger too, which means more room for all – it's sure to continue its best selling ways.