Halfway through my review of the new Mercedes-AMG GLB 35 I got the call from Mercedes-Benz NZ asking if I'd be keen to test out the new AMG GLA 45 S straight after. Believe me, before my mind could even begin to venture towards the affirmative my mouth had already said yes.
You see, the GLA is the true baby of Merc's SUV range, kind of an urban explorer with an elevated ride height but a compactness that fits well into downtown spaces, however, once AMG has gotten hold of it, the GLA becomes a spiteful little firecracker that wants to pick a fight with vehicles twice its size.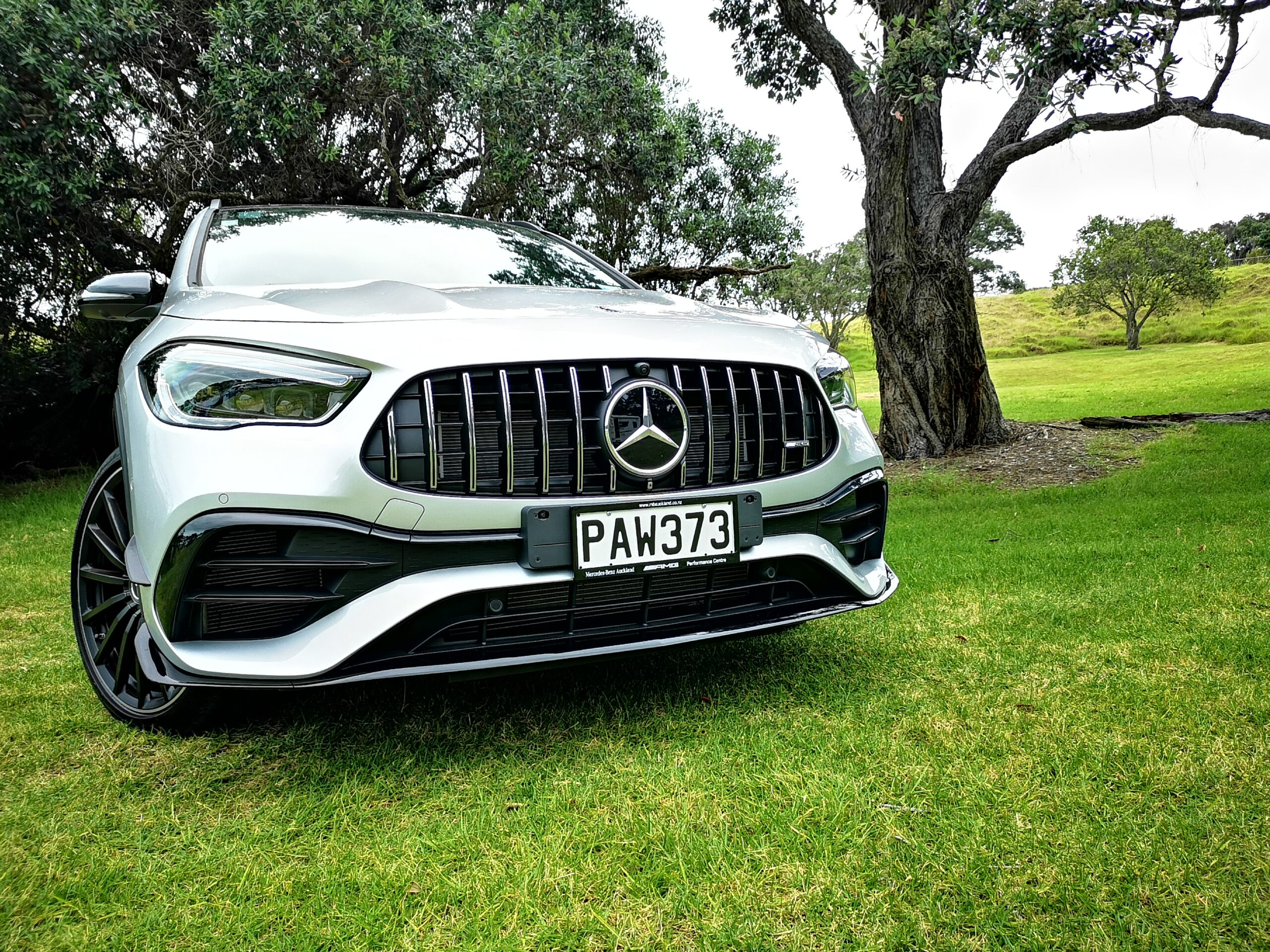 In terms of design, being part of the AMG family means that it sports the panamericana vertical slag grille on its nose plus my model came with a large front splitter, large 'air-gulping' vents in the lower apron and added 'flics' in high-gloss black just in front of the wheel arch that further increases the downforce on this track-focused machine.
On the whole, the GLA 45 S's profile is the same as the un-AMG's variants, that is aside from the 21-inch AMG multi-spoke matt black alloys that do little to hide the red-painted AMG 6-piston brake callipers with black AMG lettering. These in turn connect to the 360mm perforated brake discs which pull this sports SUV up at nigh-on physic-bending speed.
The rear hasn't gone without attention either, you can't but notice the fixed high gloss black AMG rear wing that sits above the tailgate nor the AMG exhaust system that is made visible thanks to two twin tailpipes that peek out from the rear splitter.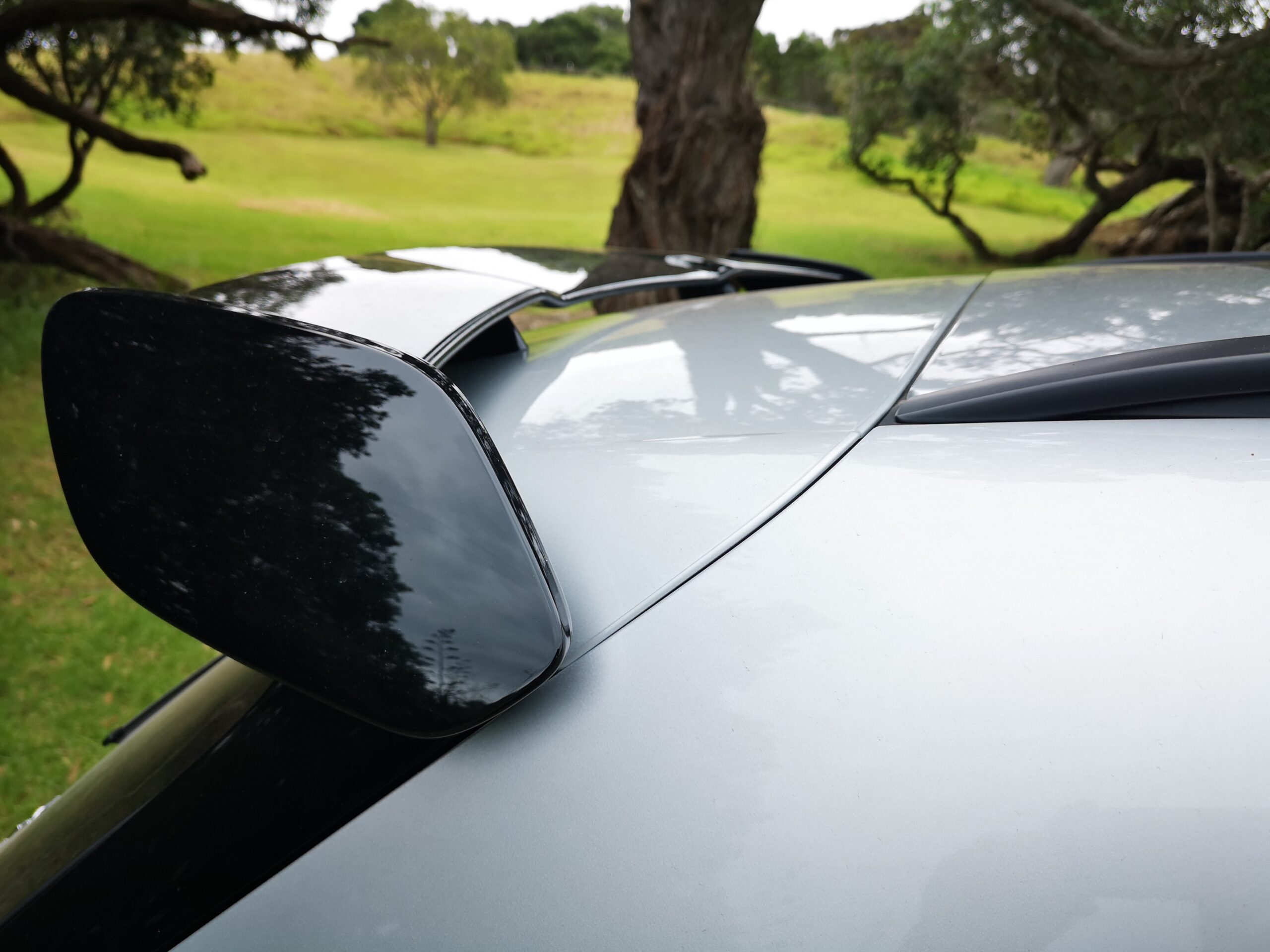 The interior oozes motorsport appeal with wraparound sports seats in deluxe Lugano leather for the driver and co-pilot, which (as my model was a first edition) came with motorsport yellow inserts. Plus the GLA 45 S's cabin comes with a Formula 1-inspired alcantara covered AMG performance steering wheel with AMG steering wheel buttons for driving dynamics functions and driving mode selection – it's very much a racing car.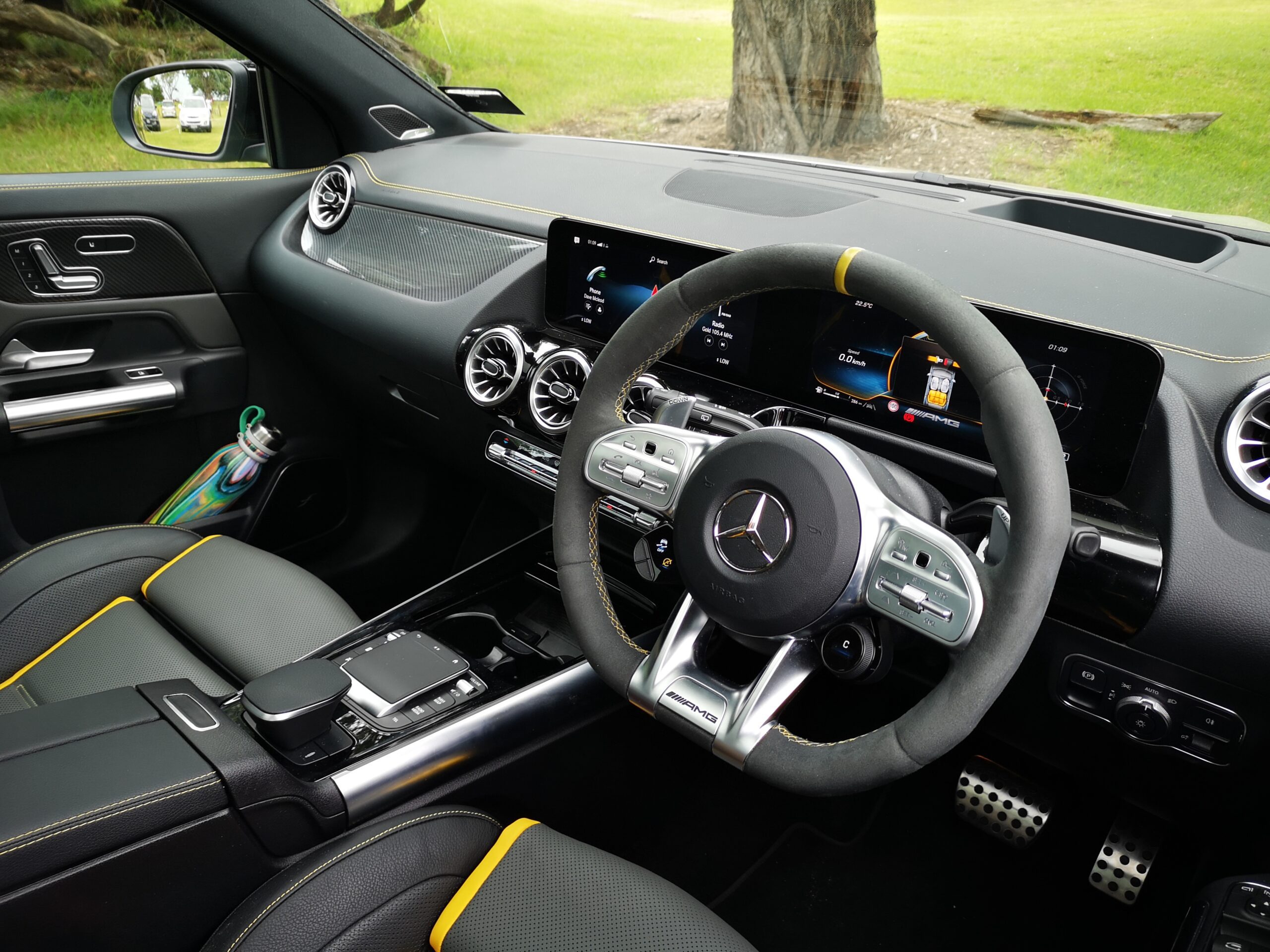 The infotainment has been AMG'd too with two AMG performance menus for you to know what power/torque you're using and track apps (lap time, drag race…) to help bring out your inner Hamilton (the driver not the town).
Then there's the powertrain. What Mercedes-AMG have done is shoehorn in the world's most powerful 2L 4-cylinder twin-scroll turbocharged engine in series production, giving you 310kW of power and 500Nm of torque – which is a lot. Top speed has probably been restricted to 250km/h, however, with its race start function the GLA 45 S will get you from 0-100km/h in (Merc says) 4.3 seconds – my tests in drag mode came in closer to 4.1 seconds!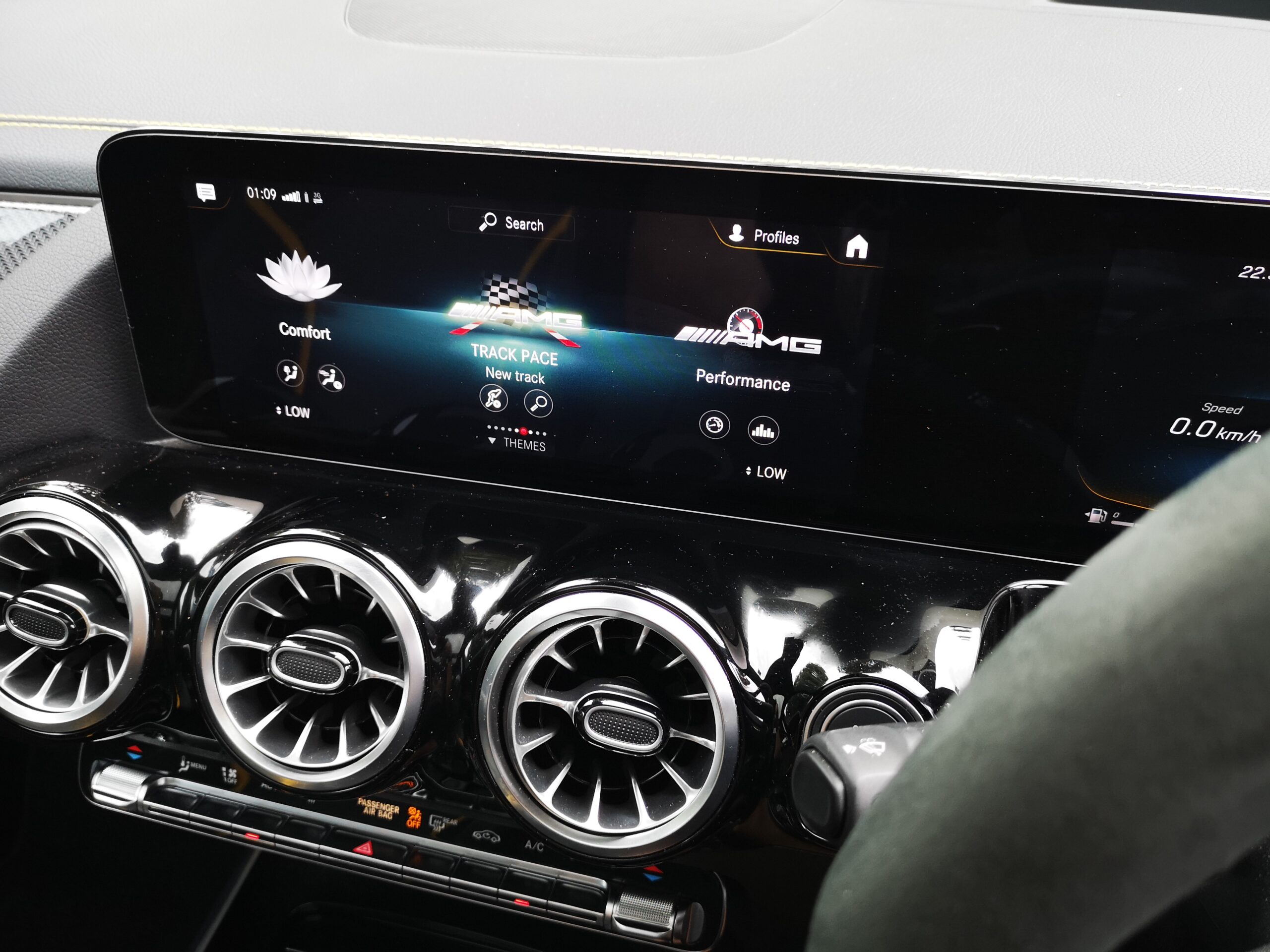 The adage 'power is nothing without control' is something that this compact SUV strictly adheres to and as such the GLA 45 S comes with AMG Performance 4MATIC+ AWD with AMG TORQUE CONTROL which combines incredible driving dynamics with the best possible traction. The brochure says that 'two electronically controlled multi-plate clutches on the rear axle distribute the drive torque selectively to the left or right rear wheel, depending on the drive program and the situation' but all you need to know is that whether going straight or around the bend, this machine is bloody quick.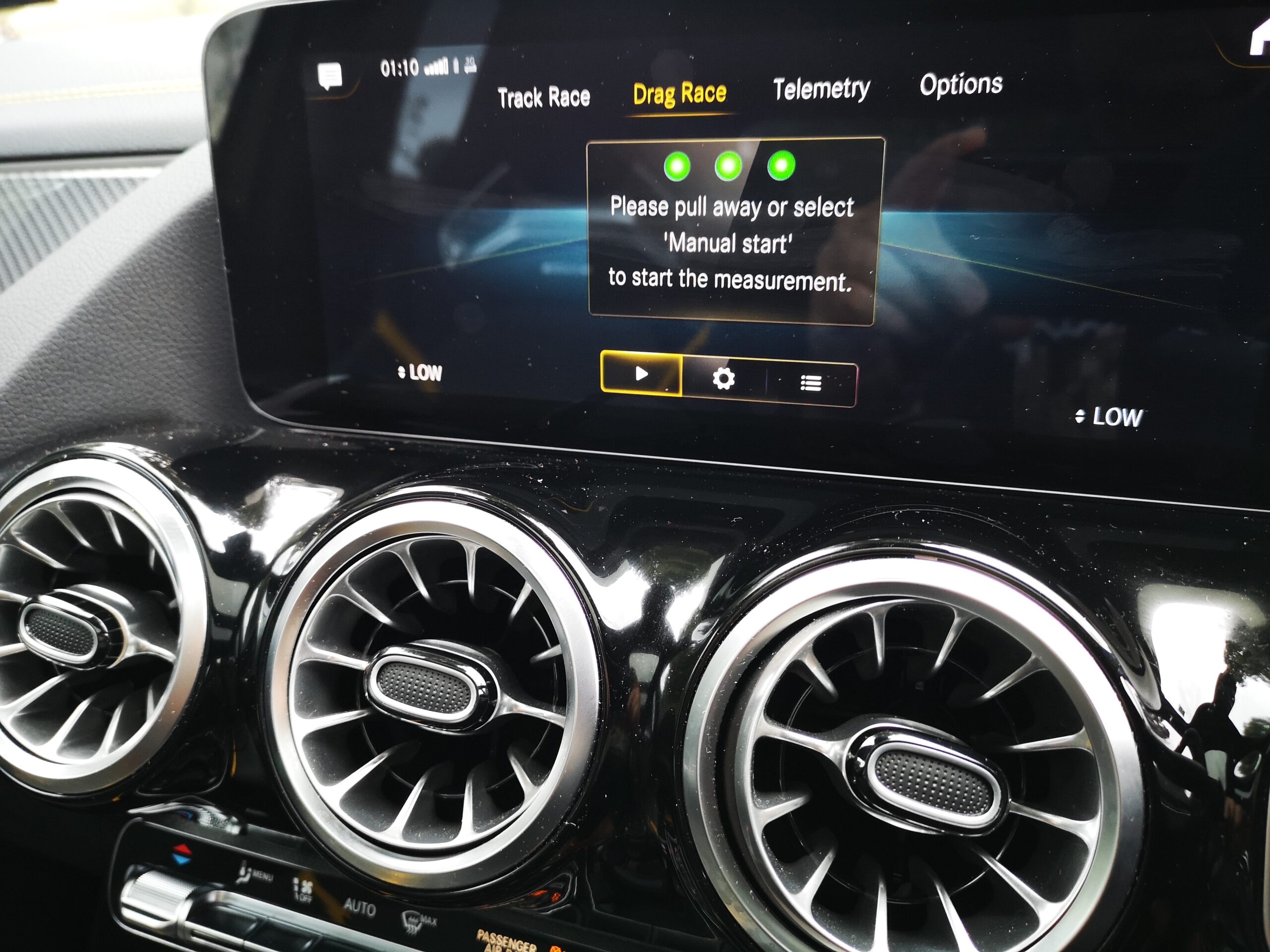 Often, when vehicles have different driving modes, the switch between them goes by relatively unnoticed, not so with this performance AMG. Comfort is mildly sedate, certainly in terms of revs. Sport ups the response to things like steering and throttle. Sport + is where the AMG 35 models stop and in many respects this is more than enough. BUT with the 45 S, there's RACE.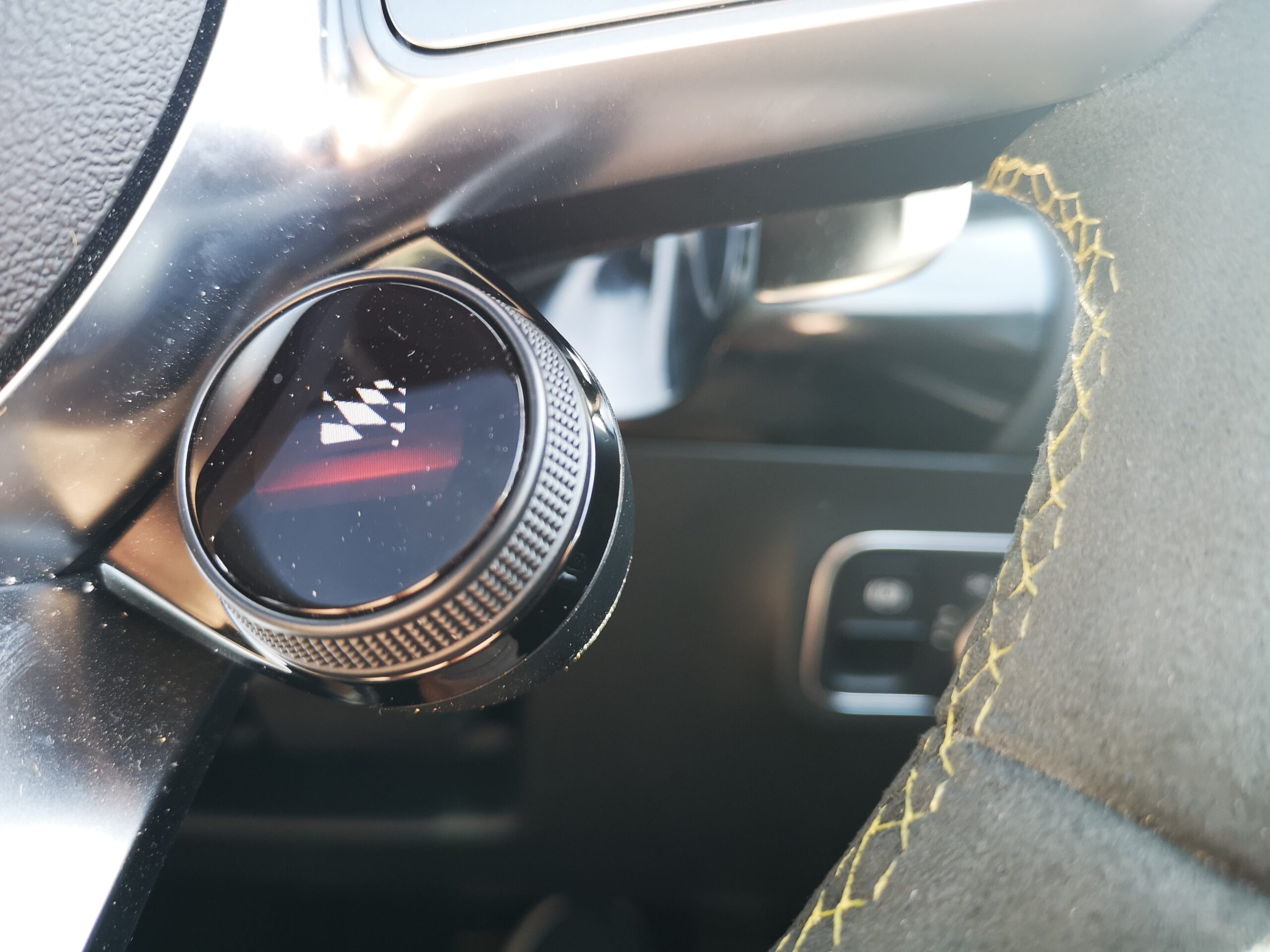 In RACE, all things come alive. The exhaust note is louder and gruffer (and pops on downshift), suspension is rock solid, steering becomes more precise and the rev needle jumps up a 1000 (or at least that's what it seems). This is not a fuel saving mode.
On ramps become a place where 'second' is not an option, corners become a quest for the perfect apex and don't even think about letting the revs drop below 5k. In RACE, this urban machine becomes a devil and so too do you. It's soo exciting. This is a track ready vehicle that brought joy to my often mundane life.
It's not all speed and neck breaking cornering though, around town, you can drop it into Comfort and head to the store. In fact, during my review I had to take the family to Sulivan's Bay, a drive that offered up 15km corners and 100km straights, however, it also has a small unsealed section that even in comfort, was let's say, a bit unsettling.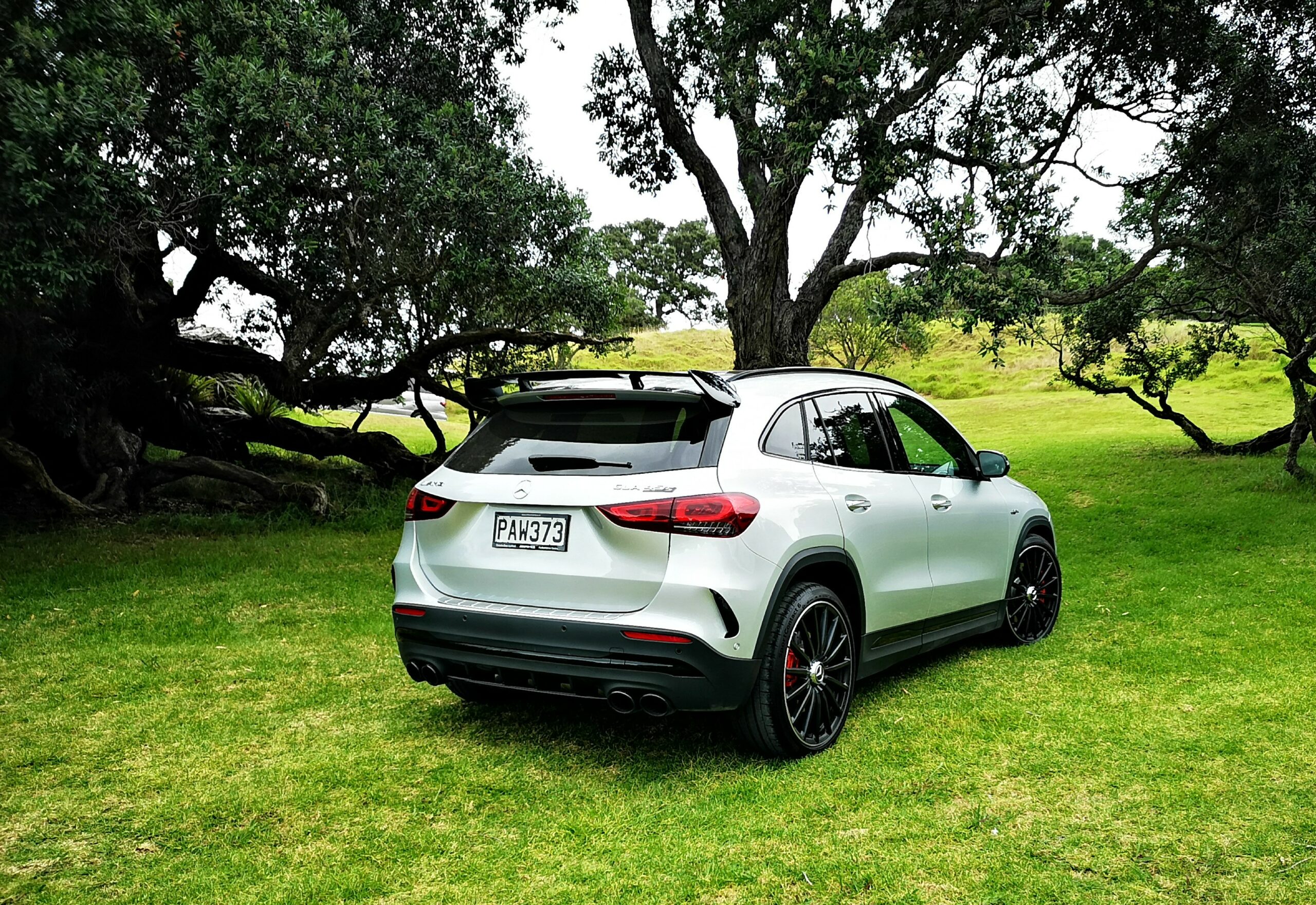 Although both are based on virtually the same platform and both come wearing the AMG badge, and both are great in the segments they dwell, the differences between the GLB 35 and GLA 45 S are rather acute and therefore my jump from B to A was a big one. Simply put, the GLA 45 S is a racing machine that is chomping at the bit to show its prowess on the racetrack. Sure it has some civility and practicality about it when required, but on the whole, it's a compact SUV that should come with a race suit and helmet.