PRESS RELEASE
To mark the 2022 Australian Grand Prix, LEGO® Australia and McLaren Racing have teamed to create a lifesize build of the LEGO® TechnicTM McLaren Formula 1TM Race Car. The giant build will take centre stage, on ground at this year's 2022 Australian Grand Prix and will be available for LEGO fans to visit and interact with one of Australia's most exciting builds yet.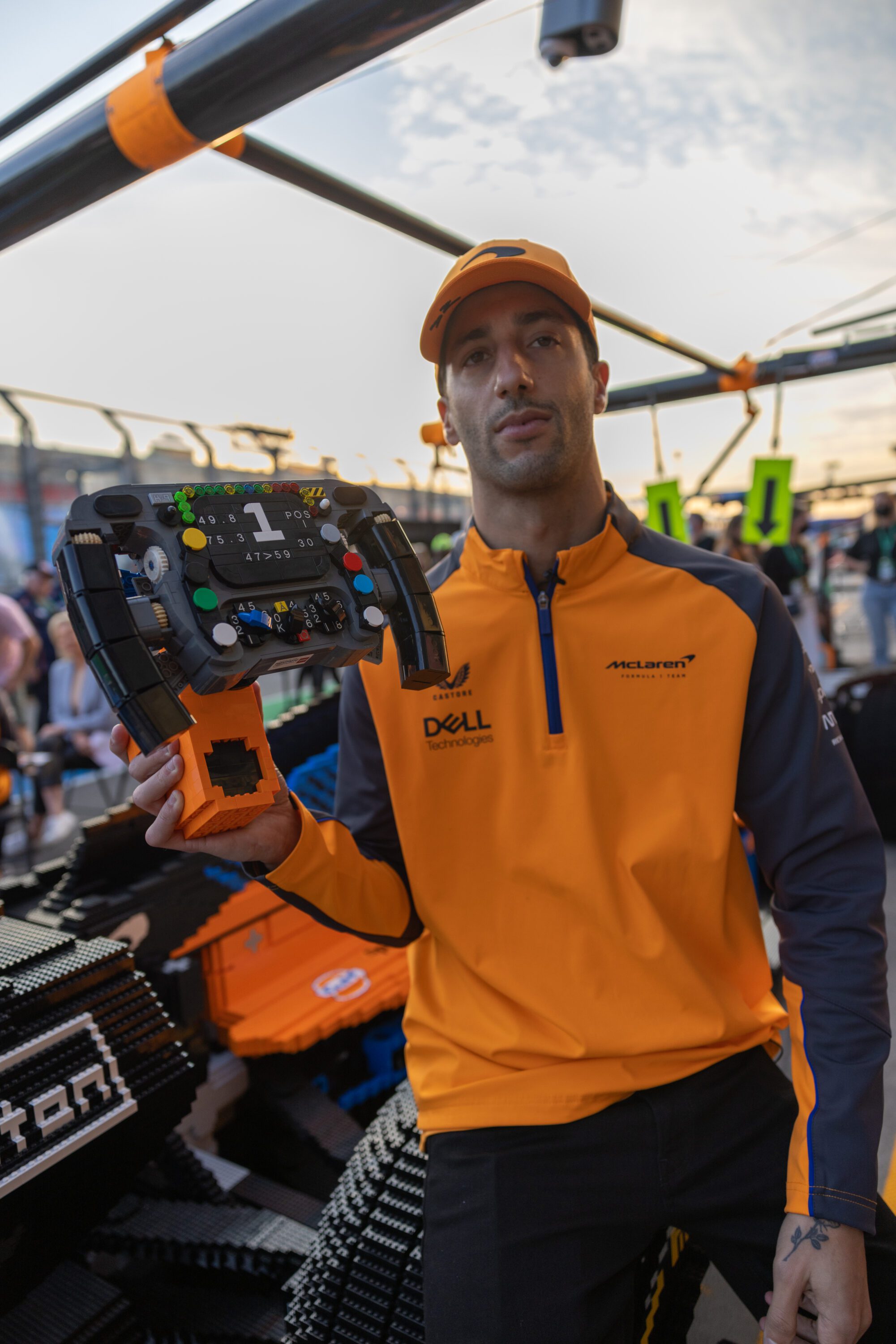 Just like its real-life counterpart, this stunning LEGO giant build is truly a one-of-a-kind piece of engineering excellence. The LEGO Technic giant build celebrates McLaren's iconic papaya livery carried on the MCL35M race cars throughout the 2021 F1 season, while also providing an interpretation of the new-look 2022 F1 Race Car as the sport heads into an era of refreshed regulations.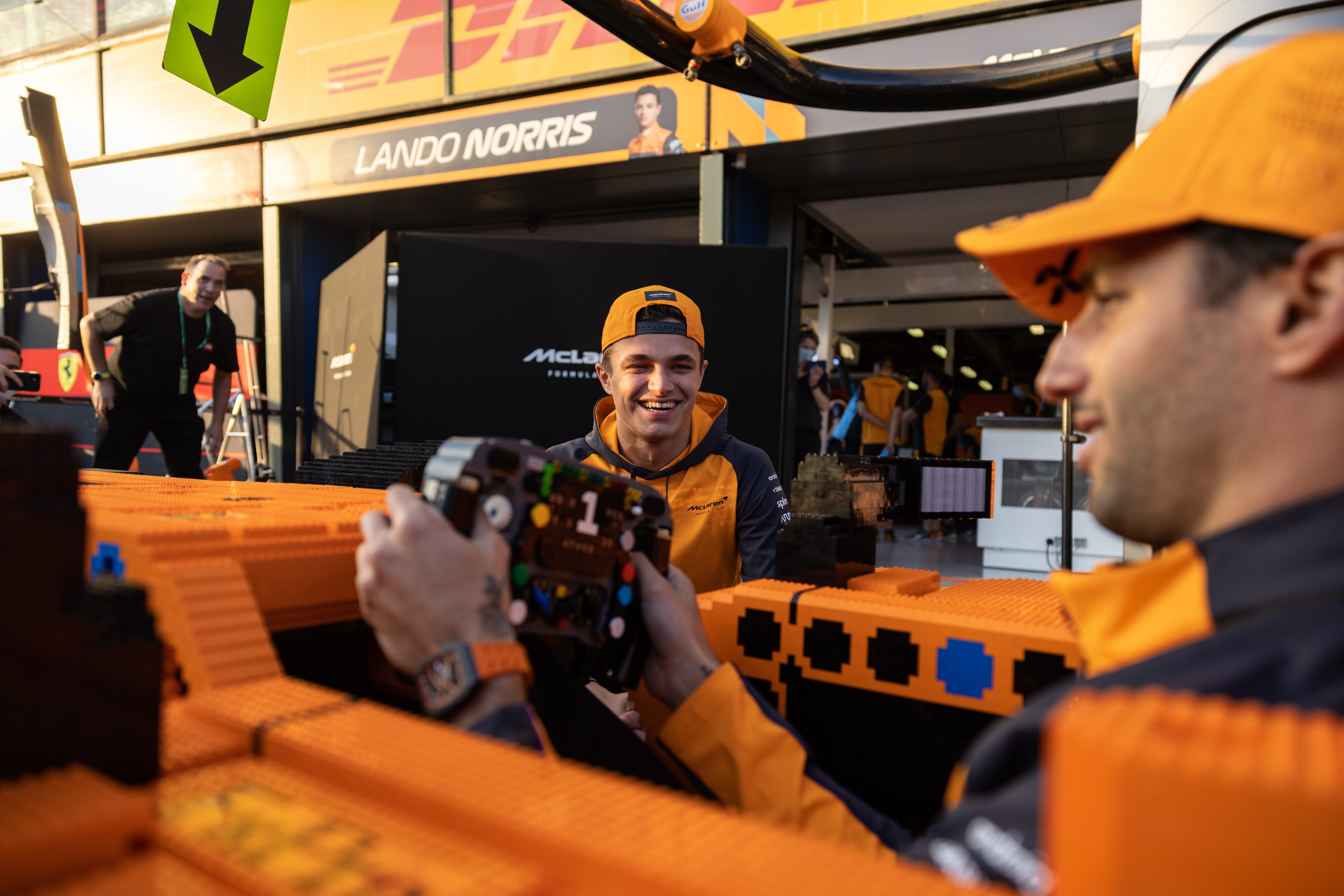 Designed in close collaboration between engineering experts from the LEGO Group and McLaren Racing, including the only LEGO Certified Professional in the Southern Hemisphere, Ryan 'The Brickman' McNaught.
Formula 1 fans visiting Albert Park for the Australian Grand Prix in Melbourne this weekend will be able to cast their eyes over this incredible LEGO build of the McLaren Formula 1TM Race Car, offering a meticulous translation of McLaren's pioneering design and cutting-edge technology that's so crucial on-track.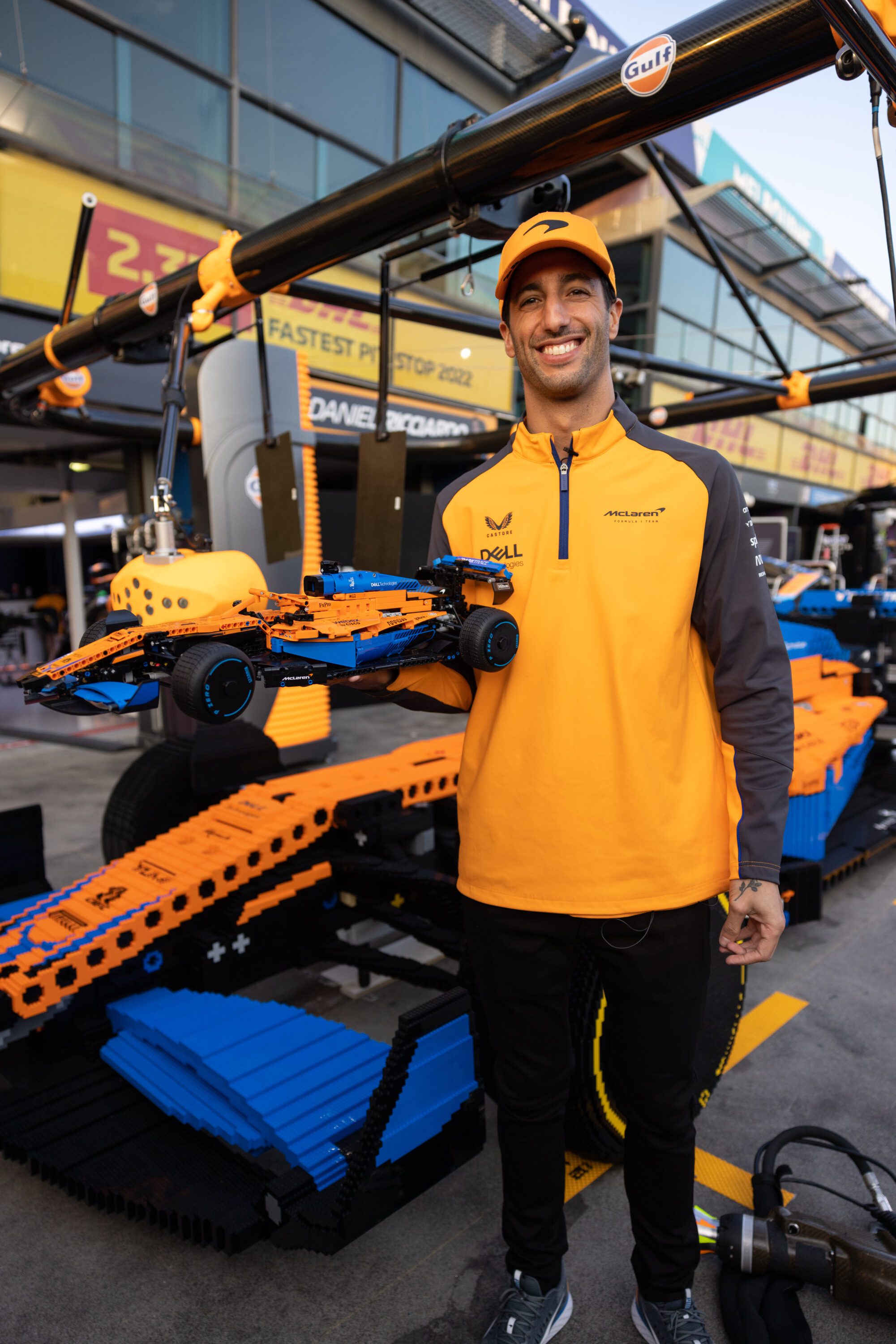 "The partnership between the LEGO Group and McLaren continuously develops each time we get together for the next collaboration. We never stop trying to excite and inspire our fans by pushing the limits of possibility through the technology and designs produced, both on the racetrack and with LEGO building," said Niels Henrik Horsted, Head of Product, LEGO Technic.
James Key, Executive Director, Technical, McLaren Racing, said: "We are excited to unveil the unique LEGO Technic model of our McLaren F1 car, a fun and engaging product that celebrates our 2021 season livery while giving fans a hands-on interpretation of the new 2022 F1 car design.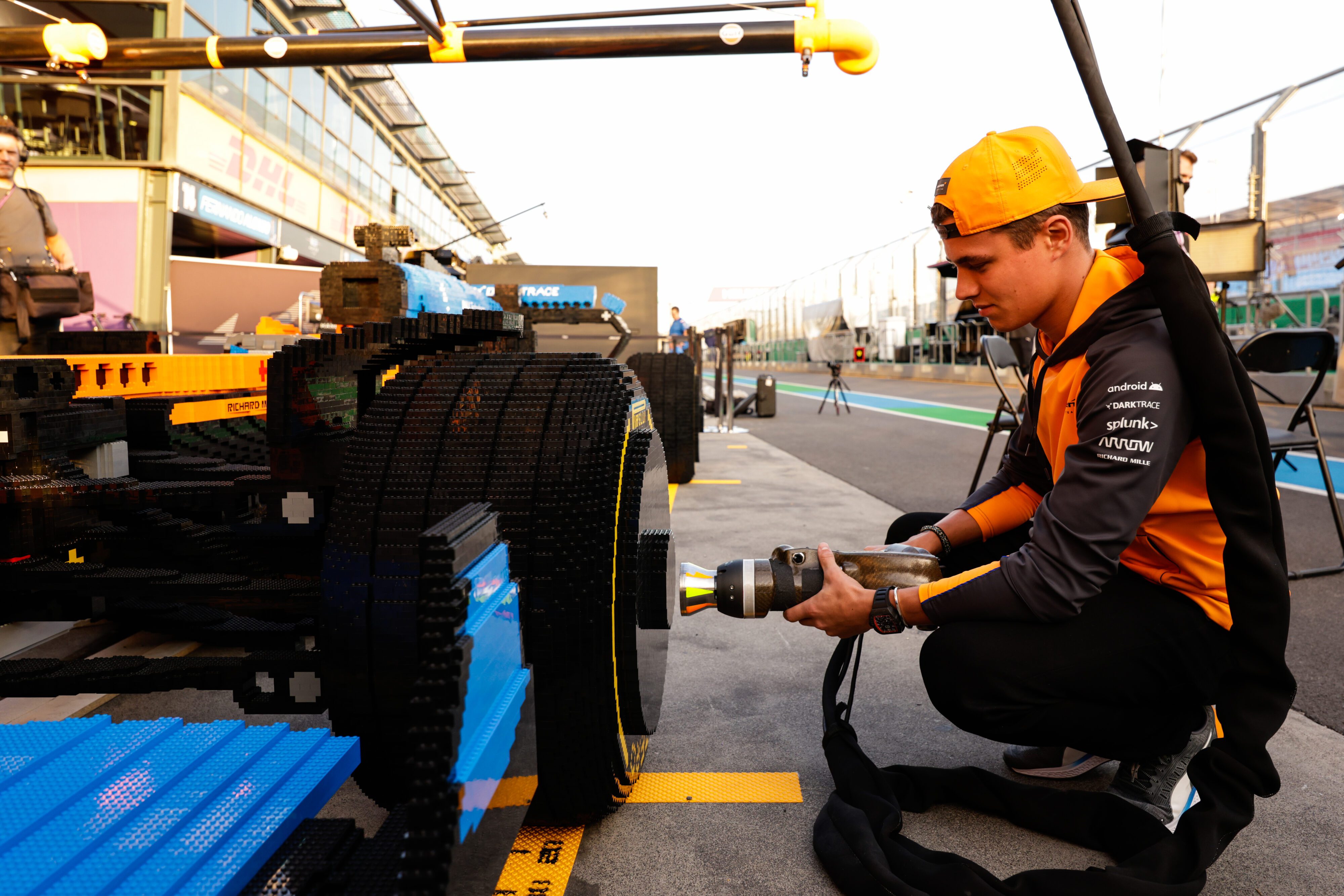 "This has been made possible by an agile collaboration with the LEGO Group team, who have truly embraced the spirit of our brave and bold approach to design. The model is a must have for F1 and LEGO fans."
General Facts:
● The large scale McLaren Formula 1TM Race Car model is a huge 9 x the size of the
LEGO Technic set!
● LEGO plates have been used on the model to recreate the logos as seen on the real McLaren
Formula 1 race car
● The model is made of 5 separate components: 4 x wheels, car body, suspension x 4,
halo and front spoiler.
● Just like the real McLaren Formula 1 race car, the LEGO model has been designed to allow
people to sit in it thanks to the removable halo and steering wheel
● 27 people were involved in the design and build of the LEGO Technic McLaren Formula
1 race car large scale model
● It has taken 1893 hours and a huge 288,315 LEGO brick to build the Technic McLaren
Formula 1 race car model
● The big build measures in a total of 5.7m in length and 2.4m in width
For racing fans who won't be trackside, they can enjoy the suspense, emotion and excitement of the first Formula 1 race on home soil in three years with the ultimate LEGO building experience, by getting their hands on the new LEGO Technic McLaren Formula 1 Race Car model.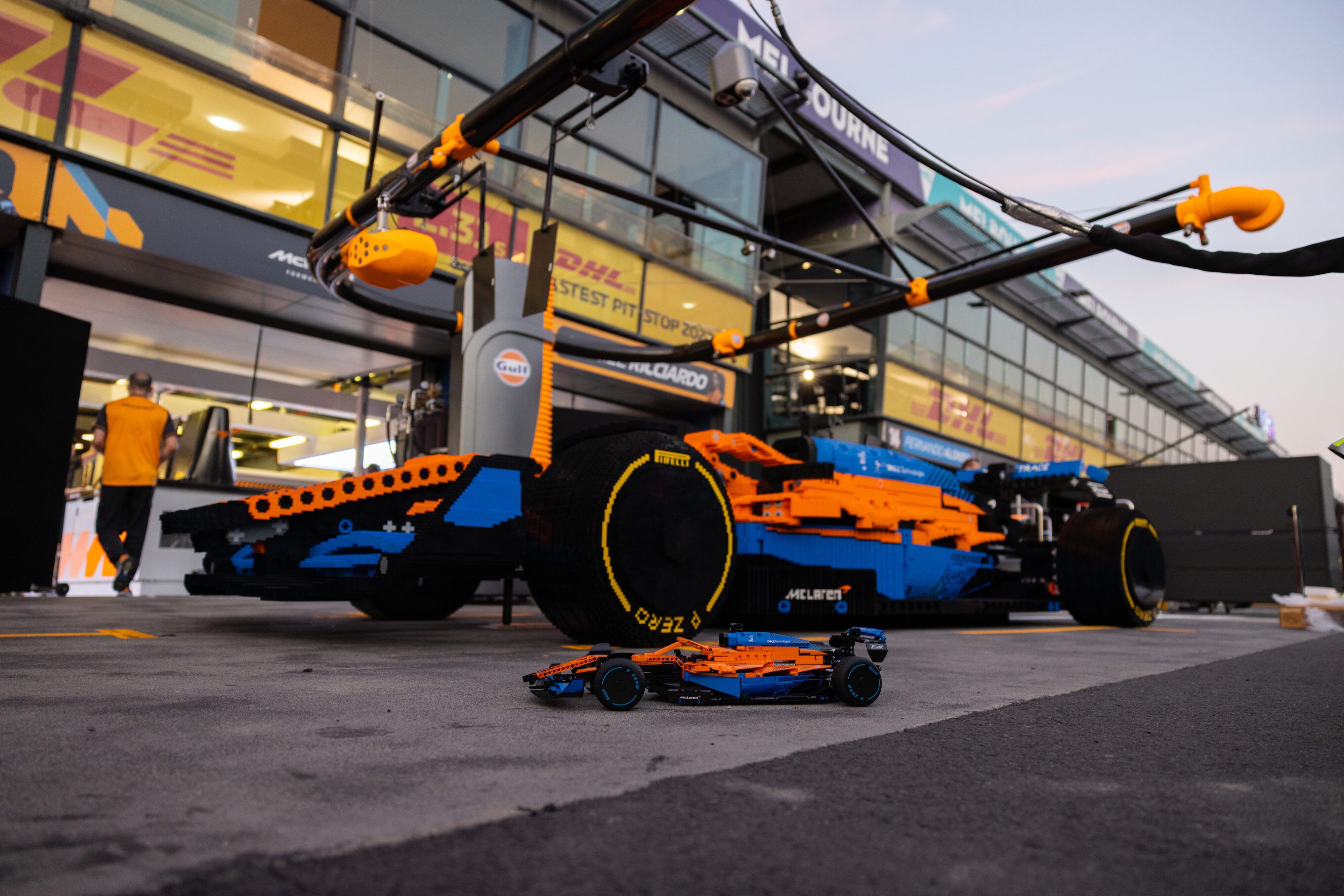 Due to the new LEGO® TechnicTM model popularity, if you can't find the set in LEGO stores and other retailers globally, you can backorder on LEGO.com with an RRP of AU$279.99 / NZ $299.99.