The first-ever Mazda CX-90 was today unveiled at its world premiere in Malibu, California – showcasing a new level of family luxury and Mazda premium design.
Built on the same front-engine, rear-biased AWD platform as the forthcoming Mazda CX-60, the all-new flagship three-row SUV vehicle features wider, longer and more aggressive proportions that perfectly blend its high-performance appearance with world-class refinement.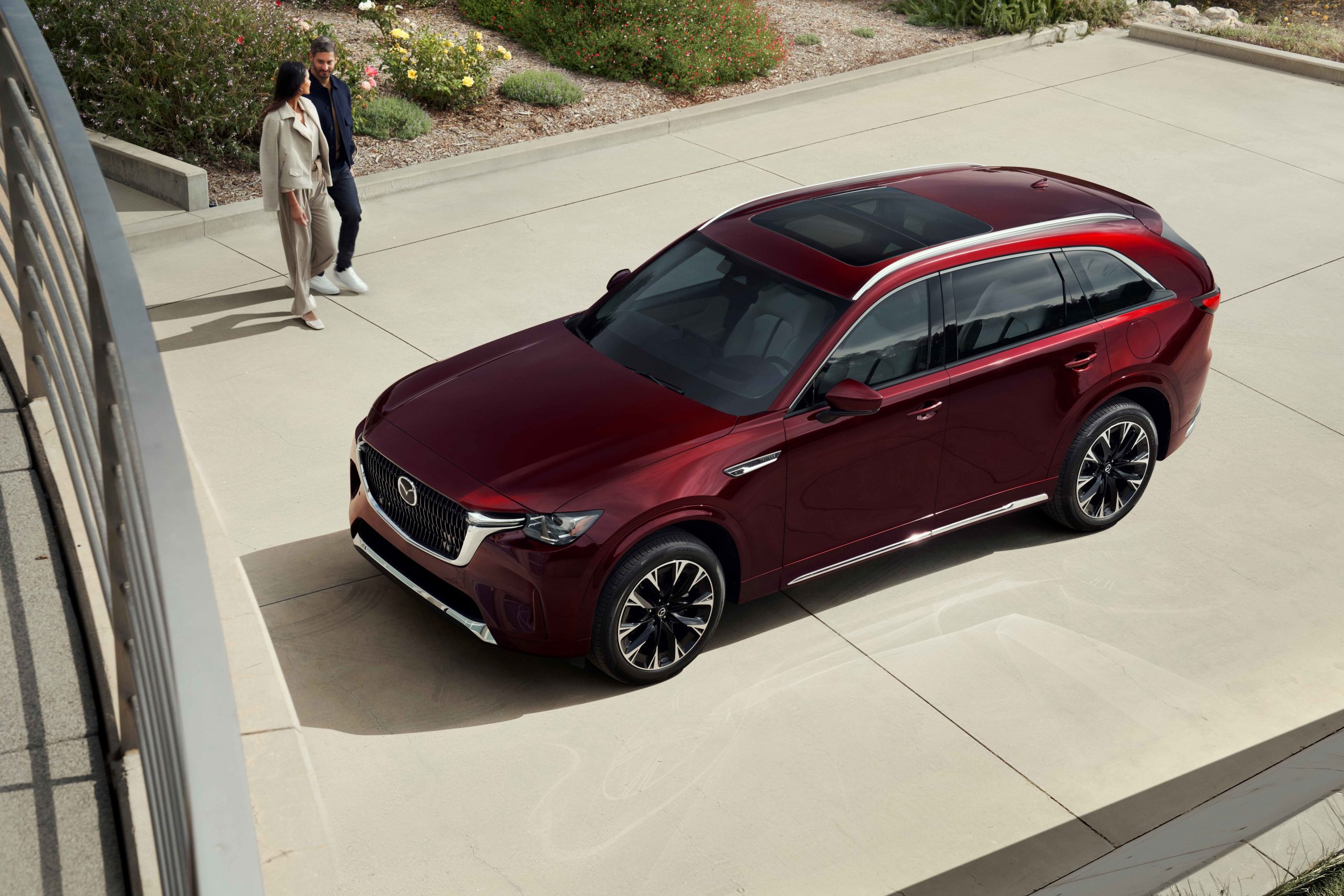 Mazda CX-90 will be available in Australia with exclusively hybridised powertrains, comprising an inline six turbo-petrol MHEV and an inline six turbo-diesel MHEV that blend effortless performance with supreme efficiency.
Welcoming the reveal of Mazda Australia's newest flagship SUV, Managing Director Vinesh Bhindi commented: "Our second entrant into the new large platform family brings with it even more of everything – more power and performance, greater versatility and heightened luxury.
"The First-Ever Mazda CX-90 is the absolute pinnacle of Mazda premium; our most advanced model ever with exceptional levels of sophistication throughout that can be enjoyed not just by the driver, but the whole family."
With seating for up to seven passengers in total, Mazda CX-90 can accommodate families and friends in all three rows. Cabin space, cargo capacity, safety features, and many amenities are optimised for their needs.
Powerful, responsive performance
Available with an all-new 3.3-litre inline six-cylinder e-Skyactiv turbocharged engine offering 254 kW and 500Nm of torque, the First-Ever Mazda CX-90 becomes the most powerful mass production petrol car ever developed by Mazda.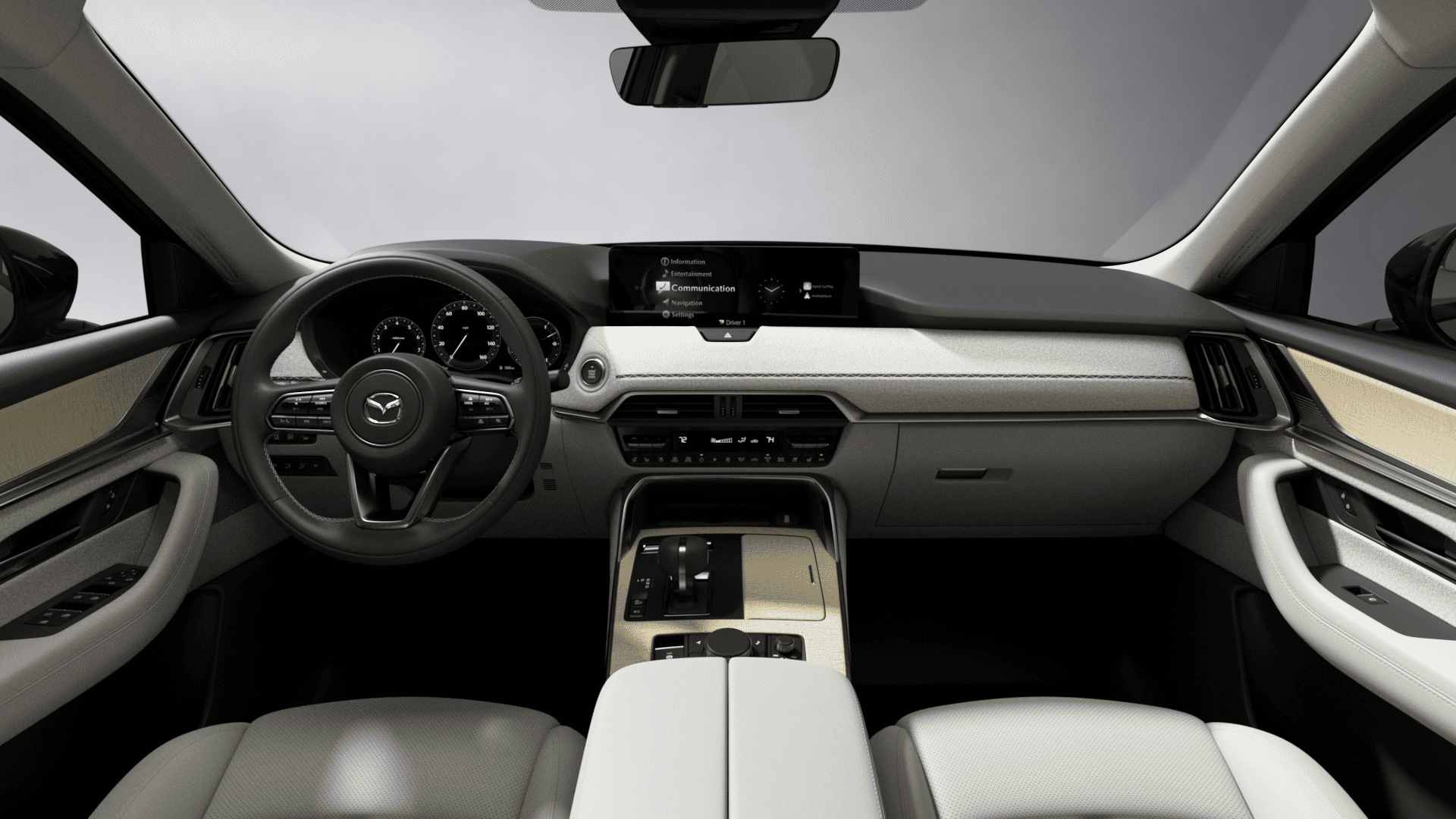 This engine also is equipped with the M-Hybrid Boost 48V mild-hybrid system to provide efficiency without compromising on its remarkable performance. The electric motor is placed between the engine and transmission, creating smooth acceleration from a standstill, and allowing the motor to directly power the SUV at low speed. This engaging powertrain provides the Mazda CX-90 with an upscale feeling, a smooth-driving experience, enthralling sound and efficiency.
Alternatively, an equally appealing e-Skyactiv turbocharged diesel engine, sharing the same 3.3-litre capacity, inline-six configuration and MHEV technology, will be available from launch, with a power output of 187 kW and a substantial 550Nm of torque.
Both powertrains are paired with an all-new eight-speed automatic transmission, specifically designed for the electrified longitudinal powertrains and large platform vehicles, and achieves smooth and direct acceleration while improving drivetrain efficiency.
As with all Mazda vehicles, First-Ever Mazda CX-90 is designed with the driver in mind. Elevating Mazda's signature driving performance, the all-new SUV is equipped with Kinematic Posture Control, an innovation that was first developed for the Mazda MX-5, to suppress body lift on tight corners, enhance the grip and allow all occupants to maintain a natural posture. Focus was put toward optimising rigidity across the entire vehicle body, while meticulously designing the seats and suspension to provide better balance, control, and confidence in a range of driving situations. With these thoughtful developments, along with standard i-Activ all-wheel drive, drivers can enjoy the full potential of the high-output powertrains.
Dignified design
Featuring thoughtful proportions that perfectly blend its high-performance appearance with world-class refinement, First-Ever Mazda CX-90 also provides a well-crafted interior with increased cabin space for families and ample cargo space to accommodate needs for any lifestyle.
The large platform allows for a wider body and longer wheelbase, accentuating the luxury SUV's strong stance and further emphasising its sense of performance. The body is designed to be sleek with crafted curves that give the exterior a sense of ever-changing expressions created by the reflections of lights and shadows. Available chrome garnishes on the lower bumpers emphasise its width and timeless styling, while newly developed 21-inch diamond-cut wheels featuring a black metallic finish complement its powerful presence.
Adding to the visual sophistication is Mazda's latest Takuminuri colour, Artisan Red. Specifically designed to suit the Mazda CX-90 and other large platform product, the new paint provides a rich, yet deeply saturated colour that accentuates the vehicle's blend of performance and refinement.
Mazda CX-90's dignified design continues into the cabin. The interior gives an expansive impression from the dashboard, with the positioning of the vents and chrome trim extending to the doors for a modern, linear appearance. Inspired by traditional Japanese aesthetics, a luxurious and comfortable feel is experienced in all three rows.
High quality materials are used throughout to enhance the cabin's luxurious feel, including Nappa leather, Maple wood, and tone-on-tone fabrics that all come together harmoniously.
One example is the distinctive fabric on the dash, connected using hanging stitches, which is specifically inspired by hand-bookbinding and an intricate Japanese weaving technique known as Kakenui. This method deliberately uses negative space to create a unique design for Mazda CX-90 that echoes its Japanese lineage.
Intuitive technology and safety
Complementing the refined interior, the Mazda CX-90 includes advanced technologies and amenities that elevate the driving experience, while also providing premium comfort and convenience for all occupants. This includes available third-row USB-C charging ports, air conditioning vents, and upgraded interior lighting, among many more features.
As with all Mazda vehicles, Mazda CX-90 seeks to maintain the same top safety recognition as Mazda's other products with many standard i-Activsense safety features, such as Smart Brake Support, Blind Spot Monitoring, i-Adaptive Cruise Control, and other new assistance systems that will help enhance the confident experience for all occupants.
New Mazda technologies, such as an available See-Through View monitor, assist in a variety of parking situations through the large 12.3-inch centre display. These thoughtful conveniences provide the driver a seamless experience with the technology and comfort Mazda CX-90 offers, while helping them feel fully in control of the vehicle.