As many of you may well know, in Britain, the phrase 'sound as a pound' can be used to describe something as being particularly good or great, but as I found out thanks to Ford New Zealand it can be aptly used to describe the 2021 Mustang Mach 1 – and SOUND is the operative word.
You see, October 14, 1947 Chuck Yeager flew his Bell X-1 over the Dry Lake in Southern California so quickly that it broke the sound barrier, achieving Mach 1. This epic feat of human history prompted the Ford motor company to create the original (1969 through to 1974) Mustang Mach 1 in tribute.
Fast forward a shade over four decades and the Mach 1 is back, it is still attached to the Mustang nameplate only this time there's a production right-hand drive model.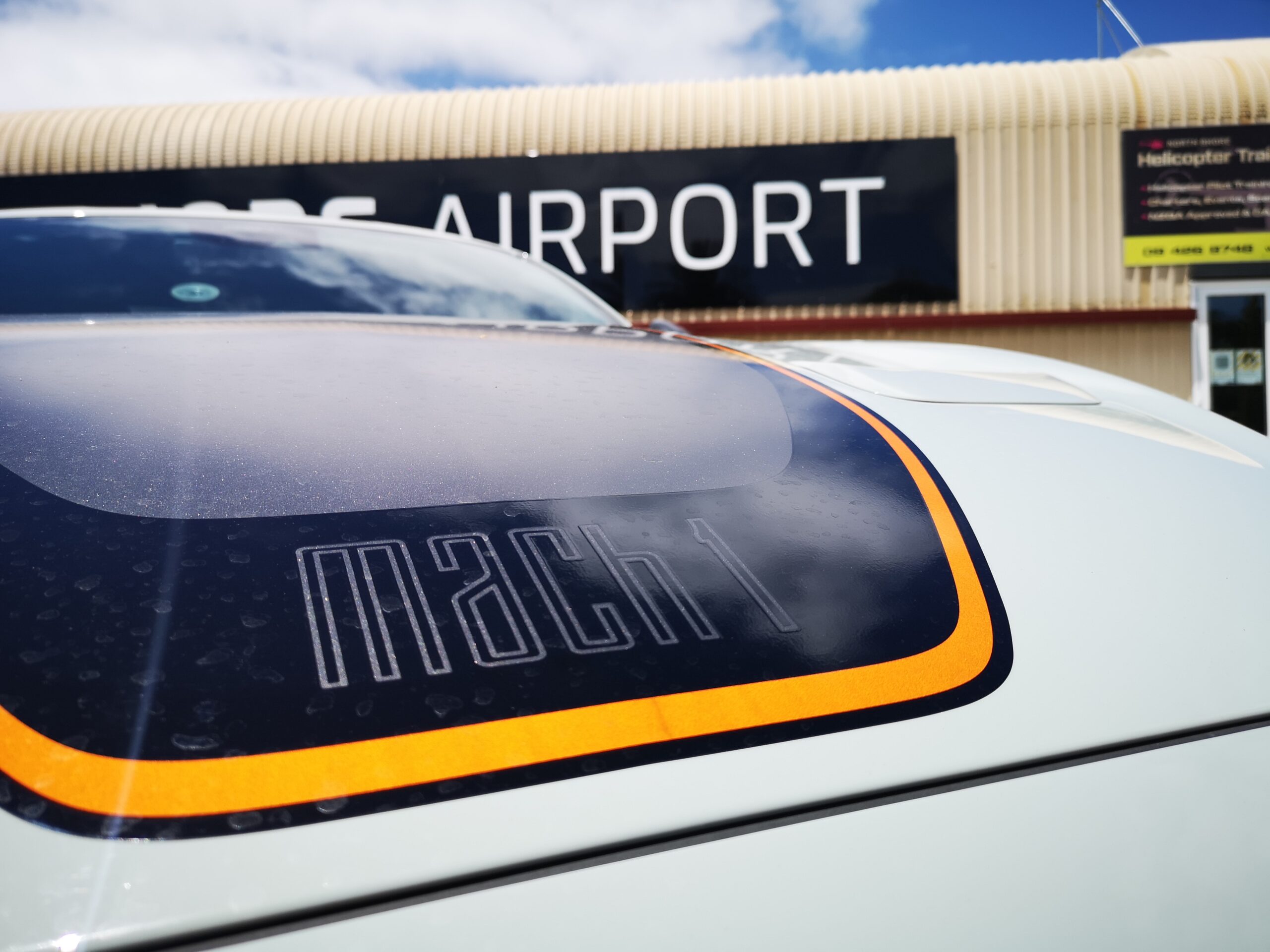 I have to admit to having pestered Ford NZ for the chance to get behind the wheel of the new Mustang Mach 1. It's a limited edition that's sold out in NZ and therefore I was well aware of its scarcity, and conversely not keen to miss out – thankfully they had kept one for review purposes.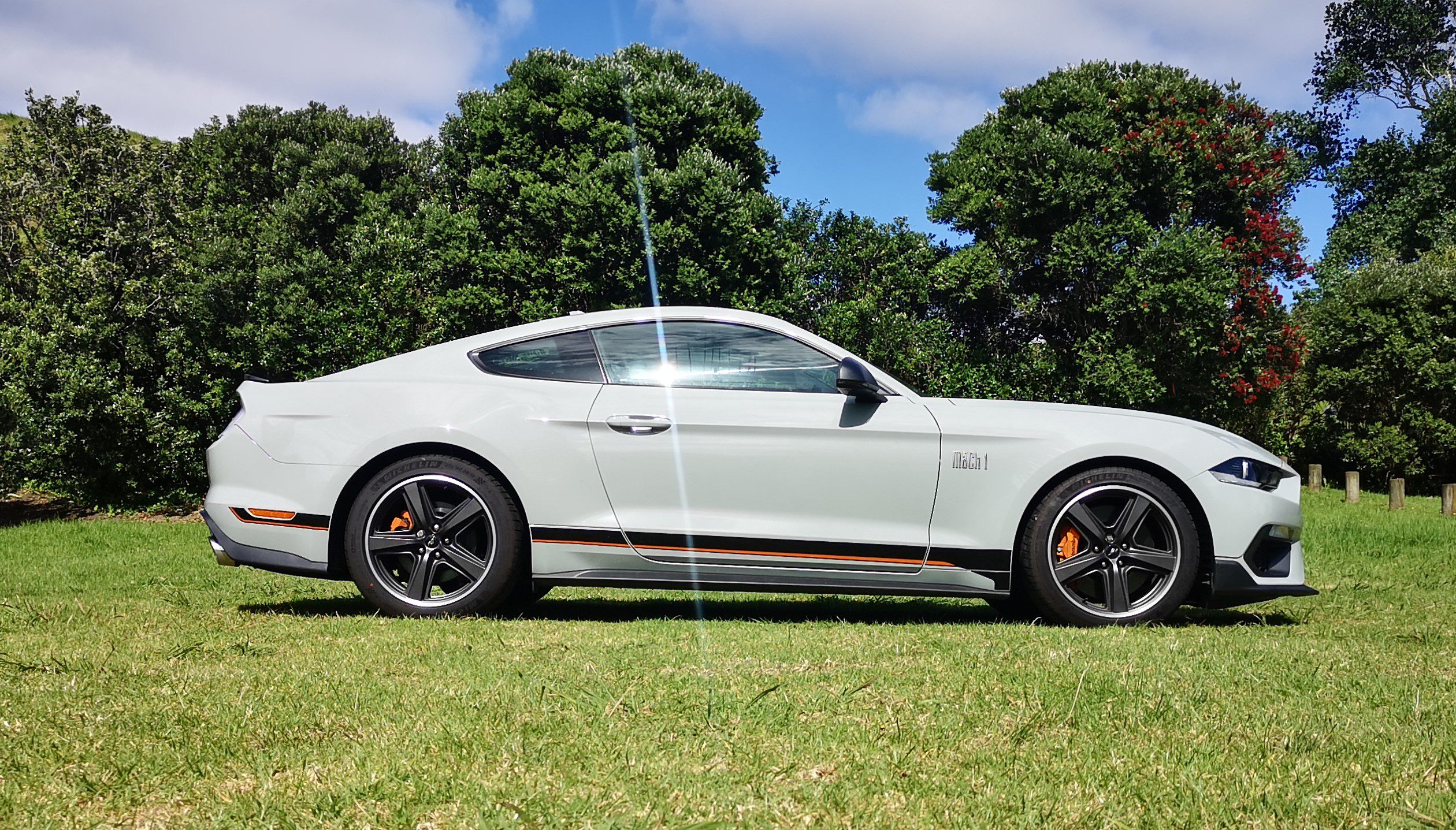 My model came in Fighter Jet grey with bold orange stripes. Nothing had been done in terms of physical shape, however, Ford has given this exclusive vehicle plenty to make it extra special. Ford NZ has declared that the Mach 1 is their most 'track-focused' Mustang yet and when you dig a little deeper, you realise why.
The Mach 1 sits between the V8 GT and the Shelby's and as such, is an amalgamation of both in terms of performance parts and positioning. It's front comes with stiffer sway bars and springs and a GT 350 subframe, while Ford has raided the GT 500 parts cabinet for the rear.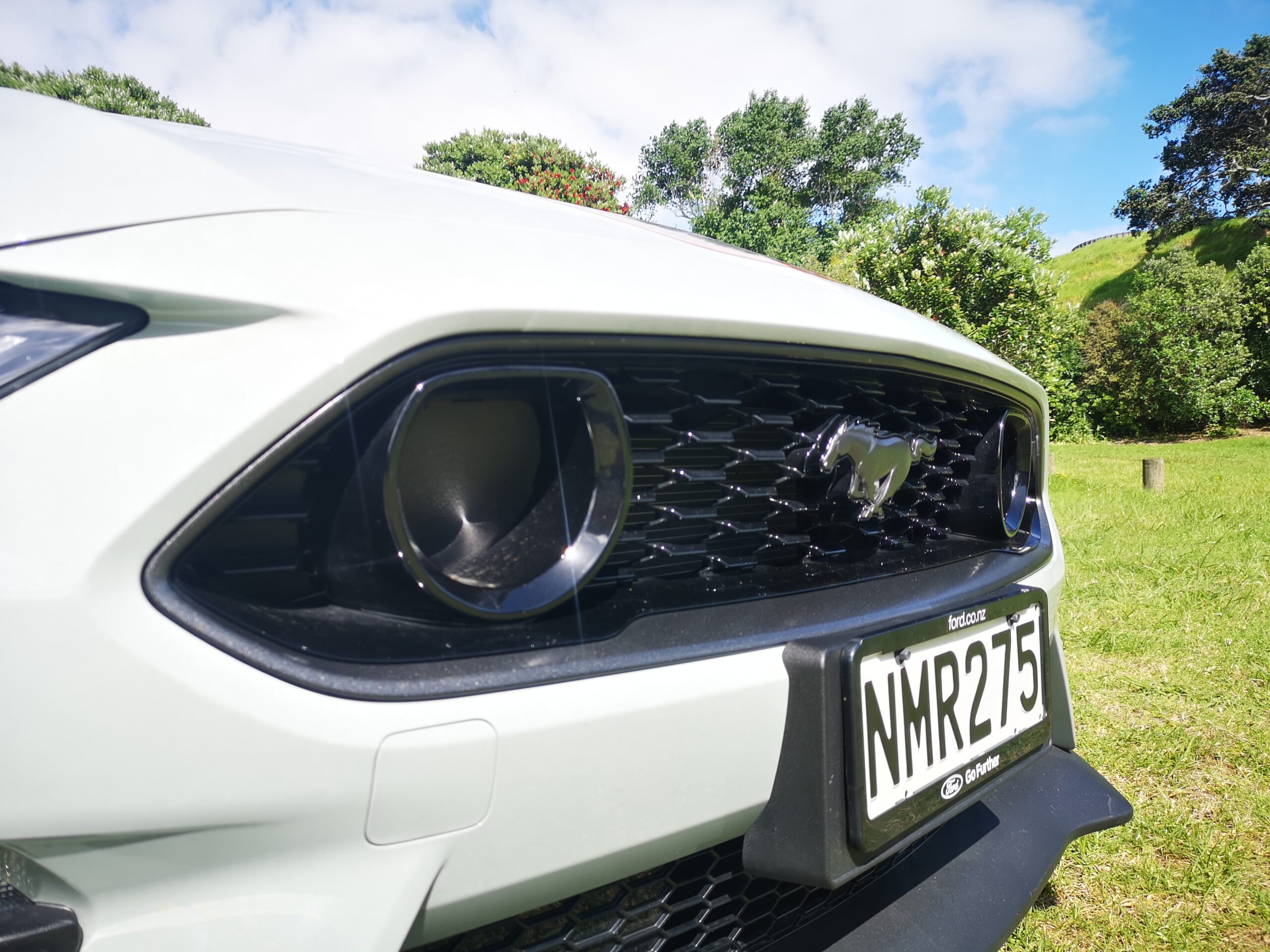 It sits on an specially calibrated Magnaride system that is a joy to drive on whatever the weather, Magnum inspired feet and 6-piston Brembo brakes to pull this special Pony to a halt in record time. The front spoiler and rear diffuser combo adds 20% more downforce than than a regular GT and there are a raft of additional cooling systems that keep the temperature down in areas such as the gearbox, engine (upto 50% cooler) and axle.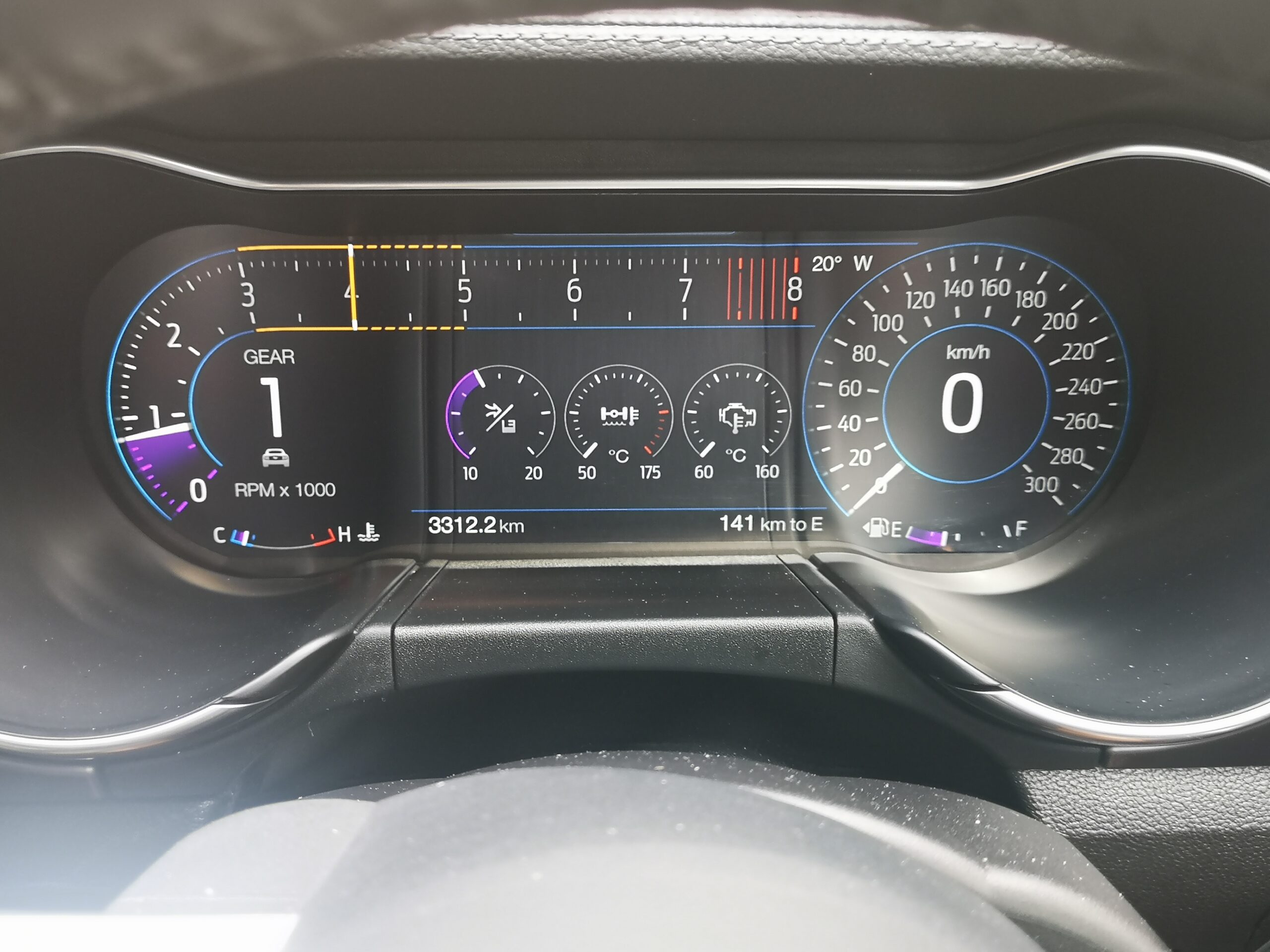 The drive system has been upgraded too, with a sports exhaust that cane be set anywhere from loud to super loud (and comes with 4.5-inch quad exhaust tips), a twin disk clutch, an outstanding TREMAC 6-speed manual gearbox and thanks to and open air induction system and 87mm throttle body, the 5L V8 now produces 345kW at 7,500rpm and 556Nm at 4,600rpm (so revving high is the key.
My first few days behind the wheel of the Mustang Mach 1 was appalling but thankfully only due to torrential rain in Auckland. But even with its heavy nose, powerful engine, manual box and rear wheel drive the Mustang felt as confident to drive as an Escape, even in 'Normal' drive mode. Although I must say that I kept my right foot in check.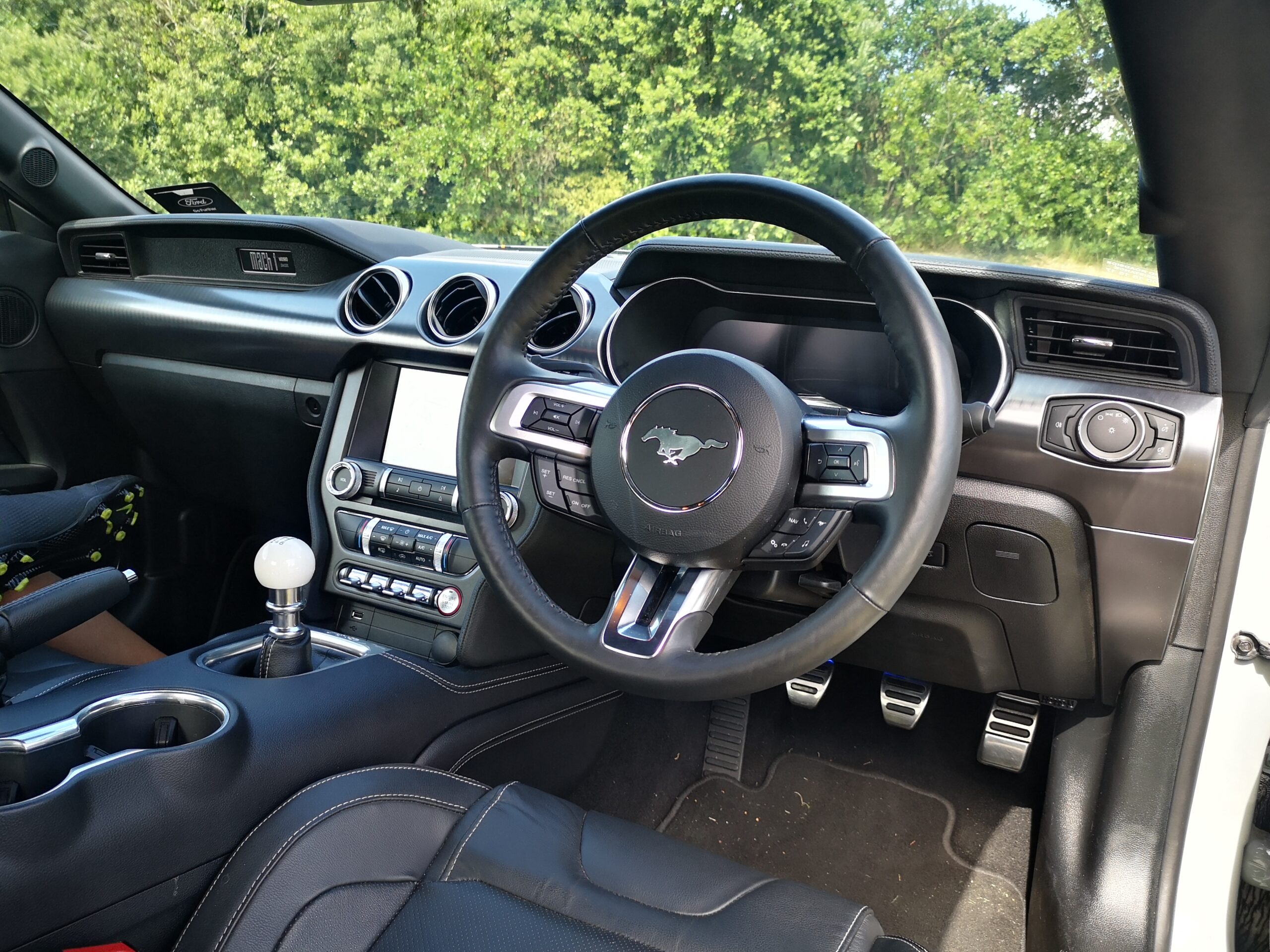 However, when the sun came out so did the smiles. I immediately selected Sports drive mode, put the exhaust note on 'track' and headed for 'them thar' hills, being instantly rewarded with a driver's car with a thirst to be driven.
Let's face it, a naturally aspirated V8 married to a manual gearbox is a bit of a rarity nowadays and as such is a hell of a treat for those that like to get more involved in their drive and I have to say that the TREMAC box is a gem. Its gate is as tight as a latex glove and its mechanical feel as each gear is selected is spot on. For those of us that have not mastered the art of 'heel and toeing', fear not, the Mach 1 will happily blip the revs for you as you downshift and as a 'laugh like a kid' bonus, will allow you to upshift without taking your foot off the accelerator – but you have to commit to pedal to the metal or it makes you sound like you're a novice.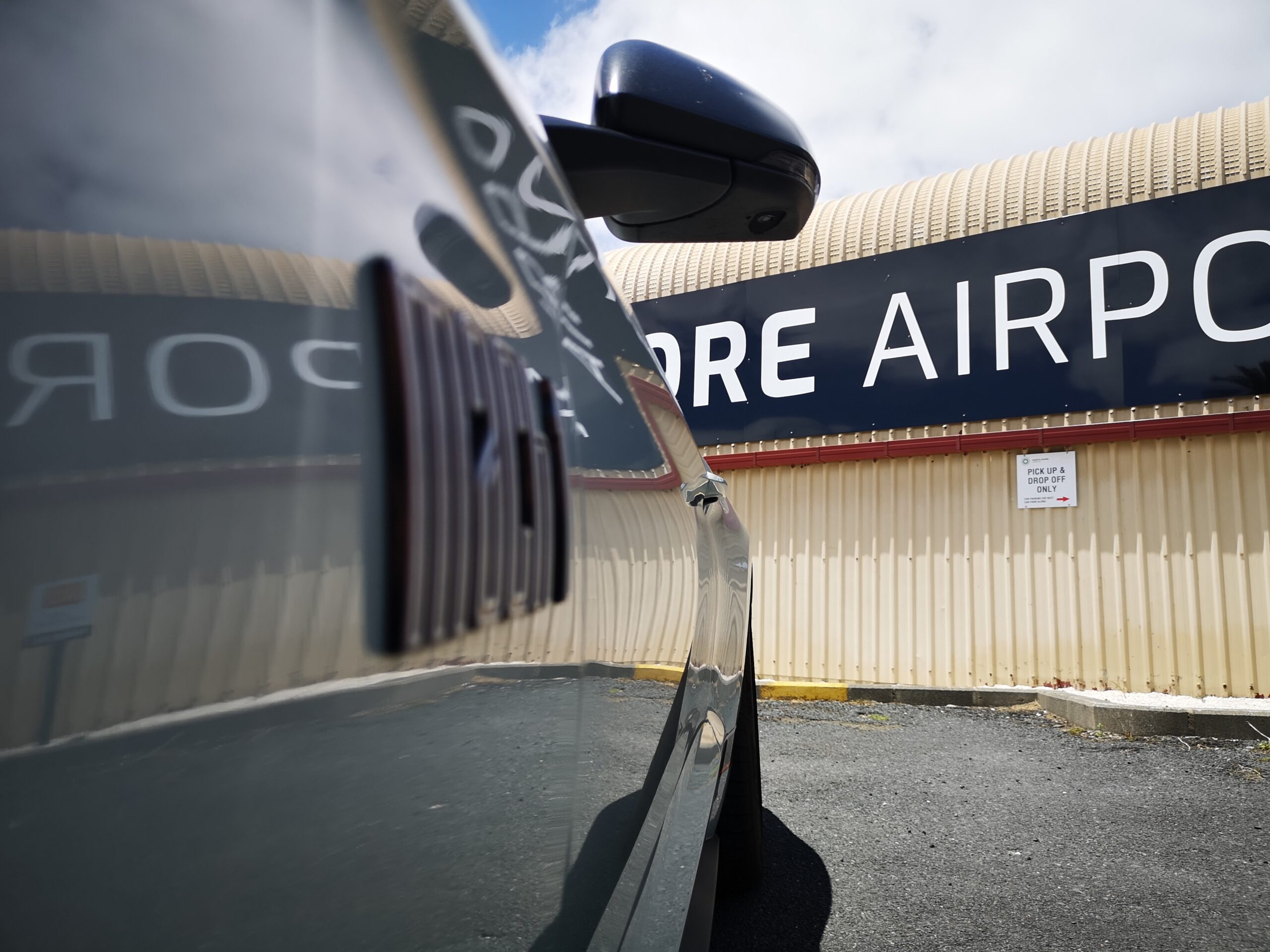 While on the subject of pedal to the metal, it doesn't take much for the Mach 1 to head into treble figures (as 2nd gear is selected to be exact) and as such, I would urge you to be very mindful of when and where to release all its horses. The same goes for traction control, with all it's systems engaged, the Mach 1 makes you feel like you are a driving superstar, but should you decide to switch them off, it's like driving on ice, brilliant fun in the right places but we've all seen the YouTube vids of those that didn't end well.
The steering can be swapped from normal to sport and its response adjusts accordingly and as I mentioned before, there are a number of driving modes, from Wet to Racetrack (even a Drag race) to suit your every whim although (as with the GT) actual selection is cumbersome.
When not changing gear, revving high and listening to the melodic notes being spewed from the quad exhaust tips, the Mach 1's cabin itself is very much in keeping with the GT, with just a couple of changes, notably the Mach 1 plaque on the left cowl and the Recaro seats are a little more figure hugging (or maybe I've just put on weight since my last Mustang ride).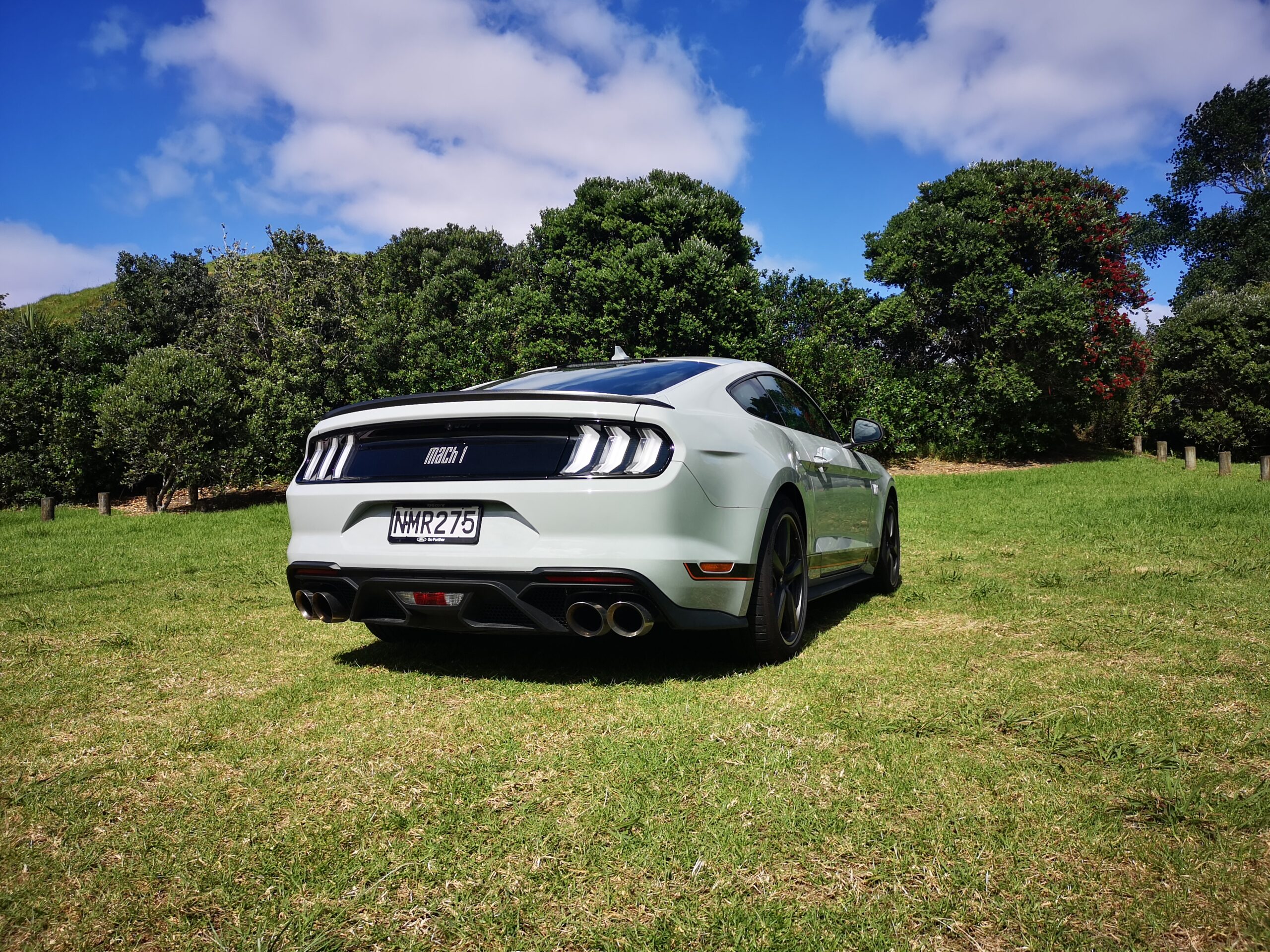 The 2021 Mustang Mach 1 is a shining beacon from the current sea of SUV's that are flooding the market right now. It's loud and in many ways obnoxious and yet brutally handsome and a vehicle that commands attention. It pays a nice homage to the 1969 original and stands virtually alone in the marketplace right now. It drives well, sounds great and since they have all sold out and are appealing on the market at elevated prices, it seems like the Mustang Mach 1 is a sound investment too – sound as a pound.