If one was to comb one's memory banks for long enough, chances are you would have been to a Carnival of some description at least once in your life.
The idea of a tone of complete strangers all huddled together watching in fairground attractions in riding side saddle on a merry-go-round certainly has its appeal. So, it was entirely fitting for Kia to use the name "Carnival" for their seven-seater MPV.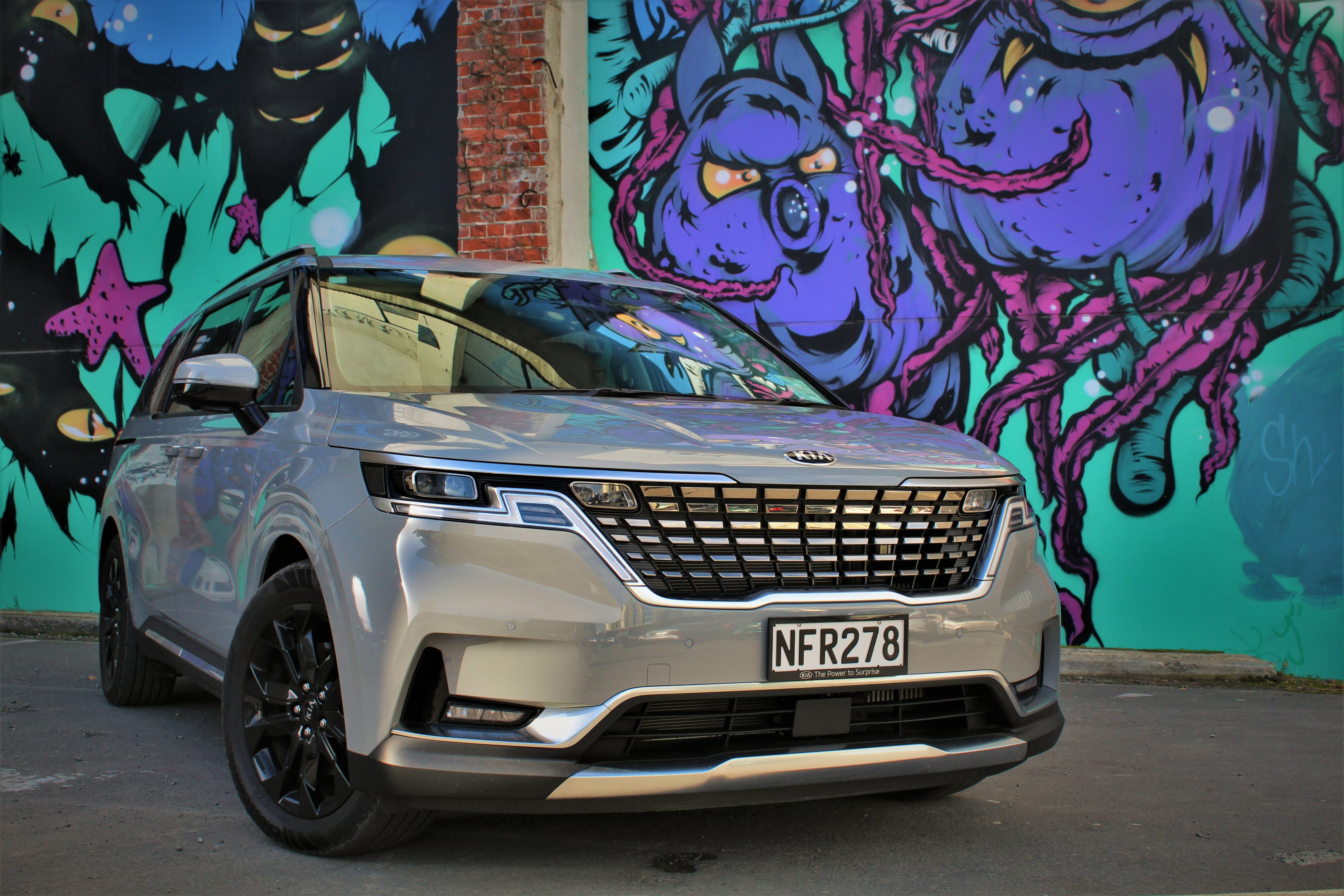 The Carnival has been with us now for some time. It has never been the biggest new seller in the private sector, but fleet buyers have come around to Kia's idea of an MPV, with many doing well as used fleet buys. The latest generation promises to be the slickest rendition of the whole Carnival ethos, but is it enough for this new Carnival to match the likes of Honda's Odyssey? Let's see.
Beginning in the looks department, the 2021 Carnival is certainly leaps and bounds ahead of the previous generation. It is marginally bigger than before, being 30mm longer and 10 mm wider, which brings both length and width to 5,155mm and 1,995mm respectively.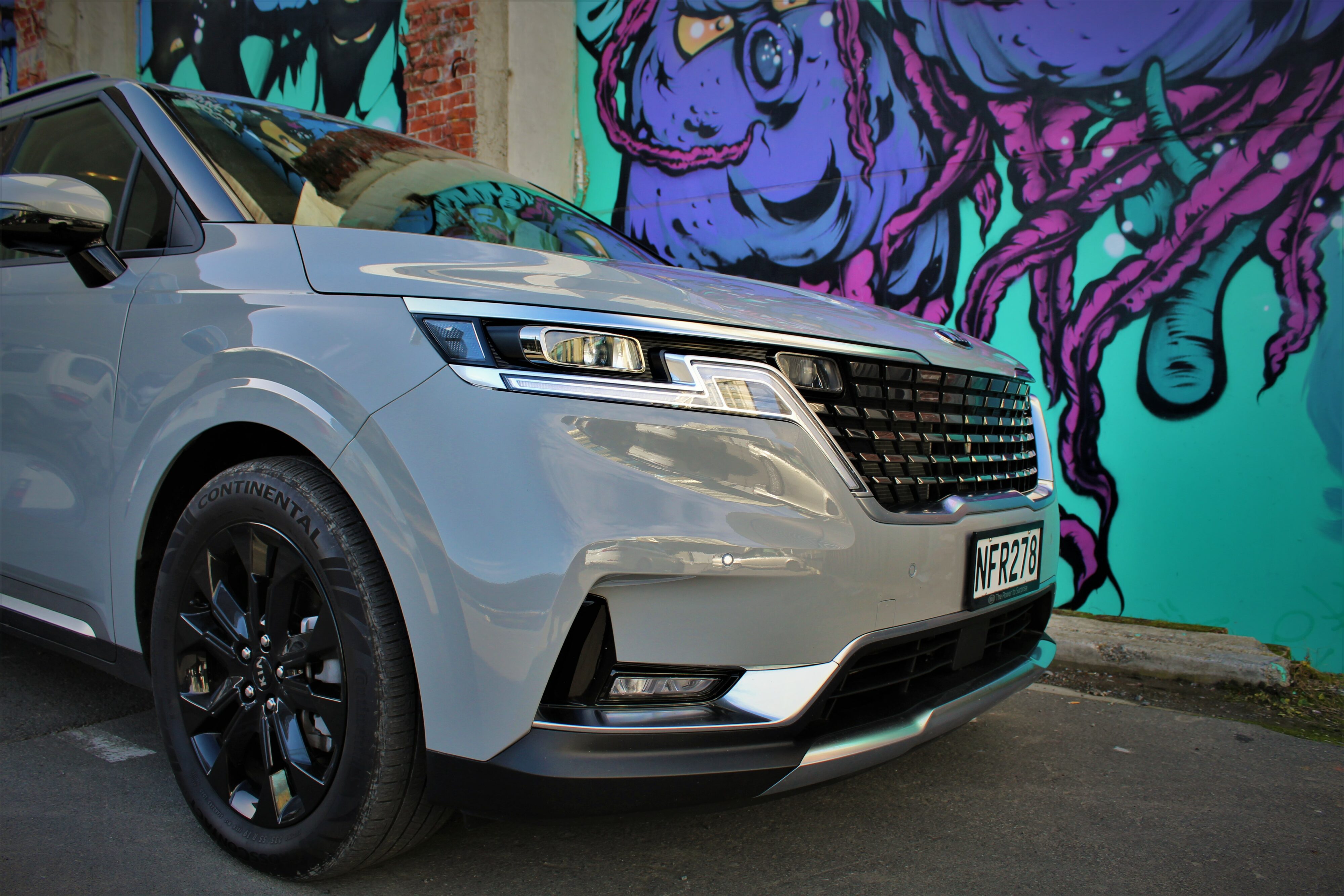 Taking centre stage up front is the now quite familiar Kia "Tiger Nose" grill which when combined with a set of clean-cut LED headlights looks pretty good in my opinion.
Round the back, the blotchy looking taillights of the previous generation have been replaced with a single full width light bar. This minimalist touch to the rear, along with the chrome-esque fin design on the C-Pillar and 19-inch Ceramic Silver Alloys, results in probably one of the best looking MPVs of recent years.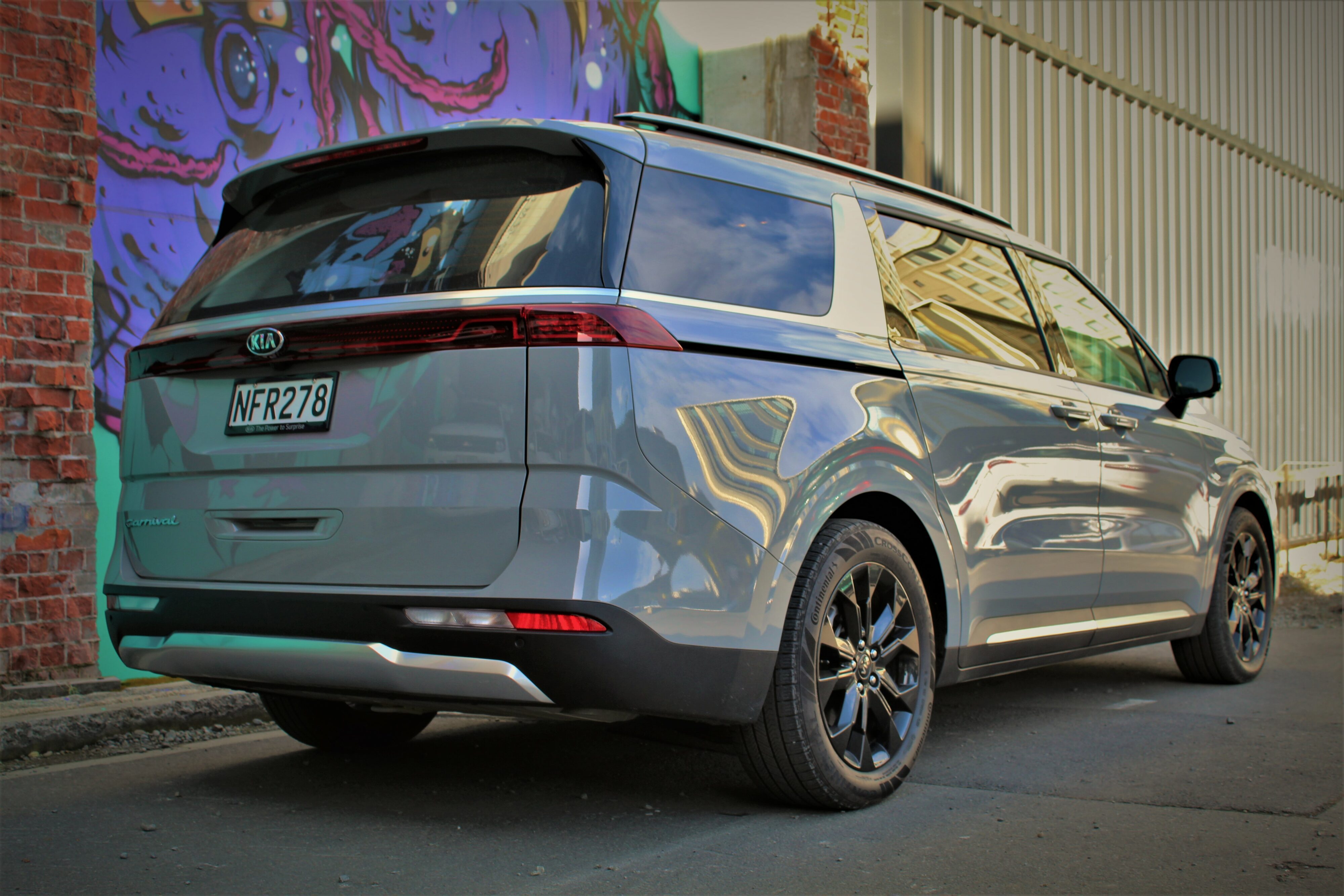 The new Carnival range is broken down into three spec levels. The entry level EX starts the ball rolling at $59,990. The mid-range Deluxe sits at $69,990, while my test car, the flagship Premium, tops off the range at $74,990.
All models get the same beating heart in the form of a 2.2L CRDi turbo diesel engine with 148kW and 440Nm of torque. Adjoined to this is an eight-speed automatic gearbox. More on how this duo performs in a moment. Fuel consumption is also a claimed combined 6.5L/100km and 170g/km of C02 is dispersed.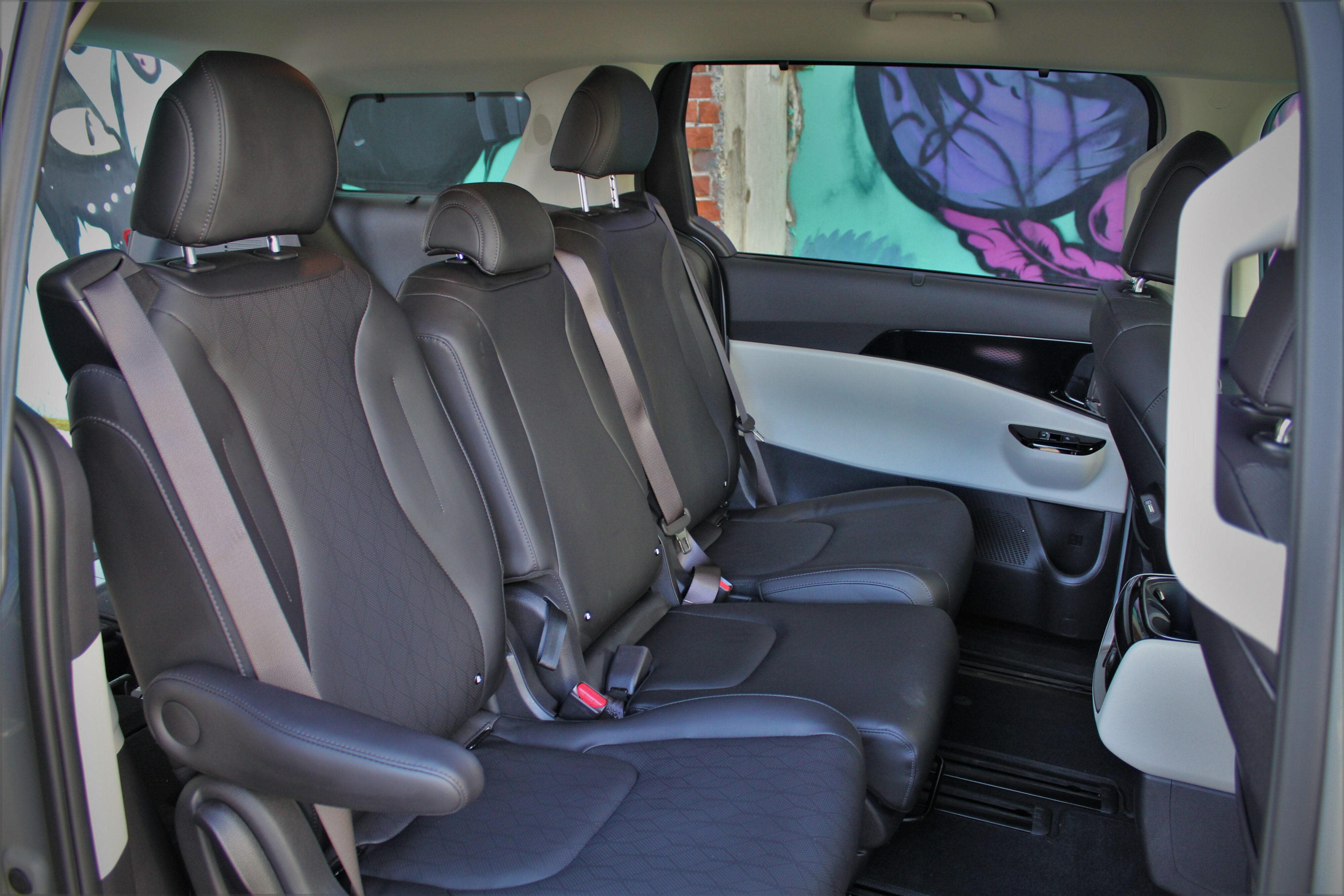 Inside, you ae greeted with what I would describe as being a lush and sumptuous cabin. Kia have come such a long way from 10 years ago in terms of comfort and quality. The leather seats unique to the Deluxe and Premium are some of the most comfortable I have experienced in this segment and provide good lumbar and lateral support
Being an eight-seater, you can switch those rear seats in just about every which way but loose. There is around 626L of space on offer with them in place, but lower the five in the rear, and that swells to a mahoosive 2785L.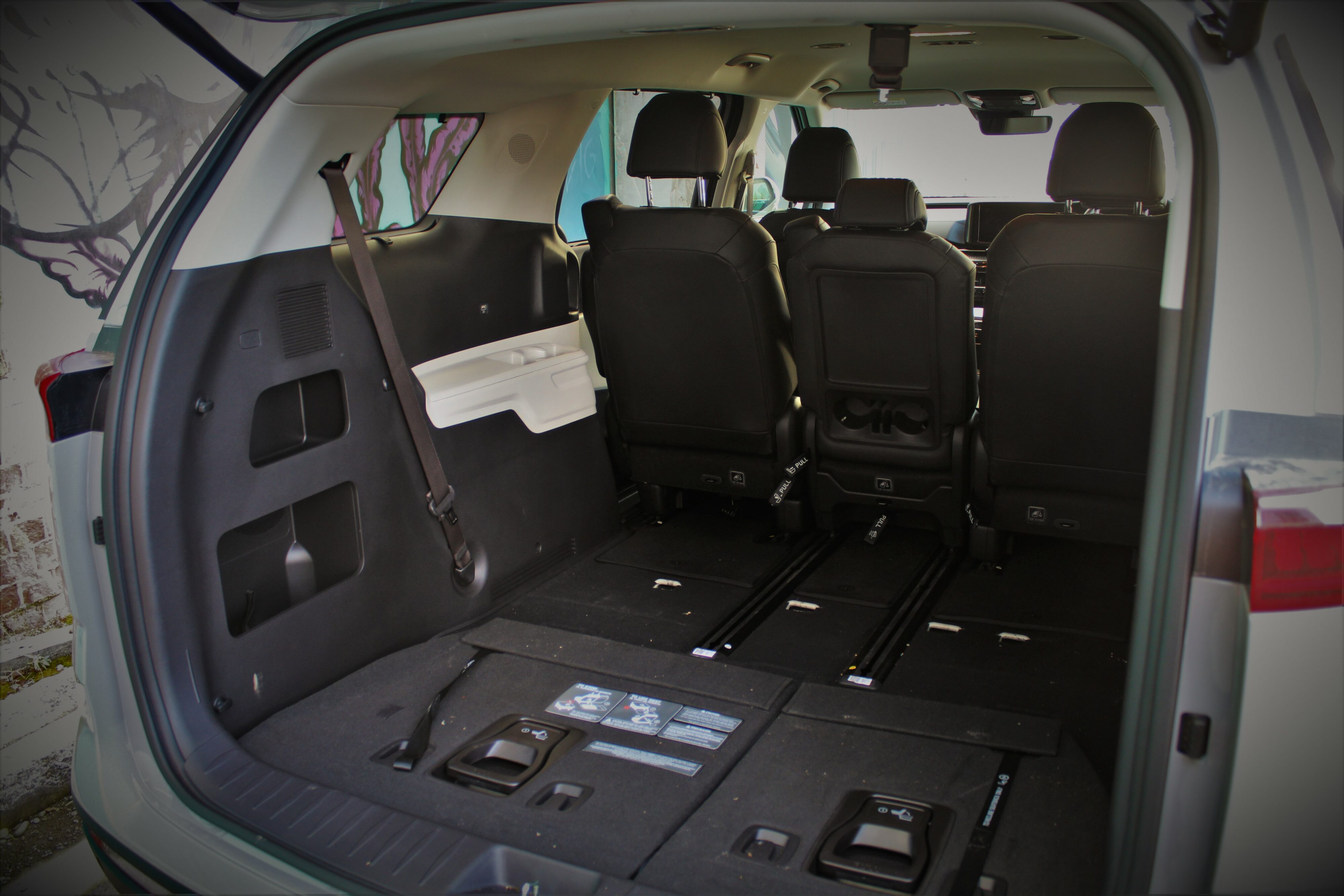 This came in dead handy when my wife and I needed to transport a copious amount of baby hedges home from a Garden Centre just out of Christchurch.
Entry and exit for passengers in the rear is a doddle thanks to its power-operated rear doors. These can also be operated by the driver by pressing a button. Head and legroom? Yeah, there is plenty of that too. It doesn't matter whether you are Jason Gunn or Valerie Adams, there is more than enough for anyone.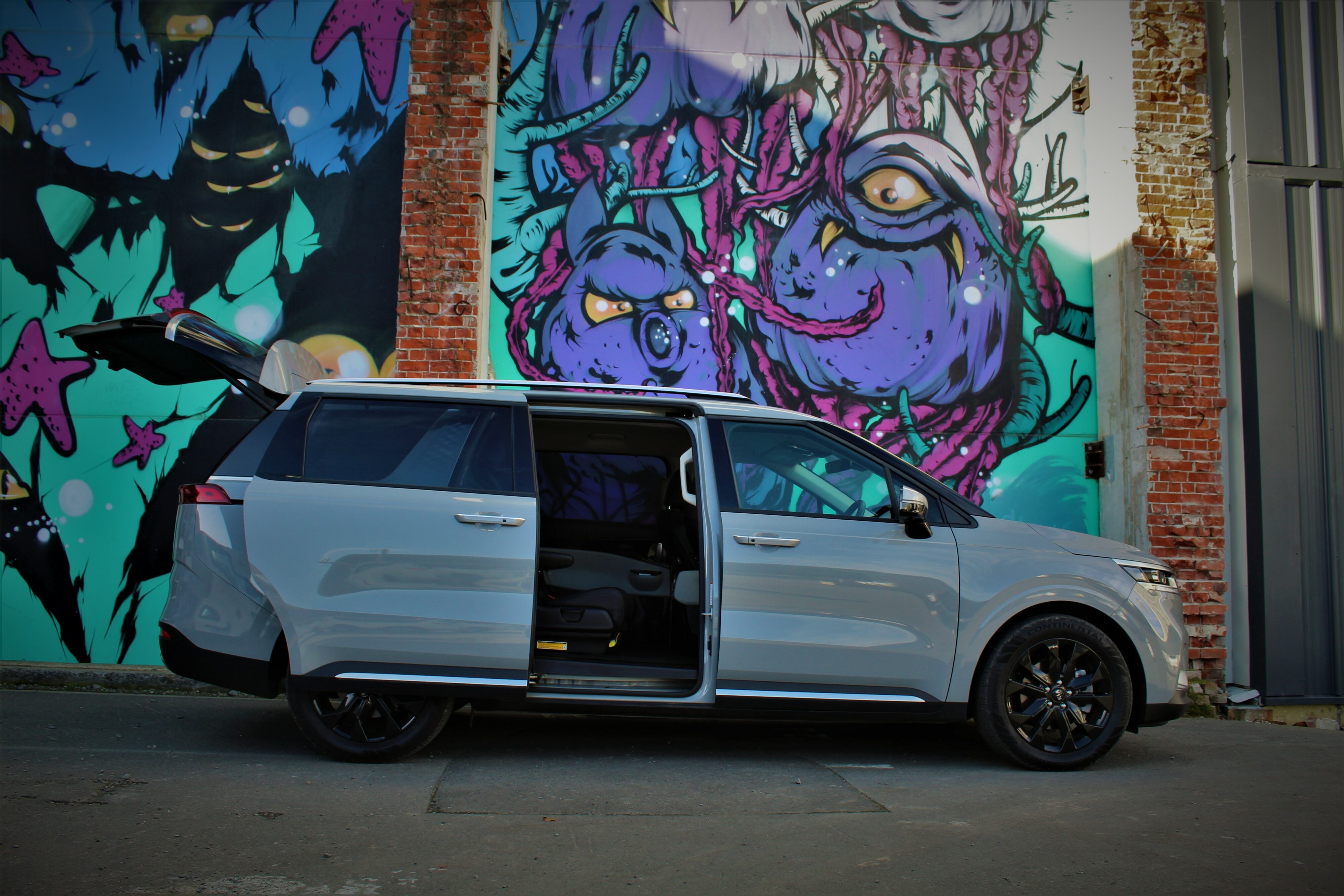 On the subject of standard kit, the Carnival fares well. All models come standard with Forward Collision Avoidance Assist, Multi-Collision Brake, Lane Keep Assist, Blind Spot Collision Avoidance Assist, Rear Cross Traffic Alert, Radar Cruise Control, Reversing Camera with Front and Rear Parking Sensors and Driver Attention Alert. Other standard kit includes Keyless Entry and Apple CarPlay/Android Auto.
The Deluxe gets more but my Premium was very well stocked with additives like a very clear 12.3-inch Colour Touchscreen Infotainment System with a booming BOSE Stereo, Heated and Ventilated Leather Chairs, Dual Zone Climate Control, Wireless Charging, Power Operated Tailgate, Heated Leather Wrapped Steering Wheel and Sat Nav.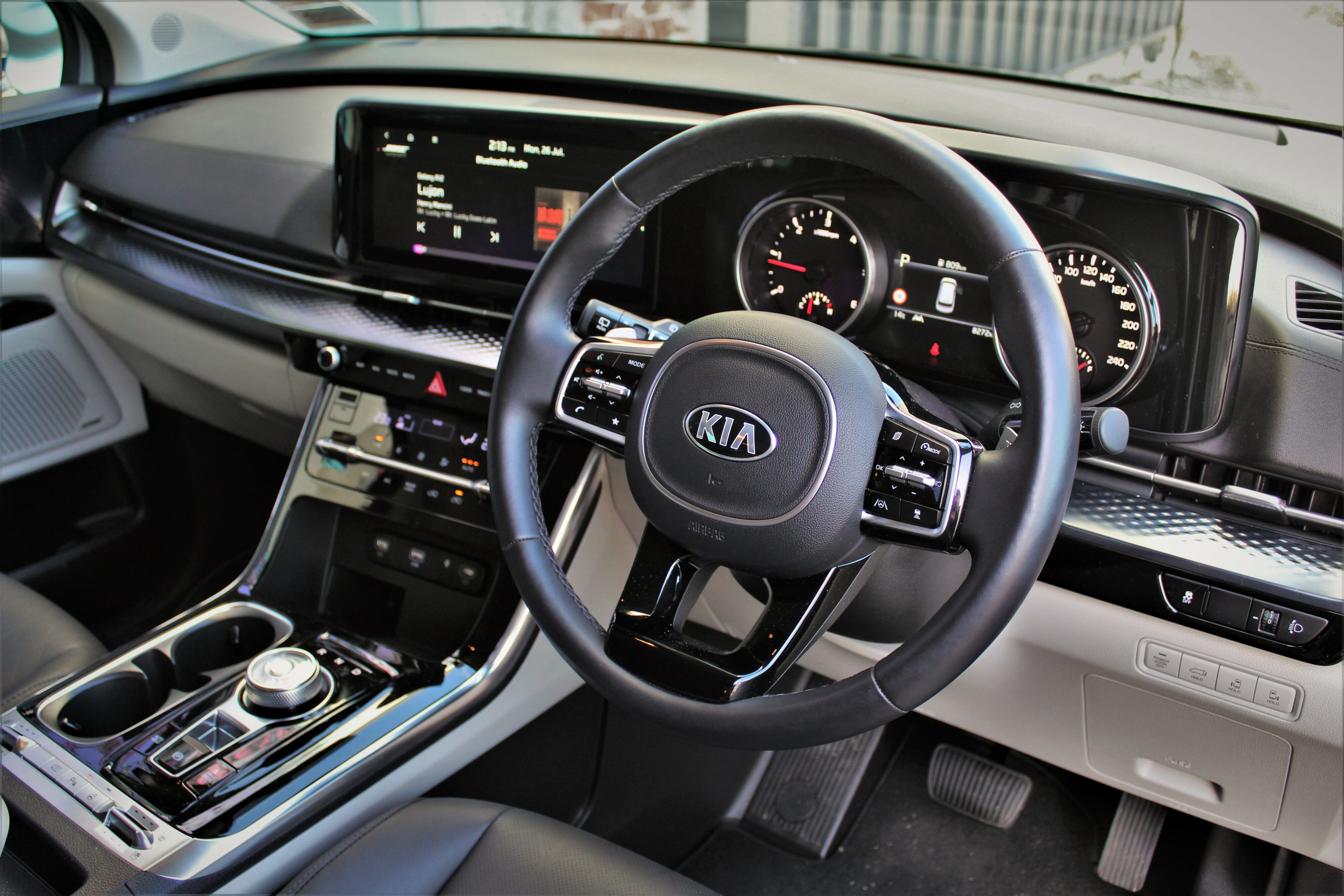 The last of these two features proved to be a bit troublesome, as it wouldn't seem to acknowledge the existence of some Christchurch suburbs.
Moving off and lo and behold, that 2.2-litre turbo diesel engine is one of refinement and relatively silent running.
Sure, the tell-tale chug-chug of a turbo diesel is noticeable when giving welly at low rpm, but ease off and its remarkable at how quiet things get at a suburban cruise. Each gear ratio is spaced out well and there is an ample amount of torque to sustain you during each change.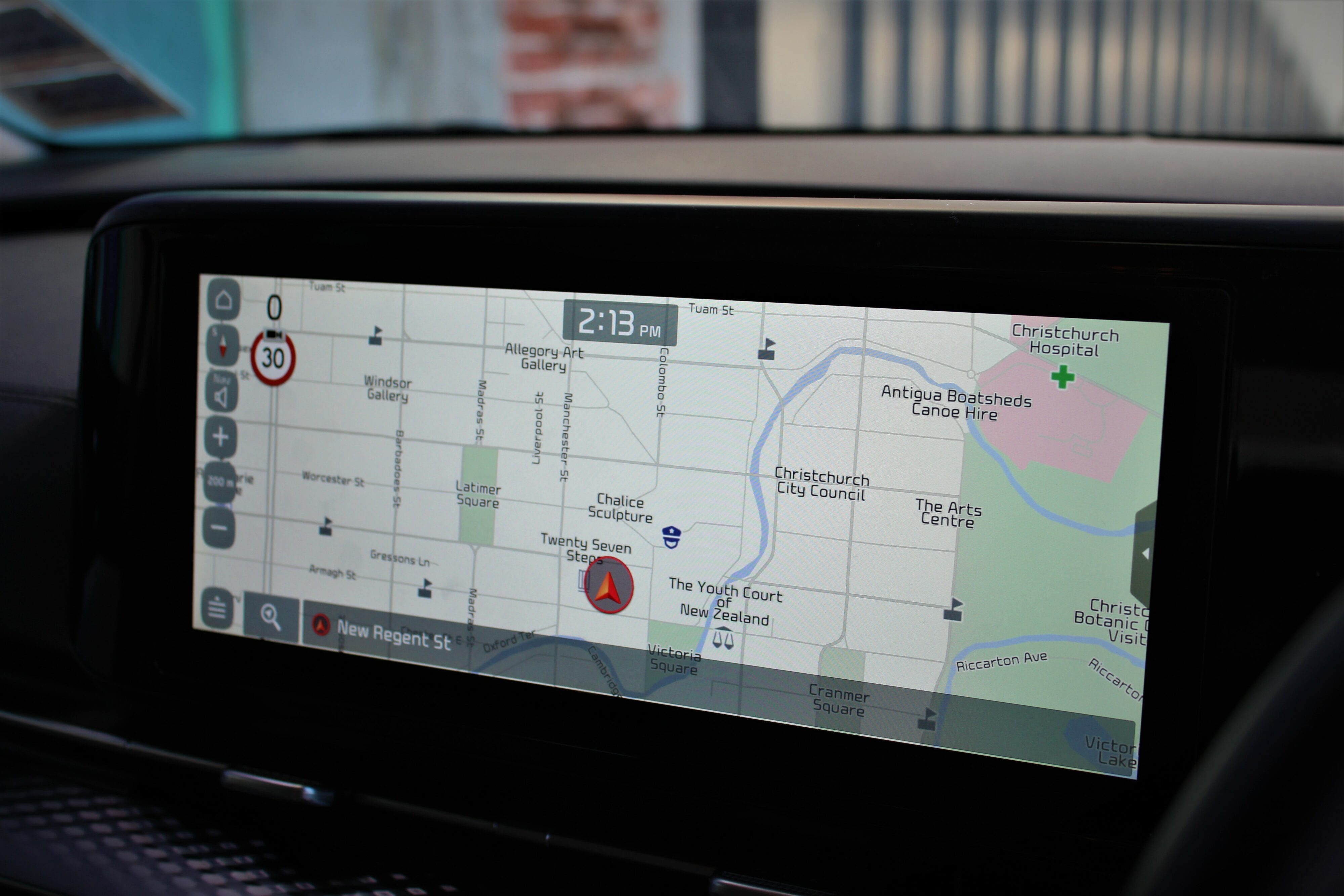 When it comes to manoeuvring in tight spaces, the Carnival is not as intimidating as you might think. The turning circle is good and switching between gears via the circular gear selector is done with ease.
In typical MPV fashion, you sit quite high up, but fortunately, as we have established, you aren't hunched over due to a low roofline. The A-pillars are also not terribly intrusive which is a plus and rear visibility isn't too bad either.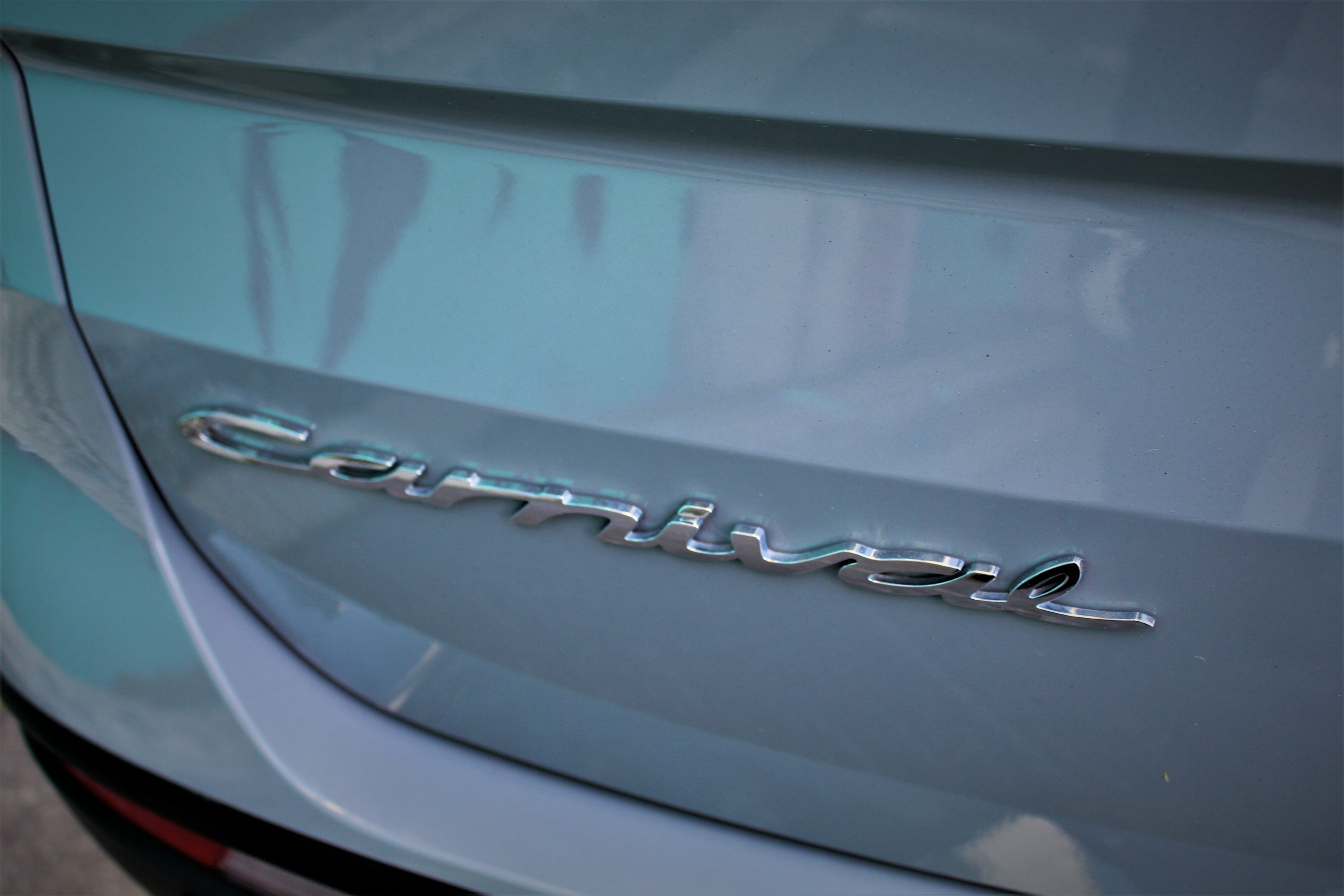 During my week with the Carnival, I also became aware of its hefty 72L fuel tank. After six and a bit days behind the wheel, not continuously I might add, the fuel gauge barely moved, and the predicted range never went lower than 800km.
I was managing to average around 8.5L/100km which when you consider this is essentially a micro bus, that is pretty good.
What the Carnival also manages to do is behave somewhat like a car. Its predecessors hadn't quite got this right, but the latest gen does indeed offer a drive which is very car like.
In other words, it feels a bit more engaging and even, dare I say, playful when cornering. Good to know if you are late taking your party of five to the airport.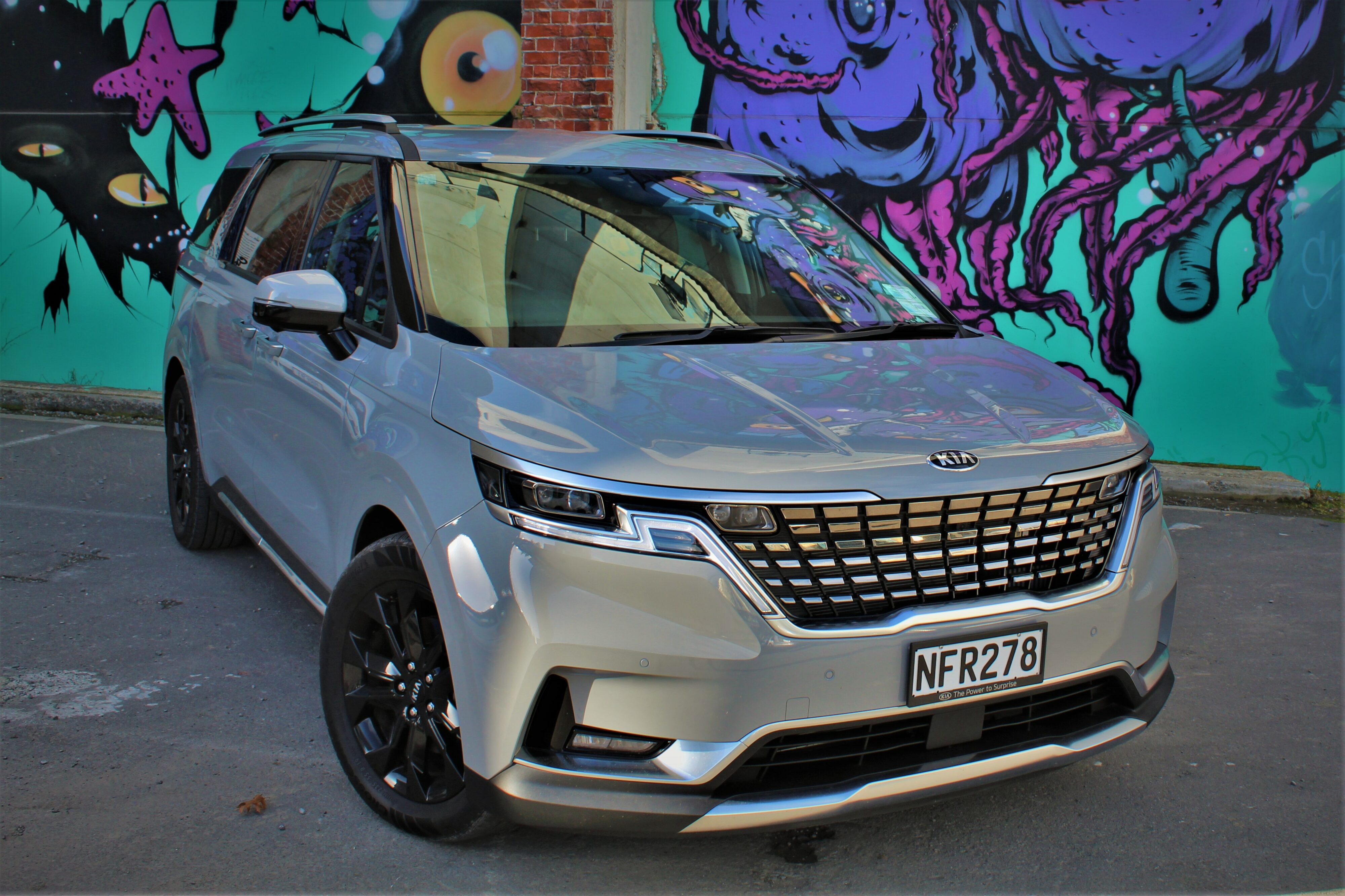 So, the 2021 Kia Carnival? It is not uber brilliant, but it is one of the better options out there in a very niche market. It doesn't skimp on quality, has oodles upon oodles of space to store stuff, and still provides you with comfortable and refined drive, which also happens to be a bit entertaining.
Perhaps it is time peopled realized there is life outside of an SUV when it comes to transporting your carnival of loved ones.
RATING: 3.8/5