Having a surname like McLeod, means that Dunedin strikes me as a funny old city. You see, aside from it being NZ's seventh largest city in population and being surrounded by spectacular scenery, it also boasts of being steeped in a combination of Maori culture and Scottish heritage – and that last part is what I find somewhat peculiar. Surely the people of Scotland that travelled thousands of miles to the other side of the planet would choose to set up camp in a place that wasn't almost exactly the same as where they left? At least somewhere with a warmer winter!
Anyway, with its Victorian and Edwardian architecture, epic hiking and cycling trails, Albatross colony (what flavour is that?), Art interests, Speights brewery and of course, its student vibe, Dunedin is evidently a terrific place to visit, however, as we are there for the launch of the all-new Lexus RX and RZ, we got to see none of it.
What we did get to see though, was the Ebb Hotel – and as it turned out, another reason to head to the 'Edinburgh of the South'.
Located at 82 Filleul Street, Ebb hotel is a multi-award winning, 28 room hotel that's easy on the eye and a great place to rest your head.
The Ebb hotel was developed by a local Dunedin family, the Cazemiers, with property investment company 'Otherplaces' discovering a site that offered the perfect opportunity to combine their passion for hospitality, architecture and art.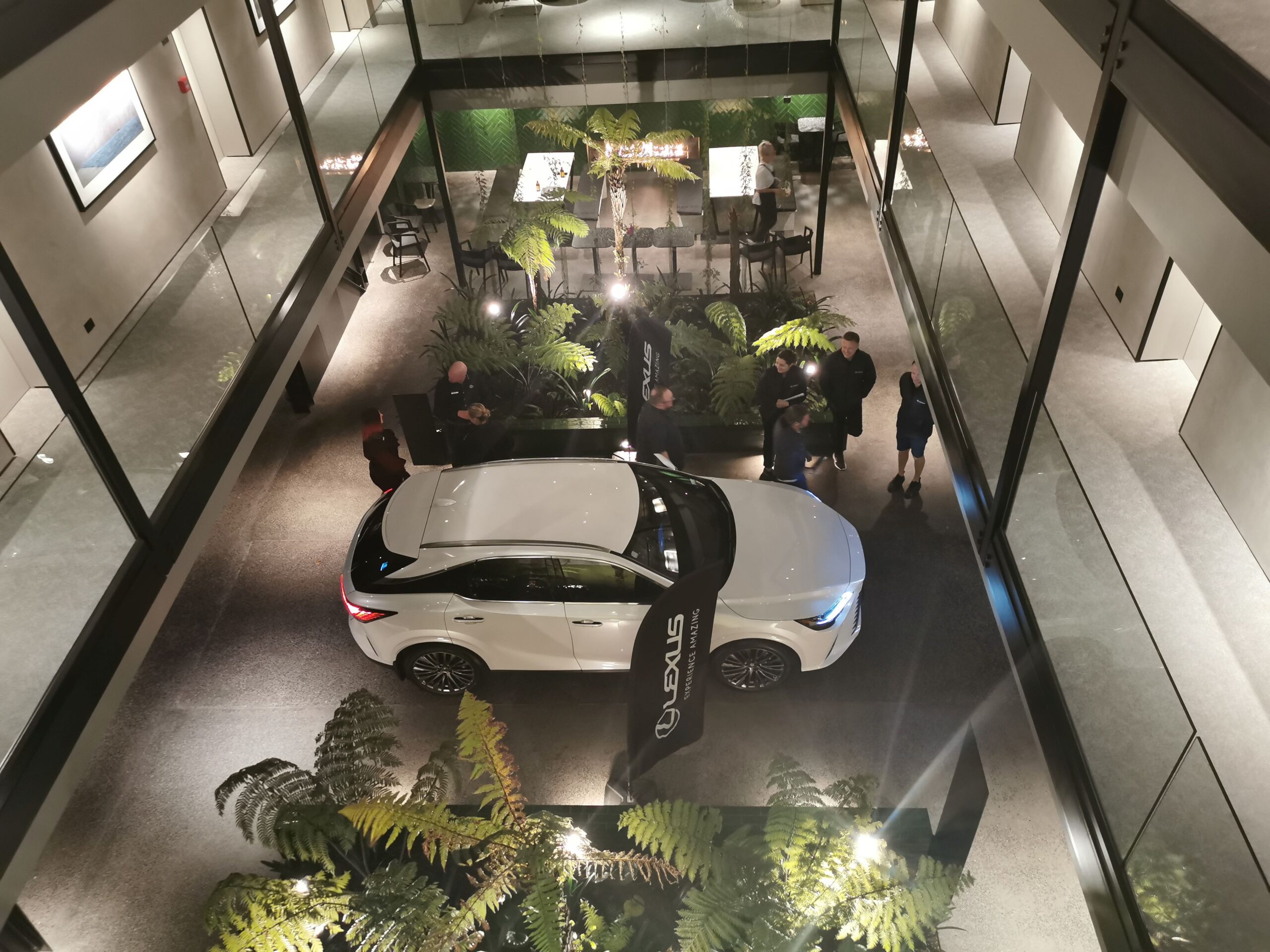 Their journey began with a bare plot of land in 2017 and their vision was to create a contemporary neighbourhood hotel of unique design that provides relaxed luxury – and the Ebb is just that.
The Hotel itself was named Ebb after the site's historic location on the edge of the now reclaimed Otago Harbour tidal flats. 'On the ebb tide, Polynesian travellers would have first landed on the exposed tidal flats before stepping foot on land'.
Ebb's founders say that their vision or narrative is embodied in the building and identity, starting with the facade. They commissioned local Ōtepoti artist Simon Kaan to create a large-scale artwork to wrap the entire 3 story facade of the building. 'Simon's meditative artwork depicts Polynesian wakas first arriving through the heads of the Otago Harbour, with the view of the land and sky from the sea.' Each level has its own distinct atrium lounge for guests to enjoy a drink or read a book, surrounded by the work of New Zealand artists exhibited on their walls
The Ebb has five room types to choose from, ranging from Classic up to a Suite. I stayed in a Classic which despite being the base-room, it felt far from it. In terms of size, it's 35m2 and modern in its decor. The large, King sized bed took pride of place (it is a hotel room after all), but the furniture was bespoke and underfloor heating ensured that my feet were warm and toasty.
The WC is in a separate area to bathing, which is always appreciated if there are two occupants, and the shower came with a rainfall showerhead and Ashley & Co toiletries, (however, they were refillable and not stealable).
The wall-mounted TV was a Samsung-Style picture frame, I guess it would have to be baring in mind the Ebb's artsy feel, free (and pretty quick) Wifi and a wireless phone charger built into the bedside table.
The rooms are warm and inviting and although it usually takes me a couple of nights to get a decent night's sleep in a new/different bed, I did rest really well, and was a little reluctant to get up the next morning.
Breakfast was held in the Ebb-Cafe that looks out to Filleul Street. The cafe is run by writer and chef Alison Lambert, who has a penchant for delicious, healthy food. And with that in mind, rather than hunting out a bacon and egg butty to kick start the day, I opted for the Turkish eggs with whipped yoghurt, hot chilli butter and sourdough – very tasty.
Satisfactorily rested, fed and watered (they make a good coffee too), we hit the road in our new Lexus and headed northwest to Queenstown.
Whether you're a business traveler or looking to kick back and relax as a 'McTourist', the Ebb is a great and interesting place to stay. And in fairness, the people at Ebb sum up their hotel experience perfectly – 'Ebb Dunedin is the perfect base to explore, escape or simply go with the flow'.