I know it's an oldie but 'why the long face?' seemed like a fitting joke as I slipped past the line of vehicles queuing to refill their fossil fuelled cars at the petrol station while I was behind the wheel of a Mustang, an EV Mustang Mach-E to be more specific – well I found it funny anyway.
You see, for virtually the whole week that I had my hands on the new Mach-E, the UK had been in the grip of a self fulfilling fuel shortage (people (mis)took the Governments words of 'there is no fuel shortage' to mean there was NO FUEL and acted accordingly, with a zealous panic buy akin to last year's toilet roll rush (we've really learnt nothing as a race). Either way, no fuel meant no problem for my all-electric muscle crossover.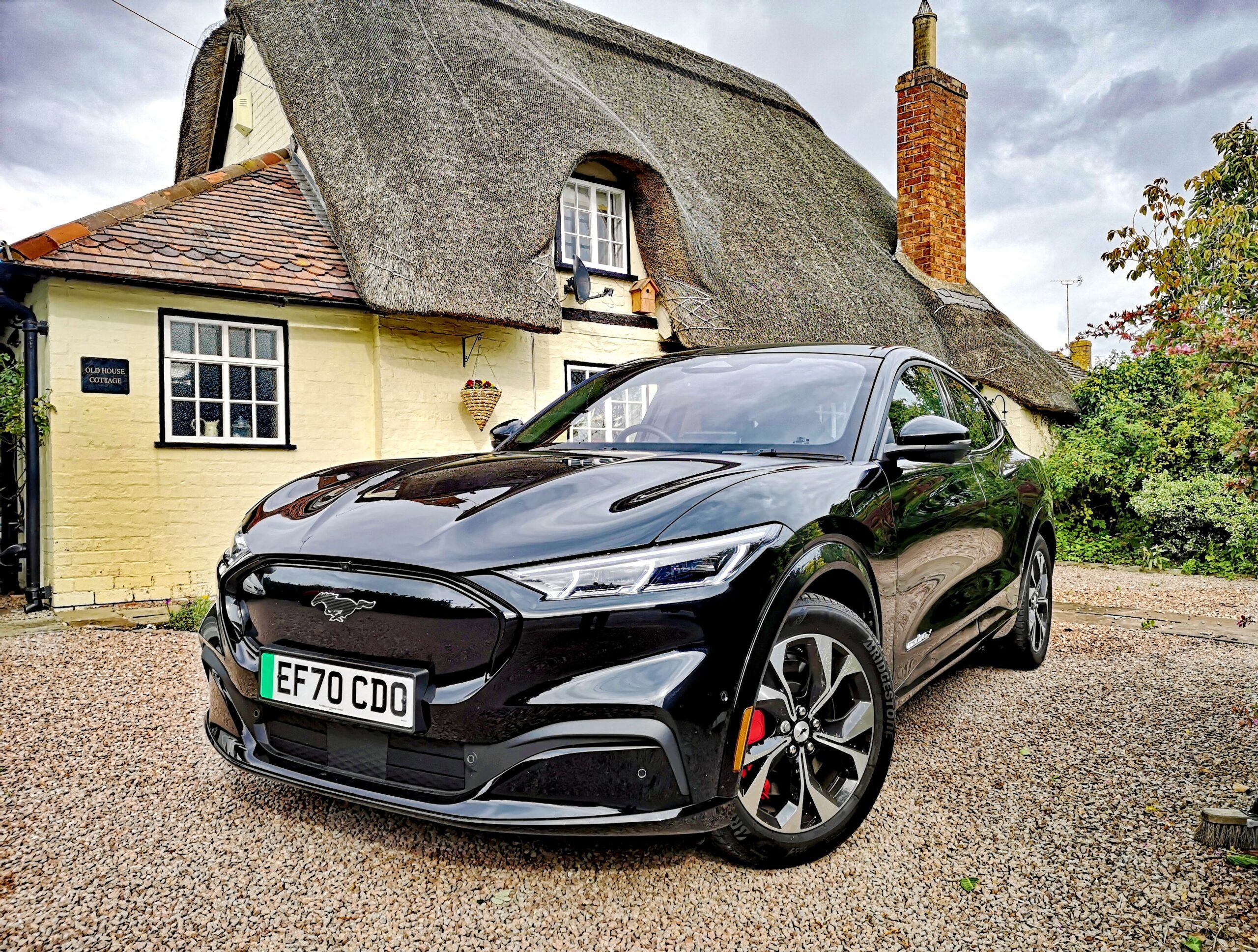 With a history that spans over five decades, the Mustang nameplate has amassed a large and dedicated fanbase, so for it to now be both electric and, let's say, not so sportscar looking, it's bound to make some people uneasy. Yes the Mach-E is more crossover than low-riding sports car but it still retains a fair amount of the Mustang's style traits, including a powerful long bonnet that's distinctive in both shape and design, wide and muscular rear haunches and 'tri-bar' tail lights. While inside, the cabin still comes with a modern interpretation of the double cowl dashboard, albeit 'hidden', by a very large 15.5-inch infotainment screen.
With the Mach-E, the iconic 2+2 Mustang, is now a family-sized five seater AWD (in my case) sports utility and as such its dimensions have been adapted to suit. Its 4.71m long is slightly shorter than the regular Mustang and its 1.6m height lords over its 1.39m tall sibling. The grille has been closed off to improve aerodynamics (0.3 drag coefficient) and of course there's no hefty V8 behind it to cool.
The Mustang's dramatic lines have been softened yet still rather bold and noticeable and there's a nice slope to the rear roofline. The tailgate is electric and opens up to plenty of luggage space with 402L in the rear with all seats up and there's a 'drainable' 100L available under the bonnet, which is great if you need it to double as a chilly bin.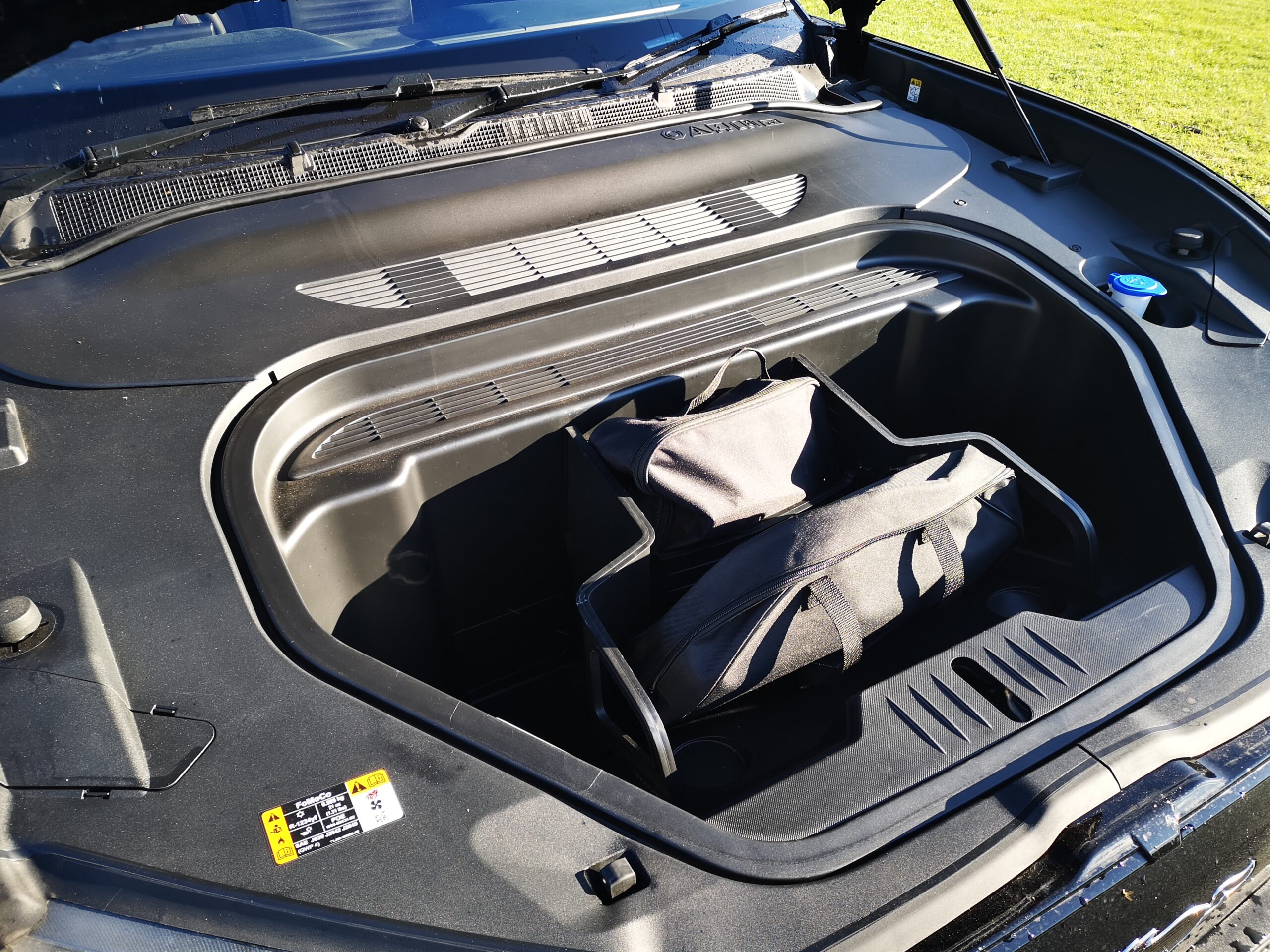 Entry to the Mach-E comes via an E-latch 'push button' system, or you can use your phone to gain entry (with a keypad should you forget your keyfob and phone) and the cabin itself is spacious and rather minimalistic, complete with a variety of tactile materials including contrast-stitched leather-like seats, faux carbon fibre and recycled-looking textured dash covering. What's more, the Mach-E's cabin is flooded with light thanks to a cleverly insulated full-length Panoramic roof that keeps you warm in winter and cool on those hot summer days.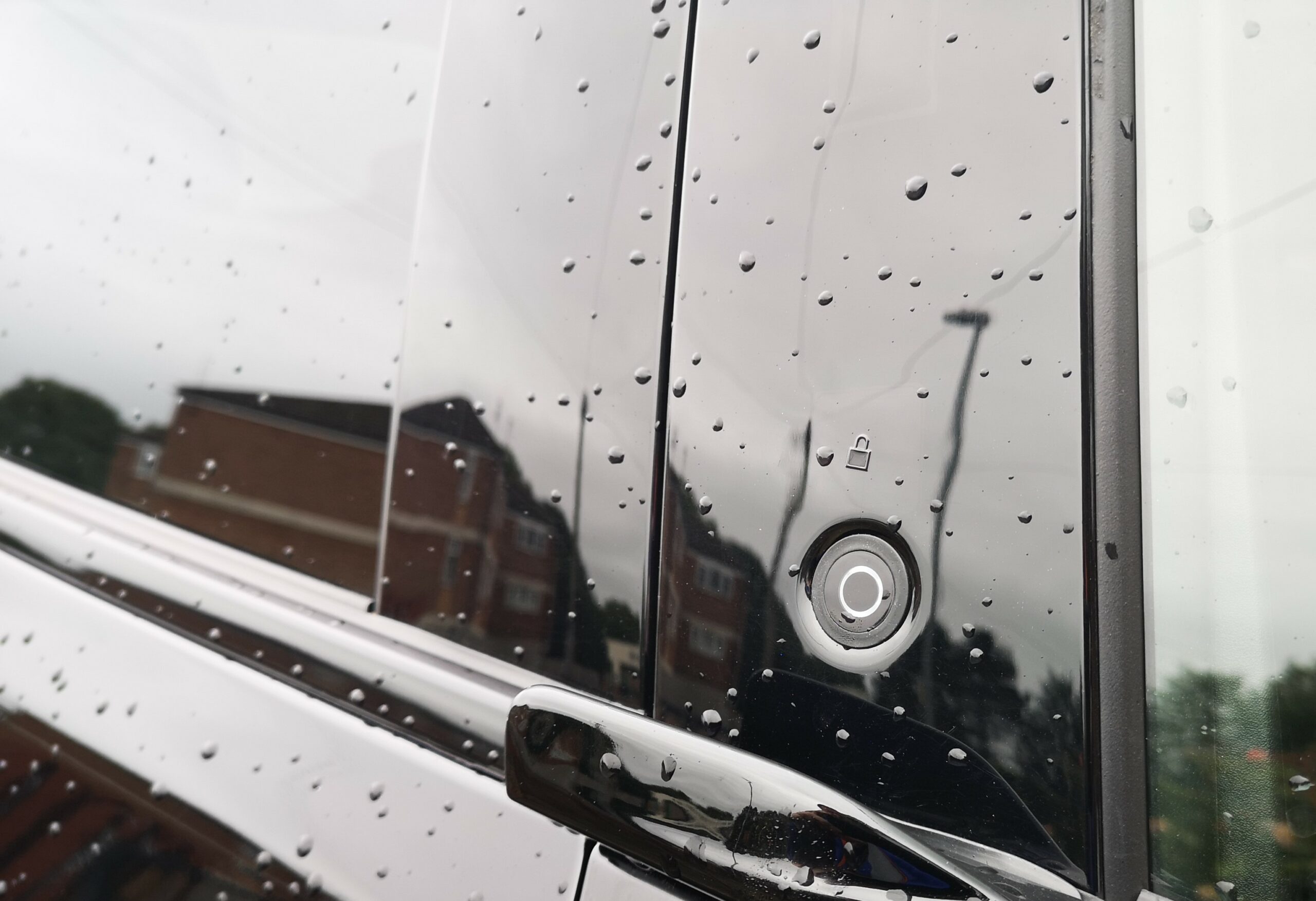 The aforementioned 15.5-inch infotainment tablet-style screen is impossible to miss as its portrait placement takes up the majority of the centre dashboard, that's not to say that it's not cool though. With 'tablet-style' touch and swipe functionality, it controls everything from driving modes and 'propulsion sound', to temperature, 10-speaker Bang and Olufsen sound system and large navigation display. It also comes with Ford's latest Sync system which is quick and intuitive and the voice control uses natural language in its command, for example, I just yelled 'coffee!' at it and a list of local cafes were displayed.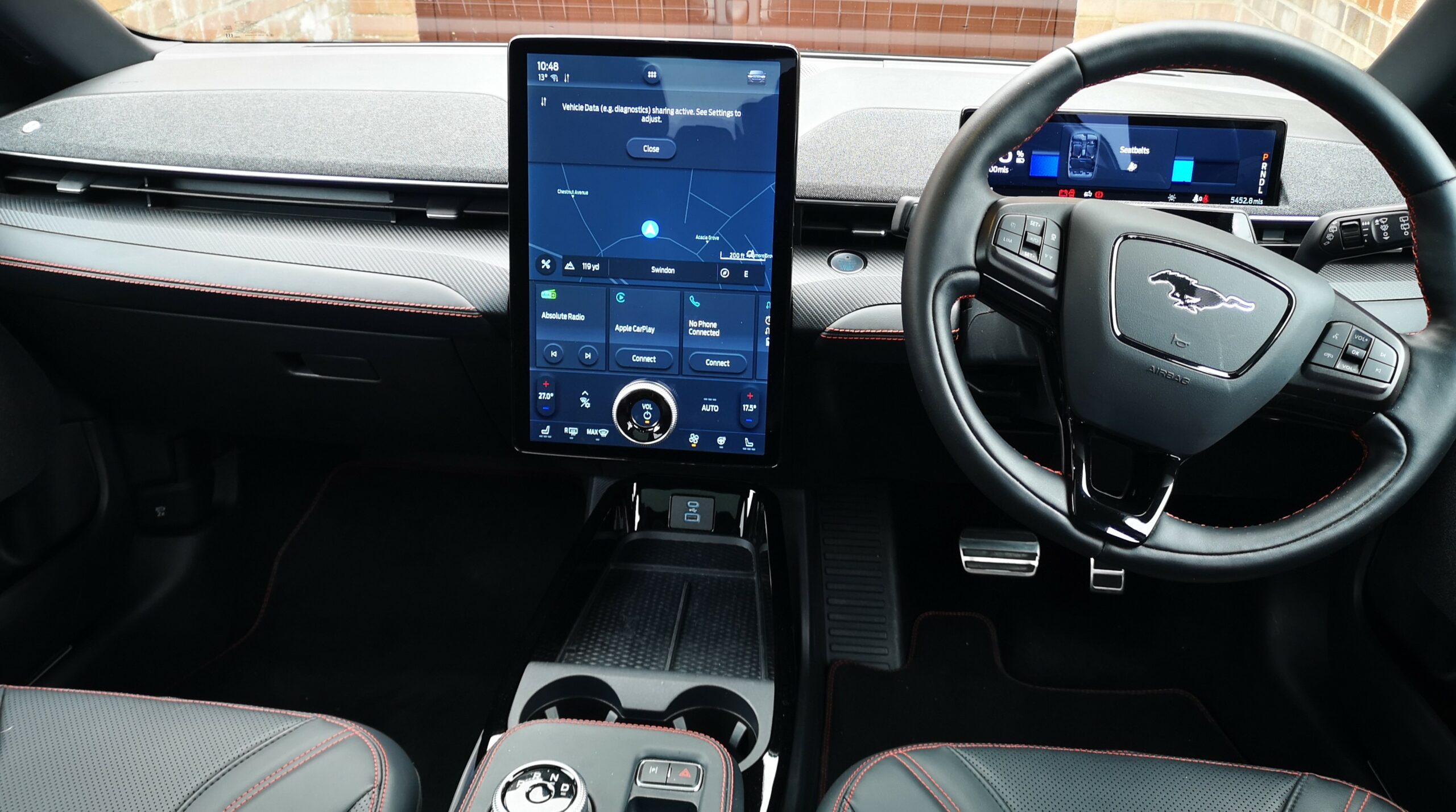 Continuing on the display theme, the regular Mustang's big instrument cluster has been replaced with a 10.2-inch strip, which is very 'to the point'. Speed, traffic sign recognition, a bird's eye view of the vehicle with lane and proximity relationship, and range are all displayed but in a kind of no frills manner, it's more akin to a head up display if I'm honest.
Ok, so V8 Mustang traditionalists look away now. The throaty V8 has been replaced with (in my case) two permanent magnet motors powered by an 88kWh battery, producing 258kW of power and 580Nm of torque. 0-100km/h comes in at 5.8 seconds which is a whole second slower than the new V8's, but it's half the time of the '66 and the same as the 2.3L and it consumes energy at a rate of 18.7kWh/1000km – with zero emissions!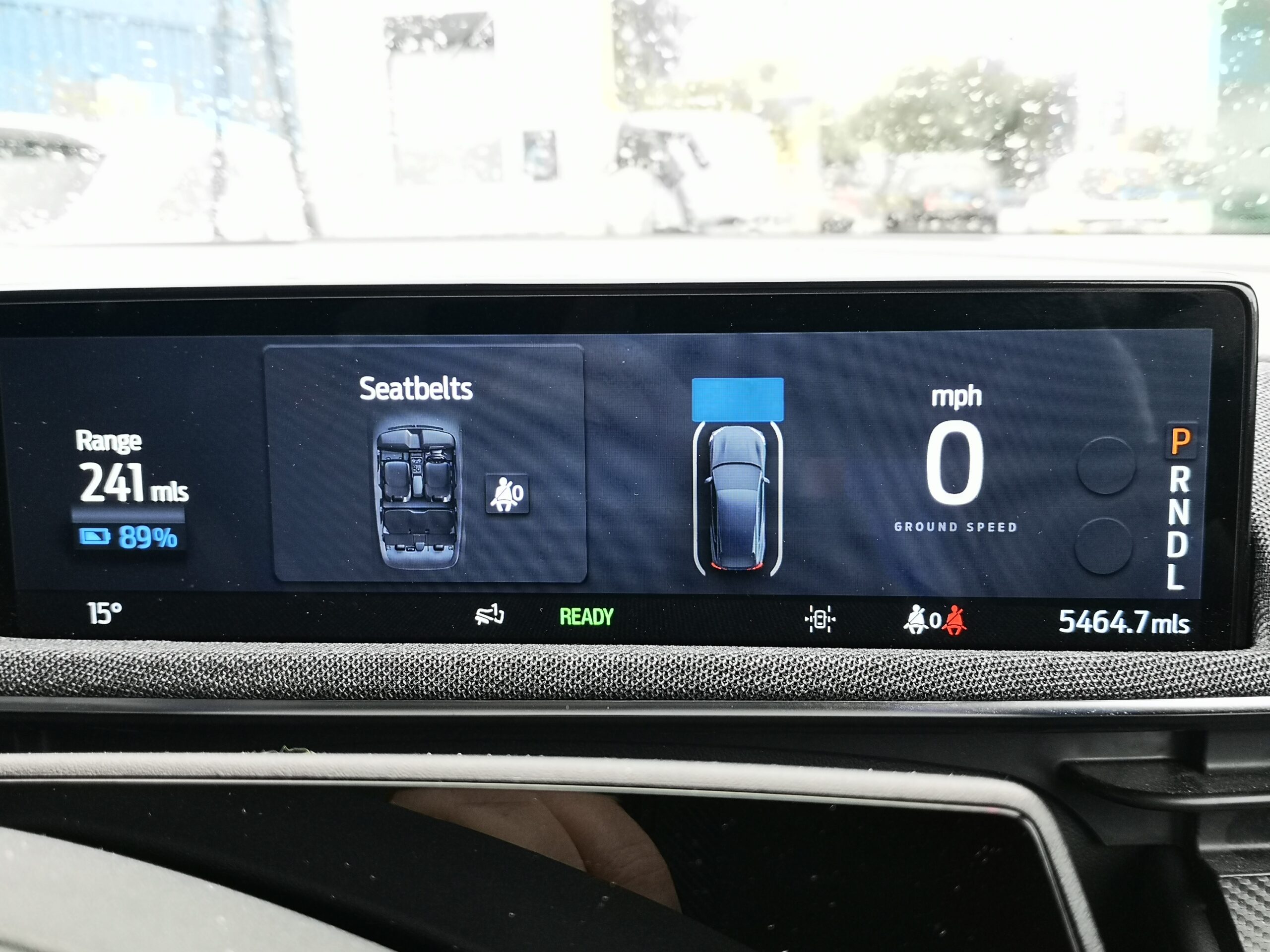 The Mach-E is as simple to drive as any modern Ford. The push button start is located beside the instrument cluster and the 1-speed gear selection is on a dial in the centre console (some may not like that). Visibility is better than a regular Mustang especially through the rear glass, but the wing mirrors seem slightly small for the size of the vehicle. Although you are riding that much higher than in a regular Mustang, looking out over the long channeled bonnet and seeing the wide hips in the wing mirrors does give you that muscle car feeling.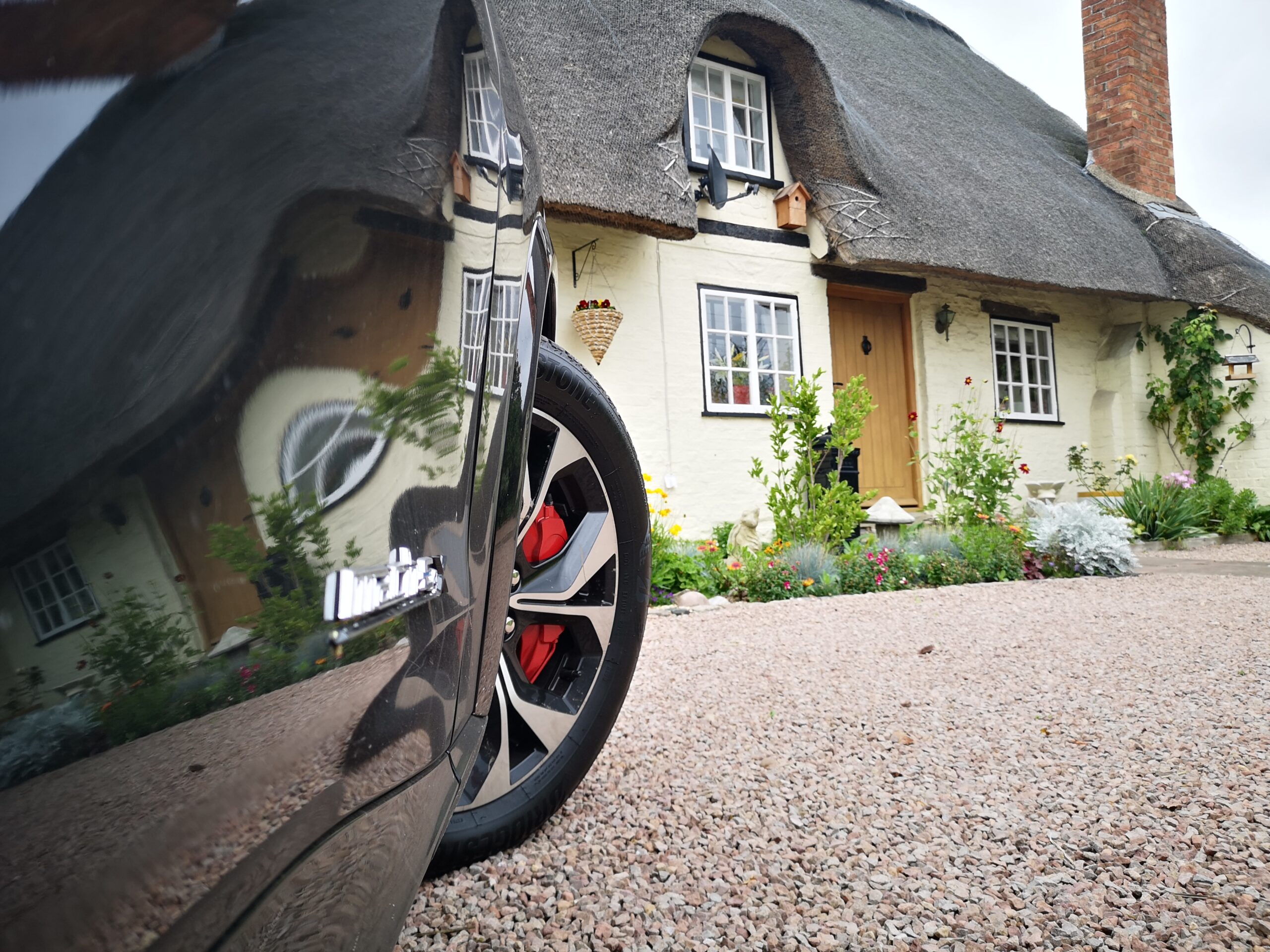 I felt that the steering is well weighted and appears more responsive as you move up the driving modes, as does the throttle pedal. Road noise is limited but there is a certain amount of wind noise when doing 70mp/h on the motorway. The ride itself is firm but not teeth-rattling so, but does feel a little juddery in the rebound (it is a 2+tonne vehicle after all) and being AWD (and an EV) traction is great regardless of the UK's wet roads, something Ford has spent a lot of attention on.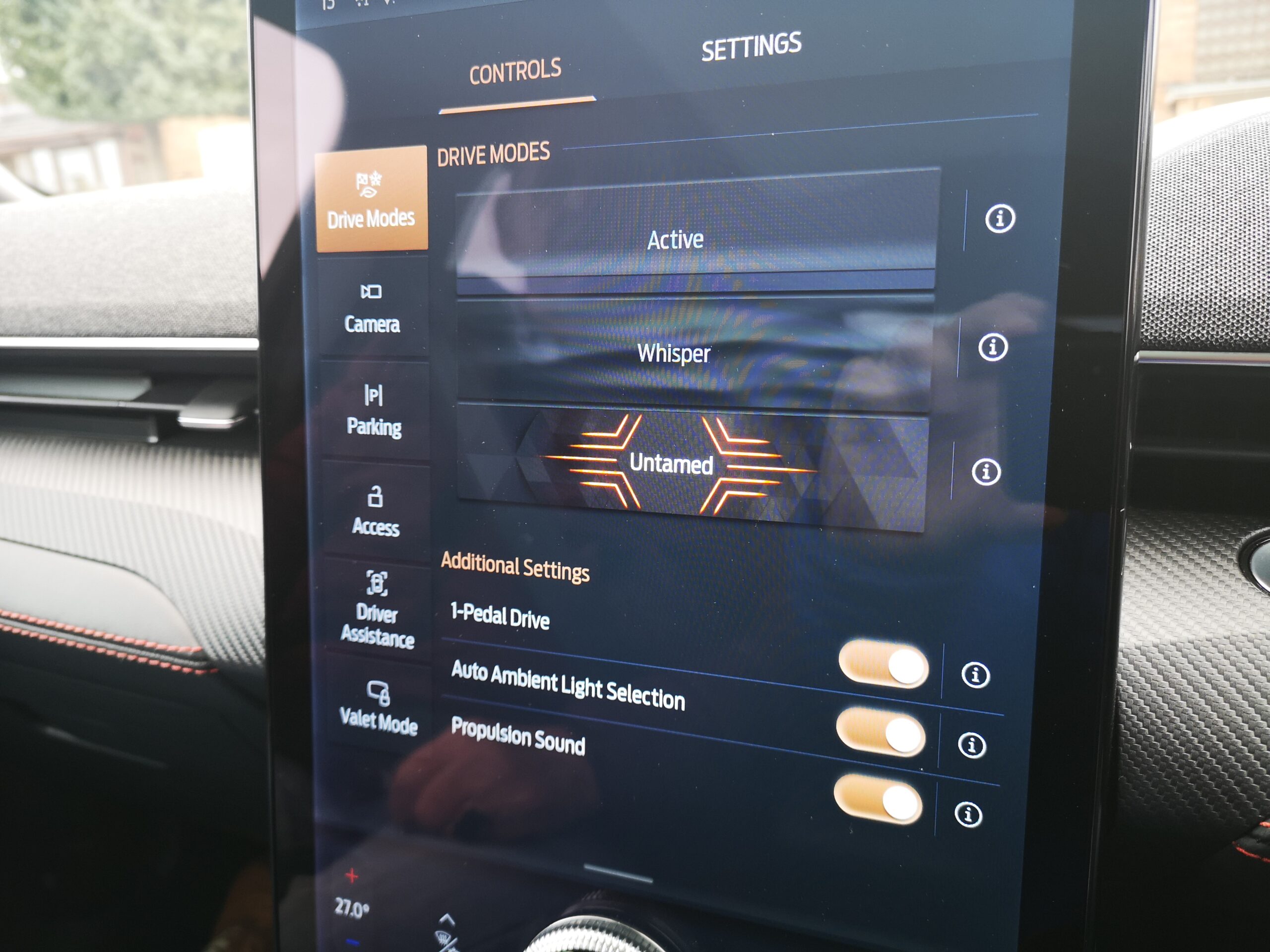 Although the Mach-E offers Active and Whisper, obviously my favourite driving mode was 'Untamed', it gives you plenty of off the mark speed and the pick up when on the move is good too, however, in 1-Pedal Drive, the Mach-E seems heavier and more restricted, like driving with a balaclava on, so for a more flowing, more spirited drive, I'd recommend switching that off.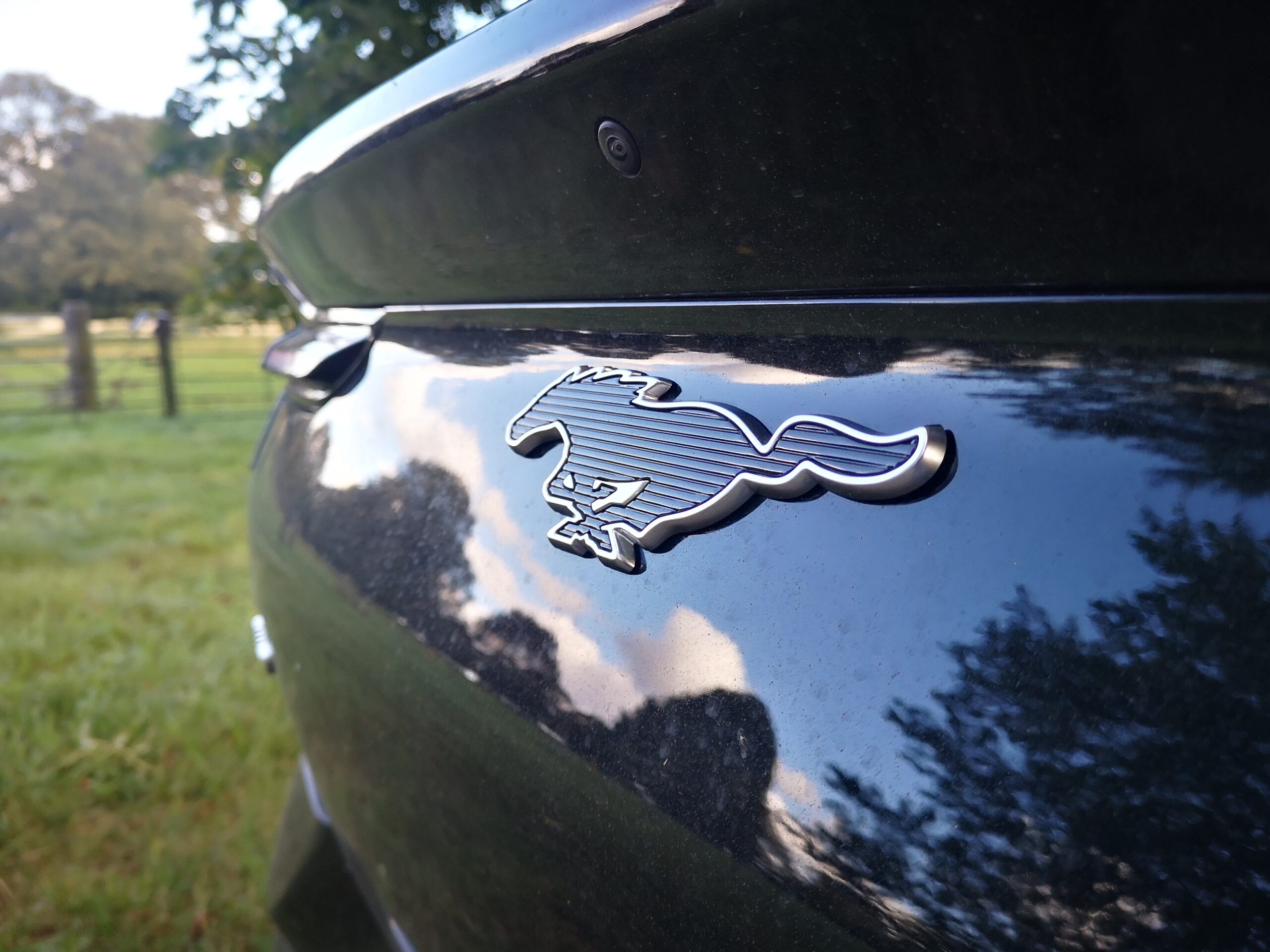 Conversely, I'd strongly recommend having the 1-Pedal Drive ON when driving in and around town, simply put, it's excellent. Aside from the fact that it assists in battery power regeneration, it really allows you to navigate the town with just the accelerator. Not only does it slow the Mustang quite aggressively when you lift off the pedal (less so in Active and Whisper) but it holds the vehicle in position when stopped, like 'brake hold' there's no creeping forward. It does take a little getting used to, but I barely had to use the brake pedal.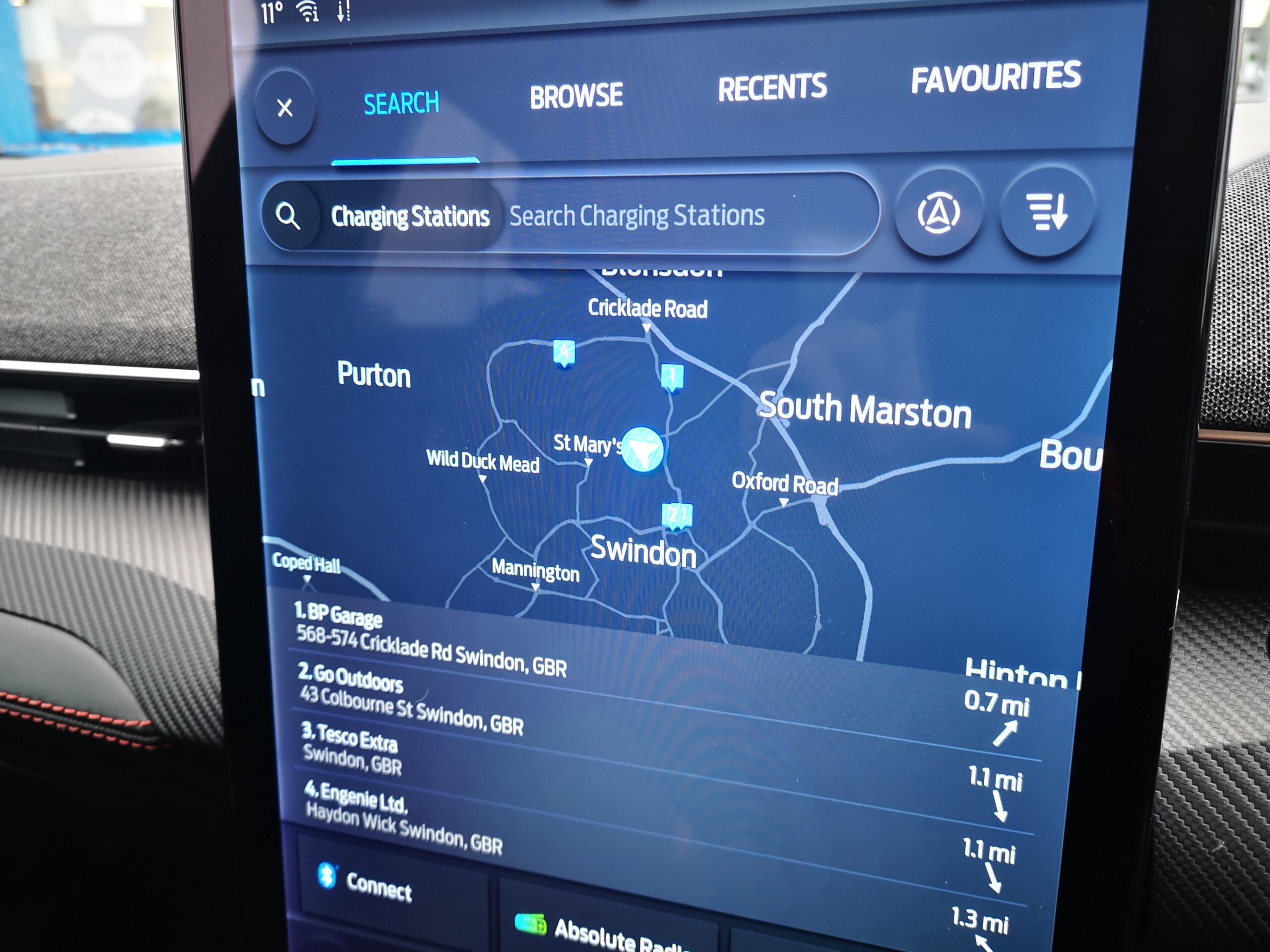 I managed to use the Mach-E a lot during the week, including a two hour return trip to Andover and back, plus some running around greater Swindon in the same day which had the range meter dropping to 48% and gave me the excuse to recharge. The infotainment screen informed me that the nearest 50kW fast charger (Instavolt) was less than away so that's where I topped up.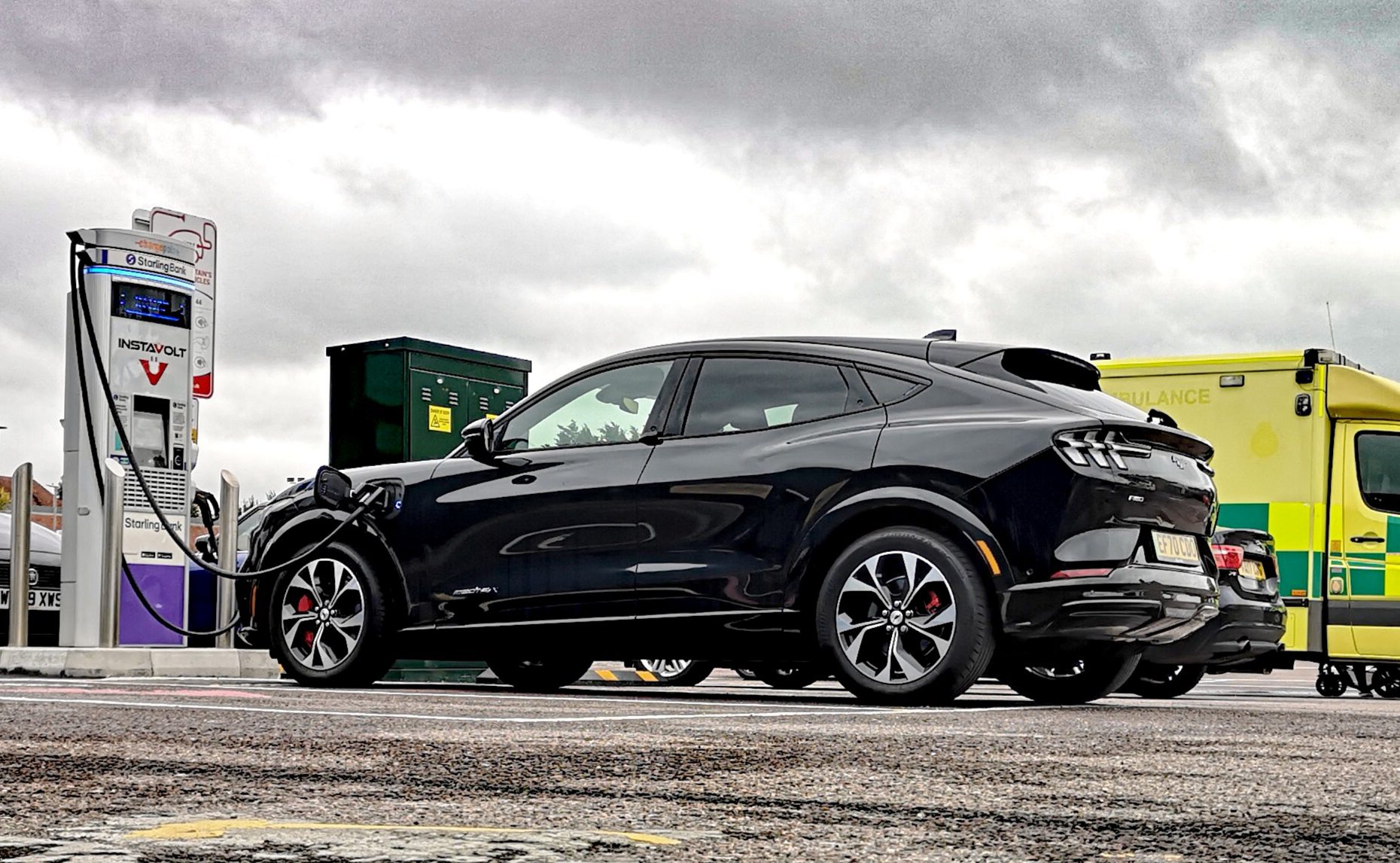 Instavolt is a simple system, just tap your credit card, plug in and away you go and at 40 pence a kWh, the Mach-E took 38.8kWh's of energy (+124 miles) at a total price of just over fifteen pounds ($30). The Mach-E brochure says a 10-80% charge can be done in around 45 mins (150KW), but my 48-88% charge took a couple of hours, so plenty of time for me to grab a haircut and lunch.
It's fair to say that driving the Mach-E is somewhat removed from driving its low-slung sibling, the cabin is spacious and less confined, the view is far less restricted, the handling and response is different but remarkably it does still feel like a Mustang when you're behind the wheel. There is still a sense of power (albeit electric), a strong sense of muscle and it retains its sense of fun on the road.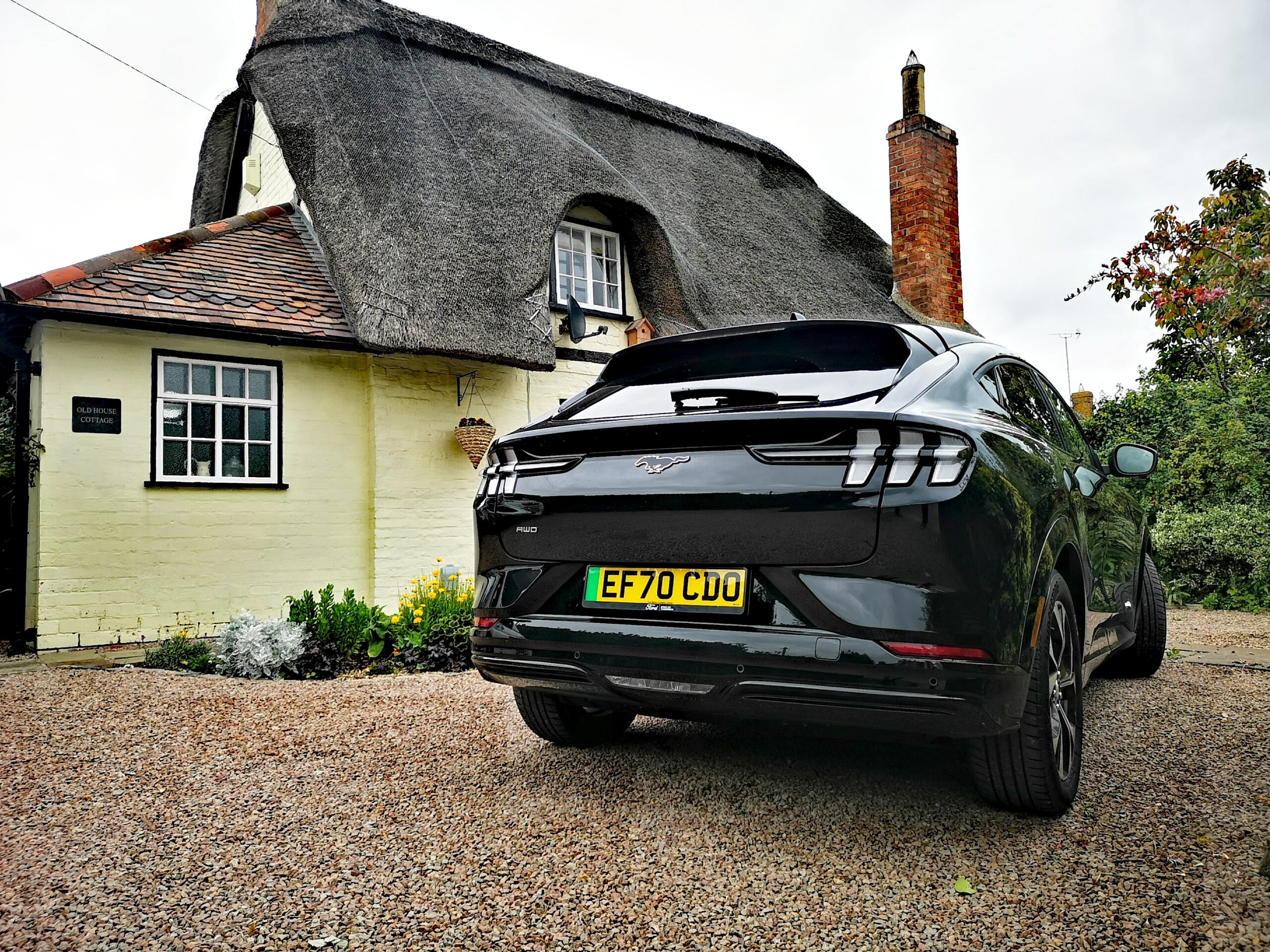 Sure, the staunch V8 Mustang fans will find it incredulous that the new Mach-E bears the Mustang name, but with 539km range, mid 5 seconds 0-100km/h and modern technology oozing from its every pore, there's a lot to like in Ford's new electric pony and in many ways the likes of the Mach-E will ensure that the Mustang name continues for at least another 50 years – so no long faces here.