There are a vast number of pros to living in clean, green NZ. Of course the weather is (usually) good, life (for most) is a little less frantic and things are (on the whole) a little less crowded etc. However, one huge downside is that when it comes to vehicle launches, we are generally one of the last countries to see any new cars – But I'm happy to say that when it comes to Skoda's all-new, all-electric 'source of life' Enyaq SUV, Dunedin was chosen way ahead of most of the planet – and we were there to take part.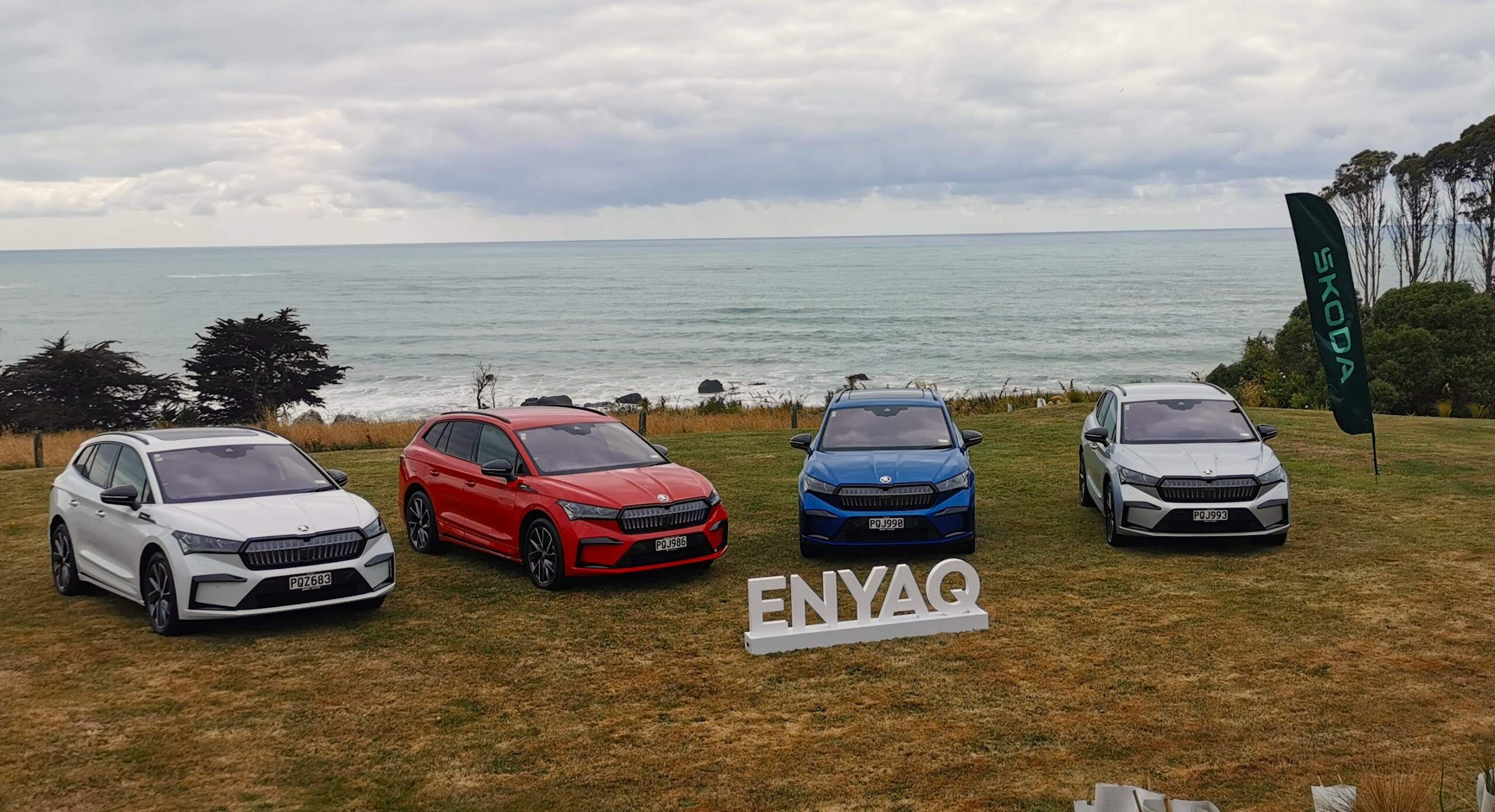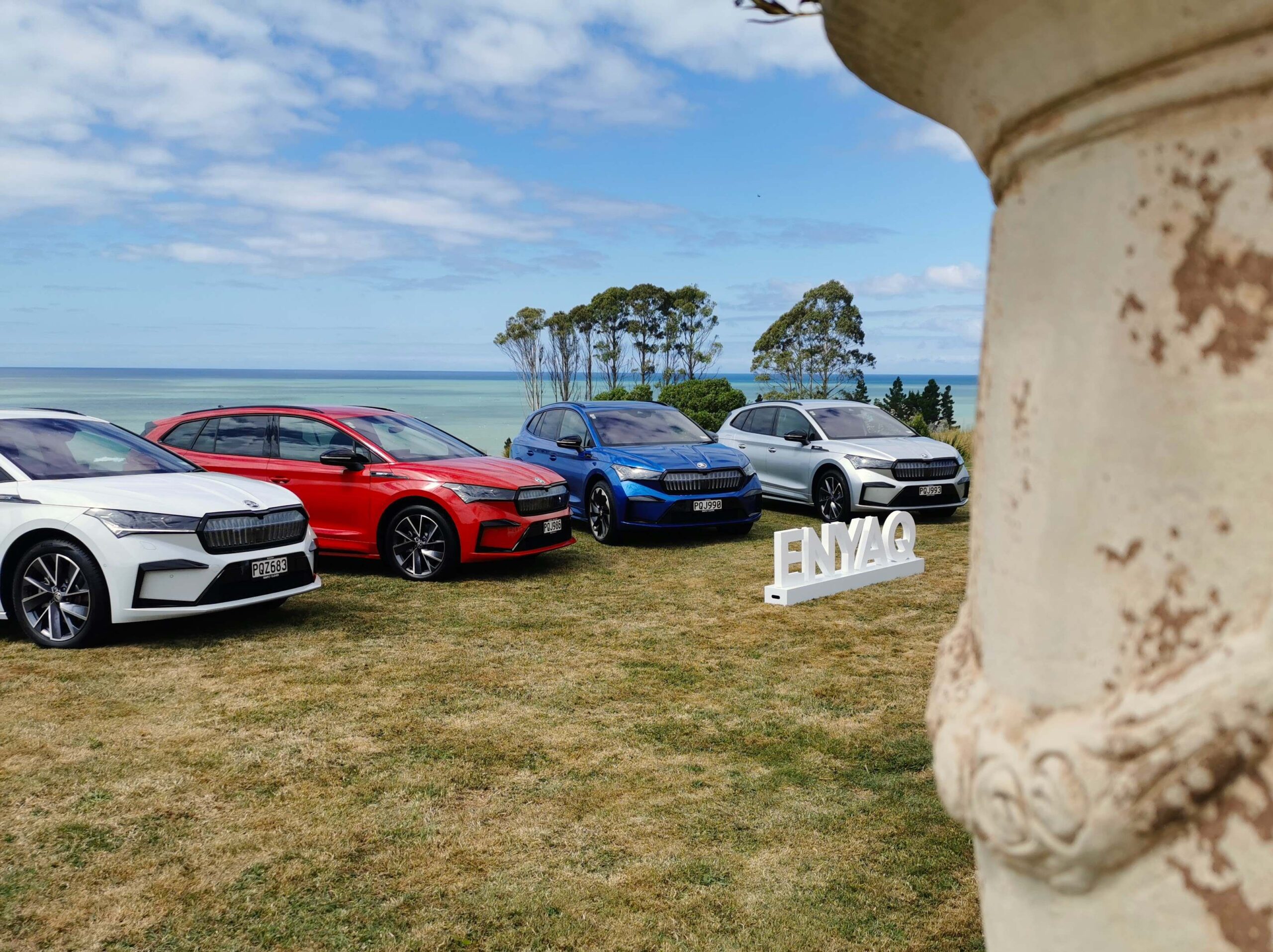 You see, although it went into production some time ago, New Zealand is the first country outside of Europe to be granted access to the Skoda Enyaq 80 which puts us in a rather enviable and coveted position, with factors such as our size, clean power and thirst for EVs more than tipping the scales in NZ favour. But as we discovered, when it comes to this rather special Skoda, there's far more to gloat about than just being ahead of the rest of the world.
Skoda New Zealand is launching the Enyaq with three specific 'Sportline' models that include two distinctive silhouettes: an SUV and Coupe. All three models sit on the MEB platform that has been developed exclusively for electric vehicles, and they all come with an 82kWh (77kWh net) lithium-ion battery giving a WLTP range of 532km in the SUV (544km Coupe) based on 15.7–17.1 kWh/100 km efficiency and provides power to the rear-axle mounted permanent magnet synchronous motor which boasts 150kW of power, 310Nm of torque and a 0-100km/h time of 8.6 seconds – phew.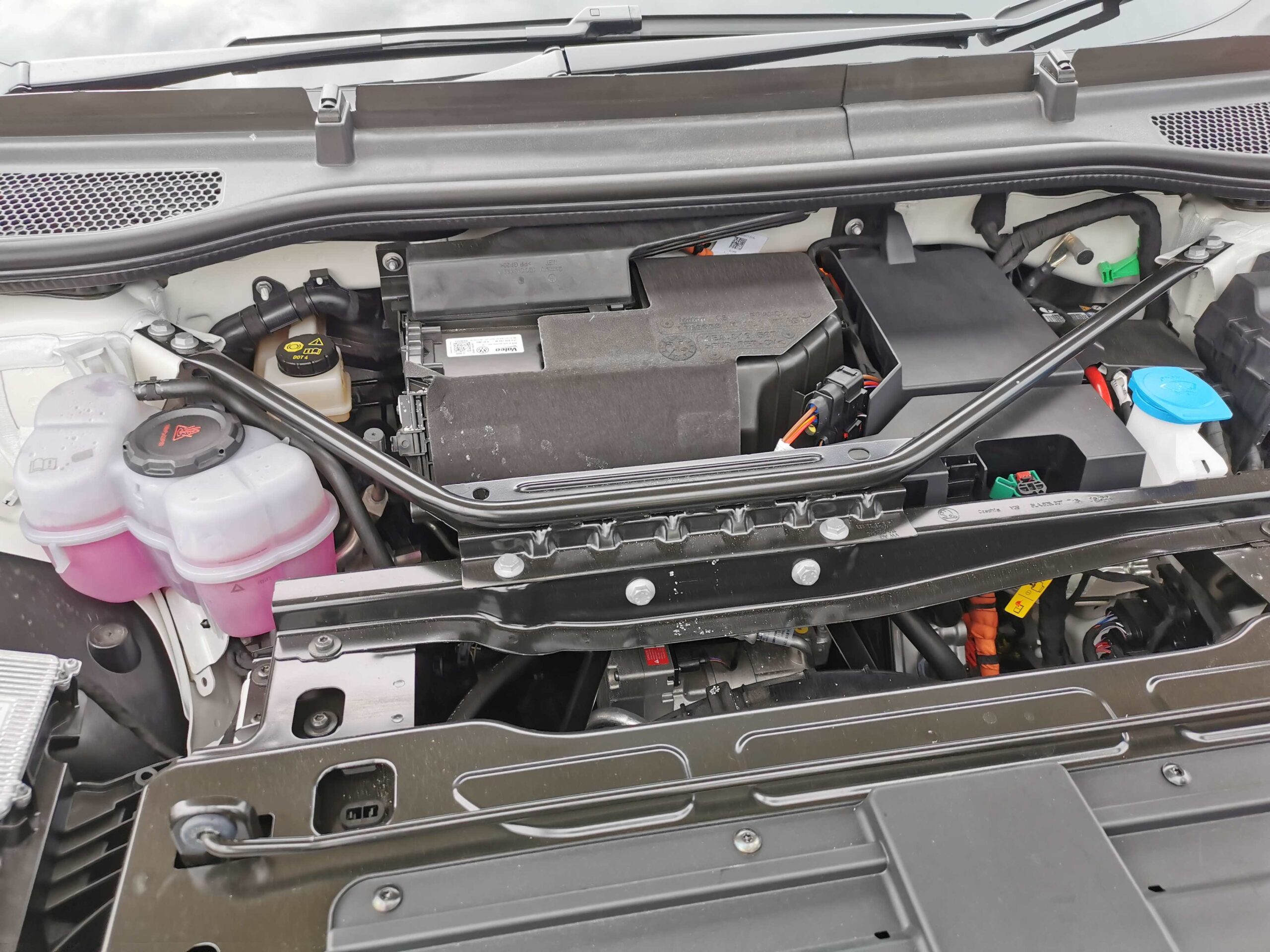 With both AC and DC charging ability, the Enyaq can be charged from 0-80% in as little as 30 minutes (135kW DC) or up to 100% in 13 hours using a 7.2kW AC home charger, meaning average weekly commutes can effectively be done with just one charge a week.
The Enyaq 80 (80 relating to battery size) is an SUV that's been created to appeal to 'contemporary explorers' and that is reflected in its design, both inside and out. It sports an abrupt, vertical nose that in both the Max and Coupe's case, comes with a crystal face that lights up the grille at night. The lights are LED all round with three personalisable light shows on offer to impress your contemporary friends.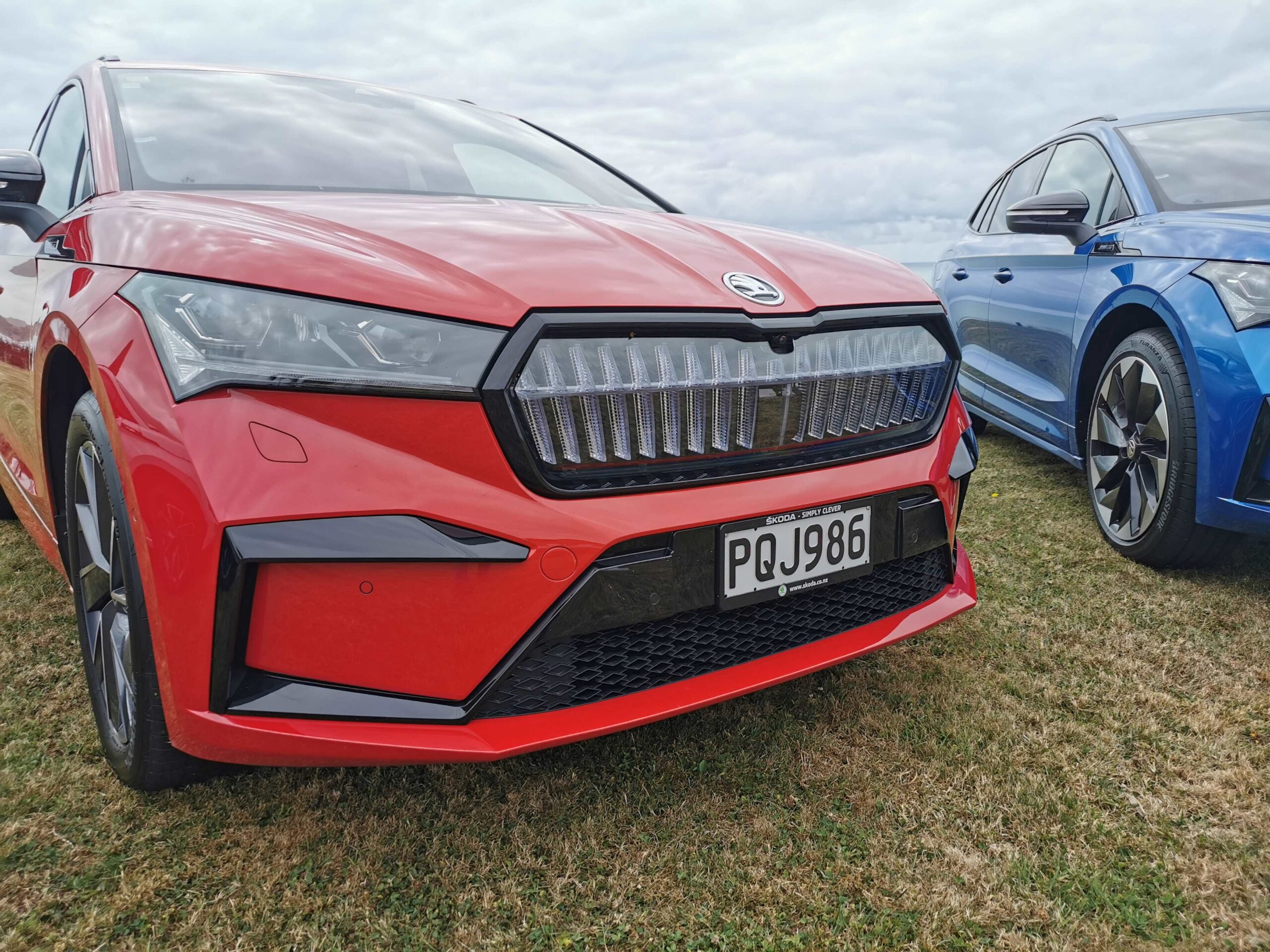 The bonnet has been negatively sculpted with a channel that runs from the sloping windscreen to the grille and both the SUV and Coupe have spent a lot of time in the wind tunnel to ensure they are as aerodynamic as possible, with the Coupe claiming a cd of 0.234. 20-inch wheels with self-sealing tyres come as standard (optional 21's) and the virtual pedal (hands free) tailgate gives you access to 585L (570L Coupe) of luggage space.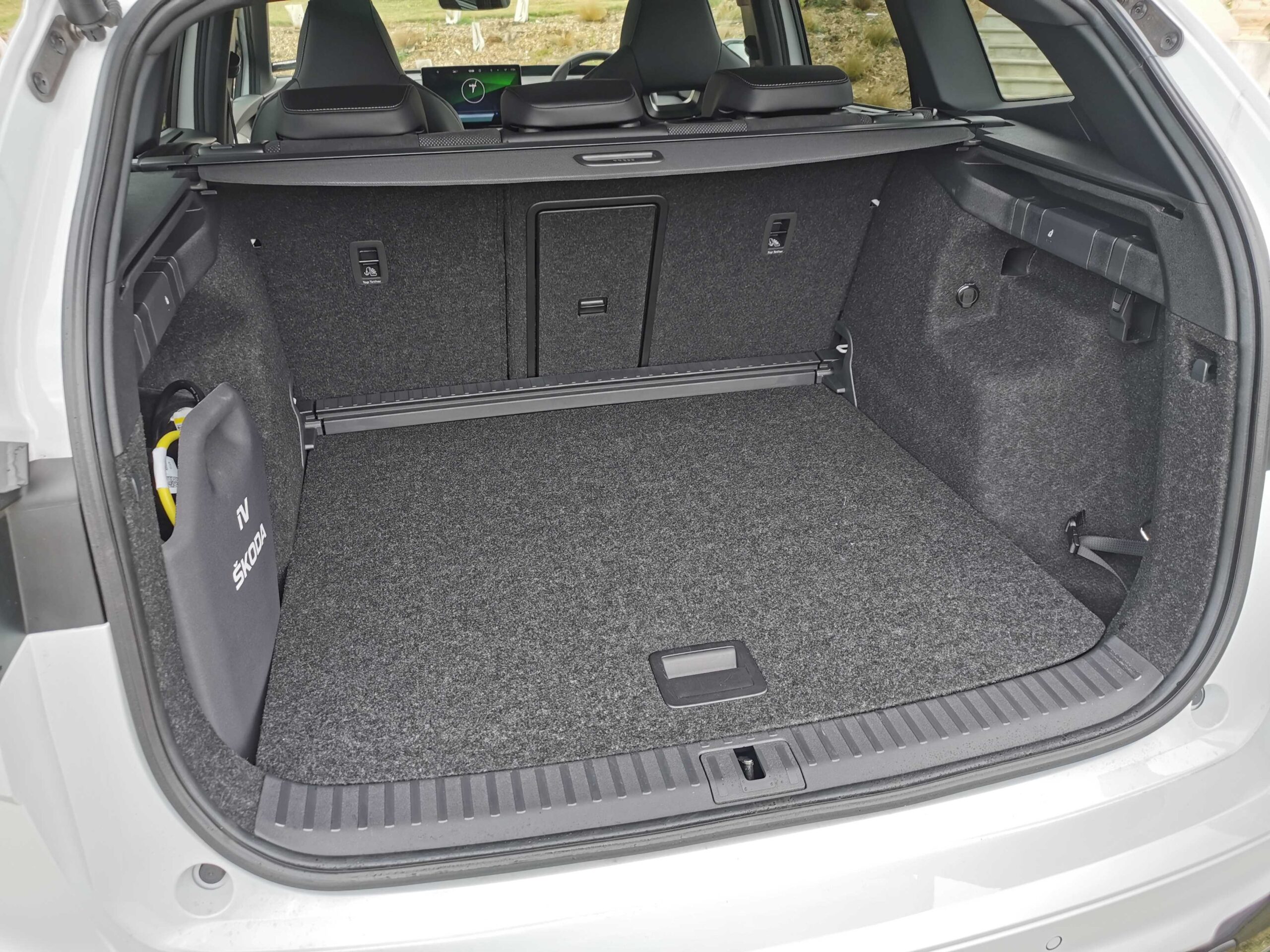 The interior is spacious and really upmarket, however (note to self) the sloping A-pillar will catch out those not quite awake. Head and shoulder room is great with the Coupe's panoramic roof offering an extra 40mm for those up front. The 13-inch infotainment screen sits proudly atop the dash and comes with all the Skoda apps and aids you can think of, and while the virtual cockpit screen has been reduced in size, it still delivers information select, assist systems, driving data and multimedia information, and the Max and Coupe have a clear head up display system too.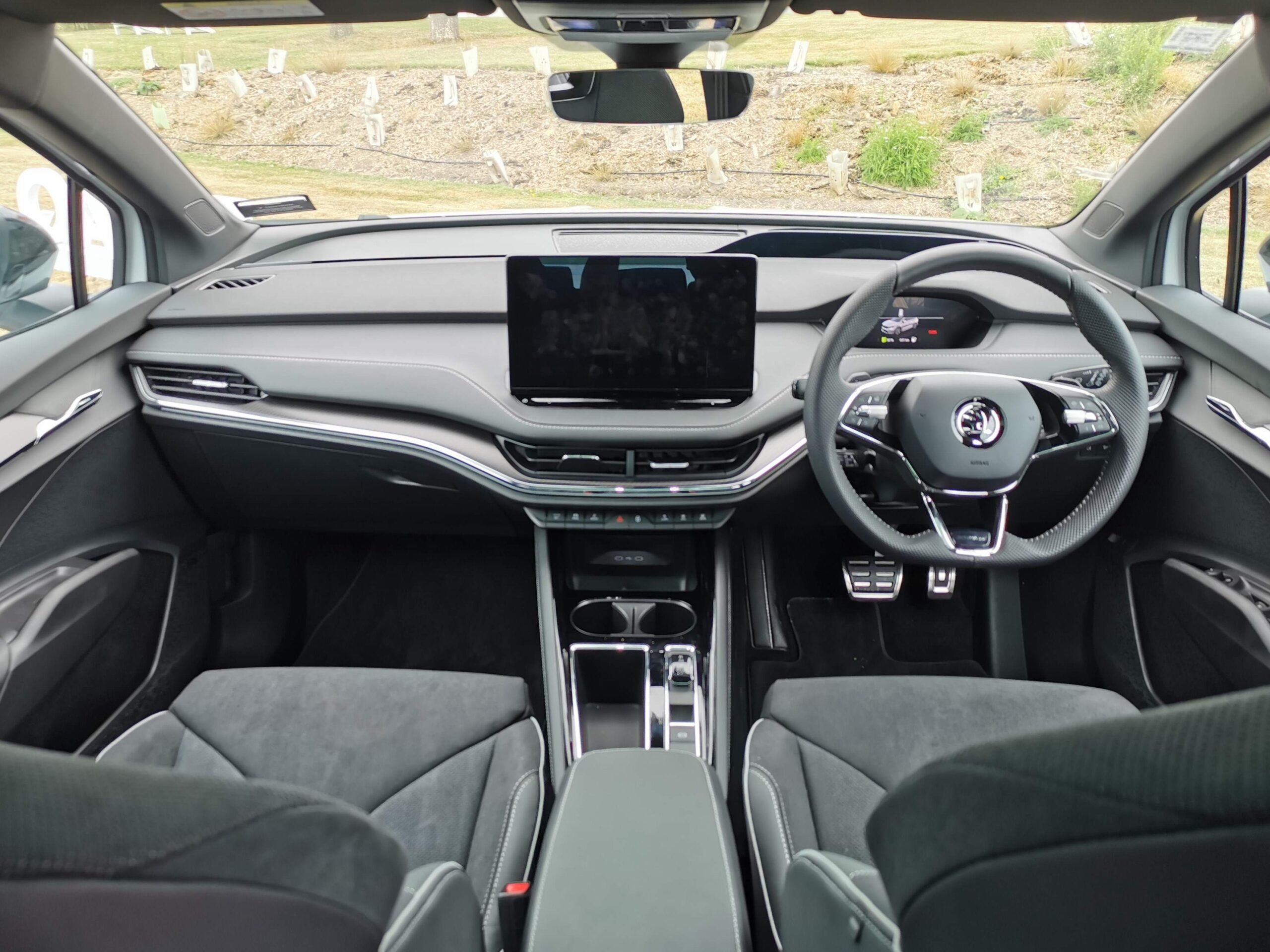 Cabin fit and finish comes with faux carbon inserts mixing with piano blacks and ambient light strips, while the seats are full-size with integrated headrests, suede/leather and heated too. What's more,each Enyaq uses 13kgs of recycled plastic, the side windows are made from 20% recycled glass and 60% of the seat covers are made from PET bottles.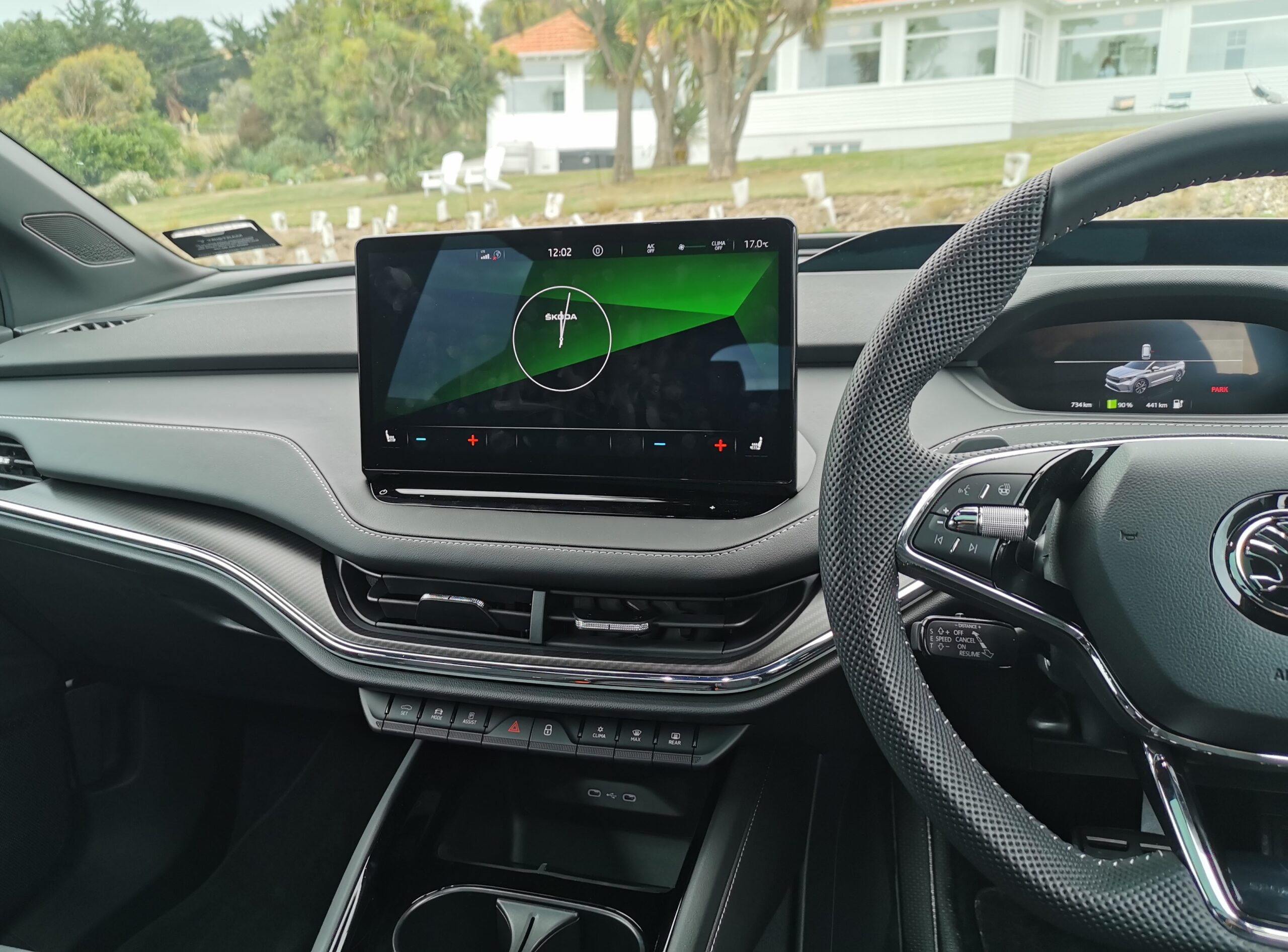 Our drive route took us from the Longhouse, Karitane on the coast North of Dunedin to Gibbston Valley Queenstown, 243km and almost 3 hours as the crow flies, but we did make some stops along the way. The Coupe has yet to arrive, so we grabbed the Max spec (albeit with a few UK tweaks) and headed West.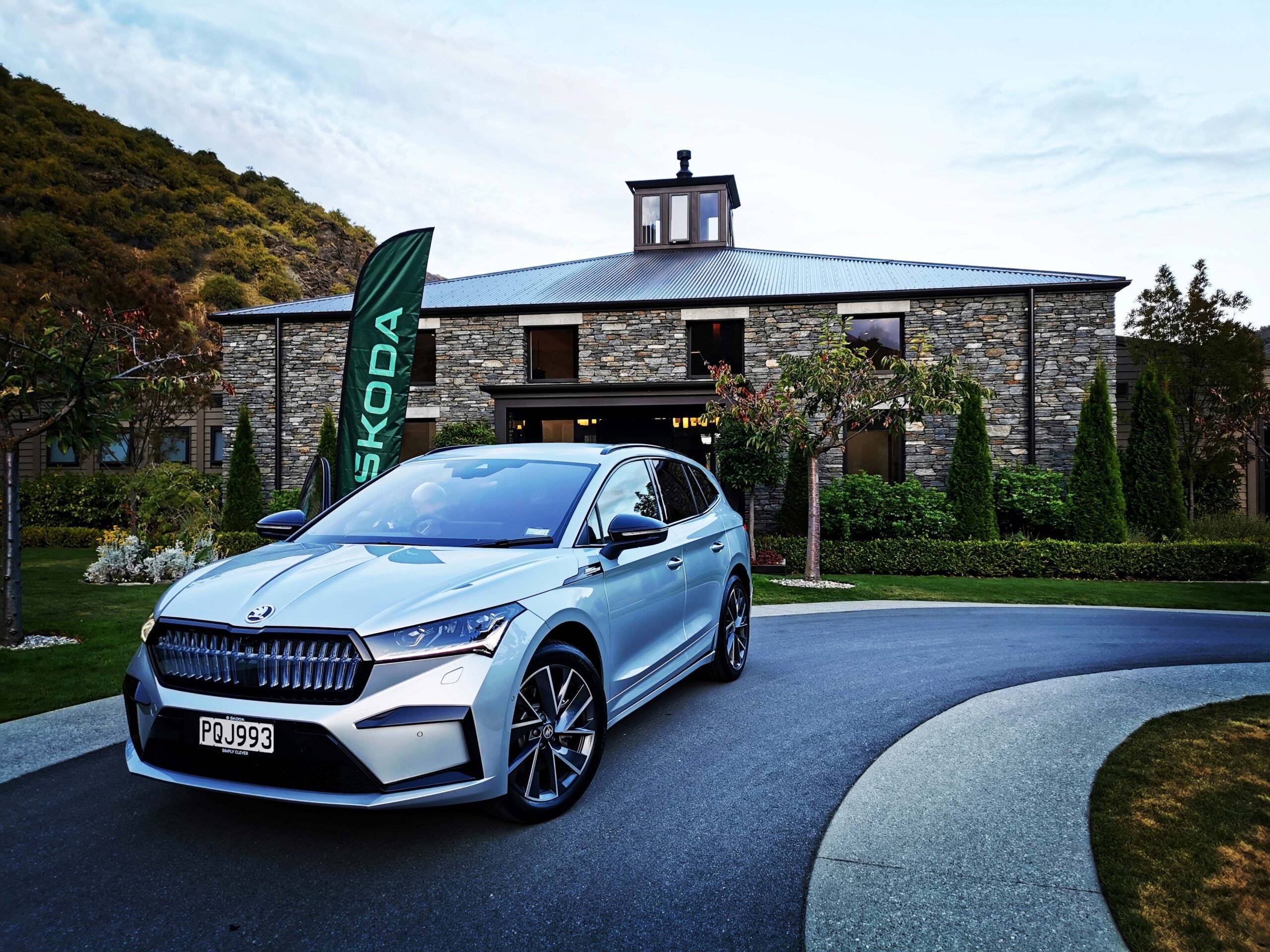 Now the $97.990 price tag on the Enyaq Sportline Max 80 may well be a little eye-watering initially, but it doesn't take long for you to see that this is a well put together and well-spec'd EV. Comfort is there from the get go and everything feels like it's in the right place.
The driver's seat is electric, heated and comes with a massage function and the high-end sound system comes from Canton. The infotainment screen offers 360-degree views and while you're watching that, the Enyaq is watching you, with driver fatigue monitoring.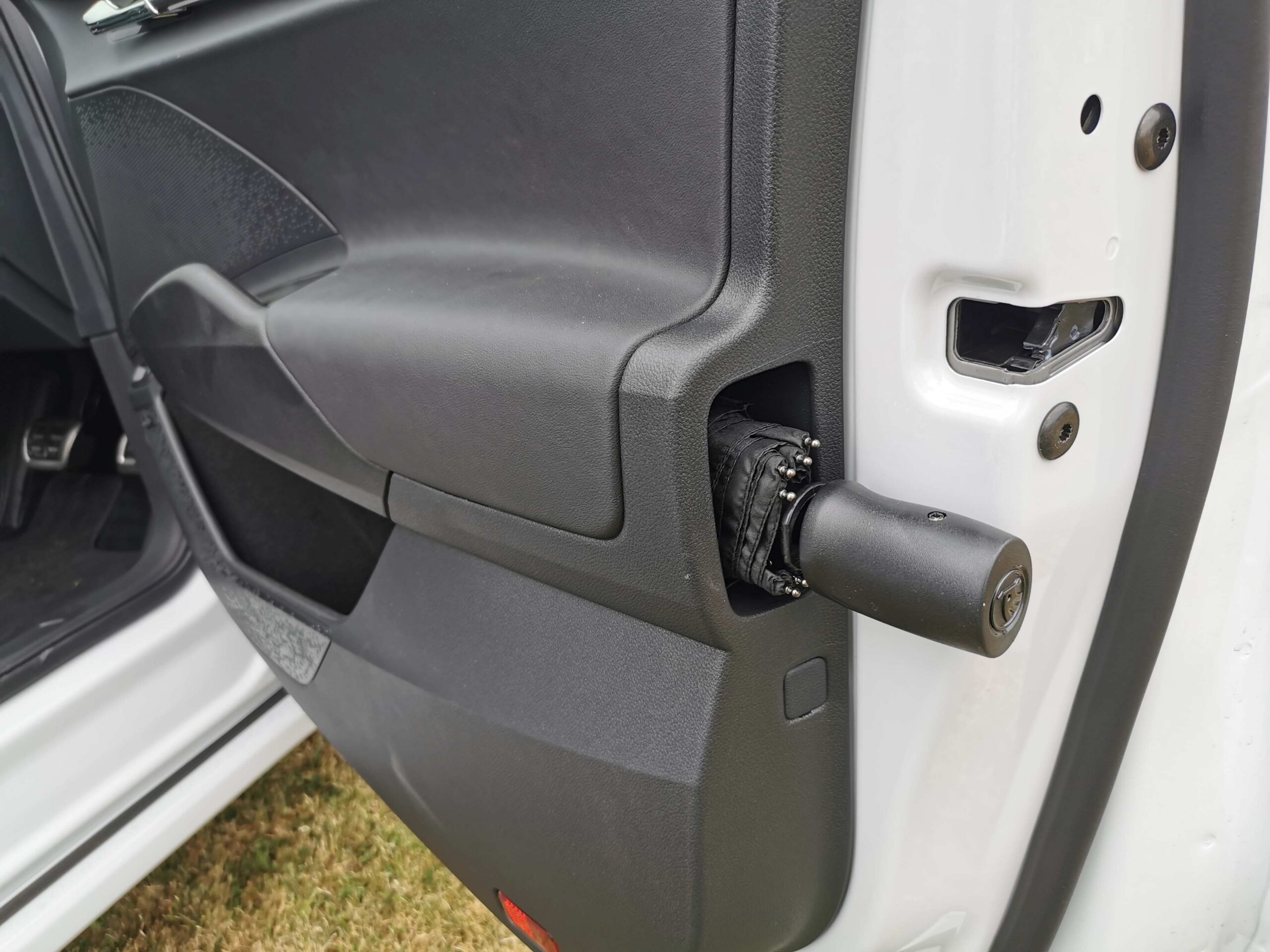 For those that love Skoda's 'simply clever' features, don't worry they're still there. The umbrella still sits in the door rest and the windscreen washer fluid bottle still has a funnel, however the ice scraper has been moved from the fuel cap to the tailgate.
Push button start and drive selected on the little stubby gearbox and we were away. Around the tight and narrow East Coast roads, the Enyaq's taut chassis and low centre of gravity allowed for a confident yet spirited ride and the NVH has been upped to a point where wind and road noise was barely noticeable.
Regenerative braking can be adjusted on the fly using the paddles behind the steering wheel and there's also a B function on the gearstick for more one pedal style driving, although it's not as abrupt in braking as some other EVs.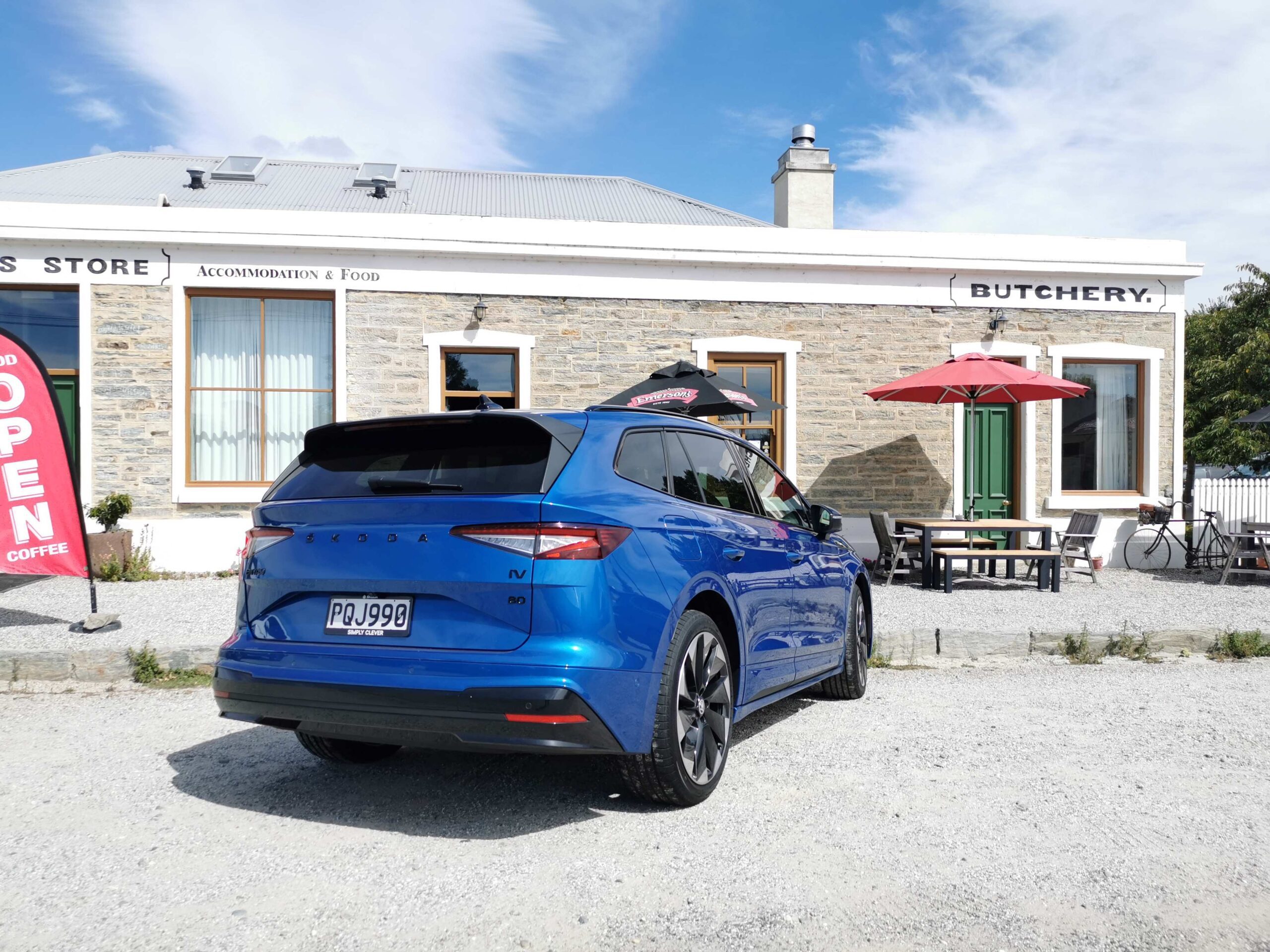 Visibility all round is pretty good, with the sloping windscreen allowing great views up front and the steering offers enough feedback to let you feel involved with what's going on, but for those that enjoy driving, I would recommend forgetting about the battery range (you do have ample after all) and engage Sport driving mode – the dynamic chassis tightens and both steering and throttle response feels quicker.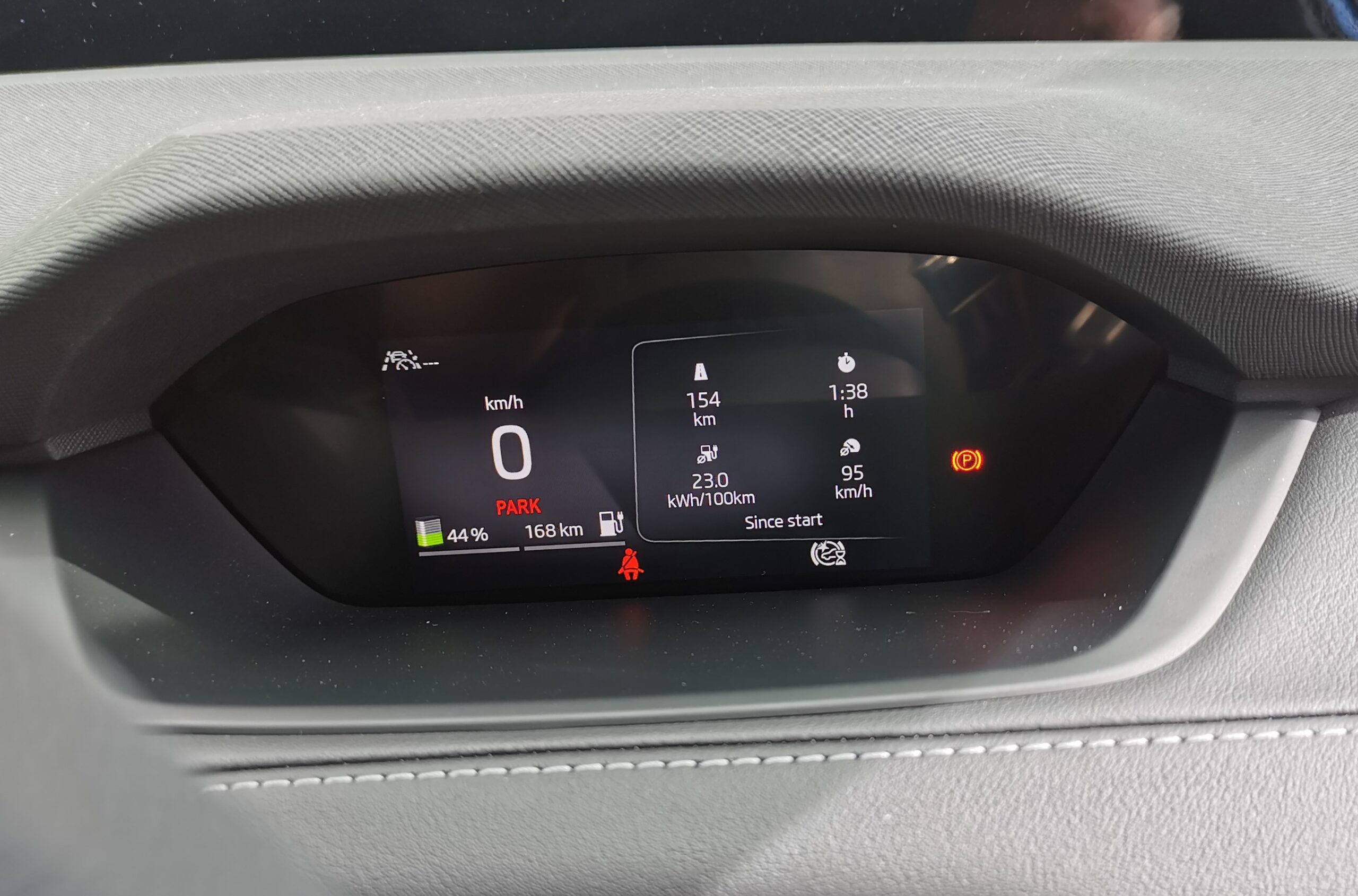 My stint behind the wheel took us as far as Pitches store in Ophir where my driving results were less than economic – 154km at an average speed of 95km/h meant that i was consuming energy at 23kWh/100km, but even so, the Enyaq forecasted that I still had 168km of range to play with.
The new all-electric Skoda Enyaq Sportline 80 is certainly aimed at the premium market and priced accordingly, starting with the SUV at $92,990, the Max at $97,990 and the Coupe Max topping the range at 102,990 (no clean car rebate on offer).
In keeping with their futuristic outlook, Skoda has developed a VR walk around and sit-in (go visit a showroom) and ordering is available via the web.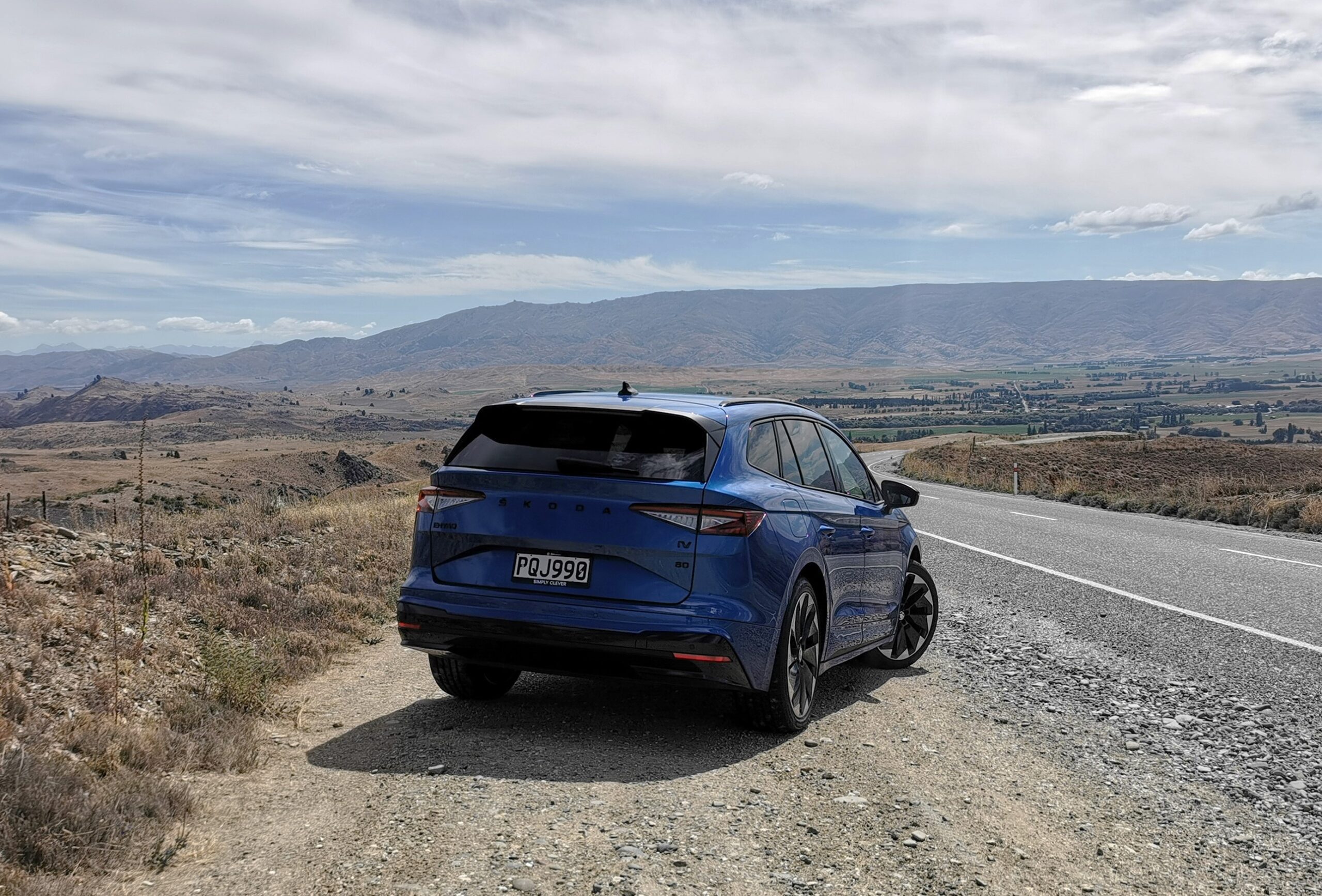 'In 2023 you can't define a car by its badge, the brand history, where it's from or by its traditional segment, what's defining cars more than anything today is what's powering it', announced Skoda NZ at the launch, but Skoda has a highly recognisable brand, a 125 year heritage and already has handsome SUVs, so this new all-electric 'source of life' is surely just icing on the cake.