PRESS RELEASE
Leading electrification specialist, Equipmake, has launched an all-new, next-generation inverter, which can deliver a step-change in the performance of all electric vehicles.
Leveraging the high-power density of silicon carbide, Equipmake's HPI-800 inverter delivers such efficiency gains that not only does it have the potential to reduce the size of an EV's battery by around 10 percent, but its compactness and low weight brings further benefits in packaging too.
The ground-breaking technology has been developed at Equipmake's headquarters in Norfolk, where the company provides EV technology to automotive OEMs and specialist supercar makers, producing everything from industry-leading electric motors to power electronic systems, all the way up to complete EV drivetrains.
A vital component in an EV powertrain, Equipmake has focused on developing next-generation inverters in recent years. Playing a key role in an EV powertrain, an inverter converts DC charge from the battery to AC to drive the electric motor, and also times switching changes to adjust the frequency of the AC charge to control the speed of the motor, much like a fuel injection and ignition system does in a combustion engine. The faster and more efficient the inverter is, the more efficient the vehicle is as a whole and the greater the amount of driving range that can be extracted from the battery.
Traditionally, EVs have used inverters with insulated-gate bipolar transistors (IGBTs), which switch current at up to 20kHz. Silicon carbide (SiC) delivers significant advances, offering higher power levels, lower power losses and improved overall efficiency. As a result, Equipmake's new HPI-800 inverter can switch current at up to 40kHz.
Along with delivering significant gains in power and efficiency, SiC inverters are smaller and lighter, enabling engineers and designers to take advantage of aerodynamic and packaging improvements, reducing the amount of cooling a vehicle might require, too. Their lightweight construction transforms power-to-weight ratio, too, from 40kW/kg for contemporary IGBT technology to 100kW/kg with SiC.
So far, SiC inverters have not been adopted in the mass market because of their price – but Equipmake believes this is about to change.
Ian Foley, Managing Director, Equipmake, said: "The upfront cost of a SiC inverter is more than recouped by the benefits in additional performance. In a typical high performance EV sports saloon, the associated efficiencies can reduce the size of the battery by at least 10 per cent – or around 40-50kg. While they can be twice as expensive as IGBT versions, they can reduce battery size by such a large amount that the cost saving more than pays for the inverter itself. At the same time, the increase in efficiency and performance the technology can bring to an EV will enhance its natural appeal to customers.
"HPI-800 offers huge potential benefits for all types of EV powertrain, just in terms of reducing the size of the battery required. Factor in its compactness and light weight, and OEMs have even more reason to choose SiC for their next inverter.
"It's no surprise then, that passenger battery electric vehicles (BEVs) equipped with silicon carbide inverters are forecast to overtake traditional IGBT units by 2024 and, by 2030, 95 per cent of all BEVs will use silicon carbide. So, this is the perfect time for Equipmake to launch this new technology."
Engineered and manufactured in the UK, Equipmake's compact HPI-800 silicon carbide inverter measures 494 mm long, 287 mm wide and 94mm high. It has a mass of 12.7 kg and delivers a maximum continuous output power of up to 400 KW, dependent on the motor. Featuring Wolfspeed/Cree SiC modules, the HPI-800 inverter can switch frequencies up to 40 kHz. HPI-800 also meets ASIL-D functional safety level off-the-shelf too.
Equipmake's HPI-800 inverter is available now and can be ordered in production runs of tens of units, right up to thousands. It will appear on Equipmake's stand at the Future Propulsion Conference Solihull, on March 2-3.
In addition, many of Equipmake's other industry-leading innovations will be shown at the event, including its cost-effective, state-of-the-art HPI-450 inverter, which is aimed at the growing market for low volume, high performance electric vehicles from hypercars to electrified classics. Featuring Semikron IGBT modules, HPI-450 inverter meets ASIL-D functional safety level off-the-shelf – both HPI-800 and HPI-450 using the same control board – and boasts outstanding power density.
Equipmake will also show three of its advanced, sector-specific electric motors. The HTM-3500 has been developed for buses and trucks, with torque of 3,500Nm. Available as a single or coupled unit, the motor is designed to fit directly onto the prop shaft and offers high torque and low speed, perfect for long haul applications, including start / stop duty cycles.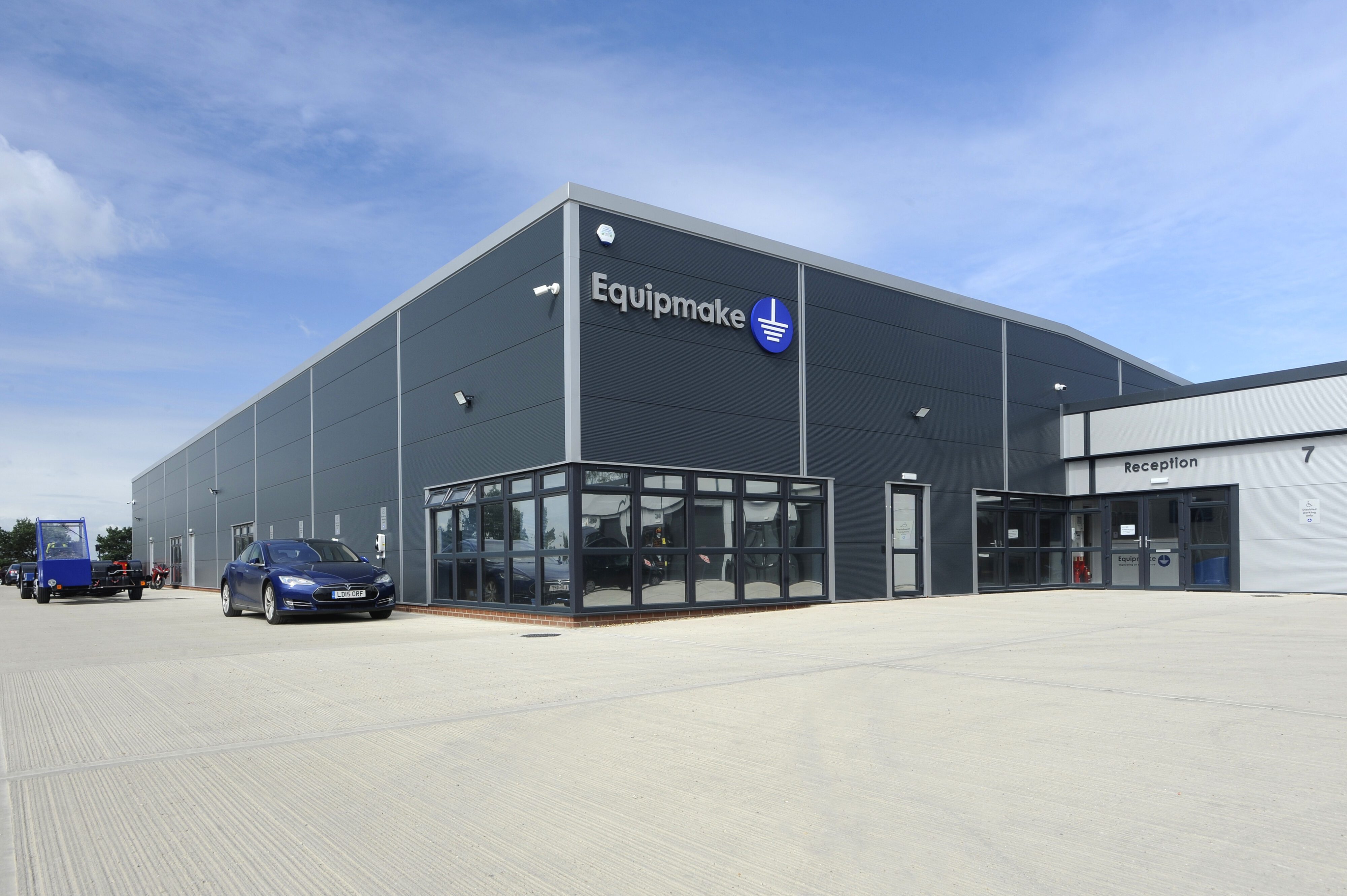 The HPI-400 is a high power/short duration motor, ideal for rocket fuel pump and other aerospace applications, with a max motor speed of 20,000rpm, peak power/torque of 400kW/220Nm, yet a mass of just 30kg. The HTM-1900 has been developed for Vertical Take-Off and Landing (VTOL) applications. It is a Direct Drive EV Motor 
Designed to directly fit onto the propellor and carry all 
rotor loads. 
With high torque (1,900Nm) and low speed (1,200rpm), it is perfect for EVTOL and comes with custom mountings for tilt actuation to transition 
from vertical flight to horizontal.
In 2019, Equipmake opened an all-new factory in Snetterton, Norfolk, where the company provides the complete electric mobility solution – whatever the sector – offering the capability to design, test and manufacture everything from motors to fully electrified platforms. It also sources and supplies the very latest lithium-ion batteries, creating entire electric drivetrains for an increasingly international customer base.