As many of you may know, my son is an avid footballer, in fact, most of my reviews include me taking him and his sports gear to a game or training. So obviously when I organised a trip to England (the home of football), there was no way I was allowed to go alone – lucky for me BMW provided us with the wheels in the shape of a 2 Series M-Sport Active Tourer PHEV xDrive 230e.
Along with my other duties in the UK, with the huge help of friends, I managed to organise an epic (my son's words) football experience for my son, that included a 'Director's box' view of the game between Coventry City FC and West Brom, a grandstand watch of Swindon Town FC vs Aldershot in an FA Cup round and five separate training sessions with the Wiltshire Sports Academy – am I a good dad or what!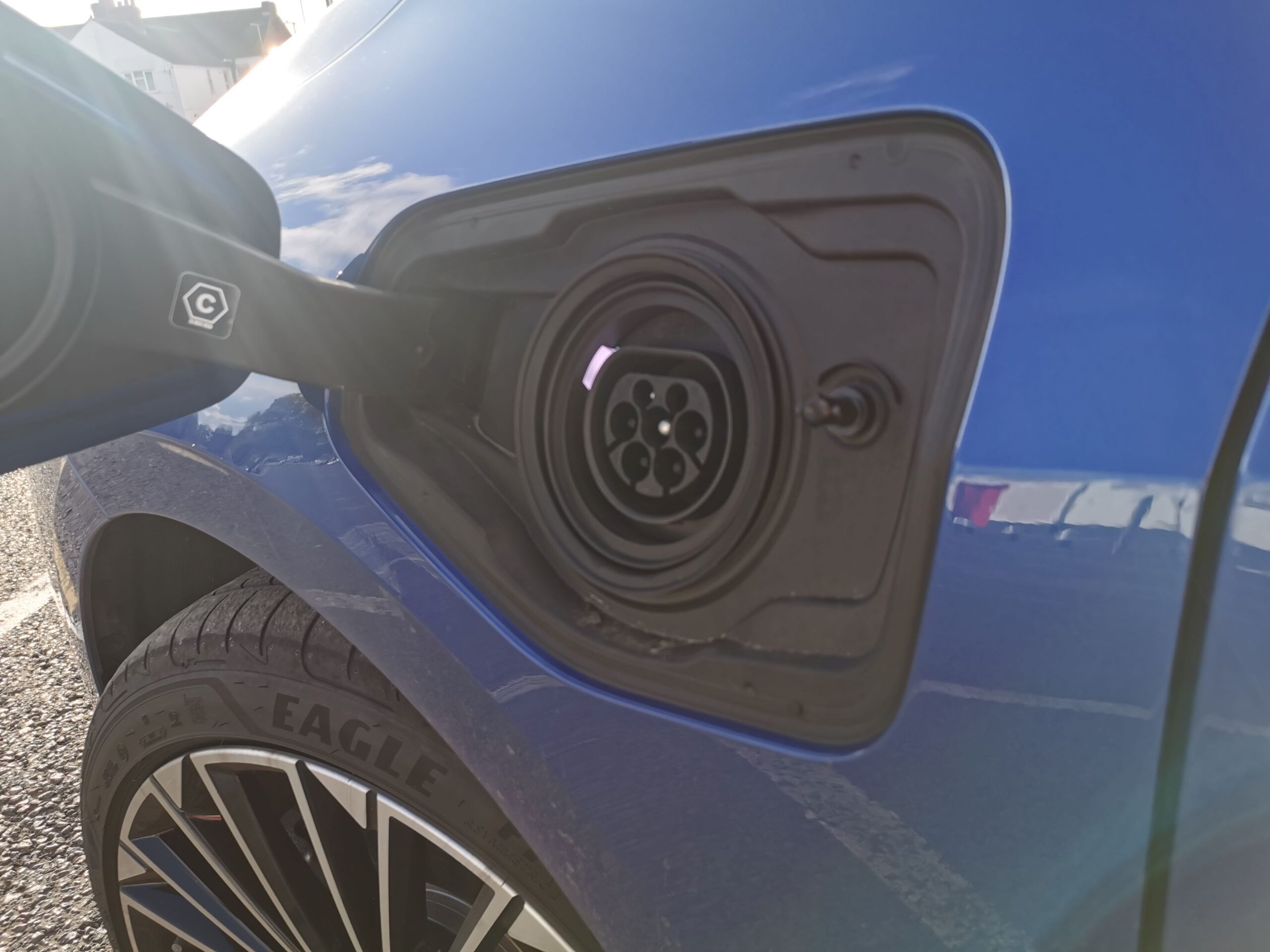 All of the above took time and more importantly, miles, and with petrol prices the way they are, having a frugal Beemer PHEV was a true godsend.
My new BMW was waiting for me the moment I stepped off the plane at Heathrow, well I did need to take an UBER to the UK head office in Farnborough (where I spotted a glorious CSL).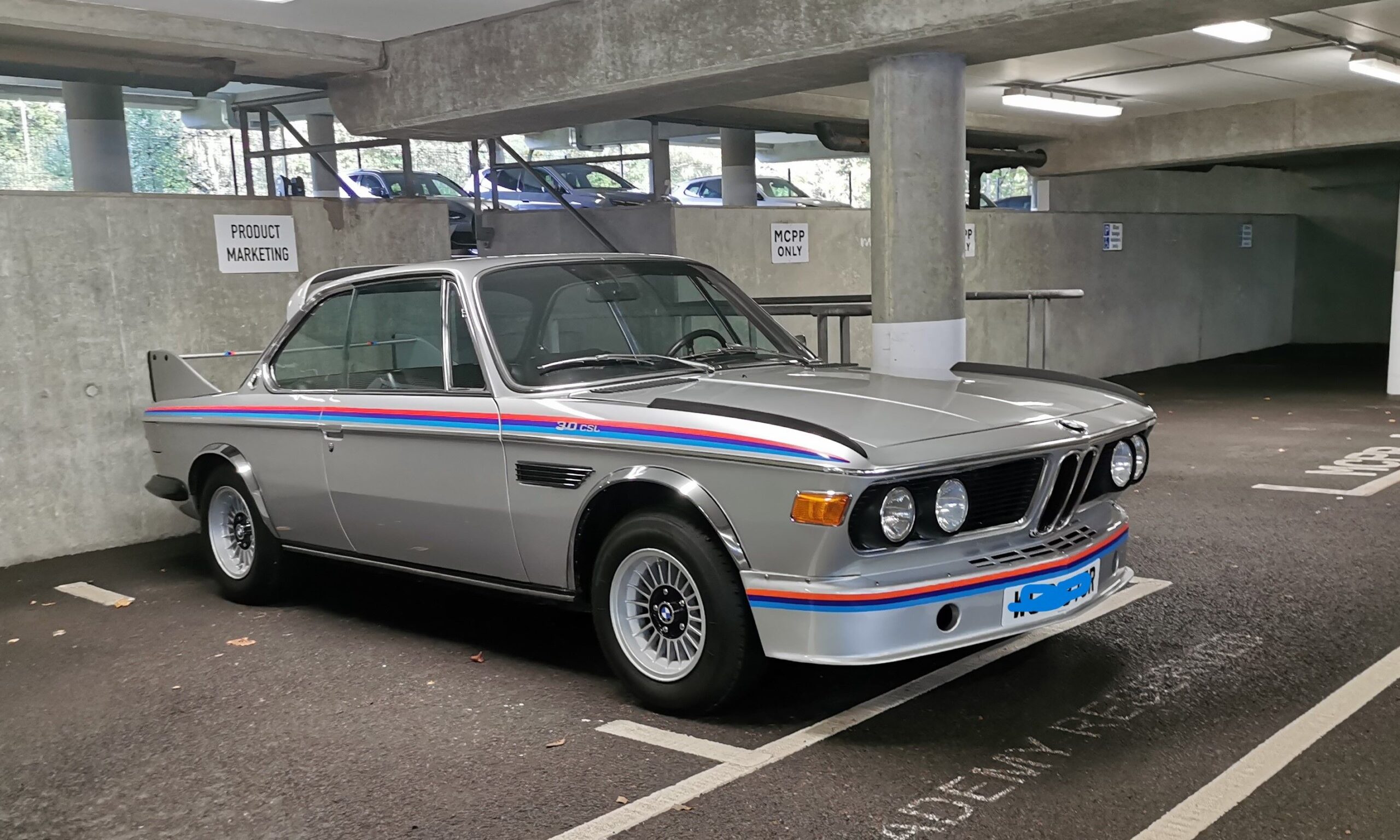 Dressed in Phytonic blue (the Tourer not me), this adaptable and sporty PHEV boasted plenty of room, a 3-cylinder 1.4L hybrid powertrain and over 50 miles (80+km) of EV only power.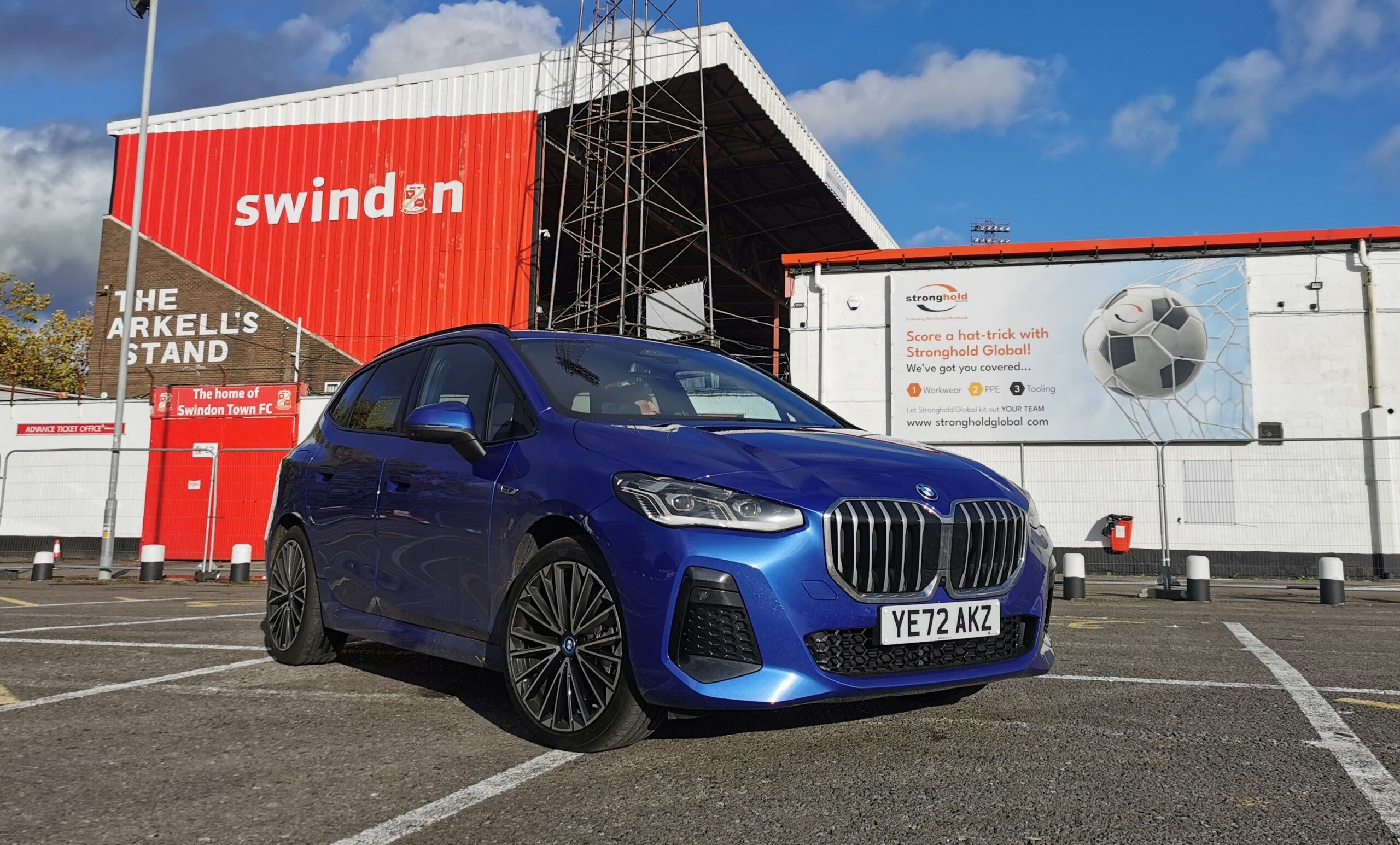 This is the second generation of the brand's versatile crossover and it's been overhauled inside and out. It's sharper looking for starters, more aerodynamic too, with things like a closed off kidney grille and slim, contoured LED headlights. Its profile has been dynamically stretched, with more heavily raked A-pillars, a long wheelbase and light-alloy, while the rear has been given the impression of more width, with slim LED lights and exhaust tailpipes that have been integrated out of sight.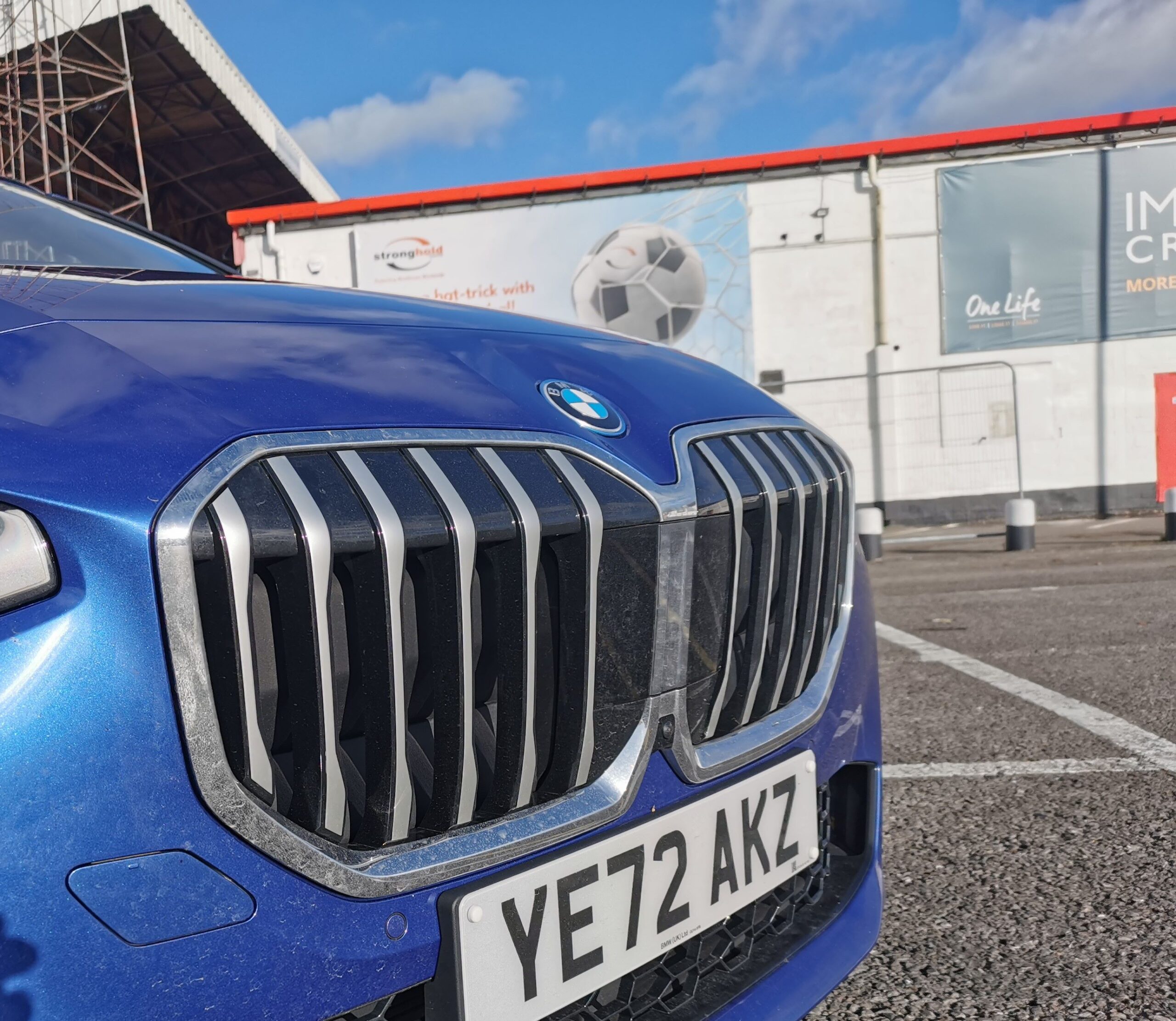 The interior has been given a good seeing too as well, pride of place is the slightly curved infotainment and instrument cluster that those who have been in the iX would be familiar with. There is a floating armrest with BM's new gear selector knob and volume control for the audio system (gone is the Beemer dial), and a vast amount of storage areas. I really like the new phone holder, not only does it hold the hand unit well for those times you get a bit boisterous, but it faces you and has wireless charging too.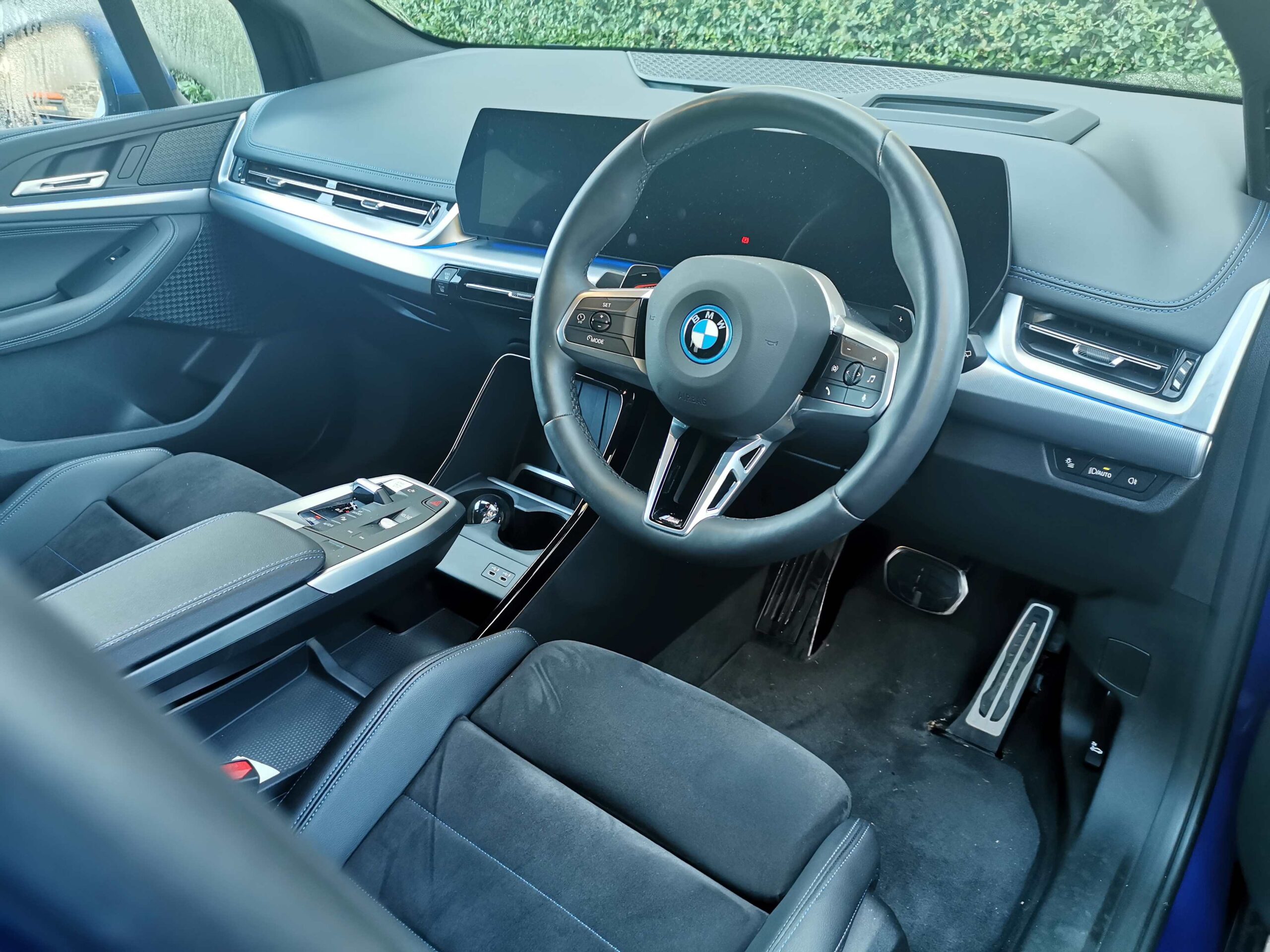 The Active Tourer claims to be a five seater and it is very spacious, but to me, optimum comfort would be for four, especially if there was luggage involved (470 L up to 1,455 L for those that want to know) since the rear seats can slide forward up to 13 cm.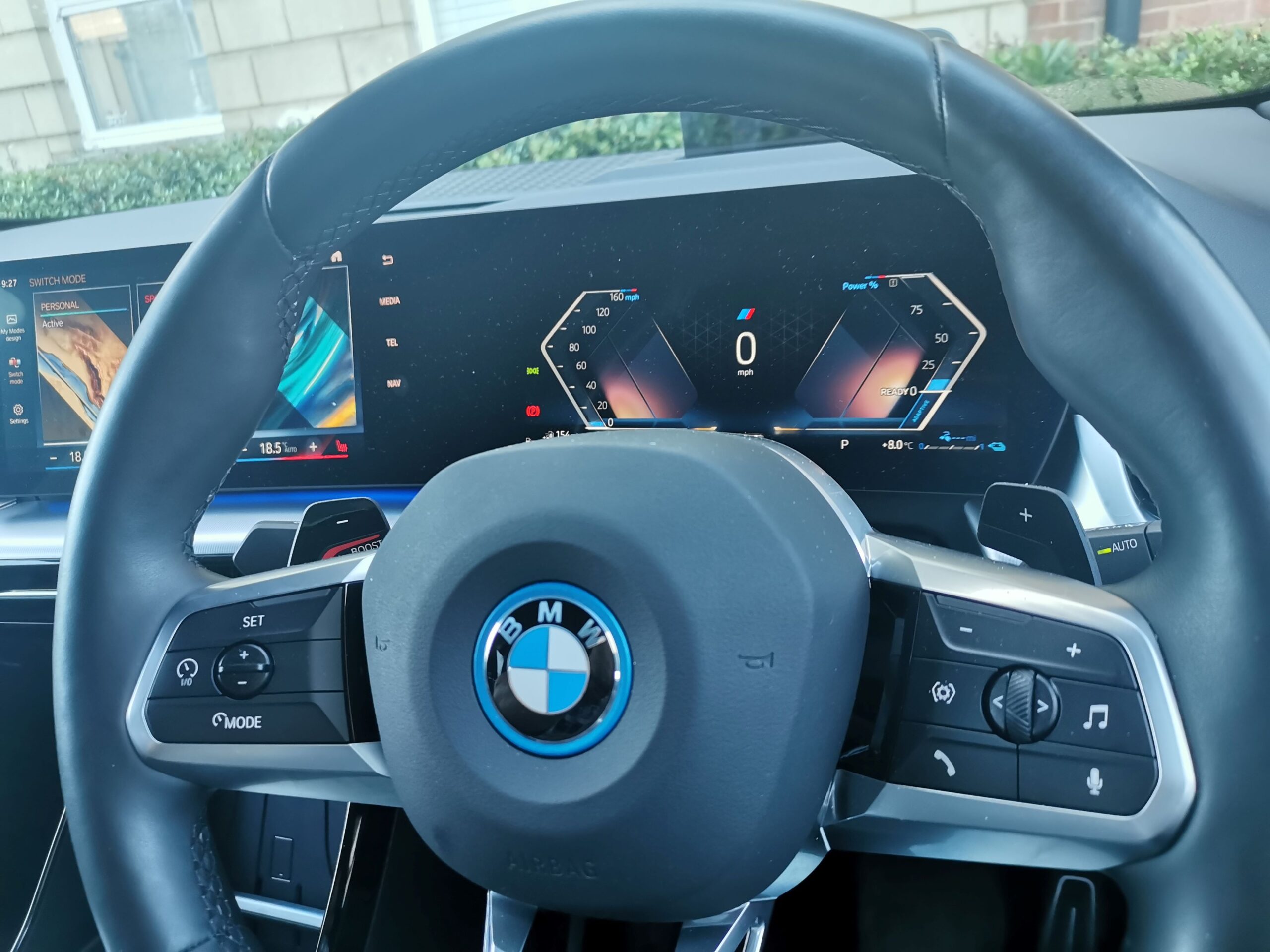 Upon leaving Farnborough, I headed straight to Swindon, a 52 mile, hour and a quarter drive that began by weaving through some amazing (and tight) UK country roads and on to the M4 motorway. Even on the wet wintery tarmac, the PHEV crossover showed its xDrive mettle, allowing me to drive the BM, well like a BM.
Once property rested, and with jet lag less laggy, it was time to head to Coventry City FC for their league game at home. The trip was forecasted to be 75 miles and take an hour 30, however England being England, it rained and so took nearer 2 hours.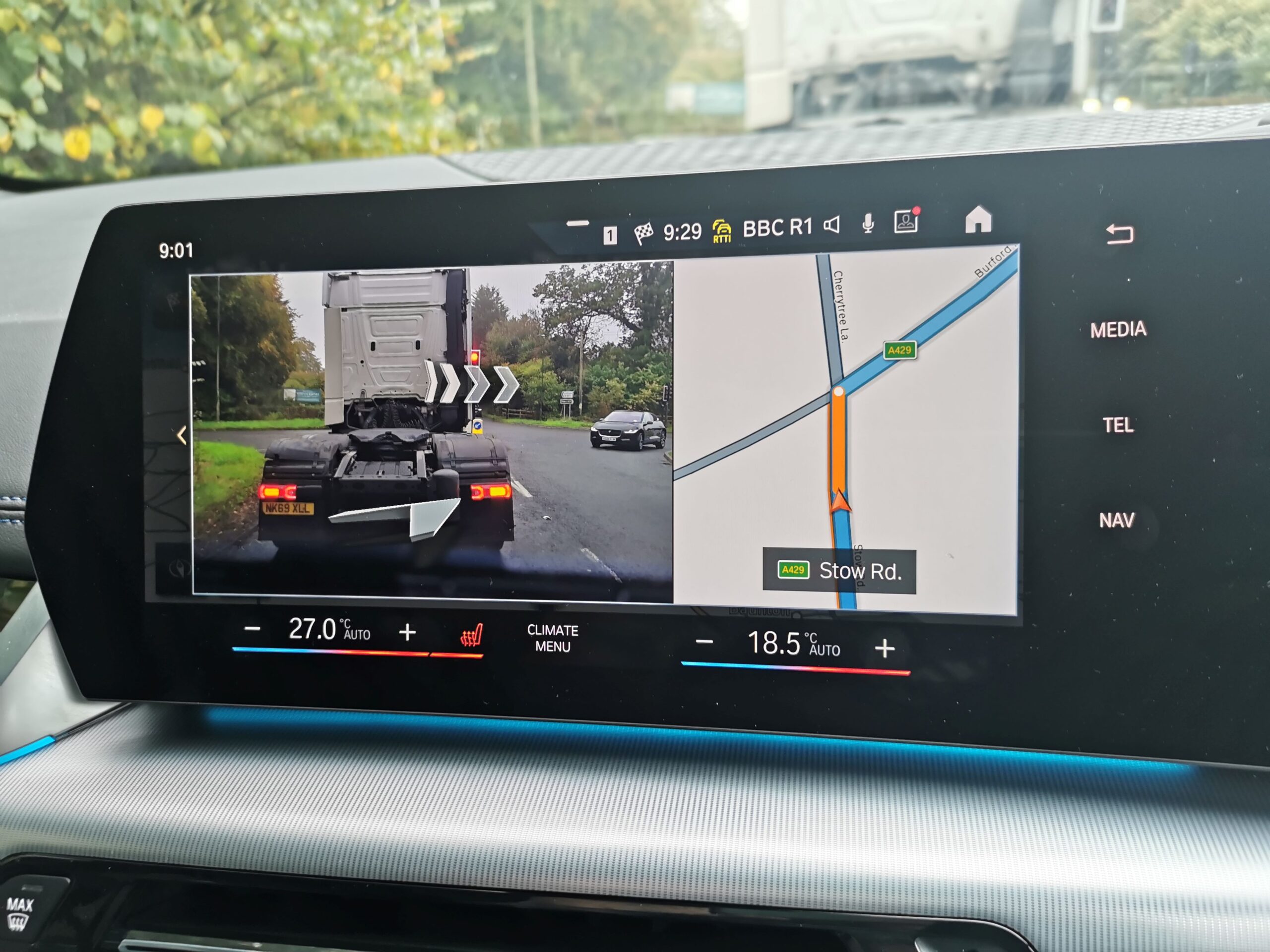 Normally this type of delay would frustrate me, but the Active Tourer was so quiet and easy to drive that I simply relaxed and followed the directions of the 'live traffic' navigation that also featured AI – ahh, technology at its finest.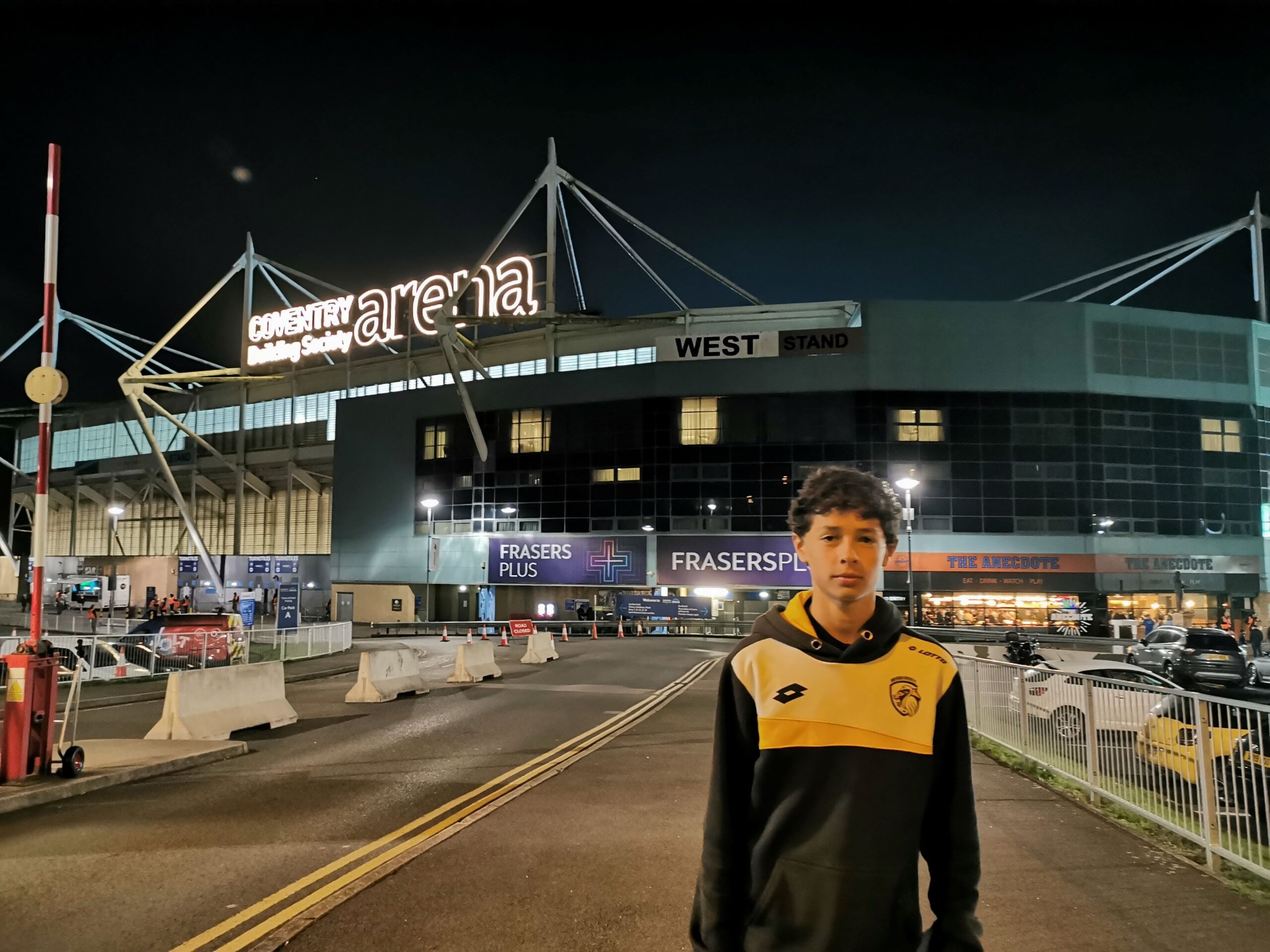 We checked in to the Novotel, unpacked and then headed to the Coventry Building Society Arena for what would be an amazing night (aside from the game's result). We sat at the big table with our most excellent host, Doug King, the Chairman. Met some high profile guests, had a 4 course dinner, watched the game from a premium position and even came away with a CCFC football!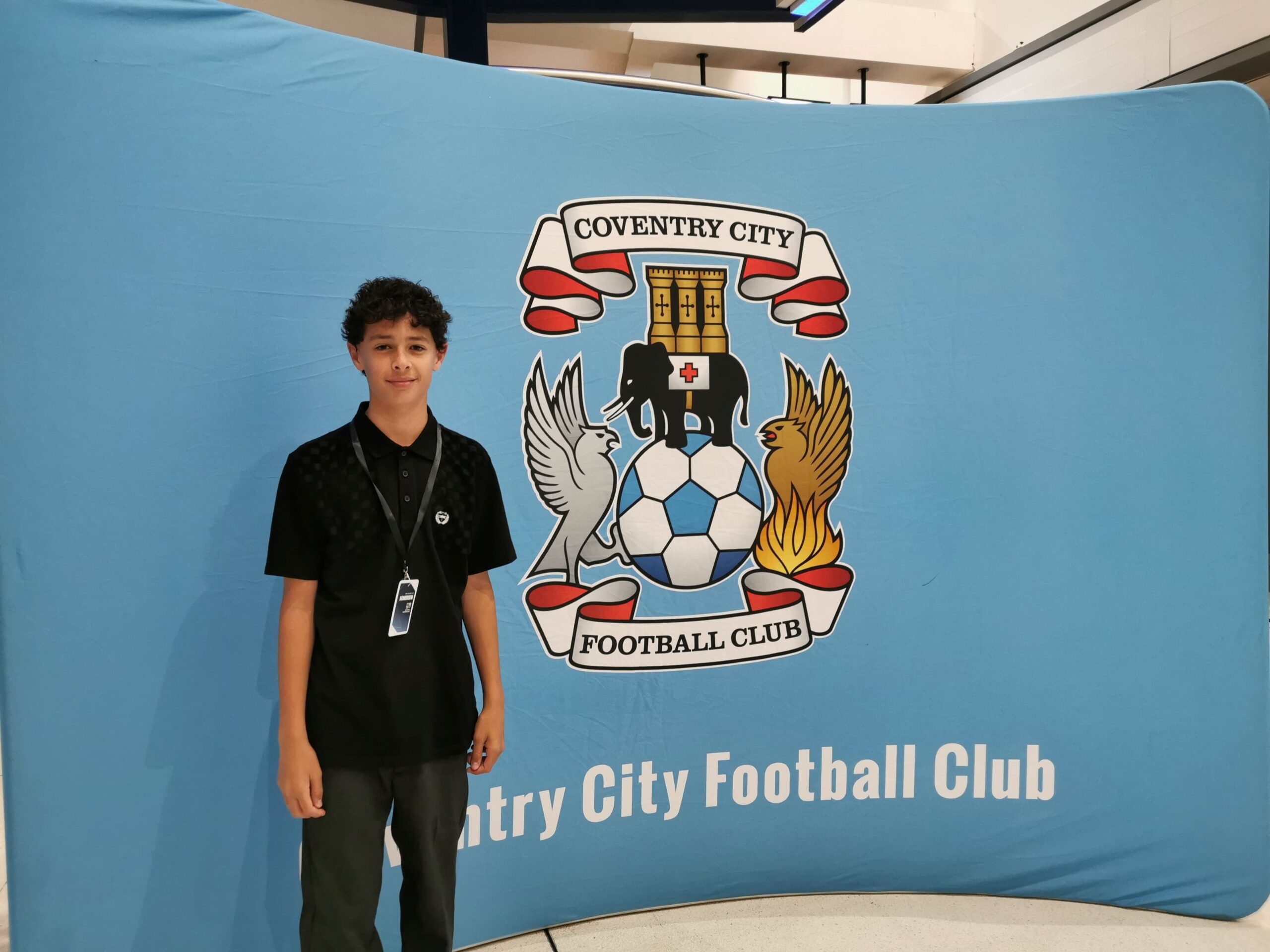 Breakfast the next morning was a full monty English and then it was back on the road to Swindon. With traffic backed up as far as the eye could see, the Beemer's clever nav system had us zooming down the A roads and avoiding as much of the carnage as it could.
The next few days were a blur of chores and tasks that required the relentless use of the 'Active' BM. We nipped here, there and seemingly everywhere and I have to say that the crossover didn't miss a beat. It was nimble enough to get in and out of the narrow town centres and I even relied on the reversing assistant once or twice to ensure its blue paint never got tarnished.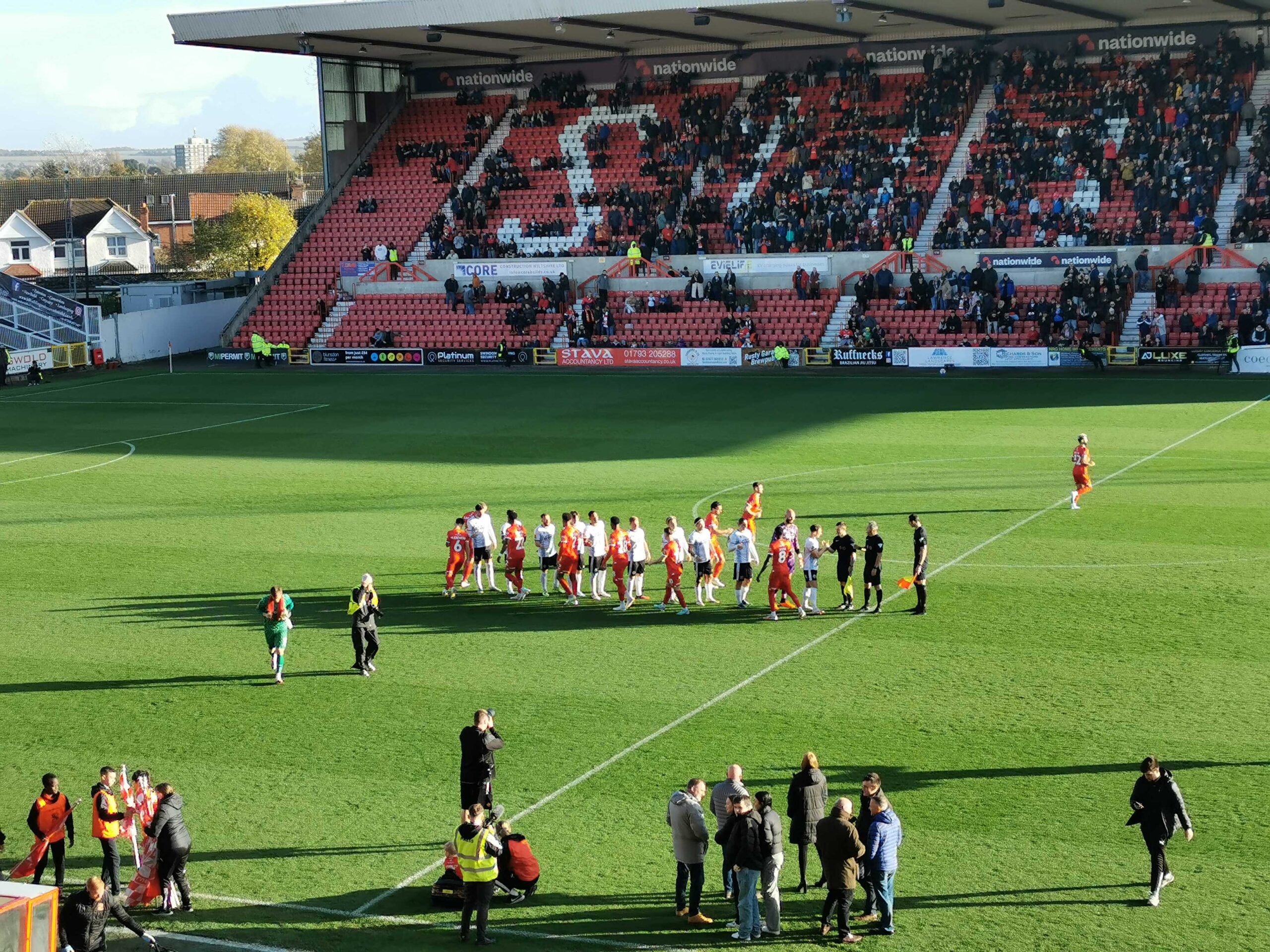 Our next big football match was at Swindon's County Ground, aka the true home of football. Nestled aside the famous (or is that infamous) magic roundabout, memories of my misspent youth came flooding back. Again we won't talk about the result, but my son loved the atmosphere.
Over the next week, we headed to and from Royal Wootton Bassett (name dropping here) and the less posh Pinehurst as my son showed off his football prowess to the local coaches, in fairness he did really well (just don't tell him I said that).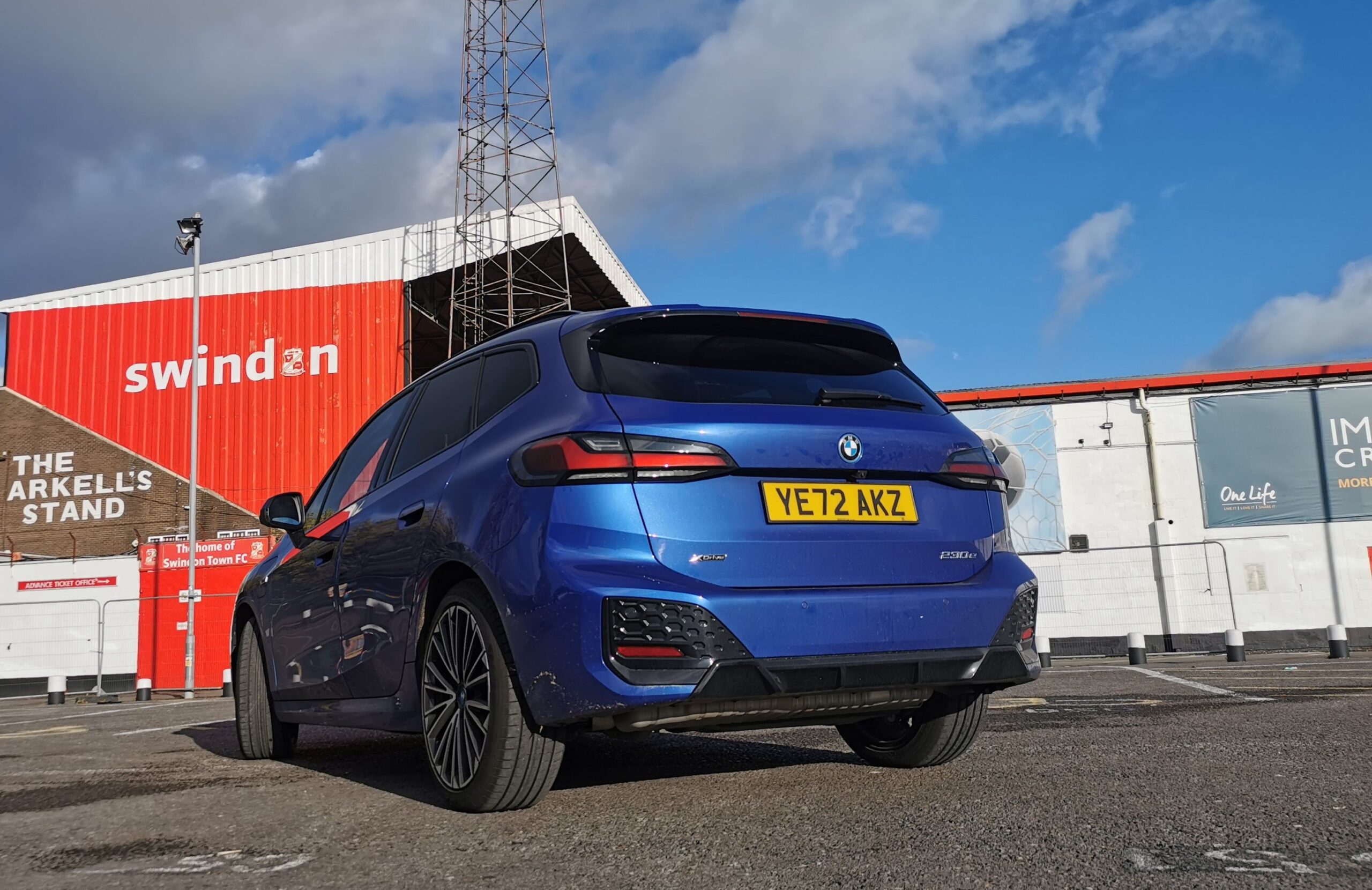 All in all I had the BMW 2 Series M-Sport Active Tourer PHEV for a little over a week and clocked up a vast amount of miles, both around the town and on the motorways. It felt safe and secure on a number of terrains and seamlessly switched between EV and 'trol, keeping its own 'tight' eye on the fuel gauge. It's a firm ride that felt confident in the wet and held its own against the bigger boys when the speed hit 70mph – simply put, what a tour and what a Tourer!