(NZ still ahead we believe). Results from a consumer survey commissioned by the BMW Group to coincide with World Environment Day on June 5 has found that one in two Australians (48 per cent) are open to having a battery electric vehicle (BEV) in their garage when they are next in the market.
The survey, conducted with more than 1000 adult Australians, also showed that while 50 per cent of Australians believe they would still own a conventionally powered vehicle in 2025, just eight per cent responded to say they would own one in 2040.
The BMW Group conducted the nationwide survey with participants aged 18 to 75 years with a valid driver's licence.
The data was gathered amid announcements by the Federal Government of policy framework to support the future uptake of EVs, including the plan to introduce a Fuel Efficiency Standard.
The primary objective of the survey, conducted by insights agency Hall & Partners, was to gain valuable insights into public sentiment towards EVs and their perception of the existing charging infrastructure.
Respondents were asked to share their opinions on various aspects of EV adoption, including concerns, motivations, and preferences regarding charging options.
The findings come just as sales of fully electric vehicles in Australia see further significant increases this year. In the first quarter of 2023, total market registrations were up 158 per cent compared with the same period last year, with the market share of BEVs accounting for 7.4 per cent of the total new vehicle market. In the same period last year that number was 2.9 per cent.
The BMW Group also posted notable growth in sales of BEVs in the first quarter of the year, with registrations of BMW and MINI BEVs up 112 per cent and 213 per cent respectively.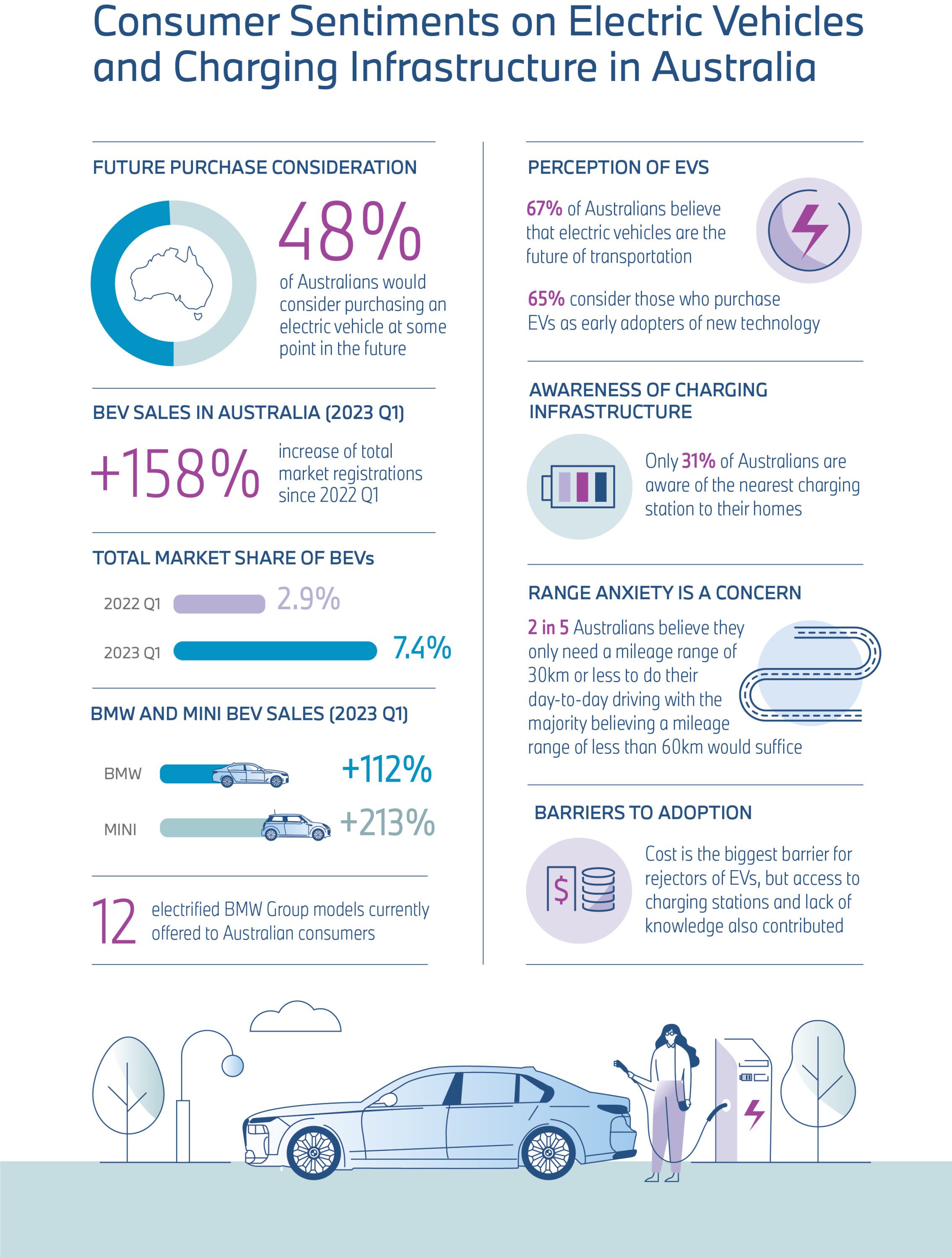 Key findings from the survey were as follows:
Future Purchase Consideration: Forty-eight per cent of Australians expressed their willingness to consider purchasing an electric vehicle in the future. Notably, males between 18 and 34 exhibited a higher likelihood of considering an EV.
Perception of EVs: A significant 67 per cent of Australians believe that electric vehicles represent the future of transportation, with 65 per cent considering those who purchase EVs as early adopters of new technology.
Range Anxiety Remains a Concern: While respondents exhibited interest in EVs, range anxiety emerged as a prominent concern. Participants emphasized the importance of an extensive charging network and accessible charging stations to alleviate this concern.
Awareness of Charging Infrastructure: Only 31 per cent of Australians are aware of the nearest charging station to their homes, while 19 per cent are aware of the closest charging station to their workplaces.
Range Requirements: Two in five Australians believe that a mileage range of 30km or less is sufficient for their day-to-day driving requirements. Most respondents indicated that a mileage range of less than 60km would suffice for their daily driving needs.
Barriers to Adoption: The price of electric vehicles emerged as the primary reason for rejecting their purchase. Access to charging stations and lack of knowledge about EVs also played significant roles in their decision-making process.
BMW Group Australia recognises the significance of the findings from the survey and affirms its commitment to supporting sustainable transportation with low and zero emissions mobility solutions.
Currently, BMW Group Australia offers 12 electrified models to consumers – including six fully electric offerings – which is among the most electrified models of any manufacturer represented in the country.
Later this year that number will rise to 13 with the launch of the fully electric BMW i5. The company's EV product offering will continue to grow as it moves towards achieving a climate-neutral business model spanning the entire value chain by 2050.