The call came in around mid-October. Christchurch Alfa Romeo, Renault, Fiat and Maserati dealer Euromarque extended an invitation my way to join them on a drive to Akaroa for lunch with a group of Alfa Romeo owners and fans. The entire new Alfa range would be available to drive and Kiwi TV icon Jason Gunn would be coming too. Naturally, this was not something to pass up, so I responded with a resounding yes.
The month went by and before I knew it, I arrived at the Euromarque showroom on St Asaph Street ready for the off. Coffee and tea were being served beforehand as we waited for the Alfisti to arrive. The range consisted of the Veloce and Quadrifoglio versions of the Giulia and Stelvio. Jason Gunn and his film crew were already getting shots and filming as much as possible.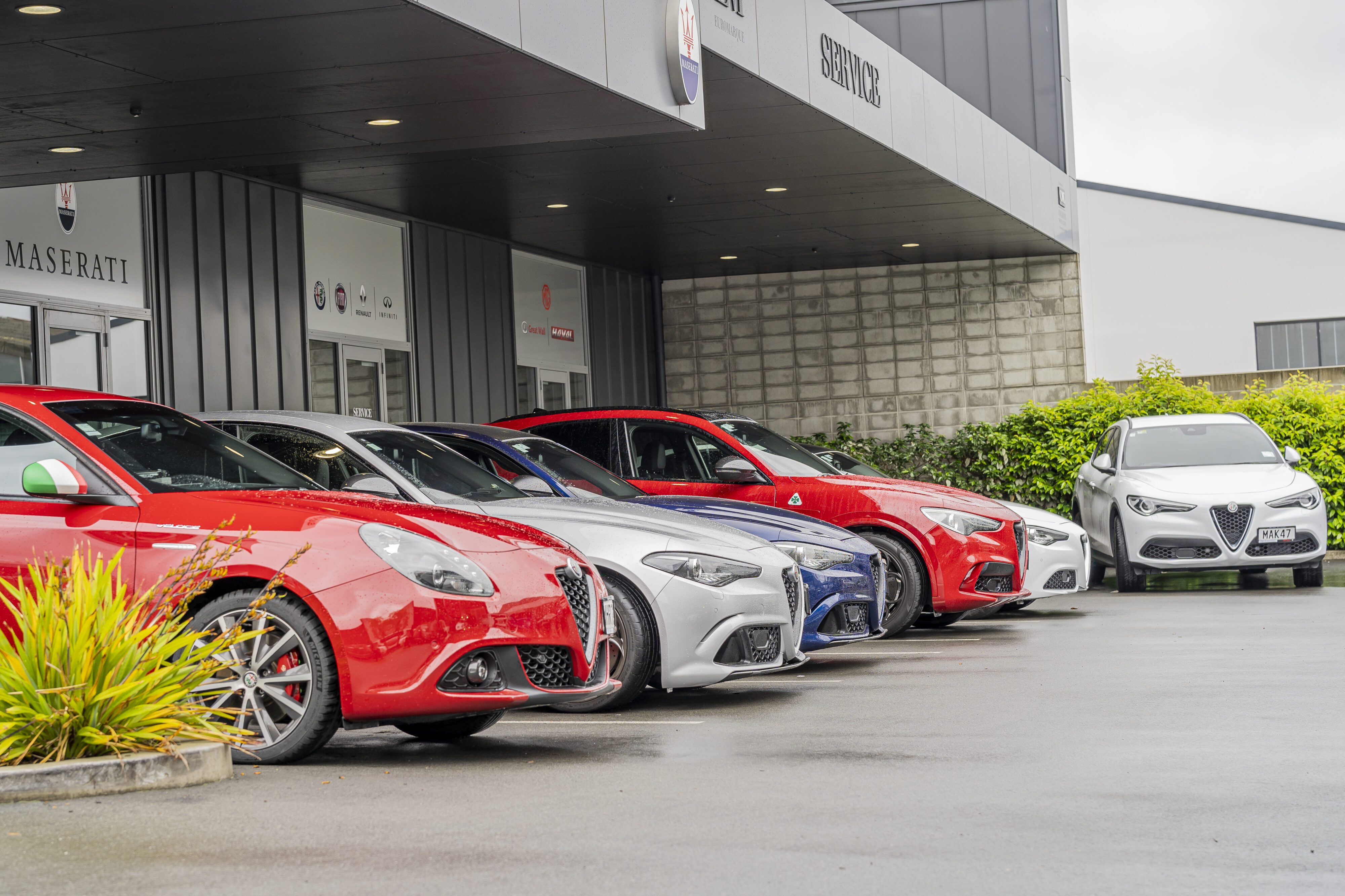 The biggest annoyance was the weather. I had visions of cruising to Akaroa with the air con set just so as the beautfuly Canterbury sun beat down on us. Sadly, this was not to be as it was cold, wet and with light precipitation, the roads weren't going to be much chop either. A frequent check of the Metservice rain radar yielded hope though, it was supposed to clear. Hurrah.
After catching up with Euromarque sales executives Miles Cockram and Henry Dwyer, the Alfa owners started to arrive. While there weren't many classics on the drive, probably due to the weather. There was a good turn out of the current Alfa range. Many Giulias of Veloce and Quadrifoglio spec and even a Stelvio QF which has been lowered by 40mm and sported quite a loud exhaust. That 500hp bi-turbo V6 never sounded so good. A couple of Giuliettas and even an 4C Spider made up the convoy.
After the arrival of my co-driver for the day, Euromarque's Geshan De Silva, we were all ready to crack on. Jason Gunn made us all feel welcome. I am happy to report he is just as laid back and funny in person as he is on TV. After his safety briefing and directions, I found myself sauntering towards the Stelvio Veloce for my first stint. With Geshan in the co-driver's seat, we fired up.
A cacophony of Latin horsepower engulfed the damp carpark of Euromarque's service department. We rolled out of the dealership and pointed the nose of the Stelvio towards Princess Margaret Hospital. This first stop allowed us to bunch up before we settled back for a longer stint to Barrys Bay. Geshan and I were one of the last cars to arrive, maybe I just wasn't too savvy with taking a more a direct route but oh well.
Upon arrival it was nice to see a convoy of Alfas all parked up near the hospitals main building. However, when it dawned on us that we were parked bumper to bumper in the designated bus stop area, we made haste and got the journey underway. I didn't fancy getting a wrap on the knuckles from any bus driver.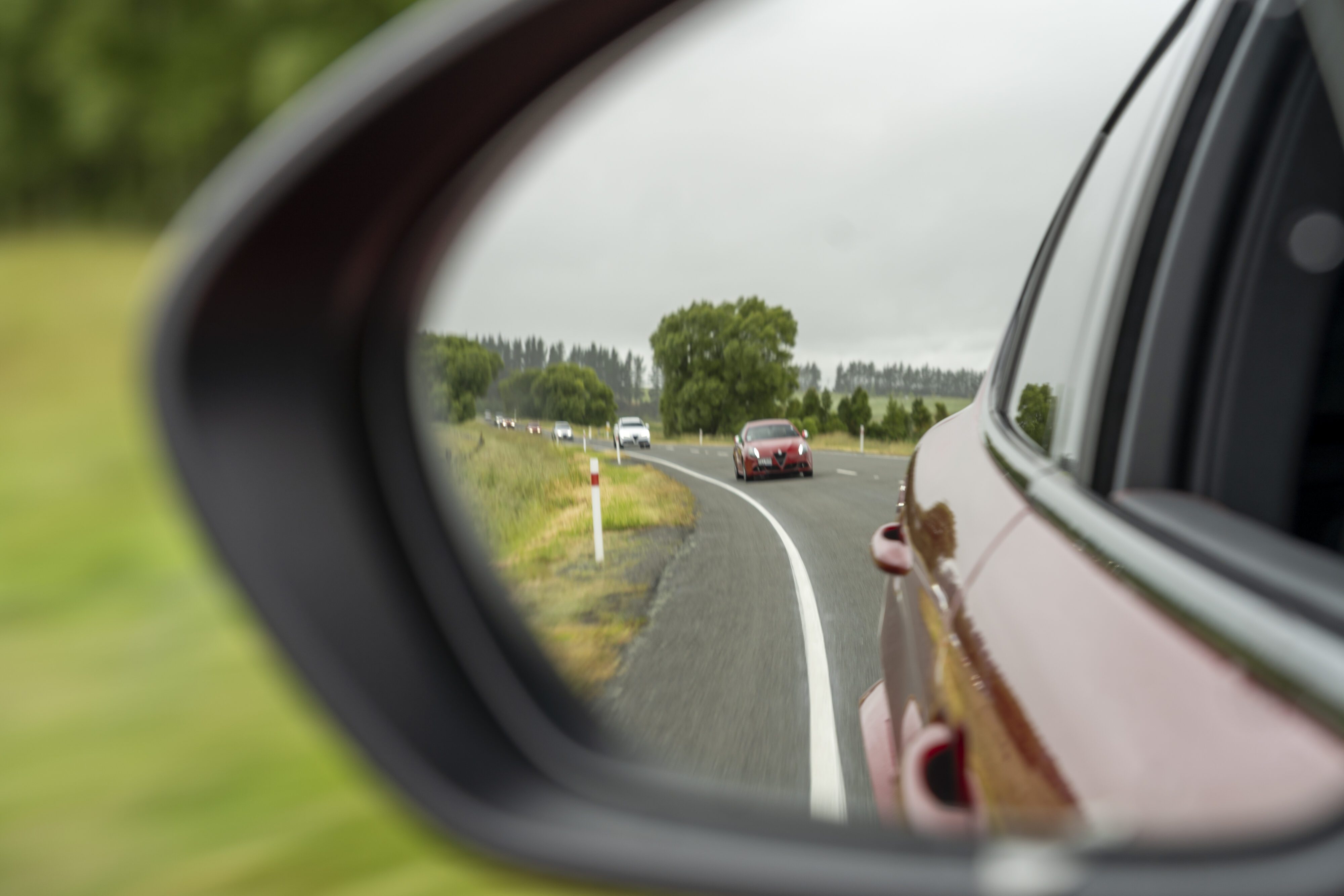 Rather than go up and over the Port Hills via Dyers Pass, we chose to keep on the flat and go around through Tai Tapu. This was largely down to the weather and its often the quickest way anyway. Leaving Tai Tapu. I could flick up to Sport mode and ring the Stelvio's neck a bit. Even though this was only the Veloce spec, it could still shift and stayed well planted in the bends.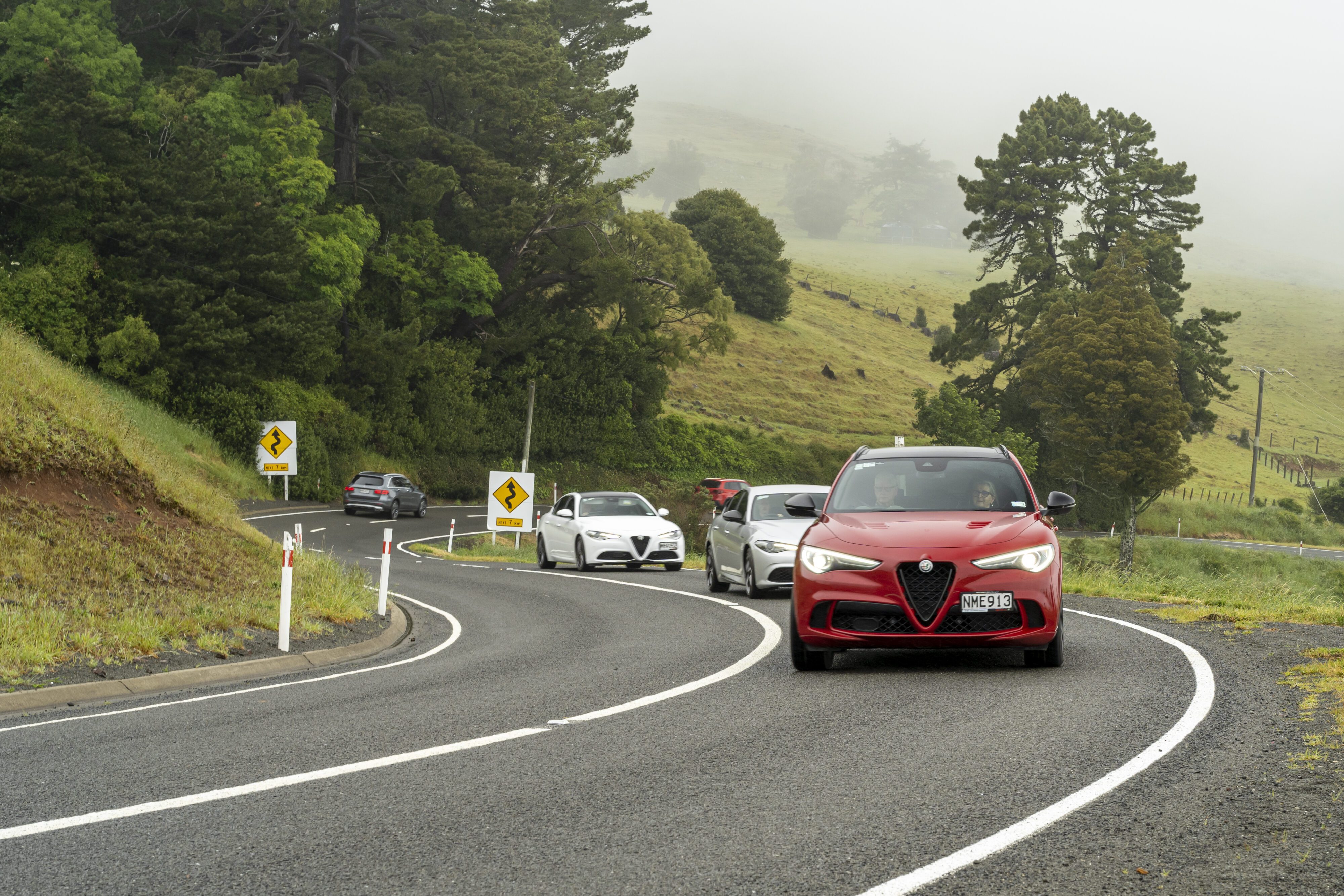 We travelled through Little River and headed skyward as we climbed through the hills of banks peninsula. It was here we really started to have our heads in the clouds, literally. With the heavy drizzle seeming endless many owners decided to back off a bit and just take it easy. There is usually a great view as you pass the famous Hilltop Tavern, but due to the intense cloud cover, the view wasn't much to look at.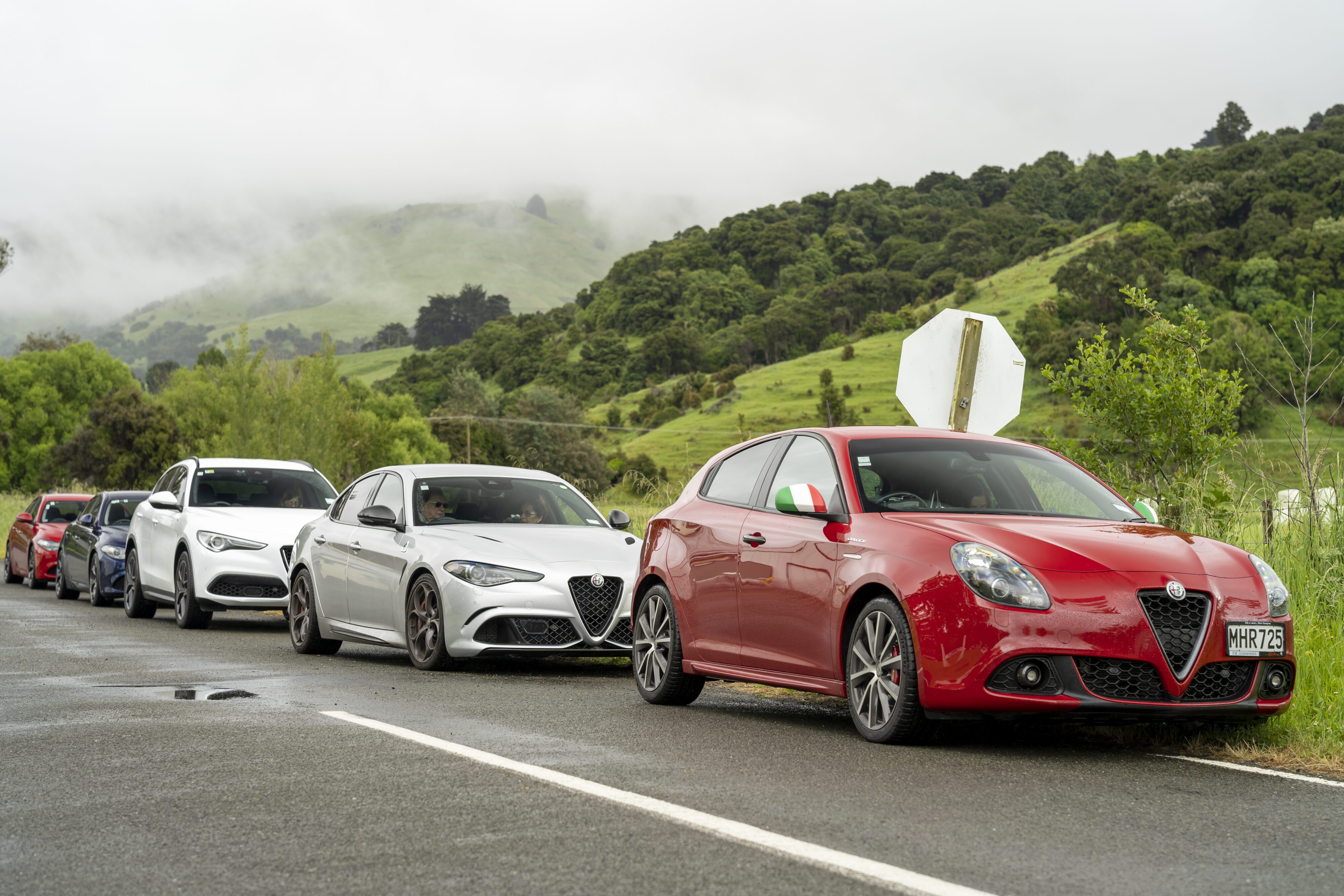 Heading downhill, the weather started to ease as we arrived in Barrys Bay. We all parked up for a breather. While this gave yours truly the time to call on the Barrys Bay Cheesemongers and buy some Smoked Cheddar, Canterbury Red and Cumin Spice cheese, it also gave Alfa owners a chance to chat and check out each other's cars.
Upon leaving, Geshan and I made the switch from the Stelvio Veloce, to the rip-snorting Stelvio Quadrifoglio. This is nothing short of an AWD adrenaline pump. Every time you bury your right shoe and race that turbo v6 to 7000 rpm, you can't help but chuckle. The closer we got to Akaroa, the drier the roads got, it seems the wet weather stayed mostly in the hills, keeping the flat near the township relatively dry.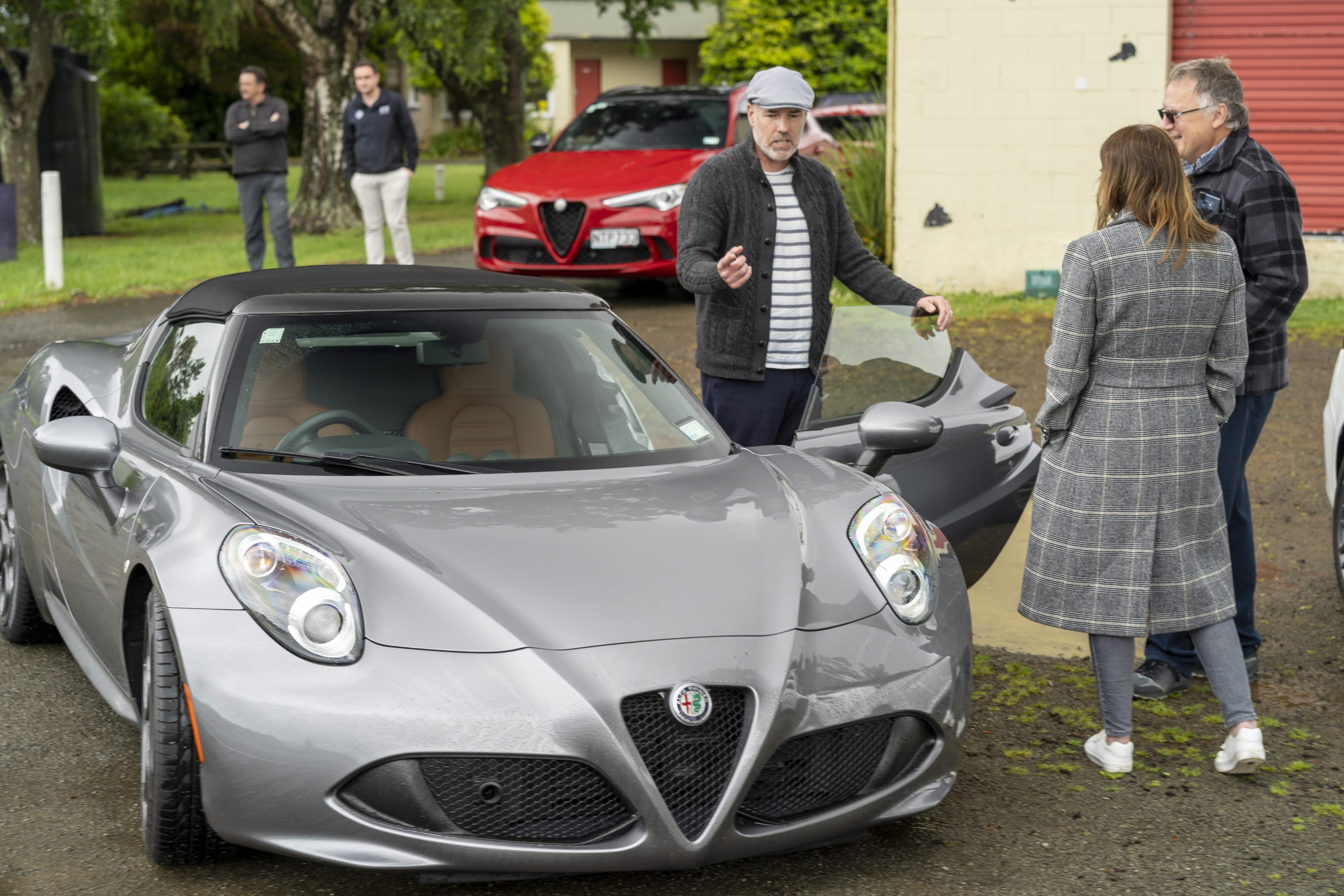 It was here I decided to initiate race mode. Flicking up and down on the paddles, upshifts were accompanied by a mechanical fart between changes. Geshan said Alfa Romeo has the longest fart between shifts around. Now, that is the first time, and probably only time a sporting marque laid claim to lengthy vehicular flatulence.
It wasn't long before the sight of Akaroa consumed our windscreen. As we journeyed towards our spot for lunch, Harbar Beach Bar situated on the front overlooking Akaroa harbour, I couldn't help but wonder why I don't come to Akaroa more often. It is quite literally the French Riviera of Canterbury. It has the boats in the harbour, the restaurants, beautiful views and great shops to explore. "Its just like Monaco, but much smaller and cheaper," said Alfa owner Paul.
Parking up at Harbar, the weather was calm and the roads were bone dry. Euromarque Photographer Scott Campbell instantly regretted not bringing along his father's classic Alfasud. After a much-needed toilet stop, we all got seated and ordered a refreshing beverage.
After gorging ourselves on Pizza, flatbread and quite literally mountains of hot chips, it was time for a climactic battle of wits and Alfa knowledge. The team at Euromarque had devised a 10 question Alfa Romeo quiz. The winner would receive some pretty decent Alfa merch including an official Alfa Romeo Formula One racing jacket.
The quiz consisted of a mix of facts from yesterday and today. Amazingly once the scores were tallied, I was tied with another passionate Alfisti and his son. Euromarque announced we would be going into extra innings. The tiebreaker question was "How many units have Alfa Romeo sold locally within the last 10 months?". The winner would be on the one with the closest answer. One team answered with 212 cars, the other with 350. The answer? 204.
As I said 350, I had to admit defeat, but it was great seeing a father and son team walk away with the merch. That said, I was still given a Euromarque goodie bag with an Alfa T-shirt, cap, drink bottle, pen, lanyard and some fudge which I was more than happy with. Then just as we had arrived, it was time to return to Christchurch. Geshan drove the way back as we spent a brief amount of time with a Euromarque customer's Giulia QF while he sampled the Stelvio.
Euromarque has really outdone themselves at providing Alfa Romeo enthusiasts and one motoring writer a fabulous day out. Great food, great roads, great company and of course, great cars. Many people believe an Alfa Romeo is the only way you truly experience motoring nirvana, and if this day out was anything to go by, one could agree these people may have a point.